Asbestos Content in Plaster
Older plaster walls/ceilings may contain asbestos
InspectAPedia tolerates no conflicts of interest. We have no relationship with advertisers, products, or services discussed at this website.
Does plaster contain asbestos?
This article explains where & when asbestos is likely to be found in plaster used on building walls & ceilings.
We also provide a MASTER INDEX to this topic, or you can try the page top or bottom SEARCH BOX as a quick way to find information you need.
Asbestos content in Drywall, wallboard or "Sheetrock" or gypsum board & in joint compound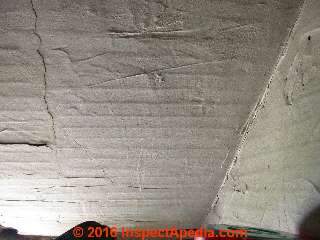 Modern plaster products and modern drywall and taping compound do not contain asbestos. However that was not always the case, as we detail here.
Asbestos in Plaster and stucco, includes Chrysotile asbestos.

Some plaster products may also contain tremolite (a form of amphibole asbestos) as an inadvertent contaminant from asbestos mining of chrysotile, and also they may include vermiculite that, depending on where it was mined, also contains asbestos (Libby).

Because plaster was added to various wallboard products and drywall to improve its water resistance or fire resistance, in turn that means that additional drywall products manufactured between 1920 and 1978 or later may also contain both crysotile and tremolite asbestos.

Asbestos was used as an ingredient in some plaster applications.

Asbestos was used in decorative plaster cornices, trim, ceiling medallions

Asbestos was used also in acoustical plaster both as a direct asbestos additive and as an asbestos contaminant in plasters to which vermiculiet or "Zonolite" were added to produce a light-weight plaster having good acoustical properties.

Asbestos was used in plaster designed to have a high resistance to fire.

Asbestos was used in plaster additives to gypsum board or "drywall" products to improve its moisture resistance (such as bath tile backer board) and to meet gypsum board fire resistance standards such as ASTM C630/C630M-03e1 Standard Specification for Water-Resistant Gypsum Backing Board (Withdrawn 2005 and replaced by ASTM C1396/C1396M)

See ASBESTOS in DRYWALL
Question: is the material shown in this plumbing access asbestos?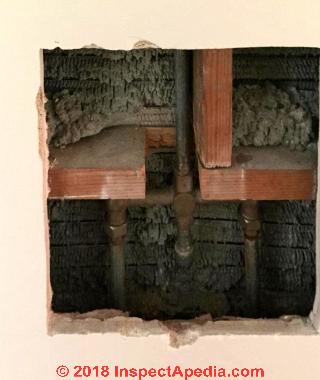 2018/05/15 shelby.hudson655321 said:
We are getting ready to rent (have put down a deposit) on a house built in 1955.
There is this easily accessible panel on the wall opposite the bathroom for access to the plumbing for the tub. Is or could this be asbestos? We have a 2 year old daughter and don't want to take any chances!
This question and reply were posted originally at INSULATION IDENTIFICATION GUIDE
Reply:
Shelby
Your photo shows cement or plaster extruding through expanded metal lath, no doubt providing the wall onto which bathroom tile was affixed.
While some plaster in older homes might (rarely) contain asbestos, this is not a friable material. Even if the plaster contains asbestos you would have to grind, saw, or chop the material to create dust and thus to create a measurable hazard.
In sum, undisturbed, this plaster in the plumbing access is not a child hazard.
See details about this wall construction and its materials at PLASTER LATH, METAL
Question: was asbestos used in plaster casts?
2018/09/08 srevesz said:
Was asbestos used in the material used for casts for a broken bone?
This Q&A about the use of asbestos in bone casts or orthopedic casts were posted originally at ASBESTOS LIST of PRODUCTS
Reply: yes asbestos was used in a wide range of plaster casting including orthopedics
S Reves
Yes, asbestos was used in some plaster cast and plaster mold applications, both directly in forms of asbestos fibres and also in the form of vermiculite, some of which contains asbestos.
There are some patent disclosures and research citing use of asbestos in products applied to splints and casts for broken bones, and possibly also in some denture casts, including the following:
Michele, Croce, and Clarence G. Shuttleworth. "Plaster compositions and products." U.S. Patent 2,681,863, issued June 22, 1954.
Excerpt:

It should be observed also that in some instances asbestos has been used in plaster. In one such use the asbestos fiber has been added to plaster primarily to improve the plaster workability or trowelling characteristics while in another instance, in the Croce Patent No. 2,526,066, such asbestos fiber was added as a means for retaining an expansive component of the plaster composition in place in the set cast. In each case the amount of asbestos was quite high, and the Water absorptive capacity of the asbestos has increased the drying time of casts thus made.
Michele, Croce. "Plastic composition materials and products made therefrom." U.S. Patent 2,526,066, issued October 17, 1950.
Excerpt:

In actual practice, I have found that a grade of asbestos designated as 5-R is suitable and economical for the purpose. This asbestos fibre is of medium length and is economical in cost.
...
Longer fibred asbestos is more effective on an equal weight basis, but the cost per pound is also higher.
...
A stiff self-sustaining panel adapted for use as the outer structural layer of a wall structure and in the form of a body member comprising about 93% of set calcined gypsum as the major ingredient, about 2% by weight of asbestos fibres; and about :5% by weight of high-grade comminuted Vermiculite in its unexpanded form and of a particle size of about minus 28 mesh commercial grading, said bres and said comminuted mineral being dispersed through the body.
Planteydt, H. T. "A Risk From Asbestos in Pleurectomy." JAMA 196, no. 4 (1966): 373-373.
Scales, John T. THE USE OF POLYETHYLENE AND RESINATED ASBESTOS FELT FOR SPLINTS [PDF] The Journal of Bone and Joint Surgery. British volume 32, no. 1 (1950): 60-65. - retrieved 2018/09/09 original source online.boneandjoint.org.uk/doi/pdf/10.1302/0301-620X.32B1.60
Tseng, How, Jiunn-Liang Chen, and Ju-Yu Chueh. "Orthopedic casting material and the method of making the same." U.S. Patent Application 10/255,573, filed February 5, 2004.
Excerpt:
U.S. Pat. No. 4,483,333 disclosed an orthopedic cast made of a mixture of polyethylene and thermoplastic polyester with a melting temperature between 50° C. and 100° C. The thermoplastic polyester can be polycaprolactone with an average molecular weight of over 5,000. In order to enhance the stability of the structure of the orthopedic cast and avoid it over-molding under molten status, the orthopedic cast is added fillers, such as silicon dioxide, mica and asbestos etc.
Walter, Dahmen. "Surgical dressing." U.S. Patent 2,127,552, issued August 23, 1938.
Excerpt:
One of the specific fillers that I have found particularly amenable for my purposes is pine, although oak has been used with success, as have been asbestos, Bakelite and aluminum.
Asbestos was used in other plaster cast applications as well, such as
Willey, Grant S. "Fire resistant plaster product." U.S. Patent 3,454,456, issued July 8, 1969.
Excerpt:

While glass fibers have been used in most of the above examples it is also within the ambit of this invention to use other inorganicfibers, such for example as asbestos fibers. In the forthcoming claims the percentage of unexpanded vermiculite is the amount of expandable vermiculite present in the ore used, though in actual practice, as followed in the above examples, the source of ore may have an appreciable amount of unexpandable particles present.

Also, all sieve sizes are US. Standard and all percentages are based upon the weight of calcined or settable gypsum used to form the core.

All the boards used in obtaining the above data were made with the rotary calcined gypsum manufactured at the East Chicago plant of the 'United States Gypsum Company and is that used 5 GYPSUM WALLBOARD Percent maximum contraction during fire tests with- 6 lbs/M Glass 1% fiber Amosite plus asbestos Unexpanded No 6 lbs/M 4% and vermiculite other Glass boric boric size addltive fiber acid acid minus 50 plus 70 mesh 025 .033 Exp 6% minus 70 plus 100 mesh.- l8 025 6% minus 100 plus 200 mesh 51 6% B05 Ore .36 21 117 1 217 No vermiculite..-. .73 62 48 l A similar board but made with glass fiber instead of asbestos shrank .142%.
And even in plaster casts used to make shoe moldings
Dresser, Frank G. "Manufacture of shoe lasts." U.S. Patent 2,487,965, issued November 15, 1949.
Excerpt:

With the cast 10 removed each half mold 14 therein is placed on its side and a sheet of asbestos 16 is clamped over the top of the mold half (now in the normal position of a side) closing the half-ankle opening.
Companies whose plaster products contained asbestos
Arranged alphabetically:
Flintkote Corporation, Synkoloid™ Plastibond and patching plaster (Patch Rite) (1950-1976)
Georgia Pacific plaster products including acoustical plaster (1950-1974) and GP-Lite™ acoustical plaster (1958-1964) and GP Patching Plaste™ (1956-1976)
Keene Corporation (Uni-Coustic™ acoustic plaster) 1963-1971)
National Gypsum Corporation, Gold Bond Fire-Shield™ Plaster (1958-1970), Gold Bond Macoustic™ Plaster (1942-1947), Gold Bond Perfo-Lyte™ Acoustical Plaster (1955-1972),

and other Gold Bond Plaster products including Gold Bond Patching Plaster™, Spackling Plaster, and Wood-Fibered Plaster. Also National Gypsum E-Z Soak, Gold Bond Asbestone, Gold Bond Asbestos Cement board products, Gold Bond Humiguard™ asbestos panels, Gold Bond joint compound or spackling compound, Gold Bond textured paints, National Gypsum's Gypsolite™, Gold Bond siding products, Gold-bond non-perforated asbestos panels, Gold Bond Plasticrylic™ wallboard and panels, Gold Bond Sprayolite™, Gold Bond Nator.

Also see SHEATHING, GYPSUM BOARD - including a brief history of National Gypsum / NGC and see SHEATHING, GYPSUM BOARD

Asbestos was thus used in many National Gypsum Gold Bond™ gypsum board products produced between 1950 and 1970. Asbestos was not used in National Gypsum gypsum-board products after that year.
U.S. Gypsum plaster and plasterboard products including

US Gypsum Cement Regular Plaster,
USG Firecode plaster,
USG Imperial plaster,
USG Red-Top™ Cementious plaster (1920-1958) and
USG RedTop™ Gypsum-based plaster (1920-1958),
USG RedTop™ Firecode™ plaster (probably a higher asbestos content, 1962-1969),
USG Gypsum Structolite (1950-1975),
USG Mineral-based Cafco Sound-Shield™,
USG Structo-Lite-Perlited Gypsum™ plaster (also see Perlite discussed at PERLITE INSULATION

US Gypsum produced other building products that contained asbestos including roofing shingles and exterior siding in shingle form and as asbestos-cement shingle siding.

Also see ASBESTOS CEMENT PRODUCTS
Synkoloid Corporation Plastibond™, Patch-Rite™ Patching plaster, and plaster of paris (1950-1976)
W.R. Grace Corporation, Hi-Sorb™ Plaster, Zono-Coustic™ Plaster (1960-1973), and Zonolite™ Acoustical Plaster (1945-1972) - see ZONOLITE BRAND VERMICULITE INSULATION
Also see ASBESTOS PRODUCING COMPANIES
...
Continue reading at PLASTER INGREDIENTS, MIX, COMPONENTS where we provide more citations on the use of asbestos in plaster, or select a topic from closely-related articles below, or see our complete INDEX to RELATED ARTICLES below.
Or see ASBESTOS in PLASTER FAQs - questions & answers about asbestos content in old plaster, posted originally at this page
Or see ASBESTOS in DRYWALL - the use of asbestos in gypsum board drywall products and in joint compound
Or see ASBESTOS IDENTIFICATION IN BUILDINGS
Also see notes on the widespread use of asbestos in plaster and plaster products at PLASTER TYPES & METHODS in BUILDINGS

Suggested citation for this web page
ASBESTOS in PLASTER at InspectApedia.com - online encyclopedia of building & environmental inspection, testing, diagnosis, repair, & problem prevention advice.
Or use the SEARCH BOX found below to Ask a Question or Search InspectApedia
...
Frequently Asked Questions (FAQs)
Try the search box below or CONTACT US by email if you cannot find the answer you need at InspectApedia.
Recently-posted questions & answers about asbestos & other materials in gypsum board, drywall, or Sheetrock® panels, posted originally in this article are now found at ASBESTOS in PLASTER FAQs.
...
Ask a Question or Search InspectApedia
Try the search box just below, or if you prefer, post a question or comment in the Comments box below and we will respond promptly.
Search the InspectApedia website
Technical Reviewers & References
Click to Show or Hide Citations & References
...
Wikipedia provided background information about some topics discussed at this website provided this citation is also found in the same article along with a " retrieved on" date. Because Wikipedia and other website entries can be amended in real time, we cite the retrieval date of such citations and we do not assert that the information found there is always authoritative.
Books & Articles on Building & Environmental Inspection, Testing, Diagnosis, & Repair
Our recommended books about building & mechanical systems design, inspection, problem diagnosis, and repair, and about indoor environment and IAQ testing, diagnosis, and cleanup are at the InspectAPedia Bookstore. Also see our Book Reviews - InspectAPedia.
...
Publisher InspectApedia.com - Daniel Friedman