Asbestos Use in Books & Bookbinding
InspectAPedia tolerates no conflicts of interest. We have no relationship with advertisers, products, or services discussed at this website.
Asbestos use in the production of books:
This article describes the use of asbestos in some bound books or in book binding.
We include descriptions of Ray Bradbury's Fahrenheit 451 and Stephen King's Firestarter, both bound in different forms of an asbestos fabric.
We also provide a MASTER INDEX to this topic, or you can try the page top or bottom SEARCH BOX as a quick way to find information you need.
Asbestos Use in Book Production for Fireproof Books or Journals
Question: does this 1950's children's book pose an asbestos hazard?
I was wondering if you might take a look at the attached photo
It is a photo of a hardcover children's book my child brought home from the library. I just read recently that books in the mid-1900s could possibly contain asbestos in the binding.

This book, The Snowy Day by Ezra Jack Keats, in a Viking Library Binding is circa 1963 and as you can see it has a couple different types of tape reinforcement.
It says it has a "Viking library binding" that lends extra reinforcement.
Have you ever heard of asbestos in book bindings/tape? Looking at these photos, do you think it's possible that this book contains asbestos? - Anonymous by private email 20176/11/16
[Click to enlarge any image]
Reply: asbestos was used in books where special fire resistance was needed and in a few other rare editions
It is unlikely that asbestos would have been used in the cover or binding of an ordinary children's book like the one in your photos.
The book shown in these photos most-likely does not contain asbestos. Naturally only a test by a certified asbestos test lab can complete an authoritative answer to the question.
In my OPINION even if asbestos had been used, such as in a repair tape, the potential hazard of airborne asbestos fibers from such a book is likely to be minimal, perhaps below the limits of detection unless the book is abused, ground, sawn, chopped up etc.
There have been a few exceptions in which conventional books were bound using asbestos, as reported for a set of fireproofed and autographed first editions of Ray Bradbury's Fahrenheit 451 (1953) and Stephen King's Firestarter (1980) cited by T Magazine in a 2010 article published by The New York Times.
The first-edition of Bradbury's Fahrenheit 451 shown here bound using an asbestos cloth has been offered for sale in the $10,000 U.S.D. range.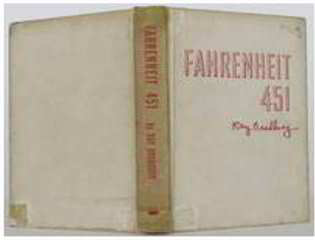 Two hundred copies of the first edition of Fahrenheit 451, published in 1953 by Ballantine Books, Inc. New York, were bound in Johns-Manville Quinterra, an asbestos material with resistance to pyrolysis. Each copy was numbered and signed by the author. The book was dedicated to Don Congdon, a literary agent.
And we have found reports of asbestosis among bookbinders in the 1950's - a claim that merits further research. There the asbestos was used in the bookbinders tool handles, not specifically in the book binding materials themselves. (Andyshak 2006)
Asbestos paper-based repair tape products were indeed used on heating pipes, hot water pipes, and heating air ducts - see ASBESTOS PAPER DUCT INSULATION for examples of that different application and material.

Asbestos was used in some books and bound materials, principally where fireproof or fire resistant properties were wanted, not in books for general reading - ordered by year.
Levey, Clarence D. Arcy. "Fireproofing for books." U.S. Patent 738,744, issued September 8, 1903.

Excerpts: ...have invented certain new and useful Improvements in Fireproofing for Books ... This cover may be bound in any well-known manner. 2 represents an outside surfacing of leather, linen, or any similar material.

Between the sheet 3 and the covering 2 is placed a sheet of fireproof material, such as asbestos. Instead of this arrangement the modification shown in Figs. 2 and 5 may be adopted, in which 5 and 7 represent sheets of fireproof material properly stiffened and hardened to resist wear.

This may be accomplished in a variety of ways. 6 represents a sheet of stiffening or other comparatively rigid material.
Jensen, Harry H. "Fireproof book." U.S. Patent 1,009,071, issued November 21, 1911.

Abstract & Excerpts: This invention relates to books, and the principal object of the same is to form the leaves and covers thereof of material to resist heat, so that in the event of a fire the books will not be destroyed....

... the improved book is composed of the leaves 1 which are formed of an inner layer of specially prepared and woven sheet asbestos 2, said sheet 2 having its surfaces covered with thin layers of paper 3.

The sheets of paper 3 are of sufficient thickness to permit printing thereon, but the ink will pass there through and mark the asbestos sheet in a corresponding manner, so that in the event of the leaves being in the presence of heat Specification of Letters Patent.
Akans, Walter Carl. "Fire and dust proof record-book." U.S. Patent 1,204,387, issued November 14, 1916.

Excerpt: ...
the bound leaves are protected by a metal rim which, without altering the appearance of the book, ... incloses [sic] the leaves so that their margins protected when the book is ... by rim and the metal front and back and backbone from smoke and dust and, the cover asbestos, being lined with the hook becomes practically fire proof;
Rubilino, Carmelo. "Record book." U.S. Patent 2,180,997, issued November 21, 1939.

Excerpt: The invention, therefore, comprises a. fire and waterproof record book consisting of an outer casing'made from sheet metal and lined with asbestos.
but review of this patent finds a harmless use of asbestos in book binding machinery - not in the end product of the book itself:
Porter, Horace G. "Fibers are Universal." (1964).
cites the use of asbestos in bookbinding with no specific details.
Domroe, William E., Thomas WF Lindquist, and Robert Stern. "Binding machine and cover for use therewith." U.S. Patent 4,141,100, issued February 27, 1979.
- does not use asbestos in the bound book but rather in the machinery used to do the binding.
Schlosser, Leonard B. "Handmade Paper Today: A worldwide survey of mills, papers, techniques and uses." (1984): 371-373.
- notes that asbestos was not a good fiber for paper-making.
Bulbulyan, Mariana A., Svetlana A. Ilychova, Shelia Hoar Zahm, Sergey V. Astashevsky, and David G. Zaridze. "Cancer mortality among women in the Russian printing industry." American journal of industrial medicine 36, no. 1 (1999): 166-171.
Cites asbestos used in bookbinding.
Andyshak, Ashley, "Master of Her Craft", The Gettysburg Companion, April/May 2006 15-17, retrieved 2017/11/20, original source: http://cdn.johnnealbooks.com/downloads/gettysburg-waters.pdf
Kazan, McClain, "Asbestos Use in Bookbinding", [web blog] retrieved 2017/11/20, original source: https://www.kazanlaw.com/asbestos-use-in-bookbinding/

Excerpt:
January 22, 2010 - Posted by: Steven Kazan - In category: News Updates Recently the New York Times magazine blog published a brief note about two classic science fiction novels bound in asbestos cloth.

This has triggered widespread indignation around the world and I am pleased to report that I was the first to post a critical comment. The blog entry and comments can be found here. If you are as offended as we were, please feel free to log on, register with the New York Times (it's free), and add your comments.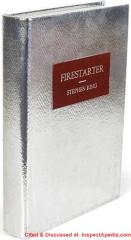 Rosecrans Baldwin, "Now Reading: Can't Burn This", T Magazine, The New York Times, 18 January 2010, retrieved 2017/11/20 original source: http://tmagazine.blogs.nytimes.com/2010/01/18/now-reading-cant-burn-this/

[Click to enlarge any image] Note: the "first edition" shown here is the aluminum-coated asbestos-bound Firestarter by Stephen King, a first edition, published by Phantasia Press in 1980, one of 26 lettered and signed editions. In 2017 this copy was offered for sale by AbeBooks.com at over $20,000. U.S.D.

Above on this page is an image of the 1953 first edition of Ray Bradbury's Farenheit 451 bound in asbestos cloth.

Excerpt from Comments posted to this article:

Phantasia PressWest Bloomfieold Michigan I am the publisher of Phantasia Press. The concerns about the danger of the asbestos binding on our lettered edition of FIRESTARTER are unfounded. I am also an attorney and have been involved in asberstos exposure cases for decades. As a result I have become quite familiar with the dangers of asbestos exposure.

Therefore, we were careful to use only material in the binding of this book which would pose absolutely no risk of harm to anyone, now or in the future...Please notice the picture of the asbestos FIRESTARTER edition.

It is bright silver....THE MATERIAL IS AN ALUMINUM COATED ASBESTOS...The asbestos is essentially "trapped" in the aluminum. This material had been tested, and approved for use in numerous commertial products. The only exposure to asbestos which can cause harm is the inhalation of tiny asbestos fibers...This "dust" or friable asbestos is released into the air and absorbed by the lungs, causeing asbestosis....

The Bradbury FARENHEIT 451, on the other hand DOES NOT have a protective coating and the asbestos is thus exposed. I have had this book, and seen others. Due to their age, the binding material is becoming dry and does emit dust...I would keep this book in a plastic bag.

But such small amounts of asbestos dust certainly do not cause any harm. Those who have suffered from illness due to asbestos exposure, had many years of such exposure on a daily basis at their workplace.......the fact that FARENHEIT 451 (pubshished in 1953) was produced in an edition of only 200 copies, and our edition of FIRESTARTER has only 26 copies bound in this material, does not call for widespread panic...

If anyone should be concerned, it would be Stephen King, who has 3 copies of the book....Since they were produced in 1980, I have not hear that Mr. King's health has been in any way affected by exposure. But perhaps you should contact him to make certain that his lungs have not been damaged. Alex Berman. West Bloomfield, Michigan.

OPINION:

Abrasion or wear are indeed might release some asbestos fibres from an asbestos fabric as we have found with aluminum-coated vibration dampeners on some older heating systems. ASBESTOS DUCT VIBRATION DAMPERS Furthermore, suggesting that the health of the authors who may own copies these books is evidence of their safety is not a rational risk assessment for all of the copies of those books.

Still I agree with the publisher that left intact, un-damaged, un-worn, un-abraded, the asbestos fiber release from these products into the air of buildings upon whose bookshelves they may be stored in a sealed plastic bag is likely to be below the limits of detection. We won't mention (much) about the spelling skills and attention to authoritative research demonstrated by the purported asbestos-expert attorney/publisher.
Lorenz, Susanne, and Michael Lorenz. "Turning Paper into PlasticCelluloid Book Covers." Journal of Paper Conservation16, no. 2 (2015): 60-66.
... excerpt: celluloid. In order to reduce the inflammability of celluloid, silicates, bromine compounds, or ground asbestos were added
Examples of Asbestos-Containing Repair Tape Products (not peculiar to use in bookbinding or book repair)
Brigham, Harold C. "EC55-1104 Repair of Electric Cords." (1955).
Carl, Mosier, and Jr John L. Mohun. "Insulating tape." U.S. Patent 2,239,293, issued April 22, 1941.
Hand, E. "Pressure sensitive cold sealing material." U.S. Patent 3,767,608, issued October 23, 1973.

... The novel tape of this invention comprises a base of synthetic rubber, a plasticizing material, and a major percentage of fillers to provide the physical parameters set forth herein.... The fillers may include magnesium silicate, calcium carbonate, asbestos fibers, and other suitable fillers.

Used also, in some formulations, is an oxidized asphalt which may be regarded partially as a filler and partially as a plasticizer.
Hoffmann, Charles F., Vondareck Charles H., Westervelt Dean C., "High temperature electrical insulating tape." U.S. Patent 3,082,133, issued March 19, 1963.
Patten, Cleo M., and Jr Carleton E. Bryant. "Insulating tape." U.S. Patent 2,353,494, issued July 11, 1944.

... Such an insulating tape is usually tightly wound in spiral fashion about the pipe to be insulated and securely fastened. ... The sheathing 2 may be of any flexible type suitable for confining the insulating filler and is preferably a woven or knitted asbestos fabric having a flattened, tubular shape.

While the filler 3 may be of any flexible insulating composition adapted to be confined within the sheathing 2, it is preferably asbestos fibres or mineral wool fibres either loose or in the form of rovings, fabric or the like. The insulating tape I may be reinforced, waterproofed, coated, or'the like.
Shaw, Kenneth D., "Method of repairing a rigid hollow article." U.S. Patent 2,924,546, issued February 9, 1960.

... While a special feature o-f the invention is the use of glass fiber cloth, i.e. woven or braided textile material made of glass fibers, alternative fibrous material (for instance, woven asbestos fabric) may be used in some cases.
Simpson, Donald C. "Combined asbestos and glass fiber yarn." U.S. Patent 2,132,702, issued October 11, 1938.
Excerpts:

Another object of the invention is to utilize the softness, pliability and yieldability more naturally inherent in the asbestos fibers in combinationwith glass fibers, which are much stronger and longer than the asbestos fibers.

The individual glass fibers are sufilciently fine and long so that they may be intertwisted or interfelted with the asbestos fibers to form strong yarns which may be safely subjected to the rigors of a conventional loom.

The asbestos fibers serve as cushions for the adjacent glass fibers to assist in the distribution of loads throughout the glass fibers, and to lend yieldability and pliability and strength to the final fabric.

In addition, if the glass fibers have been intertwisted or interfelted with the asbestos fibers, this arrangement will prevent the individual glass fibers from being laid out in straight lines, but, on the contrary, will permit them to assume helithe fact that the asbestos material may be comparatively rough, and when composed of a mass more equally.
Stephen, Edward Beeson, Evelyn Hurden, and Percival Hurden Alfred. "Reenforced asbestos cement sheet." U.S. Patent 1,931,494, issued October 24, 1933.
...
Continue reading at ASBESTOS LIST of PRODUCTS or select a topic from the More Reading links or topic ARTICLE INDEX shown below.
Or see ASBESTOS PHOTO GUIDE to MATERIALS
Or see ASBESTOS PAPER DUCT INSULATION
Suggested citation for this web page
ASBESTOS BOOKS & BOOKBINDING at InspectApedia.com - online encyclopedia of building & environmental inspection, testing, diagnosis, repair, & problem prevention advice.
Or use the SEARCH BOX found below to Ask a Question or Search InspectApedia
...
Ask a Question or Search InspectApedia
Try the search box just below, or if you prefer, post a question or comment in the Comments box below and we will respond promptly.
Search the InspectApedia website
Technical Reviewers & References
Click to Show or Hide Citations & References
...
Wikipedia provided background information about some topics discussed at this website provided this citation is also found in the same article along with a " retrieved on" date. Because Wikipedia and other website entries can be amended in real time, we cite the retrieval date of such citations and we do not assert that the information found there is always authoritative.
Books & Articles on Building & Environmental Inspection, Testing, Diagnosis, & Repair
Our recommended books about building & mechanical systems design, inspection, problem diagnosis, and repair, and about indoor environment and IAQ testing, diagnosis, and cleanup are at the InspectAPedia Bookstore. Also see our Book Reviews - InspectAPedia.
...