Asbestos Identification in Buildings FAQs
Q&A: How to find & identify asbestos-containing materials
POST a QUESTION or READ FAQs about what building materials may contain asbestos, visual identification of asbestos-containing materials in buildings, and possible asbestos material identification by testing, use, age, appearance
InspectAPedia tolerates no conflicts of interest. We have no relationship with advertisers, products, or services discussed at this website.
FAQs about how to recognize asbestos in buildings.
This article series provides basic guidance, a photo guide, and a complete list of asbetsos-containing materials as well as dates or history of their use: this information can be used to identify most asbestos-containing materials (or probable-asbestos) in buildings by simple visual inspection.
We also provide a MASTER INDEX to this topic, or you can try the page top or bottom SEARCH BOX as a quick way to find information you need.
Q&A on Recognizing Asbestos Hazards in Buildings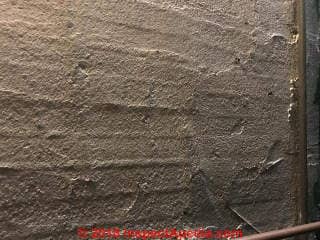 These questions and answers about how to recognize asbestos containing materials, asbestos suspect materials, or items that should be treated as PACM - Presumed Asbestos Containing Materials, were posted originally at ASBESTOS IDENTIFICATION IN BUILDINGS - home - be sure to check the guidance given on that page.
While a lab test is required to identify certain asbestos materials or to identify the type of asbestos, many asbestos-containing materials can be recognized by a combination of simple visual inspection and sometimes also knowing the material's age.
And asbestos can smilarly be ruled-out in other materials.
Extensive demolition could raise a question of an asbestos Hazard indoors if you are removing the drywall. That would be even more true if the drywall were being demolished by cutting chopping and sawing as opposed to being removed intact.

Keep in mind that the asbestos hazard is in the joint compound, and in your case at a very low level to start with,

The compound is not spread uniformly over the walls rather it is located at joints. Typically on 4 foot centers.

Typical minor drywall activities such as hanging a picture or small repairs are not likely to produce a measurable asbestos hazard in the building

I work in an apt complex and we recently had a fire.
The restoration team found asbestos in the drywall joint compound at a level of 2%. Should I be concerned about future repairs to the drywall? Will I need to test every area of drywall before I or my team attempt to repair a hole in the drywall?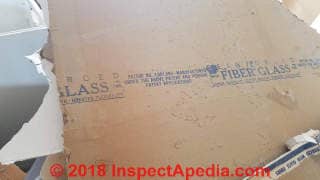 AW

Your drywall could but probably does not contain asbestos.
Its imprint refers to the use of fiberglass. It would be rather unlikely that a manufacturer would have used both fiberglass and asbestos in a drywall or gypsum board product.
Your question is repeated and answered in more detail, including our research citations, at

ASBESTOS in DRYWALL

I would like to know if anyone can help me determine if this Sheetrock contains asbestos. I'm hoping the fact that it is fiberglass reinforced may mean it does not contain asbestos.

Any help is appreciated.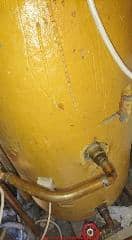 Barney It's unlikely that spray foam water cylinder insulation would contain asbestos.

See COMPLETE LIST OF ASBESTOS USES IN PRODUCTS

The only combination of asbestos and spray foam that I have found is a specialty product that laminated asbestos layers to spray foam for special fireproofing - see
ASBESTOS INSULATION

Water cylinder "lagging" that contains asbestos would appear as a white gypsum or plaster-like paste used on pipe elbows or on the entire exterior of a cylinder or on some heating boilers. Asbestos lagging, made of gypsum and asbestos, is not a yellow foam product.
More about water heater insulation and more about your water cylinder or calorifier is at INSULATE HOT WATER TANK?

Hi
Can you tell me please if this spray foam insulation around our hot water cylinder could contain asbestos. It was here in 1994 when we moved in. I recently read an article on asbestos and it mentioned cylinder lagging as a possible issue.
Thanks for any advice.

Can anyone tell me if this spray foam insulation around our hot water cylinder could contain asbestos. It has been here since we moved into the property in 1994. I recently read an article about asbestos in the home and cylinder lagging was mentioned.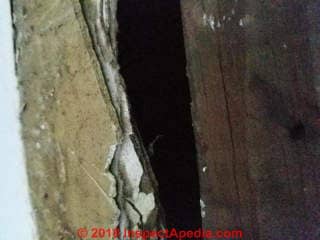 I would like to see some more when I lived in sharp photos of the edge of the material but from what I can see it looks like fiber board or insulating board sheathing which is a cellulose or paper based product used in this case as a plaster backing.
Note: later discussion with other readers and more photos enabled us to make a near-certain identification of the material shown here as an early patented form of "rock lath" a multi-layer plaster and paper board that or gypsum and paper board that was used as a base for plaster systems.
This is probably SACKETT BOARD
that we describe in PLASTER TYPES & METHODS in BUILDINGS

just started renovating my house which is from circa 1910. wanted to replace old trim and found out my walls are covered in this. much work done to the house over the years from prior owners and i cannot find one picture as to what this material is. its 1/8" thick layers of what looks like gypsum layered with a material similar to brown cardboard. can you please help?

Looks like plaster on wood lath.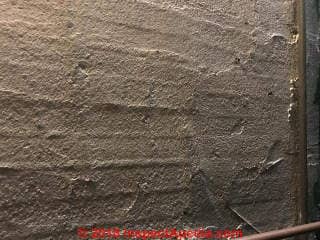 Some plaster contained asbestos in the plaster mix. In my experience, most didnt'. To know for certain you'd need to test a sample.

Would anybody be able to tell me if this basement ceiling is asbestos or some other product?

The photo is blurry but this looks like black foam underlayment or underside of carpeting.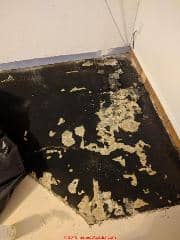 We have pulled up laminate floor to replace after water damage. We found this area that had been covered over by a previous owner.
Looking at old pictures, there appears to have been a brick structure in this spot some years ago. The house was built in 1969 in Florida, but the extension this is in was added more recently.

This material is foamy and has some spring to it, like a foam underlayment. I was worried it may be black mastic, but it doesn't sound like the descriptions I've read. Any idea if this might contain asbestos?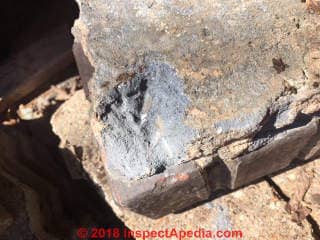 I don't think that asbestos that might have been used in a mortar mix would be sufficient to turn the actual cement blue, nor that would be likely in normal residential construction.
More likely that's the choice of sand gravel, amount of portland cement, and other ingredients.
Since the material is not friable as long as you're not drilling are grinding and making a dusting mess hazard from the chipped corner of masonry in your photos is probably below the limits of detection. I would suggest a normal masonry repair for that spot.

So my brother bumped his car into my brick patio on my 1922 house. I was picking up the bricks and trying to force them together then notices that the brick mortar was an off blue color.
Having researched asbestos, i remembered that blue asbestos was used in cement products.
Is it possible that the color of the cement is from this blue cement? I tried to chisel off a piece by taking a hammer at the mortar two or three times before i realized what it could be and freaked out.

We started a remodel on a 1974 Schult mobile home and are concerned that the 14' by 16" ceiling panel are asbestos. I'd like to attach a pic but can't figure out how here, maybe if you emailed me I can email you them? Thanks

Hi there,
Thanks for this fantastic site.
We moved into a 1979 Australian brick veneer house some years ago.
Loads of asbestos insulating board has been removed from the wet area since. In the kitchen, around the radiators and windows there remains a board which resembles the 10mm gyprock (gypsum board) but is thinner and sounds tinnier when tapped.
It seems to have a pink facing underneath the paintwork. I believe that it is fire retardant plasterboard which would have fibres added to the gypsum. I know that for a definitive answer testing is required, but wondered whether there was any wisdom on the usual additive during the 70s- I've read that glass fibre was the preferred additive by this time.
I've been okay with leaving it in situ but there is some prospect of disturbance now that we are replacing some radiators and the oven.

Anon,

Thank you for your comment. I'll review the
article to clarify this point:

Some materials can be identified as asbestos by their physical appearance as there were not other than asbestos products that looked exactly the same.

To recognise those, you would need to make note of what sort of item you are looking at, such as heating pipe insulation, and then look at our photos of thst item. As there are many categories, I can't put all of them and all of the photos in a pile in a single page - that would be overwhelming and slow loading.

That's why there are links to pages of are photos for different items.

Other materials may contain asbestos that cannot be determined by visual inspection alone and would require a lab test.

Welcome your criticism and come out and I take them seriously

Can you actually tell me how the love to identify it instead of giving me a bunch of redirects?? I want to know what it actually looks like so I can determine whether or not to stay away from this location....

Anon: please see CEILING PAINT TEXTURED ASBESTOS to read our advice

We live in a home that was built in 1971...and the builder blew on the popcorn ceiling materials onto ALL the interior walls and ceilings..
.the original owner died from pancreatic cancer...should we have this material tested?
We want to do some renovations...but want to know its OK to do so first. Thanks

Chris,

To permit space and citations I've moved your question and our detailed reply about asbestos use in clothes dryers and possible asbestos hazards from clothes dryers to this article


https://inspectapedia.com/hazmat/Clothes_Dryer_Asbestos.php CLOTHES DRYER ASBESTOS

Please take a look there and let me know what questions remain; also there I suggest contacting Inglis and give the company's contact information.

Thank you Danjoefriedman for your reply. In your opinion, would a clothes dryer manufactured in 1984 in Canada be suspect to containing asbestos? The dryer is a gas-fired made by inglis

Do old clothes dryers contain asbestos? I read online from a few sources that old clothes dryer belts, especially belts not made in USA, often contain asbestos and that its one of the largest causes of asbestos exposure in a household. Is this true? I can't find much on it. My dryer was manufactured in Canada in 1984, should I be concerned? Thanks

visual inspection of plaster in home installed in 1941


You sent us the photo and it's posted at ASBESTOS ELECTRICAL WIRING

Hi, I'd like to post a picture of light fixture wiring for possible asbestos ID.

Sure Nanker,

Find our email at the page bottom CONTACT address and send me the photos for posting.

I would like to post a picture of fibre board I recently exposed under drywall sheets, to read what the potential might be that it contains asbestos.

I would like to pose a picture of part of a cement sheet to see if it looks like asbestos

I would like to post a picture of a ceiling tile to see if the forum thinks their could be asbestos.

Question: Was asbestos used in mobile home metal ceilings?
was any type of asbestos insulation used in mobile home metal ceiling? - Morris 11/2/11
Reply:
Morris,

I'm not quite sure I understand the question. Certainly the metal ceiling of a mobile home is not itself asbestos, though if it has been painted with textured or "popcorn" paint those materials may contain asbestos, depending on when they were painted on.

If you are asking about actual ceiling insulation material, it's unlikely that asbestos was used just as building insulation. On some mobile home products asbestos millboard or even asbestos paper might be found as fireproofing.
Question: Is the yellow & brown insulating board found under wall paneling in my 1950's home an asbestos insulating product?
Question: I am currently renovating a home that was built in the early 1950s. The entire second floor was covered with wood paneling. Under the paneling, is 1/2 inch "board" all around the room.
It's yellow on one side (smooth), and brown (paper color/looks like possible cardboard) on the other, and has a type of "fiber" content. I ripped out a whole bunch of it, and now my throat is irritated. Has anyone ever heard of/seen this product? Does anyone know if it contains asbestos? Please let me know. Jim 1/3/12
Reply:
Jim,

the wallboard you describe may have been a wood-product insulating board - see INSULATION IDENTIFICATION GUIDE or for identification photos. Also see SHEATHING, FIBERBOARD ASBESTOS CONTENT .

Demolishing just about any building material that creates dust, especially old materials that may also have become moldy or may have accumulated a dust of insect or rodent debris, can be a respiratory irritant, a problem for asthmatics, etc. Check with your doctor.
Reader followup:
Thanks Dan, do you know if these products usually contained asbestos? Jim
Reply:
Wood-product insulating means to indicate made of wood materials. I have not found a reference indicating that manufacturers added asbestos to wood product insulating boards, though given the thousands of uses of asbestos, no one can issue a guarantee without testing.
Keep in mind that dust from demolition contains a lot of very irritating materials, including the sorts of items I listed above.
Question: Is the white wooly stuff insulating and labeled Eagle-Picher found in the attic of my 1947 home asbestos?
I was in my attic the other day and there is what looks like wool up there. My house was built in 1947, I'm not sure if it has asbestos in it or not, some of it is white in color and some is black in color and around the furnace I found and piece of paper that says eagle-picher insulation. - Robert 1/5/12
Reply:
Robert, take a look at our photo-guide to identifying building insulation materials, beginning at
INSULATION IDENTIFICATION GUIDE (article links listed at the ARTICLE INDEX the bottom of this article ) - and you'll find a link to detailed photos of Mineral Wool - Rock Wool Insulation - a mineral fiber, but not asbestos.

It would be highly unusual for someone to actually insulate an attic with asbestos materials, though once I found a home where that had been done. The owner worked in the heating industry and used corrugated asbestos paper pipe insulation to lay in his attic floor.
Question: Do gas fireplace logs contain asbestos?
We have a great gas fireplace, but lately i have become suspicious that there may be asbestos in the embers below? There is something yellowish and fluffy. It is an open fireplace. We just bought the house (built 1959) and asked both the inspector and a fireplace specialist if it was asbestos and they said no, but how can you tell? I plan on getting in tested, just feeling anxious in the meantime. - Cat 1/6/12
Reply:
Cat:

Your suspicion that older faux-logs in gas fireplaces contained asbestos is well founded. In my OPINION it is just about impossible to tell by visual inspection alone whether or not a gas log includes asbestos in its makeup. The new logs that are asbestos free look just like the old ones and seem to me to be about the same weight too.

You'd need to send a small material sample to a certified asbestos testing lab to know for sure what the gas log contains. But if you know that the logs are quite old, there's a good chance the are asbestos-containing.

The asbestos particle release into the building air from using an old gas log would be expected to be below the limits of detection in normal use. But if the log is mechanically damaged or disturbed, indeed you could create a messy dust that contains asbestos particles.

Watch out: if you're seeing fluffy deposits forming when the gas fireplace is in operation, that's an abnormal condition that might indicate improper combustion and an unsafe, carbon monoxide hazard. Be sure your home has working CO detectors properly placed.
Question: A baby crib was stored near vermiculite insulation. Is the baby crib safe if I clean it?
I have a baby crib stored in my parents attack. It probably has vermiculite insulation loosely laid between the floor boards. Is the crib safe if I clean it? - Pam 5/15/12
Reply:
Pam:

With respect, and not meaning to sound glib, if I cleaned a baby crib it would be safe. By text on a website one can't know what you would do. Elaborating: a baby crib that is made of all hard surface materials can be cleaned of surface dust by washing or perhaps even careful damp wiping. If there is a mattress that was not covered with something to keep it clean you may want to replace it to be perfectly safe.

I do not know that the vermiculite insulation in the location where the crib was stored contains asbestos, but sound advice is to assume so. The $50.+ you'd spend on testing is perhaps better spent on a new mattress and on cleaning.
Question: What is the Best Way to Collect an Asbestos-Suspect Material Sample for Testing
We have a large amount of insulation and a few other materials in our home that we suspect are or contain asbestos and would like to know the proper way to collect a sample to send to an asbestos testing lab. - Anon. 5/30/12
Reply: How To Identify & Test Materials That Contain Asbestos
If despite the health risks or legal risks involvd you nevertheless choose to take the samples yourself, take care not to release asbestos fibers into the air or onto yourself. Material that is in good condition and will not be disturbed (by remodeling, for example) should be left alone.
Only material that is damaged or will be disturbed should be sampled. Anyone who samples asbestos-containing materials should have as much information as possible on the handling of asbestos before sampling, and at a minimum, should observe the procedures described a ASBESTOS TESTING SAMPLE COLLECTION - and check with the lab's instructions when you contact a certified test lab via ASBESTOS TESTING LAB LIST
Question: underlayment contained asbestos?
(June 19, 2014) Mike Gilley said:
I'm removing ceramic tiles from a bathroom with intent to replace them and found an underlayment that appears porous and brown (not fibrous)--perhaps 2" thick. I can't tell if it was a poured, self leveling underlayment or sheet. Regardless, I'm looking input about whether the underlayment is likely to contain asbestos.
Reply:
Mike I'm unclear on what the material is - from just your note. Hardboard underlayment would be typically 1/4" or thinner; a 2-inch porous brown material is not something I've come across under a floor. If it's hard I agree it may have been a leveling compound. If it's soft I'd guess it's an insulating board used as underlayment.
You can use the CONTACT link to send us some photos if you like.
I think that rather than spend $50 to $100 on testing for asbestos I'd treat the material as presumed-asbestos-containing just for safety & dust control.
Question: asbestos in the gym?
(Sept 25, 2014) yvette_tracy@yahoo.com said:
I currently joined a gym with my two kids and they told me that it took long to open because it had asbestos. I had walked by and asked when it would open and they told me that upon renovating it they found it. Supposedly they cleaned it up but i want to cancel my membership and dont want to take that chance with my kids. What can i do. Am i obligated to go or can i cancel?
Reply:
This is a question for you and your attorney, Yvette, someone who can review your contract.
If there was an asbestos hazard and if it were properly remediated, that cleanup would have included a final inspection and test to demonstrate that the cleanup was proper and complete. Beware lest you bail out of the cleaned-up facility and join another one where this or other hazards have not been identified or corrected
Question: asbestos in ceiling tiles?
(Nov 8, 2014) Chris said:
Is there someone I can send a picture to of the ceiling tiles in the house I am looking at? Built in 1952 - I just want an opinion on where to look for similar tiles or whether these are known. Thank you, Chris

Reply:
Sure Chris just use the email found at our CONTACT link seen at page top or bottom
...
Continue reading at ASBESTOS IDENTIFICATION IN BUILDINGS - home, or select a topic from closely-related articles below, or see our complete INDEX to RELATED ARTICLES below.
Or see ASBESTOS PHOTO GUIDE to Materials
Or see ASBESTOS LIST of PRODUCTS
Or see ASBESTOS TESTING LAB LIST
Suggested citation for this web page
ASBESTOS IDENTIFICATION IN BUILDINGS FAQs at InspectApedia.com - online encyclopedia of building & environmental inspection, testing, diagnosis, repair, & problem prevention advice.
Or use the SEARCH BOX found below to Ask a Question or Search InspectApedia
...
Ask a Question or Search InspectApedia
Try the search box just below, or if you prefer, post a question or comment in the Comments box below and we will respond promptly.
Search the InspectApedia website
Technical Reviewers & References
Click to Show or Hide Citations & References
Books & Articles on Building & Environmental Inspection, Testing, Diagnosis, & Repair
...
Publisher InspectApedia.com - Daniel Friedman