Submit Photos to Identify Asbestos-Floor Tiles
POST a QUESTION or READ FAQs about how to identify asbestos-containing flooring materials and what to do when asbestos-containing floor tiles or sheet flooring are found in a building.
InspectAPedia tolerates no conflicts of interest. We have no relationship with advertisers, products, or services discussed at this website.
How to submit photos of flooring to get help in identifying floor tiles or sheet flooring that might contain asbestos.
This article provides photos from our readers who asked for help in identifying floor tile or sheet flooring age and possible asbestos content. The article begins with photos of 1950's era asphalt asbestos floor tiles.
This article series includes a photo-gallery of pictures of floor coverings submitted for identification along with comments on findings, recommendations, & asbestos content. Readers can use the page top or bottom CONTACT link to ubmit photos of flooring to get help in identifying floor tiles or sheet flooring that might contain asbestos.
We also provide a MASTER INDEX to this topic, or you can try the page top or bottom SEARCH BOX as a quick way to find information you need.
Photo Gallery of Requests to Identify Possible-Asbestos Floor Tiles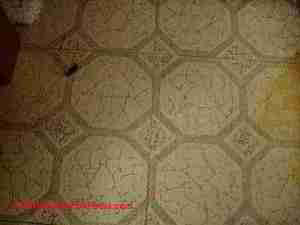 We provide photographs and descriptive text of asbestos insulation and other asbestos-containing products to permit identification of definite, probable, or possible asbestos materials in buildings.
Our photo (left) shows Armstrong® Excelon 12x12 vinyl asbestos flooring made in 1972, identified in our detailed photo guide to asphalt asbestos and vinyl asbestos floor tiles, and resilient flooring produced in 1900 -1980. (links below)
[Click to enlarge any image]
In the article below we arrange the flooring photographs and discussion about identification of the floor and about possible asbestos content and asbestos risk management roughly in order of the reported age of the building or flooring installation.
If you have tried looking through our example flooring photos by year or flooring manufacturer and were unable to identify your flooring then feel free
to CONTACT US to send along photos and a description (age, dimensions, building history) of flooring that you are unable to identify
Asbestos is safe and legal to remain in homes or public buildings as long as the asbestos materials are in good condition and the asbestos can not be released into the air.
Article Series Contents
1950's Floor Tile or Sheet Flooring Identification Requests
This article contains flooring identification requests for floor tiles or sheet flooring believed to date from the 1950's.
For a 1950's vintage asbestos-containing floor tile photo guide, please also see 1951-1959 ARMSTRONG ASPHALT ASBESTOS FLOOR TILE PATTERN & COLOR GUIDE, 9"x9"x1/8"
or see our complete list of flooring identification photo guides at FLOOR TILE / SHEET FLOORING PHOTO GUIDES
Question: asbestos content of 6" x 6" floor tiles in a 1953 home
Could 6x6" tiles contain asbestos? I can't find any information on tiles listed at this size. I have 4 different colored tiles (The bathroom/kitchen/hall have a main color and an edge color).
They don't look exactly like any of the tiles or colors, but the pattern is similar to 1955 - Armstrong Excelon Vinyl Plastic Asbestos Floor Tiles, Patterns & Color Guide Navajo Gray 781.
The kitchen/bath/hall also have lightly popcorned ceilings with a slight sparkle. Part of the bathroom ceiling was removed for mold remediation and there is definite dust left over.
The house was built in Massachusetts in 1953. All other flooring (2 little bedrooms and a small living room) is hard wood with drywall for the walls and ceilings (with a little Spackle-ish stuff).
I'm going to guess I will just have to find somewhere and send out a piece of each tile and some ceiling. I feel awful as I have a little guy and I'm worried about hurting him.
Could my 6"x6" tiles and popcornish sparkly ceiling contain asbestos? Can the air be cleaned or tested from the ceiling removal?
A relative that is helping me clean the house swears that since the tiles are in good shape, we can just peel them up with a trowel or maybe iron the area to soften the adhesive. There are newer sticky tiles on top of the potential asbestos ones and these are lifting up and coming off.
I've been researching your site but I am getting very nervous because of my little guy. I thought I'd ask first as I am in a bit of a tight financial budget with all the first time home buying fees but thought I was lucky to get a pretty good deal on a home. I really appreciate your time and information, ~L. 1/11/2014
Reply:
Certainly if the flooring you describe dates from the 1950's or as late as the late 1970's it should be handled with the presumption that it contains asbestos. This is not a reason to be frightened, as unless someone has already made a dusty mess by grinding, sawing, or similar dust-producing demolition, the hazard of airborne asbestos is probably low, possibly below the limits of detection.
Take a look at the asbestos flooring removal and flooring hazard reduction risk management articles given just below for some suggestions.
If you can send me some photographs [provided by the reader and shown just above] of your flooring I will research further.
Our standard advice is that in cases where you face a possibly costly demolition or cleanup project it makes sense to have the material tested by a certified asbestos test lab (link given below). But simple encapsulation approaches for a building that has not been contaminated with demolition dust are often sufficient.
Similarly, depending on when it was applied, textured ceiling paints and popcorn ceiling paints often contained asbestos and also deserve special handling. Often rather than face a costly demolition and cleanup a contractor will simply laminate a new layer of 1/4" drywall over the old ceiling to provide a safe encapsulation of the original coating. Actual removal of an asbestos-containing textured ceiling is a more messy project that we'd like to avoid.
See also CEILING PAINT TEXTURED ASBESTOS
Reader follow-up:
I can also provide pictures. Some of the house's wall paper was also already removed. I'm looking to see if this is also something to test.
Here are some photos from the house. [Shown above] I have labeled the photos by room. I will be getting a "D-Lead Paint Test Kit" today and really hope the paint is okay.
There is one photo of the bath ceiling where you can see the half furthest away, which is the section that was cut and replaced during mold remediation. The mold remediation was carried out by the seller before we bought the house.
Reply:
I agree that those floor tile patterns match older asphalt-asbestos flooring patterns we've collected from catalogs, readers, and some readers who've tested the tiles.
The bath floor tiles and kitchen floor tiles that you indicate are 6-inch in size (did you actually measure these?) are of patterns matching the Aztec asphalt-asbestos flooring we've documented.
I'd certainly like to see a photo of these tiles with a ruler in the image.
While 9x9 inch asbestos-containing floor tiles (and 12-inch tiles) are common in older homes, yours are the first field-photos I've seen of these in the small 6-inch size in this pattern.
See ASBESTOS FLOOR TILE PHOTO ID GUIDE - home: 1950-1986+ where we include photos of the Armstrong Seneca floor tile pattern that our records asserted were sold only in 9x9" sizes at that time.
(Kentile and some other manufacturers indeed produced asbestos-containing floor tiles in quite a variety of sizes and shapes including strips, stars, and other patterns, so six-inch floor tiles are not unimaginable).
We don't know the age of these floors but I'm guessing from the size and pattern that they date from the 1950's.
Asbestos was used in both asphalt asbestos flooring and vinyl-asbestos flooring up to the early 1980's (which means new old stock could have been installed within a few years after the manufacturers had stopped producing asphalt-containing flooring).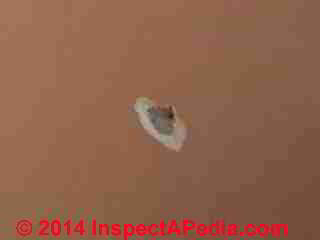 Historical note: some incompletely-documented sources (including TSCA 1982 and ICF 1984) list six producers of asbestos-containing flooring in 1981: American Biltrite (Amitco division), Armstrong World Industries, Azrock industries, Congoleum Corp., Kentile Floors, and Tarkett Corporation. But the patterns in the flooring photos you've provided look like Armstrong products.
Asbestos in Plaster, Lead Paint, Wallpaper Arsenic Warnings
Moving off of the topic of asbestos-containing flooring I'll comment on two other photographs you included of plaster wall damage and peeling paint and peeling wallpaper.
OPINION: Your bedroom wall photo (at left) shows minor damage probably where a nail was removed, in a plaster wall. I've seen claims that some plaster may have contained asbestos but as the material is quite hard (not friable) I think the concern for walls in good condition would be the paint not the plaster - as long as you're not doing dusty demolition.
Your kitchen wall photo (below left) shows peeling wallpaper and peeling paint. (Some very old wallpapers included arsenic in the dyes used to make green patterns).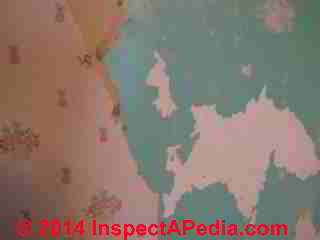 Typically I remove wallpaper by wetting or steaming it to try to remove it in large pieces.
Typically I remove loose paint HEPA vacuuming and taking appropriate dust and lead paint control measures, and where plaster is sound and we're just considering painting, I seal the wall with a lacquer primer sealer before applying the finish coats.
Lead paint, depending on your state and local jurisdiction rules, may require additional steps including removal at some floor heights and other locations.
(A pet worry of mine is lead-painted window sashes that make dust picked up on window sills by the sticky fingers of toddlers.)
From the age of the home I'd be careful about renovating ANY painted surfaces without first determining the lead paint hazard and appropriate remedies.
OPINION: The textured ceiling photos [below, click to enlarge] look like a paint-on product but covered with additional layers of paint.
Some of those definitely contained asbestos. Your choices are to treat the material as asbestos-containing or to collect a small sample for testing. Your test lab can give detailed instructions. Usually it's a simple process involving wetting a small area to remove a sample that is bagged and sent to the lab.
Reader follow-up: testing for asbestos in flooring, in air, in mastic, in dust
I am wondering if I should cancel the lab that I have scheduled for Thursday (tomorrow). The lab said they would do 6 sample tests for $200, this would be 4 tiles (they insist that different colored tiles be tested), 1 ceiling, 1 mastic, and an air and dust test for free.
The company is "Environmental Sampling & Testing LLC" 54 Water Street Ashburnham MA 01430. With a CLD Class D Certificate. There is usually additional cost but they gave us a break due to our situation.
They do the tests but not remediation. They do refer for remediation if the tests are positive.
I used a "Klean Strip D Lead Test Kit" which is supposedly EPA Recognized & ETV Tested to detect Lead & Lead Chromate in all layers of paint. The kit uses sodium sulphite, it seemed less likely to give a false positive like the swabs. All of the paint under the wallpaper and on the plaster came back negative. Hurray!
Your idea of making a new surface with drywall is amazingly, logically smart. With these test results it looks like I may be able to just scrape the paint. I was looking at Inspectapedia and I did not see a specific primer mentioned. Would the Zinnser Water based shellac or an oil based primer work?
I am looking through Massachusetts law to see if there is anything missing regarding tackling the tiles. Perhaps I will get the lab tests and then proceed with covering them. It may be good to know for sure concerning the ceiling and tile glue.
I will get some more photos of the tiles. The box I have is for the newer tiles but I will get all many kinds of pictures and measurements. Would it be bad to pull up some tiles to get a better look? My primary concern is my 10 month old.
I like your reference to the tiles not being radioactive. Very True! For some reason having someone small who relies on me for everything makes it hard to wrap my mind around perceived dangers even with the right knowledge.
Reply: "OPM" other people's money - concern: getting advice that is safe for you but mostly safe for the consultant you asked - at your expense
Below opinions include the "OPM" other people's money - concern: if you ASK someone they will almost always suggest that you spend your money on testing and inspections - not necessarily because it's clearly justified but because it's the safe thing to do - safe for them - as it avoids you later being angry that they didn't give you advice to be more aggressive or more cautious.
Regarding your questions:
Do you think it would be advisable to:
-Have and air test for asbestos/lead/arsenic
-Have a dust test for asbestos/lead/arsenic
-To look for some EPA type group to come in and provide advice -
Air tests are most likely going to be junk science for the situation you describe.
The level of asbestos in a residential home's air due to vinyl asbestos flooring that has not been disturbed by grinding, sanding, sawing, or aggressive demolition is likely to be below the limits of detection, and furthermore, testing the indoor environment after a professional cleanup, if one is required, will be most likely SOP for the firm providing that work.
Settled dust tests are usually cheap and can be done to reduce your level of worry but are unreliable unless collected with real thought. Dust tests before a professional cleanup job can sort out issues that arise later about whether or not the contractor performed proper dust containment
. But if you are going to cover the flooring (a recommended alternative) these tests are probably not justified.
-Cover the tiled floor, as is, with laminate or other, leaving all current tiles in place
OF course - this is the least disruptive and thus safest course. Asbestos is not radioactive - it doesn't emit harmful rays. If it is protected from mechanical damage, left in place it's not harmful - an approach recommended in the reference documents we've cited.
-Spackle the peeled paint, seal it as you suggested, paint it
No - you describe a high labor approach. Why not just laminate a layer of 1/4" drywall and tape those joints to form a new safe surface?
This has been a bit of a nightmare and stress for me. I know this will affect ever selling the home since I found it, although I bet the seller knew before selling to me.
The impact of future sale of a home where enviro-scare materials are present never drops to zero, but if you document that you have done the proper repairs or remediation, didn't make a mess or contaminate the home, and then invite a buyer to perform their own environmental testing (you can even give back that cost at closing), you've done what's right and have minimized the hassle.
Don't panic - doing so risks being ripped off by opportunist contractors, realtors, buyers.
Be sure to use a HEPA rated vacuum cleaner for cleaning up debris like paint chips and floor dust;
Then you can use any primer you like on the painted ceiling or wall surface, but I like lacquer-based primers such as Bin® or Enamelac® because of their resistance to bleed-through of existing stains. I've had some stain bleed-through troubles with water based primers.
Reader follow-up:
Thank you for your expertise! I am going to get some good photos to you with a ruler in the picture. I did measure them previously, but forgot my ruler in a rush. I have the original box (found in a closet) for the tiles over the asbestos-looking ones
. The box is labeled "Value Tile Vinyl Tiles" and I do not see asbestos listed anywhere on the box. The box has an older look, but a sticky note on it lists an order date in 2001.
Do you think it would be advisable to: -Have and air test for asbestos/lead/arsenic -Have a dust test for asbestos/lead/arsenic -To look for some EPA type group to come in and provide advice
-Cover the tiled floor, as is, with laminate or other, leaving all current tiles in place -Spackle the peeled paint, seal it as you suggested, paint it
This has been a bit of a nightmare and stress for me. I know this will affect ever selling the home since I found it, although I bet the seller knew before selling to me.
The peeled paint is actually new. The family members who wanted to rip up the asbestos were "helping".
They went to paint two room and promised not to touch the tiles or do anything else but then decided the wall paper was unattractive and decided using bare hands and a metal wood chisel to gouge the wall paper, paint and plaster while it was dry, was a good idea.
There is dust everywhere and because I have a 9 month old I've never been so sick to my stomach and taken aback that someone thought they had the right to do this.
Thank you for helping. I am always amazed that there are so many good people in this world even with everything else going on. I will get pictures most likely tomorrow. I have attached a photo of the kitchen and bathroom before is was turned into a chipped mess. Lesson learned.
Reply:
It's possible that the floor tile manufacturer produced 6-inch asphalt or vinyl asbestos floor tiles as a test run or for test marketing or even sold six-inch floor tiles for a time, even though we have not yet found good evidence that the product was widely distributed.
I've certainly seen this in other products, even electrical circuit breakers made of odd plastic colors. The labor of installing smaller floor tiles is always greater than larger ones, which may explain the shift to 9-inch and then 12-inch floor tiles and to resilient sheet flooring.
Watch out: depending on their age, those peel-and-stick floor tiles may also contain asbestos. It's usually easy to remove them without creating dust but I'd handle them accordingly.
Reader Question: do these 1950's era floor tiles contain asbestos?
Hi! We just purchased our first home and are wondering if the following photos of the current floor would tell us weather or not they contain asbestos. - F.C. 7 Oct 2014
Reply: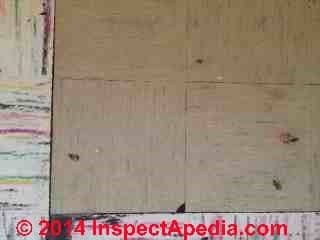 In my OPINION there is no need to test these tiles, as the tiles in your three flooring photos are of a pattern resembling products from Armstrong and Kentile. Given the apparent age of the structre, multiple layers of flooring, and the floor tiles themselves, it would be prudent to preseume these are asbestos-containing floor tiles.
Question: Does this tile floor contain asbestos? Home Depot said they won't install new flooring over asbestos-containing floor tiles? What can I do about that?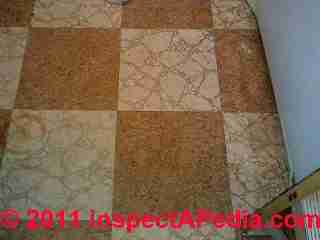 I am trying to move into a nursing home but have to fix up my house and sell it before I can do that. I asked home depot for a price to install new linoleum in my utility room but they said they couldn't if the existing tile had asbestos.
I looked on your website to see if my tile was pictured there but didn't find an exact match.
Would you look at the attached picture and let me know if you recognize this tile as having asbestos?
If you don't know, I would be interested in hearing about the pro bono service your website offers for the elderly to determine if the tile has asbestos.
The tile pictured is intact but tile under the washer and dryer has come lose. Thank you - D.H. 11/23/2011
Reply: How to confirm asbestos-containing floor tiles? How to install new flooring over asbestos-containing floor tiles
Indeed your floor tiles appear to include a cork-like pattern that, depending on flooring age, may contain asbestos. (See our asbestos floor tile photos beginning
at ASBESTOS FLOOR TILE IDENTIFICATION PHOTOS 1949-1959). Therefore it would make sense to treat the flooring as PACM - "Presumed Asbestos Containing materials"
An example of the light-coloured flooring in your photo appears at 1974-1979 ARMSTRONG FLOOR TILE GUIDE, COMPETE and resembles Armstrong's Caligula pattern - a floor tile pattern that was sold over many years.
A lab test can conclusively identify the presence of asbestos in a floor tile sample, and typically such a test is not costly - perhaps $50. from any certified asbestos testing lab. (Sorry but our entire lab is on forensic assignment out of the U.S. until year end).
Although you report that your local Home Depot representative told you that they "could not" install a new floor over asbestos-containing flooring, it is, at least in any legal or technical sense, not correct to assert that new flooring absolutely cannot be installed over asbestos containing floor tiles. The condition of the existing flooring and the subfloor and structure below determine the prep work needed in any new floor installation procedure.
Watch out: In general, in a private residence, there is not a legal requirement to remove asbestos flooring and in fact doing so may be more hazardous than leaving it in place.
Home Depot's lawyers may have decided on their floor installation policy, or your local installer may simply prefer to lose business rather than take the risk of being blamed for creating a dusty dangerous asbestos mess if they work improperly with the material (such as grinding, sawing, or creating dusty demolition - usually demolition or removal is not necessary).
And we would agree that if the floor were in bad condition so that demolition and removal of the floor is really required, then the job should be handled by a trained and competent asbestos abatement/removal company.
Example of the OPM problem: the consultant or contractor spends other people's money, sometimes unnecessarily, in order to reduce their own risk
But your photo shows an intact floor surface. So we suspect that there may also be what we call the OPM (other people's money) problem here: it is often much safer and absolutely free for a consultant or contractor to recommend to a client that s/he perform a costly procedure that may or may not be really necessary.
The procedure reduces risk for the contractor at no cost to them since the client is paying for the procedure, test, or removal.
Alternatives for Installing New Flooring over Vinyl-Asbestos Floor Tiles or other Asbestos-Containing Floor Coverings
When installing new sheet vinyl or other flooring, typically the existing floor surface has to be sound and smooth. Options for proceeding range from
the worst case of a requirement of removal of a badly-damaged floor surface or removal and re-framing and reinstalling new subflooring over rotted damaged floors and floor structures
to common cases: a few lost tiles over a structurally sound subfloor and floor: the installer may install a veneer of solid core plywood or even hardboard to provide a smooth level surface, nailing the veneer through the existing floor and to the subfloor and joists below
to simple cases: one or two lost or loose tiles (such as those under your washing machine) are removed and the space or opening filled level with the surrounding floor using a suitable floor leveling compound or patching material.
1955-59 Asbestos-Containing Flooring in the U.K.
We moved this material to 1950's or earlier Floor Tiles in the U.K.Identification Requests

1960's Floor Tile or Sheet Flooring Identification
We moved these flooring photos to 1960's Floor Tile or Sheet Flooring Identification Requests
Asbestos is safe and legal to remain in homes or public buildings as long as the asbestos materials are in good condition and the asbestos can not be released into the air.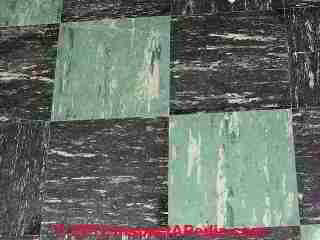 Unless tests are performed (usually not necessary) and results indicate otherwise, I would treat this flooring as PACM presumed asbestos containing material and handle it accordingly. We ask readers to let us know if you test the flooring and what you learn (a single asbestos test is not expensive, about $50. U.S.) - what we learn will help others.
1970's Floor Tile or Sheet Flooring Identification Requests
Please see the new home for this information: 1970's Floor Tile or Sheet Flooring Identification Requests
1980's Floor Tile or Sheet Flooring Identification Requests
Question: does this early 1980's Peel-and-Stick Floor Tile have an Asbestos Risk?
Please see ASBESTOS FLOOR TILE ID REQUESTS 1980's or LATER or Sheet Flooring Identification Requests
What to Do About Unidentified Flooring that May Contain Asbestos
If you are facing a costly demolition then it would make sense to confirm asbestos content using a certified asbesto test lab - ASBESTOS TESTING LAB LIST
Else it makes sense to treat the material as "Presumed Asbestos Containing Material" or "PACM" flooring based on its age and appearance.
Reader Question: How can I Submit a Floor Tile Photo for Identification
(Apr 3, 2014) Anonymous said:
How can I submit a photo of a tile to see if it might contain asbestos?
Reply:
Sure, Anon, just use the email found at our CONTACT link seen at the top or bottom of any InspectApedia.com page - but it may not be necessary.
If you've got vinyl or asphalt floor tiles installed before the early 1980's it would make sense to treat them as presumed to contain asbestos (PACM or "Presumed Asbestos Containing Material") - and to avoid making a dusty demolition, sawing, grinding mess.
...
Continue reading at 1960's Floor Tile or select a topic from closely-related articles below, or see our complete INDEX to RELATED ARTICLES below.
Or see FLOOR TILE / SHEET FLOORING PHOTO GUIDES
Or see ASBESTOS FLOOR TILE IDENTIFICATION COLOR KEY
Or see FLOOR TYPES & DEFECTS - home
Or see OTHER PEOPLE's MONEY - why consultants spend your money to reduce their risk
Or see this
Article Series Contents
Suggested citation for this web page
ASBESTOS FLOOR TILE PHOTO ID REQUESTS at InspectApedia.com - online encyclopedia of building & environmental inspection, testing, diagnosis, repair, & problem prevention advice.
Or use the SEARCH BOX found below to Ask a Question or Search InspectApedia
...
Frequently Asked Questions (FAQs)
Try the search box below or CONTACT US by email if you cannot find the answer you need at InspectApedia.
See
...
Ask a Question or Search InspectApedia
Questions & answers or comments about how to identify asbestos-containing flooring materials and what to do when asbestos-containing floor tiles or sheet flooring are found in a building.
Try the search box just below, or if you prefer, post a question or comment in the Comments box below and we will respond promptly.
Search the InspectApedia website
Technical Reviewers & References
Click to Show or Hide Citations & References
Thanks to reader R.M. for the photo and test information documenting chrysotile asbestos in a vinyl-asbestos floor tile from a 1969 home. January 2011.
Thanks to reader Kim for the photo of black and white VAT resembling Armstrong Excelon from a 1952 home - January 2011.
EVER WEAR TILE CO is currently (2009) in the Terrazzo, Tile, Marble, and Mosaic Work industry in Fallon, NV. 775) 423-6221. [We do not know the company history nor whether there is an association with EverWear vinyl asbestos floor tiles discussed in this article.]
"Asbestos in your home or at work," Forsyth County Environmental Affairs Department, Winston-Salem NC 12/08
"Asbestos Floor Tile Removal", the University of Minnesota's advice on removing VAT (vinyl asbestos or asphalt asbestos floor tile) can be read in detail at www.health.state.mn.us/divs/eh/asbestos/floortile/index.html
Copy on file as ASBESTOS IN YOUR HOME - U.S. EPA, Exposure Evaluation Division, Office of Toxic Substances, Office of Pesticides and Toxic Substances, U.S. Environmental Protection Agency, Washington,D.C. 20460
Resilient Floor Covering Institute, 1030 15th St. NW, suite 350, Washington D.C.
Asbestos products and their history and use in various building materials such as asphalt and vinyl flooring includes discussion which draws on ASBESTOS, ITS INDUSTRIAL APPLICATIONS, ROSATO 1959, D.V. Rosato, engineering consultant, Newton, MA, Reinhold Publishing, 1959 Library of Congress Catalog Card No.: 59-12535 (out of print).
EPA Guidance for Controlling Asbestos-Containing Materials in buildings, NIAST, National Institute on Abatement Sciences & Technology, [republishing EPA public documents] 1985 ed., Exposure Evaluation Division, Office of Toxic Substances, Office of Pesticides and Toxic Substances, U.S. Environmental Protection Agency, Washington,D.C. 20460
...
Books & Articles on Building & Environmental Inspection, Testing, Diagnosis, & Repair
Our recommended books about building & mechanical systems design, inspection, problem diagnosis, and repair, and about indoor environment and IAQ testing, diagnosis, and cleanup are at the InspectAPedia Bookstore. Also see our Book Reviews - InspectAPedia.
...
Publisher InspectApedia.com - Daniel Friedman