Asbestos-Ceiling Material FAQs-3
Q&A on ceiling tiles that might contain asbestos
InspectAPedia tolerates no conflicts of interest. We have no relationship with advertisers, products, or services discussed at this website.
Asbestos-containing ceiling FAQs, set#3
More questions & answers on which ceiling tiles or other materials that contain asbestos.
This article series provides photographs and descriptive text of asbestos insulation and other asbestos-containing products to permit identification of definite, probable, or possible asbestos materials in buildings.
We also provide a MASTER INDEX to this topic, or you can try the page top or bottom SEARCH BOX as a quick way to find information you need.
Asbestos-containing Ceiling Tile FAQs-set#3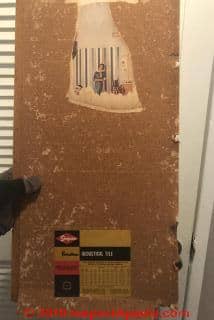 These questions & answers about ceiling tiles that do, do not, or might contain asbestos were posted originally at ASBESTOS CEILING TILES - be sure to read that article.
Liping

I *suspect* from the name that it's a cellulose or wood product but I do not know.

I have not come across Pinex softboard and would be glad to do some further research on it.

Some photos of the ceiling material face, back, edge, and any stampings or markings would help alot.

There is a New Zealand Nz Pinex ceiling tile product. Is that what we're discussing? If so, this New Zealand company is familiar with that product: http://woodpro.co.nz/ceiling-tiles/
WoodPro
Wards Road Rolleston, Christchurch 7614 New Zealand Phone: 027 446 4355

I asked WoodPro to comment; Are you in NZ?

Hi

Would Pinex softboard ceilings in a 1975 house contain asbestos?

Sorry, Jess, but no, from the photo I can't say whether the ceiling contains asbestos.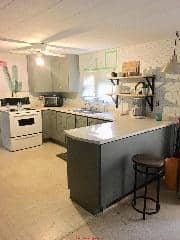 Just wondering if you can tell if these ceiling tiles might contain asbestos ? There are 12x12 I believe

see ASBESTOS TESTING LAB LIST for access to certified asbestos testing labs

https://inspectapedia.com/hazmat/Asbestos_Test_Lab_Lists.php

Hello, I'm hoping you can point me in the right direction. I would like to get my ceiling tiles tests for asbestos but don't know who or where to call.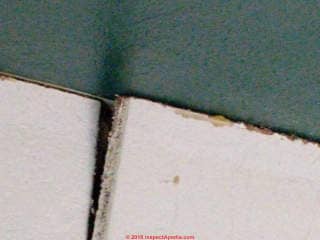 Would like to know if 2791289 made in 1975 acoustic tiles containr asbestos in it.
Thanks

it's possible. I take it there are no stamps, numbers, and are manufacturer's markings and that you don't know even the approximate age of the tiles
. I can't see much in the photo but it looks like a white fibrous material that could contain asbestos. It's probably worth the modest cost of an asbestos test to have a sample checked by an asbestos lab. Keep me posted.

I was given some tiles for my home but I dont know the age or the origin of them I'd like to use them but now I'm worried about asbestos... do u think they contain asbestos?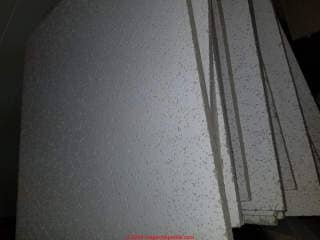 Sean I can't say for sure from a photo (it's a bit blurry) but that LOOKS like fiberglass. If it's fiberglass, that's not an asbestos material.

If it's a cellulose like or fibrous material that's not fiberglass, the answer is maybe. You'd need to know the material age, brand, product ID or to have a sample tested.

Hi, I was wondering if this ceiling tile contains Asbestos. The pattern looks like other asbestos containing tile and measures 12x12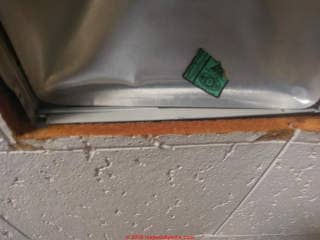 Sorry, Terri but size does not separate ceiling tiles with from those without asbestos.

What is the size of ceiling tiles that might have asbestos?

Hello, I'm looking to run some cable in my basement but I have to remove a drop ceiling to do so. I have no idea when this drop ceiling was installed because I just bought the house and the previous owner passed away. Hopefully someone will recognize these markings.

They're 2x4 tiles, I know the grid is made by USG because the stickers are still present. There are numbers and arrows dimpled into the back of the tile which I traced with marker to make more visible.

If the ceiling tiles were actually made in the same year that you cite there's not much chance that in North America they would contain asbestos. But since you're being extra cautious why don't you send the sample to an asbestos test lab.

I am interested in buying a home built in 1993. The basement has drop ceiling tiles, some which are cracked. I'd like to just remove them and remodel. Any concerns with asbestos ? I have three very small children so I'm being extra precautious.

Katie

Please see SIMPSON CEILING TILES

where we will add your photo to invite further comment. There a reader reports that Simpson (your ceiling tile is a Simpson Fonestone) informed him that their Fonestone line of ceiling tiles does not contain asbestos.

Case law raises some question and adds confusion to the asbestos question for Simpson Fonestone.

Let us know if you have further questions.

We wanted to replace the old ceiling tiles with drywal & ripped a couple down to see what we were working with.. the home was built in 1947. Any idea a date for these or if they contain asbestos?

Does anyone know if Armstrong Temlok ceiling tiles contain asbestos?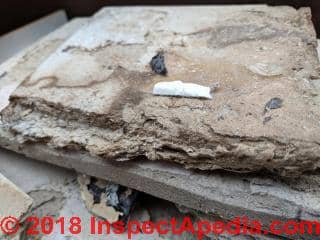 I pulled a wooden drop ceiling down today. Behind it was an old tiled ceiling and unfortunately a crumbling tile produces a lot of dust before I realised what was going on. The times are unmarked. The house was built in the 30s in the UK. They have a white face with a fiberous looking inside. See the photo. Is this likely asbestos? The dust is now turn through my house so I am worried.
Auris,

No, asbestos is not at all likely to be found in a ceiling tile sold in 2007.

Hi I changed sealing tiles in 2007 wich been both of ebay,now I'm wondering, may that contain asbestos?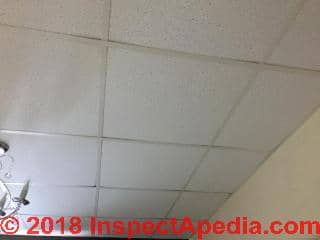 @Jim Alexander, I am sorry for your illness and thank you for letting us know. I hope you stay as healthy as possible.

You won't need to send the entire tile, just a small fragment, to a test lab.

See
ASBESTOS TESTING LAB LIST You can also use the picture frame icon next to the Comment button to attach photos of your ceiling

I need to figure out whether some ceiling tiles contain asbestos. The house was built in 1962 and the ceiling tiles installed during the late 60s or early 70s. There are extra tiles so I could take one to be tested. The house is located in Prince George, Canada, British Columbia. How can I identify whether the ceiling tiles contain asbestos?

Daniel

No one can say with certainty that the ceiling tiles in your photo contain asbestos or not just from the photo. It would help to know the age of the ceiling, the country, city, state or province of the building and the building age.

I do see what looks like grayish material under the painted surface.

The ceiling might contain asbestos. Use the page top EXPERTS DIRECTORY link to find an asbestos test lab if you need to test a sample.

Are they aabestos tiles.

Thans for anyones reply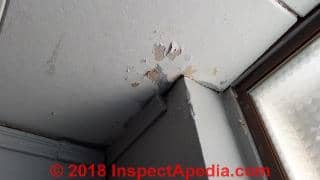 Yep it makes sense. Will post again when I get the results.

Thanks

I can't say that I blame the asbestos test lab , since different layers of material could indeed be different substances and comprise three separate test procedures.
The lab doesn't want to be blamed if a customer just tests one part of a material and later finds something different in other parts. Like you I think there is an exposed surface layer, a body, and an upper or hidden surface that may simply be a paint coating.

This test kit says to pay $40 per layer tested and indicates I'll be making the call on how many layers as I'm sending in my payment with sample. My last pic posted seems to indicate 3 layers. Anyone agree/disagree?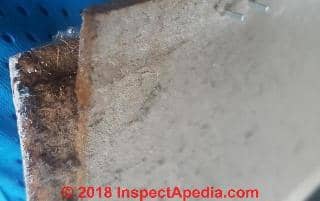 Will for sure post results when I get them. To your point of possibly identifying a cellulose material I'm posting a second shot that shows the layers and damaged part. For what it's worth. Thanks

Phil,

We can't say for sure based on the photo if that's in asbestos containing ceiling tile or not, although from a little damage at the edge of the tile it appears to be showing a cellulose material. Let us know your lab results is that will certainly help other readers who have ceilings that look like yours. It also helps when we know the age of the building and if we have a guess at the age of the ceiling.1950s Leavittown Bethpage LI is certainly an era and area in which asbestos was present in some ceiling products.

@Phil,
Oh and they are 12" tiles.

Gutting my kitchen and remembered the inspector suggested we might have our ceiling tiles checked for asbestos before removing them. Hoping my pic might be recognized as something that definitely doesn't contain it.
There's no labeling on the back of one I carefully removed. House was built in the Levittown area (Bethpage) in NY 1950. If anyone has any info I'd appreciate it. Going to Ace to get a testing kit. Thanks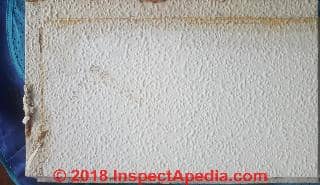 Patricia,

You'd need to test a sample, or to treat the ceiling as presumed to contain asbestos.
See
https://inspectapedia.com/hazmat/Asbestos_Test_Lab_Lists.php

See also the advice at inspectapedia.com/hazmat/Asbestos-Ceiling-Tile-Removal-Procedure.php

My house was built in the 50's. My kitchen roof leaked and has damaged the ceiling. Before removing the ceiling tiles I would like to know if they are asbestos.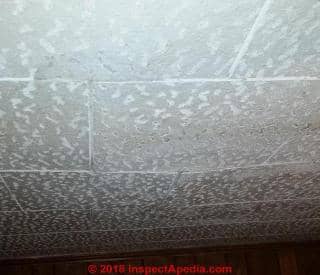 Roger

Actually, though ceiling tiles are rather soft compared with asphalt-asbestos or vinyl asbestos flooring or cement asbestos products, the sources I've reviewed including those cited in this article series all consider ceiling tiles as "non friable" - that is, you cannot smush a ceiling tile into powder between a thumb and forefinger.

Nevertheless, drilling, cutting, sawing these materials can certainly release dust in particles small enough to become airborne, so in an approach similar to asbestos containing floor tiles, some caution is in order.

Take a look at ASBESTOS CEILING TILE REMOVAL PROCEDURES

there you'll see some specific suggerstions. Basically you can lift out a tile carefully, HEPA vacuuming to catch dust and vacuuming the suspension grid track.
But experts warn that IF there is accumulated dust and debris on top of the ceiling tile then there is an additional level of hazard that requires more steps and more protection.

Are ceiling tiles considered friable or non-friable ? If I need to access above a drop ceiling with a grid, if I gently move the tile to the side without breaking or drilling it, will it more than likely be safe ? Or does moving a tile (lifting it up out of the grid and handling it carefully ) release fibers ?

I'm sorry but I can't assess the risk for the situation that you described by text. You need an on-site expert. However it is the case that if asbestos debris is being cleaned up with an ordinary Shop-Vac that's likely to significantly increase the Airborne asbestos dust level and suggests that the people doing the cleanup may not know the proper procedure to use.

My son's preschool resides in a very old church building that is updating electrical and changing out all the fixtures (400+). Most of the building has drop ceiling tiles and it's my understanding they contain asbestos. The crew installing he lights isn't sealing anything off or anything. Looks like they just have a shop vac
. Is it possible for them to safely switch out fixtures (converting from fluorescent to LED) without disturbing the ceiling tiles in a manner that would cause fiber release? They are moving them I believe, but perhaps carefully ? No idea I'd drilling or what. I've read so long as they're not broken or drilled it's fine ?

Wondering if anyone can lead me in the direction of a website or fb group, that based on some dimensions, photos,age...etc. of a drop tile celing, can tell me if asbestos is likely?

Todd,

It would be smart to

- wear a HEPA-rated respirator during any dusty house renovation job

- do dust control, negative air, thorough cleanup by damp wipe and HEPA vac afterwards

- treat the older ceiling tiles as presumed to contain asbestos

or if you face big costs to do so, have a sample tested - search InspectApedia for ASBESTOS TEST LAB - the cost is usually < $50. u.s. >
See ASBESTOS CEILING TILE REMOVAL PROCEDURES

I am going a job whére the new owñer of a large 5 bdr house is trying to remodel am split level 60's fashion summer home.
I am removing ceiling tile that is sheetrock! But that problem is after exposing the first tile I realized there was another layer under the sheet rock, tiles are square with dots punctured throughout.

Hi Sally, I see you found our email address at the page top or bottom CONTACT link.
Those look like cellulose-based (yellow wood fiber) ceiling tiles but no one can be certain of asbestos content from a photo. If you must face a dusty demolition it's worth the <$50. u.s. to have a sample tested. best is to leave the material alone, simply covering it over, perhaps on a ceiling with drywall.

How can I send pics? I'm looking at buying a house with ceiling tiles. I don't mind then at all but some are damaged which worries me.

Toni,

I could not find the NYC document implied by the CAL number you gave, but the Commercial Standard CS-42-49 (class F) fire resistant standard was in some documents used to refer to cellulose-based products (that's wood fiber products) - the standard (now withdrawn) was for fiber insulating board. http://gsi.nist.gov/global/docs/vps/csfiles/cs_42-49.pdf - it doesn't deal with asbestos

If you really cannot simply install a laminate of drywall over the ceiling (best approach) it's worth the <$50. u.s. to have a sample tested. also you might want to send me some sharp photos of the ceiling tiles as well as of their backside and edges when you can obtain that view (along with the lab test result) - our email is at the page top and bottom contact link.

see https://inspectapedia.com/hazmat/asbestos_test_lab_lists.php >

We have a camp built in the 50s using John's Manville flame resistant glaze coated ceiling tiles. They are off-white with brown edging.
The box says they were approved for use in New York City by the board of standards and appeals under CAL number 1207–40 SM. It also says it was flame resistant coded to meet fire test requirements , US department of commerce commercial standards CS 42-49 (class F). They need to be removed and we wanted to know if they contain asbestos.

I have a commercial warehouse built in 1948 It has these sheets that are Four ft by eight feet on ceiling under the wood flat roof inside.

Jim:

Thank you for that information, though it's of course sad and bad news for which you have my sympathy. Cutting ceiling tiles on a table saw indeed is likely to create a lot of airborne dust, still more hazardous if you didn't wear a HEPA -rated mask.

Even though the relationship between anecdotal reports of exposure and the development of mesothelioma decades later is a difficult one (because other factors and exposures are involved), the case you cite is worth noting by other readers as a warning to always use proper methods for material cutting and for dust control and for personal protection.

Back in the 70's many of us worked with dusty and hazardous materials without taking the risk seriously-enough. Signs of pleural mesothelioma may not appear until 2-5 decades after acute exposure to high levels of asbestos-containing dust. And even then symptoms may develop so slowly as to pass recognitiion for a time.

If you have more memories of the nature of your exposure and what protective steps you did not but could have taken, that might help other readers to stay out of trouble in the future.

Thank you for the comments, Jim.

I installed JM 12"X12" ceiling tile in my basement in 1974. I cut the tiles to fit in the area using my Rockwell table saw. I was recently diagnosed with PLUERA Mesothelioma.

...
Continue reading at ASBESTOS CEILING TILES or select a topic from closely-related articles below, or see our complete INDEX to RELATED ARTICLES below.
Or see ASBESTOS CEILING TILE FAQs-4 - more recently-posted questions and answers about ceiling materials that might contain asbestos
Or see ASBESTOS TESTING LAB LIST for access to certified asbestos testing labs
Or see this
Article Contents:
Suggested citation for this web page
ASBESTOS CEILING TILE FAQs-3 at InspectApedia.com - online encyclopedia of building & environmental inspection, testing, diagnosis, repair, & problem prevention advice.
Or use the SEARCH BOX found below to Ask a Question or Search InspectApedia
...
Ask a Question or Search InspectApedia
Try the search box just below, or if you prefer, post a question or comment in the Comments box below and we will respond promptly.
Search the InspectApedia website
Technical Reviewers & References
Click to Show or Hide Citations & References
Books & Articles on Building & Environmental Inspection, Testing, Diagnosis, & Repair
Our recommended books about building & mechanical systems design, inspection, problem diagnosis, and repair, and about indoor environment and IAQ testing, diagnosis, and cleanup are at the InspectAPedia Bookstore. Also see our Book Reviews - InspectAPedia.
...