Asbestos Building Insulation

Asbestos & Asbestos-contaminated Vermiculite Used in or on Buildings
InspectAPedia tolerates no conflicts of interest. We have no relationship with advertisers, products, or services discussed at this website.
Asbestos building insulation:
This article describes the forms & uses of asbestos as building insulation. We include research and patent research giving details about the types of asbestos used to insulate building walls, floors, ceilings - though that use was not widespread.
More widespread was use of asbestos as a fire-resistant or heat resistant spray, coating, or insulation on ceilings in utility rooms, and on heating pipes, ducts, or on plumbing pipes, and other components.
We also provide a MASTER INDEX to this topic, or you can try the page top or bottom SEARCH BOX as a quick way to find information you need.
Asbestos Building Insulation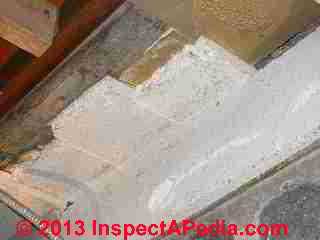 Here we describe the types & forms of asbestos used as actual building insulation, insulating walls, floors, ceilings,
We also cite the use of asbestos insulation on specific building components such as on hot water or heating pipes.
Shown at page top: corrugated asbestos paper insulation found by the author [DF] in the floor of an attic in a New York home, described at ASBESTOS in UNUSUAL PLACES [web page].
Photo at left: asbestos insulation used on the ceiling of a boiler room. This was nearly pure tremolite asbestos insulating blocks glued to the basement ceiling of a commercial building in White Plains, NY © Daniel Friedman.
We describe the properties of this asbestos insulating board at ASBESTOS INSULATION.
[Click to enlarge any image]
To find what you need quickly, if you don't want to scroll through this index you are welcome to use the page top or bottom SEARCH BOX to search InspectApedia for specific articles and information.

Asbestos was used directly as an insulating material in building attics, ceilings, walls, commonly as a loose-fill or pour-in vermiculite, sometimes an asbestos-containing vermiculite.
See VERMICULITE INSULATION - Asbestos in Vermiculite Insulation - for details.
Though the practice was not common world wide, asbestos was used directly as a building wall or ceiling insulation material as installed by Mr. Fluffy in Canberra, as we discuss below.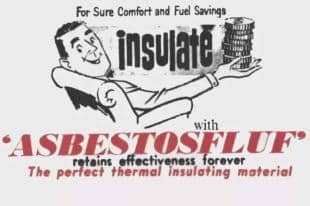 Armstrong, Bruce, "HOW DANGEROUS IS IT TO LIVE IN A MR FLUFFY HOUSE?" [PDF] The University of Sydney Senior Adviser, The Sax Institute, Sydney, retrieved 2018/03/11, original source: https://rsph.anu.edu.au/files/Mr%20Fluffy%20150804.pdf
Except:

"Mr. Fluffy: From 1968 to 1979, D Jansen & Co Pty Ltd. (Mr Fluffy) insulated ~1,100 residences in Canberra by blowing loose-fill asbestos into their ceiling spaces; amosite in most cases, crocidolite in a few."
Lew, Dan, "Mr Fluffy – Asbestos Marketing and the (Mr. Fluffy) asbestos crisis in Australia", HazMat Environmental, 2017/10/24, retrieved 2018/03/11, original source: http://www.haz-mat.ca/2017/10/24/mr-fluffy-asbestos-marketing-mr-fluffy-asbestos-crisis-australia/ , Excerpt:

"Retains Effectiveness Forever" - Mr Fluffy refers to a widespread asbestos contamination incident that occurred in the suburbs of Canberra, the capital city of Australia.

Two companies, referred to collectively as Mr Fluffy (a nickname coined in the 1990s for Asbestosfluf Insulations, and its successor J&H Insulation, the former run by Canberra businessman Dirk Jansen, the latter owned by a relative of his), imported and installed fibrous, loose-fill amphibole asbestos (in most cases brown amosite, though instances of blue crocidolite have been recorded) as an insulation by blowing the product into roof spaces of homes during the 1960s and 1970s.

Additionally, the companies are believed to have sold sacks of asbestos fibre direct to homeowners to insulate their own homes, and other operators may have also used the hazardous material trying to copy Jansen's business model. - in turn excerpted or adapted from Wikipedia, https://en.wikipedia.org/wiki/Mr_Fluffy as of 2018/03/11
An Australian government survey reveals a quarter of homeowners affected by the ongoing Mr. Fluffy asbestos crisis in Canberra have mental health issues, some as serious as suicide, according to the Canberra Times.

Australian readers concerned about Mr. Fluffy insulation should also see the
Australian National Asbestos Register at https://www.asbestossafety.gov.au/national-asbestos-exposure-register

The agency strongly encourages you to use the online registration form, but if you cannot do this, please email enquiries@asbestossafety.gov.au to request a PDF form which you can fill out on your computer.
Specialty Uses of Asbestos Insulation in Buildings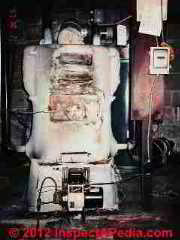 Shown here: asbestos lagging, paste, or plaster in a very common application as an insulating coating on older heating boilers.
Asbestos in this lagging form was also used on heating pipe elbows and valves when the remaining heating pipe insulation was provided using corrugated asbestos paper.
ASBESTOS FIREPROOFING SPRAY-On Coatings - used on or in buildings
ASBESTOS INSULATION on PIPES - in buildings
Reflective insulation, typically foil-based, may have included products that combined a reflective material such as aluminum foil with kraft paper and asbestos backing.

See REFLECTIVE INSULATION

Benedict, Edward L. "Thermal insulating building unit." U.S. Patent 2,101,836, issued December 14, 1937.
Excerpt:
As shown in Fig. 3, between studs, beams or framing members Ill and II is mounted the thermal-insulating unit l2 of this invention. This unit comprises an accordion plaited foundation I3 having the plaits arranged longitudinally of the unit and spacing layers of metal foil 14 and 15 attached to the foundation.

The foundation 13 may be of paper, preferably about a seventy pound paper (that is, a ream of sheets 24" by 36" weighs lbs.) although heavy metal foil or a metal foil mounted on paper might be used, or where fireproof construction is desired an asbestos or other fireproof paper is suitable.

The metal foil layers l4 and 15 are preferably aluminum foil about .0003 inch thick although the foil of other metals may be used, the aluminum foil being preferable.
Question: asbestos in ceilings in the UK?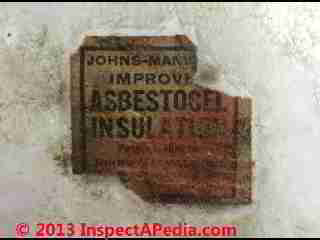 Hello from the UK! I did some work at the back of my shop last year. The original building is over 100 years old - but the back was built in the later 80s. We basically took the cellulose ceiling tiles out and took the ceiling down. We then lined the new ceiling with new fibreglass rolls and boarded it up.
I remember seeing dirty fibreglass rolls when we took down the original ceiling (the place was very dusty as a result of the broken cellulose tiles and fibreglass), but i'm worried that there may have been some loose fill asbestos there as well.
As I say, I can't recall seeing any, but could it have been there in a late 80's ceiling? What type of asbestos was used for loose fill insulation? Am I being silly?
Any attempt to ease my mind would be amazing! - Anonymous by private email 2016/09/22
Reply:
Straight pure or "raw" asbestos as loose fill insulation would be unexpected or rare in a 1980's ceiling.
I don't have access to U.K. patents but some patent research in the U.S. gives some idea of the locations and applications of loose fill asbestos insulation - it did exist as a loose fill insulating product, typically mixed with other materials to form an insulating product.
Most common was the use of asbestos in spray-on fire-resistant coatings in buildings, used into the 1970's including in the lower floors of the now lost NYC World Trade Center. In 1971, New York City banned the use of asbestos in spray fireproofing. So upper floors of the WTC did not use that material.
Research on the use of loose fill asbestos in insulation schemes, products, and devices
Amanda, Wenzel. "Building insulation." U.S. Patent 2,235,542, issued March 18, 1941.

Excerpt: For example, good results have been obtained by the use of paper cut, chopped, or torn into flaky fragments.

Vegetable stems, stalks, wood, leaves, and husks may also be used in fragments. And in order to render the material fire resistant, fibrous minerals, such as fragments of asbestos or asbestos paper may be mixed with any of the materials above named, or used as a substitute therefor.

A dry mixture of comminuted paper and comminuted asbestos has been found ideally suited for the purpose, such a mixture being light and downy or fluffy and containing separable fragments capable of floating and settling lightly in the wall space.
Jacobsen, Einar. "Mechanism for applying fibers." U.S. Patent 2,550,354, issued April 24, 1951.

The present invention relates to applicators for fiber, such as asbestos, rock-wool and fiberglass, ofthe character which "project the fiber in an air stream against a wall, ceiling or other surface, for the purpose of acoustical treatment, fireproofing or the like.
Barnett, Irvin, and Sidney Speil. "Handleable heat insulation shapes." U.S. Patent 3,055,831, issued September 25, 1962.

The handleable insulating shapes made according to our invention, however, may be prepared to exhibit the converse of this general consideration. For example, a bonded handleable rigid block of 10 pounds per cubic foot density comprising 5% by Weight of phenolaldehyde resin, 5% amosite asbestos fibers, and by weight of a mixture of 9 parts by weight of silica aerogel of approximately Voids by volume, and 1 part carbon black of finer than millimicrons particle size, was tested to have a K factor of 0.14 at F. mean.

A bulk mixture of the same pro portions of silica aerogel and carbon black of the type and in the proportion used in molding the bonded shape, was vibrated to a density of 10 pounds per cubic foot and tested to have a K factor of 0.18 at 150 F. mean.

The asbestos fiber of the block would also increase the solids conductivity, and would thus be expected to increase the K of the consolidated loose mass. It will be appreciated that a loose mass including fiber could probably not be vibrated to such density and retain homogeneity.
Mcdermott, Paul F. "Method anx." U.S. Patent 2,425,293, issued August 12, 1947.

The filling suitably comprises asbestos fiber of known type such as Amosite fiber, although other asbestos fibers, mineral wool fibers, glass fibers and the like may be used.
Daum, Harold. "Apparatus for packing asbestos fibers and the like." U.S. Patent 2,984,172, issued May 16, 1961.U.S.
...
Continue reading at VERMICULITE INSULATION or select a topic from the More Reading links or topic ARTICLE INDEX shown below.
Or see this
Article Series Contents
Or see ASBESTOS PHOTO GUIDE to MATERIALS
Suggested citation for this web page
ASBESTOS BUILDING INSULATION at InspectApedia.com - online encyclopedia of building & environmental inspection, testing, diagnosis, repair, & problem prevention advice.
Or use the SEARCH BOX found below to Ask a Question or Search InspectApedia
...
Ask a Question or Search InspectApedia
Try the search box just below, or if you prefer, post a question or comment in the Comments box below and we will respond promptly.
Search the InspectApedia website
Technical Reviewers & References
Click to Show or Hide Citations & References
...
Wikipedia provided background information about some topics discussed at this website provided this citation is also found in the same article along with a " retrieved on" date. Because Wikipedia and other website entries can be amended in real time, we cite the retrieval date of such citations and we do not assert that the information found there is always authoritative.
Books & Articles on Building & Environmental Inspection, Testing, Diagnosis, & Repair
Our recommended books about building & mechanical systems design, inspection, problem diagnosis, and repair, and about indoor environment and IAQ testing, diagnosis, and cleanup are at the InspectAPedia Bookstore. Also see our Book Reviews - InspectAPedia.
...
Publisher InspectApedia.com - Daniel Friedman