InspectAPedia tolerates no conflicts of interest. We have no relationship with advertisers, products, or services discussed at this website.
Vinyl-asbestos floor tile photos for 1973 & surrounding years: photo guide to asphalt asbestos and vinyl asbestos floor tiles, 1900 -1986: this article series provides a guide to identifying asphalt-asbestos flooring (1917 - ca 1960) & vinyl asbestos floor tile (ca 1952 - 1986): identification photographs, product names, styles, colors, and vinyl-asbestos floor patterns, and colors for asbestos-containing floor tile products made between about 1930 and 1986 - flooring materials that are reported to or have been confirmed to contain asbestos in asbestos fiber or asbestos powder-filler form.
These flooring products typically contain chrysotile asbestos, and possibly other asbestos forms. Some of the tile adhesive mastics used also contained asbestos.
Green links show where you are. © Copyright 2015 InspectApedia.com, All Rights Reserved.
1973 - Armstrong Excelon Vinyl Asbestos Floor Tiles, Complete Pattern & Color Guide, 9x9 & 12x12-inch
For colors for which a link is not provided below, see the earlier occurrence of that tile color in a previous year.
[Click to enlarge any image]
Floor tiles shown above correspond left to right to the patterns named below where we also include links to additional colors for each style or pattern.






Floor tiles shown above correspond left to right to the patterns named below where we also include links to additional colors for each style or pattern.
Also see two embossed versions of the Travertine floor tile identification pattern



Feature solid color floor tiles & accent strips 12" x 12" x 1/8" solid color floor tiles and 1" x 24" solid color vinyl-asbestos flooring accent strips in the colors shown just below. These tiles were intended for accent spots, not for tiling an entire floor, because the solid color flooring would show scratches.












Below are reader-supplied photographs of Armstrong's Custom Bisque vinyl asbestos floor tile (second from right in our thumbnails above). At below left the floor is in good condition in a 1983 home while at below-right the flooring is in very poor condition in a 1970's building. [Click to enlarge any image]
The Armstrong vinyl asbestos floor tile patterns listed below correspond with the thumbnails shown above , from left to right, with links to additional colors for each style









The vinyl asbestos floor tiles below are smooth-surfaced, not embossed:


Complete Photo Guide to Standard Vinyl Asbestos Floor Tile Patterns & Colors in 12x12" and 9x9" - Armstrong - example year: 1973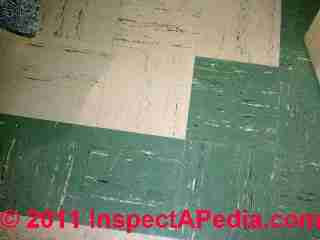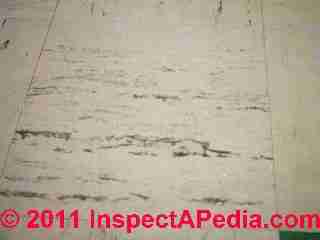 The Armstrong standard floor tiles shown in the two photographs above are the Armstrong Standard 9"x9" vinyl asbestos tile popular over many years with versions sold as early as 1955. Above left are Osage Green and Seneca White tiles. Below are color guides to all of the colors of these floor tiles that were produced in 1973. Many of these colors and some others were also produced before and after that year.
Standard 12x12 Asbestos Vinyl Floor Tiles - 1973 - al colors
These standard tile patterns were sold in 12" x 12" x 1/8" gauge - contrast them with the standard 9"
x9" Asphalt floor tiles shown in the next group.







Standard Vinyl Asbestos Floor Tiles 12" x 12" x 1/8" were produced in 7 colors:
Osage Green 56780 above left, Bayberry Beige 56721, White Bayberry 56710, Seneca White56760, Iroquois Tan 56783, Fawn white 56759 above right, Apache Red 58777 shown at below left.

Standard 9x9 Asphalt Tiles - not Vinyl Asbestos - from 1973 - all colors






Smooth Surface Standard asphalt floor tiles (not vinyl-asbestos) intended for areas of alkaline moisture (basement concrete slab floors), 9" x 9" x 1/8" gauge were produced in colors and patterns similar to the vinyl asbestos tiles shown just above but in fewer colors: (Foam Green 5C902 above left, Pecan Beige 5C913, Cedar 5C918, Palimino Beige 5C926, Corkstyle (New Light) above 2nd from right.
Embossed Parquet 9 x 9 x 3/32 (Autumn Gold) - Asphalt Tile, not vinyl asbestos but see our warnings at page top: some asphalt-based floor tiles that were not vinyl-asbestos also contained asbestos.
How to Find Your Floor Tile or Sheet Flooring in this Flooring Reference Photo Guide



Asphalt asbestos and vinyl-asbestos floor tiles were produced in 9" x 9", 12" x 12", and even 18" x 18" as well as in decorative strips, and in thicknesses of 1/16", 3/32", and 1/8", also in 0.08 gauge. Some sheet flooring or resilient flooring also contained asbestos, as did floor tile mastics.
This photo guide to asphalt asbestos & vinyl asbestos floor tiles for each year shows at least one color photo of each floor tile style or pattern in an example color. A list below each group of photos includes the names of and links to additional photos for other colors of these styles.
Asbestos is safe and legal to remain in homes or public buildings as long as the asbestos materials are in good condition and the asbestos can not be released into the air.
To identify a particular asphalt-asbestos or vinyl-asbestos floor tile pattern & color, start in the image group most likely to be the same age as your building.
If you don't find your floor tile or sheet flooring by looking forward from that that year, you should also look backwards in the earlier years as your specific flooring pattern & color may have first appeared in an earlier year. For other tile brands than Armstrong, see the brand name floor tile links included in this list.
If you can identify your floor tile collection name or model number, or if you recognize it in the extensive library of flooring color and pattern photographs provided in these pages, laboratory testing of the sample to screen the flooring for asbestos may be unnecessary.
If you do not know the brand name of your flooring you can take a quick look at example photos of the product line of each manufacturer given at More Reading below.
Continue reading at 1974-1979 ARMSTRONG FLOOR TILE GUIDE, COMPETE or select a topic from the More Reading links shown below.
Or see FLOOR TILE / SHEET FLOORING PHOTO GUIDES - list of photo guides
Suggested citation for this web page
1973- ARMSTRONG ASBESTOS FLOOR TILE, COMPLETE GUIDE at InspectApedia.com - online encyclopedia of building & environmental inspection, testing, diagnosis, repair, & problem prevention advice.
More Reading
Green link shows where you are in this article series.
...
Frequently Asked Questions (FAQs)
Question: Armstrong diecut inserts from around 1952 - ways to seal these floors?
Am looking for information on Armstrong diecut inserts from around 1952. Also are there any recommended ways to seal these floors so you can enjoy the look but without any asbestos concerns? Thanks, Sarah - Sarah 6/23/11
Reply: gentle cleaning followed by floor restorer clear coating protects from asbestos fiber release
Sarah:

Our photos show examples of some of the diecut flooring inserts from the 1950's; I'm not sure what other information you seek.

About sealing vinyl-asbestos tile floors, especially in residential use where school or public regulations and public access worries don't apply, I've had great success using clear-coating floor restorer products.
As you can see at ASBESTOS FLOORING LEFT IN PLACE, we just did this recently in a New York home. The floor was washed with mild detergent and water. Then we used a spray cleaner recommended by the floor resetorer manufacturer. The spray cleaner removes old wax residues. Next we used a magic marker to color in some gouges that had marred the floor surface. Finally we coated the flooring with the floor restorer product. The floor looked new, and great.

In sum, if you maintain a hard clear coating on top of the floor surface you won't be releasing any measurable level of asbestos fibers by normal foot traffic.
Also see ASBESTOS FLOORING HAZARD REDUCTION for more ways to reduce the asbestos hazard in asbestos-suspect or presumed asbestos-containing flooring.
Question: 12x12 code 422 80 made by Goodyear Tire & Rubber Co. Plant C Akron, Oh
Do you have info about whether the following 2 tiles contain asbestos?

1. Box says Color Tile vinyl floor tile 12x12 code 422 80 made by Goodyear Tire & Rubber Co. Plant C Akron, Oh. and sold by color tile supermart with a Vancouver, Wa address.

2. Box says Amtico Suravinyl Tile 12x12 1/16 ga 7LDF18 AH084 1 AL1102 and also says Zip Stik self adhering duravinyl tile; made by American Biltrite INc. Trenton, NJ.

Do I need to send photos to make ID possible? Any help is appreciated. - Nan Duncan 8/28/11
My previous email had a typo-- 2. should read Amtico Duravinyl.
Reply:
Nan,

American Biltrite in Trenton produced asbestos-containing floor tiles; if your American Biltrite flooring was installed before 1980 it's likely that it contains asbestos.

Goodyear also produced asbestos-containing floor tiles. I'd make the same suggestion: if your Goodyear flooring was installed before 1980 it's likely that it contains asbestos.
Question: asbestos tiles under carpeting
Found what I believe to be asbestos tiles under carpet in all 4 bedrooms of a house my daughter purchased. The house is 100 + age so this indicates these tiles would be asbestos. Some are damaged through age and also have been stapled to hold the underpad of carpeting and also the carpet tack around the edges. What is the hazard of the staples and tack? Should we be concerned about fiber leakage thru these holes and various damage in the rooms. Thank you - Leaha 9/7/11
Reply:
Leaha

Shile one cannot assert the age of a flooring material necessarily from the age of a house (as flooring can be installed long after original construction) it's reasonable to use caution about old-looking flooring in a 100 year old home before knowing much more.

But it's unlikely that there would be measurable asbestos particle movement up through wall to wall carpeting over floor tiles; the hazards would more likely arise during demolition.

See ASBESTOS FLOORING HAZARD REDUCTION (article link at the "More Reading" links at the bottom of this article ) for advice about minimizing the hazards should you need to remove material.

If nevertheless you are worried about the health and safety of building occupants, you'd want a professional inspection for all conditions there; a loose railing or step or a fire hazard could be a greater risk that should not go ignored. Finally, you could order asbestos tests on settled house dust or even air sampling if you are very anxious about the matter; frankly those steps would not be my first concern.
Question: identifying various other brands and product numbers of floor tiles
do you know if the SEARS brand HOMART 64-7169 asphalt floor tile contained asbestos? - Paul Wright 9/22/11
Have you heard of Dura Floor Plastic Asphalt Tiles? Do they contain asbestos? - Jo Lynn Judka 10/24/11
I have 12" x 12" tile in the basement just like the pattern San Roque Gold 57161 from 1980.
However, this tile is not 1/8 thick but 1/16 and it was peel & stick. Would this contain asbestos? - David 11/27/11
Is there a way I can forward someone a photo of a school floor to determine if it contains asbestos? I am unable to get back into the building It is closed, but the school dept wants to open it again and is saying that there isn't a problem. I looked through the tiles on your site, but oculdn't find an exact match. The school was built in 1950-1960, but we have no evidence that the tiles have been replaced. Can you help? -
we have an armstrong floor tile (black color) with the following numbers on the back L4 1230 021898. We don't know the year it was installed. Does it contain asbestos? Is there a way to cross reference these numbers? - Dan 5/1/12
We have the San Roque pattern sheet vinyl. Did Armstrong use the same patterns at a later date for their sheet vinyl but without asbestos? We have already started to remove it and I am concerned. - Sue 10/24/2012
We have vinyl sheet flooring that was put in about mid 1984. Is this anything to worry about? When exactly was asbestos banned in the manufacture of sheet flooring? - Peter 11/6/2012
Reply:
David, naturally by email alone no one can say with certainty whether or not a floor tile contains asbestos, but if your flooring matches one of the ACM floor tiles we illustrate here, AND if you are confident about the age (as you suggest) most likely it is an asbestos-containing product. And yes, for sure there were some peel-and-stick floor tiles that contained asbestos in the tile baking.

That does not necessarily mean that you need a costly asbestos remediation job - it depends on the condition of the surface, use made of the area, etc. If the floor is sound you may have the option of simply covering it with a new material.
JoLynn, sorry we don't have information about DuraFloor plastic asphalt tiles. Do you know the age of the product? You're welcome to send us photos (see the CONTACT link at top, side, bottom of our pages), and I'll research further. Certainly up to the early 1980's many asphalt floor tile products contained asbestos.
Dan, while we have published product and lot numbers for some floor tile products, there are just too many of them, thousands. Unlike mechanical equipment like water heaters or furnaces, I have not found a standard of correlation between product numbers and date of manufacture, though it probably was included in widely varying ways by individual manufacturers.

You can narrow down the asbestos question by:

- noting the age of the building itself as that sets the earliest plausible date for its floor materials +/- a year or so to allow for flooring sold from stock

- noting the date of any renovations of the building

- noting whether or not there are multiple layers of flooring or other similar changes that give a renovation history

- noting information on any packaging used for the floor tiles - sometimes an extra box of floor tiles is left and stored in a building, intended to supply future repairs or changes to the floor

- comparing the appearance of your flooring to the photographs we provide in these tile identification articles

- sending a small sample of flooring to a certified asbestos testing lab

For a tile floor of unknown constituents, do not do something foolish such as grinding, sanding, power sawing, or a dusty messy demolition.
Peter,
I think you mngh want to ask Armstrong, but in NY case, if you remove materials following the recommended procedures and avoid making a dusty ness you should be OK
Question: how much asbestos was in floor tile?
How much asbestos did the Armstrong Excelon Standard 12"x12" tiles contain - Loretta D 12/21/11
How much asbestos did the Armstrong Excelon vinyl asbestos floor tiles contain (12"x12", 1972/1973)? - Loretta 12/22/11
Hi! Would you expect the armstrong corlon resilent flooring with the hydrocord backing from the mid 1960s to contain significant amounts of asbestos? I am trying to find some information on it as I think that may be what is in our home...the only info I can find is that the backing probably did contain an asbestos and latex composite...I am wondering how likely the composite material would become easily friable if we attempted to remove it... - Kate 2/16/12
Reply:
Loretta, lacking hard science facts I have to give an OPINION that the material is high in asbestos content because in addition to asbestos fibers that gave strength to the tiles, many such floor tiles included a high level of asbestos filler - very ultrafine particles. We'd need to have a sample for specific testing to obtain an content level measurement.
Question: I started demolishing asbestos-suspect flooring and now my wife is worried. What are my options?
Hi there, being naive and not aware that floor tiles may contain asbestos - I began removing some older tiles from under the carpet in my kids room. After seeing a warning on a Home Depot website - we stopped the removal. Is there any way of testing or visually confirming the possibility of it containing asbestos? I was working in the area for approximately 2 hours without any breathing apartus, etc. What are my options at this point? My wife is freaking out. Thanks - Sean M 1/22/12
Reply:
Sure: you can send a sample of flooring to a certified asbestos test lab.
It might be a bit early to freak out; if yhou haven't made a dusty mess or ground or sawn old flooring the dust level should be rather low; most flooring products are not very friable.
If you have made a dusty mess, some proper cleanup (damp wiping, HEPA vacuuming) is probably in order, followed by a simple screening check.
Question: I'm having trouble using the small tile identification images
I think I've looked through all the photos here and fortunately, the only one that appears to resemble what I have is in the "1989 & Later Armstrong Accoflex Series Flooring Tiles" image just above this comment box. UNfortuneately, it is very difficult to be sure from this small image and i am sure what I have is NOT from the UK.
The tiles I have are 12" x 12", 1/8" thick light blue and white (like streaked clouds on a blue sky) resembling "Spruce" above. The tiles are VERY heavy, quite inflexible and have very tiny sparkling crystals throughout. These physical apsects make me very uneasy. Since the tiles are at least 25 years or more old, should I be concerned? Where might I go for an expert opinion? Thanks. - Scott 2/1/2012
Reply: click on images to enlarge them
We'd be glad to take a look at some sharp photos of the floor tiles that you are trying to identify to see if we can help;
Also, for just about any image found at InspectApedia, just click the image to see a larger, more detailed version.
Question: Test Results for Armstrong Sheet Flooring - 70% Asbestos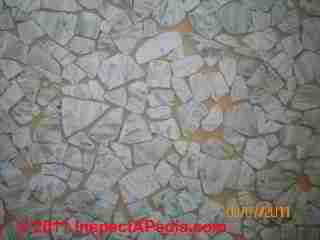 In one of the asbestos pages of your site ( this page - Ed.), your second photo is of a sheet layment. The text about the photo clarifies that the person who sent the photo was confused about Armstrong and Congoleum.
I wanted to let you know that I have that exact same sheet layment and had it tested. It's 70% asbestos. Thought you may want to let readers know so they can save the cost of testing and just deal with the issue accordingly.
I appreciate your site. Thank you for taking the time to put together all the information. - D.H. 10/11/2012
Reply:
Thank you so much D.H. for the floor covering test result confirming asbestos content in this material. We a welcome critique, questions, or content suggestions for our web articles, and as your feedback illustrates, working together and exchanging information makes us better informed than any individual can be working alone.
Question: How much asbestos hazard was I exposed to during our floor renovation project?
We recently partially demo'd a ceramic tile floor in the kitchen of a home built in 1970. We popped the ceramic tiles up with a pry bar and sledge hammer. Beneath the tiles was a linoleum floor covering. I've visually identified the flooring on your website. It is Armstrong, Excelon, Custon Burnham 1972, 57080 Blue.
How much asbestos does this contain? Also, we didn't bother peeling it all up because it was too difficult. We chipped up the remaining ceramic tile on top of it and just covered the remainder of the floor with plywood and fastened the plywood with split drive fasteners. We then nailed pine plank flooring over the plywood. Do we have any reason to worry about asbestos exposure??? My husband wore a dust mask. - Kelly McCullin 11/13/2012
I have ArmStrong sheet layment in my kicten.There was a layer of newer layment on top I did realize it was the orignal under it. The house was built in 1974. I removed about a there foot area before I realized it. If i was exsposed to it how much does it take to make you sick and what are the symptoms.I have to think I am not the only one who has done this. - David 11/28/2012
Reply: it depends ... Here is a list of some risk factors when removing flooring that may contain asbestos
David, and also Kelly McKullin:

Unfortunately no one can say with any accuracy whatsoever just what level of hazard you were exposed to during your asbestos floor removal. The variables include:
the total amount of material disturbed and removed
the actual asbestos content of the flooring and of other materials, such as mastic, that were disturbed
the removal methods used to take up flooring, and just how much dust you created
nature of demolition dust and debris - particle size, therefore airborne particulate levels & duration of particles in the air. For example, picking up a whole floor tile that is already loose may produce almost no detectable airborne particulates, while running power tools, saws, grinders, sanders, hammers, can make a lot of dust
dust control measures used during the project
cleanup methods used after the project both in and out of the work area
remaining dust that could have led to longer term exposure
individual health history, respiration rate, personal protective gear used or not
other site & individual -specific data not listed here
If you have specific individual health questions those should be posed to your doctor who knows your personal health history

Presuming that your project is now long over, if you have reason to be concerned, you might want to do some strategic dust sampling to see whether or not the building needs further cleanup
See ASBESTOS REMOVAL GUIDE, FLOORING and ASBESTOS REMOVAL, Wetting Guidelines
Question: is it true that Armstrong Excelon floors, even older ones, were asbestos free?
I saw the below narrative on yourwebsite
Shown at left: Armstrong Excelon Vinyl Floor tile, contemporary, popular, sold in 70 colors at retail outlets including Home Depot stores, this modern resilient floor tile does not contain asbestos. [Click any image to see an enlarged, detailed version]
the picture sort of looks like an old floor in a house I just bought a few weeks ago.. THe house was built probably early 1970's or mid 1970's are you saying the excelon vinyl floor, EVEN OLDER ONES were NOT asbestos? it is all so hard to tell as the floor looks like so many on your site> thanks E.K. 8/22/13
Reply: no.
No. Older floors contained asbestos. Modern floors post about 1986 do not
Reader comment
but I read Excelon vinyl 1977 on did NOT, it was the only exception? at any rate I am upset my home inspector said it was not asbestos because it was 12 ft not 9 ft and obviously he did not know what he was talking about
I am not sure if this was original or they put it in years later which would still make it look old but might have been put in , in the 80's for all I know. just no way to know. I will put a vinyl floor over it shortly but I am living on this floor, excercising on it etc. it is in tact but one piece is damagd and has crumbling in a small area, so it will get covered with new floor
Reply:
12 feet ? What are we talking about here? Perhaps you meant 12-inch vs 9-inch tiles? Asbestos-containing floor tiles were made in both of those sizes.
About the 1977-on I'd like to review the citation to which you refer. Can you give it?
If I were considering a home built even as late as the early 1980's, would not assume that Excelon vinyl nor other brands of asphalt-floor tiles nor vinyl floor tiles nor sheet flooring were asbetsos free - it was simply too tempting and too easy for an installer to use existing stock of flooring that might have been made earlier and that contained asbestos.
In such cases it would be prudent to presume the flooring contains asbestos - which as I've written, does not normally require costly heroic efforts: avoid types of demolition that create dust such as grinding or sawing or mass breakage, and follow the wetting and HEPA vacuuming guildelines.
If one were facing a costly job then it would make sense to actually test the flooring. If one had a home already made dusty by someone doing demolition then it might make sense to test a dust sample as well.
In all events, I am surprised that your home inspector presumes that only 9x9" tiles contained asbestos. That is not the case.
...
Ask a Question or Search InspectApedia
Use the "Click to Show or Hide FAQs" link just above to see recently-posted questions, comments, replies, try the search box just below, or if you prefer, post a question or comment in the Comments box below and we will respond promptly.
Search the InspectApedia website
Technical Reviewers & References
Publisher's Google+ Page by Daniel Friedman
Click to Show or Hide Citations & References
1] Armstrong ® Residential Flooring - Website 05/15/2010 http://www.armstrong.com/ lists current flooring products provided by the Armstrong Corporation, including Armstrong's current vinyl floor tile products at http://www.armstrong.com/flooring/products/vinyl-floors
[2] Armstrong Corporation, Corporate History - http://www.armstrong.com/corporate/corporate-history.html - Web Search 05/19/2010
[3] Armstrong vinyl asbestos floor tiles: photos of asbestos-vinyl floor tiles as catalog pages (PDF form) are at www.asbestosresource.com/asbestos/tile.html
[4] Accoflex 2005 series semi-flexible vinyl tile Wonder flooring product description; Armstrong's Accoflex is a vinyl composition floor tile. WonderFlooring, Private Bag X02, Fordsburg 2033, Telephone: 011 298 8100, Fax: 011 836 4450, National Call Centere: 0860-29-80-80, Email: info@wonderflooring.com & marketing@wonfloor.com/ [2nd is a defective email address]
Web search 01/29/2011, original source: http://www.wonderflooring.com/accoflex/accoflextech2.pdf
Reference: Armstrong Flooring: Accotile, Accoflex & Coke Tile. Publication 333, Armstrong Flooring.
Note on use of the "Accoflex" name:
In addition to Accoflex flooring produced by Armstrong, Accoflex® is also a U.S. registered trademark used for Insulation Jackets For Industrial Pipes, Tanks and Conduits Including Flexible and Rigid Insulation In the Form of Foamed Synthetic Material Sheeting, owned by Armacell Enterprise Gmbh, Armstrong World Industries, Inc, also distributed in the U.K., Australia, & New Zealand, also in Indonesia. Armacell Australia Pty Ltd, a producer of engineered foams, (http://www.armacell.com/) was founded officially in August 2000 when the then Armstrong Insulation Products (Australia) became a separate legal entity from Armstrong World Industries group.
[5] "Asbestos in your home or at work," Forsyth County Environmental Affairs Department, Winston-Salem NC 12/08
[6] "Asbestos Floor Tile Removal", the University of Minnesota's advice on removing VAT (vinyl asbestos or asphalt asbestos floor tile) can be read in detail at www.health.state.mn.us/divs/eh/asbestos/floortile/index.html
[7] Copy on file as - /hazmat/Asbestos_in_Your_Home_US_EPA.pdf - Asbestos in Your Home - U.S. EPA, Exposure Evaluation Division, Office of Toxic Substances, Office of Pesticides and Toxic Substances, U.S. Environmental Protection Agency, Washington,D.C. 20460
[8] Resilient Floor Covering Institute, 1030 15th St. NW, suite 350, Washington D.C.
[9] Inspiring Interiors from Armstrong 1950s from Armstrong, [Paperback], Schiffer Publishing (March 1998), ISBN-10: 0764304585, ISBN-13: 978-0764304583 (Available from Amazon)
[1] Interior Solutions from Armstrong the 1960s from Armstrong, [Paperback], Schiffer Publishing (March 1999), ISBN-10: 0764307002, ISBN-13: 978-0764307003 (Available from Amazon)
[10] Mechanix Illustrated How-to-do-it Encyclopedia Vol 2. -1961
[11] Asbestos products and their history and use in various building materials such as asphalt and vinyl flooring includes discussion which draws on Asbestos, Its Industrial Applications, D.V. Rosato, engineering consultant, Newton, MA, Reinhold Publishing, 1959 Library of Congress Catalog Card No.: 59-12535 (out of print).
[12] Congoleum Corporation, "Company History", Congoleum Corporation, Department C, P.O. Box 3127, Mercerville, NJ 08619-0127 1-609-584-3601, web-search 03/14/2011, original source: http://www.congoleum.com/history.html
[13] David Grudzinski, Advantage Home Inspections, is a professional home inspector in Cranston, RI. 02910. He can be reached at 401-935-6547, fax- 401-490-0607 or by email to contact/us@advantagehomeinspections.us 04/26/2009
[14] EPA Guidance for Controlling Asbestos-Containing Materials in buildings, NIAST, National Institute on Abatement Sciences & Technology, [republishing EPA public documents] 1985 ed., Exposure Evaluation Division, Office of Toxic Substances, Office of Pesticides and Toxic Substances, U.S. Environmental Protection Agency, Washington,D.C. 20460
[16] EVER WEAR TILE CO is currently (2009) in the Terrazzo, Tile, Marble, and Mosaic Work industry in Fallon, NV. 775) 423-6221. [We do not know the company history nor whether there is an association with EverWear vinyl asbestos floor tiles discussed in this article.]
[17] Kentile KenFlex flooring photographs:Flickr web search 5/15/2010 - see original material and other asbestos product photos
[18] "Plastic Flooring Spreads Through the House", Jackson Hand, Guide to Home-Improvement Materials, Popular Science, April 1969, p. 154-158
[19] Thomas Hauswirth, Managing Member of Beacon Fine Home Inspections, LLC and (in 2007) Vice President, Connecticut Association of Home Inspectors Ph. 860-526-3355 Fax 860-526-2942 beaconinspections@sbcglobal.net 06/07: thanks for photographs of transite asbestos heating ducts
[20] Gary Randolph, Ounce of Prevention Home Inspection, LLC Buffalo, NY, for attentive reading and editing suggestions. Mr. Randolph can be reached in Buffalo, NY, at (716) 636-3865 or email: gary@ouncehome.com 3/07
[21] Thanks to reader Matt Abel, Design Services Department, Strongwood Log Home Company, 711 Shadow Road, Waupaca WI 54981, Office (715) 258-4818, Toll Free (866) 258-4818, www.gostrongwood.com "Begin your journey home.." for vinyl asbestos floor photos, October 2010.
[22] Thanks to reader Meryl Silvers for hexagonal floor tile photos showing a possilbe Kentile product that contained asbestos. October 2010.
[23] Thanks to reader N.H. for providing a photo of 1970's era vinyl asbestos floor tile that we identify as most likely Armstrong Solarian Devonport white.
[24] M.B. provided photographs of Congoleum linoleum flooring from a 1960's Tampa Florida home.
[25] L.R. provided photographs of Armstrong Palimino Beige and Pecan Beige asphalt asbestos floor tiles, floor tile packaging and identification details, along with asbestos test lab results. Personal correspondence with DF, 10/22/2012
[26] Window Putty - OSHA case cites contractor for asbestos exposure during removal of window putty http://www.osha.gov/pls/oshaweb/owadisp.show_document?p_table=NEWS_RELEASES&p_id=1091 June 1997 -
Asbestos Identification and Testing References

[27] Asbestos Identification, Walter C.McCrone, McCrone Research Institute, Chicago, IL.1987 ISBN 0-904962-11-3. Dr. McCrone literally "wrote the book" on asbestos identification procedures which formed the basis for current work by asbestos identification laboratories.
[28] Stanton, .F., et al., National Bureau of Standards Special Publication 506: 143-151
[20] Pott, F., Staub-Reinhalf Luft 38, 486-490 (1978) cited by McCrone

[30] Asbestos in Your Home U.S. EPA, Exposure Evaluation Division, Office of Toxic Substances, Office of Pesticides and Toxic Substances, U.S. Environmental Protection Agency, Washington,D.C. 20460
Asbestos products and their history and use in various building materials such as asphalt and vinyl flooring includes discussion which draws on Asbestos, Its Industrial Applications, D.V. Rosato, engineering consultant, Newton, MA, Reinhold Publishing, 1959 Library of Congress Catalog Card No.: 59-12535 (out of print, text and images available at InspectAPedia.com).
[31] "Handling Asbestos-Containing roofing material - an update", Carl Good, NRCA Associate Executive Director, Professional Roofing, February 1992, p. 38-43
[32] EPA Guidance for Controlling Asbestos-Containing Materials in buildings, NIAST, National Institute on Abatement Sciences & Technology, [republishing EPA public documents] 1985 ed., Exposure Evaluation Division, Office of Toxic Substances, Office of Pesticides and Toxic Substances, U.S. Environmental Protection Agency, Washington,D.C. 20460
...
Books & Articles on Building & Environmental Inspection, Testing, Diagnosis, & Repair
The Home Reference Book - the Encyclopedia of Homes, Carson Dunlop & Associates, Toronto, Ontario, 25th Ed., 2012, is a bound volume of more than 450 illustrated pages that assist home inspectors and home owners in the inspection and detection of problems on buildings. The text is intended as a reference guide to help building owners operate and maintain their home effectively. Field inspection worksheets are included at the back of the volume. Special Offer: For a 10% discount on any number of copies of the Home Reference Book purchased as a single order. Enter INSPECTAHRB in the order payment page "Promo/Redemption" space. InspectAPedia.com editor Daniel Friedman is a contributing author.

Or choose the The Home Reference eBook for PCs, Macs, Kindle, iPad, iPhone, or Android Smart Phones. Special Offer: For a 5% discount on any number of copies of the Home Reference eBook purchased as a single order. Enter INSPECTAEHRB in the order payment page "Promo/Redemption" space.