1950s Asbestos Floor Tile FAQs Set 4
Asbestos Flooring ID Q&A 1949-1959 Various Brands
POST a QUESTION or READ FAQs about how to identify brands & types of vinyl & vinyl-asbestos floor tiles & sheet flooring & about the asbestos content of these products
InspectAPedia tolerates no conflicts of interest. We have no relationship with advertisers, products, or services discussed at this website.
Recebt questions and answers about asphalt asbestos and vinyl asbestos floor tiles - 1949-1959
Photos & comments help identify early patterns, colors, brands of asphalt asbestos or vinyl asbestos flooring.
Produced from the 1950's into the very early 1980's, most of these VAT (vinyl asbestos tile) and asphalt-asbestos flooring products contain chrysotile asbestos, and possibly other asbestos forms.
This article series provides guides to identifying asphalt-asbestos flooring (1917 - ca 1960) & vinyl asbestos floor tile (ca 1952 - 1986): identification photographs, product names, styles, colors, and vinyl-asbestos floor patterns, and colors for asbestos-containing floor tile products made between about 1930 and 1986 - confirmed to contain asbestos in asbestos fiber or asbestos powder-filler form.
We also provide a MASTER INDEX to this topic, or you can try the page top or bottom SEARCH BOX as a quick way to find information you need.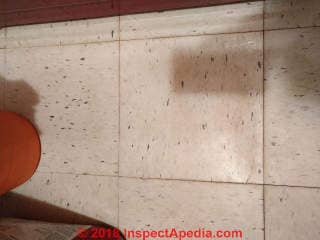 These questions & answers about identifying asbestos-containing floor tiles from the 1950's to 1960's were posted originally at ASBESTOS FLOOR TILE IDENTIFICATION PHOTOS 1949-1959 - topic home.
Asbestos is safe and legal to remain in homes or public buildings as long as the asbestos materials are in good condition and the asbestos can not be released into the air.
If you do not know the brand name of your flooring you can take a quick look at example photos of the product line of each manufacturer given in the list of photo guides found at MORE READING below.
its safest to treat the floor as presumed to contain asbestos, leave it in place and cover it with new flooring.

I'm not ripping up any tiles but there are some cracked ones, should I be worried if these tiles contain abestos? Home was built in 58 but remodelling was done in the 80s I believe.
Also this role in my kitchen - below.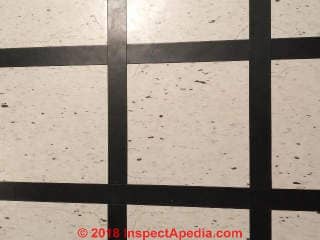 I understand and I have. I was just hoping for some help identifying it so I could be more accurate in presenting my concerns. (For example if this is a non asbestos containing sheet floor verses one most likely containing).

Carrie, As you've removed the floor and cleaned up any remaining dust, what remains are concerns to discuss with your doctor.

@Carrie,
That should've said we know the tile most likely was (not time), unsure about the sheet flooring. Just super concerned with being pregnant and exposed

,thanks! We've done all that. Well I'm actually not confident about the sheet flooring. We know the time most likely was. Do you recognize the sheet flooring? That's the one I'm most concerned about and would ease my mind if it happens to be from a line that wasn't asbestos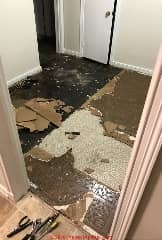 As you're confident the floor contained asbestos, testing wouldn't have changed what's needed.
Dust control, thorough clean-up; do not use a normal vacuum cleaner as it may send any remaining dust in the air; use damp wiping and HEPA vacuuming if more cleaning is needed.
See details at ASBESTOS FLOORING REMOVAL GUIDE

My husband ripped this up and after the fact realized it most likely cotained asbestos.
I'm pregnant so it freaks me out a bit more than normal so any info on this flooring would be great. He already cleaned up and threw away everything so we can't have it tested. :(.
We did clean the air ducts and bought two hepa air filters just in case.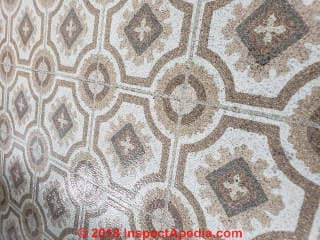 Emily I would treat the floor as presumed to contain asbestos. It looks like a 1970's sheet flooring product, not a floor tile.

At ASBESTOS FLOORING IDENTIFICATION
we give 5 checkpoints that can help you further.

Hi There, my husband and I just purchased a house built in the 1930s. The upstairs room has asbestos tiles and now I'm thinking our kitchen does too. There was an extra tile I found and on the backside it reads "Armstrong". Attached is a picture of the Armstrong tile in our kitchen.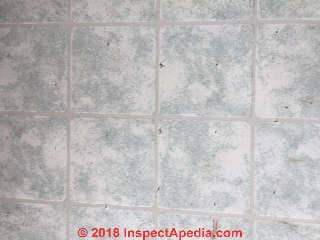 Lee Ann

I can't be sure from just the stamping and country of manufacture; indeed some asbestos-containing flooring was made in Canada.

At ASBESTOS FLOORING IDENTIFICATION https://inspectapedia.com/hazmat/Asbestos-Floor-Tile-Identification.php

we give 5 checkpoints that can help you make a reasonable guess about whether or not your floor contains asbestos.

We are removing old sheet flooring from a house we recently purchased. The back of the flooring has stamped on it "Made in Canada. 88000 or possibly 86000". Another part contains the words"adhesive and in-seal sealer". Please see photo attached. Is there asbestos in this product?

We are going to install underfloor heating but after taking up flooring found floor tiles which we think may be asbestos Marley tiles. We are going to latex flooring before installing underfloor heating. Would this be ok?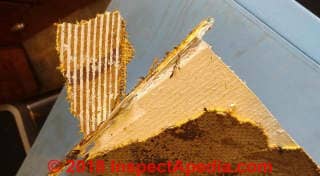 Betty, we have the same flooring as you! Our house was built in 1923 and reno in 1932. We do not know when this flooring was laid down however. Here is a photo of the backside of ours.

@Betty,

We have the exact same flooring in our house. Our house was built in 1923 and had a reno in 1932.

However we have no idea when this was actually laid down. Here's what ours looks like.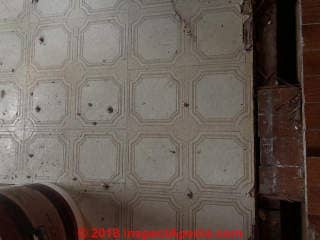 Jennifer

The floor tile could contain asbestos if installed before the mid 1980's in the U.S. It's certainly newer than 1940's flooring.
It looks like 1970's self-stick floor tiles.

Hi could my sticky tile contain asbestos. My house was built in 1940. I dot. Know when the floor was out in.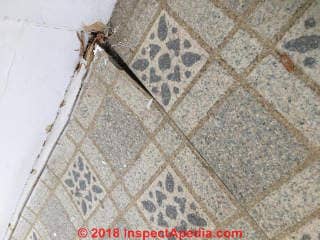 This vinyl is over the top of the original hardwood. I have no idea when the vinyl was put down. Does this look like it could be from the asbestos era?

Thanks!

So do you think it would be wise to refinish the wood floors underneath since it is unknown as to whether or not it contains asbestos?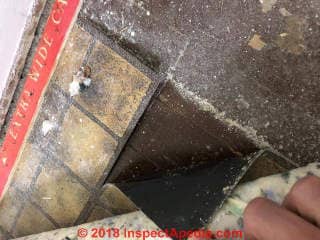 Sorry from your photo and come in through really can't make a useful guess at the age and therefore the probability that the floor contains asbestos. However if it's easily rolled up and removed that simplifies the situation.

Hi! My wife and I purchased a house built in 1946. The previous owner carpeted pretty much the whole house except for the kitchen, the bathroom and the hallway. When we were pulling up the carpet upstairs, we found some linoleum underneath the carpet. Mind you, this is somewhat new carpet installed within the past 3 years or so.
Does anyone know if this linoleum contains asbestos. It is actually somewhat easy to pull up with my bare hands. Very flexible with a solid black underside. Thank you for any advice you can give me!

Mary

If the flooring was purchased or made before 1986 you'd either assume it contains asbestos or have a sample tested.

I'd like to see photos of the floor tile pattern front, the tile reverse side, and all of the packaging labeling. That may let us comment further.

Use the "add image" button.

Gerbasimary@yahoo.com. for answers on the vinyl Corlon weathered brick 148111. Thanks

I have a box of the tiles that are on my kitchen floor. They are weathered brick 148111 yorktowne 4138. Vinyl Corlon. Can anyone tell me if these contain asbestos please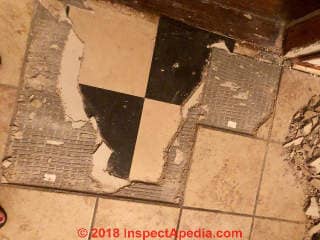 Kira

I see at least two layers of flooring.
Is that ceramic tile in the uppermost layer?

If the vinyl tiles were installed in North America before 1986 it would be prudent to treat it as presumed to contain asbestos.

It looks as if you're doing a dusty demolition - not something I'd recommend since if the floor tile or its backer layer contain asbestos you're probably creating a dust hazard.

Search InspectApedia for ASBESTOS FLOOR TILE WETTING PROCEDURE and also for ASBESTOS FLOOR TILE REMOVAL for details.

Hi! House built in 52, but not sure of the age of this tile. They are solid black and beige, no design to them whatsoever. I peeled one up and it looks to have a dark brown paper like backing.
I have no idea if these were to contain asbestos? Anyone have any ideas?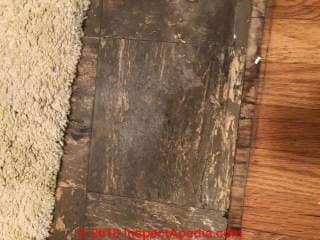 Certainly does look like a brown colored asphalt asbestos floor tile, perhaps from the Armstrong line.
You'll find a match in the tile identification articles in this series. You can hold me in on an exact match more quickly if you include the building age or even better the age of the floor if known.

I was wondering if anyone has seen these?

Donna

Thank you for asking a question for which I have no idea of the flooring product or its properties.

What are eavesdrops tiles? Can you attach some photos, and give me the building age and tile sizes?

What year did they stop using eavesdrops tiles? We have the real thin ones with the black tar adhesive on our basement floor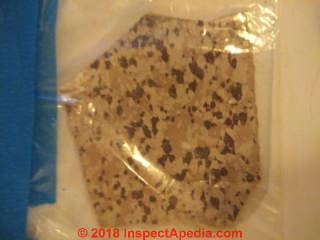 Looks like a cork-pattern vinyl floor tile, probably Armstrong, possibly Sears, Wards, even Kentile who had somewhat similar patterns. If pre-1983 assumed to contain asbestos.
Other examples of cork pattern are at ASBESTOS FLOORING IDENTIFICATIONhttps://inspectapedia.com/hazmat/Asbestos-Floor-Tile-Identification.php

Also at ASBESTOS FLOOR TILE ID REQUESTS 1960's see this article section

Hello,

Can anyone help identify the following tile? The full piece was 9 x 9. Any help is appreciated.

Dunno, Jamie, I can't see much of the flooring. If the floor is likely to be older than the early 1980's it would be prudent to treat it as presumed to contain asbestos.

This (above) appears to be sheet flooring, maybe linoleum under parquet. I'm just not sure if it peels up if that's asbestos

In the cae of flooring the condition of the one in the photo below is probably an asbestos Hazard and should be treated as such. Simply replacing a few floor tiles is not going to address that question

Hello,
I was wondering if you would know what type of vct tile and color it is? They are 9" x 9" tiles. The house was built in 1938, but am not sure if they are the original tiles. I need to replace some of them, and wondered if you could recommend something?
Thank you!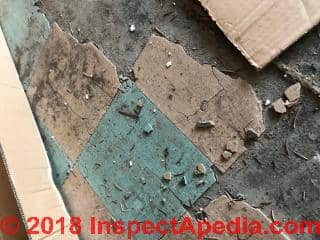 ...
Continue reading at ASBESTOS FLOOR TILE IDENTIFICATION PHOTOS 1949-1959 - home, or select a topic from closely-related articles below, or see our complete INDEX to RELATED ARTICLES below.
Or see ASBESTOS FLOOR TILE IDENTIFICATION 1949-1959 FAQs-5 - more photos and identification Q&A on asbestos floor tiles from the 1950s
Or see this
Asbestos Flooring Identification Article Series
Suggested citation for this web page
ASBESTOS FLOOR TILE IDENTIFICATION 1949-1959 FAQs-4 at InspectApedia.com - online encyclopedia of building & environmental inspection, testing, diagnosis, repair, & problem prevention advice.
Or use the SEARCH BOX found below to Ask a Question or Search InspectApedia
...
Ask a Question or Search InspectApedia
Try the search box just below, or if you prefer, post a question or comment in the Comments box below and we will respond promptly.
Search the InspectApedia website
Technical Reviewers & References
Click to Show or Hide Citations & References
[1] Armstrong ® Residential Flooring - Website 05/15/2010 http://www.armstrong.com/ lists current flooring products provided by the Armstrong Corporation, including Armstrong's current vinyl floor tile products at http://www.armstrong.com/flooring/products/vinyl-floors
[2] Armstrong Corporation, Corporate History - http://www.armstrong.com/corporate/corporate-history.html - Web Search 05/19/2010
[3] Armstrong vinyl asbestos floor tiles: photos of asbestos-vinyl floor tiles as catalog pages (PDF form) are at www.asbestosresource.com/asbestos/tile.html
[4] Accoflex 2005 series semi-flexible vinyl tile Wonder flooring product description; Armstrong's Accoflex is a vinyl composition floor tile. WonderFlooring, Private Bag X02, Fordsburg 2033, Telephone: 011 298 8100, Fax: 011 836 4450, National Call Centere: 0860-29-80-80, Email: info@wonderflooring.com & marketing@wonfloor.com/ [2nd is a defective email address]
Web search 01/29/2011, original source: http://www.wonderflooring.com/accoflex/accoflextech2.pdf
Reference: Armstrong Flooring: Accotile, Accoflex & Coke Tile. Publication 333, Armstrong Flooring.
Note on use of the "Accoflex" name:
In addition to Accoflex flooring produced by Armstrong, Accoflex® is also a U.S. registered trademark used for Insulation Jackets For Industrial Pipes, Tanks and Conduits Including Flexible and Rigid Insulation In the Form of Foamed Synthetic Material Sheeting, owned by Armacell Enterprise Gmbh, Armstrong World Industries, Inc, also distributed in the U.K., Australia, & New Zealand, also in Indonesia. Armacell Australia Pty Ltd, a producer of engineered foams, (http://www.armacell.com/) was founded officially in August 2000 when the then Armstrong Insulation Products (Australia) became a separate legal entity from Armstrong World Industries group.
[5] "Asbestos in your home or at work," Forsyth County Environmental Affairs Department, Winston-Salem NC 12/08
[6] "Asbestos Floor Tile Removal", the University of Minnesota's advice on removing VAT (vinyl asbestos or asphalt asbestos floor tile) can be read in detail at www.health.state.mn.us/divs/eh/asbestos/floortile/index.html
[7] Copy on file as ASBESTOS IN YOUR HOME - U.S. EPA, Exposure Evaluation Division, Office of Toxic Substances, Office of Pesticides and Toxic Substances, U.S. Environmental Protection Agency, Washington,D.C. 20460
[8] Resilient Floor Covering Institute, 1030 15th St. NW, suite 350, Washington D.C.
[9] Inspiring Interiors from Armstrong 1950s from Armstrong, [Paperback], Schiffer Publishing (March 1998), ISBN-10: 0764304585, ISBN-13: 978-0764304583 (Available from Amazon)
[1] Interior Solutions from Armstrong the 1960s from Armstrong, [Paperback], Schiffer Publishing (March 1999), ISBN-10: 0764307002, ISBN-13: 978-0764307003 (Available from Amazon)
[10] Mechanix Illustrated How-to-do-it Encyclopedia Vol 2. -1961
[11] Asbestos products and their history and use in various building materials such as asphalt and vinyl flooring includes discussion which draws on ASBESTOS, ITS INDUSTRIAL APPLICATIONS, ROSATO 1959, D.V. Rosato, engineering consultant, Newton, MA, Reinhold Publishing, 1959 Library of Congress Catalog Card No.: 59-12535 (out of print).
[12] Congoleum Corporation, "Company History", Congoleum Corporation, Department C, P.O. Box 3127, Mercerville, NJ 08619-0127 1-609-584-3601, web-search 03/14/2011, original source: http://www.congoleum.com/history.html
[13] David Grudzinski, Advantage Home Inspections, is a professional home inspector in Cranston, RI. 02910. He can be reached at 401-935-6547, fax- 401-490-0607 or by email to contact/us@advantagehomeinspections.us 04/26/2009
[14] EPA Guidance for Controlling Asbestos-Containing Materials in buildings, NIAST, National Institute on Abatement Sciences & Technology, [republishing EPA public documents] 1985 ed., Exposure Evaluation Division, Office of Toxic Substances, Office of Pesticides and Toxic Substances, U.S. Environmental Protection Agency, Washington,D.C. 20460
[16] EVER WEAR TILE CO is currently (2009) in the Terrazzo, Tile, Marble, and Mosaic Work industry in Fallon, NV. 775) 423-6221. [We do not know the company history nor whether there is an association with EverWear vinyl asbestos floor tiles discussed in this article.]
[17] Kentile KenFlex flooring photographs:Flickr web search 5/15/2010 - see original material and other asbestos product photos
[18] "Plastic Flooring Spreads Through the House", Jackson Hand, Guide to Home-Improvement Materials, Popular Science, April 1969, p. 154-158
[19] Thomas Hauswirth, Managing Member of Beacon Fine Home Inspections, LLC and (in 2007) Vice President, Connecticut Association of Home Inspectors Ph. 860-526-3355 Fax 860-526-2942 beaconinspections@sbcglobal.net 06/07: thanks for photographs of transite asbestos heating ducts
[20] Gary Randolph, Ounce of Prevention Home Inspection, LLC Buffalo, NY, for attentive reading and editing suggestions. Mr. Randolph can be reached in Buffalo, NY, at (716) 636-3865 or email: gary@ouncehome.com3/07
[21] Thanks to reader Matt Abel, Design Services Department, Strongwood Log Home Company, 711 Shadow Road, Waupaca WI 54981, Office (715) 258-4818, Toll Free (866) 258-4818, www.gostrongwood.com "Begin your journey home.." for vinyl asbestos floor photos, October 2010.
[22] Thanks to reader Meryl Silvers for hexagonal floor tile photos showing a possilbe Kentile product that contained asbestos. October 2010.
[23] Thanks to reader N.H. for providing a photo of 1970's era vinyl asbestos floor tile that we identify as most likely Armstrong Solarian Devonport white.
[24] M.B. provided photographs of Congoleum linoleum flooring from a 1960's Tampa Florida home.
[25] L.R. provided photographs of Armstrong Palimino Beige and Pecan Beige asphalt asbestos floor tiles, floor tile packaging and identification details, along with asbestos test lab results. Personal correspondence with DF, 10/22/2012
[26] Window Putty - OSHA case cites contractor for asbestos exposure during removal of window putty http://www.osha.gov/pls/oshaweb/owadisp.show_document?p_table=NEWS_RELEASES&p_id=1091 June 1997 -
...
Books & Articles on Building & Environmental Inspection, Testing, Diagnosis, & Repair
Our recommended books about building & mechanical systems design, inspection, problem diagnosis, and repair, and about indoor environment and IAQ testing, diagnosis, and cleanup are at the InspectAPedia Bookstore. Also see our Book Reviews - InspectAPedia.
...
Publisher InspectApedia.com - Daniel Friedman