Should Federal Pioneer Stab-Lok® Electrical Panels be Replaced?

Test results on Canadian FP Circuit Breakers
POST a QUESTION or READ FAQs about the safety and reliability of older vs more contemporary Federal Pioneer FP Electrical Panels and Circuit Breakers
InspectAPedia tolerates no conflicts of interest. We have no relationship with advertisers, products, or services discussed at this website.
Federal Pioneer Stab-Lok breaker & Panel Safety:
This article explains the possible hazards of the Federal Pioneer Stab-Lok® electrical panels & circuit breakers,in more recently manufactured FP product versions.
Here we also give data on electrical fire occurrences, frequency, reported causes, for Australia, Canada, the U.S. and other countries.
Independent test data on Federal Pioneer circuit breakers sold in Canada indicate that recently-produced FP breakers (1992 and 2015) perform similarly to U.S. FPE circuit breakers, having similar failure rates.
We also provide a MASTER INDEX to this topic, or you can try the page top or bottom SEARCH BOX as a quick way to find information you need.
Are Newer Federal Pioneer Stab-Lok® Electrical Panels Safer than Older FP or Federal Pioneer Panels & Breakers?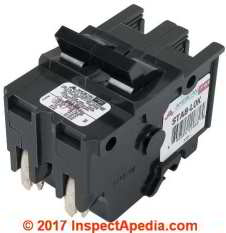 The Federal Pioneer brand of electrical panels and circuit breakers is a Canadian version of the Federal Pacific Electric Stab-Lok® equipment.
The FPE website explains the hazards associated with the American product: Federal Pacific Electric Stab-Lok® circuit breakers and service panels, provides a history of the issue, recounts research on FPE failures, and recommends replacement of the panels.
Circuit-breaker no-trip rates for a limited sample of both "American" brand and "Canadian" brand Federal Pioneer Stab-Lok type circuit breakers sold as Canadian Pioneer and American Pioneer were summarized in independent tests performed by J. Aronstein as of April 2017 finding a 38% failure-to-trip for Canadian Pioneer FP circuit breakers and a 14% failure-to-trip rate for American Pioneer circuit breakers.
In 2018 additional testing by Dr. Aronstein examining an additional set of FP breakers from a single Canadian home found that the performance of those Canadian Federal Pioneer circuit breakers was similar to that of U.S. FPE-brand circuit breakers.
Photo: an ACBC FP Stab-Lok circuit breaker that can be currently (2017) found for sale online such as at Amazon.
Readers should also see FPE & FP IDENTIFICATION, HOW TO for help in identifying Federal Pioneer old and more recently-manufactured Stab-Lok® products, and see FP FEDERAL PIONEER in CANADA for a discussion of the safety of older Federal Pioneer equipment.
These discussions pertain only to the Federal Pioneer Stab-Lok® electrical equipment brand made in Canada, or made elsewhere and sold in Canada under the FP or Federal Pioneer brand. Here our comments do not pertain to the Federal Pacific Stab-Lok® brand made and installed in the United States.
In Canada, the Federal Pacific Electric FPE Stab-Lok® electrical panel and circuit breaker line has been and continues to be sold under the brand name Federal Pioneer or FP or FP Stab-Lok® and is produced by Federal Pioneer, a Canadian division of Schneider Electric.
In the United States FP or Federal Pioneer® Stab-Lok circuit breakers were distributed by ACBC (no longer in business) as replacements for FPE Stab-Lok breakers under contract with Federal Pioneer - Schneider Electric, Canada. As of April 2017 ACBC-branded "FPE" circuit breakers continue to be marketed to U.S. consumers from a variety of sources such as Amazon and Pacific Coast Breaker, a privately held company in Mcclellan, CA.
Also see CHALLENGER ELECTRIC PANELS.
Recent data about the performance and hazards of Canadian-made Federal Pioneer equipment newer than 1997 is lacking though there has been a Canadian product recall and a hazard warning for older equipment.
In U.S.-made Federal Pacific Electric components, we recommend against replacing individual FPE Stab-Lok® circuit breakers - there is no evidence that doing so will improve the safety of the electrical system.
We recommend that any U.S. FPE Stab-Lok® panel and older Canadian FP equipment be replaced entirely.
Preliminary1 Test Results for a Small Sample of Canadian-Produced Stab-Lok type Circuit Breakers

Canadian FP / FPE
& Canadian Pioneer Brand
American FP
& American Pioneer Brand
Number Tested
24
51
Failures: UL 135% Test
9
38%
7
14%
Failures: NO-TRIP @ 200% (Jammed)
1
4%
0
0%

Notes:

1. Opinion: while the Canadian FP circuit breaker test results shown above look compelling, readers must note that for statistical validity a substantially -larger sample size is required to obtain a sound estimate of the actual circuit breaker defect rate.

However test results to date, including on a few new circuit breakers have indicated that there may be problems with some of the brands, and those results have been sufficient to justify expanding to a larger sample set. Further FP testing results were reported by Aronstein in April 2018 - cited below.

2. American-Pioneer or American FP stab-lok circuit breakers were produced by Canadian Federal Pioneer (Schneider Electric) and were sold under exclusive contract in the U.S. by ACBC, American Circuit Breaker Company, no longer in operation (2017) - Ed.

Private email, J Aronstein to D Friedman et als, 10 April 2017, reporting "the results to date on all Stab-Lok types having the "American" brand (in its various forms) and Canadian brand (Pioneer Canada, etc.)."
United States Court of Appeals,Ninth Circuit. AMERICAN CIRCUIT BREAKER CORPORATION, a New York corporation, Plaintiff-Appellant, v. OREGON BREAKERS INC., an Oregon Corporation;  Stephen Reames, an Oregon resident, Defendants-Appellees. No. 03-35375. Decided: April 25, 2005 - Source: http://caselaw.findlaw.com/us-9th-circuit/1122416.html
Excerpts from this case are at FPE STAB-LOK HISTORY
Recently-Produced FP Circuit Breaker Test Results, April 2018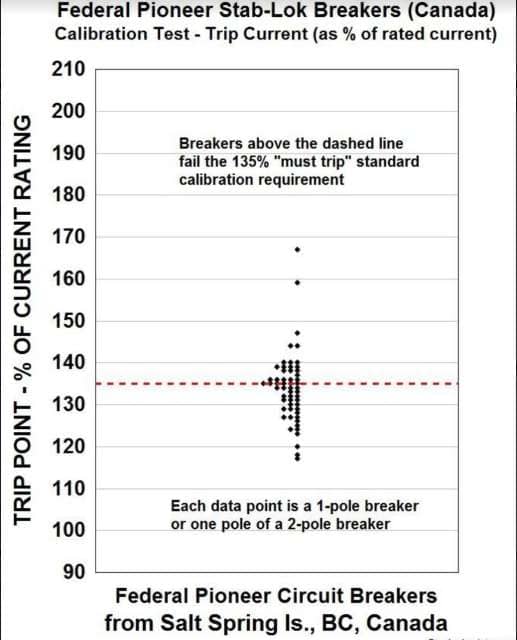 Dr. Aronstein comments:
The performance of this homeowner's samples of Canadian Federal Pioneer breakers is similar to that of the US brands.
In the photos, the red dots on the breakers indicate those that failed to meet the UL/CSA 135% "must trip" calibration requirement.
If we are interpreting the date codes correctly, about 2/3 of these Federal Pioneer circuit breakers were made in Canada in 1992 and the other 1/3 were assembled in Mexico.
Federal Pioneer circuit breaker date code stamps
The Federal Pioneer circuit breaker labels shown below include date codes. The date code for the newer breakers (Mexico) is the 4-digit number stamped in red on the listing label. Our interpretation is that the first two digits are the year and the second two digits are the week of manufacture.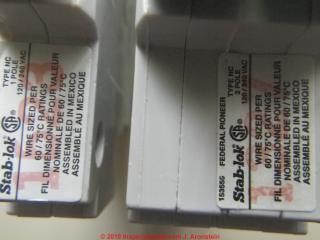 The left-hand Federal Pioneer circuit breaker' label date code stamped in red is 1523 that we de-code as date of manufacture 2015, week 23.
The date code on the second FP circuit breaker at right in the same photo is 1327 that we de-code as having been produced in 2013, week 27.
History of these FP Circuit Breakers
Details about the circuit breakers illustrated above were provided by the homeowner:
[The BC Canadian home from which these breakers were removed] was built in 1992. We purchased it in 2010, maintaining it as a vacation property ... in 2013. The house has been under slow renovation from 2013 to the present.
One of our first renovation projects was replacement of the electric baseboard heaters with an air-to-water heat pump. The three double-pole circuit breakers that supplied power to the three pieces of equipment are numbered 20-21, 22-23 & 24-25. They were installed in January, 2014.
There are three double-pole breakers without numbers shown in your photo. The 50 Amp unit was purchased for an upcoming kitchen renovation and is unused.
The other two are probably used, taken out of the panel when we decommissioned the electric baseboard heaters or some other equipment.
There are seven single-pole breakers without numbers shown in your photo. The unit with the slot-head screw in the bottom row was probably used and taken from the panel as we reworked some of the house electrical.
The six shown in the top row with a Robertson screw are in all likelihood unused spares that we purchased to have on hand for when we reworked/expanded the electrical distribution in the house. We had heard that Stab-Lok breakers might become hard to find in the future, so we thought having some spares on hand would be a good idea.
Compare Federal Pioneer / FP circuit breaker and FPE & Other Circuit Breaker Failure Rates
Bottom Line on FP / Federal Pioneer Electrical Panel / Circuit Breaker Performance & Safety
As of April 2018 we can report that the older or newer Federal Pioneer panels installed in Canada, from tests to date, appear to perform about the same as the older, discontinued US Federal Pacific Electric or FPE Stab-Lok® version of this product.
Building owners should not rely on any Federal Pacific Electric Stab-Lok® electrical panels, and building owners should be cautious about continuing to rely on any older Canadian Federal Pioneer design.
We have much less field and test data on the Canadian FP products. There was a 1997 Canadian FP recall notice (discussed at FEDERAL PIONEER CIRCUIT BREAKER RECALL) and a 1997 warranty alert (discussed at FEDERAL PIONEER WARRANTY ALERT).
We have received only some field reports about Canadian FP installations than U.S. FPE installations, but we lack data to know if that's due to fewer website readers from Canada, fewer FP panels installed in Canada than FPE in the U.S., better Canadian electrical wiring workmanship overall, fewer electrical events that should trip the breaker, or a better product or redesigned product in the Federal Pioneer versions of this equipment sold in Canada.
InspectAPedia.com is an independent publisher of building, environmental, and forensic inspection, diagnosis, and repair information provided free to the public - we have no business nor financial connection with any manufacturer or service provider discussed at our website.
History of Federal Pioneer Electrical Panels & Breakers Produced or Sold in Canada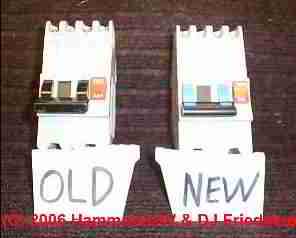 Schneider Electric in Canada purchased and has continued to market the Federal Pioneer line (which is the Canadian version of Federal Pacific Electric) of Stab-Lok® products.
How to Identify "Old" vs. "New" Federal Pioneer Circuit Breakers
Quite some time ago we (D Friedman) asked a Schneider engineer if Schneider made any product changes or improvements over the original FPE Stab-Lok® version when it was picked up in Canada.
While at first he was friendly, later, perhaps after talking with management, neither the engineer I spoke with nor anyone else at Schneider responded to any questions about this product whatsoever.
(The photo shows old and new circuit breakers such as seen in the Federal Pioneer NBLP38-TF32 electrical panel photographed in 1997)
At that time, I took that to mean that perhaps the company had no compelling good news to report, but I acknowledge that they could simply be afraid to share test or any other data, regardless of the product's performance, as I explain below.
Some of the original product problems appear to have been inherent in the design of the breaker internal parts and the bus assembly, and I was told by some engineers that a redesign to correct these problems would have priced the product out of its niche in the market (the low end).
So we are faced with the situation of a company who has so far not provided public information about the product's testing, performance, or engineering changes. We would very much welcome a Federal Pioneer product testing and performance update so to be able to inform to consumers whether or not later versions of the Federal Pioneer product line have been improved and perform acceptably.
I speculate that Schneider/Federal Pioneer may have indeed made corrections or improvements in the product since the 1970's and 80's, and I speculate further that they may be reluctant so say so since that would admit prior problems and thus risk liability and claims.
What should a Homeowner Do About a Recently-Made Federal Pioneer Electrical Panel?
Reader Question: Is this FP Panel one of the model that may be defective ? and that should be replaced ? - Boite Electrique Federal Pioneer en Canada?
I have the following electrical panel from Federal Pioneer that is 30+ years old. Is this one of the model that may be defective ? and that should be replaced ? Is there any recall ? [Are there] funds available for replacement ? Thank you in advance - Louis - 3/3/2014
Reply: history and limited field data suggest FP panels are hazardous but we lack a larger body of independent research or updates from the manufacturer about Canadian Federal Pioneer breaker & panel design, design changes, performance
Louis:
The short answer is we have less actual data on which to base a conclusion but all of the history and the limited evidence we do have suggests that it'd be meaningfully safer to replace the panel
. In addition to seeing breakers held in place by adhesive tape in FP panels, a search to identify ANY design or manufacture change that would support a claim of greater safety than the US FPE mark led nowhere but to stonewalling.
You'd think if there was good news the manufacturer would share it.
But the facts are more complex. In my OPINION even if a manufacturer had improved the design of a product to make it more safe, they'd be reluctant to say so out of concern for admitting liability for prior versions of the product.
See FP FEDERAL PIONEER in CANADA.
Without more field data and independent testing one cannot not assume that the newer Canadian Federal Pioneer electrical panels and circuit breakers have been proven unacceptable or unsafe, but given the very bad performance of the original designs of the original FPE Stab-Lok® product which were widely sold over many years, one should not fail to look for (or wish for) more current test and engineering data on this product.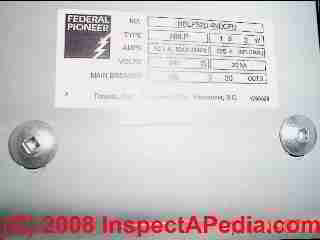 (The photo shows the data label in a Federal Pioneer electrical panel model NBLP32B-4NBCFB taken in 1997)
Comments & Questions for Schneider about FP Panels
If it were my home and my panel shown at the top of this page, I would call the Schneider Electric company and, in as respectful a manner as I could, I'd simply put these questions to them
The older versions of the product clearly had problems in the U.S. and at least some failures in Canada, (there was a Canadian product alert notice). That FPE product design and even equipment were put into production for a Canadian version sold as FP or Federal Pioneer.


Schneider Electric Co. has continued to produce and sell the Federal Pioneer brand electrical panel.


Newer Federal Pioneer electrical panels and breakers, though they may still be a Stab-Lok® design, look a little different than the older ones by simple visual inspection of the electrical panel and circuit breaker colors and toggle switch handles.

We don't know if that difference is cosmetic (for example different plastic used to form molded circuit breaker cases) or more substantial.


Can or will Schneider Electric provide any test reports or technical data about any changes or improvements in the product since the era when Schneider picked it up? The company did not reply to a request for product design or manufacturing change, update, or history information.
Federal Pioneer Electrical Panel / Breaker Failure or Malfunction Field Reports Requested
Reader Field Report of Federal Pioneer Circuit Breaker Failure
I live in Ottawa ONT Canada
I recently had a Outdoor GFI outlet fill with water and caused the box to arc so bad that the hot wire melted right off.
I was shocked to see that the breaker did not trip, I consulted with an electrician and his conclusions were that the breaker had to be faulty. I bought a brand new Siemens stab loc 15 amp breaker for my Federal Pioneer panel, The electrician tested it (dangerously) by shorting it to the box, Sparks! and no trip of the brand new breaker. This should trip the breaker, no matter what right?
Please help, I am reading a lot about Federal Pacific being dangerous and panels should be replaced....but not much about Federal Pioneer. I was on the phone with tech help at Schneider,(who bought Federal Pioneer).
They claim that if my panel is in Canada and that it is Federal Pioneer, it should be fine and that one of their breakers would be safe. When I questioned him on the chances of 2 new breakers being faulty, he had no suggestion or comment.
I would really appreciate any input or advice you may have. - Anon, 17 sept 2015, Ottowa [by private email]
Reply:
Thank you ...l for the important field failure report. If you do not object I'll add it to our field reports of this product, keeping you anonymous unless you want to be identified.
We have researched and published considerable information about Federal Pioneer used in Canada beginning at FEDERAL PIONEER ELECTRIC PANELS and at FPE FAILURE FIELD REPORTS you will find more field failure reports for FPE panels of what appears to be the identical design.
There is in my opinion a very good chance of multiple breaker failures in this product line as there appear to be inherent design issues, particularly corrosion at the breaker to bus connection and breaker overheating.
Take a look at the material we've provided and do let me know what questions remain.
It would be helpful to have photos of your panel cover, markings, labels, breakers, and also to know the age of the panel or when it was installed.
It is also my opinion that if it were my house I'd replace the panel.
CONTACT US - We invite building owners, electricians, fire marshals, manufacturers, or independent testing laboratories to report to us on the field performance or field failures or product testing results for this product and we will publish here any updates we are able obtain.
We'd also like to see photos of the bus design itself – an electrician can open the panel – remove the cover, and if necessary pull a breaker to expose the bus and breaker connectors – that might tell us if visible changes were made even if we don't know if internal breaker design changes were made.
Reply from Anon:
I appreciate the reply. I did already read that article you linked me to and I am glad that you agree that the panel should be replaced. It is definitely troubling that these things are still sold, when it seems clear that they are/can be dangerous. I can't believe that Schneider could deny this over the phone with me!
Terrifying.
Also incredible that they did not reply to your questions.
When I go shopping for my new panel in the next couple of weeks, I will be sure to research a panel and replacement breakers that have nothing to do with their company.
At this point I would prefer to remain anonymous in fear of having my house condemned before I have the money to afford this costly repair.
I will send you the pictures of my panel and any damage we may discover upon further inspection.
Again, I appreciate what you are doing here,
Reply::
Schneider is a big company. I have no data and thus nothing to criticize about their other products. I agree that the response on FP was disappointing.
I simply asked if they had any data to suggest a better performance of the Canadian product, if they had made any changes to the product design from the original FPE product made in the U.S. or if the equipment actually physically making the breakers was any different.
In sum, were there any product differences other than the label. The engineer was very cooperative in our original conversation, said he didn't know but would find out; then the company fell silent which to me says a manager gave the word to provide no information.
I could be wrong but it seems to me if I were making a product that had good test data and specs I'd be happy to publicize them.
I've been careful to point out that we have much less field data on FP performance in Canada than FPE performance in the U.S. We don't know if that's because the installed base is smaller, the electrical work is generally better (thus fewer events that should cause a breaker trip), lower propensity to report, or something else. Very few (less than a few %) of electrical failures are ever reported, making field reports important.
Hang on to your old FP panel, leaving it as intact and undisturbed as you can, as there may be an engineer left who's willing to carry on Aronstein's testing.
Watch out: from reading comments posted by some electricians at other websites I see that some Canadian electricians say they have found U.S.-made FPE Stab-Lok circuit breakers (and thus possibly "replacement" breakers that are unsafe) in Canadian FP electrical panels. See my Federal Pioneer breaker box discussion with another reader just below.
Question: The Federal Pioneer breaker box and Stab-lok issue - US vs Canadian product & data
Thank you for the excellent website, which I've used to research many issues.

In the course of researching an unrelated issue I came across the pages related to Federal Pacific/Pioneer breaker boxes and Stab-lok breakers. We have a 1992 installed Federal Pioneer panel in our house and I am trying to understand better the risks involved in its continued use. New CSA-stamped (but not UL-stamped) Stab-lok breakers are readily available here in Canada, and several of these have been installed by electricians during renovation projects over the last few years.

https://inspectapedia.com/electric/Used-Circuit-Breaker-No-Trip-Failures-2017-10-13-JA.jpg
The graphic above shows the failure rates of various brands of breakers. It was a bit difficult to count the small dots, so the numbers might not be exact, but by my count something like 15% of the FPE breakers failed to open by 135% of the current rating and about 3% failed to open at all.
That seems to be about "middle of the road" for the brands listed in that graphic. The graphic indicates that this represents the testing of 3000 used FPE breakers, which is a large enough sample to be statistically significant. Do you have data on the sample sizes for the other vendors for a comparison?

It would be nice to see every breaker open by the rated current level throughout its life, but making any mechanical device close to 100% failure proof becomes prohibitively expensive.
I would guess that 85% of breakers tripping by their target amperage and 97% tripping by 200% of the current rating (the FPE results) would be about what would be expected for used breakers of any brand. I'm struggling to understand why you recommend replacement of these boxes/breakers when the large sample test results seem reasonable. Could you expand on that, please?

I do understand that there is anecdotal reports of problems with the internals of the boxes and the fixation of the breakers and problems may not be related to the breakers themselves.

Regards, - Anonymous by private email 2017/11/18 [The writer is a professional engineer living in Canada - Ed. ]
Reply: OPINION: why we think that it would be prudent to replace a Canadian FP electrical panel
Thank you for the question and discussion, Chris. I very much welcome your opinions.
Preceding more comments by a bottom line OPINION as my current-best-answer to your question of why we think that it would be prudent to replace a Canadian FP electrical panel:
Having spent many years researching and asking for data on Federal Pioneer equipment and having not been able to obtain a single shred of information confirming any design improvement in those breakers from ones made in the U.S., I cannot safely assume that the Canadian product was amended in design or in manufacture to eliminate the known hazard of a risk of failure to trip.
FP breakers are virtually identical in internal design as FPE breakers. A good part of the FPE failure problem is traced to innate design limitations of the product.
A review of the product history suggests that the product's price point (at the low-end) precluded a costly redesign. In the U.S. product problems were also traced to the manufacturing process and equipment - there *might* be differences in the Canadian product manufacture, or possibly not: some of the very same equipment can be in continued use.
The few FP failures for which we have clear reports showed failures in exactly the same manner as the US products. To me that suggests that the products are essentially identical. "Essentially identical" is itself, however a tricky descriptor.
Part of the historic problem with FPE was that small changes were made continually over the manufacturing life of the product, without re-certification, and unfortunately, without any evidence that later-made products performed any better than earlier-made products.
I have previously asked Schneider to comment-on and offer information or updates about FP breakers sold in Canada.
The company's reluctance to provide any information whatsoever about their Canadian version of the product, its design, manufacture, testing in-house or by independent labs, or about product changes offers nothing to dispel the known hazards and failures we've documented.
The most-generous reading I can offer for that silence is that in a climate of litigious class-action-seeking lawyers, companies might be reluctant to say they've corrected an unsafe product because that amounts to admitting that they may have an installed base of tens of thousands of the older product remaining use.
That means that the company either has to go through a costly product recall or face elevated liability. In the most-responsible case a company executive board may make an informed guess at what's the proper cost/benefit analysis. That information is not public.
Searching via Google for "buy replacement Federal pioneer circuit breaker" will return results for a range of products from several sources including UBI.
"Replacement" FP and FPE breakers being sold by UBI UBI FPE CIRCUIT BREAKER TEST RESULTS https://inspectapedia.com/fpe/FPE-UBI-Replacement-Circuit-Breaker-Tests.php have an even worse performance rate. What protects consumers against installing those in a Canadian electrical panel?
Searching for "Canadian Electrical Panel Fires" will quickly turn up OPINONS expressed by electricians that appear to me to be pulled out of thin air, such as this claim
"Supposedly, the FPE breakers sold in Canada were a different design than the ones sold in the US. So you may be ok." - retrieved 2017/11/20 original source: https://vibrantvictoria.ca/forum/index.php?/topic/2551-any-electricians-or-building-inspectors-here/
followed on the same page by this comment that you should take as a warning given by another Canadian electrician:
"I'm hoping, but I have also read people pulling Canadian panel covers off to find US made breakers "
A fundamental error in the thinking of many if not most people, including electricians and one of the moderators who comments in the website above, is the claim that since an FP panel has been in a building for many years with out ever showing the slightest sign of trouble then that proves the product is perfectly safe.
What's mistaken in this view is that the speaker/writer doesn't realize that nothing will go wrong with a circuit breaker that won't trip when it should ... until something goes wrong. If a building's electrical use, wiring, or lack of damage has never caused a short or over-current, then sure, nothing has ever gone wrong, nothing has called on the breaker to trip, and it just keeps happily passing current along with no trouble.
Absence of evidence is never evidence of absence.
You're riding around in your 65 Mustang with seatbelts that have worn through, down by the floor where you never look, to a single thread. You buckle up and drive to Canadian Tire for some air filters. Nothing goes wrong, and your seat belt is working perfectly.
But during that trip, despite your assumption, you were not receiving the seat belt protection that you thought you could count upon.
Had you been in a crash, things may have ended less happily.
Other comments:
If you didn't find it, FEDERAL PIONEER PANEL SAFETY sums up what we know to date on those specific brand panels.
When I first spoke with a Schneider engineer about their currently-sold FP breakers some years ago, he was interested, helpful, and said he was not aware of the product failures and would talk to older engineers and get back to me. The company had no further comment.
I have seen first hand FP breakers falling out of Canadian panels - held in by Scotch tape. That is an innate product design issue found also in some U.S. FPE panels and it is separate from the circuit breaker no-trip problem.
Some of our field reports on failures are from FP, but the greater volume is from US readers as I explain and analyse below.
The smaller number of field reports on Canadian FP panels might be due to any of a plethora of unknowns such as
Actual product differences and/or better field performance of the product (that would be great news but we lack data to support this claim nor to refute it - Ed.)

Field reports include just a dozen citations of Federal Pioneer panel failures.

One (from Toronto in 2009) at FPE FAILURE FIELD REPORTS include a reader's observation that the bus bars in some FP panels may be different than in some U.S. FPE panels.

However, while there are some bus-connection problems and burning, the principal failure mechanism in FPE (and probably FP) circuit breakers is not the bus connection but rather the internal parts of the circuit breaker - they jam. The bus burning reported by some and also discussed at InspectApedia is more-likely an effect than a cause of FPE / FP failures.
Differences in electrical fire reporting: see ELECTRICAL FIRE OCCURENCE & REPORTING CANADA VS. U.S.
Low inclination to report electrical product failures



Watch out

: we estimate that many electrical panel failures are discovered and repaired before a fire occurs when a circuit is misbehaving or a building occupant notices other trouble signs. We also estimate that less than 1% of such failures are ever reported to any authority at all.

The electrician makes a repair or installs new equipment and the old failed equipment is thrown out. There are in fact negative incentives to report such failures in both the U.S. and Canada. As a result we consider field reports to be more important than their small number may suggest.
Demographic differences: percentage of people living in lower-quality, lower-cost, older housing stock and lack of fire data for Canada. See Fire Occurrence Data below.
Ratio of Canadian to U.S. Populations & FPE-FP Readers of the information on FP/FPE to U.S. readers is roughly 10-12. In the twelve months ending 20 November 2017 InspectApedia.com had twelve-times as many U.S. readers as Canadian readers.

As recent population estimates put the Canadian population at 36.3 million and U.S. population at 323 million, you can see that the ratio of Canadian to U.S. readers of FPE data is likely to be similar to differences in the two total populations.

The number of reports of electrical fires and electrical panel failures would be expected to occur in a similar ratio.
Ratio of total number of Federal Pioneer Electrical panels in Canada to Federal Pacific Electrical Panels in the U.S. - it's likely that the total installed base in the U.S. is much larger.
Better or just different electrical wiring practices / better construction, fewer overcurrents in Canadian homes (do Canadians plug in as much junk as do Yanks?)
Fewer class action attorneys in Canada than in the U.S. and possibly, differences in consumer law between the countries. While we could not find exactly equivalent reporting on the number of class action lawsuits in Canada and the U.S. the data below gives a sense of the differences between the two countries. [The U.S. does not maintain a list of nonsecurities class action settlements].

Canada: The research of some commentators reveals at least 287 proposed class proceedings were filed in Ontario between 1993 and April 2001. (Bogart eta al 2007)

United States: 306 class action lawsuits were filed in a single U.S. county in 2001. - U.S. Senate Congressional Record 7 July 2004 pp. 14518-14519. IN 2001 just two companies, Microsoft and State Farm together faced over 250 class action lawsuits. - Aaron, Henry, James M. Lindsay, and Pietro S. Nivola, eds. Agenda for the Nation. Brookings Institution Press, 2003. p. 542
I do not agree with your premise that a 15% failure rate for older circuit breakers might be "pretty good", nor that it is to be expected uniformly across all breaker or panel brands.
Take a look at CIRCUIT BREAKER FAILURE RATES at https://inspectapedia.com/electric/Circuit_Breaker_Failures.php (click to enlarge tables or images) and you'll see that while FPE/FP are by no means the only problem brand, there are rather dramatic differences in failure rates among breaker / panel brands with not much in the "middle ground" between performing very well and performing badly. You will see that none of the good-performing brands fail at 15% rates.
Consider that a circuit breaker is protecting people from fire, shock, possibly fatality. A 15% chance of those outcomes would be unacceptable to most people, codes, authorities.
If Bryant or Square D (good performing brands) for example, were failing at a significant rate after the passage of time and if that were truly unavoidable, I think we'd have seen a move by the industry to recommend breaker replacement in all buildings in all cases after some number of years of service.
I think of these more like an automobile seatbelt. I drive an older car that came equipped with factory seatbelts. If I were told that after 15 years my seatbelts had a pretty good chance of failing in a crash I'd be rather troubled. It's a device that people use, count-on, and upon which they do not spend one minute of their day in worry.
InspectAPedia is an independent publisher of building, environmental, and forensic inspection, diagnosis, and repair information provided free to the public - we have no business nor financial connection with any manufacturer or service provider discussed at our website. We do not sell products nor services.
We are dedicated to making our information as accurate, complete, useful, and unbiased as possible: we very much welcome critique, questions, or content suggestions for our web articles. Working together and exchanging information makes us better informed than any individual can be working alone.
Website content contributors whether it is just a small correction or an in-depth article series (which of course invites more search engine attention), are, if they choose, cited, quoted, and linked-to from the appropriate additional web pages and articles - which benefits us both. Those who wish to remain anonymous can also do so.
A brief summary about InspectAPedia.com can be read at https://inspectapedia.com/About_Us.htm
Thanks again, I welcome your comments, experience, and any data you can find on Canadian electrical failures.
Daniel
cc: Jess Aronstein
Electrical Fire Occurrence Data & Fire Reporting in Canada vs. U.S.
As we state in discussion of Federal Pioneer vs. FPE Circuit Breaker Failure data, differences in population as well as other factors are likely to explain differences in the absolute number of electrical fire or failure reports between Canada and the U.S.
The ratio of Canadian readers of the information on FP/FPE to U.S. readers is roughly 10-12. In the twelve months ending 20 November 2017 InspectApedia.com had twelve-times as many U.S. readers as Canadian readers. As recent population estimates put the Canadian population at 36.3 million and U.S. population at 323 million, one can see that the ratio of Canadian to U.S. readers of FPE data is likely to be similar to differences in the two total populations.
The following research citations offer research on the frequency and most-common causes of fires ascribed to residential electrical systems in Australia, Canada, the U.S. and other countries.
Babrauskas, Vytenis, "RESEARCH ON ELECTRICAL FIRES, STATE OF THE ART" [PDF], VYTENIS BABRAUSKAS Fire Science and Technology Inc. 9000 – 300th Place SE Issaquah, WA 98027, USA retrieved 2017/11/20, original source: http://www.iafss.org/publications/fss/9/3/view/fss_9-3.pdf
Bogart, W.A., , Jasminka Kalajdzic and Ian Matthews, "CLASS ACTIONS IN CANADA: A NATIONAL PROCEDURE IN A MULTI-JURISDICTIONAL SOCIETY? A report prepared for The Globalization of Class Actions Conference," [PDF] Oxford University, December 2007, retrieved 2017/11/20, original source: http://globalclassactions.stanford.edu/sites/default/files/documents/Canada_National_Report.pdf
Distler, Daniel, Richard Emberley, Harold Reader, Zachary Taillefer, "Residential Electrical Fires: Effects of Increased Demand on Aging Electrical Distribution Systems in Victoria, Australia" [PDF] Worcester Polytechnic Institute (2010), retrieved 2017/11/20, original source:

Abstract: This project supports the efforts of the Metropolitan Fire and Emergency Services Board in Melbourne, Victoria to investigate potential risk associated with placing high electrical demand on deteriorating residential wiring systems.

Our project team analyzed electricity consumption and fire incident data, and conducted a survey and interviews which indicated the existence of an increase in electricity consumption per capita and related electrical fires from 1986 to 2009.

We made recommendations to implement routine residential electrical inspections, address failing electrical distribution systems attributable to overloads and establish stronger consumer awareness of associated risk.
FEMA, "RESIDENTIAL BUILDING ELECTRICAL FIRES (2009-2011)" [PDF] FEMA, Topical Fire Report Series, Vol 14 No. 3 March 2017

This report panel (including fuse) boards as the cause of 5 % of electrical fires in residential buildings, and blames more-generic "electrical failure, malfunction" for 90% of building fires.



Really?

OPINION: arson experts have informed us [DF] that the reporting of the cause of building fires and electrical fires is usually inaccurate: much of the evidence has burned by the time a local fire marshall or investigator visits a fire scene, and often only a fire forensic expert can trace an electrical fire to its true, immediate cause.

Babrauskas (un-dated) cited above, notes that the largest portion of all of the factors contributing to ignition in reported structural fires traced to the electrical system is the category "unclassified electrical failure or malfunction".

The same author notes that "It is generally felt within the profession that poor connections (overheating or glowing connections) is the single most important mechanism for electrical fires."

It is quite possible, for example, that while the root cause of an electrical fire might have been failure of a circuit breaker to trip in response to an overcurrent, a local investigator might ascribe the fire to "faulty wiring". - (Aronstein, Lane, private communication)

Here is an example, from the above report, of an ambiguous fire-cause report:

The fire started while two electricians were working in the electrical room when, for unknown reasons, the electrical panel exploded.
Hall, John R., Jr., "HOME STRUCTURE FIRES INVOLVING ELECTRICAL DISTRIBUTION OR LIGHTING EQUIPMENT" [PDF], NFPA National Fire Protection Association, Fire Analysis & Research Division,
available from National Fire Protection Association One-Stop Data Shop 1 Batterymarch Park Quincy, MA 02169-7471 www.nfpa.org e-mail: osds@nfpa.org phone: 617-984-7443 NFPA No. USS37 (March 2008), retrieved 2017/11/20, original source: https://www.dos.ny.gov/DCEA/pdf/Home%20Structure%20Fires.pdf
Istre, Gregory R., Mary A. McCoy, Linda Osborn, Jeffrey J. Barnard, and Allen Bolton. "Deaths and injuries from house fires." New England Journal of Medicine 344, no. 25 (2001): 1911-1916.

Excerpt: House fires remain an important cause of death and injury, accounting for more than 3000 deaths and 17,000 injuries each year in the United States.
Lai, M. L., S. Y. Park, C. C. Lin, H. Naidu, A. Soom, A. M. Reinhorn, Y. H. Lee et al. "Mechanical failure detection of circuit breakers." IEEE Transactions on Power delivery 3, no. 4 (1988): 1724-1731.
Lindquist, T. M., Lina Bertling, and Roland Eriksson. "Circuit breaker failure data and reliability modelling." IET generation, transmission & distribution 2, no. 6 (2008): 813-820.
NFPA, "[U.S. Home] ELECTRICAL FIRES FACT SHEET" [PDF], NFPA, retrieved 2017/11/20, original source: NFPA, Research, Data & Analytics, NFPA, 1 Batterymarch Park, Quincy, MA 02169, USA Website: www.nfpa.org NFPA Contact information: 617-984-7451 or research@nfpa.org

This report notes that panel boards including circuit breakers are the source of 3% of fires and states:

Electrical distribution or lighting equipment was involved in 57% of the home fires involving electrical failure or malfunction. One-fifth (19%) of fires involved heating, ventilation and air conditioning equipment, 9% involved kitchen and cooking equipment, and 7% involved personal and household equipment.

Wiring and related equipment accounted for the great majority of home fires and losses involving electrical distribution and lighting equipment (69% of fires, 56% of civilian deaths, 53% of civilian injuries, and 66% of direct property damage). Cords and plugs accounted for 10% of fires, but 28% of civilian deaths and 20% of civilian injuries, as well as 12% of direct property damage.
NFPA, "[U.S. Home] ELECTRICAL FIRES" [PDF] retrieved 2017/11/20, NFPA Op. Cit., original source: http://www.nfpa.org/News-and-Research/Fire-statistics-and-reports/Fire-statistics/Fire-causes/Electrical-and-consumer-electronics/Electrical
Smith, Linda E., Dennis McCoskrie, "WHAT CAUSES WIRING FIRES in RESIDENCES?", [PDF] U.S. CPSC Consumer Product Safety Commission, Fire Journal, (1990) retrieved 2017/11/20, original source: https://www.cpsc.gov/s3fs-public/firejournal.pdf

This study found that in the U.S. 14% of residential electrical system fires were caused by the "service equipment" (that includes the service entry as well as failures at the distribution box). None of the comments in the article's table identified circuit breaker failures.
Warda, Lynne, Milton Tenenbein, and Michael EK Moffatt. "House fire injury prevention update. Part I. A review of risk factors for fatal and non-fatal house fire injury." Injury Prevention 5, no. 2 (1999): 145-150.
Warda, Lynne, Milton Tenenbein, and Michael EK Moffatt. "House fire injury prevention update. Part II. A review of the effectiveness of preventive interventions." Injury Prevention 5, no. 3 (1999): 217-225.
Wijayasinghe, Mahendra, "STUDY CONFIRMS COOKING, SMOKING ARE TOP CAUSES OF [CANADIAN] HOUSE FIRES", [PDF] Canadian Firefighter, PO Box 530, 105 Donly Drive South, Simcoe, ON Canada N3Y 4N5 Canada, Tel: 1-888-599-2228, 26 September 2012, retrieved 2017/11/20, original source: https://www.cdnfirefighter.com/prevention/study-confirms-cooking-smoking-are-top-causes-of-house-fires-1327

Excerpt: "Canadian fire statistics are elusive: the last available analysis of nationwide fire losses in Canada is the 2002 Annual Report of Fire Losses in Canada, published by the Council of Canadian Fire Marshals and Fire Commissioners (CCFM/FC).

What's more, statistics on home fires, which account for the majority of fire deaths and injuries in Canada, were not available in the 2002 report or in previous reports."

This article notes that electrical failures are the fourth most-common Canadian house fire cause following cooking, heating, and arson. Note: Mahendra Wijayasinghe, PhD, is the manager of the research and analysis in the office of the fire commissioner, public safety division, Alberta Municipal Affairs.
InspectAPedia is an independent publisher of building, environmental, and forensic inspection, diagnosis, and repair information provided free to the public - we have no business nor financial connection with any manufacturer or service provider discussed at our website.
We are dedicated to making our information as accurate, complete, useful, and unbiased as possible: we very much welcome critique, questions, or content suggestions for our web articles. Working together and exchanging information makes us better informed than any individual can be working alone.
More information about this website is at ABOUT InspectApedia.com
...
Continue reading at FEDERAL PIONEER ELECTRIC PANEL IDENTIFY or select a topic from closely-related articles below, or see our complete INDEX to RELATED ARTICLES below.
Or see CHALLENGER ELECTRIC PANELS where an apparently-identical FPE Stab-Lok breaker is discussed.
Or see these FP articles
Or see these comparative
Circuit Breaker Failure Rate Articles
Suggested citation for this web page
FEDERAL PIONEER PANEL SAFETY at InspectApedia.com - online encyclopedia of building & environmental inspection, testing, diagnosis, repair, & problem prevention advice.
Or use the SEARCH BOX found below to Ask a Question or Search InspectApedia
...
Ask a Question or Search InspectApedia
Questions & answers or comments about the safety and reliability of older vs more contemporary Federal Pioneer FP Electrical Panels and Circuit Breakers.
Try the search box just below, or if you prefer, post a question or comment in the Comments box below and we will respond promptly.
Search the InspectApedia website
Technical Reviewers & References
Click to Show or Hide Citations & References
FPE Field Failure Reports Wanted: Contact the Author to report problems you have observed or experienced with this equipment, Federal Pacific Electric Stab-Lok® panels, circuit breakers, replacement circuit breakers of any brands and type used in FPE panels. Inspectors or consumers should also report failures and FPE issues by sending an Incident Report to the US CPSC - please email us with the same information.
Note: as we didn't add this reviewers list until 2007, this list of technical reviewers is incomplete; we have received comments and suggestions regarding this topic, edits and remarks included, from engineers and management from the US CPSC, electricians (many listed at our page on field reports of FPE failures), home inspectors, licensed electricians, and electrical engineers, and even a few attorneys and real estate agents, since 1986. Technical review, critique, content suggestions, questions, or clarifications are invited and where a contributor wishes, credit and links will be provided to that source. Contact us to provide feedback.
Dr. Jess Aronstein, electrical engineer, Poughkeepsie, NY, forensic engineering services, independent laboratory testing for various agencies protune@aol.com (independent electrical panel testing, including FPE Stab-Lok® panels, to April 2010)
David Carrier, electrical engineer, 53 Henmond Blvd., Poughkeepsie, NY 12603 845-430-7527 davidwcarrier@earthlink.net (independent electrical panel testing, including FPE Stab-Lok® panels, beginning 2010)
Alan Carson, Carson Dunlop Associates, Toronto, Ontario. Mr. Carson is a home inspection professional, educator, researcher, writer, and a principal of Carson Dunlop Associates, a Toronto home inspection and education firm. Mr. Carson is a past president of ASHI, the American Society of Home Inspectors
Mark Cramer Inspection Services Mark Cramer, Tampa Florida, Mr. Cramer is a past president of ASHI, the American Society of Home Inspectors and is a Florida home inspector and home inspection educator.
Carl Grasso, Esq., Herzfeld & Rubin, New York, NY. Mr. Grasso is an attorney who managed a plaintiff's class action litigation against Federal Pacific Electric in New Jersey.
William King, US CPSC Director of Electrical Engineering (Ret).
Licensed Electricians: FPE FAILURE FIRE PHOTOS includes electricians who have provided cases and photographs of field failures of FPE equipment at this website.
Homeowners, Home Inspectors, Electricians: FPE FAILURE FIELD REPORTS includes anecdotal field reports provided by a range of contributors including electricians (and some home owners or home inspectors) who have provided cases and photographs of field failures of FPE equipment at this website.
Books & Articles on Building & Environmental Inspection, Testing, Diagnosis, & Repair
Our recommended books about building & mechanical systems design, inspection, problem diagnosis, and repair, and about indoor environment and IAQ testing, diagnosis, and cleanup are at the InspectAPedia Bookstore. Also see our Book Reviews - InspectAPedia.
The Federal Pacific Stab-Lok® Electric Panel Hazard Website Safety Information for Consumers.
2007 FPE Stab-Lok® TECHNICAL REPORT - an updated test report of independent testing (a large 1.2MB PDF file) using a larger pool of FPE Stab-Lok® circuit breakers than the older CPSC and Wright Malta tests found significantly higher failure rates of FPE Stab-Lok® circuit breakers, including a look at critical safety failures (breaker failed to trip at 200% of rated current or jammed) which found up to 80% failure rate for FPE Stab-Lok® GFCI circuit breakers (n=4), 12% failure rate for double pole FPE Stab-Lok® circuit breakers (n=120), and a 1% failure rate for FPE Stab-Lok® single pole circuit breakers (n=345).
SAFETY for ELECTRICAL INSPECTORS for Electrical and Home Inspectors at Residential Electric Panels
...