Fiber Cement Siding Repair Advice & Specifications
How to repair fiber cement lap siding butt joint & trim joint gaps, damage, peeling paint, loose boards
InspectAPedia tolerates no conflicts of interest. We have no relationship with advertisers, products, or services discussed at this website.
Fiber cement board lap siding repair guide.
This article describes repair procedures for cosmetic or functional siding issues that may arise such as loose siding, wind-damaged siding, siding paint or coating failures, and siding gaps, especially gaps at fiber cement siding butt joints where lap siding is installed.
Our page top photo shows loose and improperly installed fiber cement siding on a New York home. We quote from the siding manufacturer's installation guides, contractor guides, and appropriate codes & standards and we debate the pros and cons of caulking vs. flashing for certain siding repairs. We include sources for building siding back flashing & H-flashing products.
We also provide a MASTER INDEX to this topic, or you can try the page top or bottom SEARCH BOX as a quick way to find information you need.
Manufacturers' Advice for Repairing, Maintaining & Protecting Fiber Cement Siding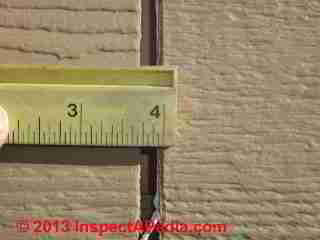 Here we tackle steps to stop ongoing leaks, damage, or to un-do damage from either a sloppy siding installation job or from more normal wear and tear as a building's exterior siding is exposed to weather, kick balls, peeing dogs, squirrels and raccoons, or to my grandsons and granddaughters, all six of whom (Chase, Tanner, Quinn, Sophie, Zoe, Chloe) could be hired as a home wear and tear test gang.
Article Contents
Our close-up photo of a butt joint gap in this fiber cement lap siding (above left) shows the width of the shrinkage gap.
The installers failed to install the recommended backer flashing / weatherproofing at any of the butt joints that we examined and we think the siding was installed wet and possibly not properly end-butted.
Cures for Loose Fiber Cement Siding Boards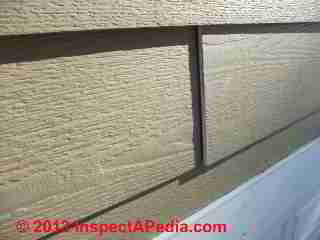 Here as well as at page top are photos of loose fiber cement siding.
Considering that in our photo at left the siding should have been lapped (by the board above, typically 1 1/4"), for this end butt joint to be completely out of alignment with its neighbor we figure that the board above was also not properly nailed, possibly bulged as well.
Also notice that the boards are misaligned vertically as well. All of these clues suggest a super high-speed, sloppy siding installation by un-trained and un-supervised installers.
For more diagnosis we ask about the fiber cement siding's original installation & nailing: was the siding installed according to the product specifications for type of nail, nail spacing, overlap, back priming, butt joint and trim joint end priming & caulking? See the product's caulking, nailing, flashing, installation details provided by James Hardie and excerpted in our notes below.

Except in high wind areas, the product is installed using blind nailing (nails at the top of each siding course are covered by the succeeding course). Nails (or screws for metal stud applications) must be corrosion resistant, galvanized or stainless steel. Hot-dipped galvanized fasteners or stainless steel (near salt or ocean areas) are recommended.
Pin-Back Nailing repairs for loose fiber cement siding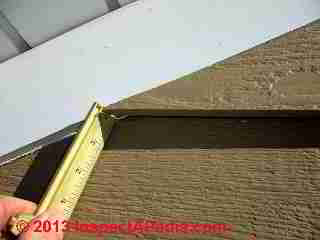 In James Hardie's technical bulletin No. 17, the company provides a description of PinBack nailing for use at loose planks that were "high nailed" at original installation) or where there are problems with gaps, loose planks, or rattling noises.
At left we show a different loose siding problem: where the diagonal end-cut siding was installed against the home's sloping gable-end trim, the installer perhaps couldn't catch a stud, or perhaps s/he simply didn't want to move the ladder to nail the end of the siding board.

Now just a few years later the siding ends are curled away from the building. How can we fix this other than by a complete removal and replacement of this wall covering?
Excerpting:
Pin Backs Pinning the plank down at the bottom edge is a common practice called "pin back." It is used to correct "high nailing", loose planks, gaps or rattling. Pinning of the butt joints with is not intended to increase wind load values; and shall be installed 3/8" from end and between 3/4" and 1" from bottom edge.

The finish nail shall be nailed flush to the surface (not countersunk), must be corrosion resistant (e.g. galvanized or stainless) and does not provide structural support. For best aesthetics nail heads should be touched up to color match. [17]
Cures for Buckled Fiber Cement Lap Siding
Buckled fiber cement siding is most likely to occur because the installer failed to give the recommended gap between the ends of the fiber cement boards and abutting vertical trim at corners, windows, doors, etc.
Buckling fiber cement siding may also occur if the product was not properly nailed.
It may be possible to cut an end gap clearance in place between the siding end and vertical trim, wearing proper protective gear to avoid silica dust hazards etc.
Also see Pin Back Nailing discussed above.
Cures for Coating Failures on Fiber Cement Siding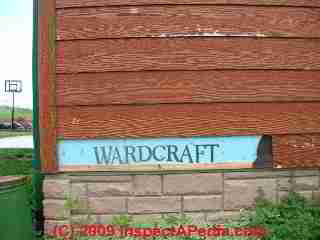 At JAMES HARDIEPLANK® FC SIDING we discuss the failure of this factory-coated fiber cement siding installation.
Coating type originally used: what type of paint was used on the product? Was it back-primed (if recommended) or factory primed? What is the moisture resistance of the coating used?

The siding should be painted (use an acrylic paint) within 180 days for primed products or within 90 days for unprimed products. Do not use stain; do not use oil/alkyd-based paints;

Do not use stain on James Hardie products.

The company also warns against painting when the surfaces are wet - a topic that we elaborate ad nauseam at PAINTING MISTAKES. The James Hardie company provides special touch-up coatings for ColorPlus products.
Painting fiber cement siding: Take care when re-painting, to avoid incompatible paints. The company recommends 100% acrylic paint. [14] See James Hardie Technical Bulletin 17 for painting and other fiber cement repair recommendations.
Sealing / caulking fiber cement siding: how were butt joints and end joints treated, flashed, caulked? Cut ends of fiber cement siding should have been sealed using 100% acrylic latex primer or paint (Certainteed) or in some cases using an approved caulk wiped on the cut surface (see our notes on Hardieplank installation). And caulk is required at certain joints such as vertical trim at windows, doors, corners.

Caulk is not to be installed in J channel, F-channel, nor in fiber cement siding butt joints, though it may have been applied later by a homeowner or maintenance contractor.

Check the caulking specifications provided in the installation guide by the manufacturer for your specific siding product. For example OEM specifications on caulking for fiber cement siding, see SIDING, FIBER CEMENT GAP & CAULK SPECS.
Frankly, my OPINION is there is no nice cure for fiber cement siding with a coating failure such as shown in our photo. As we discuss in excruciating detail in our article series beginning at PAINT & STAIN GUIDE, EXTERIOR, surface preparation is the key to a durable paint job.
Even the most sophisticated coating will fail if sprayed over dirt, for example. See PAINT SURFACE PREPARATION for more help.
How to Decide on a Remedy for Paint Failure on Siding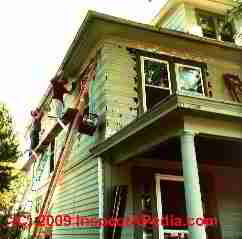 Choosing the best remedy for failing paint on fiber cement siding or any other exterior building surface depend on at least these considerations:
What is the base product material, and what condition is it in. For example failed paint on hardboard siding, if the siding has delaminated, means it's time to replace the siding. SIDING HARDBOARD



Watch out

: some siding materials and surfaces simply cannot be effectively and economically "saved" by re-painting. Siding replacement may be a less costly option in a number of circumstances.
How do we remove peeling paint from a factory-painted fiber cement product, how much bad paint do we remove, how aggressive should we be? See MEDIA BLASTING for MOLD REMOVAL - a technique that can prepare a bad surface for painting.
How do we prepare the cleaned surface for re-painting? Is there chalking of remaining paint? Do we need to use a special primer? PAINT SURFACE PREPARATION
What paint or coating should be used? Talk with both the siding manufacturer as well as your paint supplier. For fiber cement siding the paint and primer need to be compatible with fiber cement products.
How should the coating be applied? Spray is fast and less costly but may not bond the paint as well to the surface. With Art Cady I had success working as a team, using spray to get the paint onto the surface and a roller to work it into the surface for better adhesion.
Cures for Open Butt Joint Gaps in Fiber Cement Lap Siding Installations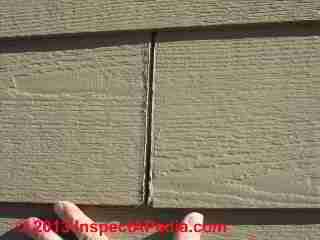 Cosmetic issues: Building owners should also be made aware of possible future cosmetic issues, depending on the repair method used and workmanship;
For cosmetic concerns, if building condition permits a slower approach, consider trying more than one product and method for gap sealing, examining the durability and appearance of the repair after 12 months or longer of weather exposure on the most-challenged building sides.
Details about repair approaches to open butt joints in fiber cement lap siding are give at SIDING, FIBER CEMENT GAP CURES.
There we also discuss adding back flashing to seal open lap siding butt joints against leaks into the wall system.
Cures for Algae, Fungus, Moss, Lichens on Building Siding
Algae, fungus, moss or lichens on siding are usually due to a combination of moisture and shade on the building wall. Plants too close to the building wall, repeated wetting by sprinkler systems, or unnecessarily dense close shade tree growth are conditions that can usually be remedied.
See TREES & SHRUBS, TRIM OFF BUILDING.
For more about algae, lichens, moss growth on buildings see ALGAE, FUNGUS, LICHENS, MOSS.
Adapted, expanded & excerpted from CertainTeed Corporation's "CertainTeed WeatherBoards™ Fiber Cement Siding Installation Manual" [5a], from "Fiber Cement Siding Best Practices for Effective Job Site Management"[5b] and from JamesHardie Corporation installation instructions and bulletins for JamesHardie HardiePlank lap siding. [12][12b] and finally also from applicable building codes & standards.
How to Remove Individual Fiber Cement Shingles or Boards
Reader Question: how do I remove individual or bottom fiber cement siding boards?
20 January 2015 Tony said:
I need to remove a bottom Hardie Lap siding board because it has deteriated from the furnace condensation outlet. I have replacement boards but how do I remove the bottom board by itself when there is a board above it and covering the nails, etc.
Reply:
Great Question, Tony. I have had to deal with this problem on FC shingle siding, lap siding and also on slate roofs.
If the FC siding has been painted such that the lower edge of the upper board is sealed tightly to the one below, cut the paint seal with a utility knife.
Then use one of the following methods to cut the nails holding the lower board:
If the lower edge of the upper board above the one to be removed is face-nailed through the lower edge of the upper board, reaching between the two boards, cut the nails with a hacksaw blade or slating tool as I describe next: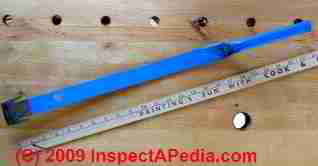 For slate roofs there is a hammer-tool that can be used for some siding removal - the tool slips up under the upper slate, a sharp flat hook slides over the nail, an outside handle of the tool is hammered down to cut the nail - but you may have trouble finding this tool.
But you can see it - the bright blue tool illustrated near the top of the article - at SLATE ROOF SOURCES & TOOLS and shown at left.
Alternatively, working carefully so as not to break the Hardie Lap boards above the ones to be removed, you can use a hacksaw blade to slip up between the boards, slide it horizontally to find the next nail, then saw through the nail. Buy a few metal-cutting hacksaw blades and a simple handle that attaches to one end of the blade leaving about 6" of free hacksaw blade.
If the FC lap siding boards are nailed very tightly you may be able to reach up under the board you are going to remove, using a flat bar, to pry GENTLY at the top of the board, beneath thus the board to be removed and the lower edge of the board course above it, prying thus between the back of the lower board and the wall sheathing, just enough to open the boards enough to go back to the hacksaw. Don't pry too much or you'l break the board above.
If the lower board was blind-nailed, that is nailed to the wall through its upper edge such that the second course lapped over the nails holding the first course board in place, you'll need to ....
Gently pry up the lower board using a flat bar beneath its lower edge just enough to be able to slide the flat bar up to the upper edge of the board to find where it is nailed.
From that position you probably can't use the hacksaw trick I describe above, but you can use either the slating tool I describe to cut the nails OR you can use a thin flat bar to drive up, cutting each nail in position.
Take care not to pry too much or you'll break the boards above.
More details about removing fragile or brittle siding materials are at ASBESTOS CEMENT SHINGLE REMOVAL
How to Repair Minor Chips, Dings, Damage in Fiber Cement Siding like HardieBoard
Question: how to repair bubbles & holes on the HardieBoard Siding on my home
2017/04/04 Norris said:
I have a hardy board at each corner of our front porch. Looks like a 1x6 by 8 long. Both pieces have numerous bubbles opening up and showing open holes on the face and the sides. House is 10 yrs old. What would be the best patch / repair treatment? Thank you
Reply:
Norris:
Discussing their HardieZone HZ10 siding Hardie says:
Repair or Patching Fiber Cement Board Siding
Dents, chips, cracks and other minor surface damage in James Hardie siding and trim products can be filled with cementitious patching compound. Refer to manufacturer recommendations for products that are compatible with fiber cement.
For small areas of damage you can use a sealant/caulk (preferably one designed for cement repairs) but then you will have to paint those areas of repair to match the original color.
OPINION: Clean out the area of damage, removing loose material but trying not to gouge into the boards. For larger areas I prefer to use a cement (or "cementious") patching compound, sold in plastic tubs or in tubes that can be used in a caulking gun. If your boards include a pattern such as a wood grain, small areas of repair can be tooled to match the surrounding lines with a putty knife; for larger areas of repair some owners have tried making a clay impression of nearby surfaces to press into the patch.
Hardie sells touch-up paint that can match the color of your HardyBoard siding.
Boards that are actually broken away will need to be cut out and replaced.
Here is what James Hardie says about repairs to their siding product:
James Hardie [JH] does not approve use of JH approved color matched caulk, other caulking materials or cementitious patching compounds to touch up nail heads, nail holes, dents, chips, cracks or other minor surface blemishes on JH products with ColorPlus® Technology.
Warranty Coverage
James Hardie routinely receives inquiries from consumers and builders regarding the use of paint as touch-up on ColorPlus products. These inquiries sometimes include requests that James Hardie provide warranty coverage to remediate problems associated with paints, and other non-approved materials as touch-ups.
James Hardie's warranty provides coverage for defects in materials and workmanship on ColorPlus products and its Touchup only. It does not warrant, in any respect, the appearance or performance of any third party coatings or finishes, including paint, used as touch-up and third party touch-up paints used on ColorPlus products. - Touch-Up Notice to Contractors and Consumers
...
Continue reading at SIDING, FIBER CEMENT MAINTENANCE or select a topic from closely-related articles below, or see our complete INDEX to RELATED ARTICLES below.
Or see SIDING, FIBER CEMENT REPAIR FAQs - questions & answers posted originally at this article.
Or see SIDING, FIBER CEMENT - home
Suggested citation for this web page
SIDING, FIBER CEMENT REPAIRS at InspectApedia.com - online encyclopedia of building & environmental inspection, testing, diagnosis, repair, & problem prevention advice.
Or use the SEARCH BOX found below to Ask a Question or Search InspectApedia
...
Frequently Asked Questions (FAQs)
Try the search box below or CONTACT US by email if you cannot find the answer you need at InspectApedia.
Recent questions & answers about repairing or patching fiber cement siding are at SIDING, FIBER CEMENT REPAIR FAQs
...
Ask a Question or Search InspectApedia
Try the search box just below, or if you prefer, post a question or comment in the Comments box below and we will respond promptly.
Search the InspectApedia website
Technical Reviewers & References
Click to Show or Hide Citations & References
James Hardie Fiber Cement Siding Best Practices, Appendix A, (2014) [PDF] available from James Hardie Corporation, 231 S. LaSalle St., Suite 2000

[1] "James Hardie's Mesothelioma and Asbestos Legacy Continues, 2009", web search 03/01/2011, www.survivingmesothelioma.com
[2] Killer Company, James Hardie Exposed, Matt Peacock, Harper Collins Australia, ISBN: 9780733325809; ISBN10: 0733325807
[3] " Anyone else have HardiePlank siding on their house?", Early Retirement.org online blog, retrieved 1/14/2013, original source: http://www.early-retirement.org/forums/f27/anyone-else-have- HardiePlank-siding-on-their-house-19475.html
[4] - DIY Chatroom, retrieved 1/17/2013, original source http://www.diychatroom.com/f2/ certainteed-weatherboard-vs-HardiePlank-4638/
[5] Certainteed Weatherboard fiber cement siding and trim products - see certainteed.com/ or see certainteed.com/resources/sidingandtrimspecsheet.pdf

[5a] "CertainTeed WeatherBoards™ Fiber Cement Siding Installation Manual", CertainTeed Corporation, 2012, CertainTeed Corporation, PO Box 880, Valley Forge PA 19482, Professional Help Line: 800-233-8990, Consumer Help Line: 800-782-8777, Website: Certainteed.com www.certainteed.com/resources/fc017.pdf retrieved 4/11/2013, [copy on file as Certainteed_Fiber_Cement_Siding_Install_fc017.pdf ]
[5b] "Certainteed WeatherBoards™ Fiber Cement Siding Best Practices for Effective Job Site Management", CertainTeed Corporation, retrieved 4/15/13 original source: www.certainteed.com Copy on file as Certainteed_FC_Handling Brochure-Contractor_FC063.pdf

[6] "Moisture Control in buildings: Putting Building Science in Green Building," Alex Wilson, Environmental Building News, Vol. 12. No. 5. [Good tutorial, "Moisture 101" outlining the physics of moisture movement in buildings and a good but incomplete list of general suggestions for moisture control - inadequate attention given to exterior conditions such as roof and surface drainage defects which are among the most-common sources of building moisture and water entry.--DJF]
[7] J. Tibbets, "Green Houses", NCBI, retrieved 1/17/2013, original source: http://www.ncbi.nlm.nih.gov/pmc/articles/PMC1469482/
[8] Gleeson et al, "Fiber Cement :Building Materials with Low Density Additives", U.S. Patent 8,182,606, B2 5/22/2012, [adding low volumes of volcanic ash & hollow ceramic microspheres to cellulose fiber-reinforced building materials.
[9] Thanks to reader Marie Carr for James HardiePlank siding photograph and case history information. 06/01/2008
[10] JamesHardie HardiePlank® Lap Siding information can be found at the company's web page on this material:
http://www.jameshardie.com/homeowner/products_siding_hardieplankLapSiding.py
[11] "30-Year Limited Warranty HardiePlank® HZ5® Lap Siding, HardiePanel® HZ5® Vertical Siding,
HardieShingle® HZ5® Siding, HardieSoffit® HZ5® Panels", 1-800-9-HARDIE
10901 Elm Avenue Fontana, CA 92337, retrieved 1/18/2013, original source: http://www.jameshardie.com/pdf/warranty/hz5.pdf [copy on file as Hardieplank_Warranty_hz5.pdf]
[12] James Hardie Building Products, James Hardie CustomerLink™ Service Centre, 10 Colquhoun Street, Rosehill NSW 2142, Tel: 13 1103, Outside Australia 61 2 8837 4709, Fax: 1 800 818 819. Hardie has operations in Australia, Asia, Canada, Europe, New Zealand, United States, and the Philippines. The company is a significant producer of fiber cement siding and backerboard. Email: info@JamesHardie.com and Website http://www.jameshardie.com/

JamesHardie Corporation, in the U.S. can be contacted at 26300 La Alameda, Suite 400, Mission Viejo, California 92691 - 1-888 J-HARDIE
1-888 542-7343 or by email to info@JamesHardie.com
[12b] "Technical Bulletin #9, Joint Flashing at Field Butt Joints", JamesHardie, retrieved 4/15/2013, original source: www.jameshardie.com, copy on file as James_Hardie_9-joint-flashing.pdf - quoting:
This Technical Bulletin is an explanation supporting the announcement made by James Hardie on September 8th, 2008 withdrawing its recommendation on the use of caulk at field butt joints for HardiePlank® lap siding.

[13] Instructions for application of HardiePlank lap siding can be found at http://www.jameshardie.com/homeowner/products_siding_hardieplankLapSiding.py?openTab=jsnavLink4
[14] "Homeowners Care and Maintenance Tips", 1-800-9-HARDIE
10901 Elm Avenue Fontana, CA 92337, included with product warranty information, retrieved 1/18/2013, original source: http://www.jameshardie.com/pdf/warranty/hz5.pdf [copy on file as Hardieplank_Warranty_hz5.pdf]
[15] "HardiePlank HZ5 Lap Siding Installation Requirements - Primed & Colorplus® Products",JamesHardie, November 2012, 1-800-9-HARDIE, 10901 Elm Avenue Fontana, CA 92337, retrieved 1/18/2013, original source: http://www.jameshardie.com/pdf/install/hardieplank-hz5.pdf, [copy on file as Hardieplank-hz5_Install.pdf]
[16] Technical Bulletin #9, Joint Flashing at Field Butt Joints, James Hardie corporation, retrieved 1/19/2013, original source: http://www.jameshardie.com/pdf/technical-bulletins/9-joint-flashing.pdf
[17] Technical Bulletin #17, Fastening Tips for HardiePlank® Lap Siding, James Hardie Corporation, retrieved 1/19/2013, original source: http://www.jameshardie.com/pdf/technical-bulletins/17 -fastening-tips-for%20-plank.pdf [copy on file]
[18] Technical Bulletin #8, Expansion Characteristics of James Hardie® Siding Products, James Hardie Corporation, retrieved 1/19/2013, original source: http://www.jameshardie.com/pdf/technical-bulletins/8-expansion-characteristics.pdf [copy on file]
[19] Eric Galow, Galow Homes, Lagrangeville, NY. Mr. Galow can be reached by email: ericgalow@gmail.com or by telephone: 914-474-6613. Mr. Galow specializes in residential construction including both new homes and repairs, renovations, and additions. Personal communication 3/20/2013.
[20] Johnston, Colin D., Fiber-reinforced cements and concretes. Vol. 3., Taylor & Francis, (CRC Press) 2000. ISBN-10: 9056996940 ISBN-13: 978-9056996949, "This book summarizes and simplifies the results of a considerable body of research and practical experience with a wide range of fiber-reinforced cementitious composites."
[21] Hugh Cairns, Subject 2 Home Inspections, is a professional home inspector in British Columbia, Canada, with offices in Kelowna B.C. and Kamloops B.C. He contributed the American Cemwood photo used at the top and within this article. Mr. Cairns can be contacted by telephone: 250-808-5777, or by email: okanagan@subject2homeinspections.com
[22] Roger Xu, 徐银杰 (my Chinese name), Ningbo Yihe Greenboard Co., Ltd., No.189, Longzhen Road, Nongkenchang, Longshan Town, Cixi, Ningbo, Zhejiang China, Tel: 0086-574-63974118/83887668 Fax:0086-574-63974129/83887670 Mobile: 0086-15924317823; E-Mail: sales6@yhboard.com; Skype: dajiezi107, www.yhboard.com/en, personal correspondence 3/21/2013
[23] James Hardieplank, personal communication with Daniel Friedman, 6/6/2013. We called James Hardie to ask for guidance in determining just how much moisture was "too much" in Hardieplank siding, after observing that siding at a job arrived visibly wet from the factory even though still inside its original sealed plastic wrapping. We called James Hardie's technical support line where a courteous representative told us he would refer us to Hardie's expert Benjaman Batres. Our call to Mr. Batres was returned by Stephanie (declined to give last name) from James Hardie's customer warranty service department. Stephanie informed us that there are no moisture numbers, that it is not possible to measure moisture in fiber cement siding (utter nonsense!) and repeatedly advised "Just read our instructions" or "So file a claim". Don't count on much help from James Hardie's customer warranty department on siding shrinkage or butt joint gap concerns. Gaps at Hardieplank siding butt joints continue to appear in the Hardieplank installation.
Paint Handbook: testing, selection, application, troubleshooting, surface preparation, etc., Guy E. Weismantel, Ed., McGraw Hill Book Company, 1981, ISBN-10: 0070690618, ISBN-13: 978-0070690615, [Excellent but a bit obsolete paint theory and practice, also a bit light on field investigation methods, out of print, available used-DF]
How to select and apply the right paint or coating for any surface. The first major reference to help you choose the correct paint or other finish to do the job best on a particular surface exposed to a particular environment. Experts in the field give full advice on testing surface preparation, application, corrosion prevention, and troubleshooting. The handbook covers wood, metal, composites, and masonry, as well as marine applications and roof coatings. A ``must'' working tool for contractors, architects, engineers, specification writers, and paint dealers.
Paint and Surface Coatings, Theory and Practice, R. Lambourne & T.A. Strivens, Ed., Woodhead Publishing Ltd., William Andrew Publishing, 1999 ISBN 1-85573-348 X & 1-884207-73-1 [This is perhaps the leading reference on modern paints and coatings, but is a difficult text to obtain, and is a bit short on field investigation methods - DF]
Provides a comprehensive reference source for all those in the paint industry, paint manufacturers and raw materials suppliers, undergraduate and postgraduate students, and industrial paint users. R. Lambourne was in the Research Department at ICI Paints Division and the Industrial Colloid Advisory Group, Birstol University, UK.
Seeing Through Paintings, Physical Examination in Art Historical Studies, Andrea Kirsh, Rustin S. Levenson, Materials in Fine Arts, 2000 ISBN 99-051835 [ forensic science, technical reference, focused on art works - DF]
Sealants, Durability of Building Sealants (RILEM Proceedings), J.C. Beech, A.T. Wolf, Spon Press; illustrated edition (1995), ISBN-10: 0419210709, ISBN-13: 978-0419210702
This book presents the papers given at the RILEM Seminar held at the Building Research Establishment, Garston, UK in October 1994. The book provides an opportunity for researchers to review up-to-date progress towards the achievement of the objectives of the standardisation of laboratory techniques of sealants in the variety of service conditions to which they are exposed.
Staining, Prevention of Premature Staining in New buildings, Phil Parnham, Taylor & Francis; 1996, ISBN-10: 0419171304, ISBN-13: 978-0419171300
The appearance of ugly staining early in a buildings life, ruins an otherwise pleasing appearance, tarnishes the image of the owners and gives rise to costly refurbishment works. In this book Phil Parnham raises a number of questions that should be considered whenever a new building is being designed or built. These are: * why has staining become so prominent; * what causes premature staining; which parts of new buildings are likely to be affected; * how can it be avoided? By using a number of highly illustrated case studies, the author answers these questions and ends by suggesting measures that should be taken by all design and construction professionals to prevent premature staining.
"Weather-Resistive Barriers [copy on file as /interiors/Weather_Resistant_Barriers_DOE.pdf ] - ", how to select and install housewrap and other types of weather resistive barriers, U.S. DOE
Books & Articles on Building & Environmental Inspection, Testing, Diagnosis, & Repair
Our recommended books about building & mechanical systems design, inspection, problem diagnosis, and repair, and about indoor environment and IAQ testing, diagnosis, and cleanup are at the InspectAPedia Bookstore. Also see our Book Reviews - InspectAPedia.
...
Publisher InspectApedia.com - Daniel Friedman