Guide to Hardboard Siding
Identification, Inspection, Repairs, Product Failures, Warranty Claims
InspectAPedia tolerates no conflicts of interest. We have no relationship with advertisers, products, or services discussed at this website.
Hardboard siding:
How to identify brands & types of hardboard siding, how to find, diagnose, and repair building exterior hardboard siding defects, and links to hardboard siding failure claims websites.
Several hardboard-based and fiber cement based building exterior siding products have not performed as well as originally anticipated, experienced early failure, and were the subject of building siding warranty claims. At page top, a bottom-grooved hardboard siding photographed in 1999. We think this is a Weyerhaeuser or Hardieboard siding product dating from the 1990's.
We also provide a MASTER INDEX to this topic, or you can try the page top or bottom SEARCH BOX as a quick way to find information you need.
Hardboard, Composite, List of "Masonite"-type Siding Failures & Claims Information, Hardboard Siding Failure Diagnosis, Repair, Proper Installation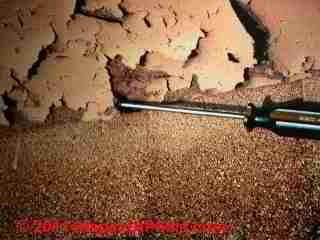 Hardboard siding failures, warranty claims - where to submit siding failure claims.
We discuss all brands: Abatibi, ABTCO, Boise Cascade, Celotex hardboard siding, Champion hardboard siding (see Masonite), Certainteed Weatherboards (see Fiber Cement), Georgia Pacific, James Hardi HardiePlank, Louisiana Pacific, Masonite, Shakertown, Weyerhaeuser, Wolverine DuraPress® siding
Abatibi hardboard siding, ABTCO siding, Forestex hardboard siding, Georgia Pacific hardboard siding, Louisiana Pacific hardboard siding, Masonite hardboard siding, Shakertown Panel Siding, Weyerhaeuser Hardboard Siding, and Wolverine DuraPress are examples of brands of hardboard siding that have suffered these problems.
Readers should also see SIDING TYPES, INSTALLATION, DEFECTS.
Also see MASONITE WOODRUF FIBERBOARD ROOFING for hardboard and fiber cement roof shingle failures and warranty claims.
Hardboard, Composite, "Masonite"-type Siding: failure and leak inspection, siding repair, siding litigation, hardboard siding class action lawsuits and settlements are listed here.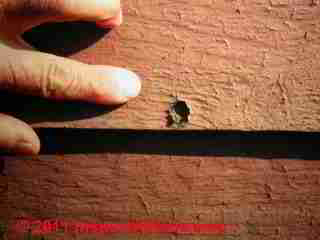 Abatibi-Price Hardboard Siding Failures:

see ABATIBI ABTCO SIDING FAILURE CLAIMS
ABTCO hardboard Siding Failures & Claims:
see www.abtcoclaims.com. ABTCO is an LP (Louisiana Pacific) brand. Also referred to as AbtCo/Abitibi Price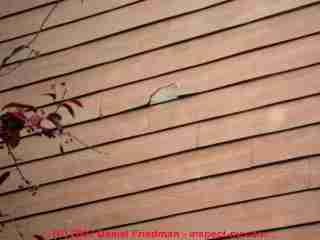 AHA-marked Siding: See Weyerhaeuser fiberboard siding details appearing later in this list.
Asbestos Cement and Fiber Cement Siding & Roof Shingles:

See SIDING, ASBESTOS CEMENT
and see

ASBESTOS & FIBER CEMENT ROOFING
Boise Cascade Hardboard Siding Failures: examples and documentation.

See BOISE CASCADE SIDING CLAIMS

Mail claim to: Boise Cascade Corporation, Timber & Wood Products Division, Attn: Tana Rasmussen, P.O. Box 62, Boise, ID 83707, 208/384-6162; A Boise Cascade hardboard siding claim needs to include six photos, one of each side of the building & two close-ups that show the problems.
Champion Siding - another hardboard siding product. As of 2017/08/04 we have no record of a class action claim suit against Champion.

For Champion siding claims involving siding installed from 1980 through 1985 contact the Masonite Corporation's warranty department.
|
MASONITE® SIDING CLAIMS

For Champion siding claims involving siding installed after 1985 and th rough 1999, contact the Georgia Pacific Corporation's Warranty Department. GEORGIA PACIFIC SIDING CLAIMS



Forestex Hardboard Siding Failures & Claims: Contact Stimson Corporation, 520 S.W. Yamhill, Suite 325, Portland, Oregon, 97204-1319.


Georgia Pacific Hardboard Siding Failures & Claims: last date for filing claims under the settlement was August 18, 1998. Brands included Cadence siding and Sundance hardboard siding. Also Catawba hardboard siding pattern.

Georgia Pacific's Jarrett (manufactured at the Jarratt plant 1979-1987) siding and Catawba hardboard siding (asserted by the manufacturer to not include the defects sited for Jarrett) were named in that action.

The class action group was closed after 18 August 1998.

The Georgia Pacific company continued to produce hardboard siding at its Catawba plant until December 2006.

Warranty or other claims may be possible by contacting the company at 1-800-284-5347 in the USA (or possibly 404-652-8375 ) or by the company's website http://www.gp.com/

The company has no open class actions concerning these siding products.
James Hardie Siding, Hardieplank Siding

See JAMES HARDIEPLANK® FC SIDING


Jefferson Smurfit Cladwood hardboard siding products were distributed by North Pacific (Landmark Corp.).

A class action suit regarding Jefferson Smurfit Cladwood siding was brought against Smurfit Stone Container who later declared bankruptcy. The class action is closed. Contact the company's ensuing entity at Smurfit-Stone Container Corporation 6 Cityplace Drive Creve Coeur, Missouri 63141


Louisiana Pacific Innerseal® Siding Failures:

Closed: A class action settlement for LP Innerseal Siding ended on December 31, 2002.

The class group included homeowners with LP Innerseal Siding installed on homes between 1985 (manufacturing began) to 1 January 1996.

LP Claims: contact Louisiana Pacific Corporation's product warranty department 877-677-6722 for LP siding installed before January 1996 or call 800-450-6106 for LP installed after January 1996,including Smart System® Products by Louisiana Pacific

The company warrants its current siding products, in some cases for 25 years. For current product warranty information contact the company at 1-800-648-6893.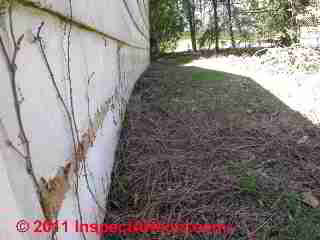 Masonite® hardboard siding failures: On January 15, 1998, the Circuit Court of Mobile County, Alabama, granted final approval to a Settlement in the lawsuit known as Naef v. Masonite, CV-94-4033.

The Settlement provided a program for eligible claimants to recover the costs associated with damage caused by the installation and incorporation of Masonite Hardboard Siding.

The deadline to file a claim has passed. For more information call 800-330-2722. Also see www.masoniteclaims.com -

see MASONITE WOODRUF® ROOFING OR MASONITE OMNIWOOD® SIDING LAWSUIT SETTLEMENT NOTICE - PDF file
These identifying Stamps can help Identify Masonite Hardboard Siding on most products. But nte the text is all in capital letters, one inch high, printed in black ink along the length of the back of the siding boards.
But because the stamp appeared only once per length of siding board, and because siding boards are typically cut to shorter lengths to fit shorter wall sections or around windows anddoors, not every piece of siding on a building will bear the identifying marks. C-6 (coating #6) products are stamped along 4', and C-5 products may be stamped along 14'.
MASONITE BRAND X-90 ANSI/AHA 135.6 102797 17.37 C-6 A CA MADE IN USA
MASONITE BRAND X-90 ANSI/AHA 135.6 102797 17.37 C-6 B CA MADE IN USA
MASONITE BRAND ANSI/AHA 135.6 102997 13.14 L-4 C-5 A CA MADE IN USA
MASONITE BRAND X-90 ANSI/AHA 135.6 102197 11.46 L-2 C-5 A CA MADE IN USA
MASONITE BRAND X-90 ANSI/AHA 135.6 102197 11.46 L-2 C-5 B MADE IN USA
MASONITE BRAND X-90 ANSI/AHA 135.6 102197 11.46 L-1 C-5 A CA MADE IN USA
MASONITE BRAND X-90 ANSI/AHA 135.6 102197 11.46 L-1 C-5 B CA MADE IN USA


Masoniate Color Lock Hardboard Siding:
See MASONITE COLORLOCK SIDING


Masonite OmniWood Siding claims: Masonite Omniwood is an OSB type siding product. On January 6, 1999, the Circuit Court of Mobile County, Alabama, granted final approval to a settlement in the lawsuit known as Cosby v. Masonite, CV-98-2446. The Settlement provided a program for eligible claimants to recover the costs associated with damage caused by the installation and incorporation of Masonite Omniwood Siding.

The deadline to file a Masonite OmniWood hardboard siding claim has passed.

For more information call 800-256-6990 or try calling the company at 1-800-323-4591.

Omniwood® is a registered trademark of Masonite Corporation.

Watch out: Don't waste time seeking the purported Masonite claims website titled www.masoniteclaims.com - it has been converted to a "made for Adsense" advertising revenue page that provides no useful information whatsoever.


Current Masonite product warranties, supported by the parent company, International Paper: contact the company at 1-800-323-4591.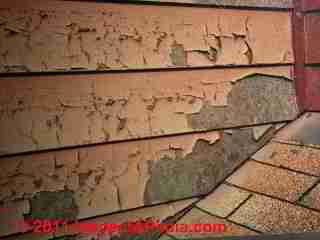 Shakertown Panel Siding Failures: some writers report Shakertown panel siding failures on product manufactured before 1992.

Shakertown manufactures premium Western Red Cedar shingles for residential and commercial siding applications, available throughout the United States and Canada.
See shakertown.com
Sorbilite Plastron comments on Hardboard Siding Failures

See SORBILITE PLASTRON


Stimpson Forestex hardboard siding and Stimpson Duratex siding

A class action settlement ended on 12 November 2011.
Independent claims administrator: Rust Consulting: P.O. Box 1371, Minneapolis, MN 55440-1371 , Tel: 1-800-427-2763


Temple Inland hardboard siding: Endura lap siding, hardboard panels were out of manufacture in or before 2009 and were not subject of class action claims. Temple Inland was aquired by Georgia Pacific.

See GEORGIA PACIFIC SIDING CLAIMS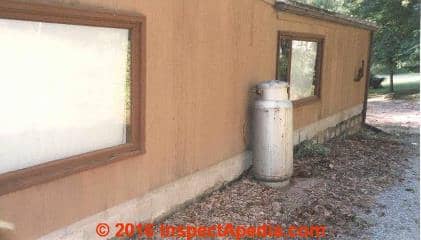 Weyerhaeuser Hardboard & Siding claims:

Typically Weyerhaeuser hardboard siding has one of several surface textures: smooth-surfaced, or a wood-grain resembling cedar clapboards, a texture resembling cedar shakes, a texture that shows a crosscut saw kerf type marking, or a stucco-surface texture pattern.

Fiberboard siding manufactured by Weyerhaeuser was sold in 16' lengths, in thicknesses of 1/2" or slightly less (7/16" thick) and in inch-widths of 6, 8, 9 1/2, 10 1/2, 12 and 16 inches.

Some Weyerhaeuser hardboard siding can be identified by a characteristic knots or pair of knot, 1 1/2 to 2" wide, and spaced about 61" apart. Look for knots on that spacing along siding boards that are more than five feet long.

Some Weyerhaeuser fiberboard siding includes a stamp on the siding back that is marked "AHA 10" or "AHA 20".

The company also produced siding sheets or panels in 4' x 8' or 4' x 9' sizes, in 1/2" or slightly thinner 7/16" thicknesses, with vertical grooves 4", 8", or 12" O.C. and resembling T-111 plywood siding panels. The siding sheet product was also sold in solid panels without a vertical groove and in a stucco-patterned surface texture.

A Class action closed on 31 Dec 1999, applying to siding installed between 1 January 1981 and 31 December 1999. See www.weyerclaims.com. Also Collinswood TruWood siding was another Weyerhaeuser hardboard siding brand.

Weyerhaeuser for warranty & claim information for siding installed between 1 Jan 1994 and 31 Dec 1999 : Gel: 1-800-365-0697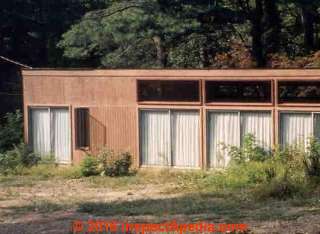 Werzalit lap siding, hardboard. Werzalit of America, Inc. is currently (2017) a manufacturer of composite, interlocking siding in lap siding profiles, using a compressible gasket design, marketed as rainscreens. The company makes a range of outdoor tabletops and other products. Werzalit lap siding rain screen materials are constructed of hardwoods and 24% resins bonded to phenolic cover sheets coated with a thermo-set acrylic finish.

Contact: Werzalit of America, Inc.40 Holley AvenueBradford Pa. 16701 Phone (US Only): (800) 999-3730 Phone: (814) 362-3881Fax: (814) 362-4237 Email: info@werzalitusa.com, Website: http://www.werzalitusa.com/

Werzalit product catalog : http://www.werzalitusa.com/wp-content/uploads/2015/07/Werzalit-catalog-final.pdf


Wolverine DuraPress® siding: this product is now sold as Weatherboard® by Certainteed. Website: https://www.certainteed.com/siding/products/wolverine-american-legend/ or see the CertainTeed information below.
Hardboard Siding Alternatives - Fiber Cement Siding
Fiber cement building siding, such as HardiePlank®, originated by James Hardie Products may be a more durable alternative to wood-fiber based hardboard siding. Information about the James Hardie company is

at JAMES HARDIEPLANK® FC SIDING. Other fiber cement siding product lines include Maxi-Panel, Maxi-Plank, Cemplank, & FortaFiber.
Reader Question: Is there Warranty Assistance for Replacing or Painting Masonite Colorlok "Color lock" Hardboard Siding?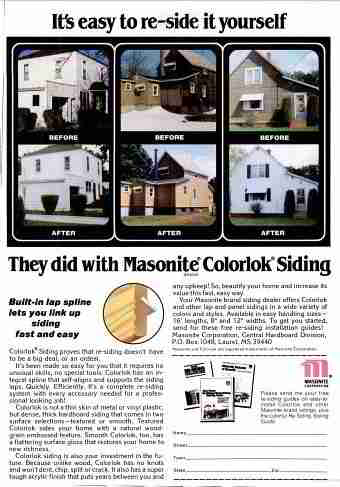 I am considering buying a home that was built in 1998 and was sided with Colorlock [Masonite Colorlok®] siding.
The siding looks terrible. It is exposed and there is no paint left on the lowest part of each piece of the lap siding where it has swelled and looks like its coming apart.
The home is beautiful with that exception. I saw your article and my question is could it be covered under the claim you write about. Its a big house and the siding is a big issue. If I knew that it could be replaced under some type of warranty it would help me with the decision of buying it. - R.H.
Reply:
A competent onsite inspection by an expert usually finds additional clues that help assess the condition of the siding, the extent of replacement needed, and the possibility that water has penetrated the building walls - points where additional investigation would be appropriate.
That said, as we noted above, The deadline to file a claim has passed. For more information call 800-330-2722.
See MASONITE WOODRUF® ROOFING OR MASONITE OMNIWOOD® SIDING LAWSUIT SETTLEMENT NOTICE - PDF file.
Colorlok® Masonite hardboard siding was a 1970's product (the Masonite Colorlok siding ad shown at left appeared in April and May 1981 Popular Science Magazine), subsequently removed from the market following delamination failures and the class action litigation we discuss above. In as this siding cost table shows, in the 1970's the installed cost of hardboard siding was less than vinyl, aluminum, or steel siding. [3]
Where your Masonite (or other brand) hardboard siding has swollen and delaminated, painting it would be a stopgap measure that yields cosmetically poor results.
You will want to replace those damaged siding sections. Try contacting Masonite - the company may still have retained reserves of replacement siding that they may be willing and able to provide to people who present a siding warranty claim to the company even though the class action settlement period has expired.
However considering the poor performance of hardboard siding products over time, I'd consider replacing entire walls using an alternative and more durable contemporary product, perhaps a fiber cement product or something else. On 6 March 2001, Masonite announced [PDF] that the company was phasing out all of its hardboard siding products including Colorlok®, Woodsman® Lap & Panel, SuperSide®, and HiddenRidge® siding, and Modulux® industrial board.
In many cases hardboard siding that has not delaminated can be painted after priming with a latex primer. Check with your paint supplier and be sure to use compatible paints. Keeping hardboard siding painted, especially at cuts and penetrations (nails, end cuts, openings cut for fixtures,etc) can slow its deterioration significantly.
Note: don't waste time seeking the Masonite claims website titled www.masoniteclaims.com - it has been converted to a "made for Adsense" advertising revenue page that provides no useful information whatsoever.
Comment from Sorbilite about the History of Hardboard Siding Failures
We received the following note from Andrew Pohl, president of Sorbilite Plastron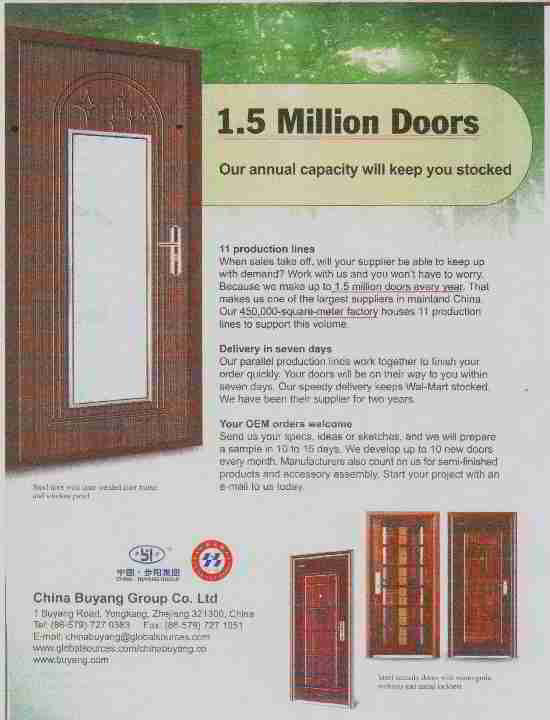 Andrew Pohl M.Sc. - M.A. President, 1 Reflection Lane Hampton VA. 23666 USA, Email: apohl@sorbilite.com
Dear Editor,
I am writing to comment on the endless claims of hardboard siding products failures. This concerns a number of the biggest companies in the US.
We at Sorbilite observing this with quiet satisfaction because years ago we were warning most of these companies about the coming catastrophe. We didn't just warned these companies but give objective suggestions and solutions which were ignored - probably out of arrogance. Now it cost them millions.
We manufacture and distribute world-wide our technology and make it available to third-world countries since decades and the products are not only green but perform under extreme conditions. It should have been good and profitable to listen a little bit…. But may be it isn't too late.
If you like to have more information don't hesitate to call on me. Regards
Note: Quoting from http://www.sorbilite.com/,
Sorbilite, GmbH was established in Germany in 1978. Extensive knowledge in the field of particle board and décor panel manufacturing was brought into the company through the chief scientists. They had worked on the Marshall Plan initiative, aimed to develop environmental technologies.
The price of a $ 30 million décor-panel plant (Formica, Resopal) was reduced by 90% but quality and design variety was dramatically increased. The same results were achieved designing a new type of "value-added" three-dimensional particle board plant (MDF).
In 1985 Sorbilite, Inc. was established in the US and it became headquarters for worldwide operations in 1988. Today Sorbilite is located in Hampton, Virginia, USA. Sorbilite has established factories worldwide for more than 25 years.
Reply:
Dear Mr. Pohl,
While we can't say that we have observed the failure of hardboard siding products with much satisfaction, we would very much welcome hearing from you specific details about or seeing documents about Sorbilite's warnings to the hardboard manufacturers, as that information would assist in understanding the history and development of this particular product failure.
More, if you have specific suggestions for owners whose buildings still include hardboard siding products, particularly how those might best be maintained, that too would be of great value. We look forward to hearing further from you.
Respectfully, Daniel Friedman, Editor.
Thank you for your prompt reply. I didn't say the failure of others give us satisfaction , I meant more the lesson of not listening as good exercise satisfy us. If you go into our history you discover that we brought the know-how of the German particleboard industry with us together with the investment results of the Marshall Plan which reformed the composite field.
I do not want to dig too deep into this "not listening" --  because which company want to be suicidal if quick help is available? All bigger companies have their own research facilities. Not the presidents but the head of their research- facilities get the rescuing information.
Unfortunately this information is bad news for them. A proof somebody can do what they couldn't. So most cooperative action ends in further research how you do it and not  how to solve our companies problems.
The weather ability and the chemical composition of composites is a fairly common knowledge. The most kitchen chefs cannot understand why the big difference in taste using the same ingredients.  The know-how and the oven and the chef....
So if you ask me what is your secret.... my answer is the know how ( the leading brain trust of the German industry going back to 1930) the oven (the special press and process equipment) and the chef (putting up over 100 factories around the world). Of course also the practical experience. We let our customer speak. (Attached : Plastron in China)
This letter starts to look as a company promotion. It is not. I personally stopped selling this system and plant in America, started using our own equipment (Plastron Inc. -- www.Plastronproducts.com) and making the same turnover with 5 operators as we did with 31 building presses.
Well we sell the plants as well - mainly in third-world countries. And we don't mind consulting companies in trouble - in America. This is the spirit of this letter.
Reply:
Andrew,
Thank you. I'm glad to do a little editing to make clear to readers your comment about failure of others and satisfaction.  As a forensic investigator I have found more than one case of a product that is such an obvious mistake that I am moved to look for other reasons that it remains on the market as long as it does.
...
Continue reading at ABATIBI ABTCO SIDING FAILURE CLAIMS or select a topic from closely-related articles below, or see our complete INDEX to RELATED ARTICLES below.
Or see SIDING HARDBOARD - home
Or see SIDING, FIBER CEMENT - home
Or see these
Hardboard Siding Articles
Suggested citation for this web page
SIDING HARDBOARD at InspectApedia.com - online encyclopedia of building & environmental inspection, testing, diagnosis, repair, & problem prevention advice.
Or use the SEARCH BOX found below to Ask a Question or Search InspectApedia
...
Frequently Asked Questions (FAQs)
Try the search box below or CONTACT US by email if you cannot find the answer you need at InspectApedia.
Question:
(Oct 26, 2011) Asbestos siding & Abitibi siding said:
Hello. Are the two sidings noted above the same thing with the same properties?
Reply:
A&A.
No, Hardboard siding is a wood fiber product whose deterioration is described on this page.
Asbestos siding is a product made from a mixture of cement, asbestos (fibers and filler) and possibly other materials. In my experience cement asbestos siding is a durable and long-lasting product, it does not easily deteriorate from exposure, though on roofs and in some other hard wear locations it might become soft and porous.
The issues are different as well. There are potential environmental and health concerns with the demolition of or mechanical operation on any asbestos-containing material if the process creates/releases asbestos dust.
Question:
(Aug 20, 2012) De Juan Neilson said:
i bought a house that was built in 1977 and it has masonite siding which is in bad shape i heard there was a recall what can i do
(Nov 17, 2012) Matt said:
...
Ask a Question or Search InspectApedia
Try the search box just below, or if you prefer, post a question or comment in the Comments box below and we will respond promptly.
Search the InspectApedia website
Technical Reviewers & References
Click to Show or Hide Citations & References
Eric Galow, Galow Homes, Lagrangeville, NY. Mr. Galow can be reached by email: ericgalow@gmail.com or by telephone: 914-474-6613. Mr. Galow specializes in residential construction including both new homes and repairs, renovations, and additions.
Mark Cramer Inspection Services Mark Cramer, Tampa Florida, Mr. Cramer is a past president of ASHI, the American Society of Home Inspectors and is a Florida home inspector and home inspection educator. Contact Mark Cramer at: 727-595-4211 mark@BestTampaInspector.com 11/06
Roger Hankey is principal of Hankey and Brown home inspectors, Eden Prairie, MN. Mr. Hankey is a past chairman of the ASHI Standards Committee. Mr. Hankey has served in other ASHI professional and leadership roles. Contact Roger Hankey at: 952 829-0044 - rhankey@hankeyandbrown.com. Mr. Hankey is a frequent contributor to InspectAPedia.com.
Arlene Puentes, an ASHI member and a licensed home inspector in Kingston, NY, and has served on ASHI national committees as well as HVASHI Chapter President. Ms. Puentes can be contacted at ap@octoberhome.com
Wikipedia provided background information about some topics discussed at this website provided this citation is also found in the same article along with a " retrieved on" date. NOTE: because Wikipedia entries are fluid and can be amended in real time, we cite the retrieval date of Wikipedia citations and we do not assert that the information found there is necessarily authoritative.
...
Books & Articles on Building & Environmental Inspection, Testing, Diagnosis, & Repair
Our recommended books about building & mechanical systems design, inspection, problem diagnosis, and repair, and about indoor environment and IAQ testing, diagnosis, and cleanup are at the InspectAPedia Bookstore. Also see our Book Reviews - InspectAPedia.
...
Publisher InspectApedia.com - Daniel Friedman