Definitions of Terms for RF and EF Electromagnetic Fields
Table of Electromagnetic Radiation Frequencies by Type of Source
POST a QUESTION or READ FAQs about the types and frequencies of different radio frequency and other frequencies such as the range of human hearing, radio waves, & the electromagnetic RF spectrum
InspectAPedia tolerates no conflicts of interest. We have no relationship with advertisers, products, or services discussed at this website.
Definitions & table of signal & other frequencies from lowest to highest:
This article defines and explains electromagnetic field (EMF) or electro-magnetic radiation EMR and related terms such as EMF, radio frequency - RF, hertz or cycles, megahertz, medium frequency MF, very high frequency VHF, ultra high frequency UHF, megahertz MHz, gigahertz GHz, terahertz THz .
We also provide a MASTER INDEX to this topic, or you can try the page top or bottom SEARCH BOX as a quick way to find information you need.
Definitions & Names of Different Radio Frequency or Electromagnetic Frequency Ranges: RF and EF Electromagnetic Fields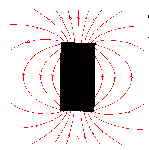 Before buying test equipment to measure the strength of electromagnetic fields, readers should review this article to be sure that they understand the types of electical fields that exist, the typical sources of different types of electromagnetic fields (power lines, AM and FM radio towers, cell towers, other equipment), and thus the type of test equipment that would be used to assess electrical field strength.
Discussed here: What kinds of radio frequency waves are there, what are EMF, RF, hertz, megahertz, MF, VHF, UHF, MHz, GHz, THz ? Definition of ELF EMF VHF UHF - Definitions of electromagnetic frequency ranges & electromagnetic radiation types & sources.
Table of Electromagnetic Radiation Frequencies by Wavelength and Frequency - Table of electromagnetic fields by source type: cell towers, cell phones, power lines, radio towers, home appliances, CRTs, computers, etc. Links to EMF measurement explanations, procedures, worksheets, instruments & advice.
Electromagnetic fields, or EMFs are invisible lines of force created whenever electricity is generated or used. EMFs are produced by power lines, electric wiring, and electric equipment and appliances. The frequency of EMFs is measured in hertz (Hz, or cycles per second).
People are exposed to both electric and magnetic fields, but scientists are most concerned about magnetic fields. This fact sheet deals only with magnetic fields that have frequencies near 60 Hz the frequency of electric power in North America.
Static magnetic field around a bar magnet.
Health professionals, epidemiological experts, and in the case of EMF, electrical engineers can offer competent, expert advice which should be considered before any costly or risky actions are taken regarding this or other environmental topics. Use information at this website at your own risk.
Here are simple definitions of terms that you should know if you are concerned with RF or EMF hazards and where they might originate, or how they might be measured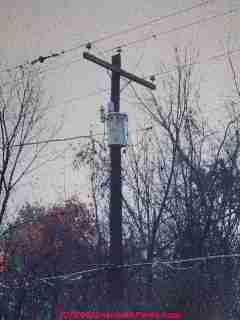 Here we provide a summary of EMF, EMR, and radio frequency cycle rates, and where they are used. Our definitions are arranged in order of increasing frequency or decreasing wave length of electromagnetic signals.
Hertz - is defined as cycles per second and synonymous with low frequency - example: 60 Hz - 60 cycles per second is the typical power line distribution EMF frequency in the U.S. One Hz = one cycle per second.
Medium Frequency (MF) - is defined as thousands of cycles per second - example (530kHz to 1600 kHz) - typical AM radio frequency (your car radio) in thousands of cycles per second.
Very-high VHF and ultra high UHF frequency is defined as millions of cycles per second - example FM radio, television, digital television, in the MHz range: Megahertz - MHz -
millions of cycles or 1,000,000 cycles per second
NTSC - analog TV used in most of North America and other countries we're looking in the 1MHz frequency and higher range.

Typically in the 6 to 8 MHz range. TV signals in this frequency range are widespread in North America, and easily penetrate building walls and ceilings.
Extremely high frequency - EHF is defined as billions of cycles per second, and is the highest radio frequency band, extending from 30 to 300 GHz. or in wavelength size, waves are 1-10 mm or millimeters, also abbreviated MMW or mmW.

Microwaves are an example.
Microwaves range from 1mm to 1 meter in wavelength, or in a frequency equivalent, from 300 MHz (0.3 GHz) TO 300 GHz. Example: Satellite GPS signals are in this much higher gigahertz range: 1.575 GHz range (easily attenuated by building walls).

Microwave ovens operate in this frequency range when heating food.

Microwaves - is often used in the media as a rather a broad term that encompasses radio or electromagnetic frequencies from roughly 300MHz (300 million waves per second - .1m to 1m in length) to 3GHz (3 billion waves per second - .001 m to 1m in length).
Gigahertz - GHz is defined as billions of cycles per second - 1000 x more than mega, or 1,000,000,000 cycles per second - Microwave towers, UHF and EHF transmission - operate in the 1GHz to 100GHz range.
Terahertz - THz is defined as trillions of cycles per second- Wavelengths at frequencies still higher than EHF - GHz are referred to as Terahertz radiation, but are more familiarly understood as infrared light.

Still higher frequencies become light visible to the human eye.

One THz is a very high frequency unit of electromagnetic (EM) wave frequency equal to one trillion hertz (10-to-the-12th power Hz) - see our table comparing all of the common Hertz frequency ranges found at Hertz - Definitions of KHz MHz GHz THz.
So a typical low cost instrument suitable to measure power line EMF or Hz is not suitable for TV transmissions measurement in the
MHz range.
Definitions of Electromagnetic Frequencies, EMF, EMR, SAR, RF, Radio Waves, Microwaves
Definitions of Electromagnetic Radiation Terms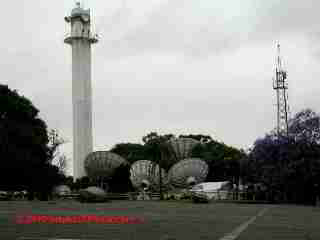 Our photo shows a collection of several types of radio transmit/receive antennas in Buenos Aires, Argentina.
Definition of EMF - an EMF or electromagnetic field is the field or area of force caused by movement of an electrical charge and containing some amount of electromagnetic energy.
Definition of EMR - Electromagnetic radiation, or electromagnetic radio frequency radiation EMFR. EMR or electromagnetic radiation is electrical and magnetic energy emitted by various types of energy sources: radio waves, microwaves, light, x-rays, and nuclear energy and sometimes expressed or measured in photons (particles) or as waves (discussed here).
EMR or EM radiation is the result of oscillating electrical and magnetic fields that move as an energy force in wave form through space.
Depending on the wavelength of a particular EMR source, it may be visible to the human eye (in the light spectrum).
While we provide more detailed definitions of types of EMR in this article, roughly EMR is divided according to its wavelength (in order of decreasing wavelength) into electrical energy (such as 60 cycle electrical current in a home, electrons oscillating in an electrical wire), radio waves, microwaves, visible light, ultraviolet light, x-rays, and gamma rays.
The higher the frequency of EMR the shorter is its wavelength. In general, electromagnetic radiation (EMR) is synonymous with electromagnetic waves.
Depending on wavelength, energy level, exposure, distance, and other factors, the biological effects of EMR may be heating (warming a chicken leg in a microwave oven), or ionization (knocking an electron off of a molecule to create an ion), to possibly profound effects on molecules or on cells of living tissue.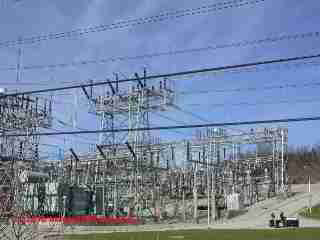 Definition of Ionizing radiation - ionizing radiation is electromagnetic waves powerful enough to change (ionize) molecules of a substance (human tissue, for example) that they strike.
Ionizing means creating an "ion" form of a molecule - that is, detaching an electron, converting the molecule to an "ionized" form with a different electrical charge. Ionizing radiation is known to be dangerous to humans and other animals.
It is the energy level of an electromagnetic wave that causes it to become ionizing, not the number of waves that occur. Short-wavelength (high frequency UV [ultra violet], X-rays, gamma rays) radiation is ionizing while low-frequency radiation is not.
Examples of ionizing radiation include high frequency radiation such as from X-rays, gamma rays, or nuclear radiation, alpha rays, beta rays, and neutrons from a nuclear reaction.
Definition of Non-ionizing radiation - low power non-ionizing radio waves at low levels of transmission power, such as older analog cell phone signals and cell phone radiation.
Definition of SAR & SAR Limits - Specific Absorption Rate of Radiation - measures the amount of radiation that a human body absorbs from a source such as from a nearby radio transmitting antenna or cellphone (radio receiving antennas do not emit EMF). In the United States the FCC requires that the SAR for cell phones is required to be no more than 1.6 watts per kilogram.
Table of Electromagnetic Radiation Frequencies
The following table summarizes the radiation frequency (cycles per second or Hertz or Hz) and wavelengths (physical length of waves) for various types of electromagnetic radiation sources such as radio waves, microwaves, light, and x-rays. The EM range or EM frequencies extend from a low end of about 1 kHz to 2.4×1023 Hz. - Wikipedia 6/10.
Summary Table of Frequencies of Electromagnetic Radiation

Type of Electromagnetic Radiation Source

Arranged in order of increasing frequency (decreasing wavelength)

Radiation
Wavelength in Meters

Arranged in order of decreasing wavelength. Wavelength is defined here as the distance covered by one cycle of a wave.

Electromagnetic Frequency (Hertz1)

Arranged in order of increasing frequency .

Frequency is defined here as the number of waves per second passing a given point or location.

EMF/ULF: electromagnetic field source from typical residential electrical power

Household electrical current, home wiring, electric meters, service entry cables.

Power Transmission lines

Note that power transmission lines and home 120V or 240V appliances operating on 60 cycle alternating current are working at a frequency included in th3e ULF range described just below.

50 Hz or 60 Hz alternating electrical current
See EMF ELECTROMAGNETIC FIELDS & HUMAN EXPOSURE

To measure in this range see
EMF MEASUREMENT INSTRUMENTS


and also see
ELECTROMAGNETIC FIELD EMF ELF & RF DETECTION tools

Ultra Low Frequency Radiation
ULF

Used in mining communications below ground, seismic monitoring, secure military communications via ground transmission

These are the longest electromagnetic waves, geomagnetic pulsations, micropulsations. Wavelength may be 5000 x radius of the earth

1 Hz up to 1kHz

Most sources: under 300 Hz


Other sources:
0.01 to 3 Hz
1 Hz to below 300 Hz
period of 100 seconds

Very Low Frequency Radiation VLF

Used for radio navigation, submarine communication, geophysical surveys, some natural emissions

10,000 meter band,

Myriameter wave

2 kHz up to 30 kHz

Other sources:
3 kHz up to 30 kHz

Myriameter band

Low Frequency Radiation - range of human hearing
Frequency range of human hearing, in sound pressure variations per second

12 Hz up to 20 kHz or about 15 to 20,000 cycles. [4] That is, from about 12 cycles per second up to 20,000 cycles per second.

Some sources place the human auditory threshold at 3 cycles/sec.

Low Frequency Radiation
LF

Used for aircraft navigation, LORAN, weather, time signals

1,000 meter band,

Kilometer wave

30 kHz up to 300 kHz

AM broadcasting in Europe & other areas

Longwave band, kilometer band

Medium Frequency MF
AM Radio Waves

AM and other Radio broadcasting, electrons oscillating in an antenna.

103 down to 10-1

100 meter band, Hectometer wave

300 kHz up to 3 MHz - 106 up to 109

530 kHz to 1600 kHz AM radio Broadcast band
Hectometer band

High Frequency HF
AM Radio Waves

AM Radio broadcasting, electrons oscillating in an antenna.

100 meters down to one meter - 103 down to 10-1 (one meter)

10 meter band, Decameter wave

3 MHz up to 30 MHz

Decameter band

To measure in this range see
RF RADIO FREQUENCY DETECTION METERS


Very High Frequency VHF
FM Radio & TV Waves

FM Radio and TV broadcasting, electrons oscillating in an antenna.

1 meter band
30 MHz up to 300 MHz -

Ultra High Frequency UHF
FM & TV Radio Waves
Mobile phones - cell phones, 3-G wireless, satellite communications

Radio and TV broadcasting,
Cell phones, Cell towers, (RF or "radiofrequency" waves, or loosely, "microwaves")
Satellite communications;
Electrons oscillating in an antenna.
* The current US exposure standard for cell site radiation in the US is 580-1000 microwatts per square centimetre.


1 meter down to 10 cm

300 MHz up to 3 GHz -

Cordless phones - roughly 100-900 MHz
Cell phones - GSM 380- 1990 MHz
Cell phones - TACS 900 MHz (Europe)
Cell phones - other designs: 450MHz


Radar - marine, low end units operate at 3 GHz
Typical 4-band cell phone: 850/900./1800/1900 MHz

To measure in this range see
RF RADIO FREQUENCY DETECTION METERS

Extremely High Frequency EHF
Microwaves

Molecular rotation, plasma oscillation

10-1 down to 10-4 meters

30-300 Gigahertz GHz - 109 up to 1012

Marine Radar operates typically from about 2 GHz up to 10 GHz

To measure in this range see
RF RADIO FREQUENCY DETECTION METERS

Infrared

Molecular rotation, plasma oscillation

10-4 down to 0.7 ×10-6
Terahertz THz - 1012 up to 1015

Visible light

Molecular electron excitation - interaction with human eye retinal cells

0.7 ×10-6 down to 0.4 ×10-6
1015

Ultraviolet light

Molecular & atomic electron excitation

0.4 ×10-6 down to 10-8
1015 up to 1017

X-rays

Excitation & ejection of core atomic electrons

10-8 down to 10-12
1017 up to 1021
Notes to the table:
See our table comparing different Hertz frequency ranges at Hertz - Definitions of KHz MHz GHz THz
How do we get to "approximately the speed of light" for data in the electromagnetic radiation wavelengths and frequencies above? For a given electromagnetic wave, multiplying the wavelength by wave frequency for any given electromagnetic signal will equal to roughly the speed of light.
Definitions: One Hz or Herz = one cycle per second or one "wave" per second passing a given point
One kHz or Kilohertz = one thousand cycles per second or 1000 waves per second
One MHz or Megahertz = one million waves or cycles per second
One GHZ or Gigahertz = one billion waves or cycles per second passing a given point
Range of human hearing, citations:

Cutnell, John D. and Kenneth W. Johnson. Physics. 4th ed. New York: Wiley, 1998: 466.
"Body, Human." The New Book of Knowledge. New York: Grolier, 1967: 285.
Caldarelli, David D. and Ruth S. Campanella. Ear. World Book Online Americas Edition. 26 May 2003.
Cellphone Radiation Information & Reducing Cellphone EMR Exposure
Please see our full article on this topic found at Cell phone Radiation Hazards.
Excerpts from that article are below
Readers of this article should also see EMF RF FIELD & FREQUENCY DEFINITIONS
and EMF ELECTROMAGNETIC FIELDS & HUMAN EXPOSURE
Definition of cellphone radiation - cellular telephones, because they include a radio transmitter, emit electromagnetic fields (EMF, or EMR).
In the United States the Federal Communications Commission (FCC) specifies the allowable limits of cell phone radiation. A possible concern is the exposure of the human ear and brain to cellphone radiation, especially as newer digital cell phones operate at higher power and at frequencies in the 1800-2000 MHz range.
Present cell phones may exceed the FCC EMR limit that was set when most cell phones were analog in signal design and emitted lower-strength EMFs in the 800-900 MHz range.
Scientific research on possible health hazards from cellphone use to date (2010) has produced inconclusive and conflicting results, varying by study. According to an article in June 2010 the New York Times,
Both the National Cancer Institute and the F.C.C. [Federal Communications Commission] say that there is no scientific evidence that wireless phones are dangerous, but each agency continues to monitor continuing medical studies.
What type of radiation is emitted by a cellphone? older cell phones emit and receive low level radio frequency waves from 200 MHz to more than 800 MHz. Newer cell phones operate in the 900 MHz to 2.4 GHz or more (approaching the power and frequency of microwaves and infrared waves).
Transmission of signals in the cellphone range are also referred to as UHF or Ultra High Frequency Signals.
Base to Mobile and Mobile to Base Cellphone Frequencies May Differ
It is worth noting that typically the signals that pass between a cell phone and a cell tower are at different frequency ranges depending on the direction of transmission.
For example, a cell phone may transmit from the phone to the cell tower at around 800 MHz, while the tower transmits back to the cellphone at around 1800 MHz.
Because the power level of a cellphone while it is transmitting is very small compared to the powe of the cell phone tower when it is transmitting, that means that the stronger of the two cell phone frequencies is the tower transmission signal.
In reading various publications that discuss cell phone frequencies, you may read the cellphone transmit frequency as "mobile to base" and the tower transmit frequency from tower to cellphone as "base to mobile".
Cellphone Abbreviations and Terms - What Frequencies Your Cellphone Uses Depend on Your Wireless Carrier as Well as the Phone Itself
AMPS - Advanced Mobile Phone Service - Cell phone industry standard since 1978
Analog service: radio signals modulated to carry information in a continuous signal, like FM radio. Receiver and transmitter use the same frequency.
Digital cell phone service: radio signals are digitized using a binary code (0's and 1's) to convert speech (or any signal sent to or received from a cellphone) to binary data. In the U.S there are 3 wireless technologies: CDMA, TDMA, and GSM.
TDMA - Time Division Multiple Access (TDMA IS-54) or Digital Amps or D-Amps - since 1994, operates in North America in the 800 MHz band and in the 1900 MHz band, used by AT&T, Bell South, Southwestern Bell.
CDMA - Code Division Multiple Access (CDMA IS-95), in use since th3 1940's, operates at both 800 MHz and 1900 MHz bands, used in the U.S. primarily by Verizon Wireless, and Sprint/Nextel, though CDMA is also used by other carriers including Cricket, MetroPCS, and U.S. Cellular.

CDMA was a proprietary standard developed by Qualcomm in the U.S. EV-DO being developed for CDMA networks (CDMA2000) provides faster data download speeds, similar to DSL in speed.
GSM - Global System for Mobile Communications - an improved version of TDMA, adopted first in Europe by 1987, uses wider signal channels (200 KHz) than TDMA. GSM 1900 is used by Aerial, Bell South, Microvcell, Omnipoint, Pacific Bell, Spring Spectrum, Western Wireless. EDGE being developed for GSM networks provides faster data download speeds, similar to DSL in speed.
- 800 MHz band authorized by the U.S. FCC in 1987 for cellphone use.
PCS - Personal Communications Services - 1.9 GHz all digital transmission and reception authorized by the U.S. FCC
SIM cards - Subscriber Identity Module cards are small printed circuit boards that contain individual cell phone account information and that are inserted into GSM phones (in the U.S.).
Because the SIM card contains the user information, cellphones that accept SIM cards become generic - you can move your cell phone account to a new telephone by inserting your SIM card into a new phone, or you can change your cell phone to a different service provider (and telephone number) by buying and inserting a different SIM card into your existing GSM phone.
...
Continue reading at DEFINITIONS of HERTZ, KHz MHz GHz THz or select a topic from closely-related articles below, or see our complete INDEX to RELATED ARTICLES below.
Or see CELL PHONE RADIATION - our full article on this topic
Or see these
Articles About Electromagnetic Fields, Hazards, Measurements
Suggested citation for this web page
DEFINITIONS of EMF RF FIELD & FREQUENCY at InspectApedia.com - online encyclopedia of building & environmental inspection, testing, diagnosis, repair, & problem prevention advice.
Or use the SEARCH BOX found below to Ask a Question or Search InspectApedia
...
Frequently Asked Questions (FAQs)
Try the search box below or CONTACT US by email if you cannot find the answer you need at InspectApedia.
Question: is it unhealthy to live near an AM radio tower?
Do you think it is a health hazard for a sensitive person to live near AM radio towers that emit 5,400-6,000 mV/m? The AM station frequency is 1260. Thanks. - Sarah 8/3/2011
Reply:
Sarah AM radio stations transmit medium frequency radio waves, not low frequency EMF; The U.S. FCC reports no health hazard from exposure to AM radio transmissions from RF (radio frequency) transmissions. But at least some research shows that exposure to high levels of RF may be harmful. Because the jury is likely to remain out on this topic for some time, a reasonable approach is that of "prudent avoidance" - meaning that you would take reasonable steps to avoid prolonged exposure to high levels of EMF or RF energy but you would not panic, spend thousands of dollars on questionable "magic bullet" remedies, etc. You can start by determining just what your exposure is by duration, distance, and signal strength. As we describe in these articles, inexpensive RM measuring equipment is available from a number of manufacturers.

And while working to stay healthy and safe, keep hazards in their proper perspective. Falling down the stairs (the most common accident) or failing to wear a seat belt, or smoking, are more immediate health hazards that are easy to avoid.
Question: reader fears people are being decimated by EMF
I would particularly like to know how you presume your enviro-scare bell curve has any bearing on reality given that people are likely to be debilitated or decimated, keeping the alarms on environmental hazards muted. Please forward me a copy of this e-message with your response to it. - mungai.annie@yahoo.com 12/19/2012
Reply: clarifying the definition of Enviro-Scare
Annie, your question is unfortunately based on what appears to be your own presumption of level of risk, and sadly, reports that "people are likely to be decimated" - which I understand to mean "slaughtered wholesale" (a stunning remark for which you offer no authoritative citations regarding electromagnetic fields). Compounding these errors you presume that we are motivated to "mute environmental hazards" - an incorrect conclusion regarding our concern for public safety that is readily apparent from reading any of the thousands of articles found at InspectApedia.com.
Lastly, you have perhaps missed the point of the bell curve that is used to desribe Enviro-Scare, so let me try to clarify that topic. Enviro-Scare refers to the observation, made over decades, that regardless of whether or not a particular environmental hazard is found to be real or imagined, the level of public fear about the hazard follows the pattern of a bell curve, increasing as news reaches the public, reaching a peak, and eventually falling off to near zero, independent of the actual level of risk.
Annie, it is indeed important to take real risks seriously, and at the same time, to set our priority of attention to be sure that we address both great and immediate risks first, as well as subtle and longer term risks such as those that may be present from various environmental contaminants. In other words, if you break your neck falling down the stairs, the fact that you were exposed to DES as a child in utero will pale in significance.
We are dedicated to making our information as accurate, complete, useful, and unbiased as possible and are so we very much welcome critique, questions, or content suggestions for our web articles. Contributors, even if it's just a small correction, are cited, quoted, and linked-to from the appropriate additional web pages and articles - which benefits us both. Working together and exchanging information makes us better informed than any individual can be working alone.
InspectAPedia.com is an independent publisher of building, environmental, and forensic inspection, diagnosis, and repair information for the public - we have no business nor financial connection with any manufacturer or service provider discussed at our website.
...
Ask a Question or Search InspectApedia
Questions & answers or comments about the types and frequencies of different radio frequency and other frequencies such as the range of human hearing, radio waves, & the electromagnetic RF spectrum.
Try the search box just below, or if you prefer, post a question or comment in the Comments box below and we will respond promptly.
Search the InspectApedia website
Technical Reviewers & References
Click to Show or Hide Citations & References
"San Francisco Law Will Make Cellphone Retailers List Radiation Rate", Jesse McKinley, The New York Times, 16 June 2010 p. A14.
ANSI-C95.1, 1982, American National Standards Institute. American national standard safety levels with respect to human exposure to radiofrequency electromagnetic fields, 300 kHz to 100 Ghz. New York: IEEE.
Elliott P, Toledano MB, Bennett J, et al. Mobile phone base stations and early childhood cancers: case-control study. BMJ. 2010;340:c3077. [Epub ahead of print]
IEEE-C95.1, 1991, Institute of Electrical and Electronics Engineers, Inc. Safety levels with respect to human exposure to radio frequency electromagnetic fields, 3 kHz to 300 Ghz. Piscataway, NJ: IEEE.
IEEE: Institute of Electrical and Electronics Engineers, Inc. Human exposure to RF emissions from cellular radio base station antennas; Washington, DC: 1992.
U.S. Food and Drug Administration FDA Consumer magazine November-December 2000 Telephone: (888) INFO-FDA http://www.fda.gov (Under "c" in the subject index, select Cell Phones>Research.)
U.S. Federal Communications Commission 445 12th St. S.W. Washington, D.C. 20554 Telephone: (888) 225-5322 http://www.fcc.gov/oet/rfsafety
Independent Expert Group on Mobile Phones http://www.iegmp.org.uk/
Royal Society of Canada Expert Panel on Potential Health Risks of Radiofrequency Fields from Wireless Telecommunications Devices 283 Sparks Street Ottawa, Ontario K1R 7X9 Canada Telephone: (613) 991-6990
World Health Organization Avenue Appia 20 1211 Geneva 27 Switzerland Telephone: 011 41 22 791 21 11 http://www.who.int/mediacentre/factsheets/fs193/en/
International Commission on Non-Ionizing Radiation Protection c/o Bundesamt fur Strahlenschutz Ingolstaedter Landstr.1 85764 Oberschleissheim Germany Telephone: 011 49 1888 333 2156 http://www.icnirp.de/
American National Standards Institute 1819 L Street, N.W., 6th Floor Washington, D.C. 20036 (202) 293-8020 http://www.ansi.org/
National Council on Radiation Protection and Measurements 7910 Woodmont Avenue, Suite 800 Bethesda, MD 20814-3095 Telephone: (301) 657-2652 http://www.ncrponline.org/
Engineering in Medicine and Biology Society, Committee on Man and Radiation (COMAR), of the Institute of Electrical and Electronics Engineers http://ewh.ieee.org/soc/embs/comar/
References for Electromagnetic Fields and Cancer Risk/Carcinogenicity
Electric Power Lines, Electromagnetic Fields, Cancer Risk, & "Enviro-Scare" - The Normal Curve Cycle of Public Fear About Environmental Issues - online document by DF
A Procedure for Measuring EMF electromagnetic fields online document by DF
"Questions and Answers about Biological Effects and Potential Hazards of Radiofrequency Electromagnetic Fields", Federal Communications Commission, Office of Engineering and Technology, US FCC, OET Bulleting 56, 4th Edition, August 1999
" Many consumer and industrial products and applications make use of some form of electromagnetic energy. One type of electromagnetic energy that is of increasing importance worldwide is radiofrequency (or "RF") energy, including radio waves and microwaves, which is used for providing telecommunications, broadcast and other services. In the United States the Federal Communications Commission (FCC) authorizes or licenses most RF telecommunications services, facilities, and devices used by the public, industry and state and local governmental organizations. Because of its regulatory responsibilities in this area the FCC often receives inquiries concerning whether there are potential safety hazards due to human exposure to RF energy emitted by FCC-regulated transmitters. Heightened awareness of the expanding use of RF technology has led some people to speculate that "electromagnetic pollution" is causing significant risks to human health from environmental RF electromagnetic fields. This document is designed to provide factual information and to answer some of the most commonly asked questions related to this topic." - original source: U.S. Federal Communications Commission Office of Engineering and Technology, http://www.fcc.gov/Bureaus/Engineering_Technology/Documents/bulletins/oet56/oet56e4.pdf
"Magnetic Field Exposure and Cancer: Questions and Answers [ copy on file as /emf/EMF_Fact_Sheet_NCI_NIH.pdf ] - ," National Cancer Institute, U.S. National Institutes of Health, web search September 2010, original source: http://www.cancer.gov/cancertopics/factsheet/Risk/magnetic-fields
makes these five key points about EMF

Electric and magnetic fields (EMF) are areas of energy that surround any electrical device. EMFs are produced by power lines, electrical wiring, and appliances (see Question 1).
Electric fields are easily shielded or weakened by walls and other objects, whereas magnetic fields are not. Since magnetic fields are more likely to penetrate the body, they are the component of EMFs that are usually studied in relation to cancer (see Question 1).
Overall, there is limited evidence that magnetic fields cause childhood leukemia, and there is inadequate evidence that these magnetic fields cause other cancers in children (see Question 2).
Studies of magnetic field exposure from power lines and electric blankets in adults show little evidence of an association with leukemia, brain tumors, or breast cancer (see Question 3).
Past studies of occupational magnetic field exposure in adults showed very small increases in leukemia and brain tumors. However, more recent, well-conducted studies have shown inconsistent associations with leukemia, brain tumors, and breast cancer (see Question 4).

EMF RF FIELD & FREQUENCY DEFINITIONS RF and EMF measurement tools need to be properly chosen to measure the particular type and frequency of RF or EMF signal that is of interest. See EMF RF FIELD & FREQUENCY DEFINITIONS for a simple explanation of different types of radio frequency (RF) and electromagnetic frequency (EMF) types and where they are found.
Definitions of Gauss vs Milligauss for details about gauss and milligauss and definitions of these terms.
Consumer Product Safety Commission, 800-638-CPSC.
US Environmental Protection Agency, Office of Pesticides and Toxic Substances, TSCA Assistance Office (TS-799), 800-424-9065 or 202-554-1404.
"Evaluation of Potential Carcinogenicity of Electromagnetic Fields," EPA Report #EPA/600/6-90/005B October 1990. EPA: 513/569-7562.
"Biological Effects of Power Frequency Electric and Magnetic Fields" background paper, prepared as part of OTA's assessment of "Electric Power Wheeling and Dealing: Technological Considerations for Increasing Competition," prepared for OTA by Indira Nair, M. Granger Morgan, H. Keith Florig, Department of Engineering and Public Policy, Carnegie Mellon University, Pittsburgh, PA 15213
"Biological Effects of Power Line Fields," New York State Powerline Project. Scientific Advisory Board Final Report, July 1, 1987.
"Extremely Low Frequency (ELF) Fields," Environmental Health Criteria 35. World Health Organization, Geneva, 1984.
"Electric and Magnetic Fields at Extremely Low Frequencies: Interactions with Biological Systems. In: Non ionizing Radiation Protection, World Health Organization, Regional Office for Europe, Copenhagen, 1987.
"Electric and Magnetic Fields from 60 Hertz Electric Power: What do we know about possible health risks?," Department of Engineering and Public Policy, Carnegie Mellon University, Pittsburgh, PA 15213 1989.
"Electromagnetic Fields Are Being Scrutinized for Linkage to Cancer," Sandra Blakeslee, New York Times, Medical Science section, April 2, 1991
Books & Articles on Building & Environmental Inspection, Testing, Diagnosis, & Repair
Our recommended books about building & mechanical systems design, inspection, problem diagnosis, and repair, and about indoor environment and IAQ testing, diagnosis, and cleanup are at the InspectAPedia Bookstore. Also see our Book Reviews - InspectAPedia.
Electric Power Lines, Electromagnetic Fields, Cancer Risk, & "Enviro-Scare" - The Normal Curve Cycle of Public Fear of Environmental Issues
Electromagnetic Fields in the Workplace sample very good NIOSH document online, links to other NIOSH docs.
Electromagnetic Field Surveys & Hazards full list of our links to services and technical article
Electric Power Lines, Electromagnetic Fields, Cancer Risk, & "Enviro-Scare" - The Normal Curve Cycle of Public Fear About Environmental Issues - online document by DF
A Procedure for Measuring EMF electromagnetic fields online document by DF
...