Cellphone Radiation Hazard Information & Hazard Reduction
CELL PHONE RADIATION - CONTENTS: Cell phone mast hazard exposure studies: research citations. What are the risks of exposure to cell phone towers or from lower radiation occuring around a cellphone itself? If we are concerned about these risks how can they be reduced or avoided?
POST a QUESTION or READ FAQs about cellphone radiation exposure levels & mesurement methods
InspectAPedia tolerates no conflicts of interest. We have no relationship with advertisers, products, or services discussed at this website.
This article discusses consumer concerns about cell-phone radiation or electromagnetic field (EMF) or electro-magnetic radiation EMR and related terms such as EMF, radio frequency - RF, hertz or cycles, megahertz, medium frequency MF, very high frequency VHF, ultra high frequency UHF, megahertz MHz, gigahertz GHz, terahertz THz .
We include cell phone radiation exposure standards and suggestions from various sources on how to reduce cell phone radiation exposure
Green links show where you are. © Copyright 2017 InspectApedia.com, All Rights Reserved.
Cellphone Radiation Information & Reducing Cellphone EMR Exposure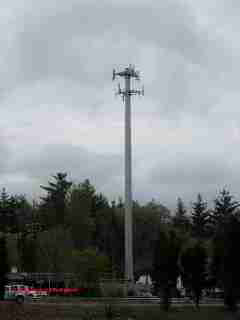 Our page top photo of a cell phone signal tower whose appearance was improved to resemble a steel tree was taken along the New Jersey Turnpike.
Scientific research on possible health hazards from cellphone use to date (2010) has produced inconclusive and conflicting results, varying by study. According to an article in June 2010 the New York Times,
Both the National Cancer Institute and the F.C.C. [Federal Communications Commission] say that there is no scientific evidence that wireless phones are dangerous, but each agency continues to monitor continuing medical studies.
A widely cited January 2006 Swedish study (Kjell Mild) of both cordless home telephone use and cell phone use by children and teenagers found that that population were more likely to suffer brain cancer if they used mobile telephones.
The U.S. FDA has questioned the reliability of the study, including pointing out that the study had not reported on the mechanism of action that caused the brain cancers cited.
Professor Lennart Hardell (University Hospital, Orebro, Sweden) who led the study reported at a September 2008 conference hosted at the Royal Society by the Radiation Research Trust "people who started mobile phone use before the age of 20" had more than five-fold increase in glioma", a cancer of the glial cells that support the central nervous system.
The extra risk to young people of contracting the disease from using the cordless phone found in many homes was almost as great, at more than four times higher.
So can using a cell phone increase the risk of brain tumors or not?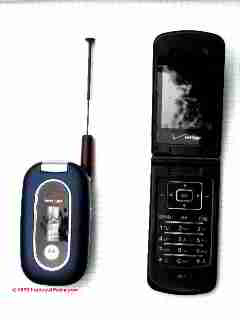 The answer is a definite ... maybe.
Attempts to sort through the confusion of multiple studies of possible cancer risks associated with cell phones have been made with some success. See "Mobile Phone Use and Risk of Tumors: A Meta-Analysis", Seung-Kwon Myung et als, 2009. This meta study of 465 articles from MEDLINE, EMBASE, and the Cochrane Library (Aug. 2008) concluded that
The current study found that there is possible evidence linking mobile phone use to an increased risk of tumors from a meta-analysis of low-biased case-control studies. Prospective cohort studies providing a higher level of evidence are needed.
The cell phone tower in our photo (above left) is located in Westchester County, New York. Exposure of electromagnetic radiation from cell towers is normally a separate question from EMR exposure from use of cellphones themselves.
Definition of cellphone radiation - cellular telephones, because they include a radio transmitter, emit electromagnetic fields (EMF, or EMR).
In the United States the Federal Communications Commission (FCC) specifies the allowable limits of cell phone radiation. If ultimately cell phone radiation is shown to be a health risk to some users, a possible concern is the exposure of the human ear and brain to cellphone radiation, especially as newer digital cell phones operate at higher power and at frequencies in the 1800-2000 MHz range.
Presently some cell phones may exceed the FCC EMR or SAR (defined below) limit that was set when most cell phones were analog in signal design and emitted lower-strength EMFs in the 800-900 MHz range.
What type of radiation is emitted by a cellphone?
Older cell phones emit and receive low level radio frequency waves from 200 MHz to more than 800 MHz. Newer cell phones operate in the wider 900 MHz to 2.4 GHz or more (approaching the power and frequency of microwaves and infrared waves).
How much radiation is emitted by a cellphone?
The answer depends on the cell phone technology (cell phone model, analog versus digital signal), the cell phone transmitter strength (newer phones may be more powerful), and other factors. Cell phone radiation, measured in watts per kilogram of body tissue, ranges from 0.2 watts/Kg to 1.6 watts/Kg.
[We have read articles claiming that some phone models exceed the current legal limit of 1.6 w/Kg. - citation needed].
Cellphone Model Radiation Rate Data: independent test labs publish measurements of the levels of radiation emitted by specific cellphone models. In June 2010 the New York Times reported on a San Francisco law that will require cellphone manufacturers to list the radiation rate of each cellphone model sold in that state. Retailers will be required to post the SAR (specific absorption rate) for each cellphone model.
What is SAR - Specific Absorption Rate?
The level of human exposure to cell phone radiation, which is not necessarily the same as the cell phone radiation rate, is measured in SAR, Specific Absorption Rate - the rate at which radio frequency energy (RF energy) is absorbed into human body tissues.
The Specific Absorption Rate (SAR) during cell phones in use depends on the distance the cellphone is held from the human head (further away is safer), and the distance to the nearest cell phone tower. While most of the human head is protected by bone, the ear is an area of soft tissue into the skull that might be an area of greater risk of injury by EMF from cellphone use.
Cellphone Antennas vs. Cell Tower Antennas
Don't confuse a cell tower antenna - the large usually outdoor antenna that receives and/or broadcasts cellphone frequencies to relay cell phone signals through the cell system - with the small, often hidden antenna within the cell phone itself (illustrated below at Suggestions for Reducing Cellphone Radiation Exposure).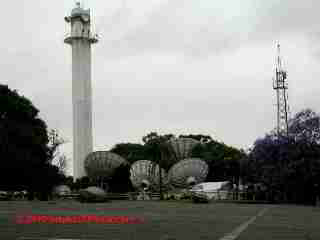 Our photo (left) shows a collection of several types of radio transmit/receive antennas, including cell phone system signal relay towers, in Buenos Aires, Argentina.
Definition of EMF - an EMF or electromagnetic field is the field or area of force caused by movement of an electrical charge and containing some amount of electromagnetic energy.
Definition of EMR - Electromagnetic radiation, or electromagnetic radio frequency radiation EMFR. EMR or electromagnetic radiation is electrical and magnetic energy emitted by various types of energy sources: radio waves, microwaves, light, x-rays, and nuclear energy and sometimes expressed or measured in photons (particles) or as waves (discussed here).
EMR or EM radiation is the result of oscillating electrical and magnetic fields that move as an energy force in wave form through space.
Cellphone Radiation Exposure Standards
According to the US FDA,
Under the law, FDA does not review the safety of radiation-emitting consumer products such as cell phones and similar wireless devices before they can be sold, as it does with new drugs or medical devices.
However, FDA does have the authority to take action if cell phones are shown to emit radiofrequency energy (RF) at a level that is hazardous to the user. In such a case, FDA could require cell phone manufacturers to notify users of the health hazard and to repair, replace or recall the phones so that the hazard no longer exists.
Definition of SAR & SAR Limits - Specific Absorption Rate of Radiation - measures the amount of radiation that a human body absorbs from a source such as from a nearby radio transmitting antenna or cellphone (radio receiving antennas do not emit EMF).
In the United States the FCC requires that the SAR for cell phones is required to be no more than 1.6 watts per kilogram.
US FDA Remarks on the Possible Health Hazards from Cell Phones
Quoting from the US FDA:
Do cell phones pose a health hazard?
Many people are concerned that cell phone radiation will cause cancer or other serious health hazards. The weight of scientific evidence has not linked cell phones with any health problems.
Cell phones emit low levels of radiofrequency energy (RF). Over the past 15 years, scientists have conducted hundreds of studies looking at the biological effects of the radiofrequency energy emitted by cell phones. While some researchers have reported biological changes associated with RF energy, these studies have failed to be replicated. The majority of studies published have failed to show an association between exposure to radiofrequency from a cell phone and health problems.
The low levels of RF cell phones emit while in use are in the microwave frequency range. They also emit RF at substantially reduced time intervals when in the stand-by mode. Whereas high levels of RF can produce health effects (by heating tissue), exposure to low level RF that does not produce heating effects causes no known adverse health effects.
The biological effects of radiofrequency energy should not be confused with the effects from other types of electromagnetic energy.
Very high levels of electromagnetic energy, such as is found in X-rays and gamma rays can ionize biological tissues. Ionization is a process where electrons are stripped away from their normal locations in atoms and molecules. It can permanently damage biological tissues including DNA, the genetic material.
The energy levels associated with radiofrequency energy, including both radio waves and microwaves, are not great enough to cause the ionization of atoms and molecules. Therefore, RF energy is a type of non-ionizing radiation. Other types of non-ionizing radiation include visible light, infrared radiation (heat) and other forms of electromagnetic radiation with relatively low frequencies.
While RF energy doesn't ionize particles, large amounts can increase body temperatures and cause tissue damage. Two areas of the body, the eyes and the testes, are particularly vulnerable to RF heating because there is relatively little blood flow in them to carry away excess heat.
Recent Epidemiological Reports on Cell Phone or Cell Phone Tower Hazards & Cancer Risks
study Reports No Cell Phone Mast Exposure Link to Cancer
Study Reports No Child Hood Cancer Risk Connected to Mobile Phone Base Stations
Excerpts quoted from "Mobile phone base stations and early childhood cancers: case-control study":
Abstract
Objective To investigate the risk of early childhood cancers associated with the mother's exposure to radiofrequency from and proximity to macrocell mobile phone base stations (masts) during pregnancy.
Design Case-control study.
Setting Cancer registry and national birth register data in Great Britain.
Participants 1397 cases of cancer in children aged 0-4 from national cancer registry 1999-2001 and 5588 birth controls from national birth register, individually matched by sex and date of birth (four controls per case).
Main outcome measures Incidence of cancers of the brain and central nervous system, leukaemia, and non-Hodgkin's lymphomas, and all cancers combined, adjusted for small area measures of education level, socioeconomic deprivation, population density, and population mixing.
Results Mean distance of registered address at birth from a macrocell base station, based on a national database of 76 890 base station antennas in 1996-2001, was similar for cases and controls (1107 (SD 1131) m v 1073 (SD 1130) m, P=0.31), as was total power output of base stations within 700 m of the address (2.89 (SD 5.9) kW v 3.00 (SD 6.0) kW, P=0.54) and modelled power density (−30.3 (SD 21.7) dBm v −29.7 (SD 21.5) dBm, P=0.41). For modelled power density at the address at birth, compared with the lowest exposure category the adjusted odds ratios were 1.01 (95% confidence interval 0.87 to 1.18) in the intermediate and 1.02 (0.88 to 1.20) in the highest exposure category for all cancers (P=0.79 for trend), 0.97 (0.69 to 1.37) and 0.76 (0.51 to 1.12), respectively, for brain and central nervous system cancers (P=0.33 for trend), and 1.16 (0.90 to 1.48) and 1.03 (0.79 to 1.34) for leukaemia and non-Hodgkin's lymphoma (P=0.51 for trend).
Conclusions There is no association between risk of early childhood cancers and estimates of the mother's exposure to mobile phone base stations during pregnancy.
Study Conclusions and policy implications
In summary, we found no association between risk of childhood cancers and mobile phone base station exposures during pregnancy. The results of our study should help to place any future reports of cancer clusters near mobile phone base stations in a wider public health context.
What is already known on this topic
Previous reports of apparent cancer clusters near mobile phone base stations are difficult to interpret because of small numbers and possible selection and reporting biases There is no known radiobiological explanation for such cancer excesses
What this study adds
This study used national registers of cancers and births and available data on macrocell mobile phone base stations, thus avoiding selection and reporting biases There was no association between risk of early childhood cancers and estimates of exposure to mobile phone base stations during pregnancy
Paul Elliot , Mireille B Toledano, J Bennett, L Beale, K de Hoogh, N Best, D J Briggs, "Mobile phone base stations and early childhood cancers: case-control study", British Medical Journal, June 2010, BMJ. 2010; 340: c3077. Published online 2010 June 22. doi: 10.1136/bmj.c3077 Cite: BMJ 2010;340:c3077, retrieved 8/8/2012, original source http://www.ncbi.nlm.nih.gov/pmc/articles/PMC3191724/, [copy on file as Elliot_BMJ_2010_Mobile_phone_base_stations_childhood cancers_ case-control study.pdf ]
"Large study finds no cell phone mast link to cancer", Reuters News, 6/22/2010, retreived 8/6/12, original source http://www.reuters.com/article/2010/06/22/us-cancer-cellphones
-masts-idUSTRE65L6L520100622 [copy on file as Elliott_Cell_Phone_Reuters.pdf]
Suggestions for Reducing Cellphone Radiation Exposure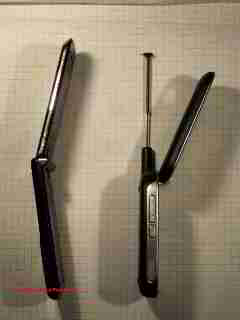 While the jury is out on health risks from cellphone use, those who agree that prudent avoidance is wise, even a cursory scan of the literature indicates that holding a cellphone further from the head (try using the speaker phone feature?) reduces exposure.
While hands-free sets have been sold to possibly reduce the exposure to cell phone EMF, we have read that the hands free wire connecting the cell phone to the ear piece can actually act as an antenna to increase the level of EMF exposure at the head by a factor of three.
If the cellphone has an extended antenna, pointing the antenna away from the head may also reduce exposure. As does limiting cellphone use.
Watch out: SAR is not the whole story of cellphone safety. As our cellphone photo shown here demonstrates, cellphone design, cellphone antenna placement, and cellphone use style (holding phone further from the ear) can make a difference in the potential EMF exposure of the cellphone user.
Both of the flip-type cell phones in our photo include an upper segment that includes the earphone - a portion of the cell phone that most users hold against or close to their ear. But the design of the cellphone at right, using an extendable antenna, places the antenna roughly two inches further from the user's head than the phone shown at left.
Further, talking or texting while driving may be a more immediate life-safety hazard to both the cellphone user and to others exposed to automobile injury from this dangerous practice.
Other Cellphone Hazard Reduction Suggestions - US FDA
The US FDA advice on cellphone hazard reduction is reiterated and commented-on just below. Of these two are most useful: [paraphrasing]
Reduce the amount of time you spend using a cellphone
Use the speaker phone feature to allow holding the cellphone further from your head.
The FDA recommendation for use of headsets, wired or wireless, does not address other sources who warn (as we repeated above) possible increases in EMR exposure when using a headset on which the wire acts as an antenna. Further, we have not found sources describing any increase or decrease associated with using a wireless bluetooth-connected headset.
Watch out: buying a "cell phone radiation shield" is not recommended by the FDA:
Cell phone accessories that claim to shield the head from RF radiation
Since there are no known risks from exposure to RF emissions from cell phones, there is no reason to believe that accessories that claim to shield the head from those emissions reduce risks.
Some products that claim to shield the user from RF absorption use special phone cases, while others involve nothing more than a metallic accessory attached to the phone. Studies have shown that these products generally do not work as advertised.
Unlike "hand-free" kits, these so-called "shields" may interfere with proper operation of the phone. The phone may be forced to boost its power to compensate, leading to an increase in RF absorption.
RF EMF Measuring Equipment: Please do not contact us with a request buy EMF or RF measuring equipment. We do not sell anything. To do so would be a conflict of interest for this website. These devices are readily available from many electrical equipment and home inspection equipment suppliers.
Articles About Electromagnetic Fields, Hazards, Measurements
...
Continue reading at DEFINITIONS of HERTZ, KHz MHz GHz THz or select a topic from closely-related articles below, or see our complete INDEX to RELATED ARTICLES below.
Suggested citation for this web page
CELL PHONE RADIATION at InspectApedia.com - online encyclopedia of building & environmental inspection, testing, diagnosis, repair, & problem prevention advice.
Or use the SEARCH BOX found below to Ask a Question or Search InspectApedia
...
Frequently Asked Questions (FAQs)
Try the search box below or CONTACT US by email if you cannot find the answer you need at InspectApedia.
...
Ask a Question or Search InspectApedia
Use the "Click to Show or Hide FAQs" link just above to see recently-posted questions, comments, replies, try the search box just below, or if you prefer, post a question or comment in the Comments box below and we will respond promptly.
Search the InspectApedia website
Technical Reviewers & References
Click to Show or Hide Citations & References
"San Francisco Law Will Make Cellphone Retailers List Radiation Rate", Jesse McKinley, The New York Times, 16 June 2010 p. A14.
"Radiation Emitting Products", U.S. Department of Health & Human Services, FDA U.S. Food and Drug Administration - web search 06/16/2010 - original source
http://www.fda.gov/Radiation-EmittingProducts/RadiationEmittingProductsandProcedures/
HomeBusinessandEntertainment/CellPhones/default.htm
References for Electromagnetic Fields and Cancer Risk/Carcinogenicity
Electric Power Lines, Electromagnetic Fields, Cancer Risk, & "Enviro-Scare" - The Normal Curve Cycle of Public Fear About Environmental Issues - online document by DF
A Procedure for Measuring EMF electromagnetic fields online document by DF
"Questions and Answers about Biological Effects and Potential Hazards of Radiofrequency Electromagnetic Fields", Federal Communications Commission, Office of Engineering and Technology, US FCC, OET Bulleting 56, 4th Edition, August 1999
" Many consumer and industrial products and applications make use of some form of electromagnetic energy. One type of electromagnetic energy that is of increasing importance worldwide is radiofrequency (or "RF") energy, including radio waves and microwaves, which is used for providing telecommunications, broadcast and other services. In the United States the Federal Communications Commission (FCC) authorizes or licenses most RF telecommunications services, facilities, and devices used by the public, industry and state and local governmental organizations. Because of its regulatory responsibilities in this area the FCC often receives inquiries concerning whether there are potential safety hazards due to human exposure to RF energy emitted by FCC-regulated transmitters. Heightened awareness of the expanding use of RF technology has led some people to speculate that "electromagnetic pollution" is causing significant risks to human health from environmental RF electromagnetic fields. This document is designed to provide factual information and to answer some of the most commonly asked questions related to this topic." - original source: U.S. Federal Communications Commission Office of Engineering and Technology, http://www.fcc.gov/Bureaus/Engineering_Technology/Documents/bulletins/oet56/oet56e4.pdf
"Magnetic Field Exposure and Cancer: Questions and Answers [ copy on file as /emf/EMF_Fact_Sheet_NCI_NIH.pdf ] - ," National Cancer Institute, U.S. National Institutes of Health, web search September 2010, original source: http://www.cancer.gov/cancertopics/factsheet/Risk/magnetic-fields
makes these five key points about EMF

Electric and magnetic fields (EMF) are areas of energy that surround any electrical device. EMFs are produced by power lines, electrical wiring, and appliances (see Question 1).
Electric fields are easily shielded or weakened by walls and other objects, whereas magnetic fields are not. Since magnetic fields are more likely to penetrate the body, they are the component of EMFs that are usually studied in relation to cancer (see Question 1).
Overall, there is limited evidence that magnetic fields cause childhood leukemia, and there is inadequate evidence that these magnetic fields cause other cancers in children (see Question 2).
Studies of magnetic field exposure from power lines and electric blankets in adults show little evidence of an association with leukemia, brain tumors, or breast cancer (see Question 3).
Past studies of occupational magnetic field exposure in adults showed very small increases in leukemia and brain tumors. However, more recent, well-conducted studies have shown inconsistent associations with leukemia, brain tumors, and breast cancer (see Question 4).

EMF RF FIELD & FREQUENCY DEFINITIONS RF and EMF measurement tools need to be properly chosen to measure the particular type and frequency of RF or EMF signal that is of interest. See EMF RF FIELD & FREQUENCY DEFINITIONS for a simple explanation of different types of radio frequency (RF) and electromagnetic frequency (EMF) types and where they are found.
Definitions of Gauss vs Milligauss for details about gauss and milligauss and definitions of these terms.
Consumer Product Safety Commission, 800-638-CPSC.
US Environmental Protection Agency, Office of Pesticides and Toxic Substances, TSCA Assistance Office (TS-799), 800-424-9065 or 202-554-1404.
"Evaluation of Potential Carcinogenicity of Electromagnetic Fields," EPA Report #EPA/600/6-90/005B October 1990. EPA: 513/569-7562.
"Biological Effects of Power Frequency Electric and Magnetic Fields" background paper, prepared as part of OTA's assessment of "Electric Power Wheeling and Dealing: Technological Considerations for Increasing Competition," prepared for OTA by Indira Nair, M. Granger Morgan, H. Keith Florig, Department of Engineering and Public Policy, Carnegie Mellon University, Pittsburgh, PA 15213
"Biological Effects of Power Line Fields," New York State Powerline Project. Scientific Advisory Board Final Report, July 1, 1987.
"Extremely Low Frequency (ELF) Fields," Environmental Health Criteria 35. World Health Organization, Geneva, 1984.
"Electric and Magnetic Fields at Extremely Low Frequencies: Interactions with Biological Systems. In: Non ionizing Radiation Protection, World Health Organization, Regional Office for Europe, Copenhagen, 1987.
"Electric and Magnetic Fields from 60 Hertz Electric Power: What do we know about possible health risks?," Department of Engineering and Public Policy, Carnegie Mellon University, Pittsburgh, PA 15213 1989.
"Electromagnetic Fields Are Being Scrutinized for Linkage to Cancer," Sandra Blakeslee, New York Times, Medical Science section, April 2, 1991
"Mobile Phone Use and Risk of Tumors: A Meta-Analysis", Seung-Kwon Myung, Woong Ju, Diana D. McDonnell, Yeon Ji Lee, Gene Kazinets, Chih-Tao Cheng, Joel M. Moskowitz, Journal of Clinical Oncology, Vol 27, No 33 (November 20), 2009: pp. 5565-5572,
Corresponding author: Seung-Kwon Myung, MD, MS, 111 Jungbalsan-ro, Ilsandong-gu, Goyang, Gyeonggi-do, 410-769, Republic of Korea; e-mail: msk@ncc.re.kr.
Purpose Case-control studies have reported inconsistent findings regarding the association between mobile phone use and tumor risk. We investigated these associations using a meta-analysis.
Methods We searched MEDLINE (PubMed), EMBASE, and the Cochrane Library in August 2008. Two evaluators independently reviewed and selected articles based on predetermined selection criteria.
Results Of 465 articles meeting our initial criteria, 23 case-control studies, which involved 37,916 participants (12,344 patient cases and 25,572 controls), were included in the final analyses. Compared with never or rarely having used a mobile phone, the odds ratio for overall use was 0.98 for malignant and benign tumors (95% CI, 0.89 to 1.07) in a random-effects meta-analysis of all 23 studies. However, a significant positive association (harmful effect) was observed in a random-effects meta-analysis of eight studies using blinding, whereas a significant negative association (protective effect) was observed in a fixed-effects meta-analysis of 15 studies not using blinding. Mobile phone use of 10 years or longer was associated with a risk of tumors in 13 studies reporting this association (odds ratio = 1.18; 95% CI, 1.04 to 1.34). Further, these findings were also observed in the subgroup analyses by methodologic quality of study. Blinding and methodologic quality of study were strongly associated with the research group.
Conclusion The current study found that there is possible evidence linking mobile phone use to an increased risk of tumors from a meta-analysis of low-biased case-control studies. Prospective cohort studies providing a higher level of evidence are needed.
Written on behalf of the Korean Meta-Analysis (KORMA) Study Group.
Supported in part by the Centers for Disease Control and Prevention through Cooperative Agreement No. U48/DP000033 (D.D.M., G.K., J.M.M.).
The contents of the article are solely the responsibility of the authors and do not necessarily represent the official views of the Centers for Disease Control and Prevention.
Authors' disclosures of potential conflicts of interest and author contributions are found at the end of this article.
"Long-Term Mobile Phone Use and Brain Tumor Risk", Stefan Lönn1, Anders Ahlbom1, Per Hall2, Maria Feychting1 and the Swedish Interphone Study Group, American Journal of Epidemiology 2005 161(6):526-535; doi:10.1093/aje/kwi091
1 Institute of Environmental Medicine, Karolinska Institutet, Stockholm, Sweden
2 Department of Medical Epidemiology and Biostatistics, Karolinska Institutet, Stockholm, Sweden
Correspondence to Stefan Lönn, Institute of Environmental Medicine, Karolinska Institutet, Box 210, S-171 77 Stockholm, Sweden (e-mail: Stefan.Lonn@imm.ki.se). Quoting from the article abstract:
Handheld mobile phones were introduced in Sweden during the late 1980s. The purpose of this population-based, case-control study was to test the hypothesis that long-term mobile phone use increases the risk of brain tumors. The authors identified all cases aged 20–69 years who were diagnosed with glioma or meningioma during 2000–2002 in certain parts of Sweden. Randomly selected controls were stratified on age, gender, and residential area. Detailed information about mobile phone use was collected from 371 (74%) glioma and 273 (85%) meningioma cases and 674 (71%) controls. For regular mobile phone use, the odds ratio was 0.8 (95% confidence interval: 0.6, 1.0) for glioma and 0.7 (95% confidence interval: 0.5, 0.9) for meningioma. Similar results were found for more than 10 years' duration of mobile phone use. No risk increase was found for ipsilateral phone use for tumors located in the temporal and parietal lobes. Furthermore, the odds ratio did not increase, regardless of tumor histology, type of phone, and amount of use. This study includes a large number of long-term mobile phone users, and the authors conclude that the data do not support the hypothesis that mobile phone use is related to an increased risk of glioma or meningioma.
case-control studies; cellular phone; glioma; meningioma
"Cellular Telephone Use and Risk of Acoustic Neuroma", Helle Collatz Christensen1, Joachim Schüz2, Michael Kosteljanetz3, Hans Skovgaard Poulsen4, Jens Thomsen5 and Christoffer Johansen1, Am J Epidemiol 2004; 159:277-283.
1 Institute of Cancer Epidemiology, Danish Cancer Society, Copenhagen, Denmark.
2 Institute for Medical Biostatistics, Epidemiology and Informatics, University of Mainz, Mainz, Germany.
3 Neurosurgical Department, Neuroscience Centre, University Hospital of Copenhagen, Copenhagen, Denmark.
4 Department of Radiation Biology, Finsen Centre, University Hospital of Copenhagen, Copenhagen, Denmark.
5 Department of Otolaryngology–Head and Neck Surgery, Gentofte Hospital, University of Copenhagen, Hellerup, Denmark.
Despite limited evidence, cellular telephones have been claimed to cause cancer, especially in the brain. In this Danish study, the authors examined the possible association between use of cellular telephones and development of acoustic neuroma. Between 2000 and 2002, they ascertained 106 incident cases and matched these persons with 212 randomly sampled, population-based controls on age and sex. The data obtained included information on use of cellular telephones from personal interviews, data from medical records, and the results of radiologic examinations. The authors obtained information on socioeconomic factors from Statistics Denmark. The overall estimated relative risk of acoustic neuroma was 0.90 (95% confidence interval: 0.51, 1.57). Use of a cell phone for 10 years or more did not increase acoustic neuroma risk over that of short-term users. Furthermore, tumors did not occur more frequently on the side of the head on which the telephone was typically used, and the size of the tumor did not correlate with the pattern of cell phone use. The results of this prospective, population-based, nationwide study, which included a large number of long-term users of cellular telephones, do not support an association between cell phone use and risk of acoustic neuroma.
case-control studies; cellular phone; ear neoplasms; neuroma, acoustic
Abbreviations: Abbreviation: CI, confidence interval.
National Cancer Institute study of possible environmental and genetic causes of malignant and benign brain tumors 2001, see http://www.cancer.gov/newscenter/cellphassoc
The study found no indication of higher brain tumor risk among persons who had used hand-held cell phones compared with those who had not used them.
Books & Articles on Building & Environmental Inspection, Testing, Diagnosis, & Repair