Zinsco Electrical Panel Hazards

Zinsco Circuit Breaker Information Website
InspectAPedia tolerates no conflicts of interest. We have no relationship with advertisers, products, or services discussed at this website.
This Zinsco electrical panel article discusses the electrical, fire, and shock hazards associated with Zinsco electrical components, circuit breakers, electrical panels, including certain Sylvania electrical panels and breakers which are in fact of the same product design and origin.
We include advice on how to identify Zinsco, Sylvania Zinsco, and Kearney electrical panels and circuit breakers, and repair or replacement advice for those products.
In this article series we discuss: the hazards of Zinsco or Zinsco-Sylvania electric panels; Zinsco & Zinsco/Sylvania electrical panel identification guides & Kearney electrical panel identification guide. Independent testing of Zinsco breakers confirms failures.
Zinsco failure reports, though few in number, indicate severe failures of Zinsco electrical panels / circuit breakers including failure of the circuit breaker to trip on overcurrent, arcing and burn-ups at the breaker to panel bus bar connection, and circuit breaker burn-ups.
Zinsco & Zinsco-Sylvania Panel Replacement Recommended, Zinsco Sylvania Panel Breaker-to-Bus Connection Arcing. How should Zinsco panels be repaired: electrical panel replacement alternatives, What are the typical costs to replace a Zinsco or Zinsco-Sylvania Electrical Panel?
We also provide a MASTER INDEX to this topic, or you can try the page top or bottom SEARCH BOX as a quick way to find information you need.
Zinsco Electrical Panel Advice for Homeowners and Home Buyers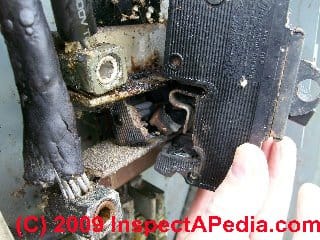 Zinsco and Zinsco-Sylvania circuit breakers of the design described here do not offer the level of overcurrent and fire protection provided by most other electrical panels and circuit breakers.
Watch out: OPINION: we do not recommend installing "replacement" Zinsco circuit breakers as there some indications that the performance and safety of those devices may be poor.
Article Contents
Zinsco Electrical Panel & Breaker Test Results
Limited test results reported by Dr. Jess Aronstein (who is cited further at REFERENCES) indicate that the central Zinsco electrical panel and circuit breaker failure problem appears to be burn ups at the clip-to-bus connections such as shown in our photo of a burned Zinsco electrical panel bus and breaker. A circuit breaker whose bus connection burns can lead to overheating damage to the circuit breaker itself, rendering it non-functional.
For a summary of Zinsco and UBI-Zinsco-Replacement circuit breaker test results to date, see ZINSCO CIRCUIT BREAKER TEST REPORT - separate article.
Also see ZINSCO FAILURE REPORTS where we indicate that nearly 32% of the Zinsco circuit breakers tested to date failed to trip as required by the UL testing standard. A very small sample of UBI-brand replacement circuit breakers for Zinsco panels also failed to trip.
Photo at page top of a burned and failed Zinsco main circuit breaker, courtesy of J. P. Simmons - Mr. Electric. Simmons adds: "In this case the failure damaged the main wire to a mobile home also (you can see the melted wire to the left of the main). This is a good example of why I do not like to see anyone remove these breakers. You can not tell how bad they are damaged by looking at them.
Notice:

request for Zinsco circuit breakers for independent testing

Dr. Aronstein has agreed to perform independent overload and trip testing on Zinsco circuit breakers that may be contributed by electricians or homeowners.

In order to obtain a valid Zinsco circuit breaker set for testing, specifically wanted are circuit breakers from Zinsco electrical panels at which no field failure has previously been reported.

Such circuit breakers may be obtained from Zinsco electrical panels that are being replaced out of homeowner concern for potential hazards, obsolescence, or the need to install a new, higher capacity electrical panel - a "heavy-up" job. The circuit breakers should be left un-touched, that is, don't switch them off and on, just un-plug them from the electrical panel.

Contact: Dr. Jess Aronstein, "Dr. Jess Aronstein" <protune@aol.com>
Zinsco Panel Field Failure Reports
With the exception of the more seriously failing FPE Stab-Lok electrical panels, we have not received any significant number of field failure reports concerning other electrical panel brands that also use aluminum parts and that are or were priced in the same range as Zinsco.
This means homes with this equipment may be at greater risk of fire or other electrical hazard.
Zinsco & Zinsco-Sylvania Panel Replacement Recommended?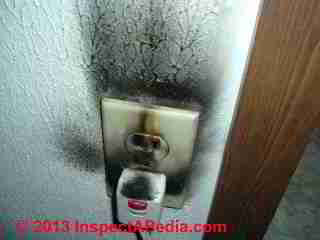 Where Zinsco electrical panels and Zinsco circuit breakers are in use, arcing, contact-point burn, and even circuit breaker case blow-out have been observed in the field.
We do not have statistically solid data that supports an unequivocal argument to replace Zinsco electrical panels.
However, based on field reports to-date and preliminary tests, where Zinsco and Zinsco-Sylvania electrical panels are discovered in buildings a homeowner should consider replacing the panel to reduce fire and shock hazards and owners should be careful to avoid overloading their electrical circuits where this equipment is installed.
Building owners or electricians encountering problems with this equipment are asked to contact us to add that information to our electrical failure data base in an effort to develop accurate safety information which is then shared with appropriate federal and state agencies.
Thanks to Mr. James Simmons, a licensed electrician with extensive field experience and the contributor of most of the photos and case reports at this web page.
Our photo (above left) illustrates a burned-up electrical receptacle whose circuit was protected by a Zinsco circuit breaker that failed to trip and in fact had burned itself in the panel.
Zinsco Sylvania Panel Breaker-to-Bus Connection Arcing
A principal Zinsco™ circuit breaker (or Sylvania™ or GTE-Sylvania™ or Kearney™ electrical panel using this circuit breaker) point of failure appears to be at the point of contact where the circuit breaker contacts clip onto the electrical panel bus, combined with the use of an aluminum electrical panel bus.
As described at ZINSCO FAILURE REPORT PROCEDURE, expert testing on this equipment has shown that circuit breakers do not trip about 25% of the time when exposed to overcurrent - risking overheating, fire and other hazards. The failure rate of competitive-brand circuit breakers is much less than 1%.
In addition to advice on identifying Zinsco™ panels, inspecting Zinsco electrical panels, and repair/replacement advice, we provide field photographs of circuit breaker failures: overheating, burnups, failures to trip, overcurrent protection failure. This document includes field reports of failures and additional anecdotal evidence.
See ZINSCO FAILURE PHOTOGRAPHS and ZINSCO FAILURE REPORTS.
Zinsco Panel Repairs
Repair advice (replace the equipment) is provided at ZINSCO REPLACEMENT PANELS and

at REPAIR ELECTRICIANS we list electricians who have informed us that they have specific experience with this equipment. Lots of other licensed electricians are also qualified to replace electrical panels; it's best if your electrician is one who is familiar with this issue.
Replacement Zinsco circuit breakers and replacement copper-plated bus bars for Zinsco / Zinsco-Sylvania electrical panels are advertised. Without evidence of a design change in the product or support from independent expert testing, the effectiveness of these replacements is not clear.
As a not-for-profit activity, we have been collecting information and field failure reports for Zinsco/Sylvania electrical components since 1996 in an effort to develop credible failure-rate information which is then shared with the U.S. CPSC and with other electrical failure researchers and educators.
Zinsco History, Age, Dates & Patents for Zinsco Electrical Panels & GTE-Sylvania Zinsco Electrical Panels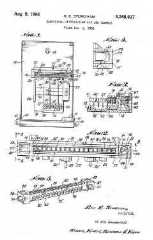 [Citations needed, use the page bottom CONTACT link if you can provide additional data - Ed.]
This article series discusses the electrical, fire, and shock hazards associated with Zinsco electrical components, circuit breakers, electrical panels, including certain Sylvania electrical panels and breakers which are in fact of the same product design and origin. Zinsco-type QSF electrical panel circuit breakers may also appear in Frank Adam Electric Panelboards.
1891 Frank Adam Electrical Panels

Frank Adams Electrical panels were installed in buildings in the U.S. roughly between 1900 and 1950, possibly as late as 1970. Contact us if you have photos of a Frank Adams electrical panel or other details.

Frank Adam Electric, founded in 1891 in St. Louis MO, descended from a watch and surveying equipment manufacturer, Blacker and Adam Watch Co.

Emile Zinsmeyer, founder of what later became Zinsco Electric, was employed at Frank Adam's retail sales, moving to California in the 1920's to operate Frank Adams business there.

Zinsmeyer purchased Adams' stock in California in 1929, founding Zinsmeyer Co. with family members and continuing to operate in California. - Source: Historical report indicates that Frank Adam Electric, formed in 1891, operated on the U.S. west coast. - Heather Hill to Mike Holt, note posted at Mike's forum, no longer on-line (2018).

Frank Adam Electric Co. continued to operate, as indicated in some of the patent citations we include below showing inventions assigned to Frank Adam Electric Co. ranging from 1906 to at least 1965.



1903: Adams, Frank. "Electric canal system." U.S. Patent 728,823, issued May 26, 1903.
1905: Adams, Frank. "Electric railway." U.S. Patent 807,984, issued December 19
1906, Adam, Frederick B., Service Entrance Box, U.S. Patent 851726, issued April 30, 1906, assigned to Frank Adam Electric Co.
1929 (est) Zinsmeyer Electric formed by Emile Zinsmeyer, from Frank Adams' CA stock. Emile Martin Zinsmeyer. According to a Wikipedia writer, the fore-runner of Zinsco was a west coast division of Frank Adam Elecctric Company, re-named Zinsmeyer Company after 1929.

The rest of this Zinsco history and list of dates was collected by the author [DF] from patents and news articles.
1934: Green, Floyd S. "Circuit interrupting and protecting apparatus." U.S. Patent 1,966,716, issued July 17, 1934. Assigned to Frank Adam Electric Co.

Green, Floyd S. "Dead front safety switch." U.S. Patent 1,962,867, issued June 12, 1934.
1943 Zinsco Electric formed: Martin Zinsmeyer purchased the Zinsmeyer company from his father, renaming it Zinsco Electrical Company as appears in the following patents.
31 May 1946 - priority date: Patent :Zina, Roy Stanley. "Electrical panel board switch." U.S. Patent 2,530,548, issued November 21, 1950. Original assignee: Zinsco Electrical Products. Additional patent citations and assigns continue through the 1960's to 1968.
1949: Patent: William, Myers John. "Electrical bus structure." U.S. Patent 2,477,523, issued July 26, 1949. Assigned to Zinsmeyer Company.
Excerpt:
This invention relates to panel boards, switch boards, and similar electrical service installations such as employed in factories, theatres, and other installations for the distribution of electricity to the various circuits.

More specifically, the present invention relates to the bus structure employed in such switchboards and panel boards for the distribution of electrical current from the current supply cables to the various switches and circuit breakers which control the circuits or to any other electrical instruments or devices which are commonly mounted in switchboards and panel boards.
1950: Speck, Ernst. "Circuit breaker." U.S. Patent 2,502,537, issued April 4, 1950.
1959: Green, Floyd S. "Panel board." U.S. Patent 2,576,396, issued November 27, 1951. Assigned to Frank Adam Electric Co.
Means of mounting varous devices in an electrical panel board.
1959: Locher, Ross E. "Multiple circuit breaker." U.S. Patent 2,878,332, issued March 17, 1959. and also "Interlock mount for switch." U.S. Patent 2,869,043, issued January 13, 1959. Assigned to Zinsco Electrical Products
1961 Ellegood, Pruett W. "Distribution switchboard." U.S. Patent 2,997,627, issued August 22, 1961. - assigned to Frank Adam Electric Co.
1964: "Terminal for circuit breaker switch or the like." U.S. Patent 3,138,421, issued June 23, 1964. Assigned to Zinsco Electrical Products
1965: Hercules, L.A., FRANK ADAM ELECTRIC CO, 1965. Enclosed switch with defeatable door interlock. U.S. Patent 3,188,410. Assigned to Frank Adam Electric Co.
1966 "Meter pedestal." U.S. Patent 3,286,133, issued November 15, 1966. assigned to Zinsco Electrical Products and
"Electrical distribution box and neutral." U.S. Patent 3,265,937, issued August 9, 1966. - Sturdivan's patent sketch is shown at left. Assigned to Zinsco Electrical Products
9 June 1972: Patent: Mendel, J., and R. Whitaker. "Ground fault protection system." U.S. Patent 3,727,106, issued April 10, 1973. Assigned to Zinsco Electrical Products
1972: "Ground fault detector circuit." U.S. Patent 3,700,967, issued October 24, 1972. Assigned to Zinsco Electrical Products
1973: Zinsco Electric sold to GTE-Sylvania Electric who continued to manufacture the original breaker-design. GTE-Sylvania marketed electrical panels of the original Zinsco design under the Zinsco brand as well as under the GTE-Sylvania Zinsco brand.
1976: Gehrs, Donald F., and David T. Higgins. "Electrical bussing and jumper assembly." U.S. Patent 3,995,103, issued November 30, 1976. Assigned to Zinsco Electrical Products
Challenger Electrical Equipment Corporation purchased the GTE-Sylvania Zinsco brand
1984 Zinsco GTE-Sylvania product line sold to Verizon possibly via Challenger Electric
Undated: sales of Challenger Electric to Westinghouse - Westinghouse Electric Corporation purchased the Zinsco design & brands from Challenger [or Verizon?]
Undated: sale of the Zinsco product line by Westinghouse to Cutler Hammer - Cutler Hammer Corporation purchased the Zinsco design & brands from Westinghouse Electric. See CUTLER HAMMER ELECTRICAL PANELS
Eaton purchased / merged with Cutler Hammer form that present corporation.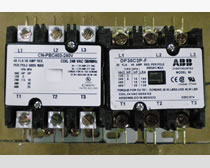 2011 - 2012: Owner of counterfeit FPE & Zinsco circuit breaker company fined & sentenced to jail

BUSINESS OWNER PLEADS GUILTY TO TRAFFICKING IN COUNTERFEIT CIRCUIT BREAKERS [PDF]

- source: U.S. Immigration and Customs Enforcement, retrieved 2018/05/02, original source



Elod Tamas Toldy, owner of Pioneer Breaker and Control Supply sentenced to federal prison for mail fraud and trafficking in counterfeit goods and services for marketing COUNTERFEIT CIRCUIT BREAKERS on eBay [PDF], under the brand names Zinsco and FPE Stab-Lok.

- source: U.S. Immigration and Customs Enforcement, retrieved 2018/05/02, original source https://www.ice.gov/news/releases/texas-business-owner-sentenced-counterfeit-circuit-breaker-scheme

- ICE Office of Public Affairs at (202) 732-4242.



Members of the public can report suspected counterfeit operations by calling the U.S. Homeland Security Investigations HSI's toll-free hotline at: 866-347-2423.
2012 Zinsco Red-Tagged in Napa: 20 June 2012, City of Napa, California requires replacement of Zinsco Main Service Panels

To: Solar Photovoltaic Installers and Mechanical Contractors
From: Dan Kavarian, Interim Building Official
Date: June 20, 2012

RE: Required Service Changes for New Solar or Any Other New Appliance Installations

Effective immediately the City of Napa Building Division will require a service upgrade for any Solar Photovoltaic or Any New Appliance installation (i.e. furnace/ac) where the main service is a Zinsco Manufactured meter main. Due to complications from these service panels in the past and the difficulties acquiring new breakers for future circuits, we have come to the conclusion that we will no longer support the use of these panels in this type of application.

At time of plan submittal the manufacturer of the service main must be shown on the plans and approved prior to permit issuance. If there is an existing Zinsco meter main, you will then be asked to contact PG&E to obtain a service planning request.

All service upgrades must have PG&E approval and be tagged by us prior to reconnect. Your permit will not receive a final inspection if this is an outstanding issue.

Any service upgrades done without PG&E approval will be "RED TAGGED" and the project will be put on hold. If the inspector performs and inspection on your project and a Zinsco meter main is in place and is not identified on the plans, the job will also be stopped and a "RED TAG" will be issued and you will be held responsible for all penalties charged. - REQUIRED SERVICE CHANGES for NEW SOLAR or ANY OTHER NEW APPLIANCE INSTALLATIONS - ZINSCO RED-TAG Source: City of Napa, 1600 First St., PO B 660, Napa CA 94559, 20 June 2012
2018: Jesse Aronstein 1, (Life Senior Member, IEEE), & David W. Carrier 2 MOLDED CASE CIRCUIT BREAKERS - SOME HOLES IN THE ELECTRICAL SAFETY NET [PDF] Received December 4, 2017, accepted January 24, 2018, date of publication February 7, 2018, date of current version March 15, 2018. Digital Object Identifier 10.1109/ACCESS.2018.2803298
1 Consulting Engineer, Schenectady, NY 12309, USA, 2 SUNY Dutchess Community College, Poughkeepsie, NY 12601, USA, Corresponding author: Jesse Aronstein (AronsteinJ@verizon.net)
Watch out: OPINION: we do not recommend installing "replacement" Zinsco circuit breakers as there some indications that the performance and safety of those devices may be poor.
Mike Holt has provided excerpts of a history of Zinsco Electric quoting the company founder's great-grandaughter Heather Hill (un-dated). - http://codeforum.mikeholt.com/
...
Continue reading at GTE-SYLVANIA-ZINSCO FAILURE MECHANISM or select a topic from closely-related articles below, or see our complete INDEX to RELATED ARTICLES below.
Or see CIRCUIT BREAKER FAILURE RATES
Or see IDENTIFY GTE SYLVANIA-ZINSCO PANELS
Or see this
Zinsco Electrical Panel Article Series
Suggested citation for this web page
ZINSCO SYLVANIA ELECTRICAL PANELS at InspectApedia.com - online encyclopedia of building & environmental inspection, testing, diagnosis, repair, & problem prevention advice.
Or use the SEARCH BOX found below to Ask a Question or Search InspectApedia
...
Frequently Asked Questions (FAQs)
Try the search box below or CONTACT US by email if you cannot find the answer you need at InspectApedia.
Question: I am selling my house and it has a Zinsco electrical panel - are they all a fire hazard risk?
I am selling my house and just had an inspection done. I have a zinsco circuit breaker panel and would like to know is every model the same and are all of the circuit breaker panels a fire hazard risk? - Suzanne
Reply:
Thanks for the important Zinsco breaker model question. We don't know if there are Zinsco-brand circuit breakers whose design is different from the ones discussed here (I don't think so), and we don't yet know if there are age or model differences among Zinsco circuit breakers and their performance, because not enough Zinsco breaker testing has yet been completed.

However it is reasonable to note that because the Zinsco failure reports we've received and physical inspection of that equipment focus attention on the bus and breaker-to-bus-connection design, unless your electrical panel uses a different circuit breaker and bus connection design than the models shown here, it would be prudent to treat your panel as a potential electrical fire and safety hazard.

I appreciate that nobody likes to have any question come up when selling a home. Fortunately, for this particular question, the costs unambiguous - they are confined to the electrical panel and circuit breakers.

House prices vary by region in the U.S. but taking the lowest current average price of $125,000, the cost of a replacement electrical panel should run around one percent or less of the home value - certainly that's not a cost issue that is substantial enough that it should jeopardize the sale.
Question: How do I identify a Zinsco electrical Panel or a Sylvania Zinsco Panel & How do I know if My Panel is Bad?
How do I know if my Sylvania electrical breaker is a Zinsco? - Marie
How do I know if my Sylvania electrical panel is bad? - Wallace
Reply:
Wallace: unfortunately it is not possible nor even safe to try to assure the safety of certain electrical problems by visual inspecting (you can't see hidden problems behind or even inside the circuit breaker) nor by testing in place the circuit breakers (you risk starting a building fire, and even a "tests-ok" breaker may fail the next time it is subjected to an overcurrent). Worse, testing in some cases (FPE in particular) can significantly INCREASE the chances that in the future the breaker will fail to trip.

For that reason, experts recommend replacement of FPE equipment. IN the case of Sylvania equipment, ... it depends. If your panel is Zinsco brand, previous burn-ups of breakers are physically visible on disassembly and inspection by an electrician where bus burns and breaker burns can be seen. But that inspection is no assurance that an un-burned component will work as needed in the future. For that reason we also suggest replacing Zinsco panels.
Marie: see IDENTIFY ZINSCO ELECTRICAL PANELS for help in identifying Zinsco brand electrical panels and circuit breakers.
Question: My Zinsco Main Breaker is in the "Off" Position but power is still on in my panel. Help?
Have a zinsco 100 amp service, turn the main off but still get power have very little cash. So I can't replace it at this time, if I replace the main, is it safe to still use this panel? Is it safe to add new breakers? - Tim
Reply:
Tim:
If you still have power when the main electric panel disconnect is in the "OFF" position then this is a VERY dangerous condition as you cannot, using normal homeowner controls, turn off electrical power in an emergency, and more, it is likely that the main disconnect is not going to trip on a large overcurrent and so is not protecting the equipment and building from an electrical fire.

I'd like to see photos of the equipment and all identifying labels and markings. Use the CONTACT link found at page top, left, or bottom to send us photographs.

Presuming that you don't have a back-fed panel from a second electrical source then you immediately need a licensed electrician to replace the faulty circuit breaker or as I would recommend, replace the entire panel.

"Replacement" Zinsco circuit breakers are certainly sold as well as entire panel bus assembly replacement parts using copper-plated bus bars that might perform better than the original aluminum bus bars - we have not seen any independent supporting study data that confirms that anticipated improvement.

A key ingredient in some Zinsco breaker burn-ups is arcing at the bus to breaker connection. It is difficult or impossible to see the arcing burns before the equipment fails, as disassembly would be required, and because every time a breaker is pulled and removed the bus and even a copper plated bus surface is cut and scratched further, we worry about increasing the arcing and failure rate by examining or plugging breakers in and out.

We might be tempted to say go ahead and replace breakers onto an unused bus position but as you have ALREADY had a very serious fail-to-trip in your Zinsco panel, continuing to use it doesn't sound safe to me. Also see DIRECTORY OF ELECTRICIANS - FPE Zinsco for electricians who assert that they are familiar with Zinsco electrical panel hazards.

Question: Single Breaker Zinsco-Sylvania 100A Main Service Switch feeds a new GE Panel. Isn't this OK?
I have a Sylvania panel on an exterior wall that simply has 100 amp service to the main breaker and then a single 100 amp breaker on the branch that leads to a new GE panel inside the house with its own 100 amp main breaker.
All power comes off of the GE panel. That being said, this seems safe as to take out the Sylvania I would just have a wire from the meter to the GE panel, which would provide no overcurrent protection anyway. With the Zinsco/Sylvania I have two additional breakers to try to trip if for some reason the 100 amp main in the GE failed, plus I can kill power to the GE panel from the outside if ever I needed to in case of a fire.
Does this sounds fine or is the Sylvania still a problem? - Bob Welderman
Reply: The service entry cable between meter and new panel may be under-protected
Bob,

If I understand correctly, because you find that the outside Zinsco/Sylvania panel simply duplicates the main breaker on the inside panel you figure it's safe to leave it in place.

Here are some concerns with that approach:

1. The outside panel and breaker is protecting the SEC feeder wire between the meter and the inside panel. Depending on the inside panel distance from the meter and location and wire routing, that protection could be important and even code required. So you want that protection to be reliable. Though a problem with an indoor individual circuit is more likely, failures do occur on the SEC wire, including shorts and overheating that can lead to a fire.

2. Leaving in place a circuit breaker that has frequent bus arcing and overheating could be more dangerous than just the point above: the product you leave in place can not just fail to respond to an overcurrent, it can initiate a problem by overheating, arcing, burning itself.

Dan
Reader Follow-Up:
First off. Thank you for the response. To be more specific. The wire from the meter to the Sylvania is about 4 feet and then the one from the Sylvania to the GE is about 4-6 feet as it is just on the other side of the wall. The breaker from the Sylvania to the GE is a brand new refurbished one that was tested by the electrical supplier about a year ago. - Bob.
Comment: testing by the electrical supplier? Unusual. But the basic electrical failure risk remains.
Bob, in the arrangement you've described, it is the SEC between the Zinsco-Sylvania breaker and the new GE panel that is left unprotected should a short occur in that wire or should the main breaker in the GE panel fail to trip. I agree that the risk that remains in those components is likely to be lower in frequency than risks of the need to trip a circuit breaker protecting an individual branch circuit in the building. However, because of the chances of a higher current draw at a major failure in a panel or in an SEC, the protection of that wiring is very important. Indeed we attended a house fire that occurred in just those circumstances - an SEC or main panel short.
It is very unusual to read that an electrical supplier is performing testing on circuit breakers, and one is left wondering just what testing of tests were performed, to what standard, and with what scope and reliability. For example some electricians will "test" a breaker by applying a dead short and observing that it trips.

Circuit breaker standards, including the partially inadequate (in my OPINION) UL 486 specify that circuit breakers are tested at different overcurrent levels. A breaker is given more time to trip at a lower overcurrent than at a higher one. If your supplier is actually testing to standards the test might be reliable - we'd sure like to see any documentation on what is being done (use the CONTACT link found on any of our pages to send us that information if you can obtain it).
Even if the breaker was tested and appeared to perform successfully, some important warnings pertain. Presuming we are talking about a Zinsco-Sylvania product, the failures that occur most often are at the breaker clip - to - panel bus bar connection. Arcing and overheating appears to occur there - hidden from easy view without disassembling the equipment.

Therefore even if a breaker starts out in healthy good operating condition, the in-service conditions can create a serious failure whose point of origin is actually outside the breaker and inherent in the combination of materials used and design of the breaker-to-bus connector - not something that is adequately addressed by testing the breaker alone, nor would it be adequately addressed by a short term breaker test mounted in a panel. Rather, arcing that occurs at an in-use breaker and panel over time seems to be the failure source.
Just to be clear, the main switch protects equipment that is downstream from itself.
At this point, if I understand your schema, the service entry cable passes from meter to Zinsco-Sylvania breaker and from there to a main panel of another brand. So the risk of a no-trip or burnup in the service panel is less than before when Zinsco breakers were in use in that location.
Nevertheless, it's the main switch that does the heavy lifting when safety and shorts are concerned.
Question: where can I buy replacement electrical panel covers for a Zinsco ?
looking for two electric panel covers for zinsco 14" w x 20 L - Hank Vance
Reply:
Hank, take a look at the article ZINSCO REPLACEMENT PANELS - This article describes replacement electrical panels and covers.
Question: was there a Sylvania Panel recall?
Sylvania Panel GRTE, 390-205-08, 380-025-15, e-52977, albiz (20-20)-c. Home Inspection comments this could be a recall item. Please advise 650-576-0777 Thank you, B Oliveira - 12/19/11
Reply:
Brenda, I'm not sure what advice you are asking; please be sure to read the above articles on the hazards of Zinsco and Zinsco-Sylvania electrical panels and circuit breakers. Simply deciding on the presence or absence of a safety hazard based on whether or not there was a product recall is unreliable.
Question: What is Sylvania-Zinsco's responsibility for a faulty product?
What is Sylvania-Zinsco's responsibility for a faulty product? Were there any recall notices? Is there any compensation for their faulty product? - G Butler 5/7/12
Reply:
Mr Butler:
The assignment of responsibility for product defects is a legal and technical question that we InspectAPedia do not directly address. We report on building and environmental inspection, diagnosis, and repair topics with as much impartiality as possible. I agree that it's a fair question nevertheless, and as with other controversial product defects such as the FPE Stab-Lok hazard, we will report if there are product recalls or legal actions in the matter.

Keep in mind that in all fields there can be defective or hazardous products notwithstanding the existence of regulatory bodies and the court structure. By comparison, crimes occur even though there are law enforcement and a legal justice system.
Question: where do I find a licensed electrician to do Zinsco Panel Replacements?
Where to find licensed electrician for zinsco panel in my area - David Rue 5/16/12
Reply:
David, ANY licensed electrician can replace a Zinsco electrical panel. The reason we like to use electricians who know about the Zinsco hazard is to avoid wasting time with someone who makes the mistake of telling you there is no possible hazard.
At DIRECTORY OF ELECTRICIANS we list some, not all, electricians who assert that they have experience with Aluminum wiring, FPE, and Zinsco electrical equipment repairs or replacements. There are no listing fees and InspectApedia has no business nor other financial relations with any topic or service provider discussed here.
Question: Zinsco Field Failure Report 7/15/12
I am a Master Electrician in Florida. I recently received a call from a customer who was having a new central A/C installed. The Installer told him that the Main 100A Zinsco breaker was turned off, but the house still had power. I assessed the situation, and told the homeowner he needed a service change. I would not even attempt to touch the service disconnect. I had the Power Company disconnect the power at the transformer, before I started.
When it was safe, I attempted to remove the old Zinsco breaker, and it crumbled in my hands. If someone had attempted to work the breaker they would have been subject to a terrific arc flash - burn - explosion. I,m glad I took the safety first approach. Hank Kline DeBary FL. - Hank Kline 7/15/2012
Reply:
Thanks so much for your important Zinsco field failure report Hank. It illustrates how one real-world experience is worth a dozen arm-waving speculations from a few writers who think we've made the whole thing up. Glad you knew to be safe.

Indeed, though it was from a different root cause, a GA electrician was killed simply in the course of removing the cover from an electrical panel. The release of the cover screws allowed faulty components in that panel to move, shorting and causing an arc explosion that blew the cover and panel parts into him. I've also received reports of workers burned from situations such as the one you described.

If you come across iffy products like this again and have an opportunity to take a photo to show other readers it'd be helpful; also we welcome questions & content suggestions from everyone, but from an experienced master electrician your views are particularly helpful.

Best, Daniel
Question: is there a recall on Zinsco Electrical Panels / Circuit Breakers - or recourse?
Is there a recall or some recourse from the company that manufactured the faulty Zinsco Electric Panel / Circuit Breaker? Do you have a contact for the company? Thanks! - Cynthia 7/23/12
Reply:
Sorry, Cynthia, no.
Question: is it safe to replace a Zinsco-design electrical panel if I have the electric company drop power at the meter?
I have a Zinsco Panel it is listed as a Sylvania but looks exactly like the photo above. I have a friend that is a electrician and told me he would replace the panel with a new square D 200 amp service. If I have the power company turn my meter off then no power will be running through the panel how is this job still dangerous? - Ryan 8/23/2012
Reply:
Ryan,

If your electrician friend is qualified and knows what s/he is doing, and if power is dropped at the meter, the job MIGHT be not dangerous. I say might because an electrician who failed to confirm that power was off risks being killed by electrocution, and a time or two I've found that electrical power was not off when we thought it was.

The second hazard would be if wiring were not done correctly - which is therefore unsafe.

In sum, if the work is done by someone qualified and properly then the job is being handled properly.
Question: Reader comment: burned-up Zinsco Circuit Breaker Photos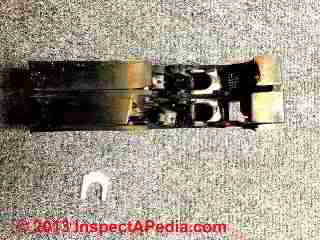 I manage the electrical department at a hardware store, and a customer brought in the breaker in the photos, looking for a replacement.
We suggested they immediately get a licensed electrician to come out and replace the panel, but they just wanted to replace the breaker, worryingly enough.
The truly scary part, though, is that apparently this breaker was not the one that originally failed, it was set on fire by the failure of the adjacent breaker. One can only imagine what that one must have looked like, if there was anything left of it.
Feel free to include the photos in the Zinsco section of the website, if you'd like. I think I may end up making a display case in the store for this and a similarly failed FPE breaker. Maybe it'll give people a hint as to why we recommend that they replace these panels.
On a somewhat related note, I regularly recommend your site to customers with electrical safety questions, as does my father (a licensed electrician with over 40 years in the industry). Thanks for all the work you've put into it, and for trying to bring electrical safety issues to people's attention. - A.K.
Reply:
Dear A.K.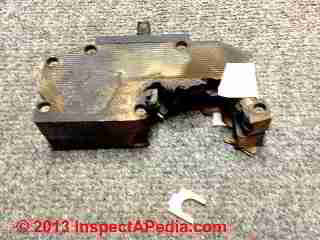 Thank you for the Zinsco burn-up photos and the case report of another Zinsco circuit breaker failure. Your report is a reminder of Aronstein's frequent caveat that unless the remains of a fire are examined by a very expert forensic expert, we can not always be sure exactly what went wrong.
Nevertheless in the case you describe, and considering that based on an impartial review of the history of Zinsco product failures and field reports, our OPINION is that the product is defective, suffering from both design and performance issues.
What that fancy talk means in plain English is that simply installing a "replacement breaker" into a Zinsco panel is not a safe repair since it does nothing to address the design and product failure issues in the product. As with a few other replacement circuit breaker lines like FPE, there is unfortunately not a shred of independent test data nor field data that would support just replacing the breaker. Replacing the panel is what one should recommend.
The stumbling block for electricians and their customers is that too often all the customer has noticed is that power has been lost on one or two circuits in the building (where a breaker melted or failed to trip until the circuit wiring burned up). The customer figures that "all I need is a new $7.00 circuit breaker" and treats with suspicion the electricians's suggestion that the panel should be replaced.
To offer impartial assistance in problems like this you are welcome to provide your customers with printed copies of InspectApedia articles that you find helpful, and for a few cases listed just below we also provide special web pages that can be freely copied to other websites so long as they are not modified without our permission. Your email prompted us to make a new hazard summary page for Zinsco, Kearney, Zinsco-Sylvania electrical panels & circuit breakers
. I've also added your Zinsco burn-up photos here and your report and photos appear also at ZINSCO FAILURE REPORTS as well as at ZINSCO Hazard Summary Page for Reproduction.
CONTACT US if you have suggestions for that material or if you have questions or content suggestions about other material at InspectApedia. Working together we're smarter than working alone. Thanks again, Daniel
Question: does voltage drop between zinsco terminal and busbar indicate trouble?
(Mar 8, 2014) Tom Hons said:
Would doing a voltage drop measurement from the screw terminal of a Zinsco circuit breaker to the busbar it is attached to while putting a load on that circuit, tell the condition of the breaker's connection to the busbar? I measured it with no load and it was .005volts and with a load of 3 portable 120volt heaters on, it was 0.131 to .149volt.
Also, how quickly and at what amps should a 20 amp breaker trip? Thanx
Reply:
That's an interesting question, Tom. I'm not sure of the answer, as there could be multiple explanations for a voltage drop including a defect inside the breaker itself, a poor wire-to-screw connection, etc. Worse I have no confidence that the type of measurement you are making is at all reliable in testing the safety of a circuit breaker.
Breakers are tested by experts by applying a known load or overcurrent to determine the trip point of the breaker under various conditions.
Measurements of resistance (which means taking the panel off line) between various points can be an indicator of trouble: oxidation or other poor connection problems;
The trip curves for circuit breakers are a function of time and current. At higher overcurrents the time to trip gets shorter and shorter until at a dead short the trip time is in milliseconds. DO NOT try these tests on an installed system - the risk is burning down the building or getting shocked.
But absence of a measurement of voltage drop nor increased resistance is definitely no assurance that a breaker will necessarily perform as needed.
Question: The cover of my breaker panel says Zinsco but how would I actually know if its internal guts are ZInsco?
(Aug 5, 2014) Tony B. said:
HI i think i may have a zinsco panel at least the outside metal cover says it is but how would i actually tell if the internals are Zinsco or not can you help me identify this please.
Reply:
Tony
In the More Reading article links above see
IDENTIFY GTE SYLVANIA-ZINSCO PANELS
IDENTIFY KEARNEY PANELS
IDENTIFY ZINSCO ELECTRICAL PANELS
IDENTIFY ZINSCO SYLVANIA METER BASE
for photos and text that help you identify Zinsco equipment. You will see that the breaker connectors and bus bars onto whichg they clamp are not like other electrical panel designs.
You are also welcome to use the email found at our CONTACT link to send us photos of your electrical equipment for comment.
...
Ask a Question or Search InspectApedia
Try the search box just below, or if you prefer, post a question or comment in the Comments box below and we will respond promptly.
Search the InspectApedia website
Technical Reviewers & References
Click to Show or Hide Citations & References
[1] Personal communication, J. Aronstein to D. Friedman, 3/6/2006.Dr. Jess Aronstein, protune@aol.com is a research consultant and an electrical engineer in Schenectady, NY. Dr. Aronstein provides forensic engineering services and independent laboratory testing for various agencies. Dr. Aronstein has published widely on and has designed and conducted tests on aluminum wiring failures, Federal Pacific Stab-Lok electrical equipment, and numerous electrical products and hazards. See Aluminum Wiring Bibliography and see FPE HAZARD ARTICLES, STUDIES for examples.
[2] James P. Simmons: Personal communication and photographs used in this article series, J. Simmons to Daniel Friedman, 3/4/2006, 2/19/2008. Photographs contributed to this website by Jim P. Simmons, Mr. Electric, Licensed Master Electrician, 1320 Dayton Street SE, Olympia, WA 98501, 360-705-4225, Fax 360-705-0130 or by email to mrelectricoly@msn.com
[3] Thanks to various electricians, home owners, and home inspectors for contributing the Zinsco Sylvania-Zinsco electric panel and circuit breaker field failure reports cited above.
[4] Thanks to David Osborn, an alert home inspector, for helpful critique regarding the need for Zinsco/Sylvania electrical panel replacement, 4/27/06
[5] Thanks to Joe Funderburk, Alpha & Omega Home Inspections, Hickory Grove, SC for his photos of a Kearney electrical panel. Mr. Funderburk is a NACHI member and home inspector who can be reached at aohomeinspection.com
[6] Thanks to Texas electrician Jeff Weissman for contribution of photographs of burned Zinsco circuit breakers. 03/06/2007. Mr Weissman can be reached at jeffweissman@gmail.com or by telephone at 713-666-6605
[7] Peter Bennett, A Full House Inspection Co., provided technical editing of this text. Mr. Bennett can be contacted in New Jersey at 732-758-9887 or Cell: 732-245-9817, or by email to: afullhouseinspectionco@gmail.com
[8] "Electrical System Inspection Basics," Richard C. Wolcott, ASHI 8th Annual Education Conference, Boston 1985.
[9] "Simplified Electrical Wiring," Sears, Roebuck and Co., 15705 (F5428) Rev. 4-77 1977 [Lots of sketches of older-type service panels.]
[10] Thanks to Electrical Supplier & Electricians Kranzel for Adam Krazel's Zinsco burn-up report & photos from 3/10/2013 posted here and elsewhere at InspectApedia. Mr. Kranzel manages the electrical department at a hardware store and his father is a licensed electrician.
"How to plan and install electric wiring for homes, farms, garages, shops," Montgomery Ward Co., 83-850.
"Electrical System Inspection Basics," Richard C. Wolcott, ASHI 8th Annual Education Conference, Boston 1985.
"Simplified Electrical Wiring," Sears, Roebuck and Co., 15705 (F5428) Rev. 4-77 1977 [Lots of sketches of older-type service panels.]
"How to plan and install electric wiring for homes, farms, garages, shops," Montgomery Ward Co., 83-850.
"Home Wiring Inspection," Roswell W. Ard, Rodale's New Shelter, July/August, 1985 p. 35-40.
"Evaluating Wiring in Older Minnesota Homes," Agricultural Extension Service, University of Minnesota, St. Paul, Minnesota 55108.
"Electrical Systems," A Training Manual for Home Inspectors, Alfred L. Alk, American Society of Home Inspectors (ASHI), 1987, available from ASHI. [DF NOTE: I do NOT recommend this obsolete publication, though it was cited in the original Journal article as it contains unsafe inaccuracies]
"Basic Housing Inspection," US DHEW, S352.75 U48, p.144, out of print, but is available in most state libraries.
Books & Articles on Building & Environmental Inspection, Testing, Diagnosis, & Repair
Our recommended books about building & mechanical systems design, inspection, problem diagnosis, and repair, and about indoor environment and IAQ testing, diagnosis, and cleanup are at the InspectAPedia Bookstore. Also see our Book Reviews - InspectAPedia.
Recommended books on electrical inspection, electrical wiring, electrical problem diagnosis, and electrical repair can be found in the Electrical Books section of the InspectAPedia Bookstore. (courtesy of Amazon.com)
...