Inspection & Repair Guide for Low Voltage Building Wiring & Lighting Systems
InspectAPedia tolerates no conflicts of interest. We have no relationship with advertisers, products, or services discussed at this website.
How to install, diagnose, and repair of low voltage wiring controlling home lighting and fixtures:
Llow voltage electrical wiring repair, parts substitution, parts replacement, and repair warnings. We describe the properties of low-voltage-controlled switches that operate 120V lights and receptacles in homes dating from the 1960's to the present.
We compare that low-voltage-switching electrical system and its wiring and fusing requirements to contemporary low-voltage circuits used in buildings to power low-voltage devices such as downlights. The wiring sizes, lengths, and fusing requirements differ among these. We include a table of low voltage circuit wire sizes for different run lengths and circuit amperage load.
We also provide a MASTER INDEX to this topic, or you can try the page top or bottom SEARCH BOX as a quick way to find information you need.
A Homeowner's Guide to Inspection, Repair, and Replacement of Low-Voltage GE, Remcon, or Other Low-Voltage Building Electrical Wiring & Switches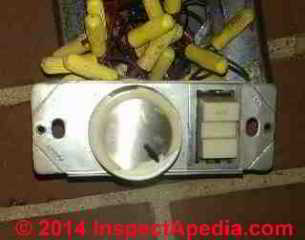 [Click to enlarge any image]
The low voltage GE switch at left was provided courtesy of reader JJ and discussed below.
Low voltage electrical wiring was installed in some homes beginning in about 1946's. This system was popular and was installed in many homes between 1960 a nd 1985, and it continues in use today, often in the form of 12-V low-voltage lighting and downlight fixtures.
For an example of currently popular low-voltage wiring used in contemporary construction and retrofit installations, see LIGHTING, EXTERIOR GUIDE.
The low-voltage wiring system uses small-gauge copper wires connected to low-voltage switches to switch on and off relays which in turn control the operation of lights and where desired, electrical receptacles, and other 120-Volt equipment in homes.
Article Contents
1960's Low-Voltage Wiring Properties
A power supply or transformer, often called a "transverter" is fed 120V and outputs 28V to the switching system. Pressing the low-voltage switch operates a relay which in turn switches on or off a 120V light or other device in the home.
The low-voltage electrical wiring system popularized in the United States by GE® and Remcon permits the use of less-costly and easier-to-install wiring between the relays and the switches in the home. The switching relay, or a group of them, is often located in an electrical box in the building's attic, garage, or basement.
At least one supplier continues to design, sell, and service low-voltage home wiring systems: Touch-Plate Lighting Controls, in Fort Wayne IN. Some of the suggestions and opinions in this article are quoted from or paraphrase advice offered by that company. We provide contact information for Touch-Plate® Lighting Controls below.
Many original GE® or Remcon® low voltage lighting systems are still in use today. But owners of buildings with the original systems installed may find themselves faced with low-voltage switches, relays, or transformers that no longer operate.
Warning About Repairing Low-Voltage Lighting Systems
Owners of such buildings should be careful to perform any repairs or replacements of components in low-voltage electrical systems using only the proper devices. Installing a conventional 120-V switch or an arbitrary push switch, or a conventional transformer/voltage converter may not work, and worse, it could be unsafe, causing a risk of fire or shock.

What are the Components of Low Voltage Lighting Systems?
Low Voltage Wiring Power Supply - the "transverter" (transformer)
This component feeds electrical power to operate the low voltage switches and relays in the system. The transverter is step-down transformer which is itself powered by a 120V circuit in the building converts its incoming 120-volt alternating current (120 VAC) to a 28-volt direct current (28 VDC). This is the operating voltage and current type used to power the switches and the relays that they turn on and off.
See LOW VOLTAGE TRANSFORMER TEST for details.

Low Voltage Switching Relays Used in Buildings
The switching relays in a low-voltage electrical system are turned on or off by low voltage wires coming from the switch.
Separately, 120V 15-Amp wires bring electrical power into the switch, and similar wires are connected between the switch and the light, electrical outlet, or other 120V device it is intended to control. When the relay is switched "on" it sends 120V to the device it controls. When the relay is switched "off" it stops delivering power to the device it controls.

Low Voltage Switches in Buildings
Low-voltage electrical switches, mounted at the normal height and location in rooms in the building are used
to turn normal 120-Volt building lights, electrical receptacles, or perhaps other 120V devices in the building on and off.
Because installing individual switches and their wiring is lower in cost than installing a 120-volt-rated switch and wire in the same location, a low-voltage-wired home may have multiple switches in multiple locations all controlling the same light or other device.

Low Voltage Wiring Sizes & Overcurrent Protection in Homes & Other Buildings
Normal Voltage (120V) wiring: "normal" building electrical wires, typically #14 gauge (for 15-Amp circuits), is used to carry electrical power into and then out of the low-voltage relay and on to the light, electrical receptacle, or other device that the switch and relay are intended to control.
Don't confuse the wiring requirements for low-voltage-operated switches that operate 120V devices (lights, receptacles etc) with the electrical wiring that powers low-voltage (12-V) devices (such as low-voltage downlights described at LIGHTING, EXTERIOR GUIDE.
For controlling the low-voltage-operated switching relays that in turn operate 120V devices in buildings (lights, receptacles), very thin copper wires, typically #22 gauge, is used to connect the low-voltage switches to the relays that each switch controls.
In contrast, Lucifer Lighting and others point out that when selecting an electrical wire (conductor) size for the low-voltage devices such as downlights used indoors or outside, the wire needs to be chosen based also on the distance between the light fixture and the low voltage transformer. Lucifer's installation instructions for downlights provides this helpful table of wire lengths and size requirements for low voltage wiring based on distance between the fixture and the transformer:[14]
Maximum Low-Voltage Wire Sizes & Wire Length from Transformer (in feet given secondary wire sizes below)

Watts / 12V
20
40
60
80
100
120
140
160
180
200
220
240
260
280
300
Amps / 12V
1.7
3.3
5.0
6.7
8.3
10.0
11.7
13.3
15.0
16.7
18.3
20.0
21.7
23.3
25.0
Wire Size

Maximum wire length (distance from Transformer in feet)

12 AWG
65
33
22
16
13
11
9
8
7
7
6
5
-
-
-
10 AWG
104
52
35
26
21
17
15
13
12
10
9
8
7
7
7
8 AWG
165
83
55
41
33
28
24
21
18
17
15
14
13
12
11
6 AWG
263
132
88
66
53
44
38
33
29
26
24
22
20
19
18
Comparison of Requirements for 120V Device Wiring Fusing, Low-Voltage Device/Wiring Fusing & Low Voltage Switching-Relay Fusing
Don't confuse these three types of devices, their wiring, and their fusing requirements:
Fusing on 120V circuits powering lights, electrical receptacles, and other such devices.

120V or 240V devices and the wiring supplying them are normally protected from overcurrent at an electrical panel or sub-panel using 120V or two-pole 240V breakers matched to the circuit wire size, such as 15A for #14 copper wire circuits, 20A for #12 copper wire circuits.
Fusing required on low-voltage switching relay circuits

The (1960's and later) low-voltage operated switching relays draw very low current (amperes) and in older homes may not be fused. The 120V circuit that powers the transverter is of course fused as above. But the low-voltage wiring on the low voltage secondary wiring that is operated by wall switches and used to control 120V devices may itself be un fused.

A similar example from contemporary construction includes low-voltage (14V) circuits that power wall thermostats in HVAC systems. These circuits are not fused separately.
Fusing required on low-voltage circuits that power low-voltage devices drawing higher amperage such as 12-V downlights

Low-voltage-wired and powered devices may also require fusing, such as the low-voltage (12-V) downlights described at LIGHTING, EXTERIOR GUIDE,

It must be remembered that a lower voltage signifies a higher current in amperes. Therefore secondary fusing based a multiplier of 1.25% (NEC) must be used. The conductor on the secondary side of the [low voltage] transformer at 12-volts must be sized for the full load amperage.

Example: 50 watts / 12 volts = 4.16 amps. 4.16 Amps x 1.25 (125%) = 5.20 AMPS. Use a 5-amp fuse, not a 4-amp fuse. - paraphrased from Lucifer Lighting low voltage lighting installation instructions. [14]
Low-Voltage-Switched, 120V Electrical Devices Used in Buildings
Lights, receptacles, other: these are the same conventional electrical lights or electrical receptacles found in buildings.

In the United States most electrical lighting and electrical receptacles are wired to carry 120 Volts A. C. (electric lights and electric receptacles used to power TV's, computers, etc.) or in special cases, 220V A. C. (such as for electric stoves, electric water heaters, and some air conditioning systems.)
Guide to Low Voltage Switch Troubleshooting
Diagnosing & Repairing Low Voltage Switch Problems
Low-voltage electrical system switches originally made by GE® or Remcon can be replaced with newer ones from Touch Plate but with some provisos which we explain below.
Low-voltage system relays originally made by GE® or Remcon cannot be replaced individually with newer ones from Touch Plate - there are electrical design differences that mean the products are not interchangeable.
A home or an entire circuit can, however, be converted over to the new Touch-Plate® product line. This offers the advantage of permitting the building to continue to use the existing low-voltage wiring that is already in place between the transformers and switches.
This approach should be substantially less costly and troublesome than attempting to convert all of the switches in the home to 120V design - that would require re-wiring those areas in the home with new 120V wires.
An old GE® or Remcon® system will work with the Touch-Plate® replacement switches. The GE® and Remcon® systems operate on a three-wire system. One wire is common, one wire is for turning the relay on, and the last wire is for turning the relay off.
Touch-Plate® switches only have two wires. One being the common wire and the other being the switch wire, and because of our single coil relay, the same button is used to turn the relay on and off.
You can use Touch-Plate® switches in place of three-wire switches, but you will need two Touch-Plate® buttons for every one three-wire switch. See Three-wire to Touch-Plate® Wiring Diagram.
Other Low Voltage Switching Notes
Multi-way switching is supported since multiple switches can all connect to a single relay that controls a single 120V device.
Touch-Plate® says that 3-Way, 4-Way and even 5-Way switching is a standard feature of low voltage control systems and almost all old Touch-Plate® installations have multiple switches that control the same relay.
Watch out: Do NOT ever attempt to replace a momentary action, low voltage Touch-Plate® switch with an off-the-shelf high voltage toggle switch (maintain / latching style). This will definitely cause an immediate failure of the system.
Painted switch plate covers, cracked covers, and wall-papered covers all are likely sources of producing a stuck switch.
Guide to Low Voltage Relay Troubleshooting
Guide to Diagnosing & Repairing Low Voltage Wiring Relays
Reader Question: how can I fix 1950's era GE low voltage relays and switches that no longer work?
I am sending some pictures of the Low Voltage GE system I have in a church I am taking care of. I posted on your web site under the Low Voltage page. I am thinking I have a bad relay and maybe needing some replacement. I will try to zip about 6 pictures to you . Please reply via email , and also on your web site and post any pictures you wish. This was installed around 1950. Thanks - J. J. 3/16/2014
Reply:
JJ: You can either re-wire that entire individual circuit to use Touch-Plate® components, or, as Touch-Plate Lighting recommends, replace all of the older GE® or Remcon® relays in the home with Touch-Plate® relays. This may not be as horrible as it sounds: you're not replacing wiring, just devices. themselves.
Switching Relays that work intermittently?
If sometimes when you operate the switch to control a light or receptacle or other device it works just fine, but at other times it fails to operate, giving difficulty in turning the light or receptacle "on" or "off" we could have a problem with the switch itself, or the problem may be with the relay that the switch controls.
Check the building first for for sticking low-voltage switches. If all of the switches appear to be working normally, then find the switching relays that are misbehaving, and check for temperature exposure problems. Switching relays that are too hot or too cold may not work properly. Low voltage relays may not operate reliably if exposed to below freezing temperatures, or to temperatures above 120 degrees. Depending on where the building is located, these conditions can certainly be encountered in an attic, and cold conditions may be encountered in a garage or crawl space.
Touch-Plate offers a trivial fix for the cold temperature problem: place a light bulb close to the relay panel. Turning the light bulb on during the cold period will usually produce sufficient warmth to keep the switching relays working. Touch-Plate® also advises "The best solution is to contact the factory for assistance in upgrading the whole system to current technology and relocating the panels to a garage, a basement, a mechanical room, or closet that will avoid this altogether."
Low Voltage Electrical Wiring Switching Relay Burn-up?
This can happen with age and use. But if the relays are burning up after replacement or other repairs to the system, check the low voltage transformer.
The voltage transformer must be one designed for this application. Some generic voltage transformers do not sense that a switch is stuck (or being held depressed for some reason) and lack a limiting function to protect the relay from burn-up.
Replacement relays for existing Touch-Plate® installations can be installed without this worry. But this is not the case if your relays are the older GE® or Remcon® brand. First, for Touch-Plate® installations, If the relay you are replacing has two wires coming out of the cylinder the relay is a 1550 series and it can be replaced by the Touch-Plate® 2500-B.
If the old relay has four wires coming out of the cylinder of the relay it can be replaced by a Touch-Plate® 2500-BPL.
But what about homes using older GE® or Remcon® relays? Touch-Plate® relays cannot be used to replace individual GE® or Remcon® relays. The switching relays made by these manufacturers work differently from those designed and sold today by Touch-Plate lighting. For example, Touch-Plate informs us that he Touch-Plate® relay (2500-B) is a single coil, 28VDC latching relay, whereas the the GE® relay (RR-7) is a dual coil, 24VAC latching relay, and the Remcon® relays (depending on the style) are a single or dual coil relay with an internal power supply for each relay.
Also, two switching relays will not operate from a single button press in older systems prior to 1986, they were designed to operate one at a time.
But you can forget the details of just how your relays work if you just remember that you cannot substitute a Touch-Plate® relay for either GE® or Remcon® relays.
So what to do with a GE® or Remcon® relays that no longer work?
You can either re-wire that entire individual circuit to use Touch-Plate® components, or, as Touch-Plate Lighting recommends, replace all of the older GE® or Remcon® relays in the home with Touch-Plate® relays. This may not be as horrible as it sounds: you're not replacing wiring, just devices. themselves.
Guide to Low Voltage Building Wiring Transformers or Transverters
An electrical "transformer" converts voltage from one level to another, say from 120Volts down to 28Volts in order to supply the lower voltage to devices that are designed to operate at that level. A "converter" changes alternating current to direct current. Electrical power entering buildings in the U.S. and in most of the world operates at 60-cycle alternating current (or 50 cycle AC).
Alternating current: If you measured the voltage level on an AC circuit, you'd see the voltage level varying between +120V down through 0 volts and continuing down to -120V and then cycling back up again 60 times a second. That's what 60-cycle AC means.
Direct current: if you measure the voltage level on a DC circuit, you'll see the level staying roughly constant at whatever voltage level the circuit is supplying. For example, most automobiles operate most of their electrical components at 12-volts direct current or 12-V DC.
The switches and the relays they control in a building low-voltage wiring system are designed to operate at 28-volts of direct current.
So in building low-voltage wiring systems a "transverter" is used to transform 120V down to 28V and also to convert the voltage from alternating to direct current. We only need one of these transverters. Old low-voltage wiring electrical systems use a single transverter to accept incoming 120V AC current and change it to 28V direct current. The switching relays in older low-voltage wiring systems are operated individually, that is, one at a time.
Diagnosing & Repairing or Replacing Low Voltage Wiring Transformers or Transverters
Intermittent Failure of Lights or other Relay-controlled Devices
Intermittent operation of lights or other relay-controlled devices in a home usually is due to a failing power supply transverter. The voltage output of the Transverter should be 28 - 31 VDC. If voltage is not in that range, the transverter should be replaced.
Low Voltage Output at the Transverter
Low voltage at a transformer/transverter may mean that it needs to be replaced, or it may simply mean that a switch in the home is stuck. Check the Transverter voltage output. In a normal low-voltage electrical system the output voltage at the
transverter should be 28 - 30 VDC if measured between the "switch" and the "relay" output wires on the Transverter with either one of these wires disconnected. You don't need to disconnect both wires since disconnecting just one of them interrupts the circuit. But of course it's ok to disconnect both.
If the voltage is 0 VDC, or a really low 2 - 4 VDC, this is indicates of a stuck low-voltage switch. Touch-Plate Lighting informs us that the transverter drops in voltage output down to 3 volts after operating the relay coil in order to protect against burning up the coil.
If you read a voltage higher than 3 volts and lower than 26 VDC from the Transverter, then the transverter should be replaced.
If you are reading 28 - 30 VDC and still nothing is working then you have a wiring problem: something is not connected (as in a wire coming loose from under a wire nut) or something incorrectly wired (as in when changing a component in the system and not re-connecting to the proper wire).
See
Basics of Wiring Low Voltage Transformers
Black wire and the Red wire are the On and Off lines between the low-voltage switch and the relay. Unlike a conventional 120-V electrical light circuit switch, the low voltage switch is talking not to the light, but to the relay. The low-voltage relay is also referred to as a "latching relay". A "latching relay" is a switch that "latches" into whatever position it is told to enter. So such a relay needs to receive a separate signal to tell to it to "Make" (turn on) or "Break" (turn off) the household current which the relay is passing on to the light or other device it controls.
If an older low voltage transverter still has the labels by the output wires, you may see labels reading "switch" and "relay". When wiring such a transverter, connect the wire from your low-voltage switch to the terminal marked "Switch". Similarly, connect the wire from the relay to the transverter terminal marked "Relay".
If the older Transverter connections are not labeled we're in more trouble but it's still simple to determine which wire to connect to which terminal.
Watch out: Before disconnecting the old transverter, follow the wires from the old Transverter to what it is connected to. Touch-Plate Lighting says the easiest way to do this is by locating the wire of the Transverter that connects to one wire of every relay inside the relay enclosure. This wire will be the "relay" wire. Therefore the other wire will be the "switch" wire.
How to Choose the Right Transformer for Home Low Voltage Wiring Systems
Touch-Plate's TPS-0120 120V Transverter power supply operates relays from every Touch-Plate®
system from 1946 to early 1980's. It's input is 120 V A. C. Its output: 28.5V D.C.
Other power supplies are used to transform 120V to 6.3 V A. C. offering from .150A (150 milliamps) up to 4 Amps (400 mva) depending on the application such as for pilot lights (incandescent lamps explained just above), or other power supplies.
Other power supplies may be found installed for for pilot lights. These are simply little lights at switches that indicate if the device controlled by the switch has been turned "on" or "off". If you see a silver box labeled "PL-6" mounted above or below each relay this is a transformer for pilot lights. Touch-Plate Lighting says that the the pilot light transformers for the master switch stations are usually located in the master bedroom and/or some other main living area.
Touch-Plate also points out that these transformers are not necessary to operate electrical lights or receptacles in the building. If the pilot lights were to malfunction or stop working, you would lose the indicator light for the specific relay it is connected to, nothing more. That is, a PL-6 power supply has nothing to do with operating the relay itself, only the indicator light that shows if a relay (and the device it controls) is switched "on" or "off".
Suggestions for Upgrading Low Voltage Building Electrical Wiring Switches, Relays, and Transformers
Upgrading an Older Low Voltage Switching System in a Home
(Naturally) Touch-Plate® recommends a complete upgrade for older homes having a GE® or Remcon® low voltage system, citing cleanup of confusing (modified over the years) wiring and malfunctioning relays or switches. Above we already pointed out that the chief reason for such an upgrade is that an owner can leave in place and continue to use the existing low voltage wiring between switches and relay stations.
Otherwise we'd have to install new, much heavier gauge #14 or #12 electrical wires to support 120V switching directly. If a home has already been wired to have an electrical control center or many-way switching of lights or outlets (say 4 or 5 way
switching) the wire cost of converting to 120V would be substantial.
For help in planning an upgrade from an old system to a current system it is necessary to make a count of all the loads controlled by Touch-Plate® relays. It is also necessary to know how many different locations there are with relay panels.
Many new features and benefits are gained when upgrading.
Two Improvements May be Made when Upgrading Low Voltage Electrical Systems
add LED's (if free wires are available, else you will have to run additional wires)
add centralized control, from one location, of many or even all lights and electrical features
in the home
Repair Parts Sources for Low Voltage Home Wiring Systems
Touch-Plate Lighting
Touchplate.com supplies switches, transformers, and relays
Touch-Plate® Lighting Controls
1830 Wayne Trace.
Fort Wayne IN, 46803
Phone: 260.426.1565 | Fax: 260.426.1442
Sale Support Email: sales@touchplate.com
www.touchplate.com 800-227-5154.
Also: rocker switches that may fit or can be made to fit in the GE® triple-rocker-switch gangs:
www.alltestequipment.com
Low Voltage Wiring Articles
...
Continue reading at LOW VOLTAGE BUILDING WIRING home, on low voltage home wiring inspection, diagnosis, repair parts, repair options, or select a topic from closely-related articles below, or see our complete INDEX to RELATED ARTICLES below.
Or see VOLTS MEASUREMENT METHODS
Suggested citation for this web page
LOW VOLTAGE WIRING REPAIR UPGRADE at InspectApedia.com - online encyclopedia of building & environmental inspection, testing, diagnosis, repair, & problem prevention advice.
Or use the SEARCH BOX found below to Ask a Question or Search InspectApedia
...
Frequently Asked Questions (FAQs)
Try the search box below or CONTACT US by email if you cannot find the answer you need at InspectApedia.
...
Ask a Question or Search InspectApedia
Questions & answers or comments about low-voltage wiring, relays, switches, transformers, transverters & devices.
Use the "Click to Show or Hide FAQs" link just above to see recently-posted questions, comments, replies, try the search box just below, or if you prefer, post a question or comment in the Comments box below and we will respond promptly.
Search the InspectApedia website
Technical Reviewers & References
Click to Show or Hide Citations & References
David Goldstein - contributor and technical review. Mr. Goldstein is a principal of Ambic Home Inspection in Downingtown, PA  19335 610-269-7365
Touchplate Corporation: Diagnosing Low Voltage Wiring System Problems See http://www.touchplate.com/standardSupport.php
[14] "Downlights, Recessed Downlight Housings - Installation", Lucifer Lighting Company, 414 Live Oak St., San Antonio TX 78202, Tel: 210-227-7329, www.luciferlighting.com
"Electrical System Inspection Basics," Richard C. Wolcott, ASHI 8th Annual Education Conference, Boston 1985.
"Simplified Electrical Wiring," Sears, Roebuck and Co., 15705 (F5428) Rev. 4-77 1977 [Lots of sketches of older-type service panels.]
"How to plan and install electric wiring for homes, farms, garages, shops," Montgomery Ward Co., 83-850.
"Simplified Electrical Wiring," Sears, Roebuck and Co., 15705 (F5428) Rev. 4-77 1977 [Lots of sketches of older-type service panels.]
"Home Wiring Inspection," Roswell W. Ard, Rodale's New Shelter, July/August, 1985 p. 35-40.
"Evaluating Wiring in Older Minnesota Homes," Agricultural Extension Service, University of Minnesota, St. Paul, Minnesota 55108.
"Electrical Systems," A Training Manual for Home Inspectors, Alfred L. Alk, American Society of Home Inspectors (ASHI), 1987, available from ASHI. [DF NOTE: I do NOT recommend this obsolete publication, though it was cited in the original Journal article as it contains unsafe inaccuracies]
"Basic Housing Inspection," US DHEW, S352.75 U48, p.144, out of print, but is available in most state libraries.
Books & Articles on Building & Environmental Inspection, Testing, Diagnosis, & Repair
Our recommended books about building & mechanical systems design, inspection, problem diagnosis, and repair, and about indoor environment and IAQ testing, diagnosis, and cleanup are at the InspectAPedia Bookstore. Also see our Book Reviews - InspectAPedia.
Recommended books on electrical inspection, electrical wiring, electrical problem diagnosis, and electrical repair can be found in the Electrical Books section of the InspectAPedia Bookstore. (courtesy of Amazon.com)
...