GFCI Installallation Options & Wiring

Ground Fault Circuit Interruptor Alternatives & Wiring Details
InspectAPedia tolerates no conflicts of interest. We have no relationship with advertisers, products, or services discussed at this website.
Ground Fault Circuit Interrupters, GFCI Device Choices & Wiring Details
How to choose a GFCI device and how to install GFCI circuit breakers, receptacles, or portable, stand-alone GFCI protection devices.
This article series GFCI and AFCI protection for buildings.
We also provide a MASTER INDEX to this topic, or you can try the page top or bottom SEARCH BOX as a quick way to find information you need.
GFCI Options, Installation & Wiring Instructions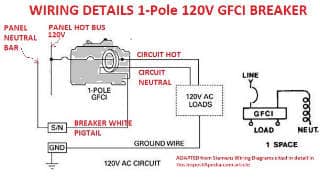 As we introduce also if certain high-risk electrical circuits in your home or building is not already protected by GFCI devices in the electrical panel or at the appropriate electrical receptacles ("wall plugs"), we recommend that you have that protection added.
The high shock risk areas for which GFCIs add significant safety protection are damp or wet locations or locations where a person is likley to be handling an electrical device and be close to a sink, tub, shower or other plumbing or water equipment.
The GFCI detects a tiny (about 4 to 5 milliamps) flow of electrical current between the electrical circuit or something plugged-in to a GFCI-protected electrical receptacle) and the circuit "ground" or the earth. On detection of this current flow the GFCI quickly trips (in about a tenth of a second) to turn off the electrical circuit to reduce the chances of a dangerous or even fatal shock.
Typical GFCI-protected locations include bathrooms, garages, kitchens, at outdoor electrical circuits and of course near swimmng pools. That's not the whole list. At GFCI PROTECTION, GFCI CODES we provide a full list of the locations where electrical codes require this protection in new or renovation construction.
Watch out: never plug any life-saving devices into a GFCI electrical receptacle that will lose power during testing. Every receptacle that will lose power when a GFCI trips should be labelled GFCI-Protected.

We also caution against plugging a refrigerator or freezer or other critical cold-storage equipment into a GFCI-protected receptacle (for example downstream from the actual GFCI devicve) as any condition that trips the GFCI can leave the cold storage equipment off without notice.
Some electrical circuits that need to be assured of continuous operation include medical equipment, refrigerators, freezers, and sump pumps.
See also FREEZE-PROOF A BUILDING where we describe GFCI protection on heat tape circuits powering heat tapes for manufactured and mobile homes.
Similar issues regarding building water entry control are discussed at SUMP PUMP PROTECTION
Four Ways to Add GFCI Protection
GFCI circuit breaker: Install a GFCI circuit breaker in the electrical panel, replacing the original breaker, to protect an entire circuit, such as a kitchen, garage, or outdoor receptacle circuit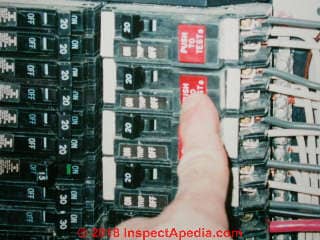 Below is a Siemens 120V single pole ground fault circuit interruptor circuit breaker or GFCI breaker. The company provides a range of GFCI breakers including 1-pole and 2-poles, from 15A to 60A in size.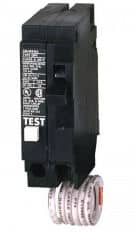 The company's data sheet for this GFCI breaker series notes that while a load neutral wire is not required on the circuit, the coiled white pigtail wire from the breaker must be connected to the neutral bus in the electrical panel for the GFCI to work.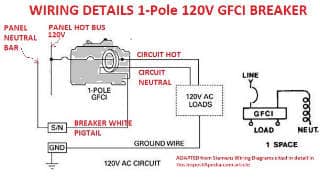 Other brands and models of GFCI circuit breakers require that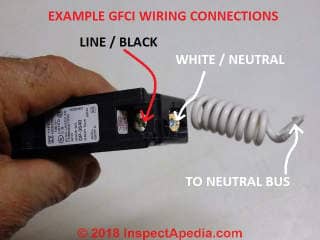 Watch out: before buying a GFCI circuit breaker be sure that the breaker is the proper one for the brand and model of electrical panel into which it is to be installed.
OK so what are the exact steps in wiring up or installing a GFCI device?
At CIRCUIT BREAKER REPLACEMENT we describe in further detail the steps followed to replace an existing circuit breaker with a GFCI-type (or AFCI-type) circuit breaker in an electrical panel.
GFCI Add-on Space Limitations in Some Electrical Panels
Standard circuit breaker widths, using Siemens as an example are 1" for a 120V breaker and 2" for a 240V breaker. In some electrical panels, such as our electrical panel photo shown just above on this page, you may find both full-width and half-width breakers already installed.
If the electrical panel is full or quite crowded you may find that you need to replace several normal-width circuit breakers with narrow half-width circuit breakers - a procedure called "skinnying-up" in the panel - in order to make room for a full-width GFCI breaker.
Watch out: if you have to change some circuit breakers from full to half-width or "skinny" circuit breakers AND if there are multi-wire shared-neutral circuits originating in the electrical panel, you will need to take care in locating those circuit breaker pairs to assure that each breaker is on a different panel bus connector and phase. Details are at MULTI-WIRE CIRCUITS
GFCI wall receptacle: Install a GFCI electrical receptacle to replace an existing electrical receptacle in a high-risk location such as a bathroom or kitchen etc.

The GFCI receptacle will protect any device plugged in to that receptacle and it will protect all of the electrical receptacles (and devices plugged into them) that are wired "downstream" from the receptacle where the GFCI is placed.

In some buildings bathroom receptacles are wired in series between two or more baths and a GFCI is placed in the first receptacle in that string.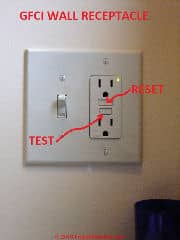 Portable GFCI devices: Use a plug-in or portable GFCI protection device that is connected to a wall receptacle.

Often a portable GFCI device is simply a short extension cord that includes at one end its own GFCI protection. Devices that are then plugged into the GFCI-protection device are themselves protected, as are their users.

We often use a portable GFCI protector in construction projects to run our power tools because we don't count on every building or home where we work to have properly-installed GFCI protection.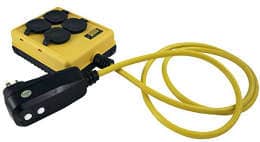 Shown above: a Yellowjacket-brand portable GFCI protected extension cord.
GFCI-protected tools, devices, appliances: some devices may include their own built-in GFCI device. Shown below: Toughbuilt TB-S560 universal miter saw stand with its own built-in GFCI protection, sold at Home Depot stores and by other suppliers.

GFCI Installation Guides & Device Specifications
Eaton, INSTALLING & TESTING a GFCI RECEPTCLE [PDF], Eaton, Website: www.eaton.com or www.cooperwiringdevices.com retrieved 2018/07.27,original source: http://www.cooperindustries.com/content/dam/public/wiringdevices/products/documents/instruction_sheets/EIS-0018-E.pdf
Hubbell, INSTALLING & TESTING a GFCI RECEPTACLE [PDF] , Hubbel Corporation, 40 Waterview Dr., Shelton CT 06484 USA, Website: retrieved 2018/07/27, original source: http://www.arrl.org/files/file/Technology/GroundingAndBonding/Installing%20and%20Testing%20a%20GFCI%20Receptacle.pdf
Larson Electronics, Tel: 1-877-432-0861 / International: 1-903-498-3363 Email: sales@larsonelectronics.com, Website: larsonelectronics.com Larson provides GFCI protected linecords and other electrical equipment.

Legrand, INSTALLING and TESTING a GFCI RECEPTACLE [PDF] Pass & Semour Legrand, PO Box 4822, Syracuse NY 13221 USA, Tel: 800-223-4185, Website: www.legrand.us, retrieved 2018/07/27, original source:

Leviton, GFCI INSTALLATION & TEST PROCEDURES [PDF], retrieved 2018/07/27, original source: https://www.leviton.com/en/docs/guidelight.pdf
Siemens GFCI CIRCUIT BREAKER DATA SHEET & WIRING DIAGRAMS [PDF] retrieved 2018/09/07, original source: siemens.com/gfci
Siemens CIRCUIT BREAKER & GROUND FAULT CIRCUIT INTERRUPTER Specifications Sheet [PDF] retrieved 2018/09/07, original source: https://gfiwarehouse.com/~gfiwareh/siemensdatasheet.pdf
GFCI WORKPLACE TEST REQUIREMENTS OSHA U.S. OSHA, - retrieved 2018/07.27, original source: www.osha.gov/laws-regs/standardinterpretations/1992-02-10
U.S. CPSC, What is a GFCI, [PDF] U.S. Consumer Product Safety Commission, retrieved 2018/07.27, original source: https://www.cpsc.gov/s3fs-public/099_0.pdf

...
Continue reading at GFCI TEST PROCEDURES or select a topic from closely-related articles below, or see our complete INDEX to RELATED ARTICLES below.
Or see BUILDING CODE DOWNLOADS - free downloadable PDF files of building codes & standards
Or see CIRCUIT BREAKER REPLACEMENT - how to replace a circuit breaker
Or see this
GFCI Article Series
Or see AFCIs ARC FAULT CIRCUIT INTERRUPTERS
Or see ELECTRICAL TOOLS BASIC and TEST EQUIPMENT, ELECTRICAL GUIDE
Or see SAFETY for ELECTRICAL INSPECTORS - home
Or see ELECTRICAL RECEPTACLE TYPES
Suggested citation for this web page
GFCI DEVICE SELECTION & WIRING at InspectApedia.com - online encyclopedia of building & environmental inspection, testing, diagnosis, repair, & problem prevention advice.
Or use the SEARCH BOX found below to Ask a Question or Search InspectApedia
...
Ask a Question or Search InspectApedia
Try the search box just below, or if you prefer, post a question or comment in the Comments box below and we will respond promptly.
Search the InspectApedia website
Technical Reviewers & References
Click to Show or Hide Citations & References
UL 943, Ground-Fault Circuit Interrupters, retrieved 2016/08/08, original source: http://ulstandards.ul.com/standard/?id=943
Excerpt:
1.1 This Standard applies to Class A, single- and three-phase, ground-fault circuit-interrupters intended for protection of personnel, for use only in grounded neutral systems in accordance with the National Electrical Code (NEC), ANSI/NFPA 70, the Canadian Electrical Code, C22.1 (CEC), and Electrical Installations (Use), NOM-001-SEDE. These devices are intended for use on alternating current (AC) circuits of 120 V, 208Y/120 V, 120/240 V, 127 V, or 220Y/127 V, 60 Hz circuits. Note: In Canada, the text "intended for protection of personnel" is excluded.
NEMA, "Understanding GFCIs, Developed by the NEMA 5PP Personnel Protection Technical Committee" [Power Point Presentation], (2012)retrieved 2016/08/08, original source: https://www.nema.org/Products/Documents/NEMA-GFCI-2012-Field-Representative-Presentation.pdf
Antman, Steve, Roger Nolter, and Danny Liggett. "New rules for ground fault circuit interrupters." In 2011 IEEE IAS Electrical Safety Workshop, pp. 1-4. IEEE, 2011.
El-Sherif, Nehad, Rick Mendler, John Trotte, and Ajay Pathak. "Ground fault protection of personnel in industrial locations using the new UL 943C." In 2014 IEEE Petroleum and Chemical Industry Technical Conference (PCIC), pp. 409-414. IEEE, 2014, retrieved 2016/08/08, original source: http://www.csemag.com/single-article/ul-s-new-gfci-classes/89c8746cdc4a7fd8a3cb93f1d51ba57a.html
LaRocca, Robert L. "Personnel Protection devices for use on appliances." IEEE transactions on industry applications 28, no. 1 (1992): 233-238.
Neitzel, Dennis K., and Timothy L. Gauthier. "Ground fault protection-GFCI or GFPE-there is a difference." In Electrical Safety Workshop (ESW), 2013 IEEE IAS, pp. 207-210. IEEE, 2013.
Smoot, Arnold W. "GFCI---Applications and Alternatives." IEEE Transactions on Industry Applications 1 (1975): 56-61.
Wills, John H., Jan Ehrenwerth, and Dan Rogers. "Electrical injury to a nurse due to conductive fluid in an operating room designated as a dry location." Anesthesia & Analgesia 110, no. 6 (2010): 1647-1649.
Electrical shock injury statistics: www.healthatoz.com - September 2008;

High-tension current generally causes the most serious injuries, although fatal electrocutions may occur with household current (e.g., 110 V in the United States and Canada and 220 V in Europe, Australia, and Asia). Contact with alternating current at 60 cycles per second (the frequency used in most US household and commercial sources of electricity) may cause tetanic skeletal muscle contractions, preventing self-release from the source of the electricity and thereby leading to prolonged exposure. The repetitive frequency of alternating current also increases the likelihood of current flow through the heart during the relative refractory period (the "vulnerable period") of the cardiac cycle. This exposure can precipitate ventricular fibrillation (VF), which is analogous to the R-on-T phenomenon.-- circ.ahajournals.org - September 2008

Mark Cramer Inspection Services Mark Cramer, Tampa Florida, Mr. Cramer is a past president of ASHI, the American Society of Home Inspectors and is a Florida home inspector and home inspection educator. Mr. Cramer serves on the ASHI Home Inspection Standards. Contact Mark Cramer at: 727-595-4211 mark@BestTampaInspector.com
John Cranor is an ASHI member and a home inspector (The House Whisperer) is located in Glen Allen, VA 23060. He is also a contributor to InspectApedia.com in several technical areas such as plumbing and appliances (dryer vents). Contact Mr. Cranor at 804-747-7747 or by Email: johncranor@verizon.net
"Frequency of Occurrence and Sources of Rust and Corrosion in Electrical Panels," Daniel Friedman, IEEE HOLM Conference, Philadelphia PA, 1992 - see ELECTRIC PANEL RUST for an online version of this article.
Jim Simmons: Personal communication, J. Simmons to Daniel Friedman, 9/19/2008. Photographs contributed to this website by Jim P. Simmons, Licensed Electrician, 360-705-4225 Mr. Electric, Licensed Master Electrician, Olympia, Washington Contact Jim P. Simmons, Licensed Master Electrician, Mr. Electric, 1320 Dayton Street SE
Olympia, WA 98501, Ph 360-705-4225, Fx 360-705-0130 mrelectricwa@gmail.com
Kenneth Kruger: Original author of the sidebar on testing VOM DMM condition: Kenneth Kruger, R.A., P.E. AIA ASCE, is an ASHI Member and ASHI Director in Cambridge, MA. He provided basis for this article penned by DJ Friedman.
"How to Use DMM's Safely," Leonard Ogden, CEE News, 888 Seventh Ave., New York, NY 10106, Dec 1990 p.10.
Dr. Jess Aronstein, consulting engineer, Poughkeepsie NY, 1991 protune@aol.com
Rex Cauldwell, master electrician and contributor to the Journal of Light ConstructionOn electrical topics
New York State Central Hudson Gas and Electric Company, G&E/1-2/85 consumer safety pamphlet
American Society of Home Inspectors, ASHI Training Manual, Al Alk -[obsolete, and includes unsafe practices-DF]
Books & Articles on Building & Environmental Inspection, Testing, Diagnosis, & Repair
Our recommended books about building & mechanical systems design, inspection, problem diagnosis, and repair, and about indoor environment and IAQ testing, diagnosis, and cleanup are at the InspectAPedia Bookstore. Also see our Book Reviews - InspectAPedia.
Recommended books on electrical inspection, electrical wiring, electrical problem diagnosis, and electrical repair can be found in the Electrical Books section of the InspectAPedia Bookstore. (courtesy of Amazon.com)
Rust and Corrosion in Electrical Panels, A Study and Report on Frequency and Cause for Electrical and Home Inspectors at Residential Electric Panels
"Electrical System Inspection Basics," Richard C. Wolcott, ASHI 8th Annual Education Conference, Boston 1985.
"Simplified Electrical Wiring," Sears, Roebuck and Co., 15705 (F5428) Rev. 4-77 1977 [Lots of sketches of older-type service panels.]
"How to plan and install electric wiring for homes, farms, garages, shops," Montgomery Ward Co., 83-850.
"Simplified Electrical Wiring," Sears, Roebuck and Co., 15705 (F5428) Rev. 4-77 1977 [Lots of sketches of older-type service panels.]
"Home Wiring Inspection," Roswell W. Ard, Rodale's New Shelter, July/August, 1985 p. 35-40.
"Evaluating Wiring in Older Minnesota Homes," Agricultural Extension Service, University of Minnesota, St. Paul, Minnesota 55108.
"Electrical Systems," A Training Manual for Home Inspectors, Alfred L. Alk, American Society of Home Inspectors (ASHI), 1987, available from ASHI. [DF NOTE: I do NOT recommend this obsolete publication, though it was cited in the original Journal article as it contains unsafe inaccuracies]
"Basic Housing Inspection," US DHEW, S352.75 U48, p.144, out of print, but is available in most state libraries.
...