Electrical Outlet Installation Wiring Procedures & Codes
How to wire an electrical receptacle, wall plug outlet: complete installation details
InspectAPedia tolerates no conflicts of interest. We have no relationship with advertisers, products, or services discussed at this website.
How to install an electrical receptacle - electrical outlet wiring procedure:
Starting here, this article series describes how to choose, locate, and wire an electrical receptacle in a home. Electrical receptacles (also called electrical outlets or "plugs" or "sockets") are simple devices that are easy to install, but there are details to get right if you want to be safe.
This article series explains eletrical receptacle types (also referred to as wall sockets, outlets, or "plugs" by non-electricians), receptacle grounding, connecting wires to the right receptacle terminal screws, electrical wire size, electrical wire color codes, and special receptacles for un-grounded circuits.
We also provide a MASTER INDEX to this topic, or you can try the page top or bottom SEARCH BOX as a quick way to find information you need.
Electrical Outlet Wiring Instructions for Homeowners & DIY Repairs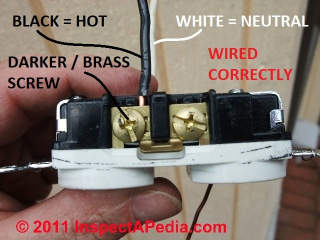 Our photo (left) shows the black or "hot" wire connected to the brass-colored screw on an electrical receptacle.
Our photo at page top illustrates other wire connections shown out of the electrical box and thus is not an example of a proper electrical outlet installation.
We summarize the electrical connections for wiring up a receptacle just below.
Step by step illustrated details for electrical "outlets" properly called electrical receptacles, are at ELECTRICAL RECEPTACLE CONNECTION DETAILS.
How to add an electrical outlet in a home - the basics of wiring an electrical receptacle
We use the proper term electrical receptacle to describe the "wall plug" or "wall outlet" into which you will insert a two-prong or three prong plug to connect an appliance, lamp, etc. Technically in the electrical code, an "outlet" is any place in where you provide a junction box and electrical wires to which something can be connected: a light fixture or an electrical receptacle, for example.
With a few simple tools, electrical wiring of an electrical receptacle is not difficult, but there are a few details to get right in order for the electrical receptacle to be safely installed.
Why might we need to add an electrical receptacle in a building?
Convenience: we'd like to be able to plug in more electrical devices at some spot, say at a home office;
Safety: we need to plug in more devices at some location and we don't want to risk tripping someone or starting a fire by using extension cords;
Function: we need to plug in more devices at some location in a building, or we need to plug in a new high-current using device in a building, and we find we keep blowing fuses or tripping a circuit breaker; in this case we want to add a whole new circuit, from electrical panel to the location where we need the outlet, so that we can deliver adequate electrical power without blowing fuses or tripping circuit breakers.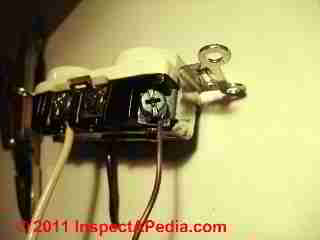 On a conventional 120-volt "two pronged" electrical outlet that accepts grounded plugs (two prongs plus the rounded center ground connector prong), your circuit will have three wires:
The white "neutral" wire - this wire is connected to the silver screw on the electrical receptacle, often labeled "neutral" . You can see our white neutral wire connected to a silver screw on the receptacle in our photo, below-left.
The black "hot" wire - this wire is fed from the circuit breaker to deliver power to the receptacle, and it connects to the brass or bronze-colored screw on the receptacle, often labeled "hot" or "live".

You will see the hot black wire connected to the bronze or darker-colored screw on the receptacle shown at below right. The receptacle we used for these photos happens to be a 20-A rated device that permits the wire to be inserted straight into a clamp that is tightened against the wire by the screw.
The red "hot" wire - this wire is not normally present nor used in a 120VAC electrical reptacle wiring hook-up. However a live red wire may be present in the electrical box. If this wire is used it will most commonly be in one of the following situations:

The receptacle is in a 4-receptacle gang box being fed by two separate 120VAC circuits / wires from opposite sides of the electrical panel, or at least from two different electrical circuits/breakers in the panel.

A 4-receptacle gang box is often installed in a kitchen or workshop where users want to be able to plug multiple appliances or tools in at the same location without overloading a single circuit - so two different circuits are provided.

In this case two of the receptacles will be fed by one circuit (black hot wire) and two additional receptacles may be fed by a second circuit (red hot wire). Depending on local electrical practices, there may also be two separate white neutral wires (or the neutral may be shared)
The receptacle is a 240-Volt electrical receptacle - in which case it won't look like the wall receptacles shown and discussed in this article.

See ELECTRICAL RECEPTACLE TYPES - for photos and examples of 240V and other types of electrical receptacles.


The bare ground wire - this wire connects to the green ground screw usually found on the bottom of the electrical receptacle (photo at left). You can also see our ground wire connected at the left side of our previous photo, above-left.

Reader Question: what do I do with the screws to which no wire is connected on a conventional "plug" (wall receptacle)?
At the end of a circuit, I'm only using 2 of the 4 screws on a conventional plug. What should I do with the 2 unused screws? Should they be screwed all the way in? Or left partially unscrewed? Or does it matter? - Chris Rasko 7/8/12
Reply:
Chris:

regarding the un-used screw terminals on an electrical receptacle, you should simply screw them all the way in and leave them alone. Don't remove the screws - it's not necessary, they are deliberately hard to remove completely, and they could be needed in some future wiring change.
Reader Question: how to wire up two different circuit-powered receptacles in one electrical box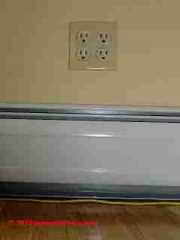 I would like to wire 2 single plugins to one live wire..how do i do that? - Channing
Reply:
Channing, re Hooking up a Pair of Receptacles in One Electrical Box:

If your two plugins (two electrical receptacles) are located in the same electrical box (we call this a "quad" electrical receptacle installation since each individual receptacle provides connections for two wall plugs), you'll want to wire the hot and neutral to one pair of screws on the first receptacle, and use short black and white jumper wires to connect the the proper terminals on the first receptacle to the second one in the same box.
That's a perfectly acceptable use of the second pair of screw terminals you see on the receptacles.

The ground wire can be continuous, tying the two ground screws on the receptacles together and onwards to the circuit ground.
However a better practice when wiring up a quad-plex of electrical receptacles is to place left and right or upper and lower receptacles on separate electrical circuits - thus reducing the chances of overloading the circuit when many things are connected simultaneously
. There are two approaches: you can wire the left and right duplex receptacles each to different individual electrical circuits, or you can wire the upper and lower half of the pair of duplex receptacles to different electrical circuits.
Wiring a Split Receptacle to Two Different Electrical Circuits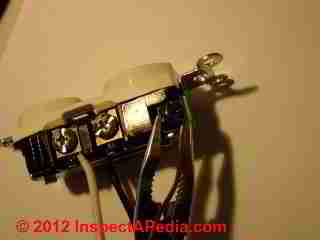 If you choose to wire the upper and lower duplex receptacle openings to different circuits, we call this the "split receptacle" wiring method, because we are splitting the individual duplex receptacle upper and lower connectors onto two different circuits.
Our photo (left) shows an electrical receptacle that is being wired to a single circuit. The white neutral wire is connected to the silver screw (left side of our photo).
If we were wiring this electrical "outlet" as a split receptacle, we'd want to feed the upper and lower halves of the device from two different electrical circuits.
To do so we'd have to break away the "breakaway" connecting tab pointed to by our orange arrow.
Daisy Chaining Receptacles in Separate Electrical Boxes
If your two receptacles are in different locations and thus in different electrical boxes, your circuit that wires the second or "downstream" receptacle can be powered by those same extra terminal screws on the first or "upstream" receptacle. You'll need to run a wire from the first receptacle through the wall into the second electrical box of course.
Wiring Electrical Receptacles on a Single Circuit In Parallel
In some jurisdictions electricians to not "daisy chain" receptacles in the same box together by using the second pair of screws on each one. Rather the circuit enters the box and using twist-on connectors, short pig-tail wires are connected to each receptacle at the proper screws. This approach requires a larger electrical box as it will contain more connections, connectors, and so needs more room.
Because electricians often pull a multiwire circuit where they plan to split receptacle circuits within an individual electrical box while sharing a neutral wire, be sure to ake a look at multi-wire branch circuit wiring information and hook-up details at MULTI-WIRE CIRCUITS.
Reader Question: Which end of electrical outlets go "up"? The ground hole should be up, down, or sideways?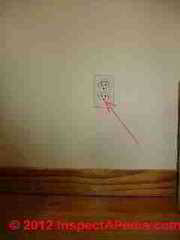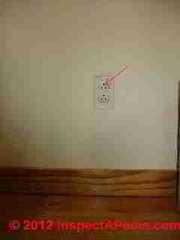 Can the outlet be installed any way? For example ground hole facing up, down, or sideways? thanks, - Anon
Reply:
Anon, the position of installation of an electrical outlet won't affect its operation and should not normally affect its approval by the electrical inspector.
In some areas I see the outlet installed with the ground connector always "up" as in our photo at left, though to me that's less attractive than the position shown in our electrical outlet photo at far left.
I've also seen arguments expressing the OPINION that the position of the grounding pin connector might help resist the tendency of a plug to fall out of its connection. That's nonsense. If a plug is falling out of a receptacle, one of the two objects is worn or damaged and should be replaced to assure a safe, mechanically secure connection.
Reader Question: can I connect a pigtail from multiple hot, neutral, or ground wires over to a receptacle
I have 2 receptacles that are both side and back wired, 3 hot and 3 neutral wires. I eliminated one receptacle (capping the 3 wires together) but want to keep the other. Is it safe to just run a pigtail from the 3 wires to the receptacle? - Greg
When wiring multiple boxes in series, how do you connect both incoming and outgoing ground wires to the back of the receptacle? With 12 ga. wire, only one wire will fit under the green screw (and not very tightly, at that - there's no washer or clamp.) - Bob M.
Reply:
Yes, Greg, that's a common practice. Be sure that your junction box is big enough to contain all of the wires and twist-on connectors. Details about back-wired electrical devices (receptacles & switches) are
at BACK-WIRED ELECTRICAL DEVICES.
Bob, similar to Greg's question, I see two approaches to hooking up the ground wire in junction boxes and at electrical receptacles.
If the incoming ground wire from the feed circuit was left long enough, it can be run continuously, connected to a grounding screw that connects the wire to the metal junction box (skip this step if plastic junction boxes are in use), on to the ground screw terminal at each electrical receptacle, and ending with a ground clamp crimp connector that ties the incoming ground to the ground wire of the outgoing wire that continues to the next junction box.
If the incoming ground wire is not long enough to run as above, then an additional length of ground wire is pigtailed to the incoming ground and makes the other connections I've described above.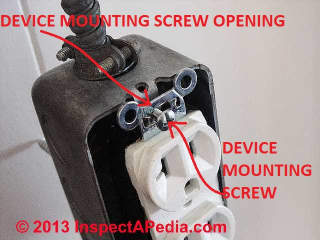 In sum, all of the grounds are tied together in the box: the incoming ground, outgoing ground, and ground wires to each of the electrical receptacles.
Watch out: while the electrical receptacle ground may also be electrically connected to the metal strap that mounts the receptacle to the junction box (photo at left), and while the junction box may be metal, do not rely on the receptacle mounting screws and receptacle strap-to-box contact to serve as the grounding connection.
It's easy for the receptacle mounting screws to be deliberately left loose or to work loose - making that ground connection unreliable. Use a ground wire.
...
Continue reading at ELECTRICAL RECEPTACLE CONNECTION DETAILS or select a topic from closely-related articles below, or see our complete INDEX to RELATED ARTICLES below.
Or see ELECTRICAL RECEPTACLE CONNECTION FAQs - questions & answers about wiring electrical outlets
Or see this
Article series contents
Suggested citation for this web page
ELECTRICAL OUTLET, HOW TO ADD & WIRE at InspectApedia.com - online encyclopedia of building & environmental inspection, testing, diagnosis, repair, & problem prevention advice.
Or use the SEARCH BOX found below to Ask a Question or Search InspectApedia
...
Frequently Asked Questions (FAQs)
Try the search box below or CONTACT US by email if you cannot find the answer you need at InspectApedia.
Please see ELECTRICAL OUTLET WIRING FAQs
Question: Can I use your wiring tips for sockets we usue in the E.U. ?
2015/10/22 Mark said:
Thank you for so detail tips. Especially pictures made me understand everything the most. I'm a memeber of EU and as you know I have another kind of sockets. Can I use your tutorials if i want to install european kind of sockets such as Obo?
OBO is een Duitse producent van systemen voor gebouwinstallatie zoals verbindings- en bevestigingssystemen, inbouwapparatuursystemen, kabel- en wandgoten, brand- en bliksembeveiliging en meer. OBO is een familiebedrijf dat in 1911 werd opgericht als stansfabriek voor bevestigingstechniek, en wordt inmiddels geleid door de vierde generatie Bettermann. Het bedrijf is in meer dan zestig landen actief. De vele producten van OBO worden gebruikt in bijvoorbeeld de scheepsbouw en voedingsmiddelenindustrie. Ook worden OBO-producten onder meer toegepast in zonne-energie-installaties, energiecentrales en tunnelbouw.
Reply:
Generally, yes, Mark; but take a look at the different wire colour codes used in the E.U.
See I.E.C. I.E.E. ELECTRICAL WIRING COLOUR CODE CHART at inspectapedia.com/electric/Wiring_Colours.php#IEC
...
Ask a Question or Search InspectApedia
Questions & answers or comments about how to install and wire electrical outlets or receptacles in buildings.
Use the "Click to Show or Hide FAQs" link just above to see recently-posted questions, comments, replies, try the search box just below, or if you prefer, post a question or comment in the Comments box below and we will respond promptly.
Search the InspectApedia website
Technical Reviewers & References
Click to Show or Hide Citations & References
Timothy Hemm has provided photographs of various electrical defects used at the InspectAPedia TM Website. Mr. Hemm is a professional electrical inspector in Yucala, CA.
Mark Cramer Inspection Services Mark Cramer, Tampa Florida, Mr. Cramer is a past president of ASHI, the American Society of Home Inspectors and is a Florida home inspector and home inspection educator. Mr. Cramer serves on the ASHI Home Inspection Standards. Contact Mark Cramer at: 727-595-4211 mark@BestTampaInspector.com
John Cranor is an ASHI member and a home inspector (The House Whisperer) is located in Glen Allen, VA 23060. He is also a contributor to InspectApedia.com in several technical areas such as plumbing and appliances (dryer vents). Contact Mr. Cranor at 804-747-7747 or by Email: johncranor@verizon.net
[3] NFPA - the National Fire Protection Association can be found online at www.nfpa.org
[4] The 2008 NEC National Electrical Code (ISBN 978-0877657903) Online Access LINK (you'll need to sign in as a professional or as a visitor)
[5] Special thanks to our reader Steve who pointed out prior errors in our illustrations.
[6] Simpson Strong-Tie, "Code Compliant Repair and Protection Guide for the Installation of Utilities in Wood Frame Construction", web search 5/21/12, original source strongtie.com/ftp/fliers/F-REPRPROTECT09.pdf, [copy on file as /Structures/Framing/Simpson_Framing_Protectors.pdf ]. "The information in this guide is a summary of requirements from the 2003, 2006 and 2009 International Residential Code (IRC), International Building Code (IBC), International Plumbing Code (IPC), International Mechanical Code (IMC), 2006 Uniform Plumbing Code (UPC) and the 2005 National Electrical Code."
"Electrical System Inspection Basics," Richard C. Wolcott, ASHI 8th Annual Education Conference, Boston 1985.
"Simplified Electrical Wiring," Sears, Roebuck and Co., 15705 (F5428) Rev. 4-77 1977 [Lots of sketches of older-type service panels.]
"How to plan and install electric wiring for homes, farms, garages, shops," Montgomery Ward Co., 83-850.
"Simplified Electrical Wiring," Sears, Roebuck and Co., 15705 (F5428) Rev. 4-77 1977 [Lots of sketches of older-type service panels.]
"Home Wiring Inspection," Roswell W. Ard, Rodale's New Shelter, July/August, 1985 p. 35-40.
"Evaluating Wiring in Older Minnesota Homes," Agricultural Extension Service, University of Minnesota, St. Paul, Minnesota 55108.
"Electrical Systems," A Training Manual for Home Inspectors, Alfred L. Alk, American Society of Home Inspectors (ASHI), 1987, available from ASHI. [DF NOTE: I do NOT recommend this obsolete publication, though it was cited in the original Journal article as it contains unsafe inaccuracies]
"Basic Housing Inspection," US DHEW, S352.75 U48, p.144, out of print, but is available in most state libraries.
Books & Articles on Building & Environmental Inspection, Testing, Diagnosis, & Repair
Our recommended books about building & mechanical systems design, inspection, problem diagnosis, and repair, and about indoor environment and IAQ testing, diagnosis, and cleanup are at the InspectAPedia Bookstore. Also see our Book Reviews - InspectAPedia.
Recommended books on electrical inspection, electrical wiring, electrical problem diagnosis, and electrical repair can be found in the Electrical Books section of the InspectAPedia Bookstore. (courtesy of Amazon.com)
...