Electrical Outlet Cover Plates
Types of electrical receptacle covers, fire & shock safety, durability
InspectAPedia tolerates no conflicts of interest. We have no relationship with advertisers, products, or services discussed at this website.
Types of electrical receptacle faceplates or cover plates:
Here we review opinions of electricians and research authorities on the different types, materials, safety and performance of the face plates or cover plates used on electrical receptacles, popularly referred to as "wall plug outlets".

We list the common materials used for faceplates and compare features of durability, fire safety, and damage resistance of each. This is a companion article to our discussion of the argument about whether electrical receptacles should be installed "ground-up" or "ground-down" - exploring the argument that a metal faceplate may drop and short against the connectors of a wall plug.
This article series describes how to choose, locate, and wire an electrical receptacle in a home. Electrical receptacles (also called electrical outlets or "plugs" or "sockets") are simple devices that are easy to install, but there are details to get right if you want to be safe.
We also provide a MASTER INDEX to this topic, or you can try the page top or bottom SEARCH BOX as a quick way to find information you need.
Receptacle Box Cover Plates
Metal & nylon receptacle covers resist breakage, but metal is electrically conductive
However nylon switch and receptacle cover plates, currently the most-widely-sold form, are very flexible and will not crack when flexed by tightening the screw. Below are some examples of just a few of the many different materials used to produce electrical outlet covers.
Of the four receptacle covers shown above, the first three (brass plated steel, painted steel, and nylon) will not be easily damaged nor broken by over-tightening the center mounting screw.
Bakelite receptacle covers are easily damaged or broken by an over-tightened mounting screw and possibly also by impact.
Even a rather high-torqued faceplate mounting screw won't break a typical plastic receptacle or switch cover unless the device itself (the receptacle or switch) is also recessed into the electrical box or below the plane of the wall surface.
Fragile Receptacle or Switch Faceplates Easily Damaged / Broken

Below: examples of fragile faceplates: glass/mirror receptacle cover, a ceramic receptacle cover, and a Carrara marble electrical receptacle cover.
Watch out: particularly because I have often found glass and marble receptacle covers installed in bathrooms into which mirrors or marble wall coverings were installed after the original construction and electrical work, the electrical device, switch or receptacle is very often recessed in the wall. It is precisely this case that invites a broken cover plate when the cover screws are tightened during installation.
See ELECTRICAL BOX RECESSED DEPTH IN WALLS for details on how to avoid creating that problem or how to fix it by bringing the device forward to the plane of the finished wall surface before the cover plate is installed.
More-Easily-Ignited Combustible Receptacle Covers / Faceplates
Watch out: in addition to the fragility of some receptacle covers (bakelite, ceramic, glass, marble) some are also likely to be more-combustible than others, such as wood and painted wood and possibly some of the plastic covers.
Above: natural wood and a painted wood electrical receptacle faceplates. These faceplates are easily split at the mounting screw if the receptacle is recessed in the wall, and they are also more-combustible than some other faceplate materials listed above.
Example Receptacle / Switch Cover Identification Marks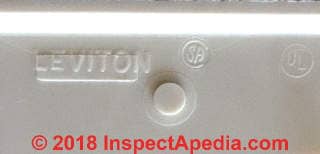 Here we show Eagle, Leviton, and Sierra Electric stamps found on the interior side of some plastic receptacle and switch faceplates.
Some faceplates used on switches and receptacles, at least among molded plastic models, will bear the manufacturer's stamp as well as UL and other certification stamps on the inside face of the cover plate.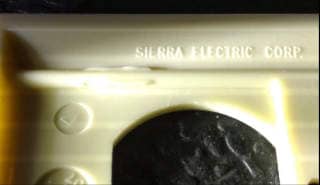 Other faceplates made of wood, metal, ceramic, marble, nylon etc. may not be so marked.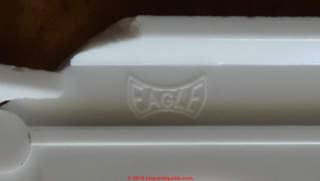 Specialty Receptacle Faceplates
Special-purpose electrical receptacle faceplates include twist-lock covers, tamper-proof covers, weather-proof covers and other uses that we have not addressed. Contact us if you need that information.
Install Receptacles Ground-Up where Metal Covers are Required
Reader Comment: ground-up avoids short if metal receptacle cover plate slips down
Some readers have suggested a more-subtle hazard that we will evaluate: during plug removal or if the plug is not fully inserted into the receptacle, a receptacle's metal faceplate could slide down and contact the hot and neutral connectors.
2018/08/14 Tom west said:
In cases where the outlet cover plate is metallic and held by the typical single screw, mounting the ground pin up prevents the cover plate from dropping across the phase and neutral conductors.
Of course, the cover plate screw would have to somehow be lost, but that never happens, right?
Reply: Yes, a metal electrical receptacle cover can fall and short circuit across wall plug connectors
That's an interesting observation, Tom. Thank you for the suggestion and for prompting me to spend a couple of days exploring this safety concern.
In our photo above I have completely-removed the receptacle mounting plate screw and I have pulled out the wall plug to afford room for the cover plate to slip down into contact with the plug connecting spades.
Watch out: however during the removal or un-plugging of a wall plug it is more-likely that the cover plate could drop, shorting between the hot and neutral plug connectors.
However when a wall plug remains fully inserted, a loose and falling metal receptacle cover cannot easily contact the plug's connectors.
Below I include a close-up image showing the edge of the receptacle cover plate in contact with the plug connectors - a condition that would be likely to have created some exciting sparks until the circuit breaker or fuse tripped or blew.
Below you can see that without a mounting screw and while a wall plug has been partly withdrawn from the electrical receptacle, the cover plate can fall down into contact with the plug connectors.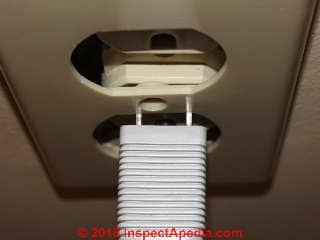 Watch out: don't try this experiment yourself as you could be shocked, burned, or killed.
Because I made these photos in our lab where fires and shock injuries are discouraged, I used a non-conductive bakelite plastic receptacle cover to demonstrate how a receptacle cover could contact wall plug connectors.
Probability of a Receptacle Cover Falling into Contact with Wall Plug Terminals
OPINION: Shorting the hot and neutral spaces of a wall plug by the metal receptacle cover and a subsequent possible shock or fire hazard could indeed occur, but with probably only with difficulty as a number of conditions have to all be present. Those include at least the following: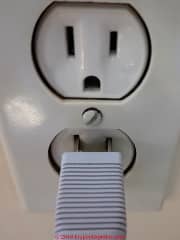 Power is on to the electrical circuit (this is usually the case)
The receptacle cover was a single duplex unit secured by a single screw (very common)
The receptacle cover plate center screw is not present - not just loose, but absent entirely. (occurs)

A quad or larger receptacle cover will have four or more screws - they would all have to be lost for the cover plate to slide down.

My photo shows a receptacle cover screw that was completely loosened but did not (and would not) fall out of the cover plate - it continued to keep the cover plate from sliding down.

The difficulty in completely removing some receptacle cover plate screws from a simple duplex receptacle cover is explained below in this article.
No other force or adhesive such as paint has bonded the cover plate to the wall. (Often there is paint adhesion in older buildings)
The wall plug is partly un-plugged to allow space for the cover plate to come forward past the thickness of the receptacle face (about 3/16") (Occurs during wall plug removal or if receptacle is worn and wall plug is loose)
Some force or activity causes the cover plate to loosen and pop off AND there is sufficient space for it to also slide downwards (No data)
The cover plate slides down in a sufficiently-straight position as to contact both the hot and neutral spaces of the wall plug (Possible)
The cover plate is made of metal - Most receptacle covers in use and sold are plastic but yes, metal ones are available. (Less-often used than plastic or nylon or other materials, more-common in older buildings).
The circuit breaker or fuse does not respond to the short by shutting off the circuit (uncommon)
The event is as you suggest possible, though I suspect, not very likely to be a commonly-reported electrical failure.
How Easily is the Cover Plate Screw Removed or Lost?
It depends.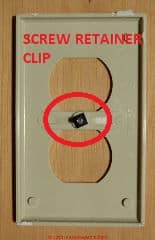 Above: this Leviton™ receptacle cover is sold with the receptacle cover retaining screw pre-installed and retained in the cover plate screw opening by a plastic clip.
Even from a single manufacturer, some receptacle and switch cover plates are sold pre-packaged without and others with with the retaining screw held in place by a paper or plastic gasket.
Above: some Leviton™ plastic receptacle covers are sold with the plastic screw retainer shown above. It is actually difficult to remove the retainer, and normally it is simply left in place as the cover is installed.
In this case even if the screw is completely loosened from the threaded receiving opening on the electrical receptacle or switch, the screw remains attached to the cover plate and it tends to remain inserted into the receiving opening enough that the plate does not fall down.
However other receptacle and switch cover screws are sold loose in the package with the cover plate and do not include this retainer. Those screws can be loosened completely and can fall out of the cover plate entirely.
The example below, a Leviton™ quad- receptacle cover, removed from its plastic package, shows that the screws are included loose, without the retainer clip.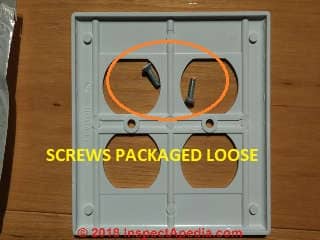 There's a no-win problem for the companies packaging receptacle and switch covers with screws. If the screws are packaged pre-inserted using a retainer clip the end of the screw tends to poke a hole in the thin cellophane or plastic wrapping the cover - in that case the screw can be lost or the cover package torn, losing its bar code needed for pricing.
On the other hand if the screws are packaged loose in the cover wrapper, they too can be even more-easily lost if the wrapper is damaged or torn during distribution, stocking, or sale.
In my OPINION the plastic retainer clips provide an additional safety feature that prevents the screw loss after original installation, thus preventing the cover plate from falling down or off.
Research Data on Metal Receptacle Cover Shorts to Plug Connectors: Not Found
On 8/14/18 we did both a general search and more-formal research for scholarly articles, codes, standards or wiring practices on electrical failures and short circuits, electrical safety, and among patents for metal electrical receptacle covers, using the terms such as:
metal electrical receptacle cover plate short circuit safety hazard and also metal receptacle cover hazards or short circuits - in various combinations -
without finding a single research article, electrical code, nor electrical standard that has discussed on this hazard.
As you suggest, absence of reports of such failures doesn't mean they can't occur, but it probably means the occurrence is rare and probably not, alone, sufficient to require ground-pin-up installations of electrical receptacles.
If you have found any field reports, standards, or codes that describe this hazard as more than theoretical that would be very valuable information that we should add here.
Preferences for non-conductive receptacle covers
Except for special situations where durability is an issue, we advise consumers and electricians to install plastic receptacle and light switch covers as a generally more-safe device, regardless of which way the ground pin hole has been placed.
That reduces the metal surface at an electrical receptacle that could possibly become live and that might be touched (by a child, for example) to just the area of the receptacle cover screw head itself.
Preferences for metal receptacle covers & switch plates?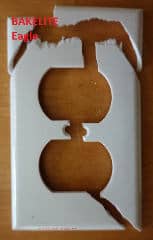 Interesting side note: vendors of metal switch and receptacle plates promote the "improved safety" of metal plates by noting that over-tightening the screw of a plastic switch plate or receptacle cover can cause it to crack, split, break. (Kyle Switch Plates, retrieved 2018/08/14 kyleswitchplates.com )
Our photo shows a broken bakelite or other rigid-plastic electrical receptacle cover.
I simply twisted the cover in my hands to see how it would fracture. This is not a normal receptacle cover break since the most-common breakage is at the screw hole alone.
So yes, Kyle, a metal receptacle cover manufacturer, is right that plastic receptacle covers can crack, split, or break.
Really? Well yes and no.
Bakelite or other hard-plastic receptacle and switch plates, marble receptacle covers, and also mirrored glass receptacle cover and switch plates will crack or even break when the screw(s) is (are) tightened, particularly if the switch or receptacle is recessed in the electrical box such that tightening the screw pulls the switch or receptacle cover plate inwards more than a fraction of an inch.
Requirement for Receptacle Covers to Resist Damage: US National Electrical Code & OSHA Guidance
Article 110.27(B):
(B) Prevent Physical Damage. In locations where electrical equipment is likely to be exposed to physical damage, enclosures or guards shall be so arranged and of such strength as to prevent such damage.
US OSHA guidelines on cover plate requirements for receptacles
Question: For workers engaged in construction activities, does 29 CFR 1926.405(j)(1)(i) require plastic switch plates or receptacle covers and non-conductive (e.g., nylon) screws to hold those switch plates or covers on?
Answer: No.
Title 29 CFR 1926.405(j)(1)(i) states:
(j) Equipment for general use-
(1) Lighting fixtures, lampholders, rosettes, and receptacles-

(i) Live parts. Fixtures, lampholders, lamps, rosettes, and receptacles shall have no live parts normally exposed to employee contact. However, rosettes and cleat-type lampholders and receptacles located at least 8 feet (2.44 m) above the floor may have exposed parts. [Emphasis added.]

The provision does not specifically state that switch plates or receptacle covers be made of non-conductive material or that the screws to hold those switch plates or covers on be non-conductive, and there is no indication in the preamble to the standard reflecting an intent to create such an obligation.
Switch plates and receptacle covers are designed to prevent people from coming into contact with (that is, touching) properly installed live electrical parts that are inside the switch/receptacle box. When the live parts inside the box are properly installed and the cover is on, those parts will not be "normally exposed to employee contact."
Therefore, under §1926.405(j)(1)(i), covers are not required to provide an insulating barrier in the event a live part inside the box comes in contact with the back of the cover. Similarly, there is no requirement that the screws that affix the covers to the box be of a non-conductive material.1
Note that, if a faulty switch or receptacle has caused the cover or screws to become energized, construction employees working in proximity to it must be protected. Title 29 CFR 1926.416(a)(1) states:
No employer shall permit an employee to work in such proximity to any part of an electric power circuit that the employee could contact the electric power circuit in the course of work, unless the employee is protected against electric shock by de energizing the circuit and grounding it or by guarding it effectively by insulation or other means. - PLASTIC vs METAL SWITCH / RECEPTACLE COVERS - OSHA [PDF] retrieved 2018/08/14, original source: www.osha.gov/laws-regs/standardinterpretations/2004-09-17
Research on Electrical Receptacle Cover Types, Materials, Safety
Allison, John. "Shock-resistant electrical outlet." U.S. Patent 6,455,789, issued September 24, 2002.
Benfer, Matthew E. & Daniel T. Gottuk, "DEVELOPMENT AND ANALYSIS OF ELECTRICAL RECEPTACLE FIRES" [PDF] (2013), Hughes Associates, Inc., 3610 Commerce Drive, Suite 817 Baltimore, MD 21227 USA Tel: 410-737-8677 Webstite: www.haifire.com

This report has not been published by the U.S. Department of Justice. To provide better customer service, NCJRS has made this Federally funded grant report available electronically. NCJRS is the National Criminal Justice Reference Service.
Retrieved 2018/08/15, original source: https://www.ncjrs.gov/pdffiles1/nij/grants/243828.pdf
Abstract:

Laboratory testing evaluated the impact of a wide range of variables on the formation of overheating connections in residential duplex receptacles. Two types of receptacle configurations have been evaluated:

1) those focused on terminal connections and

2) those focused on plug connections.

Testing included 528 receptacle trials, 408 trials with various terminal connections and 120 trials with various plug connections. Thirteen pre-fabricated wall assemblies of 36 receptacles were placed in 8 compartment fire tests and 5 furnace fire tests.

The variables evaluated in the fire exposure testing included: the receptacle material, materials of the receptacle faceplate and box, terminal torque, and energized state of the receptacle.

A portion of the receptacles in the fire exposure testing had overheated connections that were created in the laboratory testing. These receptacles were used to assess whether evidence of overheating would persist after a fire exposure. All receptacles were documented for damage to the receptacle, faceplate, and outlet box including any arcing, overheating, and/or melting.

The results of laboratory testing indicate that only the loosest connections tend to form significant overheated connections irrespective of other variables, [emphasis added - Ed.] such as receptacle materials and installation. Forensic signatures of overheating have been identified and have been found to persist even after external fire exposure. In addition, locations of arcing within receptacles as a result of fire exposures were identified and characterized.

The location of arcing is primarily dependent on the duration and intensity of the fire exposure, as well as the construction and materials of the receptacle, outlet box, and faceplate. The presence of characteristic indicators of arcing and melting were analyzed.



Role of Receptacle Faceplates in Electrical Fires

Benfer (2013) offers this description of the role of electric receptacle box cover faceplate materials:

In the fire exposure tests, both plastic and metal were used for outlet boxes and faceplates. The use of different materials aimed to address the impact of the materials on electrical damage and thermal damage to the receptacles.

For example, arcing can occur when energized conductors come into contact with properly grounded metal components. This cannot occur with the plastic outlet boxes and faceplates.

Also, the plastic outlet boxes and faceplates will melt and deform when heated in a fire, while the metal components (i.e., steel) will not. This may cause different thermal damage to those items and potentially affect the thermal damage to the receptacle. (Benfer 2013 p. 24).

Nylon receptacle box faceplates: ..., for faceplates used in the laboratory testing where an overheating connection was present, there was generally a darkened and charred area where the overheating receptacle would have been in contact with the faceplate.... ... It is likely that hotter local temperatures present for the overheating connections caused the dark discoloration, but because they were localized, they did not cause the faceplate to fall off. Op. Cit. p. 132

With increasing thermal damage, steel faceplates, like nylon, can partially-melt.

Steel receptacle box faceplates: The maximum temperatures for the partially melted faceplates were much lower than the melting temperature of steel. - Op. Cit. p. 137

Cormier, Vernon F., and Richard D. Henken. "Electrical switch cover plate." U.S. Patent 3,530,230, issued September 22, 1970.
Excerpt:

The cover plate used in residential and commercial installations vary from one to another only in material and in the number of combination of operational openings in the plate; otherwise, they are standardized throughout industry.

Primarily, the cover plate is used as a decorative covering for the electrical outlet or conduit box but it also has a practical use in that it covers the wire connections of the electrical components located within the conduit box.

Other advantages are realized in providing a tight closure between the cover plate and the open end of the conduit box. The prime advantage is that combustible material, such as building paper or insulation and the like, are prevented from collecting in around the electrical components.

Really? Our OPINION is that the cover plate is primarily a safety device, preventing the insertion of objects into the electrical box and protecting against accidental contact with (and shock hazards from) electrical connectors or receptacle or switch terminals that might otherwise be exposed - Ed.
Dykhoff, Michael G., Robert J. Boros, and D. Max Harshbarger. "Fire stopping cover plate for fire stopping electrical outlets and switches." U.S. Patent 6,521,834, issued February 18, 2003.
Excerpts:

The present invention relates generally to fire stopping devices and, more particularly, to a cover plate for electrical outlets, switches, or the like which includes a fire stopping mat arranged on the inside surface of the cover plate which serves to form a fire barrier in the event of a fire.
...

The present invention relates generally to fire stopping devices and, more particularly, to a cover plate for electrical outlets, switches, or the like which includes a fire stopping mat arranged on the inside surface of the cover plate which serves to form a fire barrier in the event of a fire.
Gizienski, John J., Stephen P. Short, and Robert J. Mellen. "Safety electrical tap." U.S. Patent 4,867,693, issued September 19, 1989.
Hall, John Raymond. Home electrical fires. [Book] Quincy, MA: National Fire Protection Association, 2013.
Hall, J.R. (2010), "Home Electrical Fires," National Fire Protection Association, Quincy, MA.
McBain, Theodore, and Melvin R. Osborn. "Electrical outlet safety cover." U.S. Patent 5,813,873, issued September 29, 1998.
Newman, Fredric M. "Electric wall outlet protector." U.S. Patent 4,302,624, issued November 24, 1981.
Abstract:

A wall electrical outlet protector for children which is integral with or mountable on an electric outlet wall plate which includes doors swingable in the plane of the wall against a return spring bias to an open position to allow access to the wall outlet.

Inter engaging edges present prying of the doors away from the unit and optional detents may be utilized to provide resistance to opening of the doors.

The protector may be easily applied without disturbing the electrical wiring but can only be removed by the unscrewing of the plate retention screw using a screwdriver.
OSHA PLASTIC vs METAL SWITCH / RECEPTACLE COVERS - OSHA [PDF] OSHA Interpretation Letter, RB Swanson to R. Hope, 9/17/2004, Occupational Safety & Health Administration, 200 Constitution Ave NW Washington, DC 20210 USA 800-321-6742 (OSHA) retrieved 2018/08/14, original source: www.osha.gov/laws-regs/standardinterpretations/2004-09-17
Richardson, Michael T. "Apparatus for recessing an electrical device in a wall." U.S. Patent 6,750,398, issued June 15, 2004.
Short, Stephen P. "Safety electrical receptacle." U.S. Patent 4,867,694, issued September 19, 1989.
Abstract:

An electrical receptacle is provided with a shutter mechanism to block spurious insertion of a foreign object through one of the receptacle slots short of the receptacle power circuit contacts.

This mechanism includes either one or two slides supported for movement between closed-latched and open positions.

Access to the contacts requires the slides first be unlatched by a blade penetrating one receptacle slot and then cammed to open positions by another blade penetrating the other receptacle slot, as occurs incident to the insertion of a standard electrical plug into the receptacle.
...
Continue reading atELECTRICAL RECEPTACLE POSITION: WHICH WAY UP or select a topic from closely-related articles below, or see our complete INDEX to RELATED ARTICLES below.
Or see these
Electrical Receptacle Wiring Articles
Suggested citation for this web page
ELECTRICAL RECEPTACLE COVER PLATES at InspectApedia.com - online encyclopedia of building & environmental inspection, testing, diagnosis, repair, & problem prevention advice.
Or use the SEARCH BOX found below to Ask a Question or Search InspectApedia
...
Frequently Asked Questions (FAQs)
Try the search box below or CONTACT US by email if you cannot find the answer you need at InspectApedia.
Questions & answers on electrical outlet (receptacle height) originally posted here are now found at ELECTRICAL RECEPTACLE HEIGHT FAQs
...
Ask a Question or Search InspectApedia
Try the search box just below, or if you prefer, post a question or comment in the Comments box below and we will respond promptly.
Search the InspectApedia website
Technical Reviewers & References
Click to Show or Hide Citations & References
Timothy Hemm has provided photographs of various electrical defects used at the InspectAPedia TM Website. Mr. Hemm is a professional electrical inspector in Yucala, CA.
[3] NFPA - the National Fire Protection Association can be found online at www.nfpa.org
[4] The 2008 NEC National Electrical Code (ISBN 978-0877657903) Online Access LINK (you'll need to sign in as a professional or as a visitor)
[5] Special thanks to our reader Steve who pointed out prior errors in our illustrations.
[6] Simpson Strong-Tie, "Code Compliant Repair and Protection Guide for the Installation of Utilities in Wood Frame Construction", web search 5/21/12, original source strongtie.com/ftp/fliers/F-REPRPROTECT09.pdf, [copy on file as /Structures/Framing/Simpson_Framing_Protectors.pdf ]. "The information in this guide is a summary of requirements from the 2003, 2006 and 2009 International Residential Code (IRC), International Building Code (IBC), International Plumbing Code (IPC), International Mechanical Code (IMC), 2006 Uniform Plumbing Code (UPC) and the 2005 National Electrical Code."
"Electrical System Inspection Basics," Richard C. Wolcott, ASHI 8th Annual Education Conference, Boston 1985.
"Simplified Electrical Wiring," Sears, Roebuck and Co., 15705 (F5428) Rev. 4-77 1977 [Lots of sketches of older-type service panels.]
Books & Articles on Building & Environmental Inspection, Testing, Diagnosis, & Repair
Our recommended books about building & mechanical systems design, inspection, problem diagnosis, and repair, and about indoor environment and IAQ testing, diagnosis, and cleanup are at the InspectAPedia Bookstore. Also see our Book Reviews - InspectAPedia.
Recommended books on electrical inspection, electrical wiring, electrical problem diagnosis, and electrical repair can be found in the Electrical Books section of the InspectAPedia Bookstore. (courtesy of Amazon.com)
...