Electrical Circuit Breaker Failures & Failure Test Results

Independent expert tests find high failure rates among several brands of circuit breaker
InspectAPedia tolerates no conflicts of interest. We have no relationship with advertisers, products, or services discussed at this website.
Electrical Circuit Breaker Burns, Fails to Trip, Continues to Conduct Power:
Circuit breaker performance data & field failure reports. This document demonstrates detection and fire risks of a bad electrical circuit breaker which burned, failed to trip, and remained live in the electric panel.
Page top photo of a UBI circuit breaker overheating and smoking under testing, courtesy of Dr. Jess Aronstein.
We also provide a MASTER INDEX to this topic, or you can try the page top or bottom SEARCH BOX as a quick way to find information you need.
Electrical Circuit Breaker Failures: Testing, Failure Rates, Research, Detection by Simple Visual Inspection
Failure Rates of New Off-the-Shelf Circuit Breakers
A 2017 study by Dr. Jess Aronstein found significant no-trip failures among three brands of circuit breakers (UBI, Siemens/Murray)* and essentially no significant failure rates among three other brands of circuit breakers:
[Click to enlarge any image]
Above: test results for common brands of new circuit breakers as of 13 October 2017. [Click to enlarge any image]
Dr. Aronstein, an independent electrical engineer who has performed testing for various government and private agencies notes that the UBI-brand circuit breakers were the worst performing of the group tested.
Aronstein commented (May 2017):
The UBIs are the worst of the lot, and they are the only ones other than FPE that have shown a tendency for the 2-pole breakers to jam.

The surprise was that the Siemens and Murray (identical breakers with different paper labels on them) are not meeting the UL spec.

Next problem is that although many people and organizations have the authority to do something about it, nobody has the responsibility to take any action.
Failure Rates of Used Circuit Breakers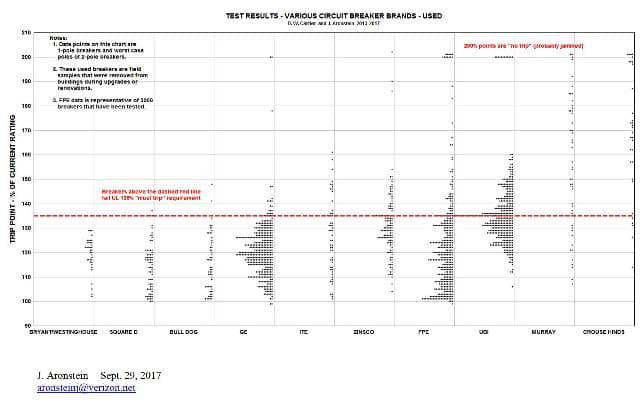 [Click to enlarge any image] Source of the table above: personal email, Dr. Jess Aronstein to Daniel Friedman, 2017/05/11 & 2017/10/19.
Above, circuit breaker failure test results for these circuit breaker brands (left to right): Bryant/Westinghouse, Square-D, Bulldog (Pushmatic), GE, ITE, Zinsco, FPE (Stab-Lok), UBI (replacement breakers for several panels), Murray, Crouse Hinds.
This failure data test report is as of 29 September 2017 and includes tests performed by David W. Carrier and Jess Aronstein between 2013 and 2017.
At MOLDED CASE CIRCUIT BREAKERS - SOME HOLES IN THE ELECTRICAL SAFETY NET [PDF] you will find the latest research by these authors in an IEEE paper to be published in 2018.
Notes on Aronstein's chart indicate:
1. Data points on this chart are 1-pole breakers and worst case poles of 2-pole breakers.
2. These used [circuit] breakers are field samples that were removed from buildings during upgrades or renovations.
3. FPE [circuit breaker failure test result] data is representative of 3000 breakers that have been tested.
Contribute UBI (Connecticut Electric) and Zinsco Brand Circuit Breakers for Independent Testing
Dr. Aronstein would like to obtain and test UBI (Connecticut Electric) Zinsco type replacement breakers that might be in your electrical panel. They are usually grey in color, and might have been installed as replacements or when new circuits were added.
To date I have tested only four of the UBI-Z types, and all four failed to perform properly. If you have any of the UBI-Z breakers, please send them to:
Jesse Aronstein, Ph.D., P.E.
909 Londonderry Ct.
Schenectady, NY 12309
Noting that you found this request at this InspectApedia.com web page: https://inspectapedia.com/electric/Circuit_Breaker_Failures.php
Articles describing other in-service or "used" circuit breaker brands are included in this article below at CIRCUIT BREAKER FAILURE RESEARCH.
The circuit breaker test standard, UL-489, is described and cited at UBI FPE CIRCUIT BREAKER TEST RESULTS where you will also find additional test results that included both new and used UBI circuit breakers.
Reader Question:where to find performance data on various circuit breakers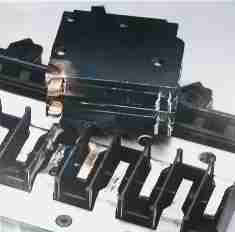 (Nov 20, 2014) Steve L said:
I'm looking to replace an old panel for a variety of reasons. I'm wondering where I can find recent performance/fire/etc data on various brands of circuit breakers so I can form an idea of which brands to favor or avoid in selecting a new panel.
I'm also curious about which brands have the best performing (C)AFCI and GFCI breakers since most searches are flooded with the problems that all brands had in the early days of AFCI. Is there are good source for this information? Many thanks!
This question was originally posted at ELECTRICAL INSPECTION, DIAGNOSIS, REPAIR
Reply:
Steve you ask a fair question.
From speaking with industry experts over several decades it's apparent that most of the circuit breakers and panels by major equipment manufacturers perform very well, with failure-rates (as in fail-to-trip in response to an overcurrent) are at a very small fraction - well under 1 per-cent. The highest "generic" opinion about circuit breaker failure to trip rates that I have found was reported at 4% as anecdotal evidence by Koty (un-dated, retrieved 2015, cited below).
Our OPINION is that in most installations conventional residential circuit breakers from most manufacturers almost never fail to trip when they should - certainly that is the expectation of consumers.
Illustrated above, a Classified circuit breaker (burned, damaged) discussed at Classified CIRCUIT BREAKER WARNING.
A few brands of older equipment described in articles at InspectApedia such as Challenger, FPE-Stab-Lok, Zinsco have notably higher problem and failure rates, in some cases as high as 60% no-trip rates. That's a failure rate around 600 times worse than what we expect in the industry.
We are now in the 4th generation of AFCI devices - so I would not tar current brands with more historical issues, but I agree that nuisance tripping, particularly on AFCI's has been a reported problem yet to be fully addressed.
See AFCIs ARC FAULT CIRCUIT INTERRUPTERS for examples. That article includes a link to an IEEE article on what we can and cannot expect from AFCIs and how they perform.
David Carrie, a New York electrical engineer briefly continued Jess Aronstein's work on testing circuit breaker performance independently of work supported by manufacturers but regrettably, although he reported (to me privately) that some current circuit breaker brands seemed to have higher no-trip rates than the industry average, he did not complete nor report that research publicly.
By 2014 it appeared that David had moved on to other projects. Dr. Aronstein took up that task once again and in 2017 we include some of his recent test results here. See UBI FPE CIRCUIT BREAKER TEST RESULTS.
Research on Electrical Circuit Breaker Performance & Failure Rates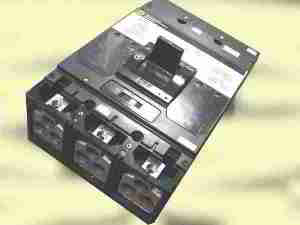 Recent research citations on circuit breaker performance and breaker failure rates such as no-trip or failure to trip in response to an over-current.
ALUMINUM WIRING HAZARDS & REPAIRS [Web article] aluminum electrical wiring can cause fires without tripping a circuit breaker
AFCIs ARC FAULT CIRCUIT INTERRUPTERS [Web article] nuisance tripping
Aronstein, J.A., circuit breaker failure research:

Aronstein, Jess 1, (Life Senior Member, IEEE), & David W. Carrier 2 MOLDED CASE CIRCUIT BREAKERS - SOME HOLES IN THE ELECTRICAL SAFETY NET [PDF]

Received December 4, 2017, accepted January 24, 2018, date of publication February 7, 2018, date of current version March 15, 2018. Digital Object Identifier 10.1109/ACCESS.2018.2803298
1 Consulting Engineer, Schenectady, NY 12309, USA, 2 SUNY Dutchess Community College, Poughkeepsie, NY 12601, USA, Corresponding author: Jesse Aronstein (AronsteinJ@verizon.net)

This paper is also available at no charge at the IEEE Explore website. It can be accessed for online reading at: http://ieeexplore.ieee.org/document/8283732/

and can be downloaded directly from IEEE at http://ieeexplore.ieee.org/stamp/stamp.jsp?tp=&arnumber=8283732

Abstract:
Test results presented in this paper demonstrate that some brands of residential molded case circuit breakers do not operate properly within the limits specifieded by the applicable standard. The samples tested are both used, from homes, and new, purchased at retail sources. The minimum trip current is determined for each breaker.

The test procedure encompasses the basic overload trip requirements of the applicable standard. Breakers that do not open the circuit at or below 135% of rated current fail to meet the requirements of the standard. Test results vary substantially from brand to brand.

The best brands are essentially failure free.

The failure rate of the worst-case brands is in the order of 50% for both used breakers from homes and new breakers recently purchased. Some samples, primarily multi-pole breakers, do not open the circuit at any level of applied current.

Failure of a circuit breaker in a home to operate properly when required poses an increased risk of fire and injury.
Aronstein, Jesse, and Richard Lowry. "Estimating fire losses associated with circuit breaker malfunction." In Electrical Safety Workshop (ESW), 2011 IEEE IAS, pp. 1-7. IEEE, 2011.
Abstract:

A method is presented for connecting small branch circuit breaker functional test data to statistical fire loss data.

Test results are presented for field samples of a particular line of circuit breakers that have an abnormally high defect level. The test results are then utilized in combination with available electrical fire statistics to estimate the annual number of fires and consequent injuries, deaths, and monetary loss associated with the defective breakers.

An estimate is then made of the reduction of injury and loss that can be achieved by encouraging replacement of the defective breakers. The role of the electrical safety community in promoting replacement of the defective breakers is discussed.
"Failure Analysis of Residential Circuit Breaker Panel", Wright-Malta Corp., (by J. Aronstein, for U.S. Consumer product Safety Commission, Project #CPSC-C-81-1455), May 20, 1982 (Contains failure analysis of FPE Stab-Lok® panel that ignited, due to failure of buss-bar interconnections in the backside of
the panel.)
. "Final Report: Calibration and Condition Tests of Molded Case Circuit Breakers", Wright-Malta Corp., (by J. Aronstein, for U.S. Consumer product Safety Commission, Project #CPSC-C-81-1429), December 30, 1982 (Extensive calibration and functional testing of FPE breakers. Substantial percent failures
to trip on overload.).
"Status Report - Evaluation of Residential Molded Case Circuit Breakers", Wright-Malta Corp., (by J. Aronstein, for U.S. Consumer product Safety Commission, Project #CPSC-C-81-1455), August 10, 1982 (Contains analysis of mechanism of failure of FPE two-pole Stab-Lok® breakers.)
"Phase II Report, Evaluation of Residential Molded Case Circuit Breakers", Wright-Malta Corp., (by J. Aronstein, for U.S. Consumer product Safety Commission, Project #CPSC-C-81-1455), March 10, 1984 (Contains experimental analysis of materials, construction, and performance of molded case circuit breakers, including FPE.)
and citing: Partial Summary Judgment decision dated 8/15/02 by Judge Bryan D. Garruto, J.S.C., Superior Court of New Jersey, Law Division: Middlesex County, Docket No. L-2904-97

Anderson, J. G. P., N. S. Ellis, F. Mason, R. G. Noble, L. H. Orton, M. P. Reece, and J. G. Steel. "Synthetic testing of ac circuit breakers. Part 1: Methods of testing and relative severity." In Proceedings of the Institution of Electrical Engineers, vol. 113, no. 4, pp. 611-621. IET Digital Library, 1966.
ANSI C37, 50-2012, Low-Voltage AC Power Circuit Breakers Used in Enclosures ù Test Procedures, ANSI Attn: Customer Service Department 25 W 43rd Street, 4th Floor New York, NY, 10036, USA, E-mail: info@ansi.org Phone: 212.642.4980, Website: http://webstore.ansi.org/
Abstract:
Covers the test procedures for enclosed low-voltage ac power circuit breakers as follows:

a) Stationary or drawout circuit breakers of two-, three-, or four-pole construction, with one or more rated maximum voltages of 635 V (600 for units incorporating fuses), 508 V, and 254 V for application on systems having nominal voltages of 600, 480, and 240 V;

b) Unfused or fused type circuit breakers;

c) Manually operated or power operated circuit breakers with or without electromechanical or solid-state trip devices;

d) Fused drawouts consisting of current-limiting fuses in a drawout assembly intended to be connected in series with a low-voltage ac power circuit breaker to form a non-integrally fused circuit breaker. This document applies to both integrally and non-integrally fused circuit breakers.
Babrauskas, Vytenis, HOW DO ELECTRICAL WIRING FAULTS LEAD to STRUCTURE IGNITIONS [PDF file downloaded 2017/03/15] In Proc. Fire and Materials 2001 Conf, pp. 39-51. 2001.
Abstract:

A sizable fraction of ignitions of structures are due to electrical faults associated with wiring or with wiring devices.

Surprisingly, the modes in which electrical faults progress to ignitions of structure have not been extensively studied. This paper reviews the known, published information on this topic and then to point out areas where further research is needed.

The focus is solely on single-phase, 120/240 V distribution systems. It is concluded that systematic research has been inordinately scarce on this topic, and that much of the research that does exists is only available in Japanese.
Billinton, Roy, Ronald Norman Allan, and Ronald N. Allan. Reliability evaluation of power systems. Vol. 2. New York: Plenum press, 1984.
Braun, A. "Validity of Unit Testing on Circuit-Breakers Exhibiting Statistically Varying Breaking Capacity." Power Apparatus and Systems, IEEE Transactions on 3 (1972): 791-797.
CHALLENGER ELECTRIC PANELS [Web article] Challenger Electric panel history, field reports of overheating bus bars & circuit breakers, history, relationship to FPE Stab-Lok equipment
Classified CIRCUIT BREAKER WARNING [Web article] from Square-D who explains the company's opposition to use of interchangeable or substitute circuit breakers
COUNTERFEIT SQUARE-D CIRCUIT BREAKER RECALL [Web article] CPSC Notices Regarding two circuit breaker products: Recalled Square-D Circuit GFCI Breakers and Counterfeit Square-D Breakers.
CPSC FPE FAILURE DATA 1982 [Web article] FPE Stab-Lok circuit breaker failure rate data: This article presents research data demonstrating the failure rates of Federal Pacific Electric Stab-Lok® circuit breakers. web article at InspectApedia.com
CUTLER HAMMER ELECTRICAL PANELS [Web article] photographs of older Cutler Hammer electrical panel using a copper bus & comments on its condition. Separate field report of a Cutler Hammer Electrical Panel Fire, Photos, with speculation about possible causes.
Dehghanian, Payman, and Mladen Kezunovic. "Cost/benefit analysis for circuit breaker maintenance planning and scheduling." In North American Power Symposium (NAPS), 2013, pp. 1-6. IEEE, 2013.
Abstract:

Maintenance planning and scheduling of circuit breakers (CBs) always involves the cost and benefit analysis. This paper introduces a new framework for cost/benefit assessments using condition-based monitoring data. The signals monitored at the CB control circuit are first utilized to determine the CB deterioration status.

This information is used to decide which type of maintenance, e.g., minor, major, or replacement, needs to be practiced for different CBs. System wide analysis is then performed to assess the cost benefits of the maintenance by calculating the costs imposed to the system in the case of CB mal-operation.

A new benefit to cost ratio (BCR) index is introduced to deal with the CB maintenance prioritization process.

The proposed approach is implemented on a breaker-and-a-half substation configuration and the results demonstrate the applicability of the presented framework in real world scenarios.
Emanuel, A. E., and John W. Dougherty. "Sensitive ground fault interrupter performance in the presence of direct current." Power Delivery, IEEE Transactions on 1, no. 1 (1986): 111-117.
FEDERAL NOARK PANEL FAQs [Web article]
FEDERAL PACIFIC FPE HAZARDS [Web article] fire and shock hazards associated with Federal Pacific Electric Stab-Lok® circuit breakers and service panels
FPE Stab-Lok® : FIRES WAITING TO HAPPEN [Web article] description of the Latent Fire, Shock Hazards of FPE Stab-Lok® Equipment also may show up in CHALLENGER ELECTRIC PANELS brand electrical panels.
FEDERAL PIONEER CIRCUIT BREAKER RECALL [Web article] Recall of Federal Pioneer NC015 and NC015CP Circuit Breakers in Canada
FEDERAL PIONEER PANEL SAFETY - current test results on FP Federal Pioneer circuit breaker failure rates
Fu, Xing, Xiaorui Wang, and Charles Lefurgy. "How much power oversubscription is safe and allowed in data centers." In Proceedings of the 8th ACM international conference on Autonomic computing, pp. 21-30. ACM, 2011.
Abstract:

Data centers attempt to maximize return on investment by achieving high levels of utilization. This means deploying the maximum number of servers possible within existing power supply capabilities. Therefore, a key problem is determining how many servers can be safely accommodated.

Recently, a variety of power capping solutions have been proposed to safely allow oversubscription of available power, but they conservatively assume that peak power should never exceed the rated power distribution equipment capacity. Hence, the open question is: how much power oversubscription is indeed safe? In this paper, we focus on data center branch circuits and systematically study the tripping characteristics of their circuit breakers (CBs).

Our results on a physical testbed show that instantaneous violations of the rated CB power limit are not necessarily fatal because CBs are designed to sustain a certain amount of power overload.

Whether a CB trips or not depends primarily on the transient behaviors of a power overload, such as the magnitude and duration time, as well as ambient temperature. We propose two adaptive power control strategies that utilize the CB tripping characteristics to aggressively optimize the system performance without causing the CB to trip.

Our extensive hardware results with SPEC CPU2006, SPECJBB, and LINPACK benchmarks show that the proposed CB-aware power control solutions achieve 38%, 75%, and 68% better average performance, respectively, than a state-of-the-art baseline.

A key contribution of our work is to provide a practical upper bound of the server power oversubscription allowed on branch circuits. As a result, our solutions allow a data center to host three times more servers than traditional static power provisioning schemes and 54% more servers than the current power capping practice.
Gregory, George D., and Gary W. Scott. "The arc-fault circuit interrupter, an emerging product." In Industrial and Commercial Power Systems Technical Conference, 1998 IEEE, pp. 48-55. IEEE, 1998.
Hall, William M., Gary Donner, Banafsheh Kalhori, George D. Gregory, John Gardner, and Matt Samojeden. "A user guide to the selection, application, testing and life expectancy of molded case circuit breakers." In Petroleum and Chemical Industry Conference, 1995. Record of Conference Papers., Industry Applications Society 42nd Annual, pp. 65-75. IEEE, 1995.
Abstract:
A working group representing the PCIC and I&CPS and manufacturers are preparing a guide to give users information for the correct selection, application, testing, and life expectancy of molded case circuit breakers. This paper is intended to be a tutorial type presentation. This is the first phase of the solution to understanding the present method of rating molded case circuit breakers.
Heunis, Schalk W., and Ron Herman. "A probabilistic model for residential consumer loads." Power Systems, IEEE Transactions on 17, no. 3 (2002): 621-625.
IEEE Standards Collection, C37 -- Circuit Breakers, Switchgear, Substations, and Fuses, 1995 Edition, The Institute for Electrical and Electronics Engineers, Inc. New York, NY: IEEE
Kimball, Jonathan, and Jordan Henry. "Compatibility between GFCI breakers and household adjustable speed drives." In Energy Conversion Congress and Exposition, 2009. ECCE 2009. IEEE, pp. 517-520. IEEE, 2009.
Koty, Ken, "Testing and Exercising Branch Circuit Breakers", web page article, Website: http://www.pducables.com/ Email: kkoty@pducables.com, retrieved 3 April 2015, original source http://www.pducables.com/TestingandExercisingBranchCircuitBreakers.htm
Excerpt:
I found from my years of experience of testing branch circuit breakers installed in our data centers, between overloaded branch circuits and direct shorts, about a 4% failure rate. Even though 4% may not seem like a large percentage, in most data centers, 4% of the thousands of circuit breakers used can still place a significant number of servers at risk.
Lee, Jaebok, Sughun Chang, Sungho Myung, and Yuengue Cho. "Transient false tripping characteristic analysis of ground fault circuit interrupter." In Power System Technology, 2004. PowerCon 2004. 2004 International Conference on, vol. 1, pp. 522-526. IEEE, 2004.
Lindquist, T. M., Lina Bertling, and Roland Eriksson. "Circuit breaker failure data and reliability modelling." IET generation, transmission & distribution 2, no. 6 (2008): 813-820.
Abstract:

The results from an extensive study of SF6 and minimum-oil circuit breaker failures in the Swedish and Finnish transmission systems are presented.

The study includes 1546 breakers with a total operating history of 16 384 years. In the study, a detailed analysis of a specific SF6 type of breaker revealed which parts caused the failures and an estimation of their hazard rates was made.

A model of complete reliability for this type of breaker is presented, illustrated by presenting the operating and maintenance history of a shunt reactor breaker in the Swedish transmission system.
Lippert, Kevin J., and T. Domitrovich. "AFCIs-From a standards perspective." In Electrical Safety Workshop (ESW), 2013 IEEE IAS, pp. 57-61. IEEE, 2013
MURRAY SIEMENS Recall [PDF]
Mili, Lamine, Q. Qiu, and Arun G. Phadke. "Risk assessment of catastrophic failures in electric power systems." International Journal of Critical Infrastructures 1, no. 1 (2004): 38-63.
Abstract:

The declining reliability of the US electric power system is raising major concerns among both politicians and power engineers in the USA. One of the reasons put forward by the North Electric Reliability Council (NERC) is the detrimental role played by the protection systems during large disturbances, which tend to help the perturbations to propagate through over-tripping of fault free system components due to hidden failures.

It turns out that the present practice in power transmission planning and online security analysis is to neglect the impact of the protection systems. In addition, the aim is to mitigate the vulnerability of the system to the loss of a single piece of equipment only by carrying out an N-1 security analysis. Consequently, the risk of cascading failures leading to blackouts and brownouts is neither assessed nor managed.

This paper describes methodologies together with algorithms that assess the conditional risk of catastrophic failures in electric power networks due to hidden failures in protection systems. A catastrophic failure, defined as one that results in the outage of a sizable amount of load, may be caused by dynamic instabilities in the system or exhaustion of the reserves in transmission due to a sequence of line tripping leading to voltage collapse.

Only the latter case is being considered. The aim of these algorithms is to identify the weak links in the systems, which are defined as those branches of the network whose tripping due to a fault lead to the highest probabilities of a catastrophic failure. The proposed methods are demonstrated on a 7-bus and a 61-bus system.
Natti, Satish, Panida Jirutitijaroen, Mladen Kezunovic, and Chanan Singh. "Circuit breaker and transformer inspection and maintenance: probabilistic models." In Probabilistic Methods Applied to Power Systems, 2004 International Conference on, pp. 1003-1008. IEEE, 2004.
NEMA Standards Publication AB 4, National Electrical Manufacturers Association, Washington DC 20037: NEMA
Pahl, Birger, Thomas J. Schöpf, Xin Zhou, and Engelbert Hetzmannseder. "Arc faults in residential electrical systems." VDE-Fachbericht-Kontaktverhalten und Schalten (2009).
PRIVATE BRAND/ EMI FPE PANELS [Web article]
PUSHMATIC - BULLDOG PANELS [Web article] Pushmatic Bulldog Circuit Breaker & Electrical Panel Possible Safety & Operating Concerns
Rusek, Bartosz, Gerd Balzer, Martin Holstein, and Max-Steffen Claessens. "Timings of high voltage circuit-breaker." Electric Power Systems Research 78, no. 12 (2008): 2011-2016.
SQUARE-D RECALLS [Web article]
Schlabbach, Jiirgen, and T. Berka. "Reliability-centred maintenance of MV circuit-breakers." In Power Tech Proceedings, 2001 IEEE Porto, vol. 4, pp. 5-pp. IEEE, 2001.
Schneider Electric, "ANSI® C37 Standard and UL® 489 Standard Comparison", Schneider Electric, Data Bulletin No. 0613DB9902, June 1999, Cedar Rapids IA, USA, retrieved 3 Apr 2015, original source: http://static.schneider-electric.us/docs/Circuit%20Protection
/Insulated%20Case%20Circuit%20Breakers/0613DB9902.pdf
Excerpts:

The scope of the UL 489 Molded Case Circuit Breaker Standard includes miniature circuit breakers (MCBs), molded case circuit breakers (MCCBs) and insulated case circuit breakers (ICCBs).

These circuit breakers are typically rated 10–6000 A and up to 600 Vac and 500 Vdc. Circuit breakers designed and tested to this standard typically exhibit the following characteristics: Sealed molded case Little or no maintenance No user replaceable parts Good performance and reliability Long service life
...
The scope of the ANSI C37 Low Voltage Power Circuit Breaker Standard includes 2- or 3-pole stationary and drawout circuit breakers. The specifications of these circuit breakers are 254, 508 or 635 Vac maximum, fused or unfused, and manually- or power-operated with or without electromechanical or electronic trip units. These circuit breakers typically exhibit the following characteristics: Iron frame—older designs are open, newer designs are closed Maintainable for long service life Most parts can be replaced in the field High performance and reliability High maintenance costs
...
The main construction differences between UL 489 Listed and ANSI C37 Certified circuit breakers are maintainability, ampere interrupting ratings (AIRs), heat rise and endurance. These construction differences result from the design and test philosophies outlined above.

These differences will be discussed under Performance Testing. UL 489 Listed circuit breakers are sealed and require no maintenance for a long service life. ANSI C37 Certified circuit breakers typically require maintenance for long life and have been designed with an open case to facilitate maintenance.
Sprague, Michael, J., "Service-Life Evaluations of Low-Voltage Power Circuit Breakes and Molded-Case Circuit Breakers", Michael J Sprague Member, IEEE Cutler-Hammer, Inc. 130 Commonwealth Drive Warrendale, PA 15086 USA, retrieved 3 April 2015, original source: http://www.eaton.eu/ecm/groups/public/@pub
/@electrical/documents/content/ct_129977.pdf
Abstract

This paper summarizes the methods that are typically used in industry to evaluate the service life of low-voltage power circuit breakers and molded case circuit breakers.

It reviews the electrical ratings and endurance requirements set forth in manufacturing standards, the ways that these endurance requirements can be used to develop expectations of circuit breaker life, the methods of maintenance inspections and the interpretations of these inspections.
Steel, J. G. "Statistical model for single-unit and multiunit circuit breakers." In Proceedings of the Institution of Electrical Engineers, vol. 119, no. 4, pp. 488-492. IET Digital Library, 1972.

Steel, J. G., and D. T. Swift-Hook. "Statistics of circuit-breaker performance." Electrical Engineers, Proceedings of the Institution of 117, no. 7 (1970): 1337-1345.
Abstract:

A wide range of data is presented which shows that the electrical performance of high-voltage a.c. circuit breakers is statistical.

The electrical performance cannot be characterized by a single stress level such as a rated stress; a stress ratio is also required to specify the spread of operating conditions over which both clearances and failures occur fairly often. Present test specifications are inadequate to ensure that a circuit breaker is reliable on the basis of the formal tests alone.

Calculations are presented relating the failure rate of a multiunit circuit breaker to that of its separate units. Suggestions are made for improved test strategies in which the present three shots on a multiunit circuit breaker could be supplemented by unit tests to predict a safe rating for the complete circuit breaker.
UBI FPE CIRCUIT BREAKER TEST RESULTS [Web article] independent test results on UBI circuit breakers used to replace FPE Stab-Lok® circuit breakers find high failure rates.

Also see
UBI FPE CIRCUIT BREAKER VENDOR COMMENTS [Web article] OPINIONS & discussion of the safety of replacement circuit breakers sold for use in FPE Stab-Lok electrical panels
UL 67, UL Standard for Safety for Panelboards, Underwriters Laboratories Inc., Northbrook IL 60062: UL
UL 489, "Molded-Case Circuit Breakers, Molded-Case Switches, and Circuit Breaker Enclosures", Regulatory Services Department UL 333 Pfingsten Road Northbrook, IL 60062 ulregulatoryservices@us.ul.com 800-595-9844, retrieved 3 April 2015, original source: http://ulstandardsinfonet.ul.com/scopes/scopes.asp?fn=0489.html
Excerpt:

The requirements of this standard cover molded-case circuit breakers, circuit breaker and ground-fault circuit-interrupters, fused circuit breakers, high-fault protectors, and high-fault modules.

These circuit breakers are specifically intended to provide service entrance, feeder, and branch circuit protection in accordance with the National Installation Codes in Annex B, Ref. No.1. This standard also covers instantaneous-trip circuit breakers (circuit interrupters) specifically intended for use as part of a combination motor controller in accordance with the National Installation Codes in Annex B, Ref. No. 1.
UL, "Molded Case Circuit Breakers", (2012) Regulatory Services Department UL 333 Pfingsten Road Northbrook, IL 60062 ulregulatoryservices@us.ul.com 800-595-9844, retrieved 3 April 2015, original source: http://www.ul.com/global/documents/offerings/perspectives/regulators/
electrical/newsletters/MoldedCaseCircuitBreakersMG.pdf
Preface:

UL has developed the Molded-Case Circuit Breaker (MCCB) Marking Guide for electrical inspectors, electric utilities, contractors, installers, users, designers, and other interested parties to aid in understanding MCCBs and the applicable codes and standards in order to facilitate a reasonably safe and code-compliant installation of MCCBs.

These circuit breakers are intended to be installed in accordance with the National Electrical Code® (NEC ®) and their listing. These markings are required by UL 489, and are part of the listing.
Wiermann, T.E., Rasmuson, D.M., Stockton, N.B., "Common-Cause Failure Event Insights: Circuit Breakers", Idaho National Engineering & Environmental Laboratory, U.S. Nuclear Regulatory Commission, Office of Nuclear Regulatory Research, Washington DC 20555, NUREG.CR-6819, Vol., 4, INEEL/EXT-99-00613, retrieved 3 April 2015, original source: http://pbadupws.nrc.gov/docs/ML0317/ML031710861.pdf
Abstract:

This report documents a study performed on the set of common-cause failures (CCF) of circuit breakes from 1980 to 2000. The data studied here were derived from the NRC CCF database, which is based on US commercial nuclear power plant event data.

This report is the result of an in-depth review of the circuit breaker CCF data and presents several insights ab out the circuit breaker CCF data.

The objective of this document is to look beyond the CCF parameter estimates that can be obtained from the CCF data, to gain further understanding of why CCF events occur and what measures may be taken to prevent, or at least mitigate the effect of, circuit breaker CCF events. This report presents quantitative presentation of the circuit breaker CCF data and discussion of some engineering aspects of the circuit breaker events. [copy on file]

[This report lists 119 individual circuit breaker failures including failure to open or failure to close and attempts to explain the causes involved. e.g. item 49 among failure data:

"One 4160 Vac circuit breaker failed to open and several more were degraded due to hardened grease and lack of lubrication. This problem could affect the ability of the subject breakers to open or close. Maintenance of the breakes was incomplete despite similar failures due to the same cause four years earlier."
Yacout, A. M., R. N. Hill, L. Van Den Durpel, P. J. Finck, E. A. Schneider, C. G. Bathke, and J. S. Herring. "Dynamic analysis of the AFCI scenarios." Growth 400000 (2004): 500000.
ZINSCO SYLVANIA ELECTRICAL PANELS [Web article] electrical, fire, and shock hazards associated with Zinsco electrical components, circuit breakers, electrical panels, including certain Sylvania electrical panels and breakers which are in fact of the same product design and origin.
ZINSCO CIRCUIT BREAKER TEST REPORT [Web article] limited testing of Zinsco® circuit breakers by an independent expert reports a high failure rate for Zinsco circuit breakers
Other critical electrical system failures that are directly or closely related to individual circuit breaker brands, models, or wiring practices are explained and photo-documented at the live-linked articles just above.

Warning about Do-It-Yourself Circuit Breaker Testing
Watch out: circuit breaker trip testing such as described both by Koty (op.cit). and by vendors of clamp-on ammeters is a dangerous proposal, especially if the breakes and equipment are installed in the building they are intended to serve. For example testing a circuit breaker in-situ in a home by putting a deliberate overload on the circuit risks setting the building on fire.
Other do it yourself or homeowner circuit breaker testing risks include inaccurate test results, conducting an improper test that does not properly assure that the circuit breaker will perform correctly under varying conditions of load, time, and environments, reporting as "safe" a breaker that is in fact not compliant with ANSI C37 nor UL standards such as UL 489 or other pertinent circuit breaker testing standards, and worst: some problem brands such as FPE experience an increased fail-to-trip rate (fail to open in response to an over current) after the breaker has been "exercised" either by switching it on and off or by exposing it to an overcurrent.
We do not recommend circuit-breaker testing by homeowners, electricians, nor in-situ testing of circuit breakers unless conducted by an expert.
Full View of Electrical Panel with a Burned Circuit Breaker
You don't need a VOM or digital volt meter to see bad burn ups like the circuit breaker failures shown later in this article but this failure is a strong recommendation for use of digital multimeters or simple neon testers to confirm that circuit breakers really do turn off the power.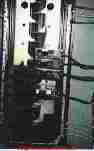 On opening the panel, arcing and burn marks were obvious. Note the black stains along the left side of the right-hand bus bar above the highest breaker in the panel.
Note also the corrosion present at the neutral bus and bus bar connector at the panel bottom right corner. This panel was in a wet utility basement of an old house in New York state.
However it did not appear that moisture in the panel from basement conditions was the root cause of overheating and damage. There was not general corrosion throughout the panel. The panel itself was relatively new, less than ten years old.
A Look at the Electrical Panel Center
A look at the center of the panel shows pieces of circuit breaker plastic and other debris that was obviously a product of arcing and burning at one of the circuit breakers.
Close up View of the Electrical Panel Center

A closer look at the same area shows a piece of one of the right-hand breakers sitting atop the lower breaker on the left. Notice the red and white corroded material at the lower right corner of the top breaker. J. Aronstein suggests that overheating in the breaker burned off zinc or other anti-corrosive plating leading to bleed-out of rust particles.
Other breakers in the panel, presumably of the same age, did not show these visual indications of damage.
Burned, arced breaker still in place, still "live"
Finally, shifting the angle and getting some better light on the subject one could see that the lower of the uppermost two breakers in the panel right side had burned badly where it was connected to the aluminum bus of the panel.
It was remarkable that despite severe damage to the breaker and panel bus, the breaker was still conducting current to the circuit connected to it.
During a home inspection inspectors should not touch equipment like this. Using a TIF Instruments Tic Tracer it was possible to confirm live electrical power at various points. Of course, what's called-for is an immediate repair which most likely requires replacement of the bus assembly and breakers if not the whole panel.
Home inspectors are not forensic engineers, but it appears obvious to anyone looking at this equipment in-situ that overheating at the connection of the breaker to the panel bus must have led to arcing, breaker damage, and thus creation of an unsafe condition in which there is very likely no overcurrent protection being provided by this equipment.
You don't need a VOM or digital volt meter to see bad burn ups like this but this failure is a strong recommendation for use of digital multimeters or simple neon testers to confirm that circuit breakers really do turn off the power.
Contributing Authors
Dr. Jess Aronstein, protune@aol.com is a research consultant and an electrical engineer in Schenectady, NY. Dr. Aronstein provides forensic engineering services and independent laboratory testing for various agencies. Dr. Aronstein has published widely on and has designed and conducted tests on aluminum wiring failures, Federal Pacific Stab-Lok electrical equipment, and numerous electrical products and hazards.

See ALUMINUM WIRING BIBLIOGRAPHY and FPE HAZARD ARTICLES, STUDIES, and BACK-WIRED ELECTRICAL DEVICES also CIRCUIT BREAKER FAILURE RATES and UBI FPE CIRCUIT BREAKER TEST RESULTS also ZINSCO FAILURE REPORTS for examples.


David W. Carrier, electrical engineer, Poughkeepsie, NY 12603 845-430-7527 davidwcarrier@earthlink.net. Mr. Carrier has conducted failures testing on electrical circuit breakers and panel asssemblies, supplementing Dr. Jes Aronstein's research into FPE and other circuit breaker performance of other brands such as GE, ITE, Murray, Siemens, Bulldog Pushmatic, Zinsco.
...
Continue reading at CIRCUIT BREAKER RELIABILITY TESTS or select a topic from closely-related articles below, or see our complete INDEX to RELATED ARTICLES below.
Or see ELECTRIC PANEL INSPECTION
Or see BACK-WIRED ELECTRICAL DEVICES
Or see CIRCUIT BREAKERS RE-CONDITIONED USED
Or see CIRCUIT BREAKER RELIABILITY TESTS
Or see TEST MAIN BREAKERS & FUSES
Or see UBI FPE CIRCUIT BREAKER TEST RESULTS
Suggested citation for this web page
CIRCUIT BREAKER FAILURE RATES at InspectApedia.com - online encyclopedia of building & environmental inspection, testing, diagnosis, repair, & problem prevention advice.
Or use the SEARCH BOX found below to Ask a Question or Search InspectApedia
...
Frequently Asked Questions (FAQs)
Try the search box below or CONTACT US by email if you cannot find the answer you need at InspectApedia.
...
Ask a Question or Search InspectApedia
Questions & answers or comments about unsafe electrical circuit breakers and types or modes of circuit breaker failures.
Use the "Click to Show or Hide FAQs" link just above to see recently-posted questions, comments, replies, try the search box just below, or if you prefer, post a question or comment in the Comments box below and we will respond promptly.
Search the InspectApedia website
Technical Reviewers & References
Click to Show or Hide Citations & References
"Whole-House Systems Approach [to saving on energy costs]", U.S. DOE, describes designing and constructing an energy-efficient home by considering all of the house systems. Original DOE source: www.energysavers.gov/your_home/designing_remodeling/index.cfm/mytopic=10370
"Basic Housing Inspection," US DHEW, S 352.75 U48, p.144, out of print, but is available in most state libraries.
Books & Articles on Building & Environmental Inspection, Testing, Diagnosis, & Repair
Our recommended books about building & mechanical systems design, inspection, problem diagnosis, and repair, and about indoor environment and IAQ testing, diagnosis, and cleanup are at the InspectAPedia Bookstore. Also see our Book Reviews - InspectAPedia.
Recommended books on electrical inspection, electrical wiring, electrical problem diagnosis, and electrical repair can be found in the Electrical Books section of the InspectAPedia Bookstore. (courtesy of Amazon.com)
Rust and Corrosion in Electrical Panels, A Study and Report on Frequency and Cause for Electrical and Home Inspectors at Residential Electric Panels
"Electrical System Inspection Basics," Richard C. Wolcott, ASHI 8th Annual Education Conference, Boston 1985.
"Simplified Electrical Wiring," Sears, Roebuck and Co., 15705 (F5428) Rev. 4-77 1977 [Lots of sketches of older-type service panels.]
"How to plan and install electric wiring for homes, farms, garages, shops," Montgomery Ward Co., 83-850.
"Simplified Electrical Wiring," Sears, Roebuck and Co., 15705 (F5428) Rev. 4-77 1977 [Lots of sketches of older-type service panels.]
"Home Wiring Inspection," Roswell W. Ard, Rodale's New Shelter, July/August, 1985 p. 35-40.
"Evaluating Wiring in Older Minnesota Homes," Agricultural Extension Service, University of Minnesota, St. Paul, Minnesota 55108.
"Electrical Systems," A Training Manual for Home Inspectors, Alfred L. Alk, American Society of Home Inspectors (ASHI), 1987, available from ASHI. [DF NOTE: I do NOT recommend this obsolete publication, though it was cited in the original Journal article as it contains unsafe inaccuracies]
"Basic Housing Inspection," US DHEW, S352.75 U48, p.144, out of print, but is available in most state libraries.
...