Guide to Identifying Asbestos Transite Chimneys, Flues, & Pipes in buildings
InspectAPedia tolerates no conflicts of interest. We have no relationship with advertisers, products, or services discussed at this website.
Transite asbestos chimneys, ducts, flues, pipes:
This article assists in the recognition of transite pipe used for chimneys or heating flues and discusses potential hazards of this material when it is found in buildings. Transite pipe is an asbestos-cement product which was used for both HVAC ducts and for chimney or flue material to vent gas-fired appliances.
This document assists building buyers, owners or inspectors who need to identify asbestos materials (or probable-asbestos) in buildings by simple visual inspection. We provide photographs and descriptive text of asbestos insulation and other asbestos-containing products to permit identification of definite, probable, or possible asbestos materials in buildings.
We also provide a MASTER INDEX to this topic, or you can try the page top or bottom SEARCH BOX as a quick way to find information you need.
Transite Asbestos Chimneys, Ducts Pipes: Asbestos Material Warnings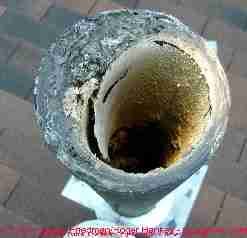 While an expert lab test using polarized light microscopy and or phase contrast microscopy may be needed to identify the specific type of asbestos fiber, or to identify the presence of asbestos in air, dust or drinking water samples, many asbestos-containing building products not only are obvious and easy to recognize, but since there were not other look-alike products that were not asbestos, a visual identification of this material can be virtually a certainty in many cases.
[Click to enlarge any image]
Article Contents
Watch out: Unsafe transite pipe heating flue vents may only be noticed by a careful building inspection such as shown in these rooftop photographs of a transite flue vent pipe which deteriorated, became swollen, and risk becoming blocked. In cold climates with these vents from the 1950's era, the real hazard is not so much asbestos fibers as the dangerous obstruction of the vent/flue by the deterioration of the interior of the pipe.
Photographs above and text just above on transite flue deterioration were provided courtesy of Roger Hankey a Minneapolis home inspector and ASHI member.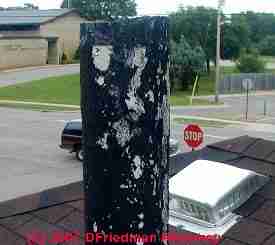 In the transite chimney vent photo above we note that the exterior has been painted black. We don't know why, possibly the naturally gray-white transite flue was painted black for cosmetic reasons, or perhaps in an effort to slow down its surface deterioration.
Fire Clearance Requirements for & Label Descriptions of Asbestos Cement or Transite Heating Flues & Chimneys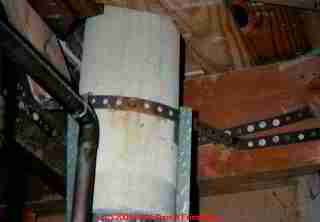 In use as a gas-fired appliance chimney/vent transite pipe may have been classed as a type "B" flue vent which required 1" clearance from combustibles in some jurisdictions. But as we indicate below, the fire clearance required for transite pipe or cement-asbestos pipe flues and chimneys varied from 1" to 3" and limited temperatures to 330 to 550 F depending on the clearance.
Ervin McKinneykindly provided a copy of a November 1948/1949 Underwriters Laboratories UL List of Inspected Gas, Oil, and Miscellaneous Appliances that includes specifications for Outlet and Vent Piping (540 116). That document indicates that
Vent piping of noncombustible, corrosion resistant material of adequate strength and heat-insulating value is acceptable according to Section 1006 of the Building Code Recommended by the National Board of Fire Underwriters (1949 Edition.) This piping is intended for use only with gas-burning appliances which produce flue gas temperatures not in excess of 550 F.
Unless otherwise indicated in specific listings, spacing to combustible material shall be not less than 1 in. provided that for vents of floor furnaces spacing shall be not less than 3 in. for a distance of not less than 3 ft. from the outlet of the draft hood.
Asbestos Cement Chimney & Flue Venting Products described in this 1948-1949 document include
Enderle, Inc., Ltd., Frank X., Los Angeles Calif.
Cylindrical outlet and vent piping of asbestos, sand, and cement, bell and spigot type.
Markings: "Enderle Vent" stenciled on each length of pipe and fitting.
Cylindrical outlet and vent piping of cement and asbestos having a galvanized iron outer jacket.
Markings: "Enderle Cased Vent" stenciled on each length of pipe and fitting.
Johns-Manville Corp. New York, NY., [Transite or cement asbestos flue vent and chimney piping description]
Consists essentially of cement and asbestos fiber built up in cylindrical and oval form: supplied with couplings, elbows, tees, joint cement, etc.
Suitable for use with 1-in. clearance to combustibles when flue gas temperatures do not exceed 330 F, or with 1 1/2-in. ventilated clearance when flue gas temperatures do not exceed 550 F.
Authorities having jurisdiction should be consulted regarding installation.
Marking: "J-M Transite Flue Pipe for Gas Venting" on each section of piping and on each fitting.
This same document also describes several other flue gas vent piping products made of vitreous coated steel, asbestos, sand, and cement, sand and pumicite with aluminum collar joints, sheet aluminum tube and asbestos insulating or steel spring spacer with an outer shell of galvanized sheet metal, and other aluminum and galvanized sheet metal piping.
See this PDF copy of 1948/1949 Underwriters Laboratories UL List of Inspected Gas, Oil, and Miscellaneous Appliances.
Carbon monoxide hazards with transite asbestos cement chimneys
Where transite pipe (asbestos-cement pipe) has been used as a building chimney to vent combustion gases, if the chimney becomes blocked there could be a dangerous carbon monoxide hazard in the building.
The transite pipe chimney - carbon monoxide hazard occurs when the (usually above-roof outdoor portion) of a transite pipe chimney becomes soft with age and exposure to weather, leading to swollen chimney sides and even chimney internal collapse.
The swollen and collapsing transite pipe chimney blocks the venting of exhaust gases from the building heating equipment.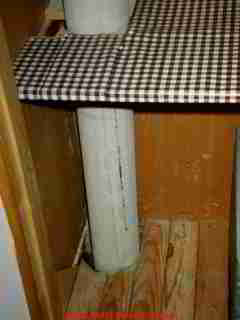 Blocking the venting of exhaust gases, particularly for natural gas or LP gas fired heating appliances, is very likely to interfere with proper combustion at the appliance itself. In turn, this condition results in the production of carbon monoxide at high levels.
Ultimately transite pipe cement asbestos chimney vent flue that becomes blocked creates a multiple safety hazard:
Increased production of carbon monoxide at the heating appliance
Failure to vent combustion gases fully outside the building
Leakage of carbon monoxide gases into the building
See CHIMNEY INSPECTION DIAGNOSIS REPAIR and see CARBON MONOXIDEfor more information.

The transite flue vents, shown in the photos above & below are passing through a building interior closet.
Transite-asbestos piping used as plumbing vents or as chimneys for gas-fired appliances such as gas furnaces becomes swollen and deteriorated due to condensation of the water vapor in the combustion gases being vented, especially above the roof line or in a cold attic.
The acidic flue-gas-condensate combined with the effects of frost in cold climates causes a delamination and swelling and blockage of the transite pipe chimney-flue.
A blocked or constricted flue vent pipe can cause production of dangerous or even fatal carbon monoxide gas in the building.
While the transite pipe shown above was in use as an exhaust flue (what is the fire rating and fire clearance required?), this material was also used in some buildings for both exposed air ducts and for in-slab duct work (SLAB DUCTWORK) for heating and air conditioning systems, as shown in the photos below.
Transite pipe, which contains significant percentage of asbestos fibers, was often used for heating ducts and on occasion heating and cooling ducts in older buildings.
The transite pipe was used in a buried-in-slab construction methods which placed the transite piping below or in a building floor slab, and asbestos-containing transite pipe ducts were also used in exposed areas such as shown in the crawl space photographs above. [Photo above showing transite duct material is provided courtesy of Thomas Hauswirth, a Connecticut home inspector.]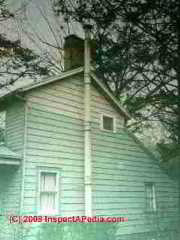 Our at left below shows a transite (asbestos cement) chimney on the exterior of an older home. This chimney may be too cold to perform safely, especially if venting a gas-fired appliance.
At CHIMNEY INSPECTION DIAGNOSIS REPAIR we describe chimney inspections in detail.
Asbestos hazards of transite duct or chimney piping: Cementious duct material may contain asbestos. What is this "cement" duct work made of? Cement and asbestos fibers.

How much asbestos is in Transite pipe? While it's cementious, transite ducts or even transite pipe used for heating flue vents is a potential asbestos hazard in buildings.
Transite pipe typically contains about 15% to 25% asbestos fibers, typically fibrous chrysotile asbestos.

A careful asbestos testing lab may report both fibrous and fragmented asbestos which can occur in still smaller pieces (thus more easily remaining airborne and increasing human exposure to asbestos). The balance will be cement and possibly other fibers or binders.

Health Hazards from Handling Transite Pipe or Asbestos Cement Piping for Vents, Chimneys, or Air Ducts
Where are the chief health risks with cementious asbestos materials?
Transite pipe, whether it has been used as an air duct, flue vent, chimney, or water pipe, is still a cementious material that is unlikely to release high levels of airborne fibers when it is in good condition.
Touching transite pipe, or simply removing and disposing of an intact section of this material from a building by carrying it outside should not release a significant level of airborne asbestos fibers unless:
The transite pipe was deteriorated, soft, friable - crumbly and easily made into powder and debris - this can happen where the material was exposed to weather such as the upper portion of a flue vent, plumbing vent, or chimney where it extends above a building roof or where transite air ducts were placed below a floor slab and exposed to water.
The transite pipe was removed or attacked using power tools such as saws, grinders, or sanders, producing asbestos-containing dust
The transite pipe was removed or attacked during demolition using hammers and similar implements
In summary, if it has become soft and friable, or if transite pipe is damaged or is cut mechanically (such as by using power equipment), friable, airborne asbestos fibers may be generated - a health and potentially a costly cleanup concern.

Incorrect spellings of transite piping or transite duct material that we've seen include transit pipe, transit ducts, Transide pipe, transide ducts, tranisite pipe, and transight pipe. "Transite" is the correct spelling.
Other Transite Chimney Warnings
At left we see the outdoor base of the transite chimney shown at the top of this page. Concerns that one can see here include:
Soot marks showing that the chimney was leaking flue gases, risking inadequate draft and also water leaks that may follow the chimney interior into the heating appliance, damaging that system.
Chimney elbow and wall thimble at and perhaps below ground surface: the risk of rain, surface runoff or water from snow melt entering the building or damaging the heating appliance are increased.
Reader Question:
I am hoping that you might be able to offer us some direction. We have a family cottage constructed in the 1950s and added on to until the 80s. Last year, my parents had contractors redoing the roof and asked them to remove an old oil stove as well.
The contractors had a difficult time removing the chimney pipe and sent a piece of the metal crashing into the cottage as they wrestled with the stovepipe atop the roof. This sent debris, mostly looking like soot, all over the kitchen.
Recently, however, my concern has risen because I was looking at old pictures and now see that there was a piece of pipe that looks alot like asbestos cement at the exposed part of the chimney. As I was not there when it was demolished I asked my parents who believe the potential transite part was broken apart during demolition. Now I am concerned that there may be asbestos contamination in the cottage itself.
Unfortunately, we, including my toddler, have spent some time there since. What steps can we take to evaluate any contamination inside the building and clean it? Thank you for any suggestions you might have.
Reply:
I trust you understand that with no data on level of material release nor exposure any opinion about the actual risk level in the case you describe would be nonsense.
What you can do is
Make sure that the chimneys & vents in the home that are currently in use are safe -avoiding fire and carbon monoxide hazards
HEPA vacuum, damp wipe, clean dust from building indoor surfaces where dust and debris may have been present
Someone not concerned for tossing your money at a problem to reduce their risks (the other people's money or OPM problem) might suggest swab and air tests in the building for asbestos contamination.
...
Continue reading at CHIMNEY INSPECTION DIAGNOSIS REPAIR - home: asbestos cement transite pipe chimneys may have operating and safety problems, concerns completely separate from asbestos handling questions, or select a topic from closely-related articles below, or see our complete INDEX to RELATED ARTICLES below.
Or see ASBESTOS CEMENT PRODUCTS - home, where we include research on the chrysotile asbestos content & hazard of asbestos cement & transite products.
Or see ASBESTOS IDENTIFICATION IN BUILDINGS - home and also ASBESTOS MATERIAL REGULATIONS
Or see these

Transite Pipe Articles
Suggested citation for this web page
TRANSITE CHIMNEYS at InspectApedia.com - online encyclopedia of building & environmental inspection, testing, diagnosis, repair, & problem prevention advice.
Or use the SEARCH BOX found below to Ask a Question or Search InspectApedia
...
Frequently Asked Questions (FAQs)
Try the search box below or CONTACT US by email if you cannot find the answer you need at InspectApedia.
Question:
[delete] (Apr 2, 2014) dan lackey said:
is there an e p a aproved methode to seal transite pipe used for heating duct in a slab foundation home
Reply:
Not that I can find Dan but you can take a look at these sources:
1. ASBESTOS TRANSITE DUCTWORK - sealing transite air ducts in slabs
2. SLAB DUCTWORK - sealing air ducts in slabs - general issues
3. Code of Federal Regulations: Chapter 40; Part 763 -- Asbestos
This CFR excerpt contains regulations related to asbestos-containing materials in schools; asbestos worker protection; and prohibition of the manufacture of certain asbestos products.
Question: old Luxor wood stove - from Romania - does it contain asbestos?
(June 16, 2014) Anonymous said:
I have an ols luxor stove (a romanian stove company that closed)/ how can I detect if there is asbestous in the stove (this is a wood burning stove)
sorry, "ols" luxor = old "luxor"
I forgot to ask whether this company used asbest in her products/
Reply:
O.Lux:
Asbestos was often used in older woodburning stoves in these locations:
- asbestos rope gaskets on doors and between stove sections or components
- asbestos cement sealants between stove sections
- asbestos cement board or millboard as a component in heat shields
To know for sure if a material contains asbestos you'd have to send a sample to a certified asbestos test lab.
It would be sensible and prudent to treat stove sealants, gaskets and similar materials on an older unit as "PACM" - presumed asbestos-containing.
Question: backing behind cast iron in-wall radiators contains asbestos?
(Aug 6, 2014) Paul P said:
In a house built in 1949 in Nassau County Long Island, in the wall cast iron radiators, the backing behind it, paper like, shiny (but browned seemingly from years of heat, dirt) and the other side is black with long black threads going through it, do you know if this sort of material has ever contained asbestos? I am concerned because in one area this has been torn, revealing those long black strands/threads. Thank you.
Reply:
Paul
By e-text alone no one can assert for sure whether a material contains asbestos or not.
Typically a reflector board was used behind in-wall radiators to improve heat output to the room. The ones I've seen were made of fiberboard covered with aluminum foil.
If you like, use our email found at our CONTACT link to send me some sharp photos and I may be able to comment further.\
See ASBESTOS IDENTIFICATION IN BUILDINGS - home for help in recognizing asbestos-containing materials.
...
Ask a Question or Search InspectApedia
Try the search box just below, or if you prefer, post a question or comment in the Comments box below and we will respond promptly.
Search the InspectApedia website
Technical Reviewers & References
Click to Show or Hide Citations & References
ASBESTOS DUCTS, HVAC - Guide to Identification of Asbestos Materials On or In Heating and Cooling Duct Work: carbon monoxide hazards of transite chimneys and vents
ENVIRONMENTAL HAZARDS - INSPECT, TEST, REMEDY - Environmental Hazard Detection, Testing, Repair, Illness, Symptoms, & Prevention in buildings
IDENTIFICATION of ASBESTOS in buildings - Asbestos Identification in buildings: How to find & identify asbestos-containing materials
TRANSITE PIPE AIR DUCT ASBESTOS RISKS - Hazards of Asbestos-containing Transite Pipe HVAC Ducts: duct collapse, mold, radon, asbestos fiber release
TRANSITE PIPE CHIMNEYS & FLUES - Guide to Identifying Asbestos Transite Chimneys & Flues & their Hazards in buildings
TRANSITE PIPE WATER SUPPLY PIPING - Guide to Identifying Asbestos Cement Transite Water Pipes & their Hazards in buildings
Roger Hankey is principal of Hankey and Brown home inspectors, Eden Prairie, MN. Mr. Hankey is a past chairman of the ASHI Technical Committee and the ASHI Standards Committee. Mr. Hankey serves as co-chairman of ASHI legislative committee, and has served in other ASHI professional and leadership roles. Contact: 952 829-0044 - hankeybrown@comcast.net
Ervin McKinney, a gas industry expert in Lorain OH, kindly provided this PDF copy of 1948/1949 Underwriters Laboratories UL List of Inspected Gas, Oil, and Miscellaneous Appliances. October 2010
June 1997 - Window Putty - OSHA case cites contractor for asbestos exposure during removal of window putty http://www.osha.gov/pls/oshaweb/owadisp.show_document?p_table=NEWS_RELEASES&p_id=1091
Asbestos Identification and Testing References

Asbestos Identification, Walter C.McCrone, McCrone Research Institute, Chicago, IL.1987 ISBN 0-904962-11-3. Dr. McCrone literally "wrote the book" on asbestos identification procedures which formed the basis for current work by asbestos identification laboratories.
Stanton, .F., et al., National Bureau of Standards Special Publication 506: 143-151
Pott, F., Staub-Reinhalf Luft 38, 486-490 (1978) cited by McCrone

ASBESTOS IN YOUR HOME U.S. EPA, Exposure Evaluation Division, Office of Toxic Substances, Office of Pesticides and Toxic Substances, U.S. Environmental Protection Agency, Washington,D.C. 20460
Asbestos products and their history and use in various building materials such as asphalt and vinyl flooring includes discussion which draws on ASBESTOS, ITS INDUSTRIAL APPLICATIONS, ROSATO 1959, D.V. Rosato, engineering consultant, Newton, MA, Reinhold Publishing, 1959 Library of Congress Catalog Card No.: 59-12535 (out of print, text and images available at InspectAPedia.com).
"Handling Asbestos-Containing roofing material - an update", Carl Good, NRCA Associate Executive Director, Professional Roofing, February 1992, p. 38-43
EPA Guidance for Controlling Asbestos-Containing Materials in buildings, NIAST, National Institute on Abatement Sciences & Technology, [republishing EPA public documents] 1985 ed., Exposure Evaluation Division, Office of Toxic Substances, Office of Pesticides and Toxic Substances, U.S. Environmental Protection Agency, Washington,D.C. 20460
...
Books & Articles on Building & Environmental Inspection, Testing, Diagnosis, & Repair
Our recommended books about building & mechanical systems design, inspection, problem diagnosis, and repair, and about indoor environment and IAQ testing, diagnosis, and cleanup are at the InspectAPedia Bookstore. Also see our Book Reviews - InspectAPedia.
...