Shared Chimney Flue Hazards & Repairs
InspectAPedia tolerates no conflicts of interest. We have no relationship with advertisers, products, or services discussed at this website.
Shared chimney flues:
This article describes shared chimney flues, multiple heating appliances, fireplaces, woodstoves all using the same chimney venting path through a building and to outside.
Shared flues can create fire and smoke spread hazards and carbon monoxide hazards in buildings.
We also provide a MASTER INDEX to this topic, or you can try the page top or bottom SEARCH BOX as a quick way to find information you need.
Here we outline how to detect shared chimney flues, how they are repaired, and we list the exceptions to the rule, showing when, in some jurisdictions, it is permitted to vent more than one heating appliance into a single chimney flue and when it is permitted to vent both oil and gas-fired appliances into the same flue.
Our photo (page top) shows three heating appliance, each connected by its own flue vent connector to a masonry block chimney. Is this OK? the answer is, it depends. On the chimney flue size and other installation details. Notice too that we are sharing the flue between oil and wood fired appliances.
These articles on chimneys and chimney safety provide detailed suggestions describing how to perform a thorough visual inspection of chimneys for safety and other defects. Chimney inspection methods and chimney repair methods are also discussed.
Shared Chimney & Shared Flue Hazards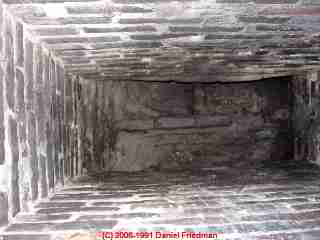 A "shared chimney flue" means that the flue or pathway for venting combustion gases out of a building is shared among two or more things that need to be vented, such as a fireplace and a heating boiler.
A "flue" refers to a sealed pathway out of the building to vent combustion gases, such as a metal flue pipe or clay flue tiles stacked up inside of a chimney.
A single chimney can safely have multiple flues inside the chimney, each flue venting an appliance, fireplace, or other device, provided that the chimney was properly constructed, including the necessary spacing or sealant between the individual flues.
Our photo at the very top of this page and repeated here shows an unlined chimney flue which, by luck of illumination from our flash camera, also showed us that a common flue was being used to vent two fireplaces - a fire code violation in many jurisdictions.
You can see that this chimney has two brick flues entering its common upper section.
There is no flue divider in this chimney above the two flues entering in its bottom - shown in the center of our photo.
Dedicated chimney flues are required: Each device that produces combustion gases needs to have its own dedicated flue to vent combustion gases safely out of the building.
[Click to enlarge any image]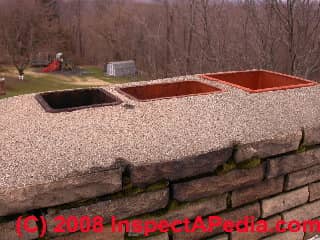 Fire spread and combustion gas or carbon monoxide hazards: gases may be conducted from a heating appliance to another area in the building when the flue divider is missing.
For example, dangerous carbon monoxide from a basement gas fired heater or a coal stove may leak into an upper building floor through a fireplace or woodstove connected to the same flue.
As Carson Dunlop Associates [at REVIEWERS] sketches point out (above left), the missing divider from the chimney shown in our photo above and in the sketch at left may permit dangerous flue gases or carbon monoxide to enter the living area through a fireplace.
Proper construction of chimney walls in a modern masonry flue is shown at above right.
Our photo (above/left) shows that the clay flue tiles are just 1.5" apart (left flue pair) and about 2" apart (right flue pair) - too close according to the sketch above.
This is especially the case if elsewhere in the building a gas (or oil) fired heater is using the same chimney.
In the unfortunate fireplace shown below, we see that someone has "fixed" an unsafe shared chimney flue problem.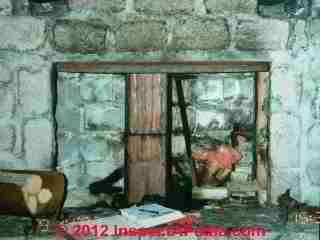 The fireplace flue was shared with the heating boiler in the basement.
To end this sharing the repairman installed clay flue tiles between the bottom of the fireplace and the upper fireplace flue.
This is no longer a working fireplace. Is it a safe flue?
Examples of Unsafe and Not-Permitted Shared Chimney Flues or Flue Vent Connectors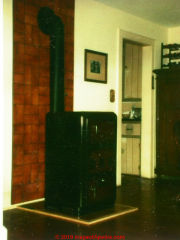 Photo: a coal stove (a solid fuel appliance) on the first floor of this Poughkeepsie NY home is vented into the same chimney flue as the gas-fired heating boiler in the basement below. This is an un-safe and improper installation.
It was common for chimney flues to be shared in older buildings in the following ways (and probably others you can suggest to us). All of the examples in the following list are unsafe and should be corrected immediately.
A single large chimney with multiple fireplaces on the same floor - for example back to back fireplaces on the first floor of a colonial home may share the same flue
A single chimney serving fireplaces on two or more different floors may be unsafe and usually not permitted anywhere.

In SHARED CHIMNEY FLUES OK

see TWO FIREPLACES in ONE FLUE
A single chimney flue serving a basement heating appliance: boiler, furnace, or water heater that is also used by a fireplace on the same level in the building or on an upper floor
A single chimney flue serving a fireplace on one floor and a woodstove on an upper floor may be unsafe and is usually not be permitted in any jurisdiction.
A single chimney flue serving a basement heating boiler and a coal stove or woodstove on an upper floor
Single-wythe thick brick masonry flues and some other un-lined chimney flues:

See UNLINED FLUE INSPECTIONS Safety Requirements for old chimneys - photos, dangerous carbon monoxide and blocked flue case report, chimney flue standards, chimney inspection suggestions
Single large-volume chimney serving multiple heating appliances that cannot properly vent the smaller gas or oil-fired appliance when the chimney is cold
Shared Flue Vent Connector & Chimney - Soot Blow-back Clue at Water Heater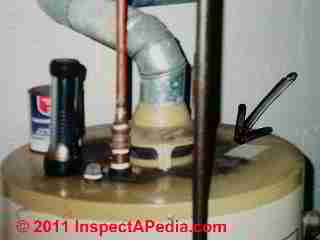 You can see in our photo of this gas fired water heater (left) that the oil-burner fired heater whose flue vent connector is shared is permitting the oil fired heater exhaust to blow backwards out through the gas fired water heater's draft hood.
It is a sure guess that at least when the oil burner is running, this water heater is not working properly and probably not safely. The underlying trouble could be an inadequate or blocked chimney or flue.
Shared Flue: Heating Boiler & Water Heater Unsafe
First photo: in this Poughkeepsie home a gas fired water heater shares a flue with a large gas fired steam boiler.
These clues confirm that this heater is not venting safely and that there is a risk of carbon monoxide poisoning for building occupants.
White salt deposits and corrosion around the draft hood on the water heater indicates back-drafting, failure to vent in some conditions, and corroded, damaged flue vent connector. It is possible that steam boiler combustion products back-flow down and out at the water heater draft hood.
Flue gas spillage is occurring at the water heater draft hood, possibly because the heater vents into a very large, tall, masonry flue inside which it cannot establish a functional draft, especially if the steam boiler has been off and the chimney is cold.
Unsafe modification of flue gas spill sensors: some fool has bent-up the flue gas spillage detectors / sensors to get them out of the flow path of flue gas spillage, probably because flue gas spillage was causing the water heater to turn off.
Watch out: these conditions are unsafe and risk fatal carbon monoxide poisoning.
They also tell us that someone who is not properly trained or informed in heating and chimney safety and maintenance has worked on this equipment.
Below: my photo shows the "bent-up" flue gas spill detector and the white corrosive salts around the draft hood and the flue vent connector.

Overloaded & Improperly Shared Chimney Flue?
Reader Comment: 09 April 2015 NHFireBear said:
What's the deal in the top photo in this article? [and shown just above]
It appears to show a wood-fired boiler (orange Itasca? WB410) and an oil-fired (green) boiler (and possibly the blue, oil-fired water heater) venting into the same flue (i.e., one connector entering above the other).
This would be a violation of both the oil-burner code and the wood-burner code. You cannot generally have any solid-fuel burning appliance venting into the same flue as oil or gas burners. NFPA 31 (2011): 6.5.25, NFPA 211 (2010): 9.8.2.
I have a recent photo of a single-wall oil vent from a floor heater to a masonry wall, having only 2-inch clearance from combustible structure, if you would like a copy to post.
Shall I email you a jpg? I have marked the problem with red arrows. It is 120 dpi and sized at 6.4 inches wide, 4.8 high.

Reply:
NH

I'd like to see and if OK with you use your photo as well: our email is at the CONTACT link at page top or bottom.
The page top photo on this article is indeed an illustration of a fiasco - I agree with you and that's why we published it. I'll add your comments for emphasis.
What's interesting is the wood-oil combi boilers that I've seen with only a single flue-vent connector and thus by definition sharing a chimney.
There are exceptions allowed in some jurisdictions that permit separate oil and wood fired devices to share the same flue.
Details are at SHARED CHIMNEY FLUES OK
There, citing appropriate US codes, we note that when a gas fired appliance is permitted to be vented into the same flue as an oil fired heating appliance the smaller sized gas appliance is connected above the oil fired appliance flue vent connector.
I [DF] think the reason for that code specification or requirement is the need to avoid possible back-drafting out through the gas appliance draft hood of the combustion products from the more-powerful draft created by the oil fired appliance.
Worse, such back-drafting could cause fatal carbon monoxide poisoning by interfering with the exhaust of the gas appliance.
Question: should shared chimneys have an air vent to prevent condensation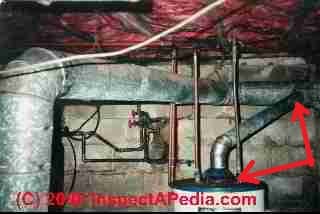 5 April 2015 Arthur said:
Four gas fire flues emerge from a brick chimney on the roof, not sure whether it is a shared chimney or not.
Two ground floor gas fires and one on the first floor are still in use, the remaining gas fire on the first floor has been removed. The builders opening has been sealed by a registered gas fitter.
Should this chimney have an air vent to prevent condensation occurring ?
But where the flue vent connector run-length is abnormally long or tortuous it may be difficult to get good draft, or where the chimney size itself (to which the flue vent connector joins) is too big or too small, the use of a draft inducer might be permitted.
Watch out: the connection of smaller and larger diameter flue vent connectors together ahead of the chimney such as shown in this photo is unsafe and improper.
The larger appliance vent may overpower and cause backdrafting at the smaller gas fired water heater at the lower right in our photo.
Reply:
Arthur, if there is condensation in a chimney at levels sufficient to cause damage, the solution is not to add an air vent - a step that could be very dangerous as doing so can prevent adequate chimney draft - but to review the chimney size, height, insulating properties against the input BTUh of the appliance being vented.
Proper chimney design and sizing is what are required.
For a complete explanation see

Also see CREOSOTE FIRE HAZARDS
Below: a tankless heater vented using plastic connected to a metal B-vent that is badly rusted. This is an unsafe installation. [Click to enlarge any image]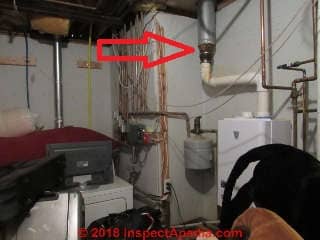 ...
Continue reading at SHARED CHIMNEY FLUES OK where we describe circumstances under which a flue or flue vent connector (stackpipe) can be shared - maybe, or select a topic from closely-related articles below, or see our complete INDEX to RELATED ARTICLES below.
Or see CHIMNEY CODES for downloadable copies of common chimney and appliance venting codes and standards
Or see CHIMNEY CODES & STANDARDS - home
Or see CREOSOTE FIRE HAZARDS
Or see DRAFT INDUCER FANS
Suggested citation for this web page
SHARED CHIMNEY & FLUE HAZARDS at InspectApedia.com - online encyclopedia of building & environmental inspection, testing, diagnosis, repair, & problem prevention advice.
Or use the SEARCH BOX found below to Ask a Question or Search InspectApedia
...
Ask a Question or Search InspectApedia
Try the search box just below, or if you prefer, post a question or comment in the Comments box below and we will respond promptly.
Search the InspectApedia website
Technical Reviewers & References
Click to Show or Hide Citations & References
Mark Cramer Inspection Services Mark Cramer, Tampa Florida, Mr. Cramer is a past president of ASHI, the American Society of Home Inspectors and is a Florida home inspector and home inspection educator. Mr. Cramer serves on the ASHI Home Inspection Standards. Contact Mark Cramer at: 727-595-4211 mark@BestTampaInspector.com
John Cranor is an ASHI member and a home inspector (The House Whisperer) is located in Glen Allen, VA 23060. He is also a contributor to InspectApedia.com in several technical areas such as plumbing and appliances (dryer vents). Contact Mr. Cranor at 804-747-7747 or by Email: johncranor@verizon.net
Thanks to Luke Barnes for suggesting that we add text regarding the hazards of shared chimney flues. USMA - Sept. 2008.
Arlene Puentes, an ASHI member and a licensed home inspector in Kingston, NY, and has served on ASHI national committees as well as HVASHI Chapter President. Ms. Puentes can be contacted at ap@octoberhome.com
Roger Hankey is principal of Hankey and Brown home inspectors, Eden Prairie, MN, technical review by Roger Hankey, prior chairman, Standards Committee, American Society of Home Inspectors - ASHI. 952 829-0044 - hankeyandbrown.com
NFPA 211 - Standards for Chimneys & Fireplaces, NFPA 211: Standard for Chimneys, Fireplaces, Vents, and Solid Fuel-Burning Appliances, 2006 Edition (older editions and standards are found at the same bookstore)
NFPA #211-3.1 1988 - Specific to chimneys, fireplaces, vents and solid fuel burning appliances.
NFPA # 54-7.1 1992 - Specific to venting of equipment with fan-assisted combustion systems.
GAMA - Gas Appliance Manufacturers' Association has prepared venting tables for Category I draft hood equipped central furnaces as well as fan-assisted combustion system central furnaces.
National Fuel Gas Code, an American National Standard, 4th ed. 1988 (newer edition is available) Secretariats, American Gas Association (AGA), 1515 Wilson Blvd., Arlington VA22209, and National Fire Protection Association (NFPA), Batterymarch Park, Quincy MA 02269. ANSI Z223.1-1988 - NFPA 54-1988. WARNING: be sure to check clearances and other safety guidelines in the latest edition of these standards.
Fire Inspector Guidebook, A Correlation of Fire Safety Requirements Contained in the 1987 BOCA National Codes, (newer edition available), Building Officials and Code Administrators International, Inc. (BOCA), Country Club HIlls, IL 60478 312-799-2300 4th ed. Note: this document is reissued every four years. Be sure to obtain the latest edition.
Uniform Mechanical Code - UMC 1991, Sec 913 (a.) Masonry Chimneys, refers to Chapters 23, 29, and 37 of the Building Code.
New York 1984 Uniform Fire Prevention and Building Code, Article 10, Heating, Ventilating, and Air Conditioning Requirements
New York 1979 Uniform Fire Prevention & Building Code, The "requirement" for 8" of solid masonry OR for use of a flue liner was listed in the One and Two Family Dwelling Code for New York, in 1979, in Chapter 9, Chimneys and Fireplaces, New York 1979 Building and Fire Prevention Code:
"Top Ten Chimney (and related) Problems Encountered by One Chimney Sweep," Hudson Valley ASHI education seminar, 3 January 2000, contributed by Bob Hansen, ASHI
Chimney Inspection Checklist, Carson Dunlop, Associates, Toronto, Ontario
"Rooftop View Turns to Darkness," Martine Costello, Josh Kovner, New Haven Register, 12 May 1992 p. 11: Catherine Murphy was sunning on a building roof when a chimney collapsed; she fell into and was trapped inside the chimney until rescued by emergency workers.
"Chimneys and Vents," Mark J. Reinmiller, P.E., ASHI Technical Journal, Vol. 1 No. 2 July 1991 p. 34-38.
"Chimney Inspection Procedures & Codes," Donald V. Cohen was to be published in the first volume of the 1994 ASHI Technical Journal by D. Friedman, then editor/publisher of that publication. The production of the ASHI Technical Journal and future editions was cancelled by ASHI President Patrick Porzio. Some of the content of Mr. Cohen's original submission has been included in this more complete chimney inspection article: InspectAPedia.com/chimneys/Chimney_Inspection_Repair.php. Copies of earlier editions of the ASHI Technical Journal are available from ASHI, the American Society of Home Inspectors.
Natural Gas Weekly Update: http://tonto.eia.doe.gov/oog/info/ngw/ngupdate.asp Official Energy Statistics from the U.S. Government
US Energy Administration: Electrical Energy Costs http://www.eia.doe.gov/fuelelectric.html
Books & Articles on Building & Environmental Inspection, Testing, Diagnosis, & Repair
Our recommended books about building & mechanical systems design, inspection, problem diagnosis, and repair, and about indoor environment and IAQ testing, diagnosis, and cleanup are at the InspectAPedia Bookstore. Also see our Book Reviews - InspectAPedia.
Fireplace & Chimney Design, Repair Books - Fireplaces, Chimneys: design, repair
Fireplace & Chimney Inspection Books - Inspecting and diagnosing chimney problems, fireplace problems, chimney & fireplace standards
Ceramic Roofware, Hans Van Lemmen, Shire Library, 2008, ISBN-13: 978-0747805694 - Brick chimneys, chimney-pots and roof and ridge tiles have been a feature of the roofs of a wide range of buildings since the late Middle Ages. In the first instance this ceramic roofware was functional - to make the roof weatherproof and to provide an outlet for smoke - but it could also be very decorative.
The practical and ornamental aspects of ceramic roofware can still be seen throughout Britain, particularly on buildings of the Victorian and Edwardian periods. Not only do these often have ornate chimneys and roof tiles but they may also feature ornamental sculptures or highly decorative gable ends. This book charts the history of ceramic roofware from the Middle Ages to the present day, highlighting both practical and decorative applications, and giving information about manufacturers and on the styles and techniques of production and decoration.
Hans van Lemmen is an established author on the history of tiles and has lectured on the subject in Britain and elsewhere. He is founder member and presently publications editor of the British Tiles and Architectural Ceramics Society. Available at the InspectAPedia Bookstore.
Chimney Inspection Checklist, Carson Dunlop, Associates, Toronto, Ontario
Chimney & Stack Inspection Guidelines, American Society of Civil Engineers, 2003 - These guidelines address the inspection of chimneys and stacks. Each guideline assists owners in determining what level of inspection is appropriate to a particular chimney and provides common criteria so that all parties involved have a clear understanding of the scope of the inspection and the end product required. Each chimney or stack is a unique structure, subject to both aggressive operating and natural environments, and degradation over time. Such degradation may be managed via a prudent inspection program followed by maintenance work on any equipment or structure determined to be in need of attention. Sample inspection report specifications, sample field inspection data forms, and an example of a developed plan of a concrete chimney are included in the guidelines. This book provides a valuable guidance tool for chimney and stack inspections and also offers a set of references for these particular inspections.
Fireplaces, a Practical Design Guide, Jane Gitlin
Fireplaces, Friend or Foe, Robert D. Mayo
NFPA 211 - Standards for Chimneys & Fireplaces, NFPA 211: Standard for Chimneys, Fireplaces, Vents, and Solid Fuel-Burning Appliances, 2006 Edition (older editions and standards are found at the same bookstore)
Principles of Home Inspection: Chimneys & Wood Heating (Principles of Home Inspection), Carson Dunlop
NFPA 211 - 3-1.10 - Relining guide for chimneys
NFPA 211 - 3-2 - Construction of Masonry Chimneys
NFPA 211 - 3-3 - Termination Height for chimneys
NFPA 211 - 3-4 - Clearance from Combustible Material
NFPA 54 - 7-1 - Venting of Equipment into chimneys
Brick Institute of America - Flashing Chimneys
Brick Institute of America - Proper Chimney Crowns
Brick Institute of America - Moisture Resistance of Brick
American Gas Association - New Vent Sizing Tables
Chimney Safety Institute of America - Chimney Fires: Causes, Effects, Evaluation
National Chimney Sweep Guild - Yellow Pages of Suppliers
...