Flue Vent Connectors / Stackpipes for Heating Boilers, Furnaces, Water Heaters & Chimney Flues
Horizontal & sloped connections between heating appliances & chimneys: materials, sizes, lengths, codes
InspectAPedia tolerates no conflicts of interest. We have no relationship with advertisers, products, or services discussed at this website.
Flue vent connector specifications & fire clearances: this article describes flue vent connectors used to connect heating appliances to a chimney in order to safely deliver combustion gases to a chimney for venting outside the building.
Flue vent connectors are not the same thing as a chimney and they have their own safety and installation requirements including slope, materials, diameter, and clearance from combustibles.
We also provide a MASTER INDEX to this topic, or you can try the page top or bottom SEARCH BOX as a quick way to find information you need.
Flue Vent Connectors - Heating Boilers, Furnaces, Water Heaters & Chimney Flues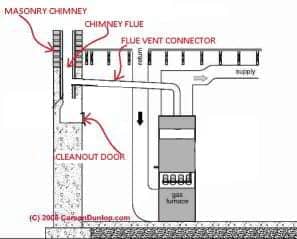 Our page top photo shows three separate heating appliances, each with its own flue-vent connector, connecting into (what we hope are) three individual flues in a masonry chimney. But from the layout we suspect these heaters are sharing a common flue. The wood and oil fired appliances should not share a chimney, as NHFireBear comments at SHARED CHIMNEY & FLUE HAZARDS.

Article Contents:
Definitions of Chimney, Factory-Built Chimney, & Flue Vent Connector
Because some readers may be confused about the difference between a "chimney" and a "flue vent connector" we include some simple definitions below. On our illustration at left we have marked the chimney, chimney flue, and flue vent connector - adapted from a Carson Dunlop Associates illustration used later in this article.
[Click to enlarge any image to see more detail]
Chimney means a primarily vertical shaft enclosing at least one flue for conducting flue gases to the outdoors.
Factory-built chimney means a chimney consisting entirely of factory-made parts, each designed to be assembled with the other without requiring fabrication on site.
Vent connector (as applying to heating or cooling systems) means the part of a venting system that conducts the flue gases or vent gases from the flue collar of a gas appliance to the chimney or gas vent , and may include a draft control device. - http://www.nationalcodes.nrc.gc.ca 11/13/2013
These definitions are important because the construction, use, and safety requirements as well as building codes and standards and fire clearances are different for these different components.
Flue vent connectors for "B" or "L" Vents: A vent connector connects gas equipment to a flue or chimney. Appliances having draft hoods and installed in an attic or concealed space must use Type B or L connectors. Appliances installed in basements can use Type B or Type L or metal pipe (.0304" thick) or aluminum pipe (.012" thick). Gas fired equipment should not be connected to any flue serving solid fuel appliances.
Multiple gas vents into a single flue: Where two or more vent connectors enter a common gas vent, chimney flue or single wall metal pipe, the smaller connector shall enter at the highest level consistent with available headroom and clearance to combustibles. Avoid unnecessary bends and secure all joints with sheet metal screws or other approved means.
Chimney Blocked at the Flue Vent Connector
Watch out: Debris falling down a "dead end flue" easily blocks the flue vent connection and chimney (illustrations below). The result can be rapid and fatal
CARBON MONOXIDE - CO poisoning of building occupants. .
Carson Dunlop Associates [at REVIEWERS] sketch (above) shows fallen bricks blocking the bottom of the flue so that even where a "dead end" flue was not constructed - that is, where a chimney cleanout was installed - falling debris can so fill up the chamber at the bottom of the chimney flue that the effect is the same: a blocked chimney flue and the production of carbon monoxide.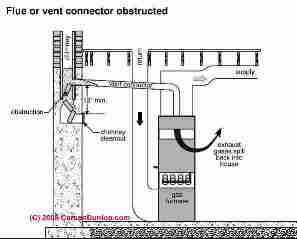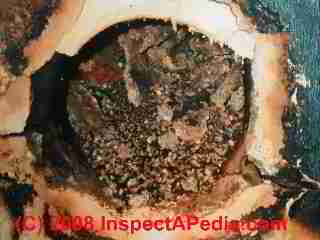 A blocked flue case study is reported
at UNLINED FLUE INSPECTIONS.
Flue Vent Connector Too Far into Chimney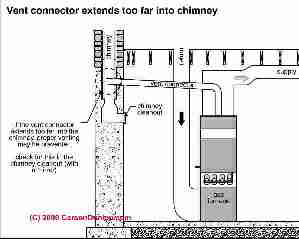 Carson Dunlop Associates [at REVIEWERS] sketch shows what happens if the flue vent connector is jammed too far into the chimney flue.
Draft may be blocked, resulting in improper and potentially dangerously unsafe heating equipment operation.
For example, inadequate draft on a gas fired appliance makes the production of potentially fatal carbon monoxide gas likely.
The symptoms of this mistake are about the same as a blocked flue, and like a blocked flue, the diagnosis requires some disassembly and inspection of the flue vent connector and chimney by an expert.
Proper Joint Connections for Single Wall Metal Flue Vent Pipes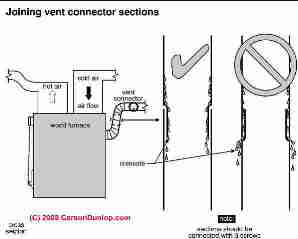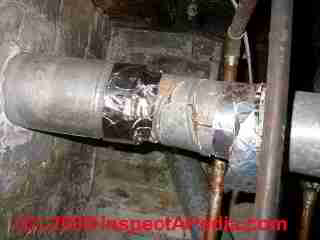 Metal flue vent connectors such as shown in Carson Dunlop Associates [at REVIEWERS] sketch (above left) should also be joined with the female (wider) ends facing "up" so that condensate and creosote that may form inside of the flue connector remain inside of the flue pipe. Our photo (above right) shows that foil tape was used to join two flue vent connector pipes of different diameters from a gas fired heating appliance (not shown). Foil tape is not a suitable substitute for the necessary adapter to join the two different diameter flue vent connectors.
It's easy to spot an improperly-joined flue vent connector pair of sections: you will often see stains from leaks oozing out at the section joints.
Flue vent connector horizontal length limits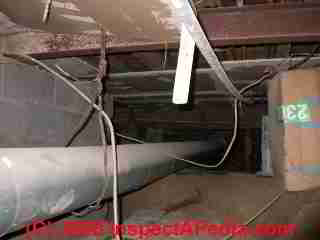 Horizontal vent length limits: The horizontal length of a vent connector to a natural draft chimney or vent serving a single draft hood appliance shall not be more that 75% of the height of the vertical portion of the chimney above the connector. [NFPA 1992 (7.10.10)]. We show some long flue vent connector runs at
The maximum horizontal length of vent connectors per the GAMA tables is limited to 1.5 feet per inch of diameter with a provision of a 10% reduction in capacity for each multiple of the length permitted. The venting tables must be consulted to size an adequate venting system.
Watch out: allowable flue vent connector length calculation can be a bit more complex than that rule of thumb, as the Q&A below illustrates.
Our photo shows a very long dead flue vent connector joining a heating appliance to a dead end chimney.
Reader Question: is there a Simple rule that relates allowable horizontal flue length and flue vent diameter?
What is the maximux allowable horizontal length of a category 1 appliance vent connector in feet for each inch of its diameter. - S.W.
Reply: Not quite so simple, here are the factors that determien allowable horizontal flue length:
From your question, a simple, straight answer on allowable flue length per inch of flue diameter is not quite possible. Take a look at the National Fuel Gas Code NFPA 54, or ANSI Z223.1, for example, Tables G, and you'll see that the tables consider the following factors that set the allowable horizontal flue length or run:
the height or flue vent connector rise and/or chimney height
the lateral distance (0, 2', 6', 12', up to 100 feet), flue diameter
the number of appliances served
the maximum appliance BTUH input rate of the appliance(s)
An example (from a 1988 copy of the National Fuel Gas Code):
a 6" diameter Type B double wall connector with a 15' lateral run and a 15' high chimney can vent 198,000 BTUh of capacity.
So a simplistic equation that gives allowable horizontal distance of a flue vent connector or vent expressed in feet per inch of diameter simply would be wrong and potentially unsafe, risking a carbon monoxide or equipment operating problem.
You will want to consult the proper tables either in one of the codes or in the heating equipment manufacturer's equipment installation procedures (the manufacturer would be expected to have the final say).
Reader Question: what's the code on distance and clearance for metalbestos chimneys & vents vs oil storage tanks?
I am installing a pellet boiler and will need a second metal chimney as I am leaving my oil burner as a backup. I live in maine. The only place I would like the metal asbestos chimney would run 40" away from my oil tank. Do you know what the code is on this? I am having a heck of a time getting any answers regarding this? - R. B. Windham ME 2/27/2014

Reply: heat flue vent length maximum distances vs. clearance distances from oil tanks or other building features
R.B. If you are asking about the chimney itself, insulated metal chimneys typically require a one-inch clearance from combustibles.
The required separeation or clearance distances for flue vent connectors (generally single-wall uninsulated metal "flue pipes" or "stack pipes" that connect the heater to the chimney) is discussed
at FLUE VENT CONNECTORS, HEATING EQUIPMENT
The required separation of metal or insulated chimneys themselve from varous building components or combustibles is explained
at FIRE CLEARANCES, METAL CHIMNEYS and
for height above roofs,
see CHIMNEY HEIGHT & CLEARANCE CODE
The required separation of heating appliances (like an oil burner) from heating oil storage (the oil tank) is elaobrated at ABOVE GROUND OIL STORAGE TANK (AST) INSPECTION
If you were asking about the distance or run length for the flue vent connector between the chimney and the heating appliance, that's a different story.
Suppose we wanted to run across an entire building from the heater to the chimney: the maximum horizontal length should not be more than 75% of the chimney height above the vent connector, or 100% if the chimney is insulated. So to cross a 40 foot basement from a heater to a chimney you'd need a chimney at least 40 feet tall for the system to vent properly by natural draft. But an option that may work acceptably in that case is to include a draft inducer fan such as the type made by Field Controls.

Flue Vent Connector Loose, Leaky, Not Sealed at Chimney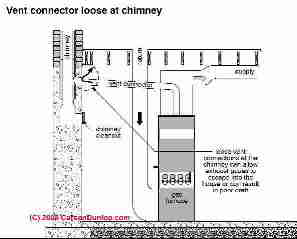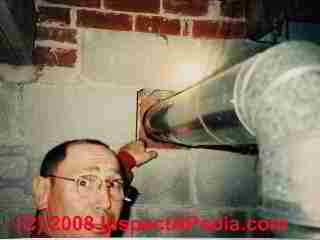 Carson Dunlop Associates [at REVIEWERS] sketch (above left) shows a loose flue vent connector at the chimney. This is one of the most common chimney and venting defects we observe in buildings.
This defect can often be seen by careful visual inspection of the flue vent connector at the chimney. Our photo (above right) shows our client pointing to a flue vent connector that was not sealed at the chimney thimble.
The results of a loose or leaky vent connection at the chimney include inadequate chimney draft (unsafe heater operation) and leakage of potentially dangerous combustion gases into the building.
Unsafe Rusted Hole in Metal Flue Vent Connectors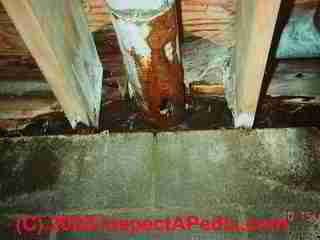 We suspect that the root cause of this unsafe metal heating flue is that it was routed out of the building at or below ground level - into a dead-end chimney.
Water from roof spillage or surface runoff have rusted out the flue vent connector.
This is an unsafe installation even before we think about the added hazards of fire clearances and adequate draft.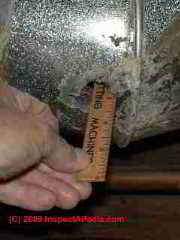 This flue vent connector (photo at left) has rusted through from water leaking down the chimney into the vent connector elbow.

On an oil-fired system we expect soot to blow out of this opening at system startup and during the system run cycle the opening may interfere with proper system draft. The opening leaves a fire risk should a spark blow out of this opening.
On a gas-fired system a flue vent connector with a rust hole increases the chance of inadequate draft and dangerous carbon monoxide release in the building.
This flue vent connector elbow,rusted through with a large hole, needs to be replaced and more, we need to identify and repair the source of water leakage into the chimney that caused this damage.
Proper Flue Vent Connector Slope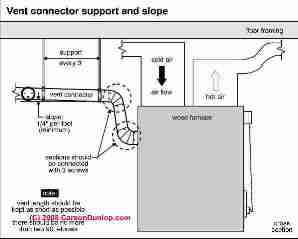 Metal flue vent connectors such as shown in Carson Dunlop Associates [at REVIEWERS] sketch should:
slope upwards from the heating appliance to the chimney connection at no less than 1/4" per foot of horizontal run
be kept as short as possible - long runs get cool, produce condensate, soot and debris and rust and clogging
have flue pipe sections joined by three screws (two screw joints easily separate to vent dangerous flue gases into the building.
Also see METAL CHIMNEY SLOPE LIMITS and

see DRAFT REGULATOR, DAMPER, BOOSTER
...
Continue reading at FIRE CLEARANCES, SINGLE WALL METAL FLUES & VENTS or select a topic from closely-related articles below, or see our complete INDEX to RELATED ARTICLES below.
Or see SHARED CHIMNEY & FLUE HAZARDS
Suggested citation for this web page
FLUE VENT CONNECTORS, HEATING EQUIPMENT at InspectApedia.com - online encyclopedia of building & environmental inspection, testing, diagnosis, repair, & problem prevention advice.
Or use the SEARCH BOX found below to Ask a Question or Search InspectApedia
...
Frequently Asked Questions (FAQs)
Try the search box below or CONTACT US by email if you cannot find the answer you need at InspectApedia.
Question:
Feb 8, 2012) Martin D'Amico said:
I would appreciate it very much if you could provide me with a source to find a chart of smoke pipe diameter vs. amount of BTU's that can be vented though it. Thank you so much, Marty
Martin D'Amico, email: martin.da said:
Sorry I forgot to add my email, Marty
Reply:
Feb 8, 2012) (mod) said:
Marty, the idea of a flue size chart is a good one and we'll work on it. But we also answer your question at the article link "Flue Sizing of Chimneys" On this page we provide an ARTICLE INDEX to RELATED ARTICLES that includes a live link - .
Question: Seal the flue vent connector to the chimney
(Mar 30, 2012) Chuck said:
I have a flue pipe extends from the chimney entrance to within 6 inches of the floor. The flue pipe is open at the bottom to the atmosphere at the bottom. About halfway between the chimney connection and the floor the flue pipe "T"s. At the "T" the flue pipe runs horizontal over to a residential boiler and a water heater. Is the opening at the bottom of the flue pipe a problem?
(June 19, 2012) Scott said:
What is the proper way to seal a flue vent to the chimney in the case that it's loose? Is using high-temperature caulking or hydraulic cement acceptable?
Reply:
Scott, some installers use simple cement to seal the flue vent connector into the chimney, and that will work fine, but if the flue vent connector becomes corroded or damaged and needs replacement it's a bit of work to remove it. Instead, you can use a heat resistant fireproof sealant ( a replacement for asbestos-based paste or lagging) sold at heating service suppliers.
I would not use high temnperature caulk - with oil fired equipment at least, the potential temperatures may well exceed the rating of the caulk.
Question: curved flue not up to code?
(July 22, 2012) Patricia said:
I am searching for a heating system for my home of 900 square feet. I have gotten a few bids and one contractor said my flue is not up to code and would not pass inspection. He said it's because the flue has a curve instead of being straight. Is there any way I can verify this before I spend a lot of money on extra equipment? He wanted @5K as opposed to a contractor who said he would maintain my flue. I am at a loss about this.
Reply:
Patricia, it sounds as if you need an independent inspection from someone who is not selling anything for you to be confident in the diagnosis - either an independent certified chimney sweep, a professional building inspector, or possibly even your local building or fire department.
Question: loose flue vent connector & crumbling chimney
(Oct 23, 2012) ryan said:
my furnace and hot water heater are connected to my chimney, the pipe from the hot water heater is loose and the chimney is crimbled a little around where the pipe was attached what product can i use to patch around the pipe to secure it
Reply:
Ryan, you can chisel out a little bit of the mortar around the pipe. In other words, make it even looser. Then patch it with Vinyl Concrete Patcher. Using some wire mesh (called "hardware cloth")is also a good idea because it provides the patching compound something to grab. Alternatively, if the opening around the pipe is very thin, you could simply squeeze in some FireProof Caulk, usually sold at HVAC supply stores.
Question: complex chimney, leaks, cleaning, safety? backflow prevention?
(Nov 30, 2012) Steve said:
I have a complicated chimney structure in the center of my house- 2 fireplaces, a gas hot water heater, a gas boiler for hydronic heat, and an exhaust fan from a bathroom. We've noticed that there is often a smoky smell that comes into the house when I burn the main fireplace. My chimneysweep guy suggested that it's probably because my flue vents are too close together, and that the fireplace is drawing hard enough that I'm getting backflow through one of the other vents- if I had to guess, I would guess it's the 6" round vent and giant mushroom hood on the 1965-era boiler.
So my question: is there some kind of backflow preventer valve that I can have installed by a qualified HVAC pro on the exhaust hoods for the furnace and / or the water heater?
Reply:
Steve,
If your chimney guy means that the fireplace is creating negative pressure in the house, the solution would be to provide outside combustion air for the fireplace when in operation.
It's a trivially easy claim to verify,mjust open a window nearest the fireplace
But what confuses me is that if the fireplace draft were causing a backdraft you'd be drawing combustion gases from your gas fired heating equipment - which would not smell like a fireplace, and worse, could kill everyone with CO.
So first, make sure you have working and properly placed CO detectors as well as smoke detectors.
Question: removed aluminum vent pipe
(Dec 18, 2012) Jeff H. said:
I removed the old aluminum vent pipe that travels 6 feet horizonally, then 22 feet straight up our chimney. The old pipe appeared to have had a hole cut at the bend - perhaps for condensation to drain into the bottom of the chimney? Should I have put a similar hole in the vent pipe I installed?
I am concerned about the condensation running back into the heat exchanger and possibly cracking it.
Reply:
Jeff,
First off - good move removing aluminum flue vent connecting pipe. Aluminum should NEVER be used as a flue vent connector for heating equipment - it is unsafe as well as a code violation.
I agree that we don't want condensation running back into the furnace or boiler heat exchanger, but I think I'd investigate the chimney venting & design to see if we can solve the problem properly - a professional chiomney sweep inspecting the flue and chimney might advise, for example, insulation in the old chimney flue poured around that tall metal flue pipe extension that I infer (guess) was added to cope with either an unafe chimney or one that was oversized for the heating appliance. In other words, I'd feel you were safe if you got some expert advice. I don't generally see drilled holes in flue vent connectors as the solution to a significant condensation problem. Producing condensate, even if you drain it in some funky way, means flue vent connector and metal flue corrosin and short life and possible safety worries.
Question: hot closet wall
(Jan 5, 2013) Micah Weger said:
Hello,
One of my walls in my bedroom closet is hot to the touch. After reading this website I suspect that behind the drywall is the flue pipe. We have been running the heat a lot the last few months and the heater is right below our bedroom closet. Is this normal? Should I have an HVAC contractor check it out. If I were to open up part of the wall (the hottest part) what should I be looking for?
Reply:
Micah I can't say from your email what's normal and what's a fire hazard.
Watch out: because there could be a fire hazard you should have your chimney inspected by a certified professional chimney sweep - promptly, and before even thinking about cutting, opening, or repairing.
Question: new fireplace won't fit into opening, CO hazards?
Oct 3, 2014) Anonymous said:
We have a new fire that wont fit into the new fire place despite 2 builders and a gas safe chap planning this. We had to scaffold half the house to put a flue liner and rebuilt the chimney now the gas man wants us to take it all out again as fire exhaust connector is 1 inch too high to fit into the back box in the chimney. The connecter is app 4 inches square but seems to connect to a much wider and thinner exhaust the other side of the back plate above the burners. can we adopt the outlet making it a different shape but at least the same area. and we can easily make it bigger in area but will that affect anything especially CO levels
Reply:
Watch out: sorry to be such a chicken, but as life safety hazards are involved here and we have so little information the only safe reply is to have your installation inspected by a trained, certified heating or chimney professional before using the equipment. Doubtless you know that a permit and building inspection are also required.
Question: patch a small chimney hole
(Oct 5, 2014) leslie said:
There is a small hole in the cement of the chimney where the oil burner pipe goes in.What do i use to patch this one inch hole.
Reply:
Leslie
A non-combustible flue opening sealant cement sold by heating suppliers is used to seal the flue vent connector to the flue.
Question: how to patch a larger hole in a chimney
John said:
Thanks for all the great information. At the base of the brick chimney where the flue vent connectors for the oil burner and gas hot water heater enter the chimney, there is a missing piece of brick about 4" x 4" x 4" in triangular shape between and to the side of the connectors. The oil connector is 7" and the hot water heater connector is 3" or 4".
Can I just use furnace cement to fill the missing-brick hole and seal the pipes or must the brick and mortar be repaired by a professional (It is otherwise all intact.) I am handy. Additionally, how far in from the outer edge of the chimney should the connectors be inserted or how far across the bottom diameter of the chimney flue, eg. 1/4, 1/2, 3/4, etc. should it go. Thank you for your assistance and again the wealth of knowledge your site provides.
Reply:
John,
certainly an un-sealed hole in a chimney should be sealed for proper draft and for fire safety. It sounds like a standard masonry repair - be sure the repair is the same thickness as the chimney wall and that it does not intrude into or obstruct the flue. You can cut and cement in a piece of brick for a better repair than trying to blob in furnace cement alone.
In the article above see "Extended Too Far into Chimney" for a discussion about avoiding excessive insert lengths - I think this is what your second question is about.
Question: Field report of being poisoned by Carbon Monoxide from central heating system
(Feb 27, 2015) Sylvia said:
Please can you help me my daughter and I was poisoned by carbon monoxide by our central heating system. What happened was it was very badly installed. The tube that takes the gas away at the top of the boiler sloped downwards instead of upwards. It broke down 13 times in 3 years. The man who installed it was a cowboy and would never come to see it. I had a terrace laid outside by very reputable tradesmen who really care about their workmanship and he tried to blame them for the pipes sloping downward saying they moved them. My question is how high should the the whole in the wall be that takes the tube out to the chimney be from the boiler to have the correct legal slope? Surely if the men who laid the terrace pushed the pipes in so badly that the pipe reversed itself and pointed downwards wouldn't there be something like a 30cm gap in the chimney because pipes are solid and not made of elastic. Pleas can you help me.
Reply:
Sylvia,
First we're glad there was no fatality.
Second (now first in importance) if there is the slightest doubt about the safety of a heating system you would not want to sleep or stay in the building before the system has been inspected and ok'd or repaired.
Watch out: In any event you still want to be absolutely certatin you have working CO (carbon monoxide) and smoke detectors properly located, installed, and working.
The height of the vent through the wall is not a fixed number it's rather determined by the position and size of the heater and of course the chimney itself. But it is reasonable to say that the flue vent should not slope "downhill". And a gap at the chimney connection or flue gases anywhere in the system are in my OPINION very dangerous, potentially fatal.
If you don't have confidence in your heating guys, call your local fire inspector or building inspector and ask for an urgent safety inspection.
Question:
6 Apr 2015 Ken said:
I need to replace 8 feet of 6" single wall flue pipe to a masonry chimney with type B double wall on a 164,000 BTU gas boiler. Since the cross section is smaller on double wall, can I still use 6" pipe? I am replacing because of clearance issues to combustibles in a basement playroom.
Additional research confirms that the ID of 6" type B is 6" and outer diameter is 1/2 to 3/4" larger. How do I insert this into a 6" thimble at the chimney? Can I dispense with the thimble and insert the type B directly and use furnace cement to seal it up?
Reply:
Ken in More Reading just above please see
Question: NHFireBear points out unsafe heater installation
NHFireBear said:
What's the deal in the top photo in this article?
inspectapedia.com/chimneys/Chimney_Sharing020-DFs.jpg
It appears to show a wood-fired boiler (orange Itasca? WB410) and an oil-fired (green) boiler (and possibly the blue, oil-fired water heater) venting into the same flue (i.e., one connector entering above the other). This would be a violation of both the oil-burner code and the wood-burner code. You cannot generally have any solid-fuel burning appliance venting into the same flue as oil or gas burners. NFPA 31 (2011): 6.5.25, NFPA 211 (2010): 9.8.2.
Reply:
We agree completely.
See SHARED CHIMNEY & FLUE HAZARDS
The page top photo on this article is indeed an illustration of a fiasco - I agree with you and that's why we published it. I'll add your comments for emphasis.
What's interesting is the wood-oil combi boilers that I've seen with only a single flue-vent connector and thus by definition sharing a chimney.

...
Ask a Question or Search InspectApedia
Try the search box just below, or if you prefer, post a question or comment in the Comments box below and we will respond promptly.
Search the InspectApedia website
Technical Reviewers & References
Click to Show or Hide Citations & References
Thanks to Luke Barnes for suggesting that we add text regarding the hazards of shared chimney flues. USMA - Sept. 2008.
Arlene Puentes, an ASHI member and a licensed home inspector in Kingston, NY, and has served on ASHI national committees as well as HVASHI Chapter President. Ms. Puentes can be contacted at ap@octoberhome.com
Roger Hankeyis principal of Hankey and Brown home inspectors, Eden Prairie, MN, technical review by Roger Hankey, prior chairman, Standards Committee, American Society of Home Inspectors - ASHI. 952 829-0044 - hankeyandbrown.com
NFPA 211 - Standards for Chimneys & Fireplaces, NFPA 211: Standard for Chimneys, Fireplaces, Vents, and Solid Fuel-Burning Appliances, 2006 Edition (older editions and standards are found at the same bookstore)
NFPA #211-3.1 1988 - Specific to chimneys, fireplaces, vents and solid fuel burning appliances.
Gas: National Fuel Gas Code, ANSI Z223.1, NFPA # 54-7.1 1992 - Specific to venting of equipment with fan-assisted combustion systems.
GAMA - Gas Appliance Manufacturers' Association has prepared venting tables for Category I draft hood equipped central furnaces as well as fan-assisted combustion system central furnaces.
National Fuel Gas Code (at Amazon.com), an American National Standard, 4th ed. 1988 (newer edition is available) Secretariats, American Gas Association (AGA), 1515 Wilson Blvd., Arlington VA22209, and National Fire Protection Association (NFPA), Batterymarch Park, Quincy MA 02269. ANSI Z223.1-1988 - NFPA 54-1988. WARNING: be sure to check clearances and other safety guidelines in the latest edition of these standards.
Fire Inspector Guidebook, A Correlation of Fire Safety Requirements Contained in the 1987 BOCA National Codes, (newer edition available), Building Officials and Code Administrators International, Inc. (BOCA), Country Club HIlls, IL 60478 312-799-2300 4th ed. Note: this document is reissued every four years. Be sure to obtain the latest edition.
Uniform Mechanical Code - UMC 1991, Sec 913 (a.) Masonry Chimneys, refers to Chapters 23, 29, and 37 of the Building Code.
International and Uniform Plumbing Codes Handbook, International Plumbing/Mechanical Assoc (2006), ASIN: B0012QKNZI
New York 1984 Uniform Fire Prevention and Building Code, Article 10, Heating, Ventilating, and Air Conditioning Requirements
New York 1979 Uniform Fire Prevention & Building Code, The "requirement" for 8" of solid masonry OR for use of a flue liner was listed in the One and Two Family Dwelling Code for New York, in 1979, in Chapter 9, Chimneys and Fireplaces, New York 1979 Building and Fire Prevention Code:
"Top Ten Chimney (and related) Problems Encountered by One Chimney Sweep," Hudson Valley ASHI education seminar, 3 January 2000, contributed by Bob Hansen, ASHI
Chimney Inspection Checklist, Carson Dunlop, Associates, Toronto, Ontario
"Rooftop View Turns to Darkness," Martine Costello, Josh Kovner, New Haven Register, 12 May 1992 p. 11: Catherine Murphy was sunning on a building roof when a chimney collapsed; she fell into and was trapped inside the chimney until rescued by emergency workers.
"Chimneys and Vents," Mark J. Reinmiller, P.E., ASHI Technical Journal, Vol. 1 No. 2 July 1991 p. 34-38.
"Chimney Inspection Procedures & Codes," Donald V. Cohen was to be published in the first volume of the 1994 ASHI Technical Journal by D. Friedman, then editor/publisher of that publication. The production of the ASHI Technical Journal and future editions was cancelled by ASHI President Patrick Porzio. Some of the content of Mr. Cohen's original submission has been included in this more complete chimney inspection article: InspectAPedia.com/chimneys/Chimney_Inspection_Repair.php. Copies of earlier editions of the ASHI Technical Journal are available from ASHI, the American Society of Home Inspectors.
Natural Gas Weekly Update: http://tonto.eia.doe.gov/oog/info/ngw/ngupdate.asp Official Energy Statistics from the U.S. Government
US Energy Administration: Electrical Energy Costs http://www.eia.doe.gov/fuelelectric.html
Books & Articles on Building & Environmental Inspection, Testing, Diagnosis, & Repair
Our recommended books about building & mechanical systems design, inspection, problem diagnosis, and repair, and about indoor environment and IAQ testing, diagnosis, and cleanup are at the InspectAPedia Bookstore. Also see our Book Reviews - InspectAPedia.
Chimney Inspection Checklist, Carson Dunlop, Associates, Toronto, Ontario
Chimney & Stack Inspection Guidelines, American Society of Civil Engineers, 2003 - These guidelines address the inspection of chimneys and stacks. Each guideline assists owners in determining what level of inspection is appropriate to a particular chimney and provides common criteria so that all parties involved have a clear understanding of the scope of the inspection and the end product required. Each chimney or stack is a unique structure, subject to both aggressive operating and natural environments, and degradation over time. Such degradation may be managed via a prudent inspection program followed by maintenance work on any equipment or structure determined to be in need of attention. Sample inspection report specifications, sample field inspection data forms, and an example of a developed plan of a concrete chimney are included in the guidelines. This book provides a valuable guidance tool for chimney and stack inspections and also offers a set of references for these particular inspections.
NFPA 211 - 3-1.10 - Relining guide for chimneys
NFPA 211 - 3-2 - Construction of Masonry Chimneys
NFPA 211 - 3-3 - Termination Height for chimneys
NFPA 211 - 3-4 - Clearance from Combustible Material
NFPA 54 - 7-1 - Venting of Equipment into chimneys
Brick Institute of America - Flashing Chimneys
Brick Institute of America - Proper Chimney Crowns
Brick Institute of America - Moisture Resistance of Brick
American Gas Association - New Vent Sizing Tables
Chimney Safety Institute of America - Chimney Fires: Causes, Effects, Evaluation
National Chimney Sweep Guild - Yellow Pages of Suppliers
...
Publisher InspectApedia.com - Daniel Friedman