Fireplace & Hearth

Design Specifications & Safety Inspections
Fireplace construction, inspection & repair
InspectAPedia tolerates no conflicts of interest. We have no relationship with advertisers, products, or services discussed at this website.
Fireplaces & hearths, construction, inspection and repair:
This article series provides information about masonry fireplaces, including inspection for damage/hazards (cracks and gaps that appear at masonry fireplaces due to chimney or fireplace settlement or movement), fireplace chimney sizing requirements, draft problems, chimney safety, creosote problems, inserts, and other topics.
Fireplace damage from chimney or fireplace settlement or movement may be a fire or gas hazard in a building Fireplace hearth size specifications; How to add support below a settling fireplace hearth.
Fireplace damper inspection, diagnosis, repair or replacement. Photo examples of cracks in on and around masonry fireplaces and a guide to their cause and remedy. Masonry fireplace chimney & flue size requirements & hearth dimension codes.
Our page top photo shows a lovely fireplace in a Church Hill restaurant on Stewart Island, New Zealand.
We also provide a MASTER INDEX to this topic, or you can try the page top or bottom SEARCH BOX as a quick way to find information you need.
Masonry Fireplace Specifications, Safety Hazards, Recommendations
Article Series Contents
[Click to enlarge any image]
The combustible carpet in front of the fireplace shown here is just a few inches from the fireplace doors and is a fire hazard. Details are in this article.
Fireplace Design Specifications Summary
Table R1001.1
Summary Of Requirements For Masonry Fireplaces And Chimneys [USA]

Fireplace Component / Item

Illustration Key
in
Figure R1001.1.

Requirements
Comments
Hearth slab thickness
A
4"
Hearth extension
(each side of opening)
B

8″ fireplace opening < 6 square foot.


12″ fireplace opening ≥ 6 square foot.

FIREPLACE HEARTH DIMENSIONS & SUPPORT
Hearth extension
(front of opening)
C

16″ fireplace opening < 6 square foot.


20″ fireplace opening ≥ 6 square foot.

Hearth slab reinforcing
D
Reinforced to carry its own weight and all imposed loads.
FIREPLACE SAFETY: CRACKS, SETTLEMENT
Thickness of wall of firebox
E
10″ solid brick or 8″ where a firebrick lining is used. Joints in
firebrick 1/4″ maximum.
Distance from top of opening to throat
F
8"
Smoke chamber wall thickness
Unlined walls
G
6"
8"
Chimney
Vertical reinforcing b
H

Four No. 4 full-length bars for chimney up to 40″ wide.

Add two No. 4 bars for each additional 40″ or fraction of width or each
additional flue.

b. Not required in Seismic Design Category A, B or C.
Horizontal reinforcing
J
1/4″ ties at 18″ and two ties at each bend in vertical steel.
CHIMNEY CRACK DETECTION & DIAGNOSIS
Bond beams
K
Not specified.
Fireplace lintel
L
Noncombustible material.
Chimney walls with flue lining
M
Solid masonry units or hollow masonry units grouted solid with
at least 4 inch nominal thickness.
UNLINED FLUE INSPECTIONS
Distances between adjacent flues
-
See Section R1003.13.
FLUE SEPARATION REQUIREMENTS
Effective flue area (based on area of fireplace opening)
P
See Section R1003.15.
FIREPLACE FLUE SIZE vs OPENING DIMENSIONS
Clearances:
Combustible material
Mantel and trim
Above roof
R

See Sections R1001.11 and R1003.18.


See Section R1001.11, Exception 4.
3′ at roofline and 2′ at 10′.

CHIMNEY CLEARANCE & CONDITION SAFETY

CHIMNEY CLEARANCE to NEIGHBORS

Anchorage b
Strap
Number
Embedment into chimney
Fasten to
Bolts
S

3/16″ × 1″


Two 12″ hooked around outer bar with 6″ extension.


4 joists
Two 1/2″ diameter.

b. Not required in Seismic Design Category A, B or C.

CHIMNEY COLLAPSE RISKS, REPAIRS

Footing
Thickness
Width
T

12″ min.


6″ each side of fireplace wall.

Note that these are minimums. Soil conditions in some areas may require larger footings.

CHIMNEY LEANING, SEPARATION, MOVEMENT

Additional Recommendations [not in the ICC code notes - Ed.]:

Chimney Flue Size Requirements

Combustion air requirements

Fireplace damper inspection & operation
Notes to the fireplace design table above
Source: 2006 Virginia Residential Code that in turn excerpts from the 2006 ICC, Chapter 10, Chimneys and Fireplaces, Section R1001 Masonry Fireplaces, retrieved 2016/07/13, original source: http://www2.iccsafe.org/states/virginia/
Residential/PDFs/Chapter%2010_Chimneys%20and%20Fireplaces.pdf
For SI: 1 inch = 25.4 mm, 1 foot = 304.8 mm, 1 square foot = 0.0929m2.
This table provides a summary of major requirements for the construction of masonry chimneys and fireplaces.
Letter references are to Figure R1001.1, which shows examples of typical construction.
This table does not cover all requirements, nor does it cover all aspects of the indicated requirements. For the actual mandatory requirements of the code, see the indicated section of text.
Note a. The letters refer to Figure R1001.1. given just below [Click to enlarge any image]
Note b. Not required in Seismic Design Category A, B or C.
[Click to enlarge any image]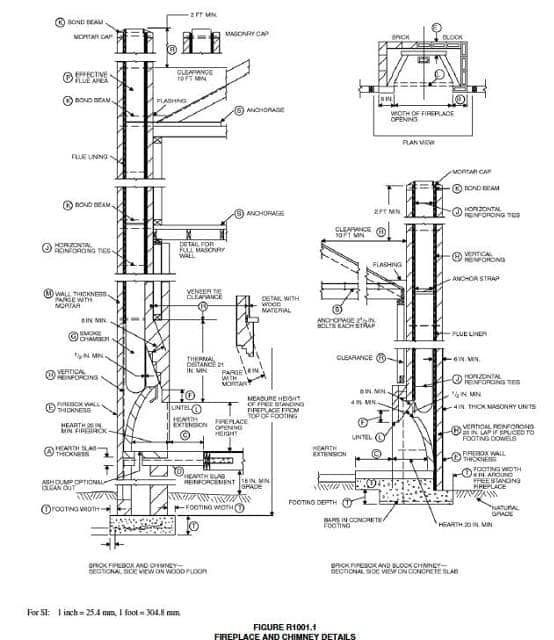 Masonry Fireplace Chimney & Flue Size Requirements
This information is now found in a separate article
at FIREPLACE FLUE SIZE SPECIFICATIONS
According to the Masonry Institute of America, the required flue size for masonry fireplaces (burning wood) is basically a function of the area of the fireplace opening.
Typical standards require a cross-section area of the fireplace flue or chimney/vent to be equal to 1/10 of the area of the fireplace opening itself, for a conventional wood-burning installation and without considering the effects of a glass fire-door.
The FHA requires using a 1/8 ratio instead of 1/10 for chimneys that are less than 15 feet high and the 1/10 ratio for chimneys that are 15 feet or more tall. [9]

Fireplace Hearth Size Requirements: Hearth Dimensions
This topic is now found in a separate article:
see FIREPLACE HEARTH DIMENSIONS & SUPPORT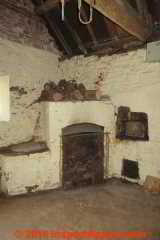 Above, an antique fireplace used for cooking, Brinstone Farm, St. Weonards, U.K. To the left of the fireplace you can see a clay-cover over a huge built-in cauldron that was used to heat water, or perhaps when the farm was at full staff, soup.
Support Below a Fireplace Hearth
Please see FIREPLACE HEARTH DIMENSIONS & SUPPORT
Fireplace Damage and Unsafe Hearths due to Chimney or Fireplace Settlement
Our discussion of unsafe fireplaces & hearths including hearth settlement, cracks in the fireplace box and other unsafe conditions is now found at FIREPLACE SAFETY: CARPETS, CRACKS, SETTLEMENT
More unsafe hearths and inadequate clearance from fireplaces or wood or coal stoves are shown at FIRE CLEARANCES, WOOD COAL & PELLET STOVES.
Watch out: while this particular article series discusses fireplace dangers & fire risks related to cracks or settlement in the fireplace chimney, the most common fire hazard associated with fireplaces is a chimney fire caused by the ignition of accumulated creosote in the fireplace chimney flue.
See CHIMNEY FIRE ACTION / PREVENTION
and
See CHIMNEY CLEANING PROCEDURE - home
Fireplace Damper Trouble Inspection, Diagnosis, Repair
Please see details at this article: FIREPLACE DAMPER DEFECTS, REPAIRS
A fireplace damper is a metal door installed in the fireplace chimney throat. To avoid wasting building heat by sending it up the chimney when a fireplace is not in use, the fireplace damper door is closed when the fireplace is not in use.
...
Continue reading at FIREPLACE DAMPER DEFECTS, REPAIRS or select a topic from closely-related articles below, or see our complete INDEX to RELATED ARTICLES below.
Or see AUTOMATIC FIRE SMOKE DAMPERS
Or see
Fireplace & Woodstove Articles
Suggested citation for this web page
FIREPLACES & HEARTHS at InspectApedia.com - online encyclopedia of building & environmental inspection, testing, diagnosis, repair, & problem prevention advice.
Or use the SEARCH BOX found below to Ask a Question or Search InspectApedia
...
Frequently Asked Questions (FAQs)
Try the search box below or CONTACT US by email if you cannot find the answer you need at InspectApedia.
Question:
(Aug 14, 2011) Robert said:
When adding support brace under hearth should new footing be poured to support brace and weight
Reply:
Good question about hearth support, Robert.
If your floor slab is 4" or thicker, you should be OK with placing supporting columns below the hearth right onto the slab surface.
If the floor slab is thinner than 4", if it already shows signs of settlement, cracks, damage, the best repair is to cut a hole in the slab, excavate and pour a footing or pier for your columns, typically using a cardboard tube or form for the pier.
An alternative that I used in many building renovations of older homes where we needed to support an additional Lally column in a basement where the floor slab looked "OK" but was of unknown thickness, was to bed a solid 4" concrete block in concrete right onto the floor surface. The block served as a footing or pier for the column and helped spread the load out onto a wider area than otherwise had we just put the Lally column base right onto the floor itself.
Question: heatilator not working after a chimney fire
(Nov 4, 2011) Jim Jackson said:
I had a chimney fire last wintwer and immediately putit out. After that I have noticed that the heatalator that is built in does not work...do I need an inspection and is it covered under my home owners insurance?
Reply:
Jim I don't know what your homeowner's policy covers - you'll need to call your insurance company to ask. But it makes sense to have an inspection of the system for two reasons
- the chimney may be very unsafe. Frankly, after a chimney fire I would never use that chimney again without first having an expert and thorough inspection of the entire assembly
- the damage, if traced to the fire, may be covered by insurance.
Question:
(Nov 21, 2012) Dee said:
I have a glass plate hearth on top of an oak floor and under my log burning stove. It is about 18 months old now. Over the last few months the wood floor underneath the clear glass hearth has started to darken and grow mold. Now I have droplets of water under the glass and this is clearly where the mold is coming from. What can be causing this? The rest of the wooden flooring is fine, with no mold or dampness even under rugs.
Reply:
Dee
I'm not sure where it's coming from, but if you are seeing mold growth there has to be a moisture source. Are you sure it's mold?
Question:
(Feb 23, 2013) KLynne said:
Inspection of the fire box in the house I am renting revealed cracks and chips. The tech said they are small and adv I could burn occasional fires but not too much wood and no more than 2 hours. Owner will not replace fire box. I don't want to use it at all due to the cracks and chips but was researching online and saw mention of fireclay mortar that can be used to repair a fire box. Is this a practical and safe way to repair the fire box and be able to use the fireplace?
(Apr 24, 2014) Roger said:
If the firebox is elevated 12" or more off the floor do you still need a non combustible hearth extension or con the hardwood flooring be installed up to the wall that the firebox is located in?
Reply:
Roger I don't have the full picture of your installation, but a general answer is yes you need a non-combustible hearth even for an elevated fireplace. Depending on the type of fireplace and fuel, at some height the worry about radiated heat damaging the floor would of course diminish, or fall to nil. There remain spark issues.
Question: safety of shared fireplace flues?
(Jan 24, 2015) Mary Siegel said:
Have a fireplace with 2 masonry flues. One serves a first floor wood burning fireplace and the second was built to serve a lower level wood burning fireplace. Since we never used the lower level fireplace, we built an outdoor fireplace on the back side of the lower level place and used that flue to vent it. Both the first floor and outside fireplaces work fine with this configuration. However, this year we decided to put a vent free log system in the lower level (closed off) fireplace. This fireplace had a damper with a space above it. Question: is there a way to vent our vent free logs to get rid of the gas smell. Could we install a vent that goes from the space above the damper to the outside? I believe there is plenty of depth in the masonry to fit a vent but would that work and is this safe?
Reply:
Mary
Sharing a fireplace flue is asking for trouble in draft as well as raising safety and fire spread concerns (which is why it's a code violation).
For a gas fireplace insert you'll want to provide both combustion air and venting as per the manufacturer's specs. You MIGHT be able to do that by building a direct vent to the outdoors for each purpose. I've done that using a small positive vent fan to assure no backdrafting. You'll be required to and should want to also ask for a building permit and inspections.
...
Ask a Question or Search InspectApedia
Try the search box just below, or if you prefer, post a question or comment in the Comments box below and we will respond promptly.
Search the InspectApedia website
Technical Reviewers & References
Click to Show or Hide Citations & References
Thanks to Luke Barnes for suggesting that we add text regarding the hazards of shared chimney flues. USMA - Sept. 2008.
[2] Arlene Puentes, an ASHI member and a licensed home inspector in Kingston, NY, and has served on ASHI national committees as well as HVASHI Chapter President. Ms. Puentes can be contacted at ap@octoberhome.com
[3] Roger Hankeyis principal of Hankey and Brown home inspectors, Eden Prairie, MN, technical review by Roger Hankey, prior chairman, Standards Committee, American Society of Home Inspectors - ASHI. 952 829-0044 - hankeyandbrown.com
[4] NFPA 211 - Standards for Chimneys & Fireplaces, NFPA 211: Standard for Chimneys, Fireplaces, Vents, and Solid Fuel-Burning Appliances, 2006 Edition (older editions and standards are found at the same bookstore)
NFPA #211-3.1 1988 - Specific to chimneys, fireplaces, vents and solid fuel burning appliances.
[5] NFPA #211-3.1 1988 - Specific to chimneys, fireplaces, vents and solid fuel burning appliances.
[6] NFPA # 54-7.1 1992 - Specific to venting of equipment with fan-assisted combustion systems.
[6a] GAMA - Gas Appliance Manufacturers' Association has prepared venting tables for Category I draft hood equipped central furnaces as well as fan-assisted combustion system central furnaces.
[7] National Fuel Gas Code, an American National Standard, 4th ed. 1988 (newer edition is available) Secretariats, American Gas Association (AGA), 1515 Wilson Blvd., Arlington VA22209, and National Fire Protection Association (NFPA), Batterymarch Park, Quincy MA 02269. ANSI Z223.1-1988 - NFPA 54-1988. WARNING: be sure to check clearances and other safety guidelines in the latest edition of these standards.
[8] Fire Inspector Guidebook, A Correlation of Fire Safety Requirements Contained in the 1987 BOCA National Codes, (newer edition available), Building Officials and Code Administrators International, Inc. (BOCA), Country Club HIlls, IL 60478 312-799-2300 4th ed. Note: this document is reissued every four years. Be sure to obtain the latest edition.
[9] Masonry Fireplace and Chimney Handbook, 2nd Ed., James E. Armhein, S.E., M.I.A. Masonry Institute of America, 22815 Frampton Ave. Torrance, CA 90501-5034 Toll free: 1-800-221-4000; the original text noted that mIA was prepared to include requirements of the 1994 UBC and other codes. Website ht.masonryinstitute.org,
[10] Uniform Mechanical Code - UMC 2009, and UMC 1991, Sec 913 (a.) Masonry Chimneys, refers to Chapters 23, 29, and 37 of the Building Code.
[11] NFPA 211 - Standards for Chimneys & Fireplaces, NFPA 211: Standard for Chimneys, Fireplaces, Vents, and Solid Fuel-Burning Appliances, 2006 Edition (older editions and standards are found at the same bookstore)
New York 1984 Uniform Fire Prevention and Building Code, Article 10, Heating, Ventilating, and Air Conditioning Requirements
New York 1979 Uniform Fire Prevention & Building Code, The "requirement" for 8" of solid masonry OR for use of a flue liner was listed in the One and Two Family Dwelling Code for New York, in 1979, in Chapter 9, Chimneys and Fireplaces, New York 1979 Building and Fire Prevention Code:
"Top Ten Chimney (and related) Problems Encountered by One Chimney Sweep," Hudson Valley ASHI education seminar, 3 January 2000, contributed by Bob Hansen, ASHI
Chimney Inspection Checklist, Carson Dunlop, Associates, Toronto, Ontario
"Rooftop View Turns to Darkness," Martine Costello, Josh Kovner, New Haven Register, 12 May 1992 p. 11: Catherine Murphy was sunning on a building roof when a chimney collapsed; she fell into and was trapped inside the chimney until rescued by emergency workers.
"Chimneys and Vents," Mark J. Reinmiller, P.E., ASHI Technical Journal, Vol. 1 No. 2 July 1991 p. 34-38.
"Chimney Inspection Procedures & Codes," Donald V. Cohen was to be published in the first volume of the 1994 ASHI Technical Journal by D. Friedman, then editor/publisher of that publication. The production of the ASHI Technical Journal and future editions was cancelled by ASHI President Patrick Porzio. Some of the content of Mr. Cohen's original submission has been included in this more complete chimney inspection article: InspectAPedia.com/chimneys/Chimney_Inspection_Repair.php. Copies of earlier editions of the ASHI Technical Journal are available from ASHI, the American Society of Home Inspectors.
Natural Gas Weekly Update: http://tonto.eia.doe.gov/oog/info/ngw/ngupdate.asp Official Energy Statistics from the U.S. Government
US Energy Administration: Electrical Energy Costs http://www.eia.doe.gov/fuelelectric.html
Fireplace & Chimney Design, Repair Books - Fireplaces, Chimneys: design, repair
Fireplace & Chimney Inspection Books - Inspecting and diagnosing chimney problems, fireplace problems, chimney & fireplace standards
Ceramic Roofware, Hans Van Lemmen, Shire Library, 2008, ISBN-13: 978-0747805694 - Brick chimneys, chimney-pots and roof and ridge tiles have been a feature of the roofs of a wide range of buildings since the late Middle Ages. In the first instance this ceramic roofware was functional - to make the roof weatherproof and to provide an outlet for smoke - but it could also be very decorative.
The practical and ornamental aspects of ceramic roofware can still be seen throughout Britain, particularly on buildings of the Victorian and Edwardian periods. Not only do these often have ornate chimneys and roof tiles but they may also feature ornamental sculptures or highly decorative gable ends. This book charts the history of ceramic roofware from the Middle Ages to the present day, highlighting both practical and decorative applications, and giving information about manufacturers and on the styles and techniques of production and decoration.
Hans van Lemmen is an established author on the history of tiles and has lectured on the subject in Britain and elsewhere. He is founder member and presently publications editor of the British Tiles and Architectural Ceramics Society. Available at the InspectAPedia Bookstore.
Chimney Inspection Checklist, Carson Dunlop, Associates, Toronto, Ontario
Chimney & Stack Inspection Guidelines, American Society of Civil Engineers, 2003 - These guidelines address the inspection of chimneys and stacks. Each guideline assists owners in determining what level of inspection is appropriate to a particular chimney and provides common criteria so that all parties involved have a clear understanding of the scope of the inspection and the end product required. Each chimney or stack is a unique structure, subject to both aggressive operating and natural environments, and degradation over time. Such degradation may be managed via a prudent inspection program followed by maintenance work on any equipment or structure determined to be in need of attention. Sample inspection report specifications, sample field inspection data forms, and an example of a developed plan of a concrete chimney are included in the guidelines. This book provides a valuable guidance tool for chimney and stack inspections and also offers a set of references for these particular inspections.
Fireplaces, a Practical Design Guide, Jane Gitlin
Fireplaces, Friend or Foe, Robert D. Mayo
NFPA 211 - Standards for Chimneys & Fireplaces, NFPA 211: Standard for Chimneys, Fireplaces, Vents, and Solid Fuel-Burning Appliances, 2006 Edition (older editions and standards are found at the same bookstore)
Principles of Home Inspection: Chimneys & Wood Heating (Principles of Home Inspection), Carson Dunlop
NFPA 211 - 3-1.10 - Relining guide for chimneys
NFPA 211 - 3-2 - Construction of Masonry Chimneys
NFPA 211 - 3-3 - Termination Height for chimneys
NFPA 211 - 3-4 - Clearance from Combustible Material
NFPA 54 - 7-1 - Venting of Equipment into chimneys
Brick Institute of America - Flashing Chimneys
Brick Institute of America - Proper Chimney Crowns
Brick Institute of America - Moisture Resistance of Brick
American Gas Association - New Vent Sizing Tables
Chimney Safety Institute of America - Chimney Fires: Causes, Effects, Evaluation
National Chimney Sweep Guild - Yellow Pages of Suppliers
Books & Articles on Building & Environmental Inspection, Testing, Diagnosis, & Repair
Our recommended books about building & mechanical systems design, inspection, problem diagnosis, and repair, and about indoor environment and IAQ testing, diagnosis, and cleanup are at the InspectAPedia Bookstore. Also see our Book Reviews - InspectAPedia.
...
Publisher InspectApedia.com - Daniel Friedman