Direct-Vented Heating Appliance FAQs-3

Q&A on direct-vent & sidewall-vent chimneys
POST a QUESTION or READ FAQs about the installation or diagnosis of sidewall vent or direct vent chimney or flue exhaust systems for heating appliances: oil, gas, other fuels firing heating appliances & fireplaces
InspectAPedia tolerates no conflicts of interest. We have no relationship with advertisers, products, or services discussed at this website.
Recent questions and answers about direct vent chimneys or exhaust for heating appliances.
This article series describes side wall vent systems for conventional & mid-range-efficiency heating boilers, furnaces & water heaters.
We also provide a MASTER INDEX to this topic, or you can try the page top or bottom SEARCH BOX as a quick way to find information you need.
Recent Q&A on Direct Vent or Side-Wall Vent Chimneys & Flues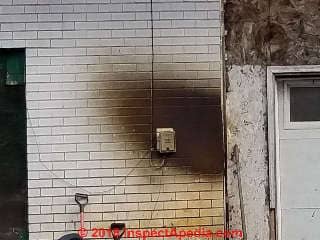 These FAQs were posted originally at DIRECT VENTS / SIDE WALL VENTS - be sure to review the advice given there.
Direct-venting or side wall vent chimney and flue systems are a method of venting the exhaust gases from a heating appliance directly out through the side wall of a building while eliminating the need for a vertical chimney of any sort.
[Click to enlarge any image]
The page top photo of a direct vent PVC pipe too close to ground level is discussed in the FAQs on this page.
Just regarding the combustion air intake. No regarding the exhaust.
Watch out: keep in mind that the 9 in distance that you specify may not be correct for all direct vented appliances.
Ultimately you have to also follow the manufacturer's specifications which may be different.

For the 2015 IFGC 502.8.3 requirements, a 10,000 to 45,000 Btu/hr, direct-vent furnace requires a 9" clearance of the furnace vent termination and any building openings.

If I have a combustion air intake for a non-direct vented water heater, is that considered a "building opening", thus requiring 9" clearance from the furnace vents?
If so, does that requirement include both intake and exhaust vents, or only exhaust vents.
And then also, would that clearance be measured in 2-D space along the exterior wall, or 3-D space from the vent termination point (say its 10" from the wall), to the air intake on the wall.

A question appeared that relates to my situation:
A condensing gas boiler (85 MBTUh) with side-wall air intake and a PVC through-the-chimney vent approximately 25-30 ft apart vertically.
Has had an intermittent noise problem (whistling moan) when reaching low-fire conditions with 30-45 degF ambient temperature.
System installed in 2012 and the condition is worsening with time. Seems to be from warm air column in exhaust vent pulling outside air through valves, blower, and venturi, setting up a resonance that varies with firing rate changes. I have heard this sound even with commercial-scale systems.
I'm thinking that re-piping the exhaust vent to the side-wall will take care of the problem.

System installed in 2012 and the conditioning is worsening with time. Seems to be from warm

Chris

I think you'll be okay and doing what you want, but why not give the manufacturer call to ask. That's exactly the kind of question that they would like to address.

For example it might be that when you have two exhausts exiting through a wall in one location, the intakes need to be even further away from that pair.

Hello,
I have a Goodman GMH950703BX (65000 BTUH) furnace with a single PVC pipe exhausting through the side wall (comes from the basement, so a few feet above grade).
Air intake for the furnace uses house air. I would like to install a tankless water heater (Electrolux EN19WI30LS), which uses 3" PVC in the same area as the furnace. The manual is fairly clear on distances between the intake and exhaust, but I'm not sure how far the tankless exhaust has to be from the existing furnace exhaust.
It makes sense that intake and exhaust shouldn't be next to each other, but what about exhaust to exhaust?
I have limited wall area for the intake/exhaust pipes, so I would like to place the two exhausts as close as allowed to reduce the length of run needed for the intake. Thank you very much for any advice you can give. Your website is full of great info!

Gerry

There are steps in correcting a high CO2 problem the first is to make sure that adequate combustion air is provided to the burner and the second is tobe sure that the burner is correctly.

the third step is to be sure that there is proper draft in the chimney and that the chimney is undamaged unsafe.

Often to conduct outside combustion air to a burner the installer will provide a dedicated duct from the building exterior to the burner. But that's not always necessary. Just being sure there's adequate air opening into the room where the burner is located maybe sufficient.

If the CO2 count is to high on a chimney vented gas fired boiler, is there any way to induce air to reduce the count to safe operating standards.

thanks for replying to my post. I should explain better my situation. The noise that is coming from the exhaust Is the usual noise coming from any exhaust of the direct vent furnace. It's just loud and breaks the silence. Is there anyway to put a "muffler"in the 3 inch PVC pipe?

I would start by having a Trane heating service technician inspect the heating Appliance to be sure that it is operating correctly and safely

Is there any way to quiet the noise from The exhaust of a direct vent high-efficiency gas forced air furnace? I live in a condo in exhaust exits between two units and can be heard in all of the bedrooms.

Thank You

Steve

Typical direct-vent exhausts are designed to resist bird or rodent entry but not insects. Indeed if during the off-use season mud daubers or other wasps build a nest in the exhaust that will need to be cleaned. But I would absolutely not modify the exhaust outlet nor put anything closer to it than the manufacturer's installation instructions suggest.
Violating that guide risks interfering with the draft of your heating system, in turn causing improper and unsafe operation, even risking fatal carbon monoxide poisoning.

Should there be a screen on the exhaust of the side exhaust/intake? Bugs & or rodents entering? Is there a way to make the exhaust more appealing to the eye?

Sure Dave, I'd check with both Buderus and Field Controls

Field Controls
2630 Airport Road
Kinston, NC 28504
Phone: 252.522.3031
Fax: 252.522.0214
sales@fieldcontrols.com

Buderus in the UK has Contact links on their pages but those pages are worthless - as it's too hard to find actual contact information.
In the U.S. Buderus are a Bosch product http://www.bosch-climate.us/

There too, it looks as if the company really does not want to be contacted by consumers. Their technical support appears limited to "professionals".

I'd go with Field Controls

Greetings. Can you help me find a reference/compatibility chart for choosing which Field Direct direct vent to use with a Buderus G115 boiler.

Alice I'm not sure just what you have installed and cannot give specific repair advice. But seeing daylight where a vent or flue passes through a wall is certainly not acceptable as a building or mechanical system practice as it invites leaks, water damage, and possibly other hidden problems. So it's an indicator of in-expert workmanship.

Perhaps your local building department would be willing to take a look at and comment on the safety of the job, but first I'd call the service company and speak with the service manager, asking her or him to send a senior, competent, experienced tech to straighten out the job.

In my new home, the original oil-fired boiler was replaced in 2015 with a Utica boiler, model TRB-3.
In late fall when I had the boiler cleaned, the boiler tech also worked on the exhaust, replacing the damper and generally re-supporting the piping to reduce noise.
Recently, when I went down to the basement, I could smell exhaust. It was not overpowering but definitely there. We have new CO detectors installed in the basement and upstairs -- no alarm from either, just the smell.

I called the service company and a tech replaced the vent piping and fan to the tune of $1650, yet we are still getting exhaust smells in the basement and sometimes on the first floor.
It does not appear our service company knows how to correct this problem. When I look at the exhaust, I can see daylight coming in around the pipe -- can this be a proper installation? If not, how to I correct it? I am growing increasingly concerned.

the builder next door installed a gas fireplace that vents outside my back door. It is at 5 foot height. This is 2 feet from my gate where my dogs tend to lay, sit
And directly opposite my back door. I am worried the exhaust will hurt my dogs. When I questioned the builder he just replied, well, your fence in on our property..... I'm not sure that was any answer to my question.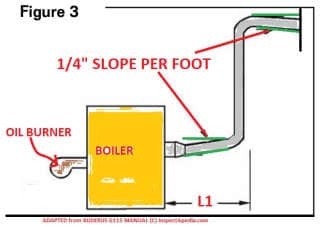 This EXAMPLE is from a Buderus direct-vent oil boiler installation manual.
You'll see that the flue vent connector slopes
Down into the chimney at the timble
Down towards the boiler at the lower connecting section
3. Select the point of wall penetration for the exhaust termination based on maintaining a minimum slope of ¼" per foot down towards the termination on the last horizontal pipe section.
The wall termination assembly must also slope ¼" per foot down towards the outside. This allows possible condensate to drain from the venting system.
4. Slope all other horizontal pipe runs ¼" per foot down towards the boiler vent connection. (Fig. 3).
5. Avoid any dips in the venting when using the flexible insulated stainless steel oil vent. Never install a barometric damper into the exhaust piping.
Minimum wall clearance (L1)needed for:
• flex. Stainless Steel oil vent: 24"
• 4" galvanized pipe: 16" The Buderus G115 Direct Vent boiler system has been approved for use with two different intake/exhaust options.
Follow the guidelines on pages 3 and 4 regarding termination placement.
Option 1: Separate air intake hood and Aerocowl exhaust termination. (Part No. AT-4).
This system consists of a 4" air intake hood, a 5" x 4" reducer and a 26½" long, insulated Aerocowl exhaust termination.
This termination has a zero clearance rating to combustibles.
Option 2: Combination air intake/exhaust termination. (Part No. FT-4).
This system consists of a 5" x 4" reducer and a zero clearance concentric combination intake/exhaust termination with a 4" provision for fresh air intake piping.
Both exhaust terminations are approved for use with two different exhaust vent pipe options.
Always use 4" galvanized or 4" flexible metal pipe for fresh air intake for both venting systems.
Pipe Option 1: Flexible, insulated 4" stainless steel oil vent. Maximum length of 10 ft. Oil vent adaptors are supplied.
The insulated oil vent is rated for 1" clearance to combustibles.
Wrap the adaptors with 3" of ceramic wool covered with foil tape or sheet metal to maintain 1" clearance.
Pipe Option 2: Standard, 26 gauge galvanized vent pipe.
Maximum straight length is 6 ft with up to 2 90º elbows. Maintain 18" clearance to combustibles with galvanized vent pipe.
Source,
More Buderus manuals (free downloadable PDFs] and company contact information are
It is a Buderus.

Venting "downhill" from a condensing furnace or boiler towards the exhaust opening may be specified by the manufacturer (tell us the brand and model you have) to assure that condensate is disposed-of properly.
IMO significantly-sloped "downhill" or "downslope" venting towards a chimney for atmospheric-vented non-condensing heating appliances may be unsafe and risks potentially fatal carbon monoxide poisoning in some installations.
You may be able to use a direct-vent solution but it has to fit in the space and be installed and sloped as per the manufacturer's specs.
Those specifications, including slope, vent length, chimney requirements, are brand and model and fuel dependent.
Aside from the downslope problem, the total venting distance and number of elbows and restrictions will be specified by (and limited by) the manufacturer.

House was a foreclosure when we bought it, we have a natural gas boiler for heat and NG hot water tank in our basement.
Someone decided it was a great idea to vent the water heater with downslope to tie into the boiler and then vent them horizontal 12 feet out side of house then 90 degrees for 6 feet then 90 degrees up for 8 feet.
It is weeping and looks terrible. How can we vent out side of house safely?
If we go other way there is only 8 feet to outside to side of house. Help.

Greg

It would certainly have been helpful if the on-site experts could have been more specific and detailed.
Without knowing what they saw we don't have a clue about what was the impediment to re-lining the existing chimney and thus we don't know if a repair is possible, feasible, economical, desirable.
Sometimes people say "I can't or you cant ... " whatever as a short cut for not addressing a further step that might have actually been possible and reasonable.
Ask for details.

About the Tjernlund direct vent system, that should be able to work correctly.
Again we'd want to know what's the problem. When you smell fumes I can't guess from just that fact what the odor source is.
For example an improperly-functioning oil burner can cause heating oil odors in a building as a problem completely independent of the exhaust system itself: a dirty or bad nozzle, bad electrodes, leak, inadequate combustion etc.
Search InspectApedia.com for OIL BURNER NOISE SMOKE ODORS for details.

I'm so happy you replied! The professional chimney company at first said it's lineable after cleaning the chimney. The next day liner was to be installed.
This crew unpacked the materials and left about 15 minutes later, saying the chimney can't be lined. So, now what to do I asked myself.
I called a quick HVAC company-he designed a path for the vent to take and put in a Tjernlund kit in.
Smelled fumes from day one after he left and was told the furnace needed updated. Now, 2 years later, we've replaced it all to connect to the old vent kit. Odor still comes in.

The HVAC pro who installed this new system said he could go on the roof and see if he could put a liner in and he thought he'd be able to.

I thought we'd just use this vent kit; but I see I was wrong.

Greg

If a chimney is truly blocked, using a power vent is IMO a poor solution - the chimney needs to be inspected, cleaned, repaired.

When a heater installer says "the unit is running as it should" and in fact it is actually not running as it should - that is you're having oil heat odor problems traced to your chimney and poor draft - what the installer actually means is "that's your problem not mine".

Keep in mind that even the sharpest service tech may not have been an English major and may not be a great communicator.

In my OPINION it is unconscionable to install heating equipment and leave the job with the equipment not working properly -and worse, possibly not safely. (Risk is a puffback explosion or other hazards, even a fire).

But it's perfectly fair for the tech to say "I'm convinced the problem is in your chimney - that's not within our area of expertise. Have your chimney inspected, cleaned, repaired and a proper cap installed.
THEN if needed you can call us back to again review the tuning and adjustment of the oil burner".

I don't blame the vent kit - from what you are saying it's time to stop with the stopgap measures and fix the chimney properly.

We had one hour heating and air conditioning company put in a power vent two years ago in a quick emergency cause the chimney was blocked. At the time the oil furnace was like 30 years old.
We always got convention [sic] smells coming up in the house.

Now we have a new oil furnace connected to that vent system and the same fumes are coming up the basement stairs and into the living room.

The new furnace installer connected it and tested the system and said it's rinning as it should. That was two weeks ago. We've had the fumes everyday since.

I'm guessing the guy who designed the vent kit placement did it wrong? Did he use the wrong fan? Is the flue positioned incorrectly?

Any ideas?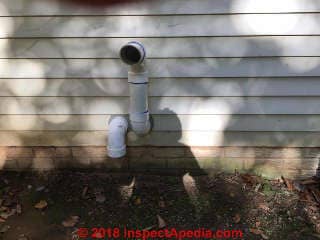 Correct, that's to the outlet opening.

Thanks so much for responding. The manual does say "maintain 12" minimum clearance above highest anticipated snow level or grade, whichever is greater."
I assume that clearance refers to the opening itself, not to the place where the pipe exits the wall, which, of course, is higher.

In my opinion you're right in both concerns.

Find the copy of the installation and operation manual for your heating appliance that is vented in your photo.
That manufacturer is an un-arguable authority on how their appliance should be vented.

I live in northern Virginia, and we normally get snows that usually total 5-10 inches per storm but with the rare 15 or more inches.
My HVAC company installed an air intake pipe whose opening is only abut 9.5 inches from the ground. I understand that this is inadequate clearance not only because of potential rodent entry but because blowing snow (and also in my case, mud) could be blown inside the pipe.
The exhaust pipe has a hooded extension whose opening is a wide as 4.5 inches in places, which my pest control contractor says is an invitation to birds, etc. I am also concerned about exhaust being taken in by the air intake pipe. I have attached an photo of my setup. I would appreciate any feedback.
...
Continue reading at DIRECT VENTS / SIDE WALL VENTS or select a topic from closely-related articles below, or see our complete INDEX to RELATED ARTICLES below.
Or see DIRECT VENT INSTALLATION, SNAFUS & SPECS
Or see GAS FIREPLACE VENT CLEARANCE REQUIREMENTS Separate Table for Direct Vented Gas Fireplaces
Or see FIRE CLEARANCES INDOORS
Or see WALL-MOUNTED FURNACES
Or see this
Article Series Contents
Suggested citation for this web page
DIRECT VENT / SIDE WALL VENT FAQs-3 at InspectApedia.com - online encyclopedia of building & environmental inspection, testing, diagnosis, repair, & problem prevention advice.
Or use the SEARCH BOX found below to Ask a Question or Search InspectApedia
...
Ask a Question or Search InspectApedia
Try the search box just below, or if you prefer, post a question or comment in the Comments box below and we will respond promptly.
Search the InspectApedia website
Technical Reviewers & References
Click to Show or Hide Citations & References
Books & Articles on Building & Environmental Inspection, Testing, Diagnosis, & Repair
Our recommended books about building & mechanical systems design, inspection, problem diagnosis, and repair, and about indoor environment and IAQ testing, diagnosis, and cleanup are at the InspectAPedia Bookstore. Also see our Book Reviews - InspectAPedia.
...
Publisher InspectApedia.com - Daniel Friedman