Creosote Deposits & Fire Hazards in Chimneys
POST a QUESTION or READ FAQs about creosote: the rate of creosote deposition in chimneys, creosote and chimney fires, creosote odors & hazards, and how creosote is cleaned out of chimneys & flues
InspectAPedia tolerates no conflicts of interest. We have no relationship with advertisers, products, or services discussed at this website.
All about chimney creosote: cause, cure, prevention, chimney creosote & chimney cleaning advice:
This article describes the formation of creosote in wood-burning heating appliances such as woodstoves and fireplaces and gives advice on reducing the fire risk.
Creosote deposits accumulate in all types of chimneys - masonry, or metal, where wood burning appliances are vented.
Creosote is combustible and if it is set afire the resulting chimney fire is extremely hot. Roaring like a freight train, a chimney fire can melt through even a well-built "safe" chimney, setting the building on fire.
We also provide a MASTER INDEX to this topic, or you can try the page top or bottom SEARCH BOX as a quick way to find information you need.
Check Chimneys for Creosote Deposits - a Serious Fire Hazard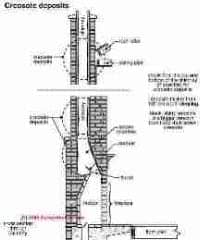 Definition of Creosote
Creosote is a black, oily wood-tar condensate that forms in chimneys over fireplaces or woodstoves is a black tarry condensate that forms inside of chimneys and flues when burning wood in fireplaces and woodstoves.
Carson Dunlop Associate's Sketch at left shows common areas where creosote forms in a fireplace chimney. [Click to enlarge any image]
Creosote is a significant risk in all wood-burning appliances (such as wood stoves) and can also form in other heaters.

Watch out: creosote will burn at a very high temperature - it is combustible. That's why creosote deposits risk a dangerous chimney fire.
Creosote, in the form of coal tar, is chemically similar to wood-tar (but not identical) but is formed in bituminous coal or lignite coal-burning appliances. Creosote is also be formed by burning peat, and even fuel oils such as home heating oil.
Creosote tar, a natural byproduct of burning organic-based fuels (wood, coal, peat), is carried into the chimney as a vapor in the smoke. But this creosote tar vapor condenses as a liquid on to the cooler chimney sides as smoke passes up the chimney and flue.
As the creosote deposits cool they harden to a shiny black coating that can be difficult to remove, especially if the creosote deposits are left over a period of time.
Creosote will continue to accumulate on chimney surfaces until it is removed by one of the methods we describe below.
How & When does a Creosote Fire Ignite in a Chimney?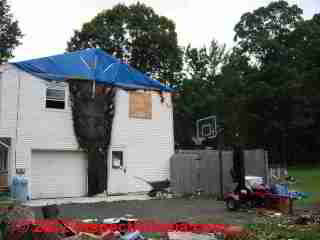 Watch out: One of the most common and serious fire hazards in chimneys occurs when deposits of creosote build up on the chimney interior are later set on fire.
A serious chimney fire can occur regardless of the chimney type: masonry, metal, insulated metal, etc.
Our photo (left) shows a home damaged by a house fire: a chimney fire originated at a chimney venting a woodstove.
The owners were away and a house-sitter made a nice hot fire in the woodstove.
The fire ignited at a metal chimney (not shown, around the right corner of the home in the photo), spread through the attic roof, and burned back down the building.
A creosote-based chimney fire occurs when an accumulated deposit of creosote is ignited by a hotter-than-usual fire below.
Once ignited, the deposits of creosote burn at very high temperature, so hot, in fact, that depending on the amount of creosote that is burning, a runaway chimney fire occurs, making a sound like a roaring freight train. A chimney fire damages the chimney leaving it unsafe, and worse, there is a high risk of setting the building itself on fire.
The chances that a chimney fire will occur depend on the amount of accumulated creosote deposits, its location, and the temperature of fires being ignited below.
The chance that a chimney fire will ignite the building on fire also depend on the chimney condition, materials, construction, building materials, and most important as well, the fire clearances that were maintained when the building and chimney were constructed.
For details see our FIRE CLEARANCE articles linked at the MORE READING recommendations at bottom of this article.
What Determines the Rate of Creosote Build-up in a Chimney? Causes of Creosote Trouble:
.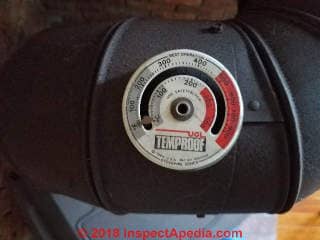 Photo above: a wood stove thermometer placed on the flue vent connector between a woodstove and the masonry chimney.
The temperature is in the gray area - too cool. Burning wood in this temperature range - under 250°F invites the dangerous formation of creosote deposits.
Photo below: with some effort we got the temperature of this wood stove up to a safe operating level to avoid forming more creosote in the chimney.
Operating the wood stove for a half hour or more each day at this temperature should significantly reduce the rate of creosote accumulation and will burn-off the worst of deposits that formed as the wood stove was first ignited and was getting up to operating temperature.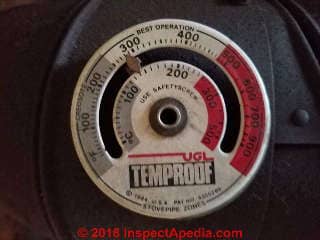 The rate of creosote build-up in a chimney depends on these factors:
The temperatures in the chimney or flue: A long low-smoldering wood fire produces more creosote than a hotter faster-burning wood fire.

That's because burning wood at a lower temperature results in more incomplete combustion of the wood itself. Incomplete combustion of a fuel results in a higher level of off-gassing of incompletely burned chemicals in gaseous form, including, in the case of wood fires, wood-tar.



Watch out

: your wood stove or coal stove manufacturer will provide the recommended operating temperature range for the appliance.

Typically the chimney flue temperatures should be between 300°F and 400°F.

According to the thermometer's "Best Operation" scale shown here, you can run your woodstove between 250°F and 450°F.

Too cool means rapid creosote formation. Too hot also increases the risk of a chimney fire by threatening to ignite creosote deposits or by exceeding the temperature ratings of the chimney.

Watch out: too hot (the red area on the wood stove thermometer) means you are likely to set any creosote deposits on fire, risking a dangerous chimney fire.

You may also exceed the temperatures handled by the fire clearance recommendations of the manufacturer and of your local building codes.

Very high woodstove operating temperatures (over about 470 °F) may also cause metal fatigue, damaging the stove, causing cracking, making the stove or metal flue or metal chimney parts unsafe.

Details about where to place the woodstove thermometer are at WOODSTOVE THERMOMETER LOCATION - just below.


Level of usage: The frequency of wood/coal fires and the amount of wood or coal burned
The wood-sap content of the wood being burned. Green wood that has not cured contains more sap and produces more wood tar than thoroughly-dried firewood.
Moisture content of the wood being burned. Wood, even wood that is well seasoned, should be protected from rain and snow. If the wood is wet it will burn more slowly and will create more creosote in the chimney.
The wood species (or to a smaller degree the type of coal or peat) being burned.
The chimney size, height, location, and construction materials serving the heating appliance.

Cool chimney surfaces in a large masonry chimney venting a very small wood-fire will cause more creosote to condense on the chimney sides at a faster rate than a smaller chimney flue with better draft and warmer surfaces.

Here are details:

Chimney flue size: a chimney flue that is too large for the heating appliance may fail to develop adequate draft, further increasing creosote deposition.

Installing a wood-stove insert or coal stove insert into an older fireplace and masonry chimney may result in a chimney that is too large to properly vent the new heater.
Unlined flues: a professional woodstove installer may insist on re-lining the chimney by one of several methods, such as by installing a smaller-diameter chimney flue liner up the entire height of the chimney.

At installations we made we also sealed the bottom of the large original chimney flue at the base (around the new smaller flue insert) and poured a non-combustible insulation around the new flue liner (vermiculite).
Chimney location: a chimney constructed on an outside wall of the building, whether masonry or metal, will be cooler than a chimney routed through the building interior.
Chimney height: a tall chimney improves draft at the fire once it has become fully heated, but may take longer to warm sufficiently, collecting creosote in its cooler upper length.

Watch out: In some cases, such as a home venting only a gas fired water heater into an older masonry flue, the heating appliance never was able to heat the chimney sufficiently to cause adequate draft, leading to dangerous carbon monoxide gas escape into the building.

This carbon monoxide hazard can also occur with coal stoves or even a woodstove.
Metal flue chimneys and vents, particularly single-wall flue vent connectors tend to be cooler and to collect creosote faster than warmer, insulated metal flues.
Chimney cap: a chimney cap not only prevents rain from entering (and possibly damaging) the chimney, it improves draft and prevents downdrafts - conditions that can increase the rate of creosote formation.



Watch out

: using an un-listed decorative chimney top shroud is inviting a dangerous chimney fire.

at CHIMNEY SHROUD FIRE we describe a fire damage ascribed to an un-listed chimney top decorative shroud on a wood frame chimney chase top at a home in Moorpark CA.
Chimney cleanout openings: a masonry fireplace and chimney often includes an ash pit cleanout door below the fireplace. If this door is left open the result is reduced draft in the chimney (and a fire hazard).
Wood-framed chimney chase (to enclose a factory-built chimney assembly) construction, materials, fire blocking, code compliance:

see CHIMNEY CHASE CONSTRUCTION for details.

Adequacy of combustion air supply: just as a flue that is too large to heat up and properly vent the wood or coal stove venting into it, if the heater has inadequate combustion air the result will be incomplete combustion of the fuel and a higher creosote production rate.
Anything else that affects chimney draft. Slowing the chimney draft, such as by closing a damper in a woodstove flue, increases the residence time of the smoke in the flue, increasing the rate of creosote deposition.
The frequency of chimney cleaning and the thickness of existing creosote deposits.

As creosote builds up inside of a chimney or flue, its thickness reduces the internal dimensions of the chimney, thus reducing draft, thus slowing the combustion rate of the fire below still more.

As the combustion rate slows, it becomes still less complete, thus producing creosote at an increasing rate. In other word, a dirty chimney with a thick deposit of creosote causes more creosote to be formed and deposited at a still faster rate.
Where to Locate the Woodstove Thermometer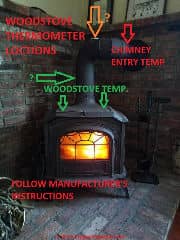 This photo shows the woodstove whose temperature we were monitoring on its thermometer shown above.
This thermometer had lost its magnet - it would not mount on the vertical chimney flue vent connector so it found a new home atop the horizontal portion of the flue (orange arrow).
Actually if the temperature that you're trying to monitor is the flue temperature, placing the thermometer as close to the chimney thimble as you can will give a more-accurate idea of chimney temperatures (red arrow).

Green arrows in the photo mark typical locations for woodstove thermometers in many articles we reviewed.
Often people put the thermometer 18" up the flue from the woodstove top.
Some stove manufacturers recommend placing the stove-temperature-monitoring thermometer right on any of the four corners of the woodstove top.
However even those four corners may give very different temperature readings.

In sum, you may want to use two thermometers:

- a thermometer placed at the chimney thimble to monitor the temperature of flue gases entering the chimney
- a second thermometer atop or close to the top of the woodstove itself to monitor the stove for dangerously-high temperatures

Watch out: also that these woodstove thermometers are not necessarily accurate; further, the temperature that you read will vary significantly depending on where the thermometer is placed. IF your home oven thermometer is accurate you may be able to calibrate your woodstove thermometer by placing in your oven set to 400 °F.

Ultimately you should follow the thermometer placement instructions from the manufacturer of your specific woodstove or pellet stove.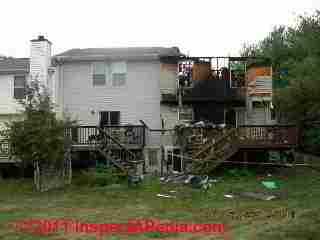 Our photo above illustrates extensive fire damage to a home by fire originating not in a chimney but in the home's kitchen. The use of fire-retardant plywood in the roof was credited with slowing the fire's spread to the rest of the home.
How to spot a creosote problem in the chimney & what to do about it
Watch out: a chimney fire that has ignited creosote burns very hot, sounds like a roaring freight train, and can burn down the building
. If you encounter these conditions you need to get everyone out of the building and you need to call the fire department immediately. If it is possible to safely close down air supply to the chimney that might help but your first priority is saving lives.
In January 2015 our buddy Paul G. reported having successfully detected and removed a creosote problem in a woodstove just in time before recent very cold weather and just before a predicted record blizzard in New York.
Lighting the wood stove Paul observed that the stove was smoking from various leak points at the chimney connections and at various wood stove openings.
Outside he saw that some smoke was coming from the wood stove's chimney top but inside the stove was smoking and draft (a match at the air intake) was poor.
Paul shut down the wood stove air supply immediately.
When the fire had cooled enough to safely do so he finished extinguishing the fire by carefully spraying a bit of water onto the coals. He waited a bit because he knew that doing this while a wood stove is hot could make matters worse by causing breakage or even exploding parts.
When the fire was out in the wood stove Paul was able to check the chimney top closely: undaunted by being an old guy in his 80's he clambered up onto the snow-covered roof to check the wood-stove chimney.
There he saw that the spark screen was mostly occluded by creosote.
Removing the cap gave access to clean the flue - ash and creosote fell down the wood stove flue into the top of the wood stove where it was removed and saved for me.
Paul didn't have a proper chimney cleaning brush kit (see the chimney brush chart at below left) so he banged on the metal flue until the creosote and crud fell into the wood stove.

See CHIMNEY CLEANING PROCEDURES
When the wood stove chimney was clean it was inspected for safety and deemed usable.
The wood stove itself needed further attention too. The observation of smoke coming out of wood stove section joints told Paul that the cement sealant at those joints needed to be replaced.
Watch out: leaks at wood stove section joints as well as leaks at a wood stove door due to a lost or worn gasket can make draft control impossible - this is a very dangerous situation.
The result can be a runaway wood stove fire overheating the stove or chimney to unsafe temperatures and perhaps igniting a creosote chimney in the flue or even burning down the building.
Or burning up the building. Anyway the same gaps that let smoke out of the wood stove (because the flue was blocked with creosote) let excess air into the wood stove in other conditions, making it unsafe.
In our photo (below left) creosote is leaking out of this chimney on the upper floor of a pre-1900 home.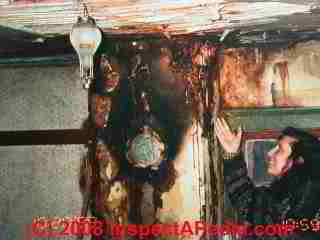 Inside the chimney, creosote looks like a black shiny deposit, sometimes with a bubbly or knobby rounded surface. It can be spotted at the chimney top from outside and it may be seen by looking up into the flue from inside the building.
Watch out: Beware that because creosote is deposited more heavily where the chimney is cooler, a chimney that looks pretty clean just above a fireplace or woodstove may still be unsafe.
It is just about impossible for a homeowner to thoroughly inspect the entire inside of a chimney or flue, but you can inspect the lower chimney from inside the building, and the chimney top can be inspected from outside if you have safe on-roof access.
If you see a thick deposit of creosote, a deposit that looks thicker than a simple "dusting" of 1/8" or less on the chimney surface, you should have the chimney inspected and cleaned.
Even if you do not see a thick creosote deposit, if you are making regular use of a woodstove or fireplace the chimney should be inspected for safety and cleaned no less than once a year. And if you've never had your chimney inspected or cleaned we recommend that you do so before continuing its use.
After the first inspection and cleaning, and based on the accumulated creosote found and your frequency of use of the chimney, you and your chimney professional will be able to have a more clear opinion about how often your chimney needs cleaning.

Creosote odors in buildings: causes & cures
You may smell a chemical odor that is traced to a chimney or fireplace when that system is not in use, typically in the spring and summer and during wet weather.
Water entering the chimney from the top (leaks, or a bad or missing cap) or moisture condensation forming inside the flue can dissolve some of the creosote deposits leading to an odor.
A downdraft through the chimney brings those odors into the home. Have the chimney inspected and cleaned and close the damper when the chimney is not in use.
See ODORS GASES SMELLS, DIAGNOSIS & CURE for help in tracking down and curing smells or odors in buildings.
How to Prevent Creosote Chimney Fires
If you are new to the building, have the chimney (and fireplace or woodstove) inspected for safety before use. Ask for a Level-1 inspection as defined by NFPA 211.[4] You can find a qualified chimney professional through the Chimney Safety Institute CSIA [3] or the National Chimney Sweeps Guild (NCSG) [7].
Make sure that your heating appliance and chimney installed according to the manufacturer's instructions and complies with local building codes.
Review the list of creosote formation causes above at What Determines the Rate of Creosote Build-up in a Chimney? , and correct the ones that affect your installation.
Do not use a chimney, wood stove, or coal stove in a home that is unfamiliar to you without first having the installation inspected for fire safety.

For example if you buy an existing home with a fireplace or woodstove installed, you should not use it before having had an initial chimney and fireplace or woodstove safety inspection.
If you burn wood more than once or twice a season, your chimney should be inspected and cleaned at least annually.
Burning dry wood, periodically burning a hot fire, and other measures may reduce the rate of creosote buildup but there is no substitute for a careful and competent chimney inspection and cleaning.
at CHIMNEY FIRE ACTION / PREVENTION we provide more chimney fire safety advice expanded from information provided by the US CPSC.

There we also discuss the use of Chimflex™ fire extinguisher sticks and fire extinguishers and we outline what to do in the event of a chimney fire.
How Often Should the Chimney be Cleaned to Remove Creosote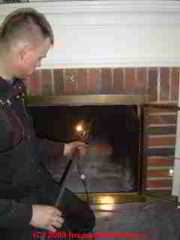 It depends . .. on the conditions we described above, such as the amount of wood burned, the condition of the wood and chimney and fire temperatures.
According to NFPA 211,
Chimneys, fireplaces, and vents shall be inspected at least once a year for soundness, freedom from deposits, and correct clearances. Cleaning, maintenance, and repairs shall be done if necessary". [4]
But depending on the creosote formation factors we described above, your chimney may need cleaning more often in order to be safe.
According to CSIA,
... open masonry fireplaces should be cleaned at 1/8" of sooty building, and sooner if there is any glaze present in the system.
Factory-built fireplaces should be cleaned when any appreciable buildup occurs. This is considered to be enough fuel buildup to cause a chimney fire capable of damaging the chimney or spreading to the home. [3]
We note that "appreciable buildup" and "capable of damaging the chimney" are too vague to guide a homeowner. The judgment of a chimney professional can assist you in learning to recognize when your chimney needs cleaning.
How Creosote Deposits in Chimneys are Cleaned
Also see Chimney Cleaning Advice, Procedures.
Creosote deposits may be removed by using a stiff chimney brush if the deposits are sooty in character. This is the easiest and best condition to handle.
Creosote deposits that are glazed and hard on the chimney walls can be difficult to remove by may be removable using a powered mechanical brush.
Creosote deposits that are sticky, oozy, "gummy" are very difficult to remove without a chemical treatment - chimney cleaning chemicals are not recommended by the CSIA.[3]
The Chimney Safety Institute of America (CSIA), a non-profit, educational institution focused on the prevention of chimney and venting hazards, is concerned about the consumer use of chemical chimney cleaning products to the exclusion of conventional chimney inspections and cleaning. These products often are promoted for their ability to remove a portion of the creosote from a masonry or metal chimney interior through catalytic action when burned in a fireplace or wood stove.
The CSIA believes that the use of these products alone is not an adequate substitute for mechanical chimney cleaning and inspection because it does not provide the same level of protection to the chimney system. Current promotional claims for some of the products may be creating a false sense of security among consumers.[3]
We have observed that a "gummy" creosote deposit may harden when the chimney dries or is (carefully) heated.
Watch out: we have also seen "chimney cleaning sticks" a high-temperature flare that is tossed into a fireplace or woodstove to "burn off" the creosote. In our opinion you're asking for a chimney fire, and we would not rely on such products. Call a professional, certified chimney sweep instead, or ask for advice from your local fire department.
Watch out: creosote itself can affect your health: it is a skin, eye, and respiratory irritant. Depending on the level and location of exposure creosote can also act as a carcinogen.[1][2]
Question: cause of oily liquid leaking out of wood heater
(June 30, 2015) A. Weido said:
Lately I noticed this nasty yellow liquid dripping down the chimney, all around it pretty much, and it's not a lot. Maybe a few ounces make it to the floor of the basement, and look really yellow.
The liquid coming down the chimney is almost gummy, it's like sap almost, and in a few spots some has dried into a gummy trail just like sap along the exposed outside of the chimney in the basement. What could this be?

2017/02/15 Jon said:
I have a wood furnace. I loaded it up and titned it down before leaving the other night so it would slow burn through the night.
When i got back there was a black oily liquid everuwhere in the ground around it, on the back, dripping from the lower part of the dmoke exhause ventbright bu wjere you close and open the vent and some on theninside of the door.
Could this be from the kind of wood that was burned or something else... Also a different question, is it ok to leave the ash door open and close everything else (the smoke exhaust valve and the smoke bypass rod) really get it going and staying going if i sm around it and want itbto really stay warm?

This question was posted originally at BACKDRAFTING HEATING EQUIPMENT
Reply: probably creosote from burning wood at a low temperature - also watch for beehives
A.W.
Sounds like dissolving creosote or chimney deposits. I've also seen such mess oozing out of chimneys after bees had made a honeycomb therein.
Jon,
Oily liquid from a wood-burning appliance is, especially under the circumstances you describe, most-likely creosote that has condensed in the wood-furnace flue and then leaked out of the system onto the floor below.
When you run a wood heating appliance very slowly the flue is cooler and the condensation rate of creosote increases.
See if you can spot where the creosote liquid was leaking out onto the floor, as it might also be that your flue sections or chimney sections are installed upside down. Normally the female end of each section faces "up" so small amounts of condensate drain back into the heater rather than leaking out at the section joints.
Watch out: accumulation of creosote in a chimney can result in a very dangerous chimney fire if later a hot fire ignites the creosote in the flue. A certified chimney sweep can tell you the condition and safety of your chimney and flue.
Yes the type and condition of wood is a factor in creosote production; particularly, green wood that has more sap content produces more creosote.
Research on the production of creosote from burning wood:
Baker, A. J. "WOOD FUEL PROPERTIES and FUEL PRODUCTS FROM WOODS" [PDF] In Proc. Fuel Wood Management and Utilization Seminar, pp. 14-25. 1982. Retrieved 2017/02/15 original source: www.fpl.fs.fed.us/documnts/pdf1983/baker83a.pdf
Ramdahl, Thomas, Ingrid Alfheim, Ståle Rustad, and Torbjørn Olsen. "Chemical and biological characterization of emissions from small residential stoves burning wood and charcoal." Chemosphere 11, no. 6 (1982): 601-611.
Lee, Robert GM, Peter Coleman, Joanne L. Jones, Kevin C. Jones, and Rainer Lohmann. "Emission factors and importance of PCDD/Fs, PCBs, PCNs, PAHs and PM10 from the domestic burning of coal and wood in the UK." Environmental science & technology 39, no. 6 (2005): 1436-1447.
Excerpt from Baker whose article appears in a USFPL PDF

Unburned volatiles resulting from incomplete combustion of wood can cause a large loss in efficiency. These volatiles are also a source of trouble in stoves and furnaces because of the creosote, tarry substances, and acetic they contain.
To burn these volatiles, sufficient air must be supplied around or over the fuel bed. This air must be mixed with the volatiles while they are still hotter than l,lOO°F and have not come in contact with cooling surfaces.
Theoretically, it takes six pounds of air to burn one pound of oven-dried wood, but actually more air is required because the air and volatiles are not thoroughly mixed. (Baker 1982)
...
Continue reading at CHIMNEY FIRE ACTION / PREVENTION or select a topic from closely-related articles below, or see our complete INDEX to RELATED ARTICLES below.
Or see CHIMNEY CREOSOTE FAQs - questions and answers posted originally on this page
Or see FIRE DAMAGED BUILDINGS
Or see these
Fireplace & Woodstove Articles
Suggested citation for this web page
CREOSOTE FIRE HAZARDS at InspectApedia.com - online encyclopedia of building & environmental inspection, testing, diagnosis, repair, & problem prevention advice.
Or use the SEARCH BOX found below to Ask a Question or Search InspectApedia
...
Ask a Question or Search InspectApedia
Questions & answers or comments about creosote: the rate of creosote deposition in chimneys, creosote and chimney fires, creosote odors & hazards, and how creosote is cleaned out of chimneys & flues.
Try the search box just below, or if you prefer, post a question or comment in the Comments box below and we will respond promptly.
Search the InspectApedia website
Technical Reviewers & References
Click to Show or Hide Citations & References
[1] "Creosote, what you need to know", UCLA Labor Occupational Safety & Health Program (LOSH), University of California, Los Angeles, Labor Occupational Safety and Health (LOSH) Program, August 2003, web search 03/03/2012, original source: http://www.losh.ucla.edu/losh/resources-publications
/fact-sheets/creosote_english.pdf [copy on file as Creosote_UCLA.pdf].
[2] Preliminary Risk Assessment of Creosote, U.S. EPA, web search 03/03/2012, original source: epa.gov/pesticides/factsheets/chemicals/creosote_prelim_risk_assess.htm [copy on file as Creosote_Risks_EPA.pdf]
[3] Frequently Asked Questions [about creosote and chimney cleaning], Chimney Safety Institute of America, CSIA, CSIA Technology Center, 2155 Commercial Drive Plainfield, IN 46168, Tel: (317) 837-5362, web search 03/03/2012, original source: csia.org/faqs/tabid/120/default.aspx
[4] NFPA 211 - Standards for Chimneys & Fireplaces, NFPA 211: Standard for Chimneys, Fireplaces, Vents, and Solid Fuel-Burning Appliances, 2006 Edition (older editions and standards are found at the same bookstore)
[5] NFPA #211-3.1 1988 - Specific to chimneys, fireplaces, vents and solid fuel burning appliances.
[6] NFPA # 54-7.1 1992 - Specific to venting of equipment with fan-assisted combustion systems.
[7] National Chimney Sweeps Guild, NCSG, 2155 Commercial Drive, Plainfield, IN 46168, Tel: 317) 837-1500, Website: http://www.ncsg.org/ , Email: mmcsweeney@ncsg.org
[8] National Fireplace Institute - NFI, Website: http://nficertified.org/ Quoting from the associations website:
The National Fireplace Institute® is the professional certification division of the Hearth, Patio & Barbecue Education Foundation (HPBEF), a 501(c)3 non-profit educational organization for the hearth industry.
[9] International Association of Fireplace and Chimney Inspectors, Inc., IAFCI, 5325 N Commerce Ave Ste 5 Moorpark, CA 93021, Website: http://www.membersiafci.org/
GAMA - Gas Appliance Manufacturers' Association has prepared venting tables for Category I draft hood equipped central furnaces as well as fan-assisted combustion system central furnaces.
National Fuel Gas Code, an American National Standard, 4th ed. 1988 (newer edition is available) Secretariats, American Gas Association (AGA), 1515 Wilson Blvd., Arlington VA22209, and National Fire Protection Association (NFPA), Batterymarch Park, Quincy MA 02269. ANSI Z223.1-1988 - NFPA 54-1988. WARNING: be sure to check clearances and other safety guidelines in the latest edition of these standards.
Fire Inspector Guidebook, A Correlation of Fire Safety Requirements Contained in the 1987 BOCA National Codes, (newer edition available), Building Officials and Code Administrators International, Inc. (BOCA), Country Club HIlls, IL 60478 312-799-2300 4th ed. Note: this document is reissued every four years. Be sure to obtain the latest edition.
Uniform Mechanical Code - UMC 1991, Sec 913 (a.) Masonry Chimneys, refers to Chapters 23, 29, and 37 of the Building Code.
New York 1984 Uniform Fire Prevention and Building Code, Article 10, Heating, Ventilating, and Air Conditioning Requirements
New York 1979 Uniform Fire Prevention & Building Code, The "requirement" for 8" of solid masonry OR for use of a flue liner was listed in the One and Two Family Dwelling Code for New York, in 1979, in Chapter 9, Chimneys and Fireplaces, New York 1979 Building and Fire Prevention Code:
"Top Ten Chimney (and related) Problems Encountered by One Chimney Sweep," Hudson Valley ASHI education seminar, 3 January 2000, contributed by Bob Hansen, ASHI
Chimney Inspection Checklist, Carson Dunlop, Associates, Toronto, Ontario
"Rooftop View Turns to Darkness," Martine Costello, Josh Kovner, New Haven Register, 12 May 1992 p. 11: Catherine Murphy was sunning on a building roof when a chimney collapsed; she fell into and was trapped inside the chimney until rescued by emergency workers.
"Chimneys and Vents," Mark J. Reinmiller, P.E., ASHI Technical Journal, Vol. 1 No. 2 July 1991 p. 34-38.
"Chimney Inspection Procedures & Codes," Donald V. Cohen was to be published in the first volume of the 1994 ASHI Technical Journal by D. Friedman, then editor/publisher of that publication. The production of the ASHI Technical Journal and future editions was cancelled by ASHI President Patrick Porzio. Some of the content of Mr. Cohen's original submission has been included in this more complete chimney inspection article: InspectAPedia.com/chimneys/Chimney_Inspection_Repair.php. Copies of earlier editions of the ASHI Technical Journal are available from ASHI, the American Society of Home Inspectors.
Natural Gas Weekly Update: http://tonto.eia.doe.gov/oog/info/ngw/ngupdate.asp Official Energy Statistics from the U.S. Government
US Energy Administration: Electrical Energy Costs http://www.eia.doe.gov/fuelelectric.html
Books & Articles on Building & Environmental Inspection, Testing, Diagnosis, & Repair
Our recommended books about building & mechanical systems design, inspection, problem diagnosis, and repair, and about indoor environment and IAQ testing, diagnosis, and cleanup are at the InspectAPedia Bookstore. Also see our Book Reviews - InspectAPedia.
Fireplace & Chimney Design, Repair Books - Fireplaces, Chimneys: design, repair
Fireplace & Chimney Inspection Books - Inspecting and diagnosing chimney problems, fireplace problems, chimney & fireplace standards
Ceramic Roofware, Hans Van Lemmen, Shire Library, 2008, ISBN-13: 978-0747805694 - Brick chimneys, chimney-pots and roof and ridge tiles have been a feature of the roofs of a wide range of buildings since the late Middle Ages. In the first instance this ceramic roofware was functional - to make the roof weatherproof and to provide an outlet for smoke - but it could also be very decorative. The practical and ornamental aspects of ceramic roofware can still be seen throughout Britain, particularly on buildings of the Victorian and Edwardian periods. Not only do these often have ornate chimneys and roof tiles but they may also feature ornamental sculptures or highly decorative gable ends. This book charts the history of ceramic roofware from the Middle Ages to the present day, highlighting both practical and decorative applications, and giving information about manufacturers and on the styles and techniques of production and decoration. Hans van Lemmen is an established author on the history of tiles and has lectured on the subject in Britain and elsewhere. He is founder member and presently publications editor of the British Tiles and Architectural Ceramics Society. Also available at the InspectAPedia Bookstore.
Chimney Inspection Checklist, Carson Dunlop, Associates, Toronto, Ontario
Chimney & Stack Inspection Guidelines, American Society of Civil Engineers, 2003 - These guidelines address the inspection of chimneys and stacks. Each guideline assists owners in determining what level of inspection is appropriate to a particular chimney and provides common criteria so that all parties involved have a clear understanding of the scope of the inspection and the end product required. Each chimney or stack is a unique structure, subject to both aggressive operating and natural environments, and degradation over time. Such degradation may be managed via a prudent inspection program followed by maintenance work on any equipment or structure determined to be in need of attention. Sample inspection report specifications, sample field inspection data forms, and an example of a developed plan of a concrete chimney are included in the guidelines. This book provides a valuable guidance tool for chimney and stack inspections and also offers a set of references for these particular inspections.
Fireplaces, a Practical Design Guide, Jane Gitlin
Fireplaces, Friend or Foe, Robert D. Mayo
NFPA 211 - Standards for Chimneys & Fireplaces, NFPA 211: Standard for Chimneys, Fireplaces, Vents, and Solid Fuel-Burning Appliances, 2006 Edition (older editions and standards are found at the same bookstore)
Principles of Home Inspection: Chimneys & Wood Heating (Principles of Home Inspection), Carson Dunlop
U.S. vs. Canadian Unlined Masonry Chimney Flue Requirements & Case Study
NFPA 211 - 3-1.10 - Relining guide for chimneys
NFPA 211 - 3-2 - Construction of Masonry Chimneys
NFPA 211 - 3-3 - Termination Height for chimneys
NFPA 211 - 3-4 - Clearance from Combustible Material
NFPA 54 - 7-1 - Venting of Equipment into chimneys
Brick Institute of America - Flashing Chimneys
Brick Institute of America - Proper Chimney Crowns
Brick Institute of America - Moisture Resistance of Brick
American Gas Association - New Vent Sizing Tables
Chimney Safety Institute of America - Chimney Fires: Causes, Effects, Evaluation
National Chimney Sweep Guild - Yellow Pages of Suppliers
...
Publisher InspectApedia.com - Daniel Friedman