How to repair aluminum wiring: recommended methods
How to Reduce the Risk of Aluminum Wiring Fires
InspectAPedia tolerates no conflicts of interest. We have no relationship with advertisers, products, or services discussed at this website.
How should aluminum electrical wiring be repaired?
This article describes the immediate safety steps needed in a building where solid conductor aluminum electrical wiring is installed. This article describes the acceptable methods to repair aluminum wiring, including which aluminum wire connectors to use for safest results.
We describe how to make aluminum to copper pigtail connections using the COPALUM connector or the AlumiConn™ connector as well as how to make aluminum-to-aluminum wire connections and aluminum ground wire connections.
How to reduce the risks associated with aluminum electrical wiring - a practical guide shows which aluminum wiring connectors can be used successfully to connect aluminum conductor wires to copper-wired devices (such as lighting fixtures or fans) and to electrical receptacles ("plugs") or to light switches.
Notes on using the COPALUM connector for aluminum wire repairs - aluminum to copper pigtailing. Notes on using the AlumiConn™ connector for aluminum wire repairs - aluminum to copper pigtailing & aluminum to aluminum wire splices - where to buy and how to install and torque the AlumiConn aluminum wire repair connector. How to splice aluminum-to-aluminum electrical wires.
We also provide a MASTER INDEX to this topic, or you can try the page top or bottom SEARCH BOX as a quick way to find information you need.
HOW TO REDUCE THE RISK of Fire and Electrical Circuit Connector Overheating in buildings with Aluminum Electrical Wiring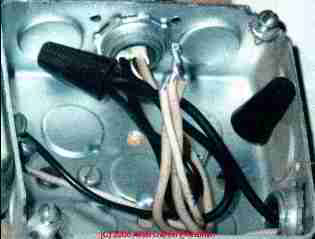 The page top photograph shows an infra-red photo of an overheating aluminum wiring connection at an improper aluminum-to-copper "pigtail" splice (courtesy of G. Cohen).
Aluminum wire connections can overheat enough to start a fire without ever drawing enough current to trip a circuit breaker, and improper repairs can increase the hazard.
Immediate Actions for Safety of Aluminum Wiring
See if you have aluminum wiring (solid conductor branch circuit) installed in your home. Aluminum wiring identification tips are provided at ALUMINUM WIRING, HOW TO RECOGNIZE


Look for signs of aluminum wiring failure, such as flickering lights, turn off the circuit involved and call a licensed electrician. See U.S. CPSC 516 (linked-to below) for other trouble signs.
Also see FLICKERING LIGHT DIAGNOSIS - causes of flickering or dimming lights


Install smoke detectors at locations recommended by your local building officials or fire department. Sample smoke detector locations are also provided on instructions that come with the smoke detector.
How to Repair Aluminum Electrical Wiring to Reduce the Hazards - Repair Alternatives & Choices
Once the initial steps above have been addressed here are the US CPSC recommended choices for safe repair of aluminum wiring:
Aluminum Wiring Repair Method No. 1: Re-wire the Building, Replacing All Aluminum with Copper Wire
Re-wire the Building replacing all aluminum branch circuit wiring with copper, as a "best repair method" for aluminum wiring. However this approach will be the most costly method for aluminum wire repair, requiring snaking new wires throughout the building.
New copper wires are run throughout the building, from the electrical panel to junction boxes, receptacle boxes and to connected devices such as electrical switches, receptacles (outlets or "wall plugs"), etc.
The old aluminum electrical conductors can be left in place in building walls and ceilings, and will be harmless once those wires are completely disconnected from the electrical system.
The re-wire approach to aluminum wiring repair is used principally when other building renovations that require opening building walls, ceilings, floors, make this method practical.
Aluminum Wiring Repair Method No. 2: Copper Pigtailing using the COPALUM Connector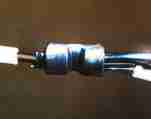 COPALUM Copper-to-Aluminum Pigtailing Use the special AMP (now TYCO) COPALUM connector and special tool to connect short copper wires to every aluminum wire end in the Building, reconnecting the copper to the various devices (outlets, switches, lights) and splices.

This "copper pigtailing" procedure is performed by an electrician trained and licensed by AMP or TYCO to use this COPALUM procedure. The TYCO COPALUM connector method and its pro's and con's are discussed here (below). The installation procedure for this connector is given in TYCO's instructions and is illustrated in precise detail by Aronstein at PIGTAILING USING AMP "COPALUM" CONNECTORS.
Typically this approach costs about half that of completely re-wiring a home with copper. Also see ALUMINUM WIRE REPAIR SPLICE SPACE.

A brief US CPSC article COPALUM ALUMINUM WIRE CONNECTORS discusses how to get these aluminum wire connectors.
TYCO currently leases the crimp tool necessary for making COPALUM repairs, and training is needed to use it properly. For photos of the TYCO COPALUM "Retermination Kit" - the crimping tool used to install COPALUM connectors on aluminum wiring, see this TYCO COPALUM Tool document. (PDF)You'll see that the tool is large, making work in tight quarters a challenge, especially if the original lengths of wire to be pigtailed are short.
You'll also read in Tyco's DRAFT CONTRACT from TYCO for electricians that TYCO considers "old technology" aluminum wire to be unsafe, but in fact later-installed "new technology wire" performs about the same. Both "old technology" and "new technology" solid conductor aluminum wire alloys varied from manufacturer to manufacturer, some performing better or worse than others.
How to Become a Certified COPALUM Installer for Aluminum Wiring Repairs
The following material is based on information from Tyco Electronics, supplier of the COPALUM connector and crimping tool used for aluminum wiring repair:
Becoming a Certified COPALUM Installer - Certification Procedure
Review, sign and return the contract for the COPALUM Retermination Program.*
Contact a participating local Electrical Distributor for availability and delivery of the COPALUM Retermination Tool.
Contact Tyco Electronics to set up a training date for certification training.
Certification Card is provided after completion of training for the purchase of product.
*Refer to Terms & Conditions Document concerning contract specifics
Tool Leasing:
Pricing and availability only through a participating Electrical Distributor
Tooling: Lease only option (Tool is NOT available for sale)

3 month minimum lease — Contact a participating Electrical Distributor for pricing.
Monthly Fee — Contact Electrical Distributor for pricing.

Certification Training is provided by Tyco Electronics Field Service Specialist.

Training consists of 2 to 4 hour instruction for tool use & connector application.
Training Cost - $ 750.00 plus travel & expense (Limited to 6 participants).
Once contractor has tool availability date from distributor, contact Tyco Electronics to schedule training date.
Contact Tyco Electronics customer service for additional information at 800.468.2023.
Contractors can identify distributors in their area by contacting 1-800-527-6686.
See Tyco Electronics for details about COPALUM certification, crimping tool leasing, supplies, training. Terms and conditions of leasing the COPALUM retermination tool (crimping tool) for aluminum wire repairs includes requiring that the contractor be properly trained in use of the equipment.
Tyco COPALUM Part Numbers
The Tyco part number for the Tyco COPALUM retermination tool (crimping tool) is 1976330-1.
The Tyco part numbers for the COPALUM crimp connector itself are 608501-1(Red) & 608502-1(Blue) (two sizes).
Shortcomings of the COPALUM Aluminum Wiring Repair Method
Space limitations in the junction box or receptacle box: These connectors and the copper pigtail wires take up more space in a junction box or receptacle box than the original wires and connectors. at ALUMINUM WIRE REPAIR SPLICE SPACE we discuss options for fitting the COPALUM connector and pigtail wires into electrical boxes where space is tight.
OPINION: Problem for Large Electrical Contractors repairing aluminum wiring: Tyco should make the COPALUM crimping tool available for sale:
Unfortunately, Tyco's "rent-only" option for the COPALUM connector makes aluminum wiring repair service prohibitively expensive for large electrical repair companies who are performing extensive aluminum repair work in large urban areas.
Placing multiple repair tools in multiple repair service trucks with aluminum-wire repair-trained experts, and keeping them there year in and year out in order to be responsive to consumer needs prices this service right out of that market place and has tempted some aluminum repair electricians to make use of alternative repair methods that appear to work (the AlumiConn discussed below) and other aluminum repair methods that have been shown to be ineffective and dangerous.
OPINION: Problem for Small Electrical Contractors repairing aluminum wiring:Tyco should make the COPALUM crimping tool available for short term rental:
A small electrical contractor wanting to become trained, certified, and qualified to perform a small number of aluminum wire repairs faces a different problem. Tyco rents the COPALUM crimping tool for a three-month minimum, converting to a month-to-month lease thereafter.
This will not be economical for a small contractor performing only occasional aluminum wiring repairs.
Aluminum Wiring Repair Method #3 - the AlumiConn™ Alternative has U.L. Listing & Approval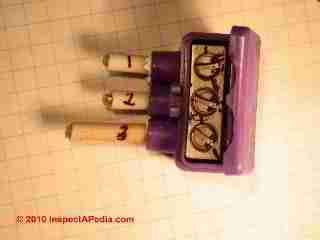 AlumiConn TM aluminum to copper lug connectors[1] [New in 2006, U.L. Listed, 2007 completed independent testing, CPSC recommended 2011] available from King Innovation.
Results of independent testing indicate that this product "... is predicted to have a high probability of failure-free long-term safe performance, PROVIDED THAT THE SETSCREWS ARE CAREFULLY TIGHTENED TO THE MANUFACTURER'S RECOMMENDATION".
AlumiConn TM Purple #95135 aluminum to copper lug connectors [New in 2006, now U.L. Listed, 2007 completed independent testing] available from King Innovation. The AlumiConn connector is now recommended for aluminum wiring repairs - US CPSC.
The AlumiConn™ connector shown here is used to splice a copper "pigtail" wire together with one or two aluminum wires as a step in reducing the fire hazard associated with aluminum electrical wiring.
This connector performs well provided that the wires are properly secured in the connector, and it has been included in the US CPSC recommendations for aluminum wiring repair.
Reference: details of the study and recommendations are on page #6 (the 9th page in the .pdf file) in Dr. J.A. Aronstein's .pdf document version of "Reducing the Fire Hazards in Aluminum Wired Homes" May 21, 2007. The test results are completed and will be published in September 2007. (100 connectors cost $285. Lower prices for larger quantities.)
Alumi-Conn where to buy, how to install:
How to Install the AlumiConn aluminum wiring repair connector

Installation instructions for AlumiConn™ for aluminum wiring repair
AlumiConnTM Status Update - CPSC Recommended
Question: Is it OK to Use the AlumiConn™ by King Innovation for Aluminum Wiring Repair
In the section regarding aluminum wiring repair it is not clear to me if the product called Alumiconn by King Innovation is a safe and acceptable alternative to Copalum. I have not been able to find anywhere in the internet any further references to how safe is this product beyond the publication by J. Aronstein last update July 6, 2007. Can you clarify this for me? - J. C., Orlando, FL
[Note: this question and answer was posed in 2009 but has been updated to reflect the 2011 US CPSC recommendations concerning the AlumiConn connector - Ed.]
Answer: Yes, properly installed this is an approved repair for aluminum wiring.
Safety/Usability of the AlumiConn™: 4 Points of Discussion
1. Independent tests showed that IF the Alumiconn connector is properly installed (including torquing to the proper torque setting) it performs as well as COPALUM. We have absolute confidence in Dr. Aronstein in this matter - he is fully qualified, experienced, and is an unbiased independent party with no financial connection to the company selling Alumiconn (nor to any one else selling other products).
Here is Aronstein's paper on the topic: Reducing the Fire Hazards in Aluminum-Wired Homes - 5/21/07, (AlumiConn™ info is on p. 9)
The Alumiconn™ is UL listed (UL 486C) as a "pressure type screw connector" (USA) and CSA approved (Canada) for aluminum wiring repairs.
For general information about that listing type, see this UL connector information On the UL listing for wire connectors.
2. U.S. CPSC: This connector performs well provided that the wires are properly secured in the connector, and it has been included in the US CPSC recommendations for aluminum wiring repair as of approximately June 2011.[2][3]
3. Torque settings for the AlumiConn™: Reading the UL document we see no mention whatsoever of torque specifications - those are particularly important for this particular connector as it involves tightening a screw in a terminal block to secure the aluminum or copper wire being spliced.
Aronstein emphasized that the connector's acceptable performance relied on using the proper torque settings.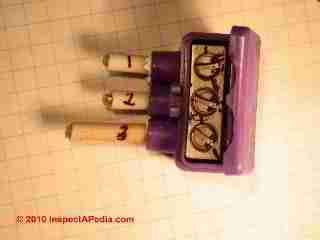 Torque settings are described at Technical notes on Installing or Wiring the AlumiConn™ The "alternative method" described by the manufacturer for tightening the screws produces torque close to or exceeding the actual torque specified numbers (according to some preliminary tests we have done in our lab) - photo at left.
4. UL listing vs CPSC Recommended: So if you were working for someone else and wanted to install only the CPSC-recommended connectors, you'd use only the AMP/TYCO COPALUM™ method or the AlumiConn™.
In March 2010, prior to the CPSC recommendation of AlumiConn™ connectors for aluminum wiring repairs, we (DJF) presented this information for a group of 50 licensed electricians at an Aluminum Wiring Repair Methods Update - class in Dallas TX.
These were trained licensed electricians who are informed and conservative in their practice.
The company's position was that they would not use an connector that was not CPSC-recommended, notwithstanding its UL listing. Indeed, some products carrying a UL listing for aluminum wiring repair have been shown to perform very poorly in the field, such as CU/AL devices and the Ideal65 purple "Twister" connector sold for that purpose.

How to Repair Aluminum-to-Aluminum Wire Splice Connections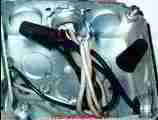 Aluminum to aluminum wire splices also need to be repaired in an aluminum-wired home. These splice connections are typically found in junction boxes (shown below) but may also occur in some receptacle boxes where a device such as a light or electrical receptacle are also wired.
Traditionally these splices were made with twist-on connectors - an approach shown below (left) and one that is unsafe (below right) because of the risk of overheating and a potential for fire.
Our photograph at above left shows aluminum wire spliced to aluminum wire at a connection which had not overheated when we took this photo.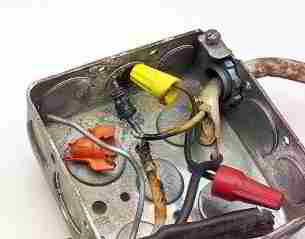 The photograph at left severe overheating and burn-up of an aluminum to copper splice made using a conventional twist-on connector.
Avoid Using Copper Pigtails When Splicing Multiple Aluminum Wires Together
The various "copper pigtailing" methods discussed in articles on aluminum wire repairs (at aluminum-wired devices such as electrical receptacles, switches, and lights) are not the best approach when repairing aluminum-to-aluminum wire splices such as at a junction box in a building (where several aluminum-wire circuits or wires are joined together).
Which Connectors Are Used for Splicing Aluminum Branch Circuit Wires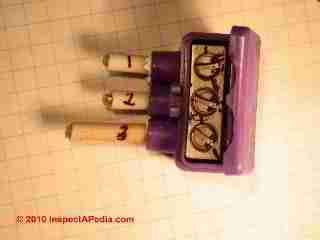 For the aluminum wire to aluminum wire connector case, use of a splicing connector whose manufacturer specifies that the connector must be used with a combination of copper and aluminum wires together (the COPALUM) makes little sense.
Our photo left shows three aluminum wires connected together (spliced) into an AlumiConnTM device.
For the small aluminum wire sizes such as found in building branch circuit wiring for lighting and receptacles, the AlumiConnTM is probably the best choice if the COPALUM connectors and special crimping tool are not readily available.
The installation instructions for the AlumiConnTM (AlumiConn INSTALLATION PROCEDURE) indicate that the connector can be used for splicing solid conductor aluminum branch circuit wires in sizes #12 - #10.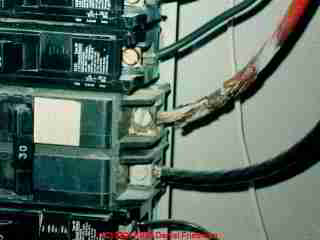 For larger aluminum wire sizes sizes (stranded aluminum wiring such as found at air conditioning compressor circuits, electric range circuits, clothes dryer circuits and other high-amp devices), any of the (UL listed for Aluminum) setscrew type connectors in combination with the inhibitor/abrasion installation technique should suffice.
Since we've seen frequent field reports of overheating at multi-strand high-amp aluminum wired devices such as air conditioning compressors, it is important to address these cases by proper repair methods.
[Note: some air conditioning equipment manufacturers currently recommend use of only copper wiring to feed their equipment - DJF June 2007]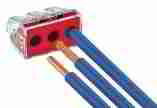 WALL-NUTS [New U.S. product application, Not UL Listed, undergoing testing before UL application] spring-clamp terminal blocks available from Wago Corporation have is being tested by that company for a connector for aluminum-to-copper pigtailing for aluminum wiring repair. The company informs us that a similar product use with aluminum wire conductors has been approved and used in Europe for over 20 years.

The company is conducting further testing before submitting the product to UL to obtain a listing. Significantly, the company indicates that this connector is suitable for connecting multi-stranded (copper) as well as solid conductor conductors. If approved by UL and if test results are satisfactory, this product would, in addition to providing standard solid CU to solid AL connections, address the wiring of a twisted-copper-wire light fixture to a solid conductor aluminum branch circuit wire.

This connector has not been recommended, nor recommended against, by the US CPSC, and is currently undergoing testing. Results will be reported here ASAP. Product description information for the copper to copper wire connection use of this connector is available at the Wago website.
Other Approaches to the Repair of Aluminum Electrical Wiring
Other aluminum wiring repair connector products have been sold by various manufacturers, some with good performance and some unacceptable. Descriptions are below. Emergency temporary repairs necessary to keep an essential circuit in service might be possible following other procedures described by the CPSC or by industry experts.
Details about other aluminum wire repair methods that are not recommended are found at ALUMINUM WIRING REPAIR NOT-Recommended.

Other methods - not recommended: Warnings regarding other "repair" methods which are not recommended are discussed

at ALUMINUM WIRING REPAIR, Other Products,

such as the Ideal 65 purple "Twister" aluminum wire splice connector shown in the photo at left (12 connectors cost $49. to $79.)
Note: The instructions for this connector require that it always include a copper pigtail when making aluminum wiring connections - a condition impractical for splicing aluminum-to-aluminum wires.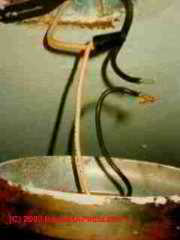 Other methods - also not recommended: include attempts to repair aluminum wiring using receptacles and outlets marked "COALR" (even if these worked, which has not been demonstrated, what about all of the other electrical connections and splices in the building?). COALR and CU/AL devices as a "repair" for aluminum wiring is discussed at ALUMINUM WIRING REPAIR, Other Products.
...
Continue reading at AlumiConn INSTALLATION PROCEDURE or select a topic from closely-related articles below, or see our complete INDEX to RELATED ARTICLES below.
Or see ALUMINUM WIRING HAZARDS & REPAIRS - home
Or see these
Aluminum Wiring Repair Articles
Suggested citation for this web page
ALUMINUM WIRING REPAIR METHODS at InspectApedia.com - online encyclopedia of building & environmental inspection, testing, diagnosis, repair, & problem prevention advice.
Or use the SEARCH BOX found below to Ask a Question or Search InspectApedia
...
Frequently Asked Questions (FAQs)
Try the search box below or CONTACT US by email if you cannot find the answer you need at InspectApedia.
Question: what would it cost to install one AlumiConn™ wiring repair connector?
(Sept 15, 2014) stan covington said:
Price to do one alumiconn connector
Reply:
Stan, you may be asking a trick question. It's typically $60. + for a licensed electrician to walk in the door. The cost of the connector is trivial in comparision and can be found at the AlumiConn store links we give in the article above.
WATCH OUT: fixing just one aluminum wire connection is dangerous - that is, leaving others unattended not only risks a subsequent overheat and fire but may give occupants a false sense of security that the safety problem has been dealt with when it has not - leading to people taking extra risks or ignoring dangerous warning signs. Don't do it.

...
Ask a Question or Search InspectApedia
Try the search box just below, or if you prefer, post a question or comment in the Comments box below and we will respond promptly.
Search the InspectApedia website
Technical Reviewers & References
Click to Show or Hide Citations & References
AlumiConn website - http://www.kinginnovation.com/products/alumiconn/ has installation videos, Wire combinations, specification sheets,  and other information and assistance in purchasing or using this product.
[1] AlumiConn™ AlCopStore.com 223 Salt Lick Road, #279, St. Peters, MO 63376
Tel: 866-826-2256, Fax: 636-754-0500, Email Sales: pking@AlCopStore.com, Email General Inquiry: info@AlCopStore.com
[2] "Repairing Aluminum Wiring," [As updated 2011] U.S. Consumer Product Safety Commission Publication REPAIRING ALUMINUM WIRING, US CPSC Pub. No. 516available online
[3] "Record of Commission Action, Commissioners Voting by Ballot", CPSC Publication No. 516, Repairing Aluminum Wiring (original version op.cit.), (Briefing package dated March 15, 2011), Quoting:
The Commission voted unanimously (5-0)·to approve republication of CPSC Publication No. 516, Repairing Aluminum Wiring, with the explicit recognition that the COPALUM and AlumiConn connectors currently are the only products that meet the agency's standards to prevent aluminum wire fire hazards
Copy on file as /aluminum/Pub516_Alumi_Conn.pdf
[4] Dr. Jess Aronstein, protune@aol.com is a research consultant and an electrical engineer in Schenectady, NY. Dr. Aronstein provides forensic engineering services and independent laboratory testing for various agencies. Dr. Aronstein has published widely on and has designed and conducted tests on aluminum wiring failures, Federal Pacific Stab-Lok electrical equipment, and numerous electrical products and hazards. See ALUMINUM WIRING BIBLIOGRAPHY and see FPE HAZARD ARTICLES, STUDIES for examples.
[5] "The Influence of Corrosion Inhibitor and Surface Abrasion on the Failure of Aluminum-Wired Twist-on Connections", Aronstein, J.; Campbell, W., Components, Hybrids, and Manufacturing Technology, IEEE Transactions on Volume 7, Issue 1, Mar 1984 Page(s): 20 - 24
"Aluminum Wiring: Understanding the Problem and Its Solutions", Hartford Insurance Company - NOTICE: this information contains technical errors and some obsolete information. We include the document reference as an indication of insurance companies who are aware of aluminum electrical wiring hazards and costs. Local copy.
05/21/2007 Reducing the Fire Hazards in Aluminum-Wired Homes, [.pdf document], Jess Aronstein, Ph.D., 21 May 2007. This document answers most technical questions about the hazards and remedies of aluminum electrical wiring and includes a report on independent test results of alternative products and methods for repairing aluminum wiring. Some of the sections of this very thorough document are listed below:
WANTED: Aluminum Wiring Field Reports, Photographs, Samples, & Failure Cases & Data for ongoing study on frequency and severity of occurrence of problems. If you have experienced any problem, or symptom of possible problem with aluminum electrical wiring, or have repaired or replaced it, please contact Daniel Friedman. All information is confidential. Study results will be provided to the U.S. Consumer Product Safety Commission and to the electrical industry. Real life aluminum wiring field failure reports can be seen at Aluminum Wiring Failures in Residential Properties: Field Reports & Pictures.
Books & Articles on Building & Environmental Inspection, Testing, Diagnosis, & Repair
Our recommended books about building & mechanical systems design, inspection, problem diagnosis, and repair, and about indoor environment and IAQ testing, diagnosis, and cleanup are at the InspectAPedia Bookstore. Also see our Book Reviews - InspectAPedia.
The Home Reference Book - the Encyclopedia of Homes, Carson Dunlop & Associates, Toronto, Ontario, 25th Ed., 2012, is a bound volume of more than 450 illustrated pages that assist home inspectors and home owners in the inspection and detection of problems on buildings. The text is intended as a reference guide to help building owners operate and maintain their home effectively. Field inspection worksheets are included at the back of the volume. Special Offer: For a 10% discount on any number of copies of the Home Reference Book purchased as a single order. Enter INSPECTAHRB in the order payment page "Promo/Redemption" space. InspectAPedia.com editor Daniel Friedman is a contributing author.

Or choose the The Home Reference eBook for PCs, Macs, Kindle, iPad, iPhone, or Android Smart Phones. Special Offer: For a 5% discount on any number of copies of the Home Reference eBook purchased as a single order. Enter INSPECTAEHRB in the order payment page "Promo/Redemption" space.
Recommended books on electrical inspection, electrical wiring, electrical problem diagnosis, and electrical repair can be found in the Electrical Books section of the InspectAPedia Bookstore. (courtesy of Amazon.com)
...