Thermostatic Expansion Valve (TEV) Install, Inspect, Diagnose & Test Procedures

InspectAPedia tolerates no conflicts of interest. We have no relationship with advertisers, products, or services discussed at this website.
TEV installation, testing, troubleshooting & repair guide: this article describes how to install, test, or diagnose problems with a thermostatic expansion valve used on air conditioners or heat pumps or similar refrigeration equipment.
HVACR Thermostatic Expansion Valves - TEVs: this air conditioning repair article series explains the function and installation of all types of refrigerant metering devices, beginning with the most-common thermostatic expansion valve or TEV (or thermal expansion valve) that controls release of refrigerant into the evaporator coil of an air conditioning or heat pump system.
We define and explain other refrigeration equipment metering devices including AEVs (Automatic Expansion Valves), manually adjusted expansion valves, capillary tubes and Low Side or High Side refrigerant float valves. Page top sketch of a thermostatic expansion valve is provided courtesy of Carson Dunlop Associates.
Green links show where you are. © Copyright 2014 InspectApedia.com, All Rights Reserved.
Thermostatic Expansion Valve (TEV) Installation, Inspection, Diagnosis & Testing Guide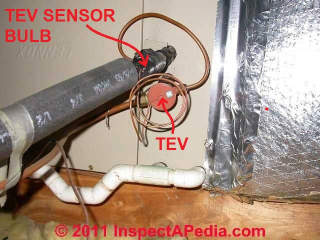 Thermostatic expansion valves (TEVs) are designed to meter refrigerant into the cooling coil at the proper rate. This design can keep the proper dose of refrigerant entering the cooling coil for maximum air conditioning or heat pump system operating efficiency.
TEVs are similar to automatic expansion valves (AEVs) discussed below, but incorporate the signal from a temperature sensor mounted at the end of the evaporator coil
If you are diagnosing a problem with an air conditioner or heat pump and the TEV appears to be involved, check the TEV installation details against the information we list below.
Thermostatic Expansion Valve Location: The TEV should be installed as close as possible to the air conditioning or heat pump evaporator coil inlet. Sketch of CAPILLARY TUBE defects courtesy of Carson Dunlop. Other TEV and cap-tube defects listed below were obtained from an installation guide for TEV's provided by Singer Controls Corp.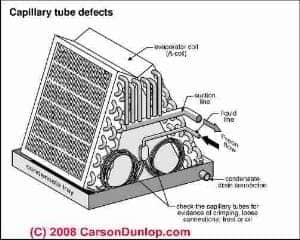 TEV Installation: The valve fittings and exterior parts must be thoroughly cleaned before soldering or brazing in order to prevent debris from entering the refrigerant system or valve body.
Protect the TEV from heat during soldering or brazing by wrapping the valve body and head with a wet cloth to give 1/4" to 1/2" of thermal protection, and keep the soldering or brazing torch aimed away from the valve itself.
[Click to enlarge any image]
As with any soldering or brazing job, don't use excessive solder or flux or the excess may flow into the valve or tubing to prevent proper operation.
TEV interference: Most installation guides require that the thermostatic expansion valve has nothing else installed on the refrigerant tubing that extends between the TEV and the evaporator coil, except in commercial installations where a refrigerant distributor may have been installed. In this instance (use of a TEV with a refrigerant distributor), the TEV should be a unit that provides an external equalizer.

The thermostatic expansion valve sensing bulb that controls the thermostatic expansion valve is clamped to the refrigerant suction line where it monitors the system's temperature.

On a small refrigerant suction line such as on a residential cooling system or heat pump, the sensing bulb is clamped on top of the suction line; If the sensor bulb is located outside of the refrigerated space, additional protection from ambient temperatures is required. Extend insulation on either side of the suction line at least one foot on either side of where the bulb is located. Our photo of a thermostatic expansion valve above at Details about TEVs shows that the sensor bulb was outside of the air handler and was taped under insulation covering the suction line.

On a commercial system that uses a larger diameter line (more than 7/8" in diameter) the thermostatic expansion valve sensor bulb is clamped at the 5-o'clock position or 7-o'clock position on the lower portion of the suction line.

The reason we don't clamp the TEV sensor bulb on the bottom of the cooling coil line is that oil traveling along the bottom of that tubing can act as an insulator to prevent the TEV sensor bulb from accurately sensing the temperature of the evaporator coil.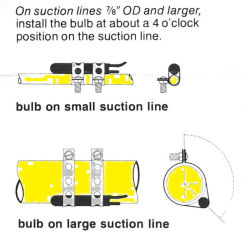 TEV sensor bulb clamp on locations: As the Singer Corporation illustration at left shows, the sensing bulb that controls the thermostatic valve can be clamped on a vertical or on a horizontal section of the refrigerant suction line, but never on a trap or elbow in the suction line where oil and liquid refrigerant can interfere with proper bulb and temperature sensing operation.

And the sensor should not be clamped to the under-side of the suction line but rather on its top (small diameter lines) or at the 5 or 7 o-clock positions (larger suction lines).

Watch out: a TEV sensor that is too loose or has a poor thermal connection to the suction line can send improper signals to the TEV and can cause liquid refrigerant flood damage to the compressor motor. [2]
If multiple TEV's are installed (on a multi-evaporator cooling or heat pump system), each thermostatic expansion valve has to be installed at a refrigerant suction line that will indicate conditions in each individual evaporator, never on a common suction line fed by multiple evaporators.


Access to TEV adjustment: On commercial cooling installations it is also important that the TEV be installed in a location leaving enough access to adjust the device. Details about TEV adjustment are below at Adjusting the Thermostatic Expansion Valve


Hunting Thermostatic Expansion Valves can damage the air conditioning or heat pump compressor: If the TEV superheat set too low this can cause rapid-cycling TEVs TXVs and liquid refrigerant flooding the suction line and compressor.

The superheat must be allowed to change in order for the sensing bulb on the TEV to make corresponding adjustments to the valve opening while it maintains the set superheat. A low superheat setting can allow the superheat to fall to zero. This condition will cause the valve to close and the superheat will soon rise well above its setting.

This in turn can cause the valve to reopen wider than necessary and overshoot the superheat setting. This condition is called hunting. On one of the valve's swings to the wide open position, liquid refrigerant can flood the suction line and allow liquid to enter the compressor, a potentially damaging condition.

In other words, an improper TEV setting can cause rapid opening/closing of the valve resulting in liquid refrigerant flooding the suction line, entering the compressor motor. Because compressor motor moving parts and valves are designed to compress a gas, and because a liquid (refrigerant) is not particularly compressible, the compressor motor, piston, crank, or more immediately its refrigerant valves are likely to be damaged or destroyed.

It is possible that dirt, debris, or even water in the refrigerant piping system and that enters the TEV could cause this malfunction by freezing the valve's moving parts. - Christopherson [2]

Causes of Refrigerant Floodback in air conditioners, heat pumps, refrigeration equipment

Christopherson lists and the article cited below[2] elaborates six causes of refrigerant floodback - a quick kill for compressor motors, including these:



Oversized metering device (discussed below)
Thermostatic expansion valve (TXV) superheat set too low (discussed above)
TXV thermal bulb loose or not thermally tight (discussed above)
Head pressure too high and/or low pressure too low. (perhaps caused by other conditions such as a blocked condensing or evaporator coil or sticking TEV (TXV))
Low evaporator air flow - see COOLING COIL or EVAPORATOR COIL and DAMAGED COOLING COIL, DIRTY COOLING COIL, and FROST BUILD-UP on AIR CONDITIONER COILS
Refrigerant overcharge - see REFRIGERANT CHARGING PROCEDURE



Thanks to reader TN Goose for finding the cited reference [2] explaining the effects of thermostatic expansion valves on A/C or heat pump compressor failures.

TEV head temperature: Because differences in temperature in and around the cooling equipment can affect the TEV's operation, in commercial cooling installations the Thermostatic Expansion Valve has to be placed where its sensor, usually located in the top or "head" of the TEV, will be warmer than the thermal bulb which controls the device. Otherwise liquid refrigerant may be improperly discharged by the valve.

TEV location height: Do not install the Thermostatic Expansion Valve higher than the liquid refrigerant receiver. If a TEV is placed too high in a commercial system, refrigerant vapor or flash gas from the receiver may enter the TEV and prevent its proper operation.

TEV size selection: thermostatic expansion valves are rated in tons of refrigeration capacity based on the size of the metering orifice in the device. The TEV (or AEV) must be matched to the capacity of the cooling system (actually the coil) and to the specific refrigerant used, since at any given temperature different refrigerants will exert different pressures in the system.

In fact we can sometimes spot the installation of the wrong TEV on an air conditioner or heat pump system by its behavior: if someone installs an R22 valve on an R12 refrigeration system, the higher pressure of the R22 will hold the TEV always open!

Testing Thermostatic Expansion Valves after installation: After installing a TEV the system must be tested for leaks using dry nitrogen;

the system is then evacuated (a vacuum is drawn on the refrigerant coils and piping to remove gases and contaminants),

the system is charged with proper refrigerant type and amount, the system is turned on and allowed to run until it is in stable operating condition, and then the TEV is checked according to the manufacturer's specifications (such as presence of a liquid seal at the valve and that the suction pressure is in the proper range.)

Whistling Thermostatic Expansion Valves (TEVs): on refrigeration systems that include a liquid refrigerant receiver and as long as there is adequate level of refrigerant in the system and the TEV is working, the refrigerant charge amount is not absolutely critical.

But on any refrigeration system, receiver or no, if the refrigerant charge gets too low (there is a refrigerant leak somewhere) then refrigerant gas cycles up through the TEV rather than liquid refrigerant. The result is that the TEV will begin to run "wide open" and it will often make a loud whistling sound. A whistling TEV means low refrigerant.

Relationship between TEVs and Compressor/Condenser motors: when a TEV is installed on refrigeration equipment we need a heavier (more powerful) compressor motor since the compressor has to start against a head pressure.

Why? In a system using a cap tube there is no device that closes down the complete refrigerant piping between the low and high sides of the system, just an orifice that restricts the flow rate.

But where a TEV is installed, the device can close completely, leaving a pressure difference between the high and low sides even when the system has stopped running. So a hard-starting compressor that is at or near end of life (or has a bad start/run capacitor or is at low voltage) may have a harder time starting against head pressure on a system that uses a thermostatic expansion valve (TEV or AEV) to regulate refrigerant flow.
TEVs and long evaporator coils: on systems that use a long evaporator coil, and equalizer may be used to offset the large pressure drop that occurs across the long evaporator coil. This added feature assures that pressure in the valve and at the end of the condenser are equal so that just superheat (and not the pressure drop) operates the TEV.
TEV Sensor element leak problems: perhaps the main problem that occurs with TEVs is that the valve stops working due to loss of refrigerant in its sensing device. the Thermostatic Expansion Valve sensor element along with its small diameter tubing is a closed system that contains a refrigerant too - the same refrigerant as that used in the system for which the TEV is designed.

We use the same refrigerant inside the sensor because we want the sensor to respond to temperature changes at the same rate as the refrigerant in the actual system. That is, we want the pressure exerted by the sensor into the TEV top to be equal to the pressure exerted by the refrigerant inside the valve when both are at the same temperature. Else the system won't operate properly. But on occasion you may get a leak in the TEV sensor bulb or its tubing - the TEV will stop working.

To test a thermostatic expansion valve (TEV) for a leak, that is for loss of refrigerant from its sensor bulb and tubing, take the bulb off of the cooling coil and just hold it in your hand. The warmth of your hand should be more than enough to cause the sensor to open the TEV and begin refrigerant flowing through the cooling coil.
Sticking TEV valves: The TEV and also AEVs depend on a little oil or oil mist flowing along with refrigerant to lubricate the interior of the valve. But we suspect that a more common cause of TEV valve sticking is the freezing of a droplet of water at the needle valve, holding it stuck. The valve stops working properly.

We have had field reports of sticking thermostatic expansion valves on some newly-installed residential air conditioners such as the KeepRite® brand discussed at TEV STICKING REPAIR

To test a thermostatic expansion valve (TEV) for freeze-up, try warming up the valve to see if it starts working again, or let the valve warm up by leaving the system turned off for half an hour or so.

Debris in the refrigeration tubing can also clog and cause sticking of the needle seat in a TEV. If the TEV can be disassembled and cleaned this step may correct that problem but you'll also want to install a new dryer/filter on the system refrigerant piping if there are debris problems in the system.
Technical note about TEVs and refrigerant pressure: TEVs do not maintain pressure on the low side of the refrigeration system. The TEV keeps refrigerant flowing into the cooling coil to keep the superheat level as specified across the cooling coil.
Diagnosing Problems with Thermostatic Expansion Valves for Refrigerant Metering
Thermostatic Expansion Valve Troubleshooting
Capillary Tube problems: see our separate article detailing the inspection, installation, and repair or replacement of CAPILLARY TUBES
TEV Thermostatic Expansion Valve diagnostic guide: at TEV INSTALL & REPAIR we list the common sources of trouble with thermoststic expansion valves and we also address AEVs, float valves, manual and automatic expansion valves, etc.
Sticking TEVs are discussed separately at TEV STICKING REPAIR

Also see REFRIGERANT LEAK DETECTION where we describe the effects of dirt and moisture on TEVs and capillary tubes. A quick test for a moisture/ice jammed TEV is to add some heat to see if the device will begin working again.
Watch out: water or dirt in the refrigerant piping system can cause serious and costly problems in the TEV or cap tube that impact the entire refrigeration system.
See THERMOSTATS for other details of the operation of primary air conditioning thermostats and switches.
At A/C - HEAT PUMP CONTROLS & SWITCHES we explain the many electrical switches and controls that control an air conditioner or heat pump system. You'll need to check these if your air conditioner won't start.
At OPERATING DEFECTS we take you through the major air conditioning problem symptoms and how to get the air conditioning system working again.
Continue reading at LOST COOLING CAPACITY - the air conditioning system seems to be "running" but not enough cool air, or no cool air at all is being delivered to the occupied space. or select a topic from the More Reading links shown below.
Or see EXPANSION VALVES, REFRIGERANT - home
Suggested citation for this web page
TEV INSTALL & REPAIR at InspectApedia.com - online encyclopedia of building & environmental inspection, testing, diagnosis, repair, & problem prevention advice.
More Reading
Green link shows where you are in this article series.
...
Frequently Asked Questions (FAQs)
No FAQs have been posted for this page. Try the search box below or CONTACT US by email if you cannot find the answer you need at InspectApedia.
Ask a Question or Search InspectApedia
Questions & answers or comments about refrigeration controls: TEVs, AEVs, Capillary Tubes, Float Valves, & Other Refrigerant Controls
Use the "Click to Show or Hide FAQs" link just above to see recently-posted questions, comments, replies, try the search box just below, or if you prefer, post a question or comment in the Comments box below and we will respond promptly.
Search the InspectApedia website
Technical Reviewers & References
Click to Show or Hide Citations & References
[1] "Thermostatic Expansion Valve Installation Instructions", Singer Controls Division, Schiller Park IL, 1979 parts brochure
[2] Christopherson, Norm, "Preventing Premature Compressor Failures, An Ounce of Prevention for Years of Service", web search & reader TN Goose referral, 08/12/2011, original source: http://www.hvacfun.com/a-once-prevent-years-service-comps.htm
Carson, Dunlop & Associates Ltd., 120 Carlton Street Suite 407, Toronto ON M5A 4K2. (416) 964-9415 1-800-268-7070 info@carsondunlop.com. The firm provides professional home inspection services & home inspection education & publications. Alan Carson is a past president of ASHI, the American Society of Home Inspectors. Thanks to Alan Carson and Bob Dunlop, for permission for InspectAPedia to use text excerpts from The Home Reference Book & illustrations from The Illustrated Home. Carson Dunlop Associates' provides:

Commercial Building Inspection Courses - protocol ASTM Standard E 2018-08 for Property Condition Assessments
Home Inspection Education Courses including home study & live classes at eleven colleges & universities.
Home Inspection Education Home Study Courses - ASHI@Home Training 10-course program.
Special Offer: Carson Dunlop Associates offers InspectAPedia readers in the U.S.A. a 5% discount on these courses: Enter INSPECTAHITP in the order payment page "Promo/Redemption" space. InspectAPedia.com editor Daniel Friedman is a contributing author.
The Home Reference Book, a reference & inspection report product for building owners & inspectors.
Special Offer: For a 10% discount on any number of copies of the Home Reference Book purchased as a single order. Enter INSPECTAHRB in the order payment page "Promo/Redemption" space. InspectAPedia.com editor Daniel Friedman is a contributing author.
The Home Reference eBook, an electronic version for PCs, the iPad, iPhone, & Android smart phones.
Special Offer: For a 5% discount on any number of copies of the Home Reference eBook purchased as a single order. Enter inspectaehrb in the order payment page "Promo/Redemption" space.
The Illustrated Home illustrates construction details and building components, a reference for owners & inspectors.
Special Offer: For a 5% discount on any number of copies of the Illustrated Home purchased as a single order Enter INSPECTAILL in the order payment page "Promo/Redemption" space.
The Horizon Software System manages business operations,scheduling, & inspection report writing using Carson Dunlop's knowledge base & color images. The Horizon system runs on always-available cloud-based software for office computers, laptops, tablets, iPad, Android, & other smartphones.
Books & Articles on Building & Environmental Inspection, Testing, Diagnosis, & Repair
The Home Reference Book - the Encyclopedia of Homes, Carson Dunlop & Associates, Toronto, Ontario, 25th Ed., 2012, is a bound volume of more than 450 illustrated pages that assist home inspectors and home owners in the inspection and detection of problems on buildings. The text is intended as a reference guide to help building owners operate and maintain their home effectively. Field inspection worksheets are included at the back of the volume. Special Offer: For a 10% discount on any number of copies of the Home Reference Book purchased as a single order. Enter INSPECTAHRB in the order payment page "Promo/Redemption" space. InspectAPedia.com editor Daniel Friedman is a contributing author.

Or choose the The Home Reference eBook for PCs, Macs, Kindle, iPad, iPhone, or Android Smart Phones. Special Offer: For a 5% discount on any number of copies of the Home Reference eBook purchased as a single order. Enter INSPECTAEHRB in the order payment page "Promo/Redemption" space.
Carson Dunlop, Associates, Toronto, have provided us with (and we recommend) Carson Dunlop Weldon & Associates' Technical Reference Guide to manufacturer's model and serial number information for heating and cooling equipment
Special Offer: Carson Dunlop Associates offers InspectAPedia readers in the U.S.A. a 5% discount on any number of copies of the Technical Reference Guide purchased as a single order. Just enter INSPECTATRG in the order payment page "Promo/Redemption" space.

Complete List of Air Conditioning & Heat Pump Design, Inspection, Repair Books at the InspectAPedia Bookstore.
Modern Refrigeration and Air Conditioning, A. D. Althouse, C.H. Turnquist, A. Bracciano, Goodheart-Willcox Co., 1982
Principles of Refrigeration, R. Warren Marsh, C. Thomas Olivo, Delmar Publishers, 1979
"Air Conditioning & Refrigeration I & II", BOCES Education, Warren Hilliard (instructor), Poughkeepsie, New York, May - July 1982, [classroom notes from air conditioning and refrigeration maintenance and repair course attended by the website author]
Refrigeration and Air Conditioning Technology, 5th Ed., William C. Whitman, William M. Johnson, John Tomczyk, Cengage Learning, 2005, ISBN 1401837654, 9781401837655 1324 pages
Air Conditioning SEER - New DOE Air Conditioner and Heat Pump Efficiency Standard
Asbestos HVAC Ducts and Flues field identification photos and guide
Fiberglass: Indoor Air Quality Investigations: Fiberglass in Indoor Air, HVAC ducts, and Building Insulation
...