Return Air Registers & Ducts

HVAC Return Air Duct Install, Inspect, Troubleshoot
InspectAPedia tolerates no conflicts of interest. We have no relationship with advertisers, products, or services discussed at this website.
Heating or air conditioning return air supply ducts & registers:
Discussed here: HVAC return air duct installation, inspection, specifications, troubleshooting guide. Defects in return air ducts & registers for heating or cooling systems. Return air adequacy. Air Conditioning (or Heating) Return Air & Duct Defects.
This HVAC ductwork article describes the inspection of the defects in return air registers & ducts for heating or cooling systems (HVAC) to help detect duct defects like missing air conditioning cool air supply or return air registers, undersized air conditioning duct openings, improper cooling duct routing, cooling (or heating) air duct corrosion, leaky air duct connections, defective heating or cooling ductwork materials.
We also provide a MASTER INDEX to this topic, or you can try the page top or bottom SEARCH BOX as a quick way to find information you need.
Steps to Inspect, Diagnose, & Improve Heating or Cooling Return Air Flow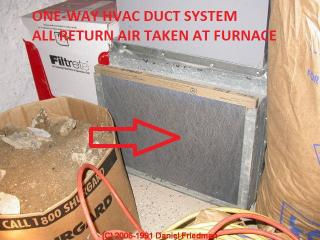 The photograph at page top shows a single central return air duct located outside of the apartment which the duct system intends to serve.
This installation prevents recirculating of air through the air handler for heating or cooling and results in poor air flow and increased heating and cooling costs for the apartment owners.
At our photo shown here is a "one-way" cooling system: all of the return air is being taken from a basement. This is a bad HVAC design that is the most-costly to operate, and it can also be unsafe as we explain below.
Basement Air Handler, No Return Air Ducts, All Return Air Taken at Air Handler
One-Way Cooling or Heating Systems
Some retrofit HVAC installers simply cannot figure out where to place return ducts, so they are just omitted such as shown in the two photographs here. For example a basement or crawl space air handler may be found with no return duct connections at all.
Rather you'll see that the return plenum is simply open to the basement or crawl space.
The photograph below confirms that wet, possibly moldy debris enters the HVAC system at this single point basement air return to the blower unit. In the foreground of the photograph you can see our Burkard (TM) air sampling machine being used to take a look at what the basement is sending into the home's ductwork and living space.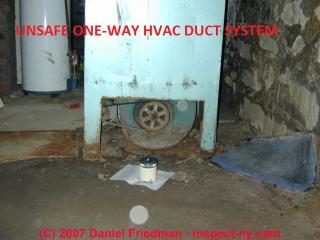 This forms a "one way" cooling or heating system - 100% of the air is drawn from the area around the air handler, cooled (or heated) and blown "one way" into the occupied space. This is the most inefficient design possible as well as possibly a dangerous one (see "Flue Gases" above).
Preferably return air is drawn from the heated or cooled space. Taking "new" makeup air from an unheated space, heating it, and blowing it "one way" into the heated area has to be a more costly way to heat a building. For better indoor air quality and as recommended by ASHRAE, commercial and large residential heating and cooling systems may include apportion of outdoor fresh air input to the duct system as well.
Also see our safety warnings
at RETURN AIR, INCREASE.
Attic Air Handler Air Conditioner Return Duct Defects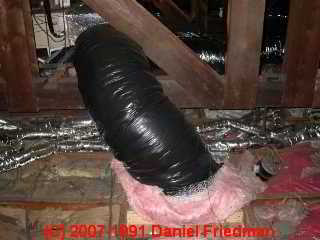 This photograph shows a typical black, large-diameter return flex-duct moving building air to the air conditioning system air handler unit located in an attic.
Notice the loose fiberglass insulation around the base of the large-diameter black flex-duct carrying return air? Poor connections at this location were pulling loose fiberglass insulation fragments and attic dust and debris into the air handler system.
In addition, this poor return duct connection, by leaking attic air into the duct system, increased the air conditioning operating cost by feeding it hot attic air instead of building living space air.
This photograph has a couple of other interesting details. Notice that the return duct is partly crimped and thus obstructed as it passes through the site-built building truss?
Also, what's that electric motor doing lying askew in the insulation next to the flex-duct? Perhaps the central air return, located in the ceiling of the space below, was placed where previously there had been a ceiling-mounted whole house fan, for which we see the motor, abandoned in the attic floor.
Understanding the history of changes made to a building can help interpret the meaning of clues about the building condition. It would be a safer practice to remove the still-connected but un-used fan motor.
Either remove the un-used fan circuit wiring completely, or enclose the termination of the un-used wires in a junction box.
HVAC Return Air Duct Leaks & Obstructions - Theory & Practice
Pressure losses due to friction in the air duct system
Technical note: The D'Arcy-Weisbach equation for pressure and head loss can be used to calculate the actual pressure loss due to friction in a building piping or air duct system
. The Engineering Toolbox provides the D'Arcy-Weisbach formula:
Δp = λ (l / dh) (ρ v2 / 2)  
where
Δp = pressure loss (Pa, N/m2)
l = length of duct or pipe (m)
dh = hydraulic diameter (m) and finally, ρ = density (kg/m3)
These Practical Considerations May Overcome Calculated HVAC Duct Pressures
Watch out: But keep in mind that even this apparently accurate calculation of the effect of piping on air pressure and airflow loss will not include the effects of obstructions in the building return air or supply air duct system such as the duct defects listed below.
Air filter or other item that has been sucked into the duct system will block air flow and can risk a fire if drawn into the blower assembly fan, Dirty Air Filter Problems are perhaps the most common cause of unsatisfactory airflow in an HVAC system.

See DIRTY AIR FILTER PROBLEMS
Blower Fan: dirty blades on a squirrel cage blower assembly fan significantly reduce the blower fan's ability to move air into the HVAC system from the return-air side as well as reducing its ability to push conditioned air into the occupied space.

See DIRTY A/C BLOWERS
Disconnected HVAC ducts (photo at left) can cause very great losses in supply air and contamination in return air without discovery when the errors occur in hard-to-access spaces such as this tight crawl space that we inspected.
Fire damper that has become stuck in the closed or partly-closed position interferes with proper airflow through the system

See FIRE & SMOKE DAMPERS, AUTOMATIC
Flex duct defects: Collapsed, crimped,or crushed sections of flex duct block or stop airflow in either supply or return air systems

See DUCT ROUTING & SUPPORT
Improperly sized air ducts or HVAC ducts that have become bent, crimped, or are of unnecessary length restrict airflow through the system.

See UNDERSIZED RETURN DUCTS.
Insulation loose in air ducts: Collapsed duct interior insulation,

See FIBERGLASS DUCT, RIGID CONSTRUCTION
Leaks in the supply air duct system or in the return air duct system are a very common HVAC duct defect that results in poor heating or cooling air flow.

See RETURN DUCT AIR LEAKS

and SUPPLY DUCT AIR LEAKS

and LEAKY DUCT CONNECTIONS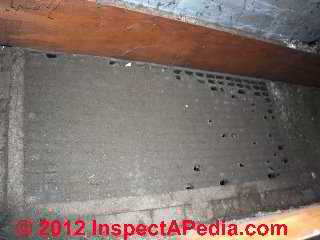 Return air inlets: Return air inlet grilles that are obstructed with dirt, debris, or furniture or that are improperly located or are just too small mean that because the heating or cooling system is "starved for air", the supply air flow into occupied spaces will also be reduced.

Our photo (left) of a severely blocked return air inlet register was provided by Mark Berton.[3]

See REGISTER & DUCT LOCATION

and see RETURN AIR, INCREASE
Transite air ducts: Crushed or collapsed transite duct

TRANSITE PIPE AIR DUCTS can block air flow or may release asbestos dust into the building air supply.
Zone dampers that are stuck partly closed obstruct air supply into that building area, or if stuck "open" when the zone damper should be closed, airflow to other building areas will be reduced.

See ZONE DAMPER CONTROLS
Suspended Ceilings & Drop Ceilings Used as Return Air Plenums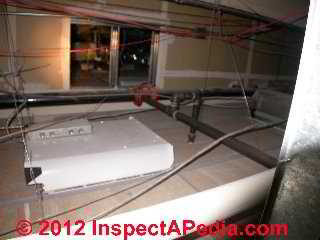 A suspended ceiling is often used as a huge return-air plenum in commercial HVAC installations as well as in some older homes in which HVAC ducts were added as a retrofit project and/or where high ceilings were "lowered" in an effort to reduce heating or cooling costs and to provide a passageway for supply air ducts.
But concerns arise in the suspended-ceiling return air plenum design, including
Forgotten or unattended openings between building areas may be hidden in the suspended ceiling space. Our photo (above left) shows our discovery of an open fire/door passage between two building sections of a New York City office space.

The client's space (foreground) had its own air conditioning system installed but their system was pulling return air from a neighboring office suite - not only fouling up everyone's air conditioning delivery balance, but risking odors and contaminants from other areas in the building.

Worse, the neighboring space included ceiling openings over a stairwell, sending air from even lower building floors into this upper ceiling air plenum.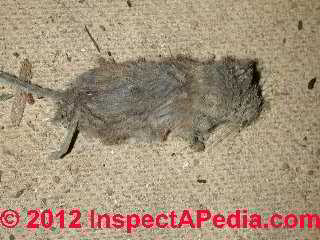 Dirt, debris, falling plaster, asbestos, lead paint, mold, rodents and similar hazards often lurk in hidden spaces above suspended ceilings or in other building areas from which return air may be pulled into a heating or air conditioning system.

When return air is routed through these areas it may become contaminated.

The mouse and mouse droppings shown above were among the debris found on the upper side of a suspended ceiling that enclosed a space being used to serve as a return air plenum over offices we inspected.

Probably more serious are such spaces where we encounter asbestos heating pipe insulation in poor, damaged, friable condition, or large mold contamination reservoirs.

Debris or contaminants in the suspended ceiling cavity, particularly when building heating or cooling air flow through that space, are readily transported to other building areas and into the occupied space.



Watch out

: at STAINS HUMAN OCCUPANTwe report a case of "brown stains" and "brown dust" blamed on previous occupants who were "heavy smokers". The stains were traced to an unsafe gas-fueled furnace that took its return air from the dirt floor of a crawl area. Subsequently dangerous carbon monoxide hazards were also found to be present.
...
Continue reading at AIR LEAKS in RETURN DUCTS or select a topic from closely-related articles below, or see our complete INDEX to RELATED ARTICLES below.
Or see RETURN AIR REGISTER & DUCT FAQs - Q&A posted originally at this pagbe
Or see these
HVAC Return Air Improvement Articles
Suggested citation for this web page
RETURN AIR REGISTERS & DUCTS at InspectApedia.com - online encyclopedia of building & environmental inspection, testing, diagnosis, repair, & problem prevention advice.
Or use the SEARCH BOX found below to Ask a Question or Search InspectApedia
...
Frequently Asked Questions (FAQs)
Ask a Question or Search InspectApedia
Use the "Click to Show or Hide FAQs" link just above to see recently-posted questions, comments, replies, try the search box just below, or if you prefer, post a question or comment in the Comments box below and we will respond promptly.
Search the InspectApedia website
Technical Reviewers & References
Click to Show or Hide Citations & References
[1] Thanks to Mark Cramer, Tampa Florida, for assistance in technical review of the "Critical Defects" section and for the photograph of the deteriorating gray Owens Corning flex duct in a hot attic. Mr. Cramer is a Florida home inspector and home inspection educator.
[2] Thanks to Jon Bolton, an ASHI, FABI, and otherwise certified Florida home inspector who provided photos of failing Goodman gray flex duct in a hot attic.
[3] Thanks to Mark A Berton, an editor & photographer who has provided InspectApedia with photographs of old house conditions from a 1907 Pennsylvania home.
[4] Air Diffusion Council, 1901 N. Roselle Road, Suite 800, Schaumburg, Illinois 60195, Tel: (847) 706-6750, Fax: (847) 706-6751 - info@flexibleduct.org - www.flexibleduct.org/ -
"The ADC has produced the 4th Edition of the Flexible Duct Performance & Installation Standards (a 28-page manual) for use and reference by designers, architects, engineers, contractors, installers and users for evaluating, selecting, specifying and properly installing flexible duct in heating and air conditioning systems.
Features covered in depth include: descriptions of typical styles, characteristics and requirements, testing, listing, reporting, certifying, packaging and product marking.
Guidelines for proper installation are treated and illustrated in depth, featuring connections, splices and proper support methods for flexible duct. A single and uniform method of making end connections and splices is graphically presented for both non-metallic and metallic with plain ends."
The printed manual is available in English only. Downloadable PDF is available in English and Spanish. 
[5] Engineering toolbox properties of water - http://www.engineeringtoolbox.com/water-thermal-properties-d_162.html and email: editor.engineeringtoolbox@gmail.com web search 09/16/2010
[6] Owens Corning Duct Solutions - www.owenscorning.com/ductsolutions/ - provides current HVAC ductwork and duct insulating product descriptions and a dealer locator. Owens Corning Insulating Systems, LLC, One Owens Corning Parkway, Toledo, OH 43659 1-800-GET-PINK™
[7] "Flexible Duct Media Fiberglas™ Insulation, Product Data Sheet", Owens Corning - see owenscorning.com/quietzone/pdfs/QZFlexible_DataSheet.pdf
"Owens Corning Flexible Duct Media Insulation is a lightweight, flexible, resilient thermal and acoustical insulation made of inorganic glass fibers bonded with a thermosetting resin."
Books & Articles on Building & Environmental Inspection, Testing, Diagnosis, & Repair
Our recommended books about building & mechanical systems design, inspection, problem diagnosis, and repair, and about indoor environment and IAQ testing, diagnosis, and cleanup are at the InspectAPedia Bookstore. Also see our Book Reviews - InspectAPedia.
Complete List of Air Conditioning & Heat Pump Design, Inspection, Repair Books at the InspectAPedia Bookstore.
Modern Refrigeration and Air Conditioning, A. D. Althouse, C.H. Turnquist, A. Bracciano, Goodheart-Willcox Co., 1982
Principles of Refrigeration, R. Warren Marsh, C. Thomas Olivo, Delmar Publishers, 1979
"Air Conditioning & Refrigeration I & II", BOCES Education, Warren Hilliard (instructor), Poughkeepsie, New York, May - July 1982, [classroom notes from air conditioning and refrigeration maintenance and repair course attended by the website author]
Refrigeration and Air Conditioning Technology, 5th Ed., William C. Whitman, William M. Johnson, John Tomczyk, Cengage Learning, 2005, ISBN 1401837654, 9781401837655 1324 pages
Asbestos HVAC Ducts and Flues field identification photos and guide
Fiberglass: Indoor Air Quality Investigations: Fiberglass in Indoor Air, HVAC ducts, and Building Insulation
...