Air Conditioner Compressor & Refrigerant Pressure Readings
Typical HVAC refrigerant pressures & quantities
REFRIGERANT PRESSURE READINGS - CONTENTS: What are the Typical Air Conditioner Compressor & Refrigerant Pressure Readings ? A/C Refrigerant Pressure. How to diagnose refrigerant pressure problems; how to determine the proper refrigerant charge quantity. Definitions of HVACR "high side" & "low side" pressures; typical refrigerant pressures; effects of overcharged or under-charged refrigerant
POST a QUESTION or READ FAQs about refrigerant pressure readings in air conditioners, heat pumps, & other refrigeration equipment
InspectAPedia tolerates no conflicts of interest. We have no relationship with advertisers, products, or services discussed at this website.
Refrigerant charge quantity for air conditioners & heat pumps:
This air conditioning repair article series discusses the the diagnosis and correction of abnormal air conditioner refrigerant line pressures as a means for evaluating the condition of the air conditioner compressor motor, which in turn, is a step in how we evaluate and correct lost or reduced air conditioner cooling capacity.
We explain how overcharging or undercharging of refrigerant in an air conditioner or heat pump is detected and we list the effects of overcharged or undercharged refrigerant.
Green links show where you are. © Copyright 2017 InspectApedia.com, All Rights Reserved.
What are the Typical Air Conditioner or Heat Pump System Pressures During Normal Operation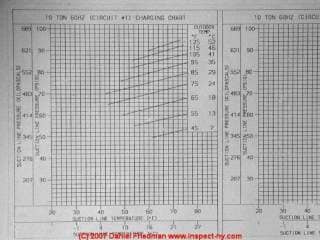 Measuring the refrigerant pressure in air conditioning, heat pump or other refrigerant systems can diagnose a range of operating problems including a refrigerant leak, over charging or under charging.
Refrigerant pressure readings measured at the air conditioning compressor/condenser unit and which are found to be too low on the high pressure side (compressor output) or on the low pressure side (compressor input or suction line) can indicate a problem with the compressor's ability to develop normal operating pressure ranges and thus will affect the cooling capacity of the air conditioning system.
Abnormally high compressor output pressures are possible but less likely. (See Two Basic A/C Refrigerant Pressure Diagnostics below).
Article series contents
Definition of Air Conditioner High Side and Low Side Pressures
First let's explain "low-side" and "high-side" air conditioner compressor motor pressures and what they mean.
Air conditioning service manuals and training refer to:
Low-side air conditioner compressor motor pressure: this is the pressure in the air conditioner's refrigerant suction line (low side pressure during compressor operation) and this will be a relatively low number, often less than 100 psi.

During operation refrigerant is returning to the compressor from the cooling (evaporator) coil in this line. If we connected the suction line directly to a sealed vacuum test gauge we'd actually find that the compressor could pull an actual vacuum on the line. (We used to use an old Frigidaire™ rotary-design compressor motor as our vacuum pump when we needed to get the air out of a refrigeration system prior to charging it with new refrigerant.)

The low-side of an air conditioning system is always located inside of the space to be cooled, or inside of an air handler which moves air through the space to be cooled.

By lowering the pressure in the cooling coil located on the "low side" of the air conditioning system, the compressor permits liquid refrigerant to be discharged into the cooling coil where the change of refrigerant state from a liquid to a gas absorbs heat and brings the cooling coil to the proper operating temperature.

The LOW SIDE of a refrigeration system is the low-pressure and low temperature half of the system. Normally this is the indoor air handler - located inside the space that is to be cooled by bringing indoor air to operating temperature. (For a refrigerator this is typically 38 to 45 degF.)


High-side air conditioner compressor pressure: output (high side pressure during operation) is the pressure of the compressed refrigerant gas as it leaves the compressor motor. In other words, refrigerant gas returns to the compressor through the suction line from the cooling coil (which is cooling building air).

The low-pressure refrigerant gas is compressed to a high-pressure refrigerant gas inside the compressor motor. This high temperature refrigerant gas is then cooled down to condense into a refrigerant liquid before it is returned indoors to the air handler and evaporator coil to be used to cool building air. (Thus we get the name the name "condensing coil" and "condensing unit" or "condenser" for the outside half of an air conditioning system.)

The high side components of an air conditioning system, such as the compressor, condensing coil, and fan unit used to cool the condensing coil are located outside of the conditioned or refrigerated space, and will be immersed in air at ambient outdoor temperature, say 72 degF.

Here is where the magic of air conditioning occurs. As long as the compressor can produce a temperature in the outdoor condensing coil which is above ambient outdoor air temperature, heat will flow from the condensing coil into outdoor air (for example outdoor air blown across the condensing coil by a fan).

If you studied thermodynamics in high school you learned that heat always flows from the warmer to the cooler material. The effect is to transfer heat gathered in the indoor or conditioned space into outdoor air.

The HIGH SIDE of a refrigeration system is at high temperature and higher (refrigerant) pressure and will always be above ambient temperature. So in a cooling system it will be located outside in order to transfer heat to the outdoor air. A heat pump designed to pump heat into a building will, of course, reverse these roles when in heating mode.
Temperature Pressure Charts for Common Refrigerants
HFC R-134A Pressure-Temperature Chart [PDF], Pacific Sea Breeze Marine Products, 100 Grace Way, Scotts Valley, CA 95066 USA, Tel: 831-600-7878 Website: http://pacificseabreeze.com/technical_library
"Temperature - Pressure Chart for R-22, R-410A, R-134A, R-404A Refrigerants" [PDF], Advantage Engineering, Inc., 525 East Stop 18 Road, Greenwood IN 46142, USA, Tel: 317-887-0729 (2012)
Example R-410A Refrigerant Pressures
For every refrigerant type you use, you'll want to pick up a Refrigerant Pressure/Temperature chart from your supplier. A typical R-410A refrigerant pressure/temperature chart will give refrigerant pressures at various (ambient) temperatures ranging from below freezing to over 160 degF. Here are a few examples:
Example R-410A Refrigerant Temperature vs Pressure Data

Temperature in DegF
Pressure in PSIG
0
48
32.2
102
60.5
172
80
236
101.1
322
150.1
608

Notes:

These psig readings for R-410A are what you'd expect the pressure of the gas to be in an enclosed container at the temperature given and at steady state.

These pressures are not suction or low-side nor compressor output or high-side pressures as those depend on the compressor model and the refrigerant metering device. This operating pressure for R-4140A example was given by ACHRNews in 2002:

... to produce an evaporating temperature of 40 degrees F and a condensing temperature of 115 degrees, the suction and head pressures would be 83 psia and 257 psia in an R-22 system, while they would be 133 and 406 psia, respectively, in an R-410A system. - Checket-Hanks, Barbara A., "Guidelines for Troubleshooting R-410A Systems", ACHR News 16 May 2002, retrieved 2016/08/29 original source: http://www.achrnews.com/articles/87788-guidelines-for-troubleshooting-r-410a-systems

An air conditioner or heat pump using R-410A refrigerant may operate at pressures exceeding 600 psi. A typical Carrier HVACR unit incorporates a high-pressure safety switch that operates at 610 psi and a low pressure (loss of refrigerant detection safety device) that operates at about 20 psi. Low pressure refrigerant switches on Carrier HVACR typically open at 50 psi and close at 100 psi. - Prah, Frank, CMS, "Refrigerant 410A", [PDF] Refrigeration Service Engineers Society, 1666 Rand Road, Des Plaines IL 60016 USA, Tel: 847-297-6464, retrieved 2016/08/29, original source: https://www.rses.org/assets/r410a/R-410A.PDF

Both older R-22 and R-134 operate at lower pressures than R-410A.

Watch out

: Excerpts from Carrier's Puron® Quick Reference Guide

"When charging 410A (liquid refrigerant only), use a commercial-type metering device in the manifold hose when charging into the suction line with the compressor operating."
"Manifold sets should be a minimum 700 psig on the high side and minimum 180 psig low side, with 550-psig low-sided retard. Use hoses with a minimum 700-psig service pressure rating."
"Be sure that servicing equipment and replacement components are designed to operate with [410A]." The recovery cylinder service pressure rating must be 400 psig, DOT 4BA400, or DOT 4BW400.

Also see these HVACR definitions

DEFINITION of HIGH & LOW SIDE in A/C & HEAT PUMPS
Reader Question: what is the pressure in an A/C or heat pump system when the compressor is off?
Hi, I always wondered, car or house A/C, if it is off, compressor off, is there any pressure in the system? Or does the compressor cause and make the pressure? Thanks, J.K [email 26 Sept 2015]
I would assume less pressure in system when compressor is off then when on? Thanks, John Kelly. PS: Just had new condenser / compressor unit put in my house and when running, see small drip on lower line seems to be diluted oil. Possibly just condensation mixed with oil that got on while repairing. It dont seem to get that small drop when I dont run it. Its on the bottom of that weld spot.
Reply:
Absolutely there is pressure in the air conditioning or heat pump system when the compressor is not running.
When the compressor shuts off the high side pressure is high - say 200 and the low side low - say 20 (these are just conceptual as actual pressure depends on the compressor, ambient temperature, refrigerant type).
Then when the motor stays off for a time - say 1/2 hour more or less - *normally* pressure in the whole system equalizes to a lower number which would be the pressure that the particular refrigerant would sit at for the current ambient temperature (at sea level).
E.g. R22 at 80 degF will stabilize at 143.7 psi in the system while R410 would be at 235.9 psi.
Watch out: about that OIL DRIP: is bad if it's really leaking. There is oil in the refrigeration system (to lube the compressor); if there is oil leaking out at a fitting on the refrigerant line then there is most likely also an actual refrigerant leak.
If you clean the joint - wipe it clean of oil and condensation - you should not see more oil there. Condensate yes.
Typical HVAC Refrigerant Pressures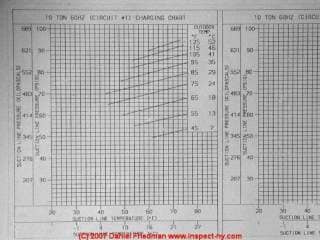 Typical residential air conditioning refrigerant pressures vary depending on the model, compressor motor size and design, and the refrigerant used. The design pressures may be provided on labels attached to the equipment but the actual air conditioner operating pressure will vary in part as a function of the incoming air temperatures.
"Charging Charts" (such as the commercial unit charging chart shown here) are provided in service manuals to determine the target suction vacuum (negative) pressure and output pressure for a given compressor motor.
Use of the charging chart for the specific compressor is the correct way to service it. The following example pressures are based on "rules of thumb" that get you in the right "ballpark" if no charging chart is at hand.
Example actual air conditioner compressor high side output pressure: using R-22 refrigerant and assuming an outside air temperature of 85 degF called for 120 degF. inside the compressor (add 35 degF. to incoming air temperature) and an output high-side compressor pressure of about 260 psi.
Example of actual air conditioner low side input or suction line pressure during operation (low-side pressure) during normal operation of the same compressor model and refrigerant and the same outdoor air temperature of 85 degF called for 45 degF. temperature entering the compressor (subtract 40 degF. from incoming air temperature) which on the service chart indicates that the incoming or suction line pressure would be about 75 psi.
Example of a more theoretical air conditioner or heat pump pressure and temperature at the compressor and at the cap tube or thermostatic expansion valve during normal operation: at an outdoor temperature of 72 degF, liquid refrigerant (R12 for example) leaving the outdoor condensing coil and entering the cap tube or TEV might be at 100 psi and 95 degF.
These numbers vary by changes in ambient temperature, compressor model, and refrigerant gas used. On the low side of the TEV or cap tube (in the cooling coil in the air handler) where the liquid refrigerant is changing state to a gas, it may be cooled down to 10 degF. and by the time the refrigerant leaves the cooing coil (evaporator coil) and gets back to the compressor motor it will be all vapor and may be at just 15 psi. [R12 refrigerant changes from liquid to vapor at 14.6 psi at 10 degF.
Air Conditioner or Heat Pump Refrigerant Equalization Pressure - System-OFF refrigerant pressures
When you measure heat pump or cooling system pressures makes as much difference as where you measure it. When an air conditioning or heat pump system has turned off and been off for some time (30 minutes or more) pressures equalize throughout the system between the high and low sides.
At that point the refrigerant pressure in both the high side and low side of the air conditioner or heat pump system will be in accordance with the ambient air temperature and the properties of the particular refrigerant gas present.
The static or equalized system refrigerant pressure will be defined by the refrigerant gas type (which defines its boiling point and pressure at various temperatures).
For example with that cute old R12 refrigerant, as long as there is just about any refrigerant in the system - enough so that there is some liquid refrigerant, i.e. it's not all just gas) then in equalized condition at 70 psi ambient temperature the refrigerant pressure will be 70 psi.
With a temperature correction chart you can read the static or equalized refrigerant pressure for any refrigerant gas and the actual ambient temperature.
Reminder: this refrigerant gas behavior means that if you use pressure test gauges (GAUGE, REFRIGERATION PRESSURE TEST) to measure the refrigerant pressure in the static or equalized air conditioning or heat pump system, the gauges only tell you the refrigerant pressure, not the quantity of refrigerant that is present in the system.
Question: refrigerant pressure differences in an inverter-type air conditioenr system?
2016/08/29 Y.W. asked [ by private email to editor ]
Hi, firstly I want to thank you for creating such a helpful site - keep it up!
I just have a few questions regarding inverter A/Cs - In a split-type home air conditioner which use an inverter compressor, does this effect the PSI needed on either the high or low side of the system? If so how do I know what it is supposed to be? Is the method for adding refrigerant different for inverters than a standard system? and is there a way to know at any point in time if the compressor is running at full speed or only partly?
Thank you
Reply:
The psi you'd expect to see in any HVACR system is a function of:
1. the specific refrigerant used
2. the ambient temperature
3. the compressor having reached steady state or run long enough that the low side and high side pressures are being controlled by the refrigerant metering device such as the TEV
For any specific refrigerant you'll find a chart that gives the relationship of refrigerant pressures to temperature - as the tech has to consider that when charging the system.
The data tag and specs for a given compressor model and brand will also often give the standard working pressure range.
For other readers, an "inverter" in an air conditioning system is a variable speed control that changes the pumping speed of the AC compressor motor in response to the temperature in the conditioned space. By varying the compressor speed we vary the rate at which refrigerant is dispensed into the cooling system. In my OPINION this is a sophistication of an air conditioning design that relies only on the refrigerant metering device (TEV or cap tube) to dispense refrigerant into the cooling system.
Inverter designs do not only rely on varying the compressor motor speed. Motor on/off cycling, configurations that bypass refrigerant hot gas output from the high-side over to the low side or suction side of the system, mechanically operated refrigerant control valves, and other approaches allow for an inverter type air conditioner or heat pump design.
The purpose of an inverter type air conditioner system is to match the compressor's output to variations in the cooling load on the system, presumably producing a more efficient cooling system.
These systems may also be described as VRF or variable refrigerant flow designs.
I've researched this question further but not yet found specifiations indicating that the refrigerant operating pressures are different with an inverter or VRF air conditioning or heat pump design. I have found warnings that lower refrigerant velocity can result in lubrication problems in the compressor and a reduced compressor life.
Heatcraft warns:
Compressor Operating Limits:
Compressors should not be operated outside of the operating limits shown on the published compressor specification sheets, and low pressure controls should not be set below the minimum settings without prior written approval of the Copeland Application Engineering Department.
Operating below the allowable minimum suction pressure may result in excessive discharge temperatures which can cause cylinder and valve damage, and may result in lubrication problems. Since high discharge temperatures can occur even though the motor is cool, the motor thermostat will not protect the compressor against these conditions. Operation of motor-compressors beyond the established recommended operating limits will be considered misuse and abuse, and damage may result.
- source: Heatcraft, "Why and How we Use Capacity Control " [PDF], Heatcraft Refrigeration Products – North America, 2175 West Park Place Blvd. Stone Mountain, GA 30087
United States of America Tel: (770) 465-5600 Toll-Free: (800)-321-1881 hrpd.feedback@heatcraftrpd.com retrieved 2016/08/29, original source: www.heatcraftrpd.com/res/pdfs/faqs/Capacity_Control.pdf
This company has offices world wide.
More Notes About Residential Air Conditioner Compressor Pressures
Put another way, high temperature or high pressure on the air conditioner low side is a sign of a problem. That is, as pressure on the high side goes way up, low side pressure will increase as well, and we may exceed the operating temperature of the system. The Low side temperature must be low enough to get transfer of heat from the indoor air into the evaporator coil. The High Side temperature must be high enough to get transfer of heat into the outdoor air.
See SEER RATINGS & OTHER DEFINITIONS for additional definitions of the high side and low side of an air conditioning system.

See COMPRESSOR CONDENSER for an explanation of how and why high side and low side pressures in the cooling system enable an air conditioner to move heat from indoors to outdoors.

See OPERATING TEMPERATURES HVAC for a discussion of the typical temperatures at which various types of cooling systems operate.
If your air conditioning or heat pump system has lost its cooling capacity or won't start see REPAIR GUIDE for AIR CONDITIONERS.
...
Continue reading at REFRIGERANT PRESSURE DIAGNOSIS or select a topic from closely-related articles below, or see our complete INDEX to RELATED ARTICLES below.
Or see REFRIGERANT PROBLEM TYPES
Or see FROST BUILD-UP on AIR CONDITIONER COILS
Or see REFRIGERANT CHARGING PROCEDURE
Or see LOST COOLING CAPACITY
Or see these
Air Conditioning & Heat Pump Refrigerant Articles
Suggested citation for this web page
REFRIGERANT PRESSURE READINGS at InspectApedia.com - online encyclopedia of building & environmental inspection, testing, diagnosis, repair, & problem prevention advice.
Or use the SEARCH BOX found below to Ask a Question or Search InspectApedia
...
Frequently Asked Questions (FAQs)
Also see REFRIGERANT DIAGNOSTIC FAQS
Question: is it possible to repair a leaky evaporator coil and then replace the refrigerant?
(Sept 30, 2014) p. choate said:
Repairman said there was a leak in evaporator. Can it be replaced and freon replaced.
Reply:
P. C.
IF the evaporator is corroded, patching it is a short term band-aid repair. More likely in that case it'd need replacement and then of course refrigerant replaced/recharged. Install a new filter drier too.
Question: short cycling A/C heat pump at 10 second interval
(Jan 30, 2015) ed said:
have a 4yr old american standerd a/c heat pump unit.cycles every 10sec.tech serviced 12/06/2014 had to shut unit down01/20/2015.live on a island only way to get here in winter is by plane. expensive! put gauge on high side,unit off temp out side 20deg f read50#psi
Reply:
Ed you are right to shut off the system; it may be that at low outside temp the unit wants to switch to backup heat anyway.
Short cycling could be a shot or frozen compressor, a burned out compressor base heater, a failed start/run capacitor, a failed relay or control board, a frozen expansion valve that's causing a high pressure safety switch to shut off the system, or something else. With just your note I'm doubtful one could actually diagnose the system.
Is your backup heat running?
Start by checking the control relays and check for a clogged or frozen TEV
Question:
(Nov 14, 2015) Dan said:
Why are my pressures the same when on heat pump mode cooling mode is fine but only getting 80 degrees of heat out of supply pressures running the same new unit txv at evap.
Reply:
Perhaps because the ambient outdoor temperature is lower now.
Question:
(June 10, 2015) Shembesh said:
If the evaporator pressure is maintained at 400Ka while the condenser pressure is varied according to the outdoor condition, at various outdoor temperatures ranging from 25 to 45 c
how do i know the pressure of the condenser
if the temperature difference of 10c between the condenser and the ambient ?
(Aug 20, 2015) Clair said:
I had a tech come to my home and hook up his gauges and I was told the system was low on freon r22.He said he added 2.5 lbs.I was not aware of any machine that was weighing the freon,is there a way to calculate by reading gauges? Thank you.Someone told me I was being ripped off.
Reply:
It is certainly possible to put a measured charge into HVAC equipment, and in fact that step can be required in many circumstances.
But with just pressure gauges and a gas cylinder, no, the amount was estimated, not measured. My service tech did the same thing. It's ... well you can fill in the blank ... a common practice.
Question:
(Mar 11, 2016) jim said:
What difference would using 1/2 inch in the low side instead of the recommended 3/8 in a short run, this is a pre charged unit.
Reply:
I don't know, Jim but my guess is potentially none if the run is short enough that you don't have to adjust the refrigerant charge for the larger pipe diameter. Check the manufacturer's installation manual on charging instructions.
Though it's discussing the volume of water in a well, this article - inspectapedia.com/water/Well_Static_Head_Definition.php - will help you calculate the different volumes of two lengths of refrigerant tubing of different inside diameters.
Question: what is the exact psi on r22 and 134a?.
(Apr 21, 2016) Joey said:
I have a baldwin chiller,.what is the exact psi on r22 and 134a?.
Reply:
Joey, there is not an "exact" psi for a refrigerant. There are normal operating pressure ranges that depend on the ambient temperature where the compressor is running as well as the properties of the compressor motor. The article above gives some typical pressures. You can also look at a table, for each refrigerant type, to see what the refrigerant pressure would be at various temperatures and applications and compressors, starting from ambient.
Question: stabilized pressure for split type ac?
(May 23, 2016) ed said:
Can I know the stabilized pressure for split type ac? I'm suspecting my unit over charge as it is not starting (compressor) it shows in the low side gauge 300 psi.. ( compressor off) thanks.
Reply:
You won't see an overcharge changing the stabilized pressure in the HVACR system. The stabilized pressure can be read from any of the refrigerant pressure/temperature charts linked-to in REFRIGERANT PRESSURE READINGS
Question: how does the system stay at 70 psi
(July 8, 2016) Matthew said:
I worked on buses using on 22 Freon, the low side pressure should always be around 70 psi.
My question is, how does the system stay at 70 psi, is it the compressor, expansion valve,evaporator coil, all three, ?. The articulated buses were 16 ton systems, using 35 pounds of Freon, six-cylinder Thermo king compressors, two evaporator setups with epr valves. The 40 foot buses used four cylinder compressors, thermo-king or trane, 10 ton systems, one evaporator, no epr valve. All buses work at 70 psi low side. How do they make it happen, thanks.
Reply:
Matthew:
The low side pressure when the compressor is running is a feature of the compressor's own pumping power combined with the properties of whatever device is being used to meter refrigerant into the system. That creates the pressure drop between high and low sides.
The actual pressure when the system is running depends on
- the specific refrigerant being used (R22 in your case)
- the adjustment of the refrigerant metering device
- a proper refrigerant charge quantity
- and the ambient tempeature.
So 70psi is not an absolute number. The charging tables given for any refrigerant gas will give you a map of the pressure changes of the refrigerant gas as temperature varies.
Question: What is considered low pressure requiring a recharge.
Aug 3, 2016) Ernest said:
What is the normal Freon pressure in a home air conditioning system. What is considered low pressure requiring a recharge.
Reply:
The requirement to re-charge an air conditioner or heat pump system might be suggested by cooling coil icing or by complete loss of cooling, or by very low suction pressures, or very low head pressures, but short of those extremes, pressure readings won't tell you if the quantity of refrigerant that's in the system.
...
Ask a Question or Search InspectApedia
Use the "Click to Show or Hide FAQs" link just above to see recently-posted questions, comments, replies, try the search box just below, or if you prefer, post a question or comment in the Comments box below and we will respond promptly.
Search the InspectApedia website
Technical Reviewers & References
Click to Show or Hide Citations & References
Books & Articles on Building & Environmental Inspection, Testing, Diagnosis, & Repair
Modern Refrigeration and Air Conditioning, A. D. Althouse, C.H. Turnquist, A. Bracciano, Goodheart-Willcox Co., 1982

Principles of Refrigeration, R. Warren Marsh, C. Thomas Olivo, Delmar Publishers, 1979

"Air Conditioning & Refrigeration I & II", BOCES Education, Warren Hilliard (instructor), Poughkeepsie, New York, May - July 1982, [classroom notes from air conditioning and refrigeration maintenance and repair course attended by the website author]

Refrigeration and Air Conditioning Technology, 5th Ed., William C. Whitman, William M. Johnson, John Tomczyk, Cengage Learning, 2005, ISBN 1401837654, 9781401837655 1324 pages

Carson Dunlop, Associates, Toronto, have provided us with (and we recommend) Carson Dunlop Weldon & Associates' Technical Reference Guide to manufacturer's model and serial number information for heating and cooling equipment ($69.00 U.S.).

Air Conditioning Inspection, Diagnosis, Repair, Efficiency all the basics for home owners, inspectors, new repairmen

Asbestos HVAC Ducts and Flues field identification photos and guide

Fiberglass: Indoor Air Quality Investigations: Fiberglass in Indoor Air, HVAC ducts, and Building Insulation

...