Guide to Air Conditioning & Heat Pump Refrigerant Gases
Refrigerant gas names, properties & uses
Refrigerant gas controls & metering Devices
Refrigerant Piping & Leak Detection
POST a QUESTION or READ FAQs about air conditioning, heat pump & refrigeration equipment gases, refrigerant metering devices, capillary tubes, TE valves, and refrigerant leak detection
InspectAPedia tolerates no conflicts of interest. We have no relationship with advertisers, products, or services discussed at this website.
Refrigerant gases, metering devices & piping:
This article series describes the properties of common and historic air conditioning refrigerants. We combine U.S. EPA information with supplemental data and descriptions of refrigerants, refrigerant replacement options for R12 and R22, and their basic data.
Air conditioning refrigerants and agents to transfer heat from one place to another have been in use for a long time and include Ammonia, Sulfur Dioxide, Hydrocarbons like methane, methyl chloride, and methylene chloride, and safer (inert gas) HFCs like R11 (common in older refrigerators and some air conditioners) and R22 (common in older cooling equipment.
Since the realization that HFC's contribute to greenhouse gas problems in the environment, R11 and R22 have been discontinued and are being replaced with alternatives including R-410A (GENETRON AZ-20, SUVA 410A, and Puron (R-410A)), R-134A R-407C.
We also provide a MASTER INDEX to this topic, or you can try the page top or bottom SEARCH BOX as a quick way to find information you need.
Guide to HVACR Gases, Refrigerants, Metering, Piping, & Leaks
Properties of Various Air Conditioning Gases and Cooling Refrigerants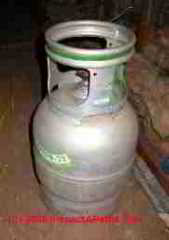 Also discussed here: Consumer Information about A/C Refrigerant Gases and R-22 substitute gases, US EPA information updated to 2012. R22 refrigerant phase-out schedule; photographs of R12 and R22 dispenser canisters & charging gauges.
Alternatives to R22 refrigerant - "R" refrigerants: R-410A (GENETRON AZ-20, SUVA 410A, and Puron), R-134A R-407C. Properties of R410-A Puron® refrigerant and usage advice.
LENNOX WARNING about use of "alternative refrigerants where R22 or other old gases are not available. U.S. EPA Warning about Recharging Air Conditioners with Substitutes for R-22, 22a or R-22a.
Ammonia is the oldest-known refrigerant. (Ammonia can generate cooling by simple mechanical movement). Ammonia vapor can be flammable, explosive, and toxic. Ammonia is lighter than air (so less likely to accumulate at a dangerous level near the floor). Ammonia is still used as a refrigerant in some large refrigeration systems.


Sulphur dioxide SO2 is obsolete and would be unusual to encounter except in very old cooling equipment. SO2 is not flammable nor explosive but with moisture is very corrosive and can injure plants. If you have refrigeration equipment using SO2 you should junk it - few or no service people will try to service or fix this equipment.


Hydrocarbons such as methane CH4, isobutane C4H10, and propane C3H8 are often used as fuels and sold as bottled gas. Methyl chloride CH3CL has also been used as has methylene chloride CH2CL2. These halogenated hydrocarbons are less flammable; Carrene No.1 was a popular trade product version of methylene chloride (the safest of these).
Freon & Genetron: Chemists also tried using carbon tetrachloride CCL4 as a refrigerant by adding two chlorine atoms to produce CCL2F2 which founded the "R" refrigerant family R12 (by convention in a white canister) and R22 (by convention green canisters or the antique green-labeled canister shown at left).

R-12 refrigerant has a boiling point of -21degF at 1ATM of pressure (sea level). And R12 has the cute property of being at 70 psi when at 70 degF temperature. Our photo at page top shows an old R-12 refrigerant canister and our air conditioning compressor charging and test gauge set.

R-14 refrigerant (automotive & other uses such as in the semiconductor industry as Tetrafluoromethane ) has a boiling point of -128 C and a latent heat of vaporization (1.013 bar at boiling point) = 135.7 kJ/kg

R-22 refrigerant: Our photo (left) shows an antique R-22 refrigerant dispensing canister. R22 has the not quite as cute property of being at 122 psi when at a temperature of 70 degF.

These HCFC or "CFC" refrigerants were very safe (non combustible, non-toxic to humans except as an oxygen displacer) and were the most widely used until their effects in the atmosphere were understood as a serious environmental problem. The 1987 Montreal Protocol which banned their use is discussed below.


Puron®, R-410, R-134, R134A, R407 R407C, Modern refrigerants replacing the original "R" Freon series include R-410A (GENETRON AZ-20, SUVA 410A, and Puron®), R-134A R-407C.

These new gases have wide use. For example, the refrigerant gas R-134A is used in medications such as propellant in bronchiodialators for asthmatics like Xopenex HFA™.

Modern refrigerants are sold in canisters ranging in size including 10lb, 15lb, 30lb and 100lb, typically at a cost per pound for liquid refrigerant. These canisters are not normally intended to be refilled, and you should not return used refrigerant gases to them either, as you risk contaminating the new refrigerant with moisture or debris.

Note: Puron refrigerant operates at 50 to 70 percent higher pressures than the R-22 used in older systems. That alone is a reason that you wouldn't just dump new Puron refrigerant into an older R-22-designed HVAC system. Details about the properties & usage guidelines for Puron®, R-410, are provided below at Properties Puron® (R-410A) Refrigerant Gas



Water as a refrigerant was used and continues to be used to effect heat transfers in cooling tower type air conditioning systems and in "swamp coolers" which work effectively where ambient humidity is low enough to produce a good evaporation rate, such as in the American southwest.

(Concerns for bacterial hazards such as Legionella occur in these systems and are discussed at CLEANING A/C EQUIPMENT
DISCLAIMER: EPA [and this website reproducing this public-domain article] seeks to promote energy efficiency and the safe use of ozone- friendly substances, and does not endorse any particular company or its products.
Safety Warnings & Other Caveats about Using Refrigerant Liquids or Gases & When Servicing Refrigeration Equipment
Watch out: any refrigerant gas and gas container, including the small refrigerant canisters sold for automotive use in charging automobile or truck air conditioners can be dangerous if not properly handled.
Liquid refrigerant can injure an eye and can also cause frostbite. You should cover refrigerant lines or connectors or valves when opening them so that if liquid refrigerant escapes it is controlled. And on at least some refrigerant containers such as the automotive maintenance canisters you'll see warnings about the need for eye protection and other protective measures.
Also some refrigerant gases form highly toxic phosgene gas if released across an open flame, so if a flame is present near where refrigerant gases are being used for service be sure there is good fresh air ventilation.
Refrigerant Gas Asphyxiation hazards: Modern refrigerant gases are heavier than air as well as being odorless and colorless. The gases themselves, such as the Freon family, are not toxic and not explosive. But because the gases are heavier than air, if you were so foolish as to release a sufficient volume of gas into an enclosed space or even a low-lying outdoor area where there is no wind or indoors no ventilation, you could become asphyxiated with little or no warning.
Do not mix refrigerant gases. Each refrigerant gas has its own unique properties. If you were to mix gases within a refrigeration system the properties of the mixture would be unpredictable, making it impossible to properly adjust and operate the equipment.
Do not arbitrarily substitute refrigerant gases by charging refrigeration equipment with a gas other than the one for which it is labeled, for the same reason as above. We discuss replacement refrigerants below.,
Background: Ban on Production and Imports of Ozone-Depleting Refrigerants
In 1987 the Montreal Protocol, an international environmental agreement, established requirements that began the worldwide phase out of ozone-depleting CFCs (chlorofluorocarbons). These requirements were later modified, leading to the phase out in 1996 of CFC production in all developed nations.
In addition, a 1992 amendment to the Montreal Protocol established a schedule for the phase out of HCFCs (hydrochlorofluorocarbons). HCFCs are substantially less damaging to the ozone layer than CFCs, but still contain ozone-destroying chlorine. The Montreal Protocol as amended is carried out in the U.S. through Title VI of the Clean Air Act, which is implemented by EPA.
An HCFC known as R-22 has been the refrigerant of choice for residential heat pump and air-conditioning systems for more than four decades. Unfortunately for the environment, releases of R-22 that result from system leaks contribute to ozone depletion. In addition, the manufacture of R-22 results in a by-product that contributes significantly to global warming.
As the manufacture of R-22 is phased out over the coming years as part of the agreement to end production of HCFCs, manufacturers of residential air conditioning systems are beginning to offer equipment that uses ozone-friendly refrigerants. Many homeowners may be misinformed about how much longer R-22 will be available to service their central A/C systems and heat pumps.
This fact sheet provides information about the transition away from R-22, the future availability of R-22, and the new refrigerants that are replacing R-22. This document also assists consumers in deciding what to consider when purchasing a new A/C system or heat pump, or when having an existing system repaired.
Phase out Schedule for HCFCs used in Air Conditioning Equipment, Including R-22
Under the terms of the Montreal Protocol, the U.S. agreed to meet certain obligations by specific dates that will affect the residential heat pump and air-conditioning industry:
January 1, 2004 HCFC Refrigerant Reduction Target
In accordance with the terms of the Montreal Protocol, the amount of all HCFCs that can be produced nationwide must be reduced by 35% by 2004. In order to achieve this goal, the U.S. is ceasing production of HCFC-141b, the most ozone-damaging of this class of chemicals, on January 1, 2003.
This production ban will greatly reduce nationwide use of HCFCs as a group, making it likely that the 2004 deadline will have a minimal effect on R-22 supplies.
January 1, 2010 HCFC Refrigerant Reduction Target
After 2010, chemical manufacturers may still produce R-22 to service existing equipment, but not for use in new equipment. As a result, heating, ventilation and air-conditioning (HVAC) system manufacturers will only be able to use pre-existing supplies of R-22 to produce new air conditioners and heat pumps.
These existing supplies would include R-22 recovered from existing equipment and recycled.
January 1, 2020 HCFC Refrigerant Reduction Target
Use of existing refrigerant, including refrigerant that has been recovered and recycled, will be allowed beyond 2020 to service existing systems, but chemical manufacturers will no longer be able to produce R-22 to service existing air conditioners and heat pumps.
For more information about this phase out, see fact sheets about the HCFC Phase out Schedule and Frequently Asked Questions on the HCFC Phase out
What Does the R-22 Phase out Mean for Consumers?
Availability of R-22
The Clean Air Act does not allow any refrigerant to be vented into the atmosphere during installation, service, or retirement of equipment. Therefore, R-22 must be recovered and recycled (for reuse in the same system), reclaimed (reprocessed to the same purity levels as new R-22), or destroyed. After 2020, the servicing of R-22-based systems will rely on recycled refrigerants.
It is expected that reclamation and recycling will ensure that existing supplies of R-22 will last longer and be available to service a greater number of systems. As noted above, chemical manufacturers will be able to produce R-22 for use in new A/C equipment until 2010, and they can continue production of R-22 until 2020 for use in servicing that equipment.
Given this schedule, the transition away from R-22 to the use of ozone-friendly refrigerants should be smooth. For the next 20 years or more, R-22 should continue to be available for all systems that require R-22 for servicing.
Cost of R-22
While consumers should be aware that prices of R-22 may increase as supplies dwindle over the next 20 or 30 years, EPA believes that consumers are not likely to be subjected to major price increases within a short time period.
Although there is no guarantee that service costs of R-22 will not increase, the lengthy phase out period for R-22 means that market conditions should not be greatly affected by the volatility and resulting refrigerant price hikes that have characterized the phase out of R-12, the refrigerant used in automotive air-conditioning systems.
Guide to Using Alternatives to R-22 in Residential Air Conditioning
As R-22 is/ was gradually phased out, non-ozone-depleting alternative refrigerants are / were being introduced. Under the Clean Air Act, EPA reviews / reviewed alternatives to ozone-depleting substances like R-22 in order to evaluate their effects on human health and the environment.
EPA has reviewed several of these alternatives to R-22 and has compiled a list of substitutes that EPA has determined are acceptable.
One of these R-22 substitutes is R-410A, a blend of hydrofluorocarbons (HFCs), substances that do not contribute to depletion of the ozone layer, but, like R-22, contribute to global warming. R-410A is manufactured and sold under various trade names, including GENETRON AZ-20®, SUVA 410A®, and Puron®.
Additional refrigerants on the list of acceptable substitutes include R-134a and R-407C. These two refrigerants are / were not yet available for residential applications in the U.S., but are commonly found in residential A/C systems and heat pumps in Europe. EPA will continue to review new non-ozone-depleting refrigerants as they are developed.
Watch out: Using an alternative refrigerant to R-22 in older air conditioners and heat pumps requires more than just using a different gas (such as Puron R410-A). Other components in the system (such as refrigerant metering devices) will usually require change or adjustment.
Be sure to consult the individual air conditioner or heat pump application guidelines and installation or service manual – Air Conditioners and Heat Pumps Using Puron Refrigerant [Carrier or other manufacturer] to obtain required unit changes for specific applications and for R--22 retrofit.
U.S. EPA Warning about Recharging Air Conditioners with Substitutes for R-22, 22a or R-22a
Watch out: EPA Warning: Recharging Air Conditioners with Wrong Refrigerant Poses Injury and Fire Risks
FOR IMMEDIATE RELEASE July 22, 2014
WASHINGTON – The U.S. Environmental Protection Agency (EPA) is cautioning homeowners, manufacturers of propane-based refrigerants, home improvement contractors and air conditioning technicians of the safety hazards related to the use of propane in existing motor vehicle and home air conditioning systems.
A number of refrigerants with "22a" or "R-22a" in the name contain highly flammable hydrocarbons, such as propane. These refrigerants are being marketed to consumers seeking to recharge existing home and motor vehicle air conditioning systems that were not designed to use propane or other flammable refrigerants.
These refrigerants have never been submitted to EPA for review of their health and environmental impacts and are not approved for use in existing air conditioning systems.
Using propane-based refrigerant in an air conditioner that is not designed for flammable refrigerants poses a threat to homeowners as well as service technicians because systems that are recharged with "22a" refrigerants can catch fire or explode resulting in injury and property damage.
EPA is investigating instances where propane-based refrigerants have been marketed and used as a substitutes for HCFC-22 (R-22) and will take enforcement actions where appropriate.
More information about R-22a and alternatives for air conditioning: http://www.epa.gov/ozone/snap/r22a.html
Original source: U.S. EPA 7/22/2014 Email distribution
Enesta Jones
Jones.enesta@epa.gov
202-564-7873
202-564-4355

Lennox Industries Warning about use of "alternative refrigerants"
Quoting advice from Lennox Industries you will see that for their equipment the company does not recommend use of refrigerants marketed as replacements for R22:
Over the past few years, the home comfort industry has been working to phase out the production of the cooling refrigerant known as R-22. However, in early 2012, recent changes to government regulations regarding this transition have created uncertainty in the marketplace, and prices for R-22 have dramatically increased as a result.
In response to rising prices, many refrigerant manufacturers have stepped up their marketing efforts for several "alternate" refrigerants, claiming they are cost-effective "drop-in" replacements for R-22. The three most popular are R-407C, R-438A (also known as ISCEON M099) and R-422.
The problems associated with these alternate refrigerants are many:
Alternate refrigerants are NOT compatible with mineral oil. All Lennox® and Aire-Flo® nitrogen-charged "dry" units contain mineral oil lubricant. Using alternative refrigerants to service R-22 mineral oil units can have detrimental effects on the operation of the unit.
The use of alternate refrigerant in systems containing mineral oil as their lubricant voids the manufacturer and compressor warranty.
The use of alternate refrigerants in other R-22 systems containing polyester oil (POE) can lead to performance loss (capacity and energy efficiency), temperature glide variations, and some combinations will be more detrimental to the environment than R-22.
Given all the risks, Lennox does not support the use of alternate refrigerants at this time. It is important that you carefully consider the issues associated with their use, including the nullification of your manufacturer and compressor warranty.
Before allowing a technician to service your HVAC equipment, we encourage you to get involved and urge your technician to only replace R-22 with R-22.- [7] Lennox_Refrigerant_Warning.pdf
Charging Procedures for R410A
Watch out: the following excerpt is from Lennox:

The official deadline for all equipment manufacturers to change over to more environmentally friendly refrigerants is 2010. Aftermarket R−22 will be available until 2020. HFC−410A is quickly becoming the refrigerant of choice to replace HCFC−22 in residential and light commercial air conditioning equipment.

R−410A is a near−azeotropic mixture of R−32 and R−125 refrigerants. R−410A operates at 50% higher pressure than R−22. Due to the higher pressure, Lennox has upgraded system components in R−410A systems. R−410A must not be used to retrofit existing R−22 equipment. R−410A can only be used in equipment designed for R−410A.

It is recommended that charging with R−410A be done in the liquid phase. Use a commercial−type metering device in the manifold hose. Charge into the suction line with the compressor running. See Lennox installation instructions for more details on proper charging procedures. - Lennox, LENNOX REFRIGERANT PIPING DESIGN & FABRICATION GUIDELINES, [PDF] (2008)
Properties Puron® (R-410A) Refrigerant Gas [updated 2012]
Puron refrigerant operates at 50 - 70 percent higher pressures than R-22. Be sure that servicing equipment and replacement components are designed to operate with Puron refrigerant
Puron refrigerant cylinders are rose colored.
Recovery cylinder service pressure rating must be 400 psig, DOT 4BA400 or DOT BW400.
Puron refrigerant systems should be charged with liquid refrigerant. Use a commercial type metering device in the manifold hose when charging into suction line with compressor operating
Manifold sets should be 700 psig high side and 180 psig low side with 550 psig low--side retard.
Use hoses with 700 psig service pressure rating.
Leak detectors should be designed to detect HFC refrigerant.
Puron refrigerant, as with other HFCs, is only compatible with POE oils.
Vacuum pumps will not remove moisture from oil.
Do not use liquid-line filter driers with rated working pressures less than 600 psig.
Do not leave Puron suction line filter driers in line longer than 72 hours.
Do not install a suction-line filter drier in liquid line.
POE oils absorb moisture rapidly. Do not expose oil to atmosphere.
POE oils may cause damage to certain plastics and roofing materials.
Wrap all filter driers and service valves with wet cloth when brazing.
A factory approved liquid--line filter drier is required on every unit.
Do NOT use an R--22 TXV.
If indoor unit is equipped with an R--22 TXV or piston metering device, it must be changed to a hard shutoff balanced port Puron TXV.
Never open system to atmosphere while it is under a vacuum.
When system must be opened for service, recover refrigerant, evacuate then break vacuum with dry nitrogen and replace filter driers. Evacuate to 500 microns prior to recharging.
Do not vent Puron refrigerant into the atmosphere.
Do not use capillary tube coils.
Observe all warnings, cautions, and bold text.
All indoor coils must be installed with a hard shutoff balanced port Puron TXV metering device.
Source: PURONR (R--410A) REFRIGERANT QUICK REFERENCE GUIDE-[5]
R-134a Refrigerant Data, References Sources
R134a Refrigeration Technician Handbook (2012), Quoting:
This R134a Refrigeration Technician Handbook was developed as instructional guidelines for refrigeration personnel of ConGlobal and its related companies.
http://www.iicl.org/techcorner/bulletins/r134a_testing_procedures_1.pdf
HFC-134a Pressure-Temperature Chart
http://www.pacificseabreeze.com/tech-library/heat-and-insulation/R134a-PT-Chart.htm
R-410 Refrigerant Data, References, Sources
[6] REFRIGERANT PIPING DESIGN GUIDE, [PDF] McQuay Corporation, Americans HQ: 13600 Industrial Park Blvd., Minneapolis, Minnesota 55441, 800-432-1342 (Toll Free) 763-553-5330 (Direct), 763-553-5177 (Fax). Web search 07/15/2010 original source: http://www.mcquay.com/mcquaybiz/literature/lit_systems/AppGuide/AG_31-011_120407.pdf - q
[7] Lennox Industries, REFRIGERANT WARNING, USE of ALTERNATIVE REFRIGERANTS in HVAC SYSTEMS, retrieved 12/2/2012, original source: http://www.lennox.com/about/consumer-protection.asp
Lennox, LENNOX REFRIGERANT PIPING DESIGN & FABRICATION GUIDELINES, [PDF] (2008), retrieved 2018.03/12, original source: http://www.mechanicalconceptsllc.com/downloads/Refrigerant%20Piping%20Manual.pdf
R-410-A Pressure-Temperature Chart, Bonneville Power Administration, original source http://www.bpa.gov/energy/n/residential/ptcs/R-410A_Pressure_Temperature_Chart.pdf
The Bonneville Power Administration is a federal nonprofit agency based in the Pacific Northwest. Although BPA is part of the U.S. Department of Energy
Cavallini, A., G. Censi, D. Del Col, L. Doretti, G. A. Longo, and L. Rossetto. "Experimental investigation on condensation heat transfer and pressure drop of new HFC refrigerants (R134a, R125, R32, R410A, R236ea) in a horizontal smooth tube." International Journal of Refrigeration 24, no. 1 (2001): 73-87.
Cavallini, A., D. Del Col, L. Doretti, M. Matkovic, L. Rossetto, and C. Zilio. "Two-phase frictional pressure gradient of R236ea, R134a and R410A inside multi-port mini-channels." Experimental Thermal and Fluid Science 29, no. 7 (2005): 861-870.
Chen, W. "A comparative study on the performance and environmental characteristics of R410A and R22 residential air conditioners." Applied thermal engineering 28, no. 1 (2008): 1-7.
Elgendy, E., J. Schmidt, A. Khalil, and M. Fatouh. "Performance of a gas engine heat pump (GEHP) using R410A for heating and cooling applications." Energy 35, no. 12 (2010): 4941-4948.
Goto, M., N. Inoue, and N. Ishiwatari. "Condensation and evaporation heat transfer of R410A inside internally grooved horizontal tubes." International Journal of Refrigeration 24, no. 7 (2001): 628-638.
Greco, A., and G. P. Vanoli. "Flow-boiling of R22, R134a, R507, R404A and R410A inside a smooth horizontal tube." International Journal of Refrigeration 28, no. 6 (2005): 872-880.
Hu, Haitao, Guoliang Ding, and Kaijian Wang. "Heat transfer characteristics of R410A–oil mixture flow boiling inside a 7mm straight microfin tube." international journal of refrigeration 31, no. 6 (2008): 1081-1093.
Kim, S. G., M. S. Kim, and S. T. Ro. "Experimental investigation of the performance of R22, R407C and R410A in several capillary tubes for air-conditioners." International Journal of Refrigeration 25, no. 5 (2002): 521-531.
Nabizadeh, H., and F. Mayinger. "Viscosity of Gaseous R404A, R407C, R410A, and R507." International journal of thermophysics 20, no. 3 (1999): 777-790.
Park, C. Y., and P. S. Hrnjak. "CO< sub> 2</sub> and R410A flow boiling heat transfer, pressure drop, and flow pattern at low temperatures in a horizontal smooth tube." International Journal of Refrigeration 30, no. 1 (2007): 166-178.
Park, Chasik, Honghyun Cho, Yongtaek Lee, and Yongchan Kim. "Mass flow characteristics and empirical modeling of R22 and R410A flowing through electronic expansion valves." International Journal of Refrigeration 30, no. 8 (2007): 1401-1407.
Payne, W. Vance, and Piotr A. Domanski. "A comparison of an R22 and an R410a air conditioner operating at high ambient temperatures." (2002).
Other Replacements for R12 Refrigerants
There are replacement gases for certain of the now banned refrigerants discussed in this article. Quoting Zeller 1998 [1]
Suva MP39 and Suva MP66 are a mixture of 3 components, HCFC-22, HFC- 152A and ACFH-124, which have been created to replace CFC-12 in medium temperatures. The majority of compressors for CFC-12 can adapt to the use of MP39 and MP66 easily and economically. This allows for the equipment already installed to continue in service during their lifetime.
The two new refrigerants demonstrate many properties which have been im- proved towards the ozone and the environment, in comparison with CFC-12.
The MP mixtures are compatible with the majority of the materials used for the construction of the CFC systems. The composition of each mixture has been selected to be compared with the efficiencies of CFC-12 in specified applications, in energetic capacity and efficiency. This gives as a result a minimal mechanical interruption when CFC-12 is replaced with MP66 or MP39. Other refrigerants like the HCFC-22 or the HCFC-134A, require an extensive mechanical intervention in the systems when they are replaced, which will at times be expensive.
MP66 and MP39 give the user the chance to change refrigerants without spend- ing much in modifications to the CFC-12 systems. CFC-134A can also be used in evaporation temperatures lower than -7 C and 20 F but can demonstrate less capacity in these temperatures than the CFC-12, to cover the whole range of temperatures of the CFC-12, we also have the MP66 and the MP39. [1]
Servicing existing A/C units
Existing units using R-22 can continue to be serviced with R-22. There is no EPA requirement to change or convert R-22 units for use with a non-ozone-depleting substitute refrigerant. In addition, the new substitute refrigerants cannot be used without making some changes to system components. As a result, service technicians who repair leaks to the system will continue to charge R-22 into the system as part of that repair.
Installing new Air Conditioning units
The transition away from ozone-depleting R-22 to systems that rely on replacement refrigerants like R-410A has required redesign of heat pump and air conditioning systems. New systems incorporate compressors and other components specifically designed for use with specific replacement refrigerants.
With these significant product and production process changes, testing and training must also change.
Consumers should be aware that dealers of systems that use substitute refrigerants should be schooled in installation and service techniques required for use of that substitute refrigerant.
A Common Sense Approach To Servicing Your Air Conditioning or Refrigeration System
Along with prohibiting the production of ozone-depleting refrigerants, the Clean Air Act also mandates the use of common sense in handling refrigerants. By containing and using refrigerants responsibly -- that is, by recovering, recycling, and reclaiming, and by reducing leaks -- their ozone depletion and global warming consequences are minimized.
The Clean Air Act outlines specific refrigerant containment and management practices for HVAC manufacturers, distributors, dealers and technicians. Properly installed home comfort systems rarely develop refrigerant leaks, and with proper servicing, a system using R-22, R-410A or another refrigerant will minimize its impact on the environment.
While EPA does not mandate repairing or replacing small systems because of leaks, system leaks can not only harm the environment, but also result in increased maintenance costs.
One important thing a homeowner can do for the environment, regardless of the refrigerant used, is to select a reputable dealer that employs service technicians who are EPA-certified to handle refrigerants. Technicians often call this certification "Section 608 certification," referring to the part of the Clean Air Act that requires minimizing releases of ozone-depleting chemicals from HVAC equipment.
A Common Sense Approach To Purchasing New Air Conditioning Systems
Another important thing a homeowner can do for the environment is to purchase a highly energy-efficient system. Energy-efficient systems result in cost savings for the homeowner. Today's best air conditioners use much less energy to produce the same amount of cooling as air conditioners made in the mid-1970s.
Even if your air conditioner is only 10 years old, you may save significantly on your cooling energy costs by replacing it with a newer, more efficient model. Products with EPA's Energy Star(R) label can save homeowners 10% to 40% on their heating and cooling bills every year.
These products are made by most major manufacturers and have the same features as standard products but also incorporate energy saving technology. Both R-22 and R-410A systems may have the Energy Star(R) label. Equipment that displays the Energy Star(R) label must have a minimum seasonal energy efficiency ratio (SEER). The higher the SEER specification, the more efficient the equipment.
You should consider energy efficiency, along with performance, reliability and cost, in making your decision. And don't forget that when purchasing a new system, you can also speed the transition away from ozone-depleting R-22 by choosing a system that uses ozone-friendly refrigerants.
Why the U.S. and other countries agreed to stop the production of CFC and HCFC refrigerants
CFCs and HCFCs deplete the ozone layer, which acts as a blanket in the stratosphere that protects us from harmful UV radiation. This radiation has been linked to skin cancer, which is now one of the fastest growing forms of cancer. In the U.S., one person dies of skin cancer every hour.
Remember that ozone is "good up high, bad nearby:" even though it protects us when it is in the stratosphere, ozone at ground level can be harmful to breathe and is a prime ingredient in smog. Many man-made sources such as tailpipe emissions from cars contribute to ground-level ozone.
Clarifications & Definitions of Refrigeration Terms: Coolant, Refrigerant, Freon and Trade Names
Reader comment: Don't Just Call All Coolants or Refrigerants "Freon"
9/24/2014 Daniel said:
I think it is important to note that we are talking about refrigerants here, not coolants, and not Freons.
Coolants don't change phase to do their job of transferring heat, the liquid coolant in your car's cooling system is a liquid and is supposed to stay a liquid.
Refrigerants do change phase, usually from a liquid to a gas and back again, but even the ice in a drink can be seen as a refrigerant since it is changing phases, from solid to liquid, to keep your drink cool.
Freons are certain refrigerants, usually CFCs (like R11, R12) and HCFCs (Like R22) made by DuPont Chemicals.
It is somewhat OK to call say R22 from any manufacturer Freon, it's the same as calling any adjustable locking pliers Vise-Grip whether or not they were made by Irwin.
What is not OK is to call refrigerants that DuPont has never called Freon by that name, for instance calling R134a a Freon is wrong, because DuPont calls it Suva.
This comment was originally posted at REFRIGERANT METERING CAPILLARY TUBES
Reply:
Excellently put, Daniel. Thank you for these clarifications of refrigerant terms.
Because many readers are not familiar with proper refrigerant terminology we find that people looking for information about refrigerants search on all sorts of words that we might agree are not quite correct. "Freon" has become about as generic and mis-used as "kleenex" for "tissues".
Your note is helpful to readers who want to speak accurately, while keeping the word "freon" around helps people find it. I'll copy your comments into our text on refrigerants
Air Conditioning & Heat Pump Refrigerant Articles
...
Continue reading at GAUGE, REFRIGERATION PRESSURE TEST or select a topic from closely-related articles below, or see our complete INDEX to RELATED ARTICLES below.
Or see LOST COOLING CAPACITY
Suggested citation for this web page
REFRIGERANT GASES & PIPING at InspectApedia.com - online encyclopedia of building & environmental inspection, testing, diagnosis, repair, & problem prevention advice.
Or use the SEARCH BOX found below to Ask a Question or Search InspectApedia
...
Frequently Asked Questions (FAQs)
Also see REFRIGERANT DIAGNOSTIC FAQS
Question: can an R-22 air conditioner or heat pump system be changed to use R-401A? What is involved?
Can an A/C system that uses R-22 be changed to use R-410a? - Anon 6/3/11
What is involved with converting from R-22 to R0417A? My unit was made in 2005. - Bill 6/5/2011
can R-22 CONVERT TO R134A MY UNIT WAS MADE IN 1999. - Jonathan 6/7/11
Reply:
Changing an R-22 refrigerant-based A/C system over to use R-410a is possible but costly since quite likely you cannot simply charge the system with the new refrigerant. It may be possible to continue to use the same compressor/condenser unit and air handler, but significant parts inside each of those components, such as controls and possibly evaporator/condenser coils are going to need to be changed out.
There are "swap-in" substitute refrigerants for R-22, but as you can read above in the Lennox warning, they are not recommended by at least some manufacturers. For this reason, if the R-22 based air conditioner is old and/or if other components are not in pristine condition, you'll want to get a careful price quote that allows comparing conversion of the equipment with replacement.
Question: Where can I buy R-22 freon?
where can I purchase R 22 freon
Reply:
Charles I'd consider converting the refrigeration system equipment to a R-410 -based refrigerant design, as R-22 is no longer recommended. However there are some websites offering R-22 refrigerant - though at astronomical prices for the ones I've seen. Recent reporting (in 2012) has also noted that due to cost pressures and other market factors, some manufacturers continue to sell replacement HVAC parts that operate on R-22 despite its harmful effects on the atmosphere and environment.
Question: pointing out HVAC equipment operating pressure differences between R22 & R410-a
regarding your discussions on R22 against R410a.
The pressures are extremely high compared to r22 in the uk we use special gauges with adaptors to fit the equipment operating on r410. Due to the legislation in place you can not work on any system without certification. We strength test our pipe work installs to 623 psi and pressure test to 478 psi. Retrofitting can be carried out but care has to be taken to ensure that the equipments pipe work can take the higher operating pressures. Additionally we can only purchase recycled r22 and new r22 is not available to us. This is something you will all eventually have to come to terms with. - James 7/12/11
Reply:
James, thank you for making several excellent points; we agree completely. The conversion from R22 to R410 is not trivial;
...
Ask a Question or Search InspectApedia
Use the "Click to Show or Hide FAQs" link just above to see recently-posted questions, comments, replies, try the search box just below, or if you prefer, post a question or comment in the Comments box below and we will respond promptly.
Search the InspectApedia website
Technical Reviewers & References
Click to Show or Hide Citations & References
ID="Citations" CLASS="hidden">
[1] Commercial Air Conditioning Systems, Julio O. Zeller, May 1, 1998, University of Notre Dame, web search 07/27/2011, original source: http://www.nd.edu/~msen/Teaching/DirStudies/AirConditioning.pdf
[2] Theoretical Analysis of Replacement Refrigerants for R22 for Residential Use, U.S. EPA, January 1992, EPA/400/191/041, web search 07/27/2011, original source: National Service Center for Environmental Publications (NSCEP), http://nepis.epa.gov/
[5] Carrier 24ANA Infinity™ Series Air Conditioners with Puron® Refrigerant, 2 to 5 Nominal Tons (Sizes 24-60) Installation Instructions, Carrier Corporation, [copy on file as 24ana-6si.pdf]
Modern Refrigeration and Air Conditioning, A. D. Althouse, C.H. Turnquist, A. Bracciano, Goodheart-Willcox Co., 1982
Principles of Refrigeration, R. Warren Marsh, C. Thomas Olivo, Delmar Publishers, 1979
"Air Conditioning & Refrigeration I & II", BOCES Education, Warren Hilliard (instructor), Poughkeepsie, New York, May - July 1982, [classroom notes from air conditioning and refrigeration maintenance and repair course attended by the website author]
Refrigeration and Air Conditioning Technology, 5th Ed., William C. Whitman, William M. Johnson, John Tomczyk, Cengage Learning, 2005, ISBN 1401837654, 9781401837655 1324 pages
Books & Articles on Building & Environmental Inspection, Testing, Diagnosis, & Repair