Definition of Problem Particle Sizes & Types in Indoor Air

PARTICLE SIZES & IAQ - CONTENTS: Particle size vs. air filter characteristics vs. indoor air quality. The definition of micron, common indoor air particle sizes in microns, and how they behave indoors. Role of small airborne particles and ischemic stroke, congestive heart failure, and other diseases. How to Assess the Effectiveness or Efficiency of Air Filters for Heating and Air Conditioning Systems. How air filters work to capture large and ultra small airborne particles
POST a QUESTION or READ FAQs about particles found in indoor air and dust - ranges of airborne particle sizes and their related health risks
InspectAPedia tolerates no conflicts of interest. We have no relationship with advertisers, products, or services discussed at this website.
Guide to airborne & dust particle sizes:
Here we give a definition of Problem Particle Sizes & Types in Indoor Air, The definition of micron, common indoor air particle sizes in microns, and how they behave indoors.
The page top photograph shows what is probably Aspergillus niger black mold spores, 2-4u in diameter, along with those lemon-shaped and nice looking Chaetomium sp. mold spores. More detailsand a close-up photograph of these particles are given just below.
Green links show where you are. © Copyright 2015 InspectApedia.com, All Rights Reserved.
What airborne particle sizes are an IAQ concern?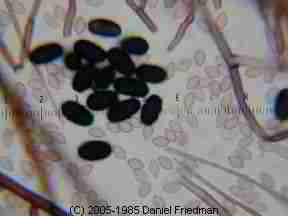 At left are large black ovate Stachybotrys chartarum mold spores and smaller Pen/Asp mold spores.
Aspergillus niger is often a toxic mold; Chaetomium sp. mold spores are likely to be at least allergenic.
What mold, house dust dust, allergen fragment, mite fecal, cat dander, or other airborne particle sizes are a concern for indoor air quality?
In the photograph shown here the large black Stachybotrys chartarum mold spores can be seen against our eyepiece micrometer which, after calibration, shows that these particular spores were about 7u x 15u in size.
The brownish tubular structures in our photograph are fungal hyphae. Another, smaller fungal spore is in the background. What's not addressed by some of the science in the air filtration and IAQ field is just what particle sizes are a worry. In general, larger particles, say 30u or 50u or long fibers, say 200u, are so big that they tend to be filtered in the nose of a human breathing that air. (1u here means 1 micron in size).
Definition of "Small" Airborne Particles & Their Hazards
Small airborne particles, say in the range of 5um (5 microns) and below are so tiny that they tend to be breathed more deeply into the lungs and might be more of a pulmonary (lung) health or IAQ concern for some building occupants. For purposes of discussing air pollution and health concerns around airborne particles, those particulates that are 2.5u and smaller are considered small and particularly dangerous.
Certainly some air filters which capture large particles may nonetheless pass the smaller ones right on into the "conditioned" air.
New York Times has reported an increased concern among scientists who study the potential dangers of very small airborne particles. But the concern is not entirely new.
"Fine atmospheric particles - smaller than one thirtieth of the diameter of a human hair - were identified more than 20 years ago as the most lethal of the widely dispersed air pollutants in the United States. Linked to both heart and lung disease they kill an estimated 50,000 Americans each year." [The article continued to focus on secondary aerosols that may be more dangerous than previously thought.] [2]
A 2012 study found that on days when concentrations of traffic pollutants were elevated the risk of stroke among humans increased by 30%[4] and a separate study in 2006 reported a link between short-term exposure to air pollution and cardiovascular disease[5]. The traffic-related air pollutants identified in the first studies included black carbon (BC), carbon monoxide (CO), NO2, ozone (O3), PM [particulate matter] smaller than 2.5um in aerodynamic diameter, and sulfur dioxide (SO2).[6]
In summary, these results support the hypothesis that elevated levels of particulate air pollution, less than the current limits set by the Environmental Protection Agency, are associated with an increase in the rate of hospital admission for the exacerbation of [congestive heart failure] CHF.[5]
In 2012 the NY Times further reported on a study that reported:
"The smallest particles of pollution, those finer than 2.5 microns in diameter ... are particularly effective in infiltrating the body. There is some evidence that they can even penetrate the brain through nasal passages... linking pollution to cognitive decline" [3][7]]
Of interest, as we discuss in our review of How Air Filters Work, is the observation that very very small particles in the less-than-one-micron range are actually captured more easily by some air filter technologies than the 2.5u range small particles just named here or the larger 20-50u sized airborne particles named next.

Larger airborne particles, perhaps in the 20-50u size, which affect a person by carrying allergenic proteins or fungal mycotoxins into the body, might be still a concern (in un-filtered or otherwise contaminated building air) even though they get stuck in the nose or upper respiratory tract.
Some allergists have told us that they can tell by the nature of a patient's complaint what they're probably allergic to and what size and types of particles are in the patient's environment. When inhaled in a breath of air, these comparatively large fungal spores are more likely to be trapped in a person's nose.
If a patient has chronic rhinitus, for example, they may be responding to large mold spores like Alternaria sp. which may be as big as 15 x 50u. If a patient has lower respiratory complaints (pulmonary or in the lungs) they might be responding to very small mold spores like some of those in the Aspergillus sp. or Penicillium sp. size range, which we often see in our lab can be down in to the 1u range in size. The photograph shows some Alternaria sp. mold spores which are pretty big.
Typical Stachybotrys chartarum "toxic black mold" spores that have received lots of media attention and public worry are a rather large warty, sticky mold spore (intended to be spread by cows walking through moldy straw) which is oval and is usually about 10 x 20u in size. Stachybotrys chartarum's still more irritating family member, Memnoniella echinata is a round black spore of about 10-12u in diameter.
Stachybotrys chartarum and Memnoniella echinata are not normally airborne mold spores, so if we find one or both of these in building air or in settled building dust or in the HVAC system, most likely a surface with that mold growing on it is or was nearby and it has been recently disturbed, say by demolition activity conducted without proper dust management.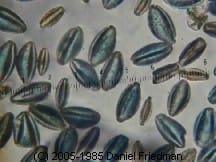 Pollen grains (shown above) vary considerably in size but generally are bigger than many most many mold spores. Ragweed pollen might be about 20u in diameter.
Shown here are some stunning and still larger poppy pollen seeds collected outside of our forensic lab in Poughkeepsie, NY.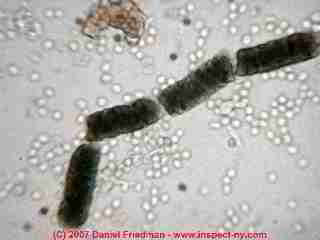 A guanine-containing dust mite fecal pellet and other insect fecals vary in size but some are pretty big, maybe 30 x 150u, much bigger than most mold spores, as are most pieces of dog or cat dander.
The photograph provided here shows both common dust mite fecal pellets and, in the same photo you can see much smaller and nice for comparison, some hyaline (colorless) Aspergillus sp. or perhaps Penicillium sp. mold spores which are in the one-micron size range.
Often when we examine an indoor dust sample in the microscope and when we look closely at mite or some other insect fecal pellets we observe that the pellets are comprised of mold spores that the insect has been eating. Usually those same mold spores are present in the dust sample.
But when the mold spores themselves are not seen in the sample, we know that mold was nearby, and our little insect assistants have provided us with the evidence of the presence of of indoor mold. Eating at least some kinds of mold spores apparently does not bother them one bit.
Definition of a micron - how big is a micron?
How big is a one micron particle? How easily do such particles move throughout a building?:
Just as a few points of reference comparing particle sizes,
Fiberglass insulation fibers, intact, un-damaged tend to be quite large in length, similar to human hair, though we find that fiberglass fiber diameters varying widely down to close to 1um in some cases. These long fibers constitute "large" particles and are not generally breathed deeply into the respiratory system.

However crushed, walked-on, or mechanically-damaged fiberglass insulation can produce much smaller particles down to a few microns in size (measured across the particle's longest dimension) or perhaps even smaller.

These ultra-small particles may be more dangerous, may be breathed more deeply into lungs, and may remain airborne at higher concentrations for much longer periods of time than their long large parents.

(See FIBERGLASS DETECTION in BUILDING AIR & DUST) - Thanks to reader AG for suggesting that clarification was needed.
A human hair might typically be about 50 to 80um in diameter
A human red blood cell is about 8um.
Aspergillus sp. and Penicillium sp. mold spores range from 1um to perhaps 8um typically
Many Cladosporium sp. and Stachybotrys sp.mold spores may be 10um to 20um (and range in shape from spherical to oblate to longer particles)
Most bacteria are smaller. E. coli is about 2um (viruses are much smaller).
("u" or "um" here means micron or 1/1,000,000 of a meter or a millionth of a meter or about 1/25,400 ths of an inch if you prefer).
A one-micron Aspergillus sp. mold spore is so small that we find that they move in the air like a gas, right up from a moldy crawl space and through the building, and these particles tend to stay airborne much longer than their larger cousins. In absolutely still air (which never ever occurs inside a normal building), such a particle might remain airborne for more than 40 hours.
Walking outside (where there is plenty of air movement and plenty of mold spores) a person is breathing in a few of these spores with each breath.
Fungal spores may be amplified indoors if there are problems with the heating or air conditioning systems
Breathing in a lot of some kinds of mold spores or other particles can be a problem wherever one is, but indoor allergens, toxic spores, or other irritants may be more of a problem indoors where they are not diluted by outdoor air, where some people spend lots of time, and where these problem particles are being picked up by a heating or air conditioning system, blown through the duct work, amplified in quantity by ductwork or air handler conditions, and then delivered personally to people in the living space.
Still Smaller Particles that May be Found in Indoor Environments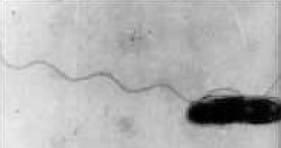 Bacteria - for an example see Legionella BACTERIA & HVAC Equipment - photo at left.
Nanomaterials - see NANOMATERIALS HAZARDS
Also see AIRBORNE PARTICLE ANALYSIS METHODS
And see our discussion of ultra-small particles
at NANOMATERIALS HAZARDS.

We provide a lot of information about finding, cleaning-up, testing, and preventing problem mold in buildings: see
our MOLD INFORMATION website.
Continue reading at INDOOR AIR QUALITY IMPROVEMENT GUIDE or select a topic from the More Reading links shown below.
Or see AIR POLLUTANTS, COMMON INDOOR
Suggested citation for this web page
PARTICLE SIZES & IAQ at InspectApedia.com - online encyclopedia of building & environmental inspection, testing, diagnosis, repair, & problem prevention advice.
More Reading
Green link shows where you are in this article series.
...
Frequently Asked Questions (FAQs) about the size of airborne or dust particles
No FAQs have been posted for this page. Try the search box below or CONTACT US by email if you cannot find the answer you need at InspectApedia.
Question: Should I cover up mold in my basement - risk of contaminating HVAC system with mold?
I am currently looking into purchasing a home that has a leaking furnace and some mold in the basement because of a power outage causing a water pack up after a sump pump failure and subsequent backup. Most of the drywall with the mold was removed but there is still a little left (that I can see -- who know how much I can't). My original plan was to gut the basement, treat any and every surface down with an anti fungal wash, and let it dry out with a dehumidifier for a few months. After that was completed, I would replace the furnace and have the ducts cleaned. However, the FHA is requiring that I replace the missing drywall and furnace before they sign off in it.

I'm a bit unsure as to whether or not its a good idea to cover up the mold only to expose it after the FHA clears it and have it circulating thru the new furnace and clean ducts when I start tearing it down.

Is this safe? Will the air filter on the furnace stop the mold from being spread thru the house and ducts once replaced? Should I walk away from the deal? - Jay 11/16/11
Reply:
Jay. it sounds as if you need to

- complete the demolition
- complete the mold cleanup, including use of any encapsulant sprays applied after actual cleaning has been completed
- complete HVAC cleanup and furnace replacement
- do not RUN the HVAC system until after a successful post remediation inspection and test
- then replace the drywall

No mold remediation project should be "covering up the mold"

The reason I don't want to run the furnace before mold cleanup is complete and the success of the cleanup is confirmed by inspection and testing is that we otherwise risk contamination of the new furnace and cleaned ductwork.
Question: Clarify the size of fiberglass fragments and fibers
Great site - thank you so much. I'm confused about this statement:
"Fiberglass insulation fibers, intact, un-damaged tend to be quite large in length, similar to human hair, though we find diameters varying widely down to close to 1um in some cases; however crushed, walked-on, or mechanically-damaged fiberglass insulation can produce particles down to a few microns in size or perhaps even smaller."
If undamaged is 1um, are you saying that damaged is larger (a few microns)? - AG 07/23/2012
Reply:
AG thank you for pointing out my confusing statement, I will rewrite it for clarity. Meanwhile... What I meant to say is that damaged fiberglass can produce high levels of very small particles in the 1u range, (measured across the particle's longest axis) maybe even smaller, while normal, intact fiberglass insulation consists of much larger particles of great length, even though the diameters of some of those long, thus very large in length, may be thin in fiber diameter.

Undamaged= long lengths of varying diameters, low risk of deep inhalation

Damaged = short small particles down at 1u
...
Ask a Question or Search InspectApedia
Questions & answers or comments about particles found in indoor air and dust - particle sizes
Use the "Click to Show or Hide FAQs" link just above to see recently-posted questions, comments, replies, try the search box just below, or if you prefer, post a question or comment in the Comments box below and we will respond promptly.
Search the InspectApedia website
Technical Reviewers & References
Publisher's Google+ Page by Daniel Friedman
Click to Show or Hide Citations & References
[1] Wikipedia provided background information about the definition of HEPA and airborne particle interception.
[2] "Scientists Find New Dangers in Tiny but Pervasive Particles in Air Pollution", Felicity Barringer, The New York Times, February 19, 2012 p. 17
[3] "Well - It may be time to start paying more attention to those local air pollution alerts" posting at nytimes.com/well, The New York Times, p. D4, 21 Feb 2012.
[4] "Ambient Air Pollution and the Risk of Acute Ischemic Stroke", Gregory A. Wellenius, ScD; Mary R. Burger, MD; Brent A. Coull, PhD; Joel Schwartz, PhD; Helen H. Suh, ScD; Petros Koutrakis, PhD; Gottfried Schlaug, MD, MPH; Diane R. Gold, MD, MPH; Murray A. Mittleman, MD, DrPH, Archives of Internal Medicine, Vol. 173 No. 3, 13 February 2012, Arch Intern Med. 2012;172(3):229-234. doi:10.1001/archinternmed.2011.732 - Abstract:
"The link between increased stroke risk and these particulates can be observed within hours of exposure and are most strongly associated with pollution from local or transported traffic emissions," says Murray A. Mittleman, MD, DrPH, the study's senior author, a physician in the CardioVascular Institute at Beth Israel Deaconess Medical Center and an Associate Professor of Medicine at Harvard Medical School. "Any proposed changes in regulated pollution levels must consider the impact of lower levels on public health."
[5] " Particulate Air Pollution and Hospital Admissions for Congestive Heart Failure in Seven United States Cities", Wellenius, Gregory A., The American journal of cardiology, ISSN 0002-9149, 02/01/2006, Vol. 97 No. 3 p. 404, Quoting abstract:
The association between short-term elevations in ambient particulate air pollution and increased cardiovascular morbidity and mortality is well documented. Ambient particles may also trigger acute de compensation in patients with congestive heart failure (CHF), but this hypothesis has not been evaluated in a systematic manner. This study evaluated the association between daily levels of respirable particulate matter of aerodynamic diameters ≤10 μm (PM10) and the rate of hospitalization from the emergency room for CHF in Medicare recipients (age ≥65 years) in 7 United States cities from 1986 and 1999. The time-stratified case-crossover design was used to separately estimate the effect of a 10 μg/m3 increase in PM10 in each city. A combined random-effects estimate was then obtained from the city-specific effect estimates. There were 292,918 admissions with primary diagnoses of CHF during the observation period. Overall, a 10 μg/m3 increase in PM10 was associated with a 0.72% (95% confidence interval 0.35% to 1.10%) increase in the rate of admission for CHF on the same day. The effect of PM10 appeared to be less in patients with secondary diagnoses of hypertension. There was no consistent effect modification by age, gender, race, or any other secondary diagnosis evaluated. In conclusion, these results support the hypothesis that elevated levels of particulate air pollution, below the current limits set by the United States Environmental Protection Agency, are associated with an increase in the rate of hospital admission for exacerbation of CHF.
Particulate air pollution may acutely exacerbate congestive heart failure (CHF) and lead to hospitalization. Despite large variability in clinical presentation in patients hospitalized for decompensated CHF, some previous studies [1], [2], [3], [4] and [5] using data from single cities have reported a statistically significant positive association between daily measures of respirable particles (particulate matter with aerodynamic diameter <10 μm [PM10]) and the rate of hospitalization for CHF. However, results have not been entirely consistent, [6], [7] and [8] and this association has not been evaluated across multiple United States (US) cities in a systematic manner. Accordingly, we evaluated the hypothesis that short-term elevations in PM10 increase the rate of cardiac decompensation and subsequent hospitalization for CHF in Medicare beneficiaries aged ≥65 years in 7 US cities.
[6] "Traffic-Related Air Pollution and QT Interval: Modification by Diabetes, Obesity, and Oxidative Stress Gene Polymorphisms in the Normative Aging Study", Emmanuel S. Baja, Joel D. Schwartz, Gregory A. Wellenius, Brent A. Coull,Antonella Zanobetti, Pantel S. Vokonas, Helen H. Suh, Environmental Health Perspectives, Vol. 118, No. 6 (JUNE 2010), pp. 840-846
"In summary, this study documents the association between elevated short-term exposure to traffic-related pollution and prolonged QTc, a marker of ventricular arrhythmias commonly associated with heart attack, among older men. The study also showed that traffic-related pollutants is related to prolonged QTc, given the generally significant association findings for BC, NO2, and CO (Aim et al. 1999; Chan et al. 1991). Furthermore, older men with few genetic variants related to oxidative stress appear to be better protected from QTc prolongation with traffic exposure than older men with high genetic variants related to oxidative stress. Moreover, the study provides further evidence that traffic pollutants via the oxidative stress pathway may play a crucial role in cardiopulmonary toxicity."
[7] " Exposure to Particulate Air Pollution and Cognitive Decline in Older Women", Jennifer Weuve, MPH, ScD; Robin C. Puett, MPH, PhD; Joel Schwartz, PhD; Jeff D. Yanosky, MS, ScD; Francine Laden, MS, ScD; Francine Grodstein, ScD, Archives of Internal Medicine, Vol. 172 No. 3 p. 216, 02/13/2012, citation: Arch Intern Med. 2012;172(3):219-227. doi:10.1001/archinternmed.2011.683 Quoting article abstract:
Chronic exposure to particulate air pollution may accelerate cognitive decline in older adults, although data on this association are limited. Our objective was to examine long-term exposure to particulate matter (PM) air pollution, both coarse ([PM 2.5-10 μm in diameter [PM(2.5-10)]) and fine (PM <2.5 μm in diameter [PM(2.5)]), in relation to cognitive decline. The study population comprised the Nurses' Health Study Cognitive Cohort, which included 19 409 US women aged 70 to 81 years. We used geographic information system-based spatiotemporal smoothing models to estimate recent (1 month) and long-term (7-14 years) exposures to PM(2.5-10), and PM(2.5) preceding baseline cognitive testing (1995-2001) of participants residing in the contiguous United States. We used generalized estimating equation regression to estimate differences in the rate of cognitive decline across levels of PM(2.5-10) and PM(2.5) exposures. The main outcome measure was cognition, via validated telephone assessments, administered 3 times at approximately 2-year intervals, includ-ing tests of general cognition, verbal memory, category fluency, working memory, and attention. Higher levels of long-term exposure to both PM(2.5-10) and PM(2.5) were associated with significantly faster cognitive decline. Two-year decline on a global score was 0.020 (95% CI, -0.032 to -0.008) standard units worse per 10 μg/m(3) increment in PM(2.5-10) exposure and 0.018 (95% CI, -0.035 to -0.002) units worse per 10 μg/m(3) increment in PM(2.5) exposure. These differences in cognitive trajectory were similar to those between women in our cohort who were approximately 2 years apart in age, indicating that the effect of a 10-μg/m(3) increment in long-term PM exposure is cognitively equivalent to aging by approximately 2 years. Long-term exposure to PM(2.5-10) and PM(2.5) at levels typically experienced by many individuals in the United States is associated with significantly worse cognitive decline in older women.
Lab procedures: Airborne Particle Trace Calculations Recap - how to calculate airborne particle concentrations for mold, IAQ, allergens, or other forensic particle studies - A Laboratory SOP
Lab procedures: Calibration and Mold Test Laboratory SOP documents?
Lab procedures: Cargille meltmount™ slides for rapid field or laboratory use, how to prepare
Lab procedures: Microscopy - Microscope techniques and laboratory procedures for indoor air quality, toxic mold identification, & bioaerosol investigations
Lab procedures: Slide preparation - tips on mold lab procedures
"Legionellosis: Legionnaires' Disease (LD) and Pontiac Fever", October 12, 2005 Content source: Coordinating Center for Infectious Diseases / Division of Bacterial and Mycotic Diseases U.S. Department of Health and Human Services, Centers for Disease Control US CDC, Division of Bacterial and Mycotic Diseases. http://www.cdc.gov/ncidod/dbmd/diseaseinfo/legionellosis_g.htm
"Legionella Infection Risk from Domestic Hot Water", Paola Borella et als., June 23, 2004, Abstract: "We investigated Legionella and Pseudomonas contamination of hot water in a cross-sectional multicentric survey in Italy. Chemical parameters (hardness, free chlorine, and trace elements) were determined. Legionella spp. We re detected in 33 (22.6%) and Pseudomonas spp. in 56 (38.4%) of 146 samples. Some factors associated with Legionella contamination were heater type, tank distance and capacity, water plant age, and mineral content. Pseudomonas presence was influenced by water source, hardness, free chlorine, and temperature. Legionella contamination was associated with a centralized heater, distance from the heater point >10 m, and a water plant >10 years old. Furthermore, zinc levels of <100 ™g/L and copper levels of >50 ™g/L appeared to be protective against Legionella colonization. Legionella species and serogroups were differently distributed according to heater type, water temperature, and free chlorine, suggesting that Legionella strains may have a different sensibility and resistance to environmental factors and different ecologic niches." CDC, http://www.cdc.gov/ncidod/eid/vol10no3/02-0707.htm
OSHA Technical Manual re Legionnaire's disease - http://www.osha.gov/dts/osta/otm/otm_iii/otm_iii_7.html
"What is Legionnaires' Disease?", U.S. Department of Labor, OSHA, publication at http://www.osha.gov/dts/osta/otm/legionnaires/pdf/sectioni.pdf - source of two images used in this article.
...
Books & Articles on Building & Environmental Inspection, Testing, Diagnosis, & Repair
The Home Reference Book - the Encyclopedia of Homes, Carson Dunlop & Associates, Toronto, Ontario, 25th Ed., 2012, is a bound volume of more than 450 illustrated pages that assist home inspectors and home owners in the inspection and detection of problems on buildings. The text is intended as a reference guide to help building owners operate and maintain their home effectively. Field inspection worksheets are included at the back of the volume. Special Offer: For a 10% discount on any number of copies of the Home Reference Book purchased as a single order. Enter INSPECTAHRB in the order payment page "Promo/Redemption" space. InspectAPedia.com editor Daniel Friedman is a contributing author.

Or choose the The Home Reference eBook for PCs, Macs, Kindle, iPad, iPhone, or Android Smart Phones. Special Offer: For a 5% discount on any number of copies of the Home Reference eBook purchased as a single order. Enter INSPECTAEHRB in the order payment page "Promo/Redemption" space.
Carson Dunlop, Associates, Toronto, have provided us with (and we recommend) Carson Dunlop Weldon & Associates' Technical Reference Guide to manufacturer's model and serial number information for heating and cooling equipment
Special Offer: Carson Dunlop Associates offers InspectAPedia readers in the U.S.A. a 5% discount on any number of copies of the Technical Reference Guide purchased as a single order. Just enter INSPECTATRG in the order payment page "Promo/Redemption" space.

Environmental Health & Investigation Bibliography - our technical library on indoor air quality inspection, testing, laboratory procedures, forensic microscopy, etc.
"IgG Food Allergy Testing by ELISA/EIA, What do they really tell us?" Sheryl B. Miller, MT (ASCP), PhD, Clinical Laboratory Director, Bastyr University Natural Health Clinic - ELISA testing accuracy: Here is an example of Miller's critique of ELISA http://www.betterhealthusa.com/public/282.cfm - Townsend Letter for Doctors and Patients
The critique included in that article raises compelling questions about IgG testing assays, which prompts our interest in actually screening for the presence of high levels of particles that could carry allergens - dog dander or cat dander in the case at hand.
http://www.tldp.com/issue/174/IgG%20Food%20Allergy.html contains similar criticism in another venue but interestingly by the same author, Sheryl Miller. Sheryl Miller, MT (ASCP), PhD, is an Immunologist and Associate Professor of Basic and Medical Sciences at Bastyr University in Bothell, Washington. She is also the Laboratory Director of the Bastyr Natural Health Clinic Laboratory.
Allergens: Testing for the level of exposure to animal allergens is discussed at http://www.animalhealthchannel.com/animalallergy/diagnosis.shtml (lab animal exposure study is interesting because it involves a higher exposure level in some cases
Atlas of Clinical Fungi, 2nd Ed., GS deHoog, J Guarro, J Gene, & MJ Figueras, Centraalbureau voor Schimmelcultures, Universitat Rovira I Virgili, 2000, ISBN 90-70351-43-9 (you can buy this book at Amazon) - The Atlas of Clinical Fungi is also available on CD ROM
"A Brief Guide to Mold, Moisture, and Your Home", U.S. Environmental Protection Agency US EPA - includes basic advice for building owners, occupants, and mold cleanup operations. See http://www.epa.gov/mold/moldguide.htm
"Disease Prevention Program for Certain Vegetable Crops," David B. Langston, Jr., Extension Plant Pathologist - Vegetables, University of Georgia (PDF document) original source: www.reeis.usda.gov/web/crisprojectpages/209797.html
"Disease Prevention in Home Vegetable Gardens," Patricia Donald, Department of Plant Microbiology and Pathology, Lewis Jett
Department of Horticulture, University of Missouri Extension - extension.missouri.edu/publications/DisplayPub.aspx?P=G6202
"Management of Powdery Mildew, Leveillula taurica, in Greenhouse Peppers," Ministry of Agriculture and Lands, British Columbia - Original source: www.agf.gov.bc.ca/cropprot/peppermildew.htm
Environmental Health & Investigation Bibliography - our own technical library on indoor air quality inspection, testing, laboratory procedures, forensic microscopy, etc.
Fiberglass: Mold in Fiberglass Insulation© 2005 comments about a field study in process, & more about health hazards from fiberglass insulation - DJF
Fifth Kingdom, Bryce Kendrick, ISBN13: 9781585100224, is available from the InspectAPedia online bookstore - we recommend the CD-ROM version of this book. This 3rd/edition is a compact but comprehensive encyclopedia of all things mycological. Every aspect of the fungi, from aflatoxin to zppspores, with an accessible blend of verve and wit. The 24 chapters are filled with up-to-date information of classification, yeast, lichens, spore dispersal, allergies, ecology, genetics, plant pathology, predatory fungi, biological control, mutualistic symbioses with animals and plants, fungi as food, food spoilage and mycotoxins.
Fungi, Identifying Filamentous, A Clinical Laboratory Handbook, Guy St-Germain, Richard Summerbell, Star Publishing, 1996, ISBN 0-89863-177-7 (English) (buy at Amazon)
US EPA: Mold Remediation in Schools and Commercial Building [Copy on file at /sickhouse/EPA_Mold_Remediation_in_Schools.pdf ] - US EPA
Mycology, Fundamentals of Diagnostic, Fran Fisher, Norma B. Cook, W.B. Saunders Co. 1998, ISBN 0-7216-5006-6 (buy this book at Amazon)
US EPA: Una Breva Guia a Moho - Hongo [Copy on file as /sickhouse/EPA_Moho_Guia_sp.pdf - en Espanol>
...