Heat Pump Backup Heat

Diagnosis, Inspection, Repair Guide
InspectAPedia tolerates no conflicts of interest. We have no relationship with advertisers, products, or services discussed at this website.
This article discusses the diagnosis & repair of backup heat systems used on heat pumps - how to find out if your backup heat is working or partly working, or not working at all.
This article series answers most questions about central air conditioning & heat pump system troubleshooting, inspection, and repairs. We describe how to inspect residential air conditioning systems (A/C systems) to inform home buyers, owners, and home inspectors of common cooling system defects.
We also provide a MASTER INDEX to this topic, or you can try the page top or bottom SEARCH BOX as a quick way to find information you need.
Green links show where you are. © Copyright 2017 InspectApedia.com, All Rights Reserved.
How to diagnose and fix the backup heat in a heat pump system that is not working
Diagnosing no backup heat working or not enough backup heat
If you are getting no backup heat at all, or the heat is inadequate, your system may not be switching on the backup heat at all, or it may be trying to switch on the backup heat but the backup heat is not working.
Backup heat controls not working: when outdoor temperatures drop below a set point (varies by geographic location) the heat pump system will switch from cooling mode to heating mode. In heating mode a heat pump is running pretty much the same as it did as an air conditioner, except in reverse. That is, all of the same controls and components are involved.
In cooling mode where a heat pump is installed, the indoor evaporator coil is cooled in order to cool air blown across it. This is normal heating mode for the heat pump and backup heat is not called-for.

In heating mode the heat pump warms the indoor coil so that it will warm air blown across it, transferring heat from outside to inside. When temperatures outside become too low for the heat pump to efficiently extract heat from outdoor air, a temperature sensor in the outdoor unit turns on the backup heat system.

Some of the critical controls that have to work in order for the heat pump to heat at all in cool weather, or to switch to backup heat mode include:
Electric Backup Heat Not Working: If the backup heat for your heat pump system is provided by electric heaters see Staged Electric Furnaces below for an outline of the diagnostic steps needed. The temperature at which backup heat should come on varies by where you live. Perhaps 35 degF. would be common. If debugging the thermostats and temperature sensor do not lead to a fix, then the problem may be with the backup heater itself. For electric backup heat see Staged Electric Furnaces below.
Hot water heat or water to air heat not working: If your backup heat is an oil or fired water-to-air system you'll need to check the operation of the heating boiler.

See HEATING LOSS DIAGNOSIS-BOILERS for a detailed diagnostic procedure. You will need to examine no-heat diagnosis first of the controls and fuel source and then of the boiler fuel type itself, oil, or gas.
Warm air backup heat not working: If your backup heat is an oil or fired warm air system you'll need to check the operation of the furnace.

See HEATING LOSS DIAGNOSIS-FURNACES for a detailed diagnostic procedure. As above, you will need to examine no-heat diagnosis first of the controls and fuel source and then of the furnace fuel type itself, oil, or gas (propane or natural gas) or electric.
Diagnosing backup heat that turns on when it should not.
Heat Pump Provides Heat when in Cooling Mode: if your heat pump is heating when it should be cooling there may be a simple problem with a thermostat, thermostat setting, or with a temperature sensor or control inside or outside the building. "Only gets heat when in cooling mode."
The following diagnostic tips were provided by a thoughtful reader, Neal Renn who describes the problem of a heat pump that insists on turning on backup heat when it is not needed. That is, during the cooling season, the heat pump insists on providing warm air rather than cool air to the building.
The family woke up to an 85 degree house even though the weather remained in cooling season. The occupants found that the heat pump system was running in heat mode. (A Goodman™ 5 ton heat pump and Goodman indoor air handler with propane backup heat.
The indoor thermostat was checked to be sure it was set to cooling mode. (Thermostats might be set to "heat", "cool", "Auto", or "OFF" depending on the model.)
Backup heat on: The occupants observed that the propane heater was running even though their indoor thermostat was set for cooling and outdoor temperatures and indoor temperatures were high enough that cooling was required.
Examine the dual fuel relay and terminal block.
Examine the outside compressor condenser unit - check the outside thermostat (GE Morrision). If the outdoor thermostat is not responding properly the system defaults to heat.

see Detailed Case of a Heat Pump that Put out Heat when Cooling was Required for a step by step guide to diagnosing the cause of this particular "heat output only, no cooling" problem at a heat pump. Diagnostic details provided by a thoughtful reader, Neal Renn.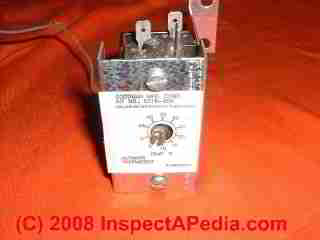 Here is a photograph of the heat pump outdoor thermosatt. It is housed in the control box corner of the outside heat pump compressor/condenser unit.
This heat pump outdoor unit has a control board, a contactor, a start capacitor and the outdoor thermostat which is used to determine when backup heat is needed.
Photographs courtesy of Neal Renn show a Goodman Manufacturing Corp. outdoor thermostat # OT18-60A (below left) and a back view of the control showing additional part numbers #B13708-66 (below right
For photographs of other air conditioning and heat pump parts, and for an explanation of where these air conditioning components are physically located, see A/C COMPONENTS which discusses Indoor A/C Components and Outdoor A/C Components
Since the failure of the heat pump's backup heat to turn on, loss of heating capacity, reduced air conditioning output temperatures, loss of cool air supply, or even loss of air flow entirely can be due to a variety of problems with one or more components of an air conditioning or heat pump system, after reviewing the lost backup heat diagnosis procedures described in this article, be sure to also review the diagnostic procedures at each of the individual air conditioning diagnosis and repair major topics listed just below.
To return to our air conditioning, heat pump, and refrigeration home page go to AIR CONDITIONING & HEAT PUMP SYSTEMS.
Staged Electric Furnaces Using Sequencers to Control Heat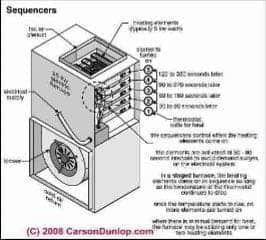 If the backup heat source for your heat pump system is provided by an electric furnace, use the diagnostic details below when the backup heat is not working properly. This information is discussed further at ELECTRIC HEAT.
For economy, as Carson Dunlop's sketch shows, electric furnaces often use a gang of electric heating elements that are turned on in stages rather than all at once.
As temperatures fall and more heat is needed in the building, more heating stages turn on. By leaving heating stages turned off when not needed we reduce electrical consumption and energy cost.
On a staged electric heating furnace each heating stage typically provides about 5,000 watts (5KW) of heating energy.
The fan limit switch that controls an electric furnace may have a built-in delay so that on a call for heat the blower fan won't turn on until the heating element(s) have warmed up. We discuss fan limit switches in more detail at FAN LIMIT SWITCH
How to Diagnose & Repair Electric Heat that Has Stopped Working or is Not Hot Enough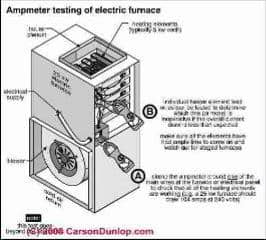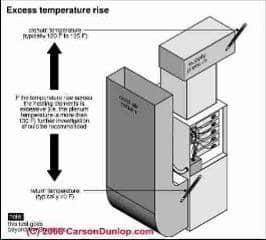 What do we check if our electric heat is not working? There are a few basic things to check yourself. Other steps require an expert. Sketches courtesy of Carson Dunlop.
Is the thermostat asking for heat? Be sure you know where all of the thermostats for your electric heat are located. Some heaters such as flush-in-floor electric heaters may use a wall-mounted thermostat while other electric baseboard heaters may have individual thermostats on each baseboard unit. In a bathroom with electric radiant heat in the floor, Carson Dunlop suggests finding that hidden thermostat, perhaps inside the sink vanity.
Is electrical power on to the heater? Check the fuses or circuit breakers that supply each electric heater.
If the electric furnace does not seem to be making heat, the electrician or heating technician will use an ammeter to test each of the heating elements to see if one or more of them is not working. She will also check first to confirm that electrical power is on to the unit. If one or more of the staged electric heaters in the furnace has failed, the furnace may make warm air, but not enough warm air in very cold conditions.
Check the air temperature rise across the electric furnace. When the furnace has been operating for 20 minutes or longer, typically the temperature at the return plenum (the lower thermometer in the sketch) will show about 70 deg .F. and the supply plenum temperature will be between 120 deg .f. and 125 deg .f. If the supply plenum temperature is too high (over130 deg .f.) something's wrong and you should call a heating service technician.
Check radiant heat ceiling panels for wire interruptions. If someone drove an nail into a radiant panel heat ceiling or in the attic above they damaged a wire or heating panel, you may find that that room no longer has heat. We use a hand-held infra-red thermometer scanner to quickly check radiant heat floors and ceilings.
If your air conditioning or heat pump system has lost its cooling capacity or won't start see
...
Continue reading at HEAT PUMPS or select a topic from closely-related articles below, or see our complete INDEX to RELATED ARTICLES below.
Suggested citation for this web page
BACKUP HEAT for HEAT PUMPS at InspectApedia.com - online encyclopedia of building & environmental inspection, testing, diagnosis, repair, & problem prevention advice.
Or use the SEARCH BOX found below to Ask a Question or Search InspectApedia
...
Frequently Asked Questions (FAQs)
Try the search box below or CONTACT US by email if you cannot find the answer you need at InspectApedia.
Question: my backup heat is not working on my heat pump
(July 6, 2014) Anonymous said:
My mitsubishi mr.slim MUH-18RV have heating kit which were not working i bypass the kit and try to stat the compressor seperatly but when i try to start it try to start sounds and become heated , but could not start , before starting the compressor voltage are 212 VAC but when i start compressor voltages downs to 130 volts and all wires become hot . what is the problem is this due to bypass the compressor kit , or its motor is short ? please help me regards kalim ullah
(Dec 22, 2015) Pete said:
On my GE wall mounted heat/ac unit the fan blows but I get no heat or AC. What could be wrong?
Reply:
Kalim it sounds like a seized compressor motor.
Pete:
IF you are in a warm climate I suspect your compressor unit is not working. If you are in a cold climate and your heat pump unit is not producing heat it may be that your backup heat (perhaps electric) is not working. Check for a tripped breaker to start.

Question: do I need a backup heat system with my heat pump?
(May 28, 2014) Jane said:
Thinking about purchasing heat pump ..do I need back up
May 28, 2014) Anonymous said:
Thinking about purchasing air heat pump is it compulsory to have a back up heat source
Reply:
Anon,
The requirement for backup heat for a heat pump system depends on where you live and what cold weather temperatures you can anticipate. If you are in an area where the outdoor temperatures never fall so low that your particular heat pump system will be unable to heat the home comfortably then yes you need backup heat.
Question: Air handler won't shut off after heat pump shuts off
(Dec 15, 2014) carl said:
air handler won't shut off after heat pump shuts off. must trip breaker & reset breaker.only dose this when out side air is above 40 degrees.
Reply:
Carl that sounds like a relay or control board problem. OR the fan switch is set to ON, or the thermostat is never satisfied.
Check first that the MAN ON switch is not set on your thermostat or in the air handler - those can tell the fan to run continuously.
Question: Amana heat pump aux light stays on
(Dec 26, 2014) Anonymous said:
I have an AMANA package unit that is just out of warranty (of course) and the AUX light comes on (and stays on) even when I lower the heat setting. It is not freezing weather her in Eastern NC and it is kept set to 68-69 degrees. The unit is not 'iced up'. The 'aux light' stays on even when I lower the setting. What might be the problem? Is it most likely that the 'reversing valve' is stuck?
Reply:
I'd check first for a failed outdoor temperature sensor.
See HEAT PUMP THERMOSTSAT, OUTDOOR
Question: Thermostat goes into AUX mode and system blows cold air
(Jan 7, 2015) tom Geiger said:
Occasionally when heat pump is operating, thermostat goes into "aux" mode and then blows cold air, presently 32 degrees outside temp. Electric heat sequencers replaced.
Reply:
Still, Tom, if you're not getting warm air out of the supply registers when the aux heat or backup heat is "on" then I suspect it's not really on. There may be a control or wiring problem if the heaters themselves are intact.
Question: aux heat kicks in too soon
(Jan 24, 2015) Anonymous said:
I have an electric heat pump for AC and Heating of the home. There is also an auxillary heat that is supposed to come on when temperatures get very frigid. My heat comes on normally with the outdoor compressor activating. After several minutes the auxiliary heat kicks in even when temps are moderate 30 degrees and above. Thermostat is working correctly, wondering what component in the compressor unit is controlling the activation of the auxiliary heat. Electricity use is way to high this way.
Reply:
Anon
Your HVAC service tech will probably check first the thermostat settings and wiring and then the control board and relays for the heat pump.
See HEAT PUMP THERMOSTSAT, OUTDOOR
Question: equipment failure at certain temperatures may relate to wiring or controls
(Feb 17, 2015) Anon said:
Knocked the ice off the top of the electric heat pump's outside unit and now it won't run. We then poured hot water over it to clear away any ice chips. Still won't run. It was operating before we knocked the ice off. What do we do now? We have only aux heat with frigid temps next few days.
(Feb 18, 2015) mike stasko said:
when really cold outside 0 degree electric heat wont work. When temp goes up to 10 degrees everything works fine.When 0 degrees and things don't work turn thermostat to emergency heat outside unit shuts down and indoor blower runs but no electric heat. when temp gets to 10 degrees everything normal.Three service companies checked out this problem and said no problem.
Reply:
Mike I'm surprised the service companies found no problem since you indicate that the electric heat doesn't work when it's quite cold.
Try hiring an experienced licensed electrician to find the failing control or bad connection.
(Feb 19, 2015) mike said:
Dan thanks for your response. It just doesn't make sense to me that outside temp would effect emergency heat from the thermostat. looking at wiring diagram from the unit e lug should go right to the air handler in parallel is white wire to outside unit with an optional outdoor thermostat which I'm not sure is in the wiring. Now with the wire note #3 that wire is removed and could effect w2. What am I missing?
Reply:
Mike
Certainly heat pumps include an outside air temperature that controls the unit's switch to backup heat, right?

Question: propane backup heat for heat pump
(May 18, 2015) kim said:
I have an air source heat pump with propane back up. The temps are in the 40s but air source heat pump doesn't come on ,the propane furnace does. Why isn't the heat pump engaging?
Reply:
Kim take a look at the diagnostics at LOST COOLING CAPACITY in the Article Index given at More Reading.
We don't know enough about your system to diagnose it's failiure to cool. Causes range from an improper thermostat setting to failures in the equipment itself.
...
Ask a Question or Search InspectApedia
Use the "Click to Show or Hide FAQs" link just above to see recently-posted questions, comments, replies, try the search box just below, or if you prefer, post a question or comment in the Comments box below and we will respond promptly.
Search the InspectApedia website
Technical Reviewers & References
Click to Show or Hide Citations & References
Thanks to Mark Cramer, Tampa Florida, for assistance in technical review of the "Critical Defects" section and for the photograph of the deteriorating gray Owens Corning flex duct in a hot attic. Mr. Cramer is a Florida home inspector and home inspection educator.
Thanks to Neal Renn who described diagnosing the problem of a heat pump that "only gets backup heat and no cooling" to describe the problem of a heat pump that insists on turning on backup heat when it is not needed.
Thanks also to Alan Carson, Carson Dunlop, Associates, Toronto, for technical critique and for providing a copy of Carson Dunlop Weldon & Associates Technical Reference Guide to manufacturer's model and serial number information for heating and cooling equipment ($69.00 U.S.).
Thanks to Scott at SJM Inspect for suggesting this EPA document and for technical editing remarks regarding our air conditioning website, SJM Inspection Service LLC, serves the entire state of CT, sjminspect.com 203-543-0447 or 203-877-4774 5/16/07
Books & Articles on Building & Environmental Inspection, Testing, Diagnosis, & Repair
Our recommended books about building & mechanical systems design, inspection, problem diagnosis, and repair, and about indoor environment and IAQ testing, diagnosis, and cleanup are at the InspectAPedia Bookstore. Also see our Book Reviews - InspectAPedia.
Complete List of Air Conditioning & Heat Pump Design, Inspection, Repair Books at the InspectAPedia Bookstore.
Modern Refrigeration and Air Conditioning, A. D. Althouse, C.H. Turnquist, A. Bracciano, Goodheart-Willcox Co., 1982
Principles of Refrigeration, R. Warren Marsh, C. Thomas Olivo, Delmar Publishers, 1979
"Air Conditioning & Refrigeration I & II", BOCES Education, Warren Hilliard (instructor), Poughkeepsie, New York, May - July 1982, [classroom notes from air conditioning and refrigeration maintenance and repair course attended by the website author]
Refrigeration and Air Conditioning Technology, 5th Ed., William C. Whitman, William M. Johnson, John Tomczyk, Cengage Learning, 2005, ISBN 1401837654, 9781401837655 1324 pages
...