Wet or Corroded Heating or Cooling Ducts
Causes, Health Concerns, Repairs for wet air ducts

InspectAPedia tolerates no conflicts of interest. We have no relationship with advertisers, products, or services discussed at this website.
Air duct leaks, condensation, flooding or wetting = contamination: this article describes Wet or Corroded Heating & Cooling Ducts: Cause, Health Concerns,& Repairs to correct this condition. Rusty metal ducts or corroded HVAC ducts are an indicator of improper and possibly unhealthy conditions in the building as they are almost always associated with unwanted moisture in the duct system. Unwanted moisture in cooling ducts in particular, is an invitation to mold, bacterial, or other pathogens in the duct system and thus in the building air. We point out and include photographs of locations where you can spot unwanted HVAC or cooling system moisture and rust, cite some related health concerns, and discuss ways to avoid duct corrosion or rust. We also offer advice on what to do about rusty ductwork.
Green links show where you are. © Copyright 2015 InspectApedia.com, All Rights Reserved.
Flooded, Wet, or Iced Air Ducts, Causes & Cures for Wet or Corroded Air Conditioning Duct Work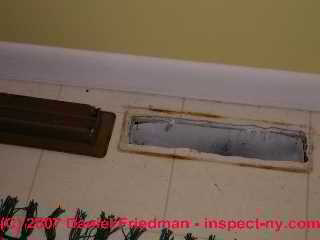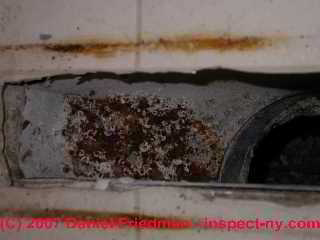 The photo at page top shows a very rusty air conditioning ductwork register, and a careful look into that system of metal duct work, found additional heavy rust in the duct system along with lots of debris. The photographs shown just above are of a less obviously rusty duct system and the rust stains on the vinyl floor suggest that the water in this duct system came from the floor level.
Readers should also see WATER & ICE IN DUCT WORK and see FROST BUILD-UP on AIR CONDITIONER COILS where we describe build-up of ice on the cooling coil in air conditioning air handler units.Also see TRANSITE PIPE AIR DUCTS where we describe flooding of HVAC ductwork in slabs (SLAB DUCTWORK) .
Common Sources of Water or Moisture In HVAC Ducts & Air Handlers
Excessive indoor humidity and its related mold, dust mite, or bacterial hazards may be traced to either a cause or an effect of high moisture inside of an air conditioning system or even heating system duct work or air handler. Here are some common examples:
Excessive indoor humidity traced to wet air ducts caused by high velocity air conditioning system coil condensation blow-off
For years I've been trying to figure out the excessive humidity problem in my home too. I finally found it after working with foundation people, plumbers, a/c techs -- nobody could figure it out, but I finally did. When the cooling kicks on, the moisture level skyrockets. It has affected the inside of my home tremendously. We thought it was the a/c drain. They re-routed it, made sure it was draining well and clear. It is. Leak near or under the foundation. We checked everything-that wasn't it.

What's happening is the fan is actually sucking the moisture out of the evaporator coils before the condensation off the coils can drain away. The design of this Lennox horizontal system in the attic is such that the small space right above and right below the squirrel type fan, creates a venturi effect, increasing the velocity of the air being sucked into the fan.

The velocity of the air is so strong that the coils (about 12 in. away) have the moisture sucked right off of them and into the fan, which, of course is then blown into the ducting. I'm not sure if this is an engineering design problem, if the a/c co. wired the fan to a speed that's too high, or if perhaps a part is missing that is supposed to prevent this.

Regardless, the inside of the unit is now so covered with mildew and mold and the electrical connections on the heating elements as well as all the electrical connections on the inside of the unit, are so corroded and rusted, it's a wonder that love thing works at all. (This also probably explains why sometimes the heat works and sometimes it doesn't. The a/c repair guys have never been able to figure out why. They always seem to think it's the thermostat It's not. It's new and has recently been completely re-wired when I moved it from an outside wall to an inside wall.)

Anyway, that's where MY moisture problem is coming from. Good luck! - Mike / DFW 12/13/2012
Reply:
Mike, gold star to you for good detective work. Like other areas in the Southern U.S., Dallas/Fort Worth experiences seasonal periods of high humidity that can result in an extraction rate of water from building air faster than the design of the air handler and condensate drain system can handle it.
More about dehumidification problems traced to central air conditioning systems can be read at DEHUMIDIFICATION PROBLEMS.

Do you think that the root problem, then, is an improper duct or plenum size or design or a mis-match between blower fan capacity and the HVAC duct system?
Are Rusty, Previously-Wet, Iced, or Dirty Air Conditioning Ducts a Health Concern?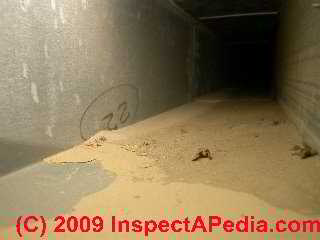 Not necessarily: To avoid inappropriate anxiety on the part of any readers we state up front that it is normal for some dust and debris to accumulate on the inside of heating or air conditioning ducts, and this material is not necessarily a hazard to building occupants.
But when ducts have also been wet, or when ducts are constructed of materials like fiberglass insulation that have been damaged or can't be cleaned, some potential health or respiratory issues may be present, as we discuss further here.
Our flooded air duct photo (above left) shows ductwork with a layer of mud - this home was flooded to a level that included ceiling-mounted basement air ducts. The ducts needed to be cleaned and sanitized.
Soil particles themselves may not be a serious health hazard but area flooding often brings pathogens (such as bacteria or viruses found in sewage) into buildings and can form a serious health hazard. Details are at FLOOD DAMAGE in DUCT WORK.
Rust flakes from rusty heating or air conditioning ducts themselves are unlikely to be much of a health hazard - these particles are pretty big, not easily airborne, and probably won't be found at high levels in indoor air except in unusual circumstances. But rust in ducts is a problem indicator, showing quite clearly that the duct system has been wet.
Dust & normal air duct debris: The chief components of house dust, which will certainly collect within a duct system include fabric fibers and skin cells, often also including starch fragments and other organic debris.
Watch out: The combination of organic debris within a duct system and water (indicated by rusty ducts or duct registers) indicates a possible risk of mold or bacterial hazards within the air conditioning or heating system. Since blowing air through the system can pick up and distribute these hazards to occupants of the building, wet or previously-wet duct work is a potential health hazard to building occupants.
The actual health hazard level from wet or previously wet air conditioning or heating ducts in a building depends on these factors:

The total area of duct or other surfaces that have been wet, including both duct system interior and the interior of the air handler or fan/blower unit and evaporator coil surface
The level of organic debris within the duct system. Our photo (left) illustrates a small wet area in a section of flexible air duct - a problem that should be corrected. But if this is the only wet area it does not itself appear to be a health hazard. Make sure that flexible ductwork is properly supported to avoid collecting condensate in low spots.
The materials used to insulate the duct interior: fiberglass and similar materials form a "sticky" surface that tends to hold debris and also to act as a sponge holding moisture, possibly increasing the risk of mold or bacterial hazards, and not easily cleaned.
The frequency of wet conditions: recurrent wetting obviously increases the risk of pathogens in the duct work, though we've seen significant contamination as a result of a single building flooding event which wet the ducts
The health vulnerability of individual occupants in the building: elderly, immune-impaired, asthmatics, infants, people with allergies, people with COPD or other respiratory illness, are more likely to be bothered sooner by duct contaminants that are produced by wet conditions in the air conditioning or heating system.
What To Do About Rusty HVAC Ducts, Wet or Previously Wet Fiberglass Ducts or Flex-Duct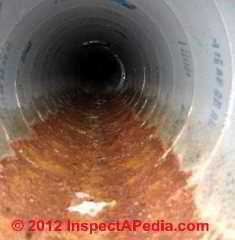 Metal ducts that have been wet but are not severely damaged can and should be professionally cleaned. Be sure that the interior of the air handler is also inspected and cleaned.
Where you observe metal duct system components which are quite corroded, badly corroded materials should be replaced. This should not involve significant expense if only limited sections of readily-accessible duct work are involved.
Leaks into ducts routed through inaccessible building areas or cavities, and leaks into duct work which has insulation, particularly fiberglass insulation, in its interior, (typically fiberglass board), may harbor a mold colony, leading to both significant cleanup costs and potential health concerns.
Fiberglass-lined ducts or flex-ducts which have been wet should be inspected thoroughly, and sections which were wet and/or are particularly soiled should be replaced.
More Reading
Green link shows where you are in this article series.
...
Frequently Asked Questions (FAQs)
No FAQs have been posted for this page. Try the search box below or CONTACT US by email if you cannot find the answer you need at InspectApedia.
Question: considering buying a house with very corroded in-floor rusty ductwork - can we just spray-seal the duct interiors?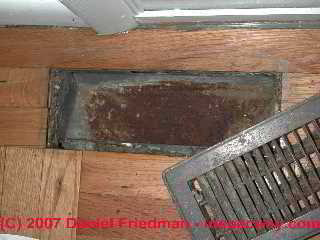 I am considering buying a 20 year old house which has underground ducting serving both refrigerated air and heat.
I had a duct inspection which revealed severely corroded and rusted ducts with some holes through the ducting.
I have heard of a product by the Duct Seal Technologies in which the inside of the ducts are sprayed with a coating of kevlar fibers and some bonding agent. Do you know anything about this process? Thanks, Doug Spence - Spence 6/19/2011
Reply: in-slab HVAC ducts are asking for trouble from flooding, vermin, water, mold, etc.
Spence:
About buried or in-floor HVAC ducts: as we suggest in the article above, even if you could reliably reline your in-ground or under-slab air ducts (and how without a detailed inspection would we know that the re-coating or relining was complete, and that it remained intact?) there remains a concern with radon gas or water leaks into the duct system.
And we are doubtful about the reliability of this approach: spray-on coatings don't bond well to dirty, rusted, corroded surfaces and may fail to seal large penetrations or holes; And even a well-sealed spray-coated in-slab HVAC duct, if subjected to future flooding from ground water or plumbing leaks, or invasion by rodents or other pests, is simply going to have new contamination in its interior.
A better, but usually much more costly and disruptive solution is to eliminate the in-slab ductwork by rerouting it through the building.
If you go ahead with the process I'd recommend first an inspection for evidence of a history of duct flooding, and an annual inspection of the duct condition until you are confident of its dryness and cleanliness.
Also take a look at TRANSITE PIPE AIR DUCTS for more examples of problems with heating or air conditioning ducts found in slabs.
Question: does use of bleach or scented candles corrode our air ducts?
I was told products such as clorox, scented candles and sprays cause corrosion to air and heating lines. Is this true? - June Walker 10/2/11
Reply:
June, it's true that in areas where high levels of chlorine gas are present, such as around indoor swimming pools, corrosion of metal HVAC ducts and even evaporator coils can be a serious problem.
Scented candles? I am very doubtful that in normal use you could put enough corrosive material into the air to affect the ductwork. But indeed use of scented candles can be an indoor air quality problem source for some people such as asthmatics, and the soot deposition on indoor surfaces can be a cosmetic problem as well. (See THERMAL TRACKING & HEAT LOSS).
Question: Mold on ceiling traced to condensation in the ductwork?
I have a condo that the garage is below the living space. My tenant noticed there is mold on the garage ceiling. One of the neighbors said they had the same problem and she had it fixed.
he was told it was condensation in the ductwork. Water was damaging the drywall and leaking downward. Of course, mine is worse. What is causing this? Could this be a problem in the construction? The units may be about 10 years old. - Carol 6/20/12
Reply: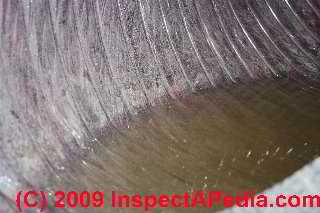 Carol from the very limited information your note alone I can't be confident in a "guess" at what the problem is in your home and can only answer in general. An A/C duct that is not insulated is more likely to produce condensation inside the ductwork than otherwise, especially in humid weather.
Such condensate, if it collects in the ductwork where it does not belong, instead of in the air handler where it is drained away, can wet duct insulation (if there is some), and can leak onto or into building surfaces.
Moldy drywall is best removed and replaced, allowing you also to check to be sure the wall cavity was not also wet (and moldy).
Ask your HVAC service company to inspect the ductwork, fix the cause of condensation, help you decide if the interior of the ductwork needs cleaning AND IF it can be cleaned at all (fiberglass duct interiors don't tolerate cleaning). WHen that problem is cured, then address the rest of the building.
Question: is it ok for a window A/C unit to run continuously for 30 minutes or longer?
Is it ok for a window unit to stay on cooling for 30+ minutes or will this break the unit, see its above 96 degrees all the time outside so its hot hot and since I cleaned the evaporator coils & moved thermostat accidentally I swear it doesn't cut off & on like before but I just don't want damage to unit and also coils were dirty before so maybe that's why it cycled quicker then anyway please help - Christie 7/25/12
Reply:
Christie,
Under normal conditions (that is for example no abnormal electrical voltage levels, proper wiring and installation) a window air conditioner could run continuously, 24-hours a day, without damage to the equipment itself. Of course if the air filter becomes debris-clogged and is not cleaned the system efficiency and effectiveness will decrease, and of course your electric bill will reflect that continued operation.
See WINDOW / WALL AIR CONDITIONERS for details.
...
Ask a Question or Search InspectApedia
Questions & answers or comments about the cause, detection, effects-of and cures for wet, flooded, or water contaminated ductwork.
Use the "Click to Show or Hide FAQs" link just above to see recently-posted questions, comments, replies, try the search box just below, or if you prefer, post a question or comment in the Comments box below and we will respond promptly.
Search the InspectApedia website
Technical Reviewers & References
Publisher's Google+ Page by Daniel Friedman
Click to Show or Hide Citations & References
Thanks to Mark Cramer, Tampa Florida, for assistance in technical review of the "Critical Defects" section and for the photograph of the deteriorating gray Owens Corning flex duct in a hot attic. Mr. Cramer is a Florida home inspector and home inspection educator.
Thanks to Jon Bolton, an ASHI, FABI, and otherwise certified Florida home inspector who provided photos of failing Goodman gray flex duct in a hot attic.
Air Diffusion Council, 1901 N. Roselle Road, Suite 800, Schaumburg, Illinois 60195, Tel: (847) 706-6750, Fax: (847) 706-6751 - info@flexibleduct.org - www.flexibleduct.org/ -
"The ADC has produced the 4th Edition of the Flexible Duct Performance & Installation Standards (a 28-page manual) for use and reference by designers, architects, engineers, contractors, installers and users for evaluating, selecting, specifying and properly installing flexible duct in heating and air conditioning systems.
Features covered in depth include: descriptions of typical styles, characteristics and requirements, testing, listing, reporting, certifying, packaging and product marking.
Guidelines for proper installation are treated and illustrated in depth, featuring connections, splices and proper support methods for flexible duct. A single and uniform method of making end connections and splices is graphically presented for both non-metallic and metallic with plain ends."
The printed manual is available in English only. Downloadable PDF is available in English and Spanish. 
Owens Corning Duct Solutions - www.owenscorning.com/ductsolutions/ - provides current HVAC ductwork and duct insulating product descriptions and a dealer locator. Owens Corning Insulating Systems, LLC, One Owens Corning Parkway, Toledo, OH 43659 1-800-GET-PINK™
"Flexible Duct Media Fiberglas™ Insulation, Product Data Sheet", Owens Corning - see owenscorning.com/quietzone/pdfs/QZFlexible_DataSheet.pdf
"Owens Corning Flexible Duct Media Insulation is a lightweight, flexible, resilient thermal and acoustical insulation made of inorganic glass fibers bonded with a thermosetting resin."
Modern Refrigeration and Air Conditioning, A. D. Althouse, C.H. Turnquist, A. Bracciano, Goodheart-Willcox Co., 1982
Principles of Refrigeration, R. Warren Marsh, C. Thomas Olivo, Delmar Publishers, 1979
"Air Conditioning & Refrigeration I & II", BOCES Education, Warren Hilliard (instructor), Poughkeepsie, New York, May - July 1982, [classroom notes from air conditioning and refrigeration maintenance and repair course attended by the website author]
Refrigeration and Air Conditioning Technology, 5th Ed., William C. Whitman, William M. Johnson, John Tomczyk, Cengage Learning, 2005, ISBN 1401837654, 9781401837655 1324 pages
Carson, Dunlop & Associates Ltd., 120 Carlton Street Suite 407, Toronto ON M5A 4K2. (416) 964-9415 1-800-268-7070 info@carsondunlop.com. The firm provides professional home inspection services & home inspection education & publications. Alan Carson is a past president of ASHI, the American Society of Home Inspectors. Thanks to Alan Carson and Bob Dunlop, for permission for InspectAPedia to use text excerpts from The Home Reference Book & illustrations from The Illustrated Home. Carson Dunlop Associates' provides:

Commercial Building Inspection Courses - protocol ASTM Standard E 2018-08 for Property Condition Assessments
Home Inspection Education Courses including home study & live classes at eleven colleges & universities.
Home Inspection Education Home Study Courses - ASHI@Home Training 10-course program.
Special Offer: Carson Dunlop Associates offers InspectAPedia readers in the U.S.A. a 5% discount on these courses: Enter INSPECTAHITP in the order payment page "Promo/Redemption" space. InspectAPedia.com editor Daniel Friedman is a contributing author.
The Home Reference Book, a reference & inspection report product for building owners & inspectors.
Special Offer: For a 10% discount on any number of copies of the Home Reference Book purchased as a single order. Enter INSPECTAHRB in the order payment page "Promo/Redemption" space. InspectAPedia.com editor Daniel Friedman is a contributing author.
The Home Reference eBook, an electronic version for PCs, the iPad, iPhone, & Android smart phones.
Special Offer: For a 5% discount on any number of copies of the Home Reference eBook purchased as a single order. Enter inspectaehrb in the order payment page "Promo/Redemption" space.
The Illustrated Home illustrates construction details and building components, a reference for owners & inspectors.
Special Offer: For a 5% discount on any number of copies of the Illustrated Home purchased as a single order Enter INSPECTAILL in the order payment page "Promo/Redemption" space.
The Horizon Software System manages business operations,scheduling, & inspection report writing using Carson Dunlop's knowledge base & color images. The Horizon system runs on always-available cloud-based software for office computers, laptops, tablets, iPad, Android, & other smartphones.

Carson Dunlop, Associates, Toronto, have provided us with (and we recommend) Carson Dunlop Weldon & Associates' Technical Reference Guide to manufacturer's model and serial number information for heating and cooling equipment
Special Offer: Carson Dunlop Associates offers InspectAPedia readers in the U.S.A. a 5% discount on any number of copies of the Technical Reference Guide purchased as a single order. Just enter INSPECTATRG in the order payment page "Promo/Redemption" space.

...
Books & Articles on Building & Environmental Inspection, Testing, Diagnosis, & Repair
The Home Reference Book - the Encyclopedia of Homes, Carson Dunlop & Associates, Toronto, Ontario, 25th Ed., 2012, is a bound volume of more than 450 illustrated pages that assist home inspectors and home owners in the inspection and detection of problems on buildings. The text is intended as a reference guide to help building owners operate and maintain their home effectively. Field inspection worksheets are included at the back of the volume. Special Offer: For a 10% discount on any number of copies of the Home Reference Book purchased as a single order. Enter INSPECTAHRB in the order payment page "Promo/Redemption" space. InspectAPedia.com editor Daniel Friedman is a contributing author.

Or choose the The Home Reference eBook for PCs, Macs, Kindle, iPad, iPhone, or Android Smart Phones. Special Offer: For a 5% discount on any number of copies of the Home Reference eBook purchased as a single order. Enter INSPECTAEHRB in the order payment page "Promo/Redemption" space.