Subcooling

Definition, measurement, use of subcooling in HVACR
InspectAPedia tolerates no conflicts of interest. We have no relationship with advertisers, products, or services discussed at this website.
Subcooling:
Discussed here
We also provide a MASTER INDEX to this topic, or you can try the page top or bottom SEARCH BOX as a quick way to find information you need.
Defintion of Subcooling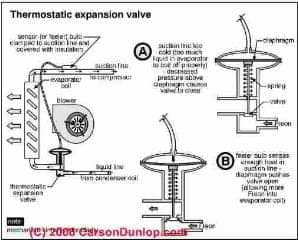 This article discusses and defines subcooling, a term used in refrigeration, air conditioning, and heat pump design, installation, & repair.
[Click to enlarge any image] Schematic of a thermostatic expansion valve courtesy of Carson Dunlop Associates.
Definition of Subcooled Refrigerant
A sub-cooled liquid refrigerant is at a temperature below (colder-than) the temperature at which the refrigerant would evaporate ("boil" or change from a liquid refrigerant to a gas - also called the refrigerant saturation temperature).
Subcooling is defined as the difference between condensing pressure/temperature and liquid temperature at the expansion valve inlet.
Subcooling of the refrigerant is necessary to avoid vapour bubbles in the refrigerant ahead of the expansion valve. Vapour bubbles in the refrigerant reduce capacity in the expansion valve and thereby reduce liquid supply to the evaporator. ubcooling of 4-5K is adequate in most cases. - Danfoss (2005)
Measurement of Subcooling
Subcooling is measured in Kelvin (K) or °C.
Subcooling temperatures are measured on the refrigerant line just ahead of (supplying refrigerant into) the TEV.
Subcooling is measured in degrees of temperature (on any scale) and can be defined as the difference in temperature degrees between the liquid refrigerant's saturation temperature and the current or actual liquid refrigerant temperature.
Higher subcooling temperatures of a liquid refrigerant mean a more efficient HVACR system operation beause more heat is being removed per unit volume (or unit weight) of refrigerant circulating in the system.
Thus some HVACR technicians measure subcooling to take a look at the operating efficiency of the system and to compare it with the manufacturer's specifications. Higher subcooling numbers mean that the equipment will have to run less time to adequately cool the area being refrigerated or air conditioned.
Lower or too-low subcooling temperatures risk accidental conversion of liquid refrigerant to gas state within the piping system before it reaches the refrigerant metering device (capillary tube or thermostatic expansion valve (TEV)), reducing the efficiency of the system and possibly interfering with the proper operation of the TEV. - adapted from Emerson Climate Technologies (2005)
Danfoss (2005) TEV fitters notes provides details about subcooling on HVACR equipment, from which we quote this excerpt:
...
Continue reading at DEFINITION of HEATING, COOLING & INSULATION TERMS - home, or select a topic from closely-related articles below, or see our complete INDEX to RELATED ARTICLES.
Or see BLEVE EXPLOSIONS for a dramatic example of the effects of superheat when a water heater explodes.
Or see REFRIGERANT PRESSURE READINGS & CHARTS - home
Or see THERMOSTATIC EXPANSION VALVES, REFRIGERANT
Or see these
Related Cooling & Heating Definitions
Suggested citation for this web page
SUBCOOLING DEFINITION at InspectApedia.com - online encyclopedia of building & environmental inspection, testing, diagnosis, repair, & problem prevention advice.
Or use the SEARCH BOX found below to Ask a Question or Search InspectApedia
...
Frequently Asked Questions (FAQs)
Try the search box below or CONTACT US by email if you cannot find the answer you need at InspectApedia.
Reader comments:
(June 30, 2011) James Wrobel said: This is an extremely useful article. Well done.
(July 18, 2011) rhomz said: thankz for this article,i have learned a lot
(July 19, 2011) Ervin Berrios said: Thanks guys, this explanation is very helpfull to me, as I'm learning and working in AC in residential. Now I have a very reliable information to provide to my customers
(Sept 13, 2011) George Martinez said: Thank you very informative article.
Reply:
Ervin and others, thanks for the nice notes. We welcome questions and critique - together we're smarter than anybody alone.
Question:
(Mar 4, 2012) Dangeh said:
Hi..What to do if icing at TEV,HP and LP in normal working pressure
Question:
(July 1, 2012) Ruth F said:
Home AC unit began rapid on/off cycling. Unit is a Bryant 5 ton about 5 years old with no prior problems. Repairman removed 2# of Puron refrigerant and unit operated fine again. Did he fix the cause of the problem or merely treat a symptom which may recur at a future time? Could there be a TEV problem or coil clog?
Question:
(Dec 11, 2012) Ralph said:
We are looking at purchasing a grocery store. The store has a new refrigeration system and cases. The one of the expansion valves feeding a row of reachin cases has a screaming sound. Do you have ideas as to this problem?
Reply:
Ralph, most likely the TEV is screaming in distress as refrigerant flows through a partly obstructed or dirt clogged or iced valve. If the refrigerant charge is correct and the problem continues I expect your service tech will replace the valve.
Question:
(Dec 21, 2012) Mohd. Anwar Hyd India said:
Hi In 11Tr DX model 2 Circuits In UPS Room In 1 circuit ice formation from suction line Circuit 1 LP Press 56 HP Press 240 & Circuit 2 LP Press 50 HP Press 245 Compresser is ZR72 Scroll is working normal in Indoor motor & Belts is ok how adjustment expansion valve Please advise me thanks with Regards.
Question:
(Apr 1, 2014) Richard said:
can a metering cap be changed out?
Reply:
Richard, IF I understand the question correctly you're asking if some TEVs have replaceable parts. Yes. Else the whole TEV is replaced.
If you are asking if the capillary tube (which is a simpler refrigerant metering device than a TEV) can be replaced, also yes - it's a cut and braze job plus some more work to evacuate, then re-fill, and clean the system refrigerant piping system.
Question:
(Apr 26, 2014) Anonymous said:
sir, we have facing problem of compressor trip on High pressure condenser coil is clean,drier is ok so can we adjust the expansion valve setting pl.suggest.
Reply:
Sorry Anon I don't have enough information about what you mean by "compressor trip on high pressure" - I suppose if the expansion valve is defective, jammed, dirty then that might cause an improper pressure balance but there are other possible explanation such as a compressor motor failure or voltage problem that need to be considered.
Question:
(Apr 29, 2014) Stephen Moore said:
We have 2 ac units in a brand new house. Within 10 days of moving in, both units froze and the repairmen said the expansion valves needed to be replaced on both units. The system ran for a week and one unit froze again with the same issue. The repairman ordered another expansion valve.
These are brand new units and I find it odd that we had 3 valves fail already. Is there another issue that may be going on with the units that is causing the valves to fail?
Reply:
You're right to question authority on HVAC, though they could indeed be perfectly correct, it's likely there's more to the story.
Other causes of freeze-up that might lead to replacing all the TEVs would be
- dirt in the system messing up the expansion valve operation.
- batch failures: my invented term for a production run of a part that repeats the same mistake in manufacture, so all or many of the parts made at the same time all fail
- There are other possible causes of freeze-up: a fan failure, too-slow air movement, wrong filter, constructed ductwork, inadequate return air, low refrigerant charge.
If nothing else was changed when the TEVs were replaced and if the system has continued to work since then, that's a vote for having made the right repair. I'd hope that the repair also included replacing the refrigerant filters in the system at the same time.
Question: selecting the proper thermostatic expansion valve
(June 19, 2014) Philip said:
how do i get the right expansion valve to mentain (+5 temp.) on the surface of my evaporator
Reply:
Philip you can bring your specifications to your HVAC supplier; some TEVs are adjustable for fine tuning as well.
Danfoss (2005) points out that there are the following data points that go into selecting the proper TEV:
Refrigerant gas used
Evaporator capacity
Evaporating pressure
Condensing pressure
Subcooling temperature requirements
Pressure drop across the TEV
Internalor external refrigerant pressure equalization requirements
Each of the manufacturers of Thermostatic Expansion Valves provides catalogs of TEV models, features, specifications, and intended applications. at THERMOSTATIC EXPANSION VALVES, REFRIGERANT and in the REFERENCES of that article we list some sources of TEV manufacturers offeringcopies of TEV catalogs and specifications and installation or repair guides. .
Question: how to solder TEVs or TXVs on HVAc equipment
Bubs said:
Can you solder 95/5 on txv's in leu of silfos?
Reply:
Bubs
If you take a look at the solder sold by companies who provide TEVs (thermostatic expansion valves) used on HVACR equipment, such as Danfoss, you'll see that only two types are even listed: 15% silver and 45% silver solder brazing rods.
Keep in mind that silver brazing is much stronger than lead or tin soldering of copper and that it is done at a higher temperature - your ordinary LP tank soldering or even MAPP soldering tools are not hot enough. We use acetylene.
Question: definition of "TXV" or Thermostatic Expansion Valve or Reversing Valve
(Oct 9, 2014) DODOU NJIE said:
BOTTOM OF COMPRESSOR TOO COLD
WITH CONDENSATION ON THE OUTSIDE OF THE
COMPRESSOR.
(Oct 25, 2014) Anonymous said:
I have Rheem AC/HEAT PUMP.The cooling mode works fine,but the Heat Mode won;t provide heat. Could the problem be the TEV and/or Reversing Valve?
(Oct 25, 2014) Anonymous said:
What is TXV?
Dick
(Jan 28, 2015) Anonymous said:
Henry.what is thermostatic expansion valve

Reply:
Anon, the reversing valve is a good guess.
Dick, if you refer to TEV that's short for thermostatic expansion valve. Some may write it TXV

Henry
The thermostatic expansion valve or TEV is described in the article above. Please take a look and then let me know if the article is unclear.
A reversing valve is a different component: this valve reverses the direction of flow of refrigerant in an HVAC system such as a heat pump, permitting change between cooling mode and heating mode.
Ask a Question or Search InspectApedia
Questions & answers or comments about refrigeration controls: TEVs, AEVs, Capillary Tubes, Float Valves, & Other Refrigerant Controls
Try the search box just below, or if you prefer, post a question or comment in the Comments box below and we will respond promptly.
Search the InspectApedia website
Technical Reviewers & References
Click to Show or Hide Citations & References
Danfoss Thermostatic Exansion Valves, Type TE / TE2, Danfoss Refrigeration & Air COnditioning Division, Danfoss Ltd., Oxford Rd., Denham, Bucks UB9 4LH, UK, Tel: 0879 241 7041, Email: uk.refrigeration.sales@danfoss.com Website: www.danfoss.co.uk - retrieved 8/31/2014, original source op cit.
Danfoss Thermostatic Expansion Valves, Fitters Notes, RZ1AH202 → DKRCC.PF.A00.A1.02 / 520H0337, Danfoss A/S (2005),
Sporlan Thermostatic Expansion Valves Identification [Guide], Bulletin 210-60 (1994), Danfoss Refrigeration & Air COnditioning Division, Danfoss Ltd., Oxford Rd., Denham, Bucks UB9 4LH, UK, Tel: 0879 241 7041, Email: uk.refrigeration.sales@danfoss.com Website: www.danfoss.co.uk - retrieved 8/31/2014, original source op cit.
[1] "Thermostatic Expansion Valve Installation Instructions", Singer Controls Division, Schiller Park IL, 1979 parts brochure
[2] Christopherson, Norm, "Preventing Premature Compressor Failures, An Ounce of Prevention for Years of Service", web search & reader TN Goose referral, 08/12/2011, original source: http://www.hvacfun.com/a-once-prevent-years-service-comps.htm
Emerson Climate Technologies, "Quick Facts: Superheat and Subcooling", (2005) Flow Controls Division of Emerson Climate Technologies (formerly Alco Controls), Website: www.emersonclimatecontractor.com, retrieved 7/22/2014, original source http://www.achrnews.com/articles/quick-facts-superheat-and-subcooling
Books & Articles on Building & Environmental Inspection, Testing, Diagnosis, & Repair
Our recommended books about building & mechanical systems design, inspection, problem diagnosis, and repair, and about indoor environment and IAQ testing, diagnosis, and cleanup are at the InspectAPedia Bookstore. Also see our Book Reviews - InspectAPedia.
Complete List of Air Conditioning & Heat Pump Design, Inspection, Repair Books at the InspectAPedia Bookstore.
Modern Refrigeration and Air Conditioning, A. D. Althouse, C.H. Turnquist, A. Bracciano, Goodheart-Willcox Co., 1982
Principles of Refrigeration, R. Warren Marsh, C. Thomas Olivo, Delmar Publishers, 1979
"Air Conditioning & Refrigeration I & II", BOCES Education, Warren Hilliard (instructor), Poughkeepsie, New York, May - July 1982, [classroom notes from air conditioning and refrigeration maintenance and repair course attended by the website author]
Refrigeration and Air Conditioning Technology, 5th Ed., William C. Whitman, William M. Johnson, John Tomczyk, Cengage Learning, 2005, ISBN 1401837654, 9781401837655 1324 pages
Asbestos HVAC Ducts and Flues field identification photos and guide
Fiberglass: Indoor Air Quality Investigations: Fiberglass in Indoor Air, HVAC ducts, and Building Insulation
...
Publisher InspectApedia.com - Daniel Friedman