Cooling Coil or Evaporator Coil Ice-up or Frost Over
in Air Conditioners or Heat Pumps
POST a QUESTION or READ FAQs about the causes, effects, and cures of icing or frost formation on the air conditioner or heat pump cooling coil
InspectAPedia tolerates no conflicts of interest. We have no relationship with advertisers, products, or services discussed at this website.
Cooling coil ice & frost formation diagnosis & cure in the air conditioner or heat pump; refrigerant piping line frost causes & remedies.
Diagnose & fix ice or frost blockage of the cooling coil or evaporator coil in an air conditioning / heat pump system. We explain the causes of cooling coil ice formation and blockage. Some of these causes can be repaired by something as simple as changing a dirty air filter or cleaning a dirty coil or blower fan.
This article series explains the causes & cures for evaporator coil icing: the problems of ice and frost formation in air conditioning system air handler units, blower units, or AHU's, duct work, or other air conditioning system components. A freezing or frosted A/C coil blocks air flow and leads to loss of cooling. Our page top photograph of a thoroughly ice-blocked air conditioner evaporator coil was contributed by a reader who described: "I cleaned the coils & installed a new filter - obviously I have a low refrigerant problem. This is an 11 year old furnace/air handler with no history of other problems, but low on Freon."
We also provide a MASTER INDEX to this topic, or you can try the page top or bottom SEARCH BOX as a quick way to find information you need.
Causes of Ice or Frost Build-up on the Evaporator Coil or Refrigerant Suction Line on an Air Conditioner or Heat Pump System

Discussed in this article: Frost or ice build-up on evaporator coils and its effect on cool air flow and mold: Freezing AC coils; Frost or ice formation at air conditioning compressor/condenser units; Ice and condensate problems in air conditioning duct work, why it forms, how bad it can get, how to prevention.
Page top photo of an iced-up air conditioning evaporator coil are courtesy Guy Benfante.
[Click to enlarge any image]
An air conditioning system will not operate properly and will lose cooling capacity if the evaporator coil becomes blocked with frost or ice. Even though there is all that iceOn the evaporator coil the cool air flow out of the system will be reduced as air flow across the coil becomes less and less as the ice area grows.
Our photo (left) of ice formation on refrigerant piping and on the thermal expansion valve in an air conditioner air handler unit was contributed by reader Bill Cauthen.
Article Contents
Cooling Coil Ice-Up on the air conditioner air handler or evaporator coil: Besides a reduced air flow through the HVAC system, a second result of the reduced air flow due to a dirty air conditioning filter can cause the evaporator coil (the cooling coil) in the air handler to become blocked by ice, stopping or significantly reducing cool air output from the system.

A visual inspection of the cooling coil in the air handler can quickly show whether or not it's ice-covered. If the coil is iced-up and blocked, turn off the cooling system entirely until the ice has all evaporated and cleared. Be sure that your condensate drain is not blocked and that the water from melting ice will be properly disposed-of.

If you replace all dirty filters on the system and remove ice from an iced coil and the coil ices up again when the system is turned back on, your AC or heat pump system has a frost problem that needs repair.
Why Frost or Ice Forms on an Evaporator Coil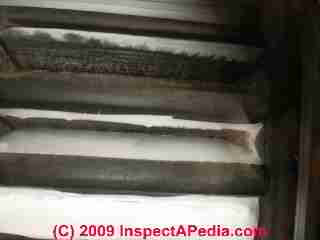 Frost line on the cooling coil: When liquid refrigerant enters the evaporator coil temperatures may be as low as 10 degF at that point - that is at the top of the coil at the point of refrigerant entry. In normal operation of a refrigeration system, air movement across the evaporator coil provides enough warmth that frost or ice do not form on the coil.
In fact, as one sees in a refrigeration class, releasing liquid refrigerant into a coil over which air is not being blown will quickly result in frost formation on the coil surfaces, beginning at the point of entry of refrigerant into the coil.
At the point on the cooling coil (with no air blowing across it) where no more frost forms on the coil, we know that there is no more liquid refrigerant in the coil. That is, at this point in its travel through the cooling coil all of the liquid refrigerant that has been introduced has boiled (evaporated) to a gas. Now as all vapor, the refrigerant begins to absorb sensible heat and its temperature will increase. There are pressure increases at this point in the coil too, but they are insignificant.
In a refrigeration class demonstration, we learn that one could, given no other data, determine the proper refrigerant charge or better, the proper adjustment of an adjustable refrigerant metering device (Thermostatic expansion valve) by adjusting the refrigerant flow rate into the coil so that the frost line stops just before the end of the coil.
Normal cooling of building air at the cooling coil: In normal operation an air conditioning system is cooling air by moving it across a refrigerant-cooled "evaporator coil" or "cooling coil" in the air handler.
Dehumidification at the cooling coil: Cooling air passing over the coil also removes moisture from that air - a key factor in making indoor air comfortable in hot weather. (Photo at left of an iced-up cooling coil courtesy of Bill McNeill.)
Normally the moisture that's removed from building air forms condensate on the surfaces of the cooling coil, runs down that surface to a collector pan, and is drained away. [CONDENSATE HANDLING discusses disposing of air conditioning condensate.]
Why frost or ice forms on a cooling coil in an active or in-use air handler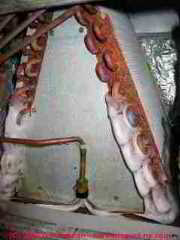 The air flow is too slow or has completely halted across the cooling coil. The cause of this problem could be as simple as a dirty air filter or it could be crimped, disconnected ductwork or even improperly-sized ductwork.
The refrigerant is not being metered properly into the cooling coil, (too little is being released). A clogged capillary tube or a frozen, dirty, stuck thermostatic expansion valve can cause this trouble.

Watch out: adding refrigerant to "fix" this problem by raising the compressor head pressure will indeed force more refrigerant through the system.

But if/when that piece of crud blows out of the metering device too much refrigerant will flow back to the compressor, slugging it, perhaps destroying it when liquid refrigerant reaches the compressor internal parts.
See REFRIGERANT METERING DEVICES TEVs & EEVs
and
REFRIGERANT METERING CAPILLARY TUBES
Any or all of those conditions cause the level of refrigerant in the cooling coil to be too low; if there is some refrigerant but not enough the coil may become abnormally cold, freezing the condensate that forms on the cooling coil surface as moisture condenses out of air moving across the coil. This freezing condensate liquid can form frost and may build up into a coil icing problem or frost may appear on the cooling coil's refrigerant suction line.
When the surface of a cooling coil or suction line drops below 32 degF (say from too little refrigerant in the system or too little flow of warmer air across the cooling coil) frost formation is likely on that surface. Conversely, when the air conditioning system is working properly the surface temperatures on the cooling coil and on the refrigerant lines stay above 32 degF.
In some installations the evaporator coil tend want to drop below 32 F even in normal operation, but air movement across the coil keeps its temperature higher, and thus avoids freezing. On some commercial refrigeration or air conditioning systems where lower temperatures are common, a defrost cycle is designed into the equipment.
If an icing problem is occurring on commercial cooling systems, in addition to checking the refrigerant charge and air flow, the service technician will also check out the defrost cycle timer.
Reader Question: poor cooling traced to iced coil traced to dirty air filter
Our problem began with a poorly performing unit. The Ice only formed after the visit by a licensed hvac tech
recommended by our ins. co. who wanted to install a completely new system.
I discovered the ice this A.M. and on climbing into the attic to check the coil I found the thermostat control cable had been intentionally crimped in an attempt to break the wire inside. It's an old unit but now I'm on my own trying to eke out the truth. BTW the tech never mentioned the possibility of a dirty filter. It was covered completely with dust. Hopefully the coil is dirt free since there is no access. - Jim 5/29/11
Reply:
Jim:
too bad your service tech missed the clogged filter - you might want to mention to him or her that that's what you found - it might help another customer.

I wouldn't assume the tech tried to sabotage your system, more likely it was someone without experience. Unfortunately it's too easy to recommend replacement of equipment when some careful diagnosis might be what should be done first.
Question: will a wet air filter block airflow and cause coil icing?
(May 14, 2014) Anonymous said:
If air filter gets wet does it block air flow causing frost to build up on coils?
Reply:
Anon
Yes a wet air filter will severely block air flow,
Watch out: and worse, if the filter is located where it may be drawn into the air handler where it encounters moving parts it would be an unsafe condition, even risking a fire.
Reader Question: Low Refrigerant & Coil Icing: cooling coil icing & bubbles in the refrigerant sight glass:
(Aug 5, 2012) Rob C said:
Hi, AC just stopped cooling (2 year compressor / condenser unit). Tech said freon very low. Charged system with 6 lbs of R22, checked quickly for obvious leaks and left. The site glass indicator had a solid flow of Freon with micro bubbles. Noticed that the larger suction line never got cold. The smaller liquid line was warm for a short while. AC vent air was never cool and less than 24 hours, the glass indicator shows low freon (gurgling - large bubbles) and the evaporator coil freezes. Do not notice any obvious oil leaks. Can a compressor be the source of a freon leak and prevent the large suction line to never get cold to the touch?
(Sept 1, 2012) juan said:
I added R-22 2lb 4 days ago, now it is doing the same, coil is frozen up all the way to the suction line at the outdoor unit.
my question is if there is leak in the system or restriction in the liquid line, or air flow problem besides a leak in the system, replaced air filter, indoor fan motor seems that it is not running properly,but the fan capacitor is okay.
(Sept 7, 2012) mike said:
the small capillary lines are freezing up on mine....just like the pic at he top,,,they freeze almost instantly when the system is tuned on..just seems to be the small lines where they split at the joint at the larger line....any suggestions?? thanks in advance
Reply: low refrigerant can cause ice or frost on the coil
Rob bubbles in the sight glass and gurgling usually means low refrigerant. If the tech gave the system a full-up charge then you've got a big refrigerant leak.
The compressor motor is hermetically sealed on most residential systems - not likely that that can is leaking - if it were you'd see oil deposits at a seam or fitting.
Reader Comment: control board error may cause cooling coil icing
(July 24, 2012) rhansen79@yahoo.com said:
Another cause of icing is the control board not sending the signal to the compressor to shut down meanwhile the blower has soppped and the louvers has closed. Replace the control board or install a new seperate thermostat
Thanks so much Mr. Hansen for your important contribution to the diagnosis & repair of coil icing. Use the CONTACT US link at page top or bottom if you are a professional in the field nad if you want want to provide listing & contact information. No costs or fees are involved.
Question: frozen pipe outside my air conditioner unit - bad switch not lost freon?
Pipe frozen at outside unit and the inside unit would stop running but the outside unit would continue to run. I made an appointment for service. The tech came out and checked my freon level, he said it was fine and suggested that my problem may be the compressor. I told him that I was out of town all week and did not notice any problem before I left. He then told me that severe weather came through the area a few days prior and I should call my insurance agent to file a claim. The insurance agent sent someone out to check it. This turned out to be another heating and air company.
This guy said that the freon levels were good but switch needed to be replaced. He replaced it but three weeks later I have the same problem and have no idea what to look at myself to see what the problem could be. My air filter is new. Both units come on and off together. No registers are closed. I checked for dirty coils outside then went into the attic, up there the coils had frost on them hours after I shut everything down. - Jason 7/30/11
I have the same problem as Jason, only it is intermittent (once every two weeks or so). Ha,ve had two contactors(?) replaced since last year. What can I tell repairman to test next? - Jackie 8/2/11
Reply:
Jason if your inside unit (air handler, cooling coil, blower fan) stops running, I'm not clear how a bad outdoor compressor would make the inside air handler unit stop. A bad switch can be the culprit and sometimes even a replacement part can be bad, or the conditions that burned up the first switch could burn up the second one, indicating that more careful testing and diagnosis to find a root cause are needed.
Jackie, I would be careful not to be too directive to the repairman; but I would press for an explanation of why the same part keeps being replaced; it's natural to suspect that a different problem is damaging the part that's being swapped out.
Question: icing on the outside condenser
(Oct 1, 2012) jb said:
my outside condenser keeps freezing up with ice, i cleaned the coils in the outside unit and the attic unit, i can feel strong air coming out of vents but not very cold. when i turn the fan on for about an hour or two the ice is melted outside on the condenser and lines and blows real cold air, however the ice formation occurs daily about mid afternoon and thermostat just stays at 75 degrees, then i turn the fan on again to defrost.
also has new air filter and electric bill is through the roof
Reply:
Strong but not cool air flow argues that the problem is not a blocked coil, but possibly a wrong refrigerant charge or a compressor or refrigerant metering problem
Question: new 5G Coil was encased in ice as was the refrigerant piping - humidity sensor was bad
(Feb 21, 2013) Angelica said:
The new 5G coil was encased in ice and well as the indoor and outdoor pipes. After shutting system off and letting it thaw, it was determined that the sensor that reads the humidity was bad and the tech stated the unit was continuously running trying to de-humidify and that caused the freezing. New sensors were to be ordered. Ie. The freon levels were good. Please give your opinion. Thanks.
(May 5, 2014) jhun said:
what happened the compresor is always backfrost
Reply:
The risk, if that's what you are asking, is the movement of liquid refrigerant into the compressor - which can destroy it.
Air Conditioner or Heat Pump Cooling Coil Articles
...
Continue reading at FROST / ICE IMPACT on A/C or select a topic from closely-related articles below, or see our complete INDEX to RELATED ARTICLES below.
Or see REPAIRS for FROST / ICE on COIL
Or see AIR HANDLER / BLOWER UNITS - home
Suggested citation for this web page
FROST BUILD-UP on AIR CONDITIONER COILS at InspectApedia.com - online encyclopedia of building & environmental inspection, testing, diagnosis, repair, & problem prevention advice.
Or use the SEARCH BOX found below to Ask a Question or Search InspectApedia
...
Frequently Asked Questions (FAQs)
See COOLING COIL / EVAPORATOR COIL REPAIR FAQs
Also see REFRIGERANT DIAGNOSTIC FAQS
Reader comments & kudos
(July 29, 2011) Henry said: Thank you so much for this web site and your detailed information.
(May 29, 2011) Don said: Great article! Takes some of the "mystery" out.
(May 24, 2011) Bahi said: Information is very valuable We hope to be in the hands of every technician...Thanks
(May 23, 2011) Cnoel said: Great work on the information for cooling freeze-up problems and ways to handle the varies causes.
(Apr 26, 2011) Ali said: Thanks, this was very helpful!
(May 25, 2012) Danny said: This article/s had helped me a lot in understanding the probable cause of my icing evaporator which causes the unit to stop working correctly, especially this hot, hot remaining summer days in the Philippines. Our service provider will be here very soon. Thanks a lot!
(July 5, 2012) Anonymous said: very good detailed information best on the inter net thanks
Question: What causes ice to form on the cooling coil in an air conditioner or heat pump?
(Aug 1, 2012) Walter Czerwinski said: I would appreciate help with this problem
the unit get frozen,cleaned, freon ok,could it be the compressor/ - Anon 6/6/11
how often is the compressor the problem with icing - Anon 6/6/11 -
My friends condensor coil is iced up and his house is warm. The outside temp is 89. What can be the cause and if we run a hose on the coil will it help the problem by melting the ice ? - Jack Christian 7/8/11
I have a small haier air conditioner window until, you can open it right up in the front and see all the exposed ice. What would most likely be the problem and how could I find it to fix it? - Brianna Shollenberger 7/8/11
The article has cleared some doubts which I had since a long time. As I understand now, likely causes of ice formation are unclean filter/coil, incorrect amount of refrigerant, or thermostat not working properly. Hope this helps to solve problem I have been having with our bedroom AC. Ice starts forming if I set the temperature to 24 degrees centigrade, or less. Without cooling, the room temperature is around 30 degrees. - Ramesh Chopra 7/17/2011
(May 23, 2012) tina said:
Air conditioning will not work. Frozen coils. Have defrossted unit inside and outside, replace the air filter and cleaned the outside unit. Outside unit fan is working fine. No air being blowing into the house, except when I turn on the heater. Then the air continues to blow. Need advice as what to do to get it to continue blowing when the ac is on.
Reply: the most common causes of ice formation in the air conditioner are:
I suggest going through the text above, then ask us a specific question and well be glad to do our best to help.
Ice formation inside the equipment on the coils or refrigerant metering devices is not a normal operating condition, but it's a common defect often traced to
Any problem that has stopped or reduced air flow through the system, such as a dirty air filter or crimped or disconnected air ducts. Collapsed or crimped air ducts, collapsed duct interior insulation, a closed duct damper, closed supply registers, or a dirty blower fan in the air handler unit, even a mis-wired thermostat or bad system control board can also cause reduced or halted air flow. Find and fix the air blockage.
Low or lost refrigerant - can cause evaporator coil icing because of abnormally low pressures on the low side of the cooling system. Often this condition deteriorates to no more coil icing and no cooling whatsoever as the refrigerant leak continues and eventually there is just little or no refrigerant gas left in the system. Find and fix the leak and recharge the system.
A refrigerant metering device problem such as a dirty or mi s-adjusted thermal expansion valve or a partly-blocked capillary tube. Dirt in the system, compressor oil circulating into a capillary tube, and ice on the TEV can cause these problems as well.
Please review the more extensive description of causes & cures for ice formation in the article above
If a cooling coil or other components inside the air handler or air conditioner is freezing up the cause needs to be found and fixed; Iced coil means less or no air flow across the coil - it stops working. That's why the indoor temperature creeps up and why air flow is further reduced in the system.
A small amount of frost found on the refrigerant lines right at the uninsulated line at the entry to the cooling coil and sometimes at the compressor is common and may not be serious.
Brianna in your small A/C unit icing is most likely one of two things:
a dirty air filter is slowing airflow across the evaporator coil OR the level of refrigerant in the unit has dropped a bit too low.
Ramseh: yes; I'd add that a bad thermostatic expansion valve could also cause coil icing. The first cause I suspect is a dirty air filter, the second cause I suspect is low refrigerant.
Question: ice on an ammonia based chiller
why ice on ammonia chiller or evaporator in an arena? - Ali Khan 1/30/12
Reply:
Ali ice can form on any HVACR equipment when conditions produce temperatures below freezing. The root causes are the same as those listed in the article above, regardless of the refrigerant gas or chemical used.
Question: Water Chilled air conditioner for a marine vessel
I have repaired a water chilled air cond for a marine vessel, our men renew the entire piping for HP and LP circulation, after install all, the refrigerant only able to inserted up to 30psi, when running the system, it wont let any refrigerant to be inserted, and the piping and cooling coil start frozen and ice build up. I don't know what is the cause of defects, anyone can give some advises? thank you. - Dave 5/18/12
Reply:
Dave it's possible that a capillary tube or thermal expansion valve (TEV) is clogged or frozen. Keep in mind that the procedures for charging on the high side of the system expect liquid refrigerant while charging on the low side of the system can only be safely done with refrigerant in a gas form. Details are at REFRIGERANT CHARGING PROCEDURE.
(Sept 17, 2012) Nate said:
The run capacitor on my air handler disconnected, and the fan stopped blowing sometime in the night. When I woke there was ice and frost on the coils. I plugged the capacitor back in and the blower ran fine. I then ran the blower for a couple hours to melt the ice. But when I turned the system back on it frosted up again even with the blower now running! Could the original freeze have caused another problem? Thanks.
Question: can the dog cause cooling coil icing problems?
(Oct 7, 2012) Bob said:
we have a dog that goes in and out of the house continously, leaving the door ajar, causing the a/c to labor. Will constant hot air being drawn into the house cause freezing of the coils/
Reply:
Bob
No, not unless there is also another operating problem withnthe system. But the door ajar may melt your wallet. It's time to look into installing a pet door for fido.
But pet hair can clog an air filter (leading to coil icing and weak air flow) as well as clogging other equipment air movement pathways.
...
Ask a Question or Search InspectApedia
Use the "Click to Show or Hide FAQs" link just above to see recently-posted questions, comments, replies, try the search box just below, or if you prefer, post a question or comment in the Comments box below and we will respond promptly.
Search the InspectApedia website
Technical Reviewers & References
Click to Show or Hide Citations & References
Modern Refrigeration and Air Conditioning, A. D. Althouse, C.H. Turnquist, A. Bracciano, Goodheart-Willcox Co., 1982
Principles of Refrigeration, R. Warren Marsh, C. Thomas Olivo, Delmar Publishers, 1979
"Air Conditioning & Refrigeration I & II", BOCES Education, Warren Hilliard (instructor), Poughkeepsie, New York, May - July 1982, [classroom notes from air conditioning and refrigeration maintenance and repair course attended by the website author]
Refrigeration and Air Conditioning Technology, 5th Ed., William C. Whitman, William M. Johnson, John Tomczyk, Cengage Learning, 2005, ISBN 1401837654, 9781401837655 1324 pages
Thanks to inspector Bill McNeill for providing a photograph of an ice-blocked evaporator coil or cooling coil in an air conditioning air handler unit. Mr. McNeill can be reached at wem007@hotmail.com
Thanks to reader [Anonymous] for providing a photo of a totally blocked cooling coil on an 11-year-old system that was low on refrigerant. August 2010.
Thanks to reader Tom Balla for suggesting clarification on ice formation on the air conditioning system suction line.
Thanks to reader R. Hansen for adding air conditioning / heat pump control board failure tip that explains another cause of cooling coil or system icing. Email: rhansen79@yahoo.com July 2012
Books & Articles on Building & Environmental Inspection, Testing, Diagnosis, & Repair