Condensate Drains, Piping, Pumps
Inspect & Repair HVAC Condensate Piping & Drains
POST a QUESTION or READ FAQs about recognizing defects in air conditioner and heat pump condensate drain line piping, connections, traps, or disposal destination
InspectAPedia tolerates no conflicts of interest. We have no relationship with advertisers, products, or services discussed at this website.
Air conditioner, heat pump & condensing boiler or furnace condensate handling & drainage defects:
This air conditioning repair article discusses the inspection, diagnosis, and repair of air conditioning condensate drainage systems, including condensate leaks, condensate piping, traps, drains, condensate pumps, and the detection and hazards of air conditioning, heat pump, or condensing boiler or furnace condensate piping, drains, & condensate leaks in buildings. Condensate leak water health and safety concerns are also reviewed.
This document describes the inspection and repair of condensate handling systems for residential air conditioning systems (A/C systems) to inform home buyers, owners, and home inspectors of common cooling system defects.
We also provide a MASTER INDEX to this topic, or you can try the page top or bottom SEARCH BOX as a quick way to find information you need.
Condensate Handling: Air Conditioning / Heat Pump Condensate Handling Defects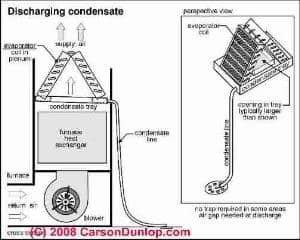 Improper handling of air conditioning system condensate is one of the most commonly reported set of A/C system defects. Condensate problems can lead to leaks into the building, costly mold or insect damage, or even to complete A/C or heat pump system shutdown.
Perhaps we see lots of air conditioning condensate leaks and related problems in part because these defects are easily observed visually, and perhaps also because some A/C installers do not follow basic plumbing and building code requirements for handling the discharge of the condensate produced when an air conditioning system is operating.
Sketch courtesy of Carson Dunlop Associates. [Click to enlarge any image]
Condensate leaks or discharge errors (such as the drips into the dog bowl and cooking pot in this attic) present several risks of ugly surprises in buildings.
Here are some inspection tips that can avoid a condensate leak or even a costly mold problem in the air conditioning system air handler, duct work, or in the building itself:
Locate how & where condensate discharge is carried for final disposal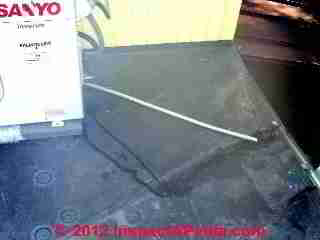 A flexible plastic condensate drain line may be routed through building walls, ceilings, floors, at some installations such as split system wall-mounted air conditioners and heat pumps. at SPLIT SYSTEM AIR CONDITIONERS & HEAT PUMPS we describe the routing, slope, and protection from damage for in-wall condensate drain lines.

Our photo (left) shows the condensate drain termination for a roof-mounted split system air conditioner - the white plastic condensate drain exits the building wall and is carried to the roof surface next to the roof-mounted inverter or compressor/condenser unit for the cooling system.
a plastic line draining outside to an approved drain destination - see CONDENSATE DRAINS, CODES
a floor drain
a sump pit
a hole in the floor
a reservoir lift pump (CONDENSATE PUMPS) which pipes condensate to: (a properly connected building drain; something else)
the pump exit line is taken to the house main waste line
a dirt floor or crawl space (a bad idea, asking for mold or insect damage)
Problems with condensate drains themselves are detailed at CONDENSATE DRAINS, CODES
Condensate drains or swamp cooler leaks or drains may leave WHITE STAINS on ROOFS
Check for a clogged A/C condensate drain line trap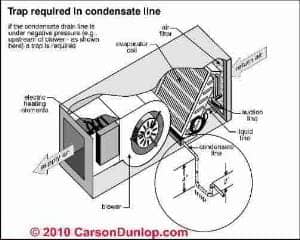 One of the most common causes of air conditioning or heat pump condensate leakage and overflow is a clogged condensate drain line trap. And if the secondary or emergency condensate handling system is absent or defective, the result can be costly leak damage to the equipment or to the building.
Carson Dunlop Associates' sketch (left) illustrates the requirement for a trap on the A/C condensate primary drain line.
Look out for a missing condensate overflow pan or drip tray:
If there is no overflow pan under the air handler, especially in units installed on upper building floors or in an attic, when the condensate drain clogs or the condensate pump fails you can expect to have leaks into the building and possibly costly mold or water damage.
See CONDENSATE DRIP TRAY DEFECTS for details.
Look out for an improper condensate overflow pan drain connection
A condensate pan should have its own independent drain to an approved location. Otherwise, for example if it shares the main condensate drain pipe, you have not gained much protection. An alternative to a drain on a condensate overflow pan is the installation of a FLOAT SWITCH on CONDENSATE TRAY that will turn off the system if water is detected.
Look for corrosion or water stains on floor surfaces around the equipment
Check the condensate drip pan and at bottom of the "A frame" cooling coil, indicating that the drain may need cleaning and more important, indicating that the condensate is leaking out of the equipment or drains and not being carried to an acceptable disposal point.
Links below continue with detailed discussions of condensate handling components, defects, cleaning, maintenance, and repairs.
Periodic Inspection of the Air Conditioner Condensate Drain System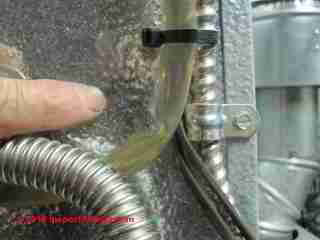 Question: how and when do we inspect the condensate drain?
I can't find a description of the method for inspecting the drain pipe leading out from the drain pan under the condenser coils.
I have been told that this pipe commonly blocks up and causes problems and that inspecting it is a part of a HVAC maintenance program. Would you describe for me, or maybe add to your site, how often and how this drain line should be inspected and maintained?
- R.B. Chattanooga, TN.,
Reply: check for a clogged condensate drain line trap, crimps in the line, or clogs in the line; check that the line is routed to a proper destination
The condensate drain line, trap, and evidence of blockage, leaks, overflow, or improper piping should be part of annual air conditioning system service, or should be performed immediately if there is evidence of a condensate spill or leak. It only takes a quick look by an experienced service technician to see trouble. Here are some signs of trouble that a visual inspection of the condensate drain system might pick at an inspection: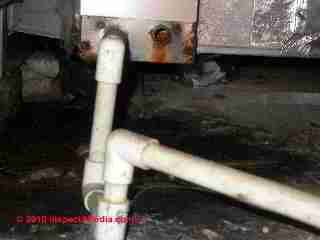 Visual inspection for obvious debris at opening to the condensate drain, inside the air handler
Visual inspection for evidence of condensate overflowing out of or backing up in the air handler when it should be passing out the drain - such as is shown in our photo at left.
Visual inspection for condensate backup or spillage such as presence of condensate in an overflow pan
Tripping off of the float switch in the overflow pan if you have one
Some condensate drains have a removable cap on the trap to inspect in and clean the trap - traps are usually where blockages occur
Visual inspection of the entire drain line to see its routing - and to assure it's taken to a proper destination. Our photo at the top of this section above shows a crimped condensate drain pump line - we were a bit worried that with even the slightest additional movement in this soft flexible plastic tube (connecting the condensate pump to a nearby laundry drain) would prevent the pump from working properly.
Failure of any condensate to come out of the exposed end of the condensate drain line when the A/C system has been running during hot, humid weather
If a condensate pump is installed, overflow of condensate out of the pump housing
Check out the articles listed below for more detail about each type of condensate drain system defect.
Reader Question: our wall-mounted split system air conditioner leaks condensate down the interior wall
We noticed water stains and wet spots on the wall below our wall-mounted split system air conditioner. But condensate is also coming out of the drain line on the roof. What might be wrong? - Ed.
Reply: Common defects that cause leaks or blockages in wall-mounted air conditioner condensate drains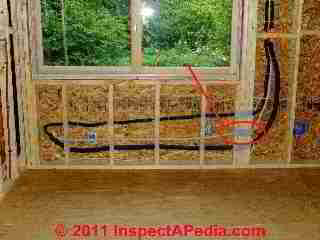 Check the following sources of condensation leaks at or near a wall-mounted air conditioner::
If the wall mounted air conditioner is not level, condensate may collect in its internal drain pan but may overflow the (relatively shallow) condensate pan edges before reaching the condensate drain opening. Check the unit for level, and watch out: the plastic cover may not be dead straight - it's the unit itself that should be level for the condensate drain pan to work properly.
The photo showing flexible air conditioner condensate piping is explained at SPLIT SYSTEM AIR CONDITIONERS & HEAT PUMPS.
That white line is the condensate drain headed from the wall-mounted unit (not shown) to outdoors.
Check for lint or crud blocking the opening to the condensate drain line inside the unit.
Check for a blocked or clogged condensate drain line as it passes through the building wall to the building exterior.
Check for punctures in the condensate drain line anywhere in its route but especially high on the wall near the unit where you see the leaks or wet spots
Check for missing insulation on the refrigeration lines inside the wall-mounted unit.

We describe this SNAFU at Interior Leaks On & In Wall Below a Split System Air Conditioner Wall-Mounted Unit
...
Continue reading at CONDENSATE LEAKS or select a topic from closely-related articles below, or see our complete INDEX to RELATED ARTICLES below.
Or see these
HVAC Condensate Articles
Suggested citation for this web page
CONDENSATE HANDLING at InspectApedia.com - online encyclopedia of building & environmental inspection, testing, diagnosis, repair, & problem prevention advice.
Or use the SEARCH BOX found below to Ask a Question or Search InspectApedia
...
Frequently Asked Questions (FAQs)
Try the search box below or CONTACT US by email if you cannot find the answer you need at InspectApedia.
On 2017-01-14 18:19:38.103441 by (mod)
I am really confused by this question, Dhinesh.
It is common to trap each condensate drain at each pan but it would most-likely be perfectly functional to drain multiple pans into a common larger drain and to do the trapping there.
On 2017-01-14 04:28:37.803958 by Dhineshbabu
if an ACU provided with a drain pan, which got splits to three sections (ex- two beneath the coil & another beneath the compressor) only there plates were provided to separate it upto pan height, separate drains were taken frm these sections ( 3 drains). whether i could connect these three drains to one trap,or i could go for three individual traps. if not one trap what is the reason?
On 2016-12-18 14:45:02.372850 by Anonymous
Is it within code to run a drain from a closet model upflow air handler to a floor drain inside the R/A with a trap before the floor drain and tied in with a coupling and a 2x3/4 bushing
On 2016-10-15 00:49:43.504393 by Condensate drain pan air leakage
There's a massive amount of air leakage around my air handler's drain pan. I can't imagine this is intended (is it?), Since it almost looks like whoever installed it didn't even bother lining it up properly.
How do I line the pan up with the handler? The air handler seems too heavy to lift on my own... and ya know, everything is connected.
On 2016-09-25 14:45:14.292045 by Tony
How long can I extend my drain line pipe from outside my house
On 2016-09-25 14:44:38.511496 by Anonymous
How long can I extend my drain line pipe outside the house
On 2016-08-05 23:56:49.370598 by Anonymous
What size pipe
On 2015-11-17 02:04:57.204717 by (mod)
Pete:
I'd be looking for an indoor moisture source or looking at a change in the "on" cycle or fan speed of the unit.
On 2015-09-28 01:44:52.136767 by Pete of Tustin
Hi. Thanks for having such an informative website. I have a heat pump that seems to have some crazy amount of condensation this year in cooling mode. The eval portion of the unit is beneath the house and is below the city drain lines by about 6 feet. Although I never did initially measure the air temp at the air outputs, It seems as if the air is not blowing out as cold as it once did years ago. It is my understanding that refrigerant is an excellent escape artist. I never needed a pump before but now it seems as if the trap is not enough and the condensate does not evaporate fast enough like it once did. Is it possible that I could be getting higher condensation and higher air output temperatures due to a reduced amount of refrigerant in the system? I don't think I have a leak but I have not had the unit pressure checked, or rather any refrigerant added in over 5 years. Could my new condensation abundance be due to a reduced amount of refrigerant along with reduced output temperatures? I do not have any frosting problems. Thanks in advance for your help.
On 2015-08-14 16:41:35.268385 by (mod)
Bleach is not really a drain de-clogging chemical, though it might help cut some greases.
If your A/C is not turning on, check for a condensate overflow pan safety switch.
If your A/C turns on but does not run properly I suspect bad wiring, bad control board, low voltage, or a motor obstruction. Leave the system off pending repair as trying to run it in that mode may cause further damage and could also risk a fire or shock.
On 2015-08-14 01:06:42.490051 by Anonymous
My drain was clogged so I did the usual and poured some bleach into it, nothing budged so I pulled the hose from the pipe, got the clog out and put it back together. Turned ac back on but it doesn't seem to be fully turning on like it should be, just barely blowing any air. Then I noticed that bleach water is dripping from the center part and front of the indoor part of the unit. Outside unit running fine. Could the drain have backed up into the unit? Please tell me that isn't what happened and how to fix this!?!? KD
On 2015-07-17 19:54:17.432948 by (mod)
Chris look for a running toilet that's keeping the drain lines cold with drainage.
On 2015-07-11 10:47:48.861580 by Chris
I have lived in my home for over 4 years and suddenly I have condensation on drain lines coming from my upstairs to the downstairs/main line exit pipe. I also found condensation on the ac drain line which is connected to the bathroom sink upstairs. The upstairs is not used much and the only water running through the drain is from the ac unit in the attic. I'm assuming I am now seeing condensation after 4 years because there has been an increase in cold water running through the drain pipes or an increase in cold air running through the drain pipes. What would cause an increase in the water running from the ac unit? (knock on wood to prevent jinx) AC has been cooling home fine.
On 2015-04-23 17:21:03.018700 by (mod)
Use the "Click to Show or Hide FAQs" link just above to see recently-posted questions, comments, replies
Question: Our heat pump spills water onto the floor. What's wrong and how do we fix it?
I have a question regarding our heat pump. Last summer it started leaking water. The system otherwise runs fine but we have to keep a bucket where the water comes out a rubber tube. This also does not catch all the water because the carpet still gets wet. There is no problem with heating this past winter. Is there a pump of some kind that needs to be replaced.- M.M.
Reply:
It sure sounds as if your heat pump when in cooling mode is leaking condensate into the building. When warm moist indoor air passes through the cooling coil, moisture is removed from the air as it cools, condensing into water that must be drained away to an acceptable location - a floor drain or in some areas outdoors onto the ground.
A condensate leak that spills into the building interior could be caused by any of several problems such as a clogged condensate drain line or if a condensate pump is used to lift condensate from a receiving container up to a building drain, the pump could be switched off or broken.
You need to first diagnose the cause of the problem. If it's just a clogged drain line, clearing the line can get things working again quickly and probably at little or no cost. If you are unfamiliar with the equipment or can't find the condensate handling system, or if a condensate pump is not working you probably need a service call by an HVAC expert.
Look through the articles found in the links listed at the "More Reading" links at the bottom of this article under CONDENSATE HANDLING for more details about different condensate handling problems, diagnoses, and repairs.
Watch out: in a good heat pump/air conditioner installation, the installers make provision to protect the building interior from condensate leakage should the primary condensate drainage system fail. Usually that's in the form of a condensate drip tray that is placed under the indoor air handler where the cooling coil is located (and where condensate is produced). If the condensate drain system fails and condensate begins to leak out of the equipment, the drip tray either takes condensate safely away to a drain by a separate drain line or it uses a switch that shuts down the equipment so that you know repairs are needed. Condensate that leaks into building carpets, ceilings, walls, risks formation of a costly mold contamination issue. So get this matter repaired promptly.

Question: Water blowing down my HVAC Supply Ducts, What Can I Do to Stop It?
Why is water blowing down my supply duct system? I have solved the freezing up problem, I don't have a drain problem!! I added refrigerant to solve the freezing up problem, but it is still blowing water down my supply line. How do I stop this?? - C.T.
Reply: Check the A/C system sizing, check for abnormal indoor humidity sources
If you are sure that the condensate drain is in fact draining, I don't know a simple in-air-handler fix for this problem - it's common in some humid areas such as Florida. I'd take a look at these next steps:
Check whether or not your A/C system is oversized for the space being cooled; a cooling system that is oversized will not dehumidify adequately and that leaves too much water in your building air
If #1 is not the issue, look for and fix sources of abnormal indoor moisture: leaks, failure to use bath and kitchen vent fans, particular lifestyle that puts lots of moisture into the air (cooking?); and consider some auxiliary dehumidification
Question:
(May 3, 2014) Anonymous said:
I have split a/c the problem is water drain from indoor unit
Reply:
Find and fix the clogged condensate drain or leaky condensate drain pan
Question:
(June 4, 2014) Ekim said:
major water condensation in blower unit in attic, secondary pan is doing the draining at this point, blower unit pan seems to be rusted, and water does not flow to over flow pipe (rheem unit abou 12 years old) any idea or product to seal the pan and get the water to flow to the pipe, the outside pan is saving the day now but need to fix this issue. is there enough room under the coils to put a platic of some sort? will the plastic start to mold?
Reply:
Sounds like the primary drain pan needs replacement; check first for a clogged condensate drain; Usually you won't have space to add an additional drip pan below the coils but may have room below the whole unit; the problem is that the leaks in the existing pan may be sending water where it causes other damage.
Question:
(Jan 29, 2015) Anonymous said:
What can I put a salt tablet in the condensate pump to keep condensate drain line from freezing when out side temperature drops very low.
Reply:
Sounds doubtful; if condensate is passing through the drain the salt won't remain nor would other antifreeze. Try a heat tape if you can't protect the line from freezing.
...
Ask a Question or Search InspectApedia
Try the search box just below, or if you prefer, post a question or comment in the Comments box below and we will respond promptly.
Search the InspectApedia website
Technical Reviewers & References
Click to Show or Hide Citations & References
Thanks to Areader RB in Chattanooga TN for discussing inspection procedures and inspection frequency for air conditioning condensate drain line systems - October 2010
Modern Refrigeration and Air Conditioning, A. D. Althouse, C.H. Turnquist, A. Bracciano, Goodheart-Willcox Co., 1982
Principles of Refrigeration, R. Warren Marsh, C. Thomas Olivo, Delmar Publishers, 1979
"Air Conditioning & Refrigeration I & II", BOCES Education, Warren Hilliard (instructor), Poughkeepsie, New York, May - July 1982, [classroom notes from air conditioning and refrigeration maintenance and repair course attended by the website author]
Refrigeration and Air Conditioning Technology, 5th Ed., William C. Whitman, William M. Johnson, John Tomczyk, Cengage Learning, 2005, ISBN 1401837654, 9781401837655 1324 pages
Carson, Dunlop & Associates Ltd., 120 Carlton Street Suite 407, Toronto ON M5A 4K2. (416) 964-9415 1-800-268-7070 info@carsondunlop.com. The firm provides professional home inspection services & home inspection education & publications. Alan Carson is a past president of ASHI, the American Society of Home Inspectors. Thanks to Alan Carson and Bob Dunlop, for permission for InspectAPedia to use text excerpts from The Home Reference Book & illustrations from The Illustrated Home. Carson Dunlop Associates' provides:

Commercial Building Inspection Courses - protocol ASTM Standard E 2018-08 for Property Condition Assessments
Home Inspection Education Courses including home study & live classes at eleven colleges & universities.
Home Inspection Education Home Study Courses - ASHI@Home Training 10-course program.
Special Offer: Carson Dunlop Associates offers InspectAPedia readers in the U.S.A. a 5% discount on these courses: Enter INSPECTAHITP in the order payment page "Promo/Redemption" space. InspectAPedia.com editor Daniel Friedman is a contributing author.
The Home Reference Book, a reference & inspection report product for building owners & inspectors.
Special Offer: For a 10% discount on any number of copies of the Home Reference Book purchased as a single order. Enter INSPECTAHRB in the order payment page "Promo/Redemption" space. InspectAPedia.com editor Daniel Friedman is a contributing author.
The Home Reference eBook, an electronic version for PCs, the iPad, iPhone, & Android smart phones.
Special Offer: For a 5% discount on any number of copies of the Home Reference eBook purchased as a single order. Enter inspectaehrb in the order payment page "Promo/Redemption" space.
The Illustrated Home illustrates construction details and building components, a reference for owners & inspectors.
Special Offer: For a 5% discount on any number of copies of the Illustrated Home purchased as a single order Enter INSPECTAILL in the order payment page "Promo/Redemption" space.
The Horizon Software System manages business operations,scheduling, & inspection report writing using Carson Dunlop's knowledge base & color images. The Horizon system runs on always-available cloud-based software for office computers, laptops, tablets, iPad, Android, & other smartphones

Asbestos HVAC Ducts and Flues field identification photos and guide
Fiberglass: Indoor Air Quality Investigations: Fiberglass in Indoor Air, HVAC ducts, and Building Insulation
Books & Articles on Building & Environmental Inspection, Testing, Diagnosis, & Repair