Loose, Leaky, or Blocked Air Conditioning or Heating Ducts
POST a QUESTION or READ FAQs about HVAC air duct leaks or obstructions and their effect on heating cost, cooling cost, & building air quality
InspectAPedia tolerates no conflicts of interest. We have no relationship with advertisers, products, or services discussed at this website.
Loose or leaky air duct troubleshooting:
This article describes the effects of and how to find & repair blocked, clogged, crimped, loose or leaky air conditioning or heating ducts, leaky air duct connections, defective heating or cooling ductwork.
Here we discuss these questions and topics: Where do we Find the Most-common Types of Air Duct Leaks. Disconnected Cool Air Supply Duct Hidden in Crawl Area. Missing or Open HVAC duct work or open connections: costs of. One-Way HVAC Air Duct Designs Make for High Heating or Cooling Costs. Cooling or Heating Duct Retrofit Leaks in Old buildings. Rooftop Duct System Leaks & Water, Mold, and Pathogens. Tips for Spotting HVAC Duct Leaks. Building Code Requirements & Standards for HVAC Duct Sealants or Duct Leak Seals or Tapes.
The photo at page top shows what happens when cooling ducts are poorly connected through a crawl space.
The crawl space was nice and cool but no cool air was being delivered to the living space. in addition, the air blowing around in the crawl space stirred up fiberglass and debris, including mold which increased the movement of these particles into the occupied space.
We also provide a MASTER INDEX to this topic, or you can try the page top or bottom SEARCH BOX as a quick way to find information you need.
HVAC Duct Connection Leaks - Poor duct work connections
Article Contents
Where do we Find the Most-common Types of Air Duct Leaks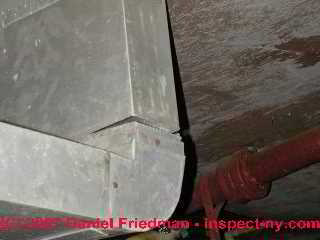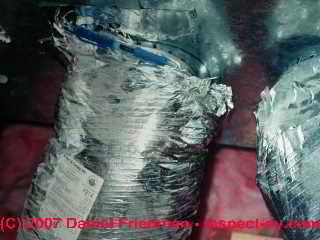 This article continues discussion of common defects found in air conditioning duct work such as loose or leaky duct connections and their effect on the air conditioning or heating system.
Our air duct photos above illustrate common air duct leak problems that not only go unnoticed or undiscovered but that increase heating or cooling costs by leaking supply air.(SUPPLY DUCT AIR LEAKS)
Similar leaks in return air ducts can pick up and distribute contaminants in a building (RETURN DUCT AIR LEAKS).
Disconnected Cool Air Supply Duct Hidden in Crawl Area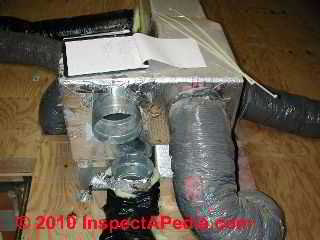 A client who lived in an apartment in New York City engaged our company to find why her city apartment could not get cool even though she had a new air conditioning system installed. We found that the ducts had become disconnected in the attic crawl space where the air handler was placed.
It was wonderfully cool in the attic. The apartment was quite hot. So were the electric bills. Below at Soffit Cool Air Blast we describe a more egregious case of duct work that was missing entirely.
These photographs show the two most-common air conditioning or heating duct leaks, at a loose falling metal duct connection (left photo) and at a poorly-secured flex-duct connection (right photo). Leaking supply air at these connections means less cool air (or warm if it's heat) delivered to the occupied space.
If the air conditioning system output at the registers is poor, especially if it is working in some building areas but not others, one of the first things to check is the condition of the duct work. Look for and seal leaks like these. Also review the other duct and supply adequacy defects described at articles linked-to from the left of these pages.
The cure for these duct leaks is simple: reconnect leaky duct sections (photo at left).
In addition to making a mechanically sound connection between duct sections (sheet metal screws, mechanical fasteners, nylon tie strips), we use metal foil tape to complete the seal on connected metal duct sections. The flex-duct connection was re-made and a tighter plastic band used to secure the flex duct in place.
Watch out: don't rely just on duct tape to secure air ducts.
But the cost of air duct leaks can be significant if the leak persists over a long time or in a location where blowing air or loss of dehumidification lead to mold or other indoor air quality concerns. Leaky air ducts can significantly increase building heating or cooling costs and can lead to other building or even health worries. The Florida air duct leak field report case just below illustrates this problem.
Soffit Cool Air Blast Traced to Hidden Missing Air Conditioner Duct - Mistake by Builder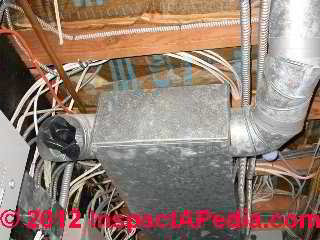 We live in a manufactured home built by Homes of Merit a.k.a. Champion Homes in Florida. We have been living in this house for about 9 years, and we have already have had to replace our A/C unit, having been told it was "worn out".
But we didn't suspect that there was a hidden cause of that failure until today. The house is 27 feet wide by 57 feet long each part has its on air conditioning trunk line system.
- Stock photo of incomplete HVAC duct (left) from InspectApedia library.
I was fixing my back door which my house is 30" above ground level, so I was up on a ladder when I noticed there was cool air coming out the soffit with great force. I told my wife that this is probably why our electric bill has always been higher than for similar homes in our area: $300 to $400 a month.
I concluded that there must be a loose air duct connection that was blowing cool air into the inaccessible attic space over our home, pressurizing that area, and leaking out at the soffits.
To investigate this duct problem I had to cut an 18" opening in the gable to gain access to the attic space. When I cut the last side to remove the siding, the cool air pressure blowing out on me was like a strong floor fan! I had to crawl on my belly across the rafters to get where I could see what was going on. I thought all I would need would be a piece of duct tape to seal an opening somewhere.
Instead I found that there was the air conditioning cool air supply duct junction box and a 15" - 18" galvanized connector sticking out into the open attic. There was no continuing cool air duct work bringing air into the occupied space!
I thought that maybe this duct section was inactive, that it was sealed so to test it I took a long stick with a piece of toilet paper on the end so I could look for air flow in attic areas out of reach - the space was so tight that I could go no further. Placing my toilet paper flag in front of what I thought would be the sealed opening I found that the air flow was so strong it nearly ripped the paper off the stick.
In short, there was a fifteen foot open separation between the supply air conditioning duct trunk line from the kitchen and the rest of the supply duct, laying wide open. Since the construction of the house 9 years ago, the duct had never been connected.
I know this seems a bit like out of a movie but we have had health issues plus all the money thrown out the attic. The return air vent draws the air through the kitchen but through the attic which is wide open to the outdoors.
We just don't know what dust, debris, mold, insect junk may be up there in the attic, being stirred up and blown into the house each time the air conditioning system comes on. Further, cooling the attic may have caused condensation of warm moist air in some attic areas, leading to a moldy insulation or mold on wood problem that also may have been blowing into our home.
We have suffered high cooling costs (high electric bills), inadequate air conditioning, and indoor air quality worries that might explain some of our health issues, since the house was built. - [name withheld] June 2010
One-Way HVAC Air Duct Designs Make for High Heating or Cooling Costs
From a different building, here are photos (below left) of an air handler drawing all of its return air from a basement and another building in which supplemental return air was being taken from the crawl space.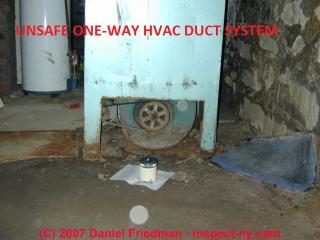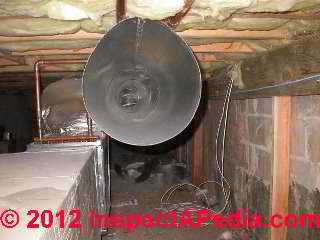 These are examples of a "one way" heating or air conditioning duct design - all HVAC air originates in the basement and is "conditioned" before being blown into the building. This is the most costly and least healthy duct design. at Return Duct Air Leaks & What They Mean we summarize the impact of missing or open return air ducts.
Cooling or Heating Duct Retrofit Leaks in Old buildings
The photographs above as well as the rusted HVAC return duct system at left show what can happen when existing registers and in-wall ducts are re-used when installing updated air conditioning or heating ducts in a building or when no one has inspected the condition of the HVAC duct system for decades.
The photo with my hand (above left) shows us feeling an up-draft from the basement below this first floor bath even though the air conditioning system was not running. The second photograph (above right) shows the problem as seen from the basement.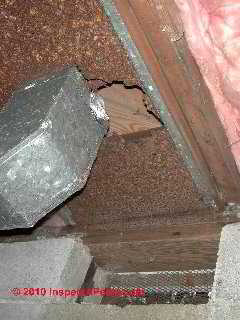 The duct installer had simply pushed smaller-diameter new oval ducts up into the existing duct riser from the basement, leaving more than an inch of opening between the old rising duct and the new inserted duct. The result was leakage of cool air backwards into the basement when the central air conditioning system was running, and leakage of (moldy, smelly) basement air up into the living space through the same opening (by convection) when the air conditioning system was off.
A cure for the first two duct leaks shown above was to use some spray foam insulation to make a better seal at the basement ceiling as well as around the register in upper floor.
The photo at above left showing a rusted-out floor return duct system illustrates a common problem on older homes: rusted sheet metal that ultimately perforates. This interesting return air system also enjoyed picking up both crawl space air and, depending on wind direction, nice cold outdoor air from the crawl space vent visible in the lower portion of our photograph.
To correct the rusted-out return duct system that was using the space between floor joists as ductwork (common in older homes in North America) required removal and reconstruction of the return duct system.
Rooftop HVAC Duct System Leaks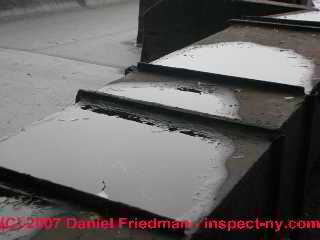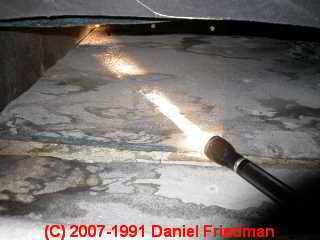 The photos above illustrates leaks into a rooftop packaged-terminal air-conditioning air handler
(PTAC) and into horizontal runs of air-ducts are installed on a roof surface and when that air duct system is improperly sealed and also is lined with fiberglass insulation.
Details are at ROOFTOP HVAC UNITS
Tips for Spotting HVAC Duct Leaks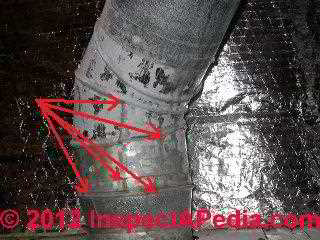 In addition to the need for visual inspection you might detect HVAC duct leaks by
Hearing air leaks in or near the HVAC system ductwork - see AIR LEAK NOISES. Building occupants might also notice whistles, rushing sounds, or metallic rattling traced to loose, leaky, or disconnected metal ductwork.
Observing dust or debris stains along the HVAC duct route where air is blowing into or out of the system on return or supply ducts.

Watch out: when you see condensation or other leak stains on HVAC ducts or on heating flues, further investigation is needed as unsanitary or unsafe conditions and/or improper system operation or condensate handling may be involved.
Observing condensate drip stains on HVAC duct exterior or on surfaces nearby
Observing a change in the level of airflow delivered at supply registers (note that there are multiple possible causes)
Observing a change in odors or indoor air quality for air delivered by or conditioned by the HVAC system
Observing an increase in heating or cooling operating costs that appears to be traced to longer run times for the heating or cooling system to satisfy the thermostat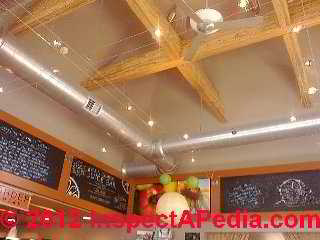 Understanding the materials and methods used for a particular HVAC system can also improve your chances of finding where leaks are present. For example in the spiral metal HVAC ducts shown in our photo (above) the ducts contain few joints along the run - locations easily spotted; check particularly for proper connection and seal at transitions in duct diameter, elbows, and tees.
See RETURN DUCT AIR LEAKS for additional detail on leaks into the HVAC duct system
See SUPPLY DUCT AIR LEAKS for additional details and examples of leaks out of the HVAC duct system
Building Code Requirements & Standards for HVAC Duct Sealants or Duct Leak Seals or Tapes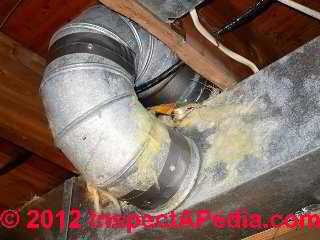 In addition to correcting obviously gross HVAC duct leaks such as missing ducts or damaged/disconnected ductwork, leaks at HVAC duct connections should also be sealed against leaks out (supply ducts) or leaks into the ductwork (return ducts). Both types of duct leaks increase building energy costs to heat or cool the structure and in the case of return duct leaks, health and environmental contaminants can also be introduced into the HVAC system by such leaks.
Authority for actually requiring that HVAC duct connections be sealed comes from model energy codes, building codes, and state or provincial adopted versions of those building code guidelines.
For example, the Residential Code of New York State requires that all HVAC ducts be sealed. We interpret this to mean all duct joints and any other leaks that might be observed along the run of HVAC duct work such as where flexible metal ductwork elbows or tees are installed or where flex-duct may have become damaged.
Home inspection associations point out in publications and training materials that while HVAC installers may comply with the intent of the model building or energy codes, we often observe that compliance only at recent or new duct installations. According to the Central New York ASHI Home Inspectors Association, quoting[13]
Code citation example for duct sealing requirement: NYS RM1601.3.1 Joints and Seams
These requirements apply to materials for the fabrication of air duct and air connector systems for use in accordance with the International Mechanical Code (IMC), International Residential Code (IRC), and Uniform Mechanical Code (IMC), Standards of the National Fire Protection Association for the Installation of Air-Conditioning and Ventilating Systems, NFPA No. 90A, and the Installation of Warm Air Heating and Air-Conditioning Systems, NFPA No. 90B. 1.1 revised October 27, 2008 [13][14]
Joints of duct systems shall be made substantially air-tight by means of tapes [e.g. duct tape rated to withstand the temperatures involved - Ed], mastics or gasketing.
Closure systems used with rigid fibrous glass ducts shall comply with UL 181 and shall be marked UL 181-P for heat-sensitive tape.
Closure systems used with flexible air ducts and flexible air connectors shall comply with UL 181-B and shall be marked "181-BX" for pressure sensitive tape [e.g. such as foil tape used on solid fiberglass foil-faced HVAC ducts - Ed], or "181-M" for mastic.
Duct connections to flanges of air distribution system equipment or sheet metal fittings shall be mechanically fastened [this means SMS, not just duct tape - Ed].
Crimp joints for round ducts shall have a contact lap of at least 1.5 inches (38mm) and shall be mechanically fastened by at least 3 sheet metal screws or rivets.
- Special thanks to ASHI Member Greg Harwood [Dec], CNY ASHI Observer, May 2006, re-published by that association in 2012.
More detailed suggestions of things to check in the duct system to improve airflow are at RETURN DUCT AIR LEAKS or at SUPPLY DUCT AIR LEAKS.
And at UNSAFE DUCT OPENINGS we discuss certain air duct leaks and openings that are downright dangerous.
Research on HVAC Duct Leakage, Improvements, Repairs, Retrofits
Abushakra, Bass, Iain S. Walker, and Max H. Sherman. A STUDY OF PRESSURE LOSSES IN RESIDENTIAL AIR DISTRIBUTION SYSTEMS [PDF] Lawrence Berkeley National Laboratory (2002).
DUCT SYSTEM & DUCT DEFECTS - home
Fisk, William J., Woody Delp, Rick Diamond, Darryl Dickerhoff, Ronnen Levinson, Mark Modera, Matty Nematollahi, and Duo Wang. "Duct systems in large commercial buildings: physical characterization, air leakage, and heat conduction gains." Energy and Buildings 32, no. 1 (2000): 109-119.
Jump, David A. FIELD MEASUREMENTS OF EFFICIENCY AND DUCT EFFECTIVENESS IN RESIDENTIAL FORCED AIR DISTRIBUTIONS SYSTEMS [PDF] Lawrence Berkeley National Laboratory (2011). Retrieved 2017/11/03, original source: https://escholarship.org/content/qt8f0026hc/qt8f0026hc.pdf

Synopsis & Abstract Excerpts:
Field tests were performed on duct systems in 24 houses pre- and post- retrofit to determine the potential savings due to sealing and insulating the duct system.
...
Analysis of the test results indicate an average increase in delivery efficiency from 64% to 76% and a corresponding average decrease in HVAC energy use of 18%.
...
The impact of leak sealing and insulating will be examined separately.
Walker, Iain S. BEST PRACTICES GUIDE FOR RESIDENTIAL HVAC RETROFITS. [PDF] No. LBNL--53592. Ernest Orlando Lawrence Berkeley National Laboratory, Berkeley, CA (US), 2003.

Abstract:
This best practices guide for residential HVAC system retrofits is aimed at contractors who want guidance on delivering energy efficient, cost effective and innovative products. It has been developed around the idea of having packages of changes to the building HVAC system and building envelope that are climate and house construction dependent.

These packages include materials, procedures and equipment and are designed to remove some of the guesswork from a builder, contractor, installer or homeowner decisions about how best to carry out HVAC changes. The packages are not meant to be taken as rigid requirements--instead they are systems engineered guidelines that form the basis for energy efficient retrofits.

Similar approaches have been taken previously for new construction to develop extremely energy efficient homes that are comfortable safe and durable, and often cost less than standard construction.

This is best epitomized by the Building America program whose partners have built thousands of residences throughout the U.S. using these principles. The differences between retrofitting and new construction tend to limit the changes one can make to a building, so these packages rely on relatively simple and non-intrusive technologies and techniques.

The retrofits also focus on changes to a building that will give many years of service to the occupants. Another key aspect of these best practices is that we need to know how a house is working so that we know what parts have the potential for improvement.

To do this we have put together a set of diagnostic tools that combine physical measurements and checklists/questionnaires. The measured test results, observations and homeowner answers to questions are used to direct us towards the best retrofits applicable to each individual house.

The retrofits will depend on the current condition of the building envelope and HVAC system, the local climate, the construction methods used for the house, and the presence of various energy saving systems (e.g., a Heat Recovery Ventilator) and/or materials. This is just like a doctor referring a patient for blood tests or x-rays before actually performing surgery. This way the doctor can be sure that he does the right thing. To take this analogy further--we can borrow from the medical profession and say that the first thought when retrofitting a house is to do no harm, i.e., do not make changes that could make the house worse to live in.
Wray, Craig P., Iain S. Walker, and Max H. Sherman. "ACCURACY OF FLOW HOODS IN RESIDENTIAL APPLICATIONS." [PDF] Lawrence Berkeley National Laboratory (2002).

Abstract:

To assess whether houses can meet performance expectations, the new practice of residential commissioning will likely use flow hoods to measure supply and return grille airflows in HVAC systems.

Depending on hood accuracy, these measurements can be used to determine if individual rooms receive adequate airflow for heating and cooling, to determine flow imbalances between different building spaces, to estimate total air handler flow and supply/return imbalances, and to assess duct air leakage.

This paper discusses these flow hood applications and the accuracy requirements in each case. Laboratory tests of several residential flow hoods showed that these hoods can be inadequate to measure flows in residential systems. Potential errors are about 20% to 30% of measured flow, due to poor calibrations, sensitivity to grille flow non-uniformities, and flow changes from added flow resistance.

Active flow hoods equipped with measurement devices that are insensitive to grille airflow patterns have an order of magnitude less error, and are more reliable and consistent in most cases.

Our tests also show that current calibration procedures for flow hoods do not account for field application problems. As a result, a new standard for flow hood calibration needs to be developed, along with a new measurement standard to address field use of flow hoods.

Lastly, field evaluation of a selection of flow hoods showed that it is possible to obtain reasonable results using some flow hoods if the field tests are carefully done, the grilles are appropriate, and grille location does not restrict flow hood placement.
...
Continue reading at AIR LEAKS in RETURN DUCTS or select a topic from closely-related articles below, or see our complete INDEX to RELATED ARTICLES below.
Or see AIR FLOW TOO WEAK
Or see AIR LEAK NOISES
Or see AIR LEAKs in SUPPLY DUCTS
Or see AIR LEAKS in RETURN DUCTS
Or see AIR FLOW IMPROVEMENT, HVAC
Or see AIR FLOW MEASUREMENT CFM - how to measure HVAC system air flow
Or see DUCT SYSTEM & DUCT DEFECTS - home
Or see ENERGY AUDIT STANDARDS for ENERGY RATINGS how HVAC system air leaks are measured & quantified
Or see RETURN AIR, INCREASE
Or see REGISTER & DUCT LOCATION
Or see RETURN AIR FAQs
Or see RETURN AIR REGISTERS & DUCTS - home
Or see UNDERSIZED RETURN DUCTS
Suggested citation for this web page
AIR LEAKS in DUCT CONNECTIONS at InspectApedia.com - online encyclopedia of building & environmental inspection, testing, diagnosis, repair, & problem prevention advice.
Or use the SEARCH BOX found below to Ask a Question or Search InspectApedia
...
Frequently Asked Questions (FAQs)
Try the search box below or CONTACT US by email if you cannot find the answer you need at InspectApedia.
Question: asbestos paper tape on air ducts
(Jan 21, 2015) Jonathan Baylis said:
I just today discovered that the white tape holding my heating ducts together in my 1940 New Westminster home was asbestos. It appears to be in good shape. There is none of the white tape on the return air ducts. Should I just leave it? Or is there a hazard I need to deal with?
Many thanks for your help.
Best regards,
Jonathan
jonathan@baylis.ca
604-375-6570
Reply:
Jonathan
Since supply ducts are under positive pressure (blowing out) it is not highly likely that asbestos from the paper tape wrapping duct joints will be entering the heating system air stream as long as the asbestos paper is left intact and undisturbed.
You can reduce the chances of disturbing the external asbestos paper duct joint paper by using a sealant paint.
When you are ready to remove the material the least costly approach is to remove the entire duct sections and replace them. Most people don't feel rushed to take that step.
See ASBESTOS DUCTS, HVAC for details.
Question: ducts came disconnected
(May 15, 2015) Mary Loar said:
Ihad my ducts cleaned the other day and the man found that my heating and air conditioning ducts have come loose from the furnace from being stretched. Who fixes this?
Reply:
In my OPINION re-connecting and securing HVAC ducts could certainly be part of the job performedf by an HVAC duct cleaning company. If the cleaner isn't willing to do what should be a trivial task one wonders if the operator is in a bit of a rush - which makes me worry about the thoroughness of the job. Offer to pay the tech for the extra time needed to do the job right.
...
Ask a Question or Search InspectApedia
Try the search box just below, or if you prefer, post a question or comment in the Comments box below and we will respond promptly.
Search the InspectApedia website
Technical Reviewers & References
Click to Show or Hide Citations & References
[1] Thanks to Jon Bolton, an ASHI, FABI, and otherwise certified Florida home inspector who provided photos of failing Goodman gray flex duct in a hot attic.
[2] Thanks to reader B.B. for discussing air conditioning duct failures, June 2010
[3] Air Diffusion Council, 1901 N. Roselle Road, Suite 800, Schaumburg, Illinois 60195, Tel: (847) 706-6750, Fax: (847) 706-6751 - info@flexibleduct.org - www.flexibleduct.org/ -
"The ADC has produced the 4th Edition of the Flexible Duct Performance & Installation Standards (a 28-page manual) for use and reference by designers, architects, engineers, contractors, installers and users for evaluating, selecting, specifying and properly installing flexible duct in heating and air conditioning systems.
Features covered in depth include: descriptions of typical styles, characteristics and requirements, testing, listing, reporting, certifying, packaging and product marking.
Guidelines for proper installation are treated and illustrated in depth, featuring connections, splices and proper support methods for flexible duct. A single and uniform method of making end connections and splices is graphically presented for both non-metallic and metallic with plain ends."
The printed manual is available in English only. Downloadable PDF is available in English and Spanish. 
[4] Owens Corning Duct Solutions - www.owenscorning.com/ductsolutions/ - provides current HVAC ductwork and duct insulating product descriptions and a dealer locator. Owens Corning Insulating Systems, LLC, One Owens Corning Parkway, Toledo, OH 43659 1-800-GET-PINK™
[5] "Flexible Duct Media Fiberglas™ Insulation, Product Data Sheet", Owens Corning - see owenscorning.com/quietzone/pdfs/QZFlexible_DataSheet.pdf
"Owens Corning Flexible Duct Media Insulation is a lightweight, flexible, resilient thermal and acoustical insulation made of inorganic glass fibers bonded with a thermosetting resin."
[6] Modern Refrigeration and Air Conditioning, A. D. Althouse, C.H. Turnquist, A. Bracciano, Goodheart-Willcox Co., 1982
[7] Principles of Refrigeration, R. Warren Marsh, C. Thomas Olivo, Delmar Publishers, 1979
[8] "Air Conditioning & Refrigeration I & II", BOCES Education, Warren Hilliard (instructor), Poughkeepsie, New York, May - July 1982, [classroom notes from air conditioning and refrigeration maintenance and repair course attended by the website author]
[9] Refrigeration and Air Conditioning Technology, 5th Ed., William C. Whitman, William M. Johnson, John Tomczyk, Cengage Learning, 2005, ISBN 1401837654, 9781401837655 1324 pages
[10] Carson Dunlop, Associates, Toronto, have provided us with (and we recommend) Carson Dunlop Weldon & Associates' Technical Reference Guide to manufacturer's model and serial number information for heating and cooling equipment ($69.00 U.S.).
[12] NYS RM1601.3.1 Joints and Seals, New York State Residential Building Code
[13] Special thanks to ASHI Member Greg Harwood [Dec], CNY ASHI Observer, May 2006. Retrieved 9/9/12, original source http://cdn.cheetahbuilder.com/domain_44/823cd196da2de448214333f10da71410.pdf
[14] UL Standard 181: "Factory-Made Air Ducts and Air Connectors UL 181",
Quoting:
1 Scope
1.1 These requirements apply to materials for the fabrication of air duct and air connector systems for use in accordance with the International Mechanical Code (IMC), International Residential Code (IRC), and Uniform Mechanical Code (IMC), Standards of the National Fire Protection Association for the Installation of Air-Conditioning and Ventilating Systems, NFPA No. 90A, and the Installation of Warm Air Heating and Air-Conditioning Systems, NFPA No. 90B. 1.1 revised October 27, 2008
1.2 The air ducts and air connectors covered by these requirements include preformed lengths of flexible or rigid ducts, materials in the form of boards for field fabrication of lengths of rigid ducts, and preformed flexible air connectors.
1.3 For the purpose of these requirements, air ducts and air connectors are classified as follows:
Class 0 - Air ducts and air connectors having surface burning characteristics of zero.
Class 1 - Air ducts and air connectors having a flame-spread index of not over 25 without evidence of continued progressive combustion and a smoke-developed index of not over 50.
UL 181 references these Standards: 181A * 181B * 723 * .
Retrieved 9/11/12, original source: http://ulstandardsinfonet.ul.com/scopes/scopes.asp?fn=0181.html
Books & Articles on Building & Environmental Inspection, Testing, Diagnosis, & Repair