Installation & Service Guide to Capillary Tubes as Refrigerant Metering Devices
InspectAPedia tolerates no conflicts of interest. We have no relationship with advertisers, products, or services discussed at this website.
Air conditioner & refrigeration equipment capillary tubes:
Tthis air conditioning repair article explains the function and installation of capillary tubes or "cap tubes" used to control or meter the release of refrigerant into the evaporator coil of an air conditioning or heat pump system, home refrigerator, freezer, dehumidifier, or other refrigeration equipment of up to 6 tons in cooling capacity. We define and explain the function, installation, servicing, and replacement procedures for capillary tubes.
We also provide a MASTER INDEX to this topic, or you can try the page top or bottom SEARCH BOX as a quick way to find information you need.
Guide to Air Conditioner, Heat Pump, & Refrigeration System Capillary Tubes: How Does a Capillary Tube Work to Meter Refrigerant?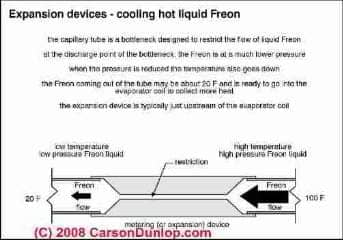 Our page top sketch of common visibly detectable capillary tube defects is provided courtesy of Carson Dunlop Associates as is the cap tube explanation at left.
[Click to enlarge any image]
Here we explain how capillary tubes are used to meter refrigerant in air conditioners, dehumidifiers, refrigerators, & freezers. We include a description of the operating properties of cap tubes, we contrast their use and function with thermostatic expansion valves or similar devices, and we include cap tube problem diagnostic tips for air conditioning service and repair purposes.
Capillary tubes are the most simple refrigerant metering device used in air conditioners and other refrigeration equipment. There are no moving parts, just a very small diameter tube that meters refrigerant from the high side into the cooling coil.
Systems using a cap tube do not have a liquid refrigerant receiver and the amount of refrigerant charge must therefore be exact.
Our sketch simplifies the concept of the an expansion valve down to a simple capillary tube - this is the simplest possible refrigerant metering device. Sketch courtesy of Carson Dunlop Associates.
A simple capillary tube (sketch at left) or a more sophisticated and typically adjustable thermostatic expansion valve (shown in our sketch at below and sometimes improperly called thermal expansion valve) valve maintains the pressure difference (high and low) at the entry point to the cooling coil, thus assuring that as the high-pressure refrigerant enters the low pressure space of the cooling coil, it can "evaporate" from a refrigerant liquid to a gaseous form, thus producing the temperature drop that cools the cooling coil itself.
Synonyms for devices similar to capillary tubes and used to meter refrigerant on some air conditioners, heat pumps, and other refrigeration equipment are "refrigerant orifice", "refrigerant actuator", or even "refrigerant metering piston".
None of these refrigerant metering devices handle a wide range of on-site conditions and refrigerant charge levels as well as THERMOSTATIC EXPANSION VALVES. TEVs adjust the level of refrigerant being released into the cooling coil as needed under varying compressor output pressures and refrigerant charge levels (up to a point - they can't handle serious undercharging or overcharging).
Capillary tubes used to meter refrigerant and control its flow are most likely to be found on
Room air conditioners or through-wall air conditioners
Portable air conditioners
Portable dehumidifiers
Residential refrigerators
Residential freezer
Refrigeration systems of various types in up to 6-tons of cooling capacity
How the capillary tube metering rate is set: tube diameter and length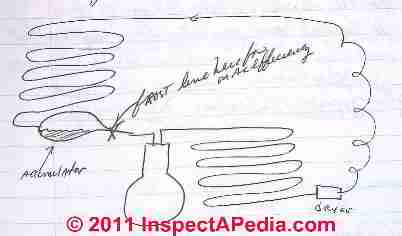 The air conditioning system or refrigeration system capillary tube, like the TEVs and AEVs and other devices discussed here, is a simple refrigerant liquid metering device which regulates the flow of refrigerant from the incoming high pressure side (from the compressor/condenser) into the low pressure side (in the cooling coil).
So how is the refrigerant metering rate set when a cap tube is used?
The refrigeration engineer who designed the system specifies the internal diameter and the length of the capillary tube to be used - that's it. The flow rate through the cap tube will be fixed and is a function of the tube length, diameter, and operating pressure at which the liquid refrigerant is being delivered.
In the field, capillary tubing comes in a pack of given diameter tubing size. The technician cuts off the desired length to carefully solder in place if field replacement is needed.
Our capillary tube refrigeration system schematic sketch (above left) shows the location of the capillary tube (red box at center top of the sketch) and a refrigerant accumulator (green arrow at lower left) at the end of the evaporator coil and ahead of the compressor motor.
In the capillary schematic we note that the appearance of the frost line just at the end of the refrigerant accumulator indicates the maximum - efficient refrigeration system design. The purple rectangle (lower right) is the position of the dryer canister at the outlet of the [red] condenser coil.
Air Conditioner or Refrigeration System Pressure Equalization, Capillary Tubes & the Function of the Accumulator
During the off cycle, the refrigerant continues to flow through the cap tube since there is no mechanical closing of this device. Therefore pressures on the high side and low side of the system will equalize.
An accumulator in the refrigeration system [green arrow points to the accumulator, the blue object at center left of our sketch above] will hold liquid refrigerant on the low side to keep liquid refrigerant out of the compressor bottom during the off cycle - thus avoiding damage to the compressor motor and its valves.
Preferably the accumulator is positioned horizontally in order to prevent a refrigerant oil-trap forming at the accumulator outlet opening.
What's the Difference Between a Refrigerant Capillary Tube or "Cap Tube" and a Refrigerant Expansion Valve or TEV / AEV?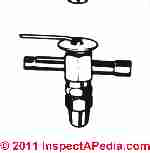 To the capillary tube the TEV adds a level of control - the TEV can open or shut in response to an attached bulb which actually monitors temperatures in the refrigerant tubing. Capillary tubes are found on residential refrigerators, dehumidifiers, and many window air conditioners. TEVs are found on larger air conditioners and central air conditioning systems where more control is needed.
In our TEV sketch (left) the small diameter tube at the top of the thermostatic expansion valve is connected to a temperature sensing bulb (not shown) that is located at the outlet end of the cooling or evaporating coil in the air handler.
The tubing at the left and right permit liquid refrigerant to flow into the valve from the compressor/condenser and, metered by the TEV, onwards into the evaporator coil. The large nut on the bottom of this TEV covers an adjustment screw that can change the latent heat settings and thus the behavior of the valve once it is installed. (Normally you should leave the valve at its factory setting.)
As refrigerant liquid is metered into the entry point of the evaporator coil it is entering the low side of the air conditioning system. The change from high pressure to low pressure permits the refrigerant to evaporate, changing from a liquid to a gas. [The boiling point of R12 refrigerant is -21 degF, and the boiling point of R22 refrigerant is -41 degF. Newer refrigerants will have similar characteristics.]
It is this state change, from liquid to gas, occurring inside of the cooling coil (evaporator coil on the A/C system's low side) that absorbs latent heat, thus cooling the evaporator coil itself.
The job of the refrigerant metering device such as a capillary tube or a TEV is to provide a restriction in the refrigerant tubing system so that there will be a pressure difference maintained between the high side and low side of the system. The air conditioning compressor, by pulling on the suction line or low pressure side of the closed refrigerant piping system is causing pressure to be low on that side. The same compressor is delivering high pressure liquid refrigerant to the high side of the system. The TEV is between these two pressure systems.
Latent heat, state change, high side and low side are defined in more detail at SEER RATINGS & OTHER DEFINITIONS.
All cooling systems using refrigerants use some type of expansion valve, of varying complexity. Even a simple window air conditioner or a refrigerator make use of an expansion valve, in the form of a small-diameter capillary tube or "cap tube" which meters refrigerant into the cooling coil.)
Some Advantages & Disadvantages of Capillary Tubes for Refrigerant Metering
A capillary tube is a less costly refrigerant metering device than a refrigerant metering valve such as a TEV or AEV and it's patently simpler in operation.
A capillary tube design also allows the use of a smaller compressor motor since the motor does not face the same head pressure start-up load: pressure equalizes when the system is off, so there is no high head pressure at the compressor motor during start-up.
However where a capillary tube is metering refrigerant, the cooling load needs to be more or less constant - because of the precisely measured charge of refrigerant and the absence of a large refrigerant storage receiver canister, you don't have a large volume of refrigerant available for varied or increased release into the evaporator coil at times of high cooling load. In other words, variations in cooling load are not so easily compensated-for in a capillary tube refrigeration system design.
Guide to Diagnosing, Servicing & Repairing Capillary Tube Refrigerant Metering Devices

Refrigerant overcharge on a capillary tube system: if the system has been overcharged you'll see higher pressure on the low-side of the system and an increased temperature in the system there.
The refrigeration system will run longer to reach the desired cooling temperature (refrigerator runs longer than it used-to, for example).
That's because we are seeing a higher compressor head pressure since we've put more refrigerant into a fixed volume space. Our sketch illustrates a cap tube and accumulator ready to be connected into a refrigeration system: the left end of the tube will be soldered into the refrigerant line using a flare or swage connection and the right end of the accumulator has a connector intended for soldering to the compressor suction line.
See REFRIGERANT HIGH HEAD PRESSURE DIAGNOSIS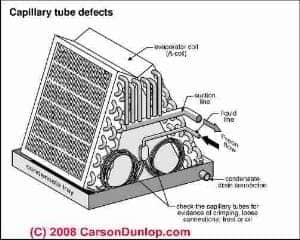 Refrigerant undercharge on a capillary tube system: if the system is undercharged, you will see lower pressure on the low side but not enough refrigerant, so in this case too the system will run longer than normal.
Plugged capillary tube diagnosis: if the cap tube becomes plugged with oil, debris, [or solder due to improper installation] the symptom will be that the low side will run in a deep vacuum. The compressor is unable to pull refrigerant through the capillary tube. And of course no cooling will be taking place at all.
An oil trap anywhere in a refrigeration system: oil traps (refrigerant oil has blocked refrigerant piping or metering device) will produce the same symptom as a plugged capillary tube - that is, the system will run at a deep vacuum on the suction side or low side. If you are diagnosing a capillary tube metered appliance, check the position of the accumulator. If it's become bent or moved out of horizontal, it's outlet end may be oil-trapped.
Visible capillary tube defects: where the cap tube is visible such as in Carson Dunlop Associates' sketch (left), there are several defects that you can spot by simple visual inspection
A crimped capillary tube will not perform properly as the crimp obstructs or restricts refrigerant flow below the design point and also increases the chances of debris blockage
Loose capillary tubing risks ultimately a refrigerant leak as vibration can wear through the tubing
Frost visible on the cap tube is an abnormal condition (as there should be liquid refrigerant in the tube) and probably means low refrigerant and a leak or partial tube blockage
A punctured capillary tube will bring the whole cooling system to its knees as you'll lose refrigerant and will lose cooling ability entirely.
Replacing a Capillary Tube on an Air Conditioner - Service Tips
Capillary tubing for refrigeration systems comes in a package that will include a chart that will help you specify the correct length to use.
Shown just below, we have prepared an example cap tube length table of sizes based on Gemline™ Capillary tubing. Some capillary tubing service packs such as GCPK will include multiple sizes or diameters of capillary tubing in standard 12-inch lengths.
Table of Refrigeration Equipment Capillary Tubing Sizes

Capillary Tube Size Denomination
Capillary Tube diameter in inches diameter[1]
GC-1
0.031
GC-2
0.042
GC-3
0.05
GC-4
0.064
GC-5
0.026
GC-6
0.036
GC-7
0.049
GC-8
0.054
GC-9
0.070
GC-10
0.075
GC-11
0.080
GC-12
0.085
[1] Gemline™ GCPK
Generally on small refrigeration systems that use a capillary tube to meter refrigerant into the cooling coil, the suction line is soldered to the capillary tube line.
This is done to increase vapor temperature going back to the compressor and to decrease refrigerant temperature going into the evaporator - both conditions that improve the operating efficiency of the refrigeration system.
But because of this co-soldering of the cap tube to the suction line, if the cap tube has to be replaced, generally both lines are replaced together.
OR, if the evaporator itself is OK, you can just snip off the capillary tube out of the system and install a new one in parallel, giving up the benefit of that side-by-side soldering of the new cap tube to the old suction line.
The length (and of course diameter) of the new capillary tube is important, but if you're off an inch or two on most appliances it's not going to be critical.
But a 12" change in capillary tube length will certainly change the behavior of the refrigeration system. If you make the cap tube too short the system run time will be increased beyond its normal or design point.
"Non-Adjustable" & Manually Adjustable Expansion Valves: How they are Set
Singer and other manufacturers point out that TEVs are adjusted at the factory before shipment. The factory setting of a thermostatic expansion valve is printed on a label found on the head of the valve and for most installations the factory superheat settings should be left alone.
How & When to set "Non-Adjustable" Thermostatic Expansion Valves
Non-adjustable TEVs (such as Singer TEV models 226, 326, 426) can actually be adjusted before the valve is installed, by turning an adjustment screw through the valve outlet opening. Once these valves have been installed, however, adjusting the valve would require removing it from the system, thus also requiring an evacuation and recharge of system refrigerant - not something to do casually.
How to Set Manually Adjustable Thermostatic Expansion Valves
Manually adjustable TEVs permit the device to be set to continuously maintain the proper refrigerant level entering the evaporator coil or cooling coil. Automatic expansion valves are discussed below.
Adjustable TEVs include an adjusting stem that can be turned with a screwdriver. Some valves may require that a covering cap be first removed to provide access to the adjusting screw or stem. On Singer adjustable TEVs (other controls will be similar),
Turn the adjusting screw only one turn at time to prevent over adjustment. We make a tiny scratch on the valve bottom at the start end of the screw slot so that we can keep careful track of how far a screw has been turned.
To increase the superheat setting, turn the TEV valve stem clockwise. When you turn the valve stem "in" or "clockwise" you are increasing pressure on the spring - the bellows will need more pressure to force the needle off of the seat, so the frost line will recede (less refrigerant is passing through) - and vice versa.
To decrease the superheat setting, turn the TEV valve stem counter-clockwise. Normally the TEV is set for 7 to 12 degrees of superheat across the cooling coil (evaporator coil).
Allow the air conditioning or heat pump system to stabilize for half an hour after each adjustment turn before trying to adjust the valve further.
Guide to Diagnosing Problems with Capillary Tubes for Refrigerant Metering
See REFRIGERANT LEAK DETECTION where we describe the effects of dirt and moisture on TEVs and capillary tubes. A quick test for a moisture/ice jammed TEV is to add some heat to see if the device will begin working again.
Watch out: as we discuss
at REFRIGERANT LEAK DETECTION, water or dirt in the system can cause serious and costly problems.
See THERMOSTATS for other details of the operation of primary air conditioning thermostats and switches.
at A/C - HEAT PUMP CONTROLS & SWITCHES we explain the many electrical switches and controls that control an air conditioner or heat pump system. You'll need to check these if your air conditioner won't start.
at OPERATING DEFECTS we take you through the major air conditioning problem symptoms and how to get the air conditioning system working again.
...
Continue reading at REFRIGERANT PIPING INSTALLATION or select a topic from closely-related articles below, or see our complete INDEX to RELATED ARTICLES below.
Or see EXPANSION VALVES, REFRIGERANT
Or see CONTROLS & SWITCHES, A/C - HEAT PUMP
Or see LOST COOLING CAPACITY ocus is on the case in which the air conditioning system seems to be "running" but not enough cool air, or no cool air at all is being delivered to the occupied space.
Suggested citation for this web page
CAPILLARY TUBES at InspectApedia.com - online encyclopedia of building & environmental inspection, testing, diagnosis, repair, & problem prevention advice.
Or use the SEARCH BOX found below to Ask a Question or Search InspectApedia
...
Frequently Asked Questions (FAQs)
Try the search box below or CONTACT US by email if you cannot find the answer you need at InspectApedia.
Comments:
(May 29, 2012) jaya said:
i would like to say. this kind of lessen is very helpful to carryout our job.
thanks,
jaya.
Reply:
Thanks so much Jaya for the nice comment; we work hard to make InspectApedia information accurate, unbiased and useful. For that reason, we welcome questions or suggestions from our readers - that feedback also helps us see where to focus more research and writing.
Question: Coil has cap tube metering
(May 8, 2012) Wayne said:
I just replaced a compressor (R22 wet) and condenser unit on an old system. The coil has what I believe is cap tube metering. The liquid line (3/8") enters a manifold of sorts which splits into four small line imediatly before the coil. The manifold as I call it can be dis-assembled (no I did not take it apart) it look like a couple of plumbing fitting. The HVAC vendor I bought the condenser unit from said to release all the freon into the system. I think it has to be charged just right to get the high and low pressure correct. The house is out in west texas so its difficult to get a tech (nearest) to drive 100 miles. Sound like I'm going to have to beg one to make the trip unless someone can help on line. Please advise and thank you.
Reply:
Wayne I'm not certain I have a clear understanding - perhaps you could send us some sharp photos of the cap tube system you describe? Use the CONTACT US link found at page top or bottom of any of our web pages.
Often a cap tube is branched into several smaller distribution lines that meter refrigerant into different sections of a cooling coil - it's simply a means of efficient distribution to improve coil efficiency, and shouldn't affect the charge quantity.
Question: piston kit with new AC condenser size 065
(July 27, 2012) Anonymous said:
received a piston kit with the new ac condenser size 065 my a coil from another manufacture look to have a number 69 on it . Could this cause a problem with pressure or frost and are pistons interchangeable with different equipment makers
Reply:
Anon I may be missing something in your question or we are confused about why you are working with a piston kit.
An air conditioning system "piston kit" in my lingo refers to a piston and probably rings intended for use in rebuilding a compressor motor - not something we'd see on a residential cooling system (where techs replace the entire hermetically sealed compressor).
On some air conditioner compressor motors failures of the piston ring can lead to a compressor failure and damage to the piston cylinder wall. Rebuild kits can be similar to automobile engine rebuild kits - the cylinder is bored, smoothed and an oversized piston and ring kit are installed. Without a piston repair a commercial refrigeration compressor motor may be unable to develop full head pressure.
About interchangability, the answer may seem a bit obvious, but basically if the piston shape and measurements match the compressor motor design specs it's "interchangable". If not, not.
Question:
Oct 4, 2012) griggs said:
Motor home metering device---no pressure on low side
(Dec 28, 2012) john dillenger said:
why does my accumulator sweat during heat pump mode?
(Feb 13, 2013) Chuku Sunny said:
what is the possible effect of variation of diameter a particular flow line of an air conditioner system
(Feb 16, 2014) Anonymous said:
Sir! I've got frozen capillary tubes just beneath piston metering device. Can the orifice be plugged. The evaporator coil is warm. John
Reply:
If the cap tube is ice covered I'd start by checking the refrigerant charge level.
Question: Refrigerator cap tube problems vs other trouble spots
Mar 31, 2014) doug said:
My fridge just isn't cooling great - okay, but not great. I pulled the plastic tubing off of my refrigerator capillary and there was a rough feel to the metal and what I think was a white substance on the tube, maybe some moisture. I'm not sure because I wasn't paying too close attention because I had not found this excellent article by then. Would those things I mentioned possible pertain to a leak in the capillary?
thanks.
Reply:
Doug,
Usually a leak in refrigerant piping will produce an oily substance (lubricant in the refrigerant oil), and further, if you had a leak in the piping most likely you'd lose all refrigerant and get no cooling at all.
Is it possible that the cap tube was intended to be in good thermal contact with another refrigerant tubing section and that the white substance you found was a thermal grease?
Last (for now) check the obvious things first: blocked air flow, wrong control settings, imablanced setting of controls for a freezer compartment vs. refrigeration compartment; or a stuck defrost timer;
Question: damaged or crimped cap tube may cause compressor over-pressure and shut down
(June 1, 2014) Anonymous said:
if capilary tube is choked ,then frost will form on sution pipe & then compresor will trip
Reply:
Thanks for the comment, anon, but I'm not quite sure I follow the reasoning for all cases. I think you mean that refrigerant flow is reduced but not stopped entirely. That condition can also occur with TEVs and indeed can look like low refrigerant - frosting at the cooling coil
Question:
(June 8, 2014) allen said:
whats the distance between tne tube and evaperatercoil?
(June 16, 2014) Patti Greenwood said:
As soon as our system kicks on, the capillary tubes frost over. Earlier in the day, the larger tubes were frozen over. The fins are near spotless clean as we had them cleaned about six months ago and we replace the filter monthly. What could be the problem?
Reply:
Patti
Some frost formation is normal; if however you are describing a change in how the system operates I suspect a refrigerant leak.
Question: how condensation of the heated freon gas takes place
(july 14, 2014) anonymous said:
Sir. Could you please explain how condensation of the now heated freon gas takes place
Reply:
Anon,
At the outdoor compressor-condenser unit the returning freon is compressed to a high temperature high pressure gas. That gas is circulated through the outdoor condensing coil. Key is that the gas is at high temperature AND high pressure. Blowing outdoor air over the outdoor condensing coil transfers heat from the gas to outdoor air, cooling the gas back to a liquid.
Question: use a compressor burn-out filter
(July 26, 2014) Bill said:
Oustside compressor-condensor connected to the indoor gas furnace. It appears the de compressor had a burn-out. It was replaced with a new one. I had the system (circuit)flushed with nitrogen, vacuumed pumped and re-filled with coolant. All pressures seem "OK" Systems runs fine but no refrigeration is present. The air coming out of the ducts at ambiant air temperature. What is the possible cause of this?
Reply:
Bill,
I'm not sure what you mean by "no refigeration is present" - you say the system runs fine. I think from the rest of your note you mean the system is not cooling.
If the system was properly charged with refrigerant and the compressor is indeed working and developinng proper pressures (which I doubt) then perhaps debris from the burned out compressor has clogged the refrigerant metering device.
A burnout filter should have been installed on both suction and supply sides. The system may need further cleaning and a TEV may need replacement.
Aug 2, 2014) Bill said:
Thanks for responding to my query. He is some additional information. Only a expantion device was present at the plenum coil. An TEV was installed. The circuit was put under vacuum ( down to 940 on the vacuum scale) and refilled with coolant. System was turned and running. The high pressure guage that was connected at the oustide unit was not showing more than a value of 50 when the technician was expexting about 100 ( not certain if this mean is in PSI) No refrigeration was present inside de plenum the air emperature being at ambiant (around 71f) Looks like something is "blocked".. Do you have an opinion?
Question:
(sept 23, 2014) mahmud molla said:
How use 500l glass top chest freezer capillary size
(Sept 23, 2014) Anonymous said:
hello sir
have a good day sir how to check 18000+24000 BTU WINDOW A/C CAPILLARY ?
Comment on refrigerants vs "Freon":
(Sept 23, 2014) Daniel said:
I think it is important to note that we are talking about refrigerants here, not coolants, and not Freons.
Coolants don't change phase to do their job of transferring heat, the liquid coolant in your car's cooling system is a liquid and is supposed to stay a liquid.
Refrigerants do change phase, usually from a liquid to a gas and back again, but even the ice in a drink can be seen as a refrigerant since it is changing phases, from solid to liquid, to keep your drink cool.
Freons are certain refrigerants, usually CFCs (like R11, R12) and HCFCs (Like R22) made by DuPont Chemicals.
It is somewhat OK to call say R22 from any manufacturer Freon, it's the same as calling any adjustable locking pliers Vise-Grip whether or not they were made by Irwin.
What is not OK is to call refrigerants that DuPont has never called Freon by that name, for instance calling R134a a Freon is wrong, because DuPont calls it Suva.
Reply:
Excellently put, Daniel. I agree completely. However because many readers are not familiar with proper refrigerant terminology we find that people looking for information about refrigerants search on all sorts of words that we might agree are not quite correct. "Freon" has become about as generic and mis-used as "kleenex" for "tissues". Your note is helpful to readers who want to speak accurately, while keeping the word "freon" around helps people find it. I'll copy your comments into our text on refrigerants
Question: frequent choking at the time deepfrezer gas charging of R-134 A
(Nov 15, 2014) Anonymous said:
iam facenig frequent choking at the time deepfrezer gas charging of R-134 A What precautions i have to take
Reply:
Try charging from the low side using gas only.
...
Ask a Question or Search InspectApedia
Try the search box just below, or if you prefer, post a question or comment in the Comments box below and we will respond promptly.
Search the InspectApedia website
Technical Reviewers & References
Click to Show or Hide Citations & References
[1] "Thermostatic Expansion Valve Installation Instructions", Singer Controls Division, Schiller Park IL, 197
[3] Modern Refrigeration and Air Conditioning, A. D. Althouse, C.H. Turnquist, A. Bracciano, Goodheart-Willcox Co., 1982
[4] Principles of Refrigeration, R. Warren Marsh, C. Thomas Olivo, Delmar Publishers, 1979
[5] "Air Conditioning & Refrigeration I & II", BOCES Education, Warren Hilliard (instructor), Poughkeepsie, New York, May - July 1982, [classroom notes from air conditioning and refrigeration maintenance and repair course attended by the website author]
[6] Refrigeration and Air Conditioning Technology, 5th Ed., William C. Whitman, William M. Johnson, John Tomczyk, Cengage Learning, 2005, ISBN 1401837654, 9781401837655 1324 pages
Books & Articles on Building & Environmental Inspection, Testing, Diagnosis, & Repair
Our recommended books about building & mechanical systems design, inspection, problem diagnosis, and repair, and about indoor environment and IAQ testing, diagnosis, and cleanup are at the InspectAPedia Bookstore. Also see our Book Reviews - InspectAPedia.
...