Air Handler Blower Unit Cleaning
How to Clean the AHU Blower Assembly & Blower Fan
POST a QUESTION or READ FAQs about how to diagnose & repair problems with the air handler or blower unit / fan assembly in a warm air furnace or air conditioning system
InspectAPedia tolerates no conflicts of interest. We have no relationship with advertisers, products, or services discussed at this website.
Steps in cleaning air handler or blower unit for A/C or heat pump or furnace systems:
This article illustrates and describes key steps in removing and cleaning the blower fan assembly in an air handler used for air conditioning or heating.
This article series describes Air Conditioning Blower Fan, Cooling Coil, Fan Coil Unit Leaks, Mold, and Filter Problems &amp Repairs.
We also provide a MASTER INDEX to this topic, or you can try the page top or bottom SEARCH BOX as a quick way to find information you need.
Air Handling Blower Fan Cleaning may fix no air flow or weak air flow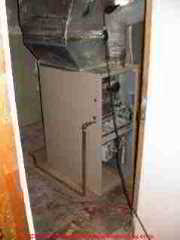 Here we describe and illustrate a detailed, thorough cleaning of the blower assembly in an air handler that is used for both heating and air conditioning.
At page top is a dirty squirrel cage fan inside of an air handler unit.
The photo shown just above/left is a typical gas-fired air furnace or air handler unit. If a cooling coil is installed above the air handler then the same system may be in use for both air conditioning and heating.
[Click to enlarge any image]
We noted at DIRTY A/C BLOWERS that a dirty blower fan reduces the blower assembly air flow rate, increasing heating and cooling costs, and sometimes leading to actual system operating failures such as FROST BUILD-UP on AIR CONDITIONER COILS that forms not just frost but solid ice if the air flow rate across even a clean cooling coil is just too slow.
Here in a series of photos we illustrate the basic steps in disassembling and thoroughly cleaning the squirrel cage fan blower assembly as well as the compartment into which the blower fan is placed.
In a typical up-flow air handler return air enters the bottom of the air handler through an air filter.
A squirrel cage blower fan located in the unit bottom rotates to move returning air up through the heat exchanger (that will be hot if the furnace is in heating mode) then further upwards through an evaporator/cooling coil (that will be chilled by refrigerant if the system is in air conditioning or cooling mode).
I have made air flow measurements confirming a 50% or more improvement in the air flow of a heating or air conditioning blower unit when dirt is cleaned from the blower fan assembly.
Surprisingly, even a small amount of dirt and debris makes a big reduction in airflow. That's because it doesn't take much dust and dirt to fill the slight curvature of the fan blades in these units.
Dead Birds, Rodents in the Flue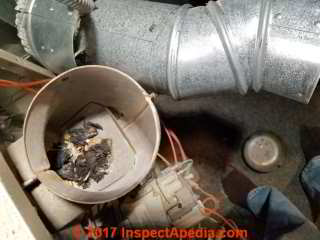 Above: even before looking at the blower fan itself the service technician removes the flue vent connector to inspect and if necessary clean that component. In our photo you can see a nicely dried dead bird who fell down the system chimney or perhaps even entered it deliberately - and could not escape.
Inspect the Air Filter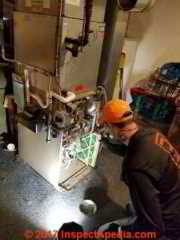 James Agzigian, 3 Zigs Heating and Cooling, a Cherry Hill New Jersey HVAC service company was kind enough to both permit photographs of the air handler blower assembly cleaning procedure and to point out some key steps in cleaning and reassembling the unit for safe, effective operation. For U.S. readers in New Jersey, James' contact information is at the end of this article.
Above: the air filter is pulled for inspection and typically, replacement. If there is no air filter in the system we know it has not been operated properly and we expect it to be even more dust and debris clogged than usual.
Watch out: For effective operation of this system it is essential that it never be operated without air filters in place.
See AIR FILTERS for HVAC SYSTEMS.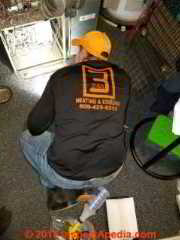 Notice above that the service tech uses a powerful work light to begin his inspection of the blower unit. There's little chance of doing a great cleaning job if you're working in the dark.
Below: before beginning mechanical removal of the blower assembly it's of course necessary to turn power and fuel off to the heating/air conditioning air handler unit and then to remove circuit boards and wires that are in the way.
I'd have been compulsively labeling every wire so that I could plug each back in to its original connection point, but an experienced service technician will appear to be moving much faster: he already sees which wires power what and he knows where they connect on the circuit control board.
Someone less experienced may spend time later pouring over the wiring diagram (above) if she forgot to note where the wire connectors belong.
Below: having disconnected the wires and removed the circuit board the technician can un-bolt and slide out the blower assembly from its compartment in the bottom of this air handler unit or AHU.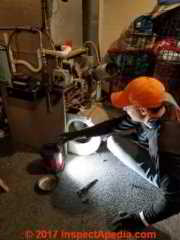 Both above and in the photo below you can see the whole blower assembly sliding out of the air handler base. Typically there are 2-4 bolts that secure the assembly to the bottom of the AHU.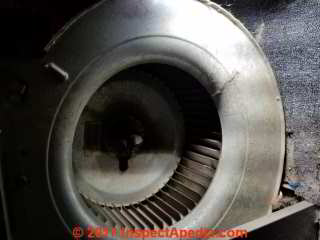 Now let's take a closer look at the squirrel cage fan itself. In our first photo below the fan doesn't look that dirty - not too bad. But take a look at the second photograph below. There you'll see in cross section how dirt and debris blocks and changes the shape of the curved fan blades.
Below James is pointing out that at some point this blower fan was wet: perhaps from condensate spilling down through the air handler from a blocked condensate drain above. Water spinning off of the blower fan leaves a center trail of corrosion on the air handler blower enclosure.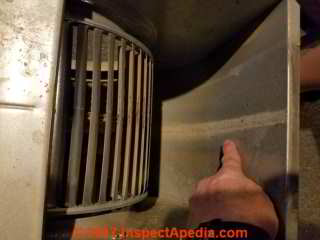 Before further disassembly of the blower fan from its direct-drive motor (some units use a pulley-driven fan motor) we look into the bottom of the air handler return air plenum (below). The dust and debris needs to be cleaned from this space as well.
This is an area where I sometimes have found dead mice or other little critters, and once a dead skunk: all are a potential bacterial hazard in the system.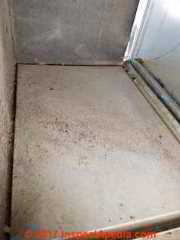 Below James has flipped the blower assembly on its side so that we can see the accumulation of dust and hair on the blower motor. Excessive debris on the motor's air inlet openings can cause motor overheating and may reduce its life.
Below: the motor for the blower assembly fan is mounted with three bolts to the squirrel cage fan housing (red arrows).
James takes care to number both the motor brackets and their position on the housing. Why? Well look at all of those holes for other fan mountings. We need to be able to re-assemble the blower fan motor in the factory-position after we've disassembled and cleaned these parts.
I sometimes take a photo of the position of parts and wires too, because on occasion the cleaning process may wash off my re-assembly numbers or marks.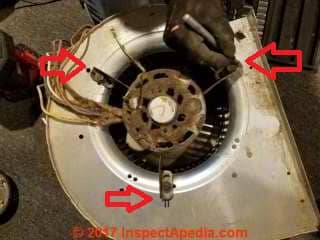 Below you can see in a closer image the thick greasy hair and dust on the blower motor.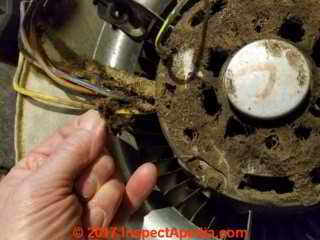 Below is Aero Krome, a spray penetrating lubricating product that this service tech uses to loosen jammed bolts or drive shafts - a step necessary clean metal and electrical parts.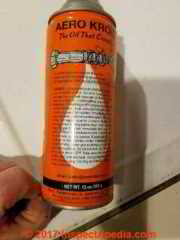 OPINION: What about spray foaming the fan instead of taking it apart for cleaning?
Some service technicians try cleaning the blower fan without any disassembly, using a spray foam cleaner - the same product that's used to clean a dirty evaporator coil.
(See DIRTY COIL CLEANING PROCEDURES). In the case of the evaporator coil, because we don't want to cut a refrigerant line we can't remove the coil for cleaning. But that's not the case with the blower assembly in the air handler.
Not only does blower assembly removal permit more thorough cleaning of all of its parts, that approach avoids dripping messy goop into the bottom of the air handler into areas where it is impossible to clean without removing the whole fan assembly.
So the service tech is simply moving crud from one place in the air handler to another - the AHU bottom - where it will soon be back in the fan assembly.
To clean these dirty parts the service tech took them outside to a work area where they could be sprayed clean and dried.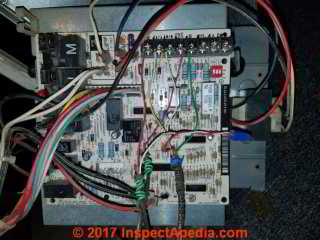 First the motor and the control board are cleaned, then the round squirrel cage fan itself as well as the fan housing are cleaned thoroughly, then brought back inside for re-assembly.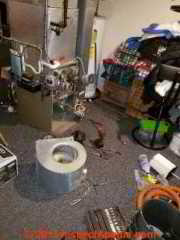 Below are two photos of the cleaned squirrel cage fan. In our second photo you can see a tiny metal clip in the photo upper left corner.
Watch out: don't remove much less lose a clip like this. This little weight was installed at the factory to balance the rotating fan. An un-balanced fan will quickly wear out its bearings and thus fail.
Our first photo below shows the round blower fan set into the fan housing.
In the second photo James is pointing to the leading edge of the squirrel cage blower fan blades, noting that it's too easy to re-assemble a blower fan with the blades facing backwards!
Replacing the squirrel cage blower fan into its cage it's critical to remember to face the blades in the right direction. James is pointing to the curved blade showing us that it's scoop faces in the direction of rotation.
Putting the blower cage in backwards looks just fine to an amateur but the air output of the blower assembly will be close to nil. It's a lot of trouble to pull the whole assembly apart again to correct this mistake.
Watch out: if you have trouble slipping the blower fan back onto the motor drive shaft, don't force it or you may bend something and you'll be sorry. Rust and corrosion on the shaft can make re-assembly difficult. Try using emory paper to clean the shaft surface until you can slip the fan back in place.
Below James' gloved hand is showing how the air deflector will mount onto the rear of the blower frame and I'm pointing with my thumb to the curved blades are facing towards-it and my index finger points to the direction the curved blades are facing - the direction of rotation.
James notes that on occasion he finds a service tech or DIY air handler cleaner person who just leaves the air deflector off when reassembling the unit, perhaps because he couldn't remember how to position it. Again the result is significantly-reduced blower assembly output.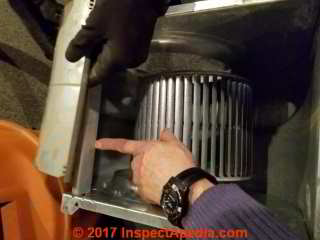 In our next photo James is replacing the direct drive motor that operates the fan, taking care to mount the motor in the same position as it was before disassembly. Otherwise you might find that wires don't reach their connection points or the fan may not be properly centered in its housing.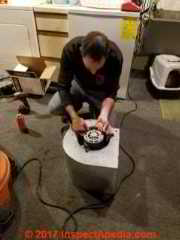 Below: with the squirrel cage fan in place, the motor properly re-mounted onto the blower frame, and the air deflector properly replaced and secured (right side of the blower frame in our photo), James gives the fan a spin to be sure that it rotates freely and evenly - a low-tech test worth making before the blower assembly is replaced in the air handler and the wiring connections restored.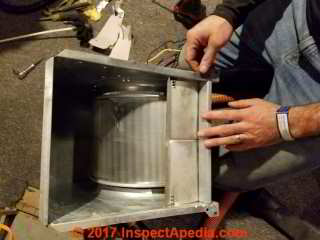 The blower assembly is now returned to the bottom of the air handler and bolted into place, then the control board and wire connections are replaced and, of course, the service tech returns the system to operation and waits to see that it runs properly before packing up tools and leaving the job.
Watch out: If you permit the filters to become very dirty you may need expensive special cleaning or other repairs.
See BLOWER FAN OPERATION & TESTING.
COOLING MAINTENANCE TIP: The HVAC blower assembly should be serviced every two years. Without proper service the system may have no more than a five year lifetime.
James Agzigian, 3 Zigs Heating and Cooling, heating and air conditioning service contractor in Cherry Hill, New Jersey. Tel: 609-425-8313, Email: zig@threezigs.com, Website: http://threezigs.com/ Special thanks to James for tolerating questions and permitting photographs as he cleaned the air handler blower assembly shown in the photos of this article.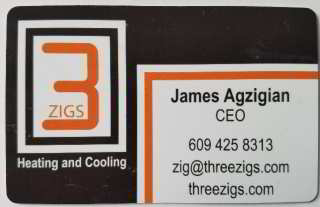 ...
Continue reading at BLOWER FAN OPERATION & TESTING or select a topic from closely-related articles below, or see our complete INDEX to RELATED ARTICLES below.
Or see AIR FLOW TOO WEAK
Or see AIR HANDLER BLOWER DOORS - how to find and open the blower compartment door or cover
Or see AIR HANDLER / BLOWER UNITS - home
Or see BLOWER LEAKS, RUST & MOLD
Or see this
Article Series Contents
Suggested citation for this web page
BLOWER FAN ASSEMBLY CLEANING at InspectApedia.com - online encyclopedia of building & environmental inspection, testing, diagnosis, repair, & problem prevention advice.
Or use the SEARCH BOX found below to Ask a Question or Search InspectApedia
...
Ask a Question or Search InspectApedia
Questions & answers or comments about how to diagnose & repair problems with the air handler or blower unit / fan assembly in a warm air furnace or air conditioning system .
Try the search box just below, or if you prefer, post a question or comment in the Comments box below and we will respond promptly.
Search the InspectApedia website
Technical Reviewers & References
Click to Show or Hide Citations & References
Thanks to Mark Cramer, Tampa Florida, for assistance in technical review of the "Critical Defects" section and for the photograph of the deteriorating gray Owens Corning flex duct in a hot attic. Mr. Cramer is a Florida home inspector and home inspection educator.
Thanks to Jon Bolton, an ASHI, FABI, and otherwise certified Florida home inspector who provided photos of failing Goodman gray flex duct in a hot attic.
Wikipedia provided background information about the definition of HEPA and airborne particle interception.
[5] US EPA - Mold Remediation in Schools and Commercial Building [ copy on file as /sickhouse/EPA_Mold_Remediation_in_Schools.pdf ] - US EPA
Modern Refrigeration and Air Conditioning, A. D. Althouse, C.H. Turnquist, A. Bracciano, Goodheart-Willcox Co., 1982
Principles of Refrigeration, R. Warren Marsh, C. Thomas Olivo, Delmar Publishers, 1979
"Air Conditioning & Refrigeration I & II", BOCES Education, Warren Hilliard (instructor), Poughkeepsie, New York, May - July 1982, [classroom notes from air conditioning and refrigeration maintenance and repair course attended by the website author]
Refrigeration and Air Conditioning Technology, 5th Ed., William C. Whitman, William M. Johnson, John Tomczyk, Cengage Learning, 2005, ISBN 1401837654, 9781401837655 1324 pages
How to diagnose and fix an air conditioning system that is not working
Since the failure of an air conditioner to turn on, loss of air conditioner cooling capacity, reduced air conditioning output temperatures, loss of cool air supply, or even loss of air flow entirely can be due to a variety of problems with one or more components of an air conditioner or air conditioning system, after reviewing the lost air conditioner cooling diagnosis procedures described in this article, be sure to also review the diagnostic procedures at each of the individual air conditioning diagnosis and repair major topics listed just below. To return to our air conditioning and refrigeration home page go to AIR CONDITIONING & HEAT PUMP SYSTEMS.
If your air conditioning or heat pump system has lost its cooling capacity or won't start select one or more of the diagnostic articles listed below.
Books & Articles on Building & Environmental Inspection, Testing, Diagnosis, & Repair