Snow & Ice Removal from Walking Surfaces
Approaches to reducing or removing snow & ice from ramps, stairs & walkways
InspectAPedia tolerates no conflicts of interest. We have no relationship with advertisers, products, or services discussed at this website.
Snow & ice fall hazards on exterior stairs, ramps, walkways, & snow & ice removal methods: examples of methods fdor clearing snow and ice from exterior walking surfaces are given followed by research citations on snow & ice contribution to exterior falls on ramps, stairs & walkways.
This article series describes common causes of & cures for slippery walking surfaces on stairs and walkways. We include ramp, stair and walkway maintenance suggestions to reduce slip, trip and fall hazards due to water, algae, snow, ice, etc.
Green links show where you are. © Copyright 2017 InspectApedia.com, All Rights Reserved.
How to Reduce Snow & Ice Slip & Fall Hazards on Ramps, Stairs & Walks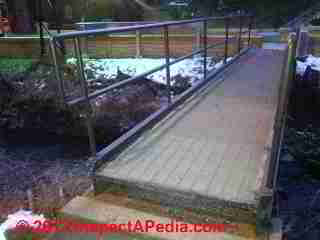 Besides the obvious requirements for properly constructed ramps, guardrails, hand-railings, and stairways themselves, building owners & managers use a variety of methods to reduce the falling hazards from snow and ice on ramps, stairs, and walkways, including at least these:
Build a sheltering roof or enclosure over and around the walking surface
Design the walking surface to drain properly, minimizing water accumulation that in turn contributes to algae & ice formation. Proper drainage also reduces algae formation on these surfaces.
Provide more sunlight on the walking surface by removing shading trees or obstructions. Adding hours of sun will not eliminate snow, ice, or algae slip hazards but will reduce them and may make surface maintenance easier.
Remove accumulated snow and ice - by shoveling, sweeping, and use of snow and ice melt products such as

Ice melting salts or chemicals
Heated walking surfaces, provided by building a heating system into stairs, ramps or sidewalks - elaborated below.
Overhead heating lamps and lights projecting onto walking surfaces
Developments on construction of heated surfaces to melt snow & ice from outdoor walking surfaces include both built-in radiant heating systems in outdoor drives, walks, and stairs and electrically-heated mats or walkways that can be placed on stairs and walkways.
Built-in heated sidewalks & stairs: New York City (and possibly other) sidewalks have been reconstructed with built-in heating tubing (RADIANT HEAT) in front of some buildings - a feature claimed by marketers and owners as a selling feature at some office buildings and condominiums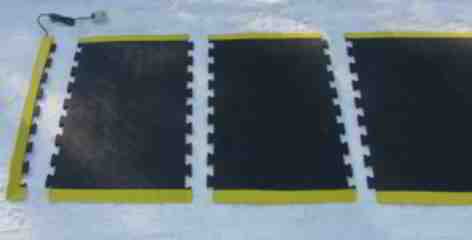 Add-on heated walking surfaces: several companies listed below provide systems for add-on electrically heated mats or walking surfaces that can be place on outdoor stairs, ramps, or walkways likely to otherwise accumiulate slippery snow and ice.


Clear Path heated walkway surface add-on: In June 2014 we were contacted by Fundable.com seeking crowd-funding support for Clear Path, a company seeking funding for an insulated electrically-heated walking surface (illustration above) that claims to significantly reduce the electrical energy required to heat an outdoor surface to melt away snow and ice. Interested readers can see this link seeking product funding:

http://www.fundable.com/ClearPath

Notice: InspectAPedia.com is an independent publisher of building, environmental, and forensic inspection, diagnosis, and repair information provided free to the public - we have no business nor financial connection with any manufacturer or service provider discussed at our website.

Other companies offering products for heating walking surfaces & snow melting products used on ramps, stairs, walkways include


HeatTrak snow melting mats, US & CANADA HeatTrak LLC 3641 Clearview Parkway Doraville, GA 30340 Toll Free: (888) 586-4904
Europe and Scandinavia Dia Proff Norge AS Tel: (+47) 67 06 73 30 Fax: (+47) 67 06 73 31 Dir: (+47) 45 00 00 00 Adresse: Kjeller vest 3, 2007 Kjeller post@diaproff. Email: info@heattrak.com, Website: http://www.heattrak.com/, retrieved 6/23/2014, original source; http://www.heattrak.com/
KeMF HeatFlake heated rubber doormats, KEMF, 2102 Victoria Avenue, Greenfield Park, Québec, Canada J4V 1M9 Main: 450-923-4812 Toll-free Canada: 1 866-923-4812 Toll-free USA: 1 855-468-0088 Fax: 450-923-8890 info@kemf.ca, Website: retrieved 6/23/2014, original source: http://kemf.net/hotflake-heated-mat/
Research Confirms that Snow & Ice on Exterior Ramps, Stairs, or Walks is a Serious Fall & Injury Hazard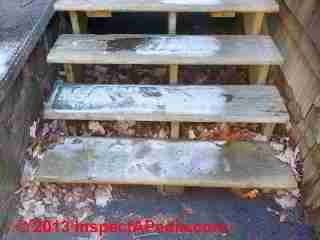 Failure to keep exterior walking surfaces free of ice and snow is discussed extensively in literature on fall hazards in climates where freezing conditions occur. Some particularly helpful research citations on snow and ice slip trip and fall hazards are given just below.
At SNOW & ICE on WALKING SURFACES we include data on the slipperiness of ice and snow covered surfaces including the static coefficient of friction used to measure just how slippery such surfaces are.
You'll see that water on ice is extremely slippery as is "black ice" on surfaces.
Snow and ice may cause or contribute to very serious falls and falls that may be witnessed by more people - as the walker is outdoors - than indoor slips, trips and falls that may occur where the field of view for second-party observers is more limited.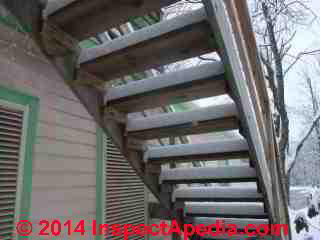 However, among these research citations, Strandberg et als. offers data making clear that claims of injury statistics related to falls in which snow and ice played a key role is smaller than that claimed by some of the de-icing industry product manufacturers.
Research on Slip & Fall Hazards Involving Ice or Snow
Most falls occur indoors while only about 13-15% of fall injuries cite snow and ice as a factor.
Sheldon (1960) found up to 50% of falls they studied involved ice and snow, and El Faizy notes further that snow and ice factors have been omitted on some surveys of home fall inury studies! - Sheldon (1960), Sjörgen (1991), Strandberg (1981), El-Faizy (1994).
Abeysekera, J., and Z. Khan. "Slipping and falling accidents on icy surfaces: a case study from northern Sweden." ARBETE OCH HALSA VETENSKAPLIG SKRIFTSERIE (1998): 201-204.
Bentley, Tim. "The role of latent and active failures in workplace slips, trips and falls: An information processing approach." Applied ergonomics 40, no. 2 (2009): 175-180.
Bentley, Tim A., and R. A. Haslam. "Identification of risk factors and countermeasures for slip, trip and fall accidents during the delivery of mail." Applied ergonomics 32, no. 2 (2001): 127-134.
El-Faizy, Marjan, and Sibylle Reinsch. "Home safety intervention for the prevention of falls." Physical & Occupational Therapy in Geriatrics 12, no. 3 (1994): 33-49.
Gao, Chuansi, and John Abeysekera. "The assessment of the integration of slip resistance, thermal insulation and wearability of footwear on icy surfaces." Safety science 40, no. 7 (2002): 613-624.
Haslam, R. A., and Tim A. Bentley. "Follow-up investigations of slip, trip and fall accidents among postal delivery workers." Safety Science 32, no. 1 (1999): 33-47.
Kemmlert, Kristina, and Lotta Lundholm. "Slips, trips and falls in different work groups—with reference to age and from a preventive perspective." Applied ergonomics 32, no. 2 (2001): 149-153.
Marietta, William. "Trip, slip and fall prevention." The Work Environment: Occupational Health Fundamentals 1 (1991): 241.
Pynoos, Jon, D. Sabata, and I. H. Choi. "The role of the environment in fall prevention at home and in the community." Falls free: Promoting a national falls prevention action plan (2005): 41-54.
Ryerson, Charles C. "Ice protection of offshore platforms." Cold Regions Science and Technology 65, no. 1 (2011): 97-110.
Sheldon, J. H. "On the natural history of falls in old age." British Medical Journal 2, no. 5214 (1960): 1685.
Sjörgen, Harmeet, and Ulf Björnstig. "Injuries among the Elderly in the Home Environment Detailed Analysis of Mechanisms and Consequences." Journal of Aging and Health 3, no. 1 (1991): 107-125.
Strandberg, Lennart. "On accident analysis and slip-resistance measurement." Ergonomics 26, no. 1 (1983): 11-32.
Strandberg, Lennart, and Håkan Lanshammar. "The dynamics of slipping accidents." Journal of Occupational Accidents 3, no. 3 (1981): 153-162.
...
Continue reading at RAMP SLIP TRIP FALL HAZARDS or select a topic from closely-related articles below, or see our complete INDEX to RELATED ARTICLES below.
Or see
SLIP TRIP & FALL HAZARD LIST, STAIRS
SLIPS, TRIPS & FALLS, EXTERIOR STAIRS
Suggested citation for this web page
SNOW & ICE REMOVAL on WALKS & STAIRS at InspectApedia.com - online encyclopedia of building & environmental inspection, testing, diagnosis, repair, & problem prevention advice.
Or use the SEARCH BOX found below to Ask a Question or Search InspectApedia
...
Frequently Asked Questions (FAQs)
Try the search box below or CONTACT US by email if you cannot find the answer you need at InspectApedia.
...
Ask a Question or Search InspectApedia
Use the "Click to Show or Hide FAQs" link just above to see recently-posted questions, comments, replies, try the search box just below, or if you prefer, post a question or comment in the Comments box below and we will respond promptly.
Search the InspectApedia website
Technical Reviewers & References
Click to Show or Hide Citations & References
Best Practices Guide to Residential Construction, by Steven Bliss. John Wiley & Sons, 2006. ISBN-10: 0471648361, ISBN-13: 978-0471648369, Hardcover: 320 pages, available from Amazon.com and also Wiley.com. See our book review of this publication.
Decks and Porches, the JLC Guide to, Best Practices for Outdoor Spaces, Steve Bliss (Editor), The Journal of Light Construction, Williston VT, 2010 ISBN 10: 1-928580-42-4, ISBN 13: 978-1-928580-42-3, available from Amazon.com
Best Practices Guide to Residential Construction, by Steven Bliss. John Wiley & Sons, 2006. ISBN-10: 0471648361, ISBN-13: 978-0471648369, Hardcover: 320 pages, available from Amazon.com and also Wiley.com. See our book review of this publication.
Paul Galow - technical consultant on networking, LAN design, applications support. Galow Consulting Services, 914-204-1749, email: paulgalow@galowconsulting.com
Eric Galow, Galow Homes, Lagrangeville, NY. Mr. Galow can be reached by email: ericgalow@gmail.com or by telephone: 914-474-6613. Mr. Galow specializes in residential construction including both new homes and repairs, renovations, and additions.
[3] "The Elimination of Unsafe Guardrails, a Progress Report," Elliott O. Stephenson, Building Standards, March-April 1993
[4] "Are Functional Handrails Within Our Grasp" Jake Pauls, Building Standards, January-February 1991
[5] Access Ramp building codes:

UBC 1003.3.4.3
BOCA 1016.3
ADA 4.8.2
IBC 1010.2

[6] Access Ramp Standards:

ADA (Americans with Disabilities Act), Public Law 101-336. 7/26/90 is very often cited by other sources for good design of stairs and ramps etc. even where disabled individuals are not the design target.
ANSI A117.4 Accessible and Usable buildings and Facilities (earlier version was incorporated into the ADA)
ASTM F 1637, Standard Practice for Safe Walking Surfaces, (Similar to the above standard

[7] The Circular Staircase, Mary Roberts Rinehart
[8] Construction Drawings and Details, Rosemary Kilmer
[9] Falls and Related Injuries: Slips, Trips, Missteps, and Their Consequences, Lawyers & Judges Publishing, (June 2002), ISBN-10: 0913875430 ISBN-13: 978-0913875438
"Falls in the home and public places are the second leading cause of unintentional injury deaths in the United States, but are overlooked in most literature. This book is unique in that it is entirely devoted to falls. Of use to primary care physicians, nurses, insurance adjusters, architects, writers of building codes, attorneys, or anyone who cares for the elderly, this book will tell you how, why, and when people will likely fall, what most likely will be injured, and how such injuries come about. "
[10] Mobile Home Inspections common defects unique to factory built housing, inspection methods
[11] The National Institute of Standards and Technology, NIST (nee National Bureau of Standards NBS) is a US government agency - see www.nist.gov

"A Parametric Study of Wall Moisture Contents Using a Revised Variable Indoor Relative Humidity Version of the "Moist" Transient Heat and Moisture Transfer Model [copy on file as/interiors/MOIST_Model_NIST_b95074.pdf ] - ", George Tsongas, Doug Burch, Carolyn Roos, Malcom Cunningham; this paper describes software and the prediction of wall moisture contents. - PDF Document from NIS

[12] Slips, Trips, Missteps and Their Consequences, Second Edition, Gary M. Bakken, H. Harvey Cohen,A. S. Hyde, Jon R. Abele, ISBN-13: 978-1-933264-01-1 or ISBN 10: 1-933264-01-2, available from the publisher, Lawyers ^ Judges Publishing Company,Inc., www.lawyersandjudges.com sales@lawyersandjudges.com and also from the InspectAPedia Bookstore (Amazon.com)
[13] Slips, Trips, Missteps and Their Consequences, Gary M. Bakken, H. Harvey Cohen, Jon R. Abele, Alvin S. Hyde, Cindy A. LaRue, Lawyers and Judges Publishing; ISBN-10: 1933264012 ISBN-13: 978-1933264011
[14] The Stairway Manufacturers' Association, (877) 500-5759, provides a pictorial guide to the stair and railing portion of the International Residential Code. [copy on file as http://www.stairways.org/pdf/2006%20Stair%20IRC%20SCREEN.pdf ] -
[15] How to Clean Moldy Wood Framing & Sheathing How to clean/seal mold from/on exposed lumber or plywood subfloor or roof sheathing indoors - some suggestions based on our field and laboratory research
[16] Mold-Resistant Building Practices, advice from an expert on how to prevent mold after a building flood and how to prevent mold growth in buildings by selection of building materials and by anti-mold construction details.
[17] Steps and Stairways, Cleo Baldon & Ib Melchior, Rizzoli, 1989.
[18] The Staircase, Ann Rinaldi
[19] Common Sense Stairbuilding and Handrailing, Fred T. Hodgson
[20] The Art of Staircases, Pilar Chueca
[21] Building Stairs, by pros for pros, Andy Engel
[22] A Simplified Guide to Custom Stairbuilding, George R. Christina
[23] Basic Stairbuilding, Scott Schuttner
[24] The Staircase (two volumes), John Templar, Cambridge: the MIT Press, 1992
[25] The Staircase: History and Theories, John Templar, MIT Press 1995
[26] Steps and Stairways, Cleo Baldon & Ib Melchior, Rizzoli, 1989.
[27] "The Dimensions of Stairs", J. M. Fitch et al., Scientific American,

October 1974

.
[28] Stair & Walkway Standards for Slipperiness or Coefficient of Friction (COF) or Static Coefficient of Friction (SCOF)

ANSI A1264.2
ANSI B101
ASTM D-21, and ASTM D2047 
UL-410 (similar to ASTM D-21)
NSFI 101-B  (National Floor Safety Institute)
NSFI Walkway Auditing Guideline (WAG) Ref. 101-A& 101-B (may appear as ANSI B101.0) sets rules for measuring walkway slip resist
OSHA - (Dept of Labor CFR 1910.22 does not specify COF and pertains to workplaces) but recognizes the need for a "qualified person" to evaluate walkway slipperiness
ADA (relies on the ANSI and ASTM standards) 

[29] A. Sacher, International Symposium on Slip Resistance: The Interface of Man, Footwear, and Walking Surfaces, Journal of Testing and Evaluation (JTE), ISSN: 1945-7553, January 1997  [more focused on slipperiness of polished surfaces
[30] Algae is widely recognized as a slippery surface - a Google web search for "how slippery is algae on steps" produced more than 15,000 results on 8/29/12)
[31] Slipperiness of algae on walking surfaces, warning, Royal Horticultural Society, retrieved 8/29/2012, original source: http://apps.rhs.org.uk/advicesearch/profile.aspx?pid=418
[32] Slipperiness of algae: "Watch your step, wet rocks and algae are slippery" Oregon State University warning  1977  retrieved 8/29/2012, original source: http://www.worldcat.org/title/watch-your-step-wet-rocks-and-algae-are-slippery/oclc/663683915 
[33] Coefficient of friction of algae on surfaces [like stair treads]: Delphine Gourdon, Qi Lin, Emin Oroudjev, Helen Hansma, Yuval Golan, Shoshana Arad, and Jacob Israelachvili, "Adhesion and Stable Low Friction Provided by a Subnanometer-Thick Monolayer of a Natural Polysaccharide", Langmuir, 2008 pp 1534-1540, American Chemical Society, retrieved 8/29/2012,
Abstract: Using a surface forces apparatus, we have investigated the adhesive and lubrication forces of mica surfaces separated by a molecularly thin, subnanometer film of a high-molecular-weight (2.3 MDa) anionic polysaccharide from the algae Porphyridium sp. adsorbed from aqueous solution. The adhesion and friction forces of the confined biopolymer were monitored as a function of time, shearing distance, and driving velocity under a large range of compressive loads (pressures). Although the thickness of the dilute polysaccharide was <1 nm, the friction was low (coefficient of friction = 0.015), and no wear was ever observed even at a pressure of 110 atm over 3 decades of velocity, so long as the shearing distances were less than twice the contact diameter. Atomic force microscopy in solution shows that the biopolymer is able to adsorb to the mica surface but remains mobile and easily dragged upon shearing. The adhesion (adsorption) of this polysaccharide even to negatively charged surfaces, its stable low friction, its robustness (high-load carrying capacity and good wear protection), and the weak (logarithmic) dependence of the friction force on the sliding velocity make this class of polyelectrolytes excellent candidates for use in water-based lubricant fluids and as potential additives to synovial fluid in joints and other biolubricating fluids. The physical reasons for the remarkable tribological properties of the ultrathin polysaccharide monolayer are discussed and appear to be quite different from those of other polyelectrolytes and proteins that act as thick "polymer brush" layers.
[34] Jinjin Li, Yuhong Liu, Jianbin Luo, Pengxiao Liu, and Chenhui Zhang, "Excellent Lubricating Behavior of Brasenia schreberi Mucilage" Langmuir 2012 28 (20), 7797-7802
[35] Jason R. Stokes, Lubica Macakova, Agnieszka Chojnicka-Paszun, Cornelis G. de Kruif, and Harmen H. J. de Jongh, "Lubrication, Adsorption, and Rheology of Aqueous Polysaccharide Solutions, Langmuir 2011 27 (7), 3474-3484
[36] "Coefficients of Friction for Ice", The Physics Factbook™, Glenn Elert, Ed., retrieved 8/29/12, original source: http://hypertextbook.com/facts/2004/GennaAbleman.shtml
[37] "Coefficients of Friction for Ice", The University of the State of New York Reference Tables for Physical Setting/Physics. New York: The State Education Department, 2002. Op. Cit.
[38] Serway Physics for Scientists and Engineers 4th edition (p. 126.)
[39] "How Slippery Is It", retrieved 8/29/12, original source http://www.icebike.org/Articles/howslippery.htm
[40] John E. Hunter, "Friction Values", The Source, Society of Accident Reconstructionists, Winter 1998. Study of frictional values of car tires involved in collisions on snow or ice covered roadways.
[41] Frictional Coefficients of some Common Materials and Materials Combinations, The Engineering Toolbox, retrieved 8/29/2012, original source: http://www.engineeringtoolbox.com/friction-coefficients-d_778.html [copy on file as Friction and Coefficients of Friction.pdf ]
[42] Stairways and Ladders, A Guide to OSHA Rules, OSHA, U.S. Department of Labor, 3124-12R 2003 - Web Search 05/28/2010 original source: http://www.osha.gov/Publications/osha3124.pdf. OSHA regulations govern standards in the construction industry and in the workforce Quoting from OSHA whose focus is on workplace safety and so excludes discussion of falls and stair-falls in private homes:

OSHA estimates that there are 24,882 injuries and as many as 36 fatalities per year due to falls from stairways and ladders used in construction. Nearly half of these injuries are serious enough to require time off the job--11,570 lost workday injuries and 13,312 non-lost workday injuries occur annually due to falls from stairways and ladders used in construction. These data demonstrate that work on and around ladders and stairways is hazardous. More importantly, they show that compliance with OSHA's requirements for the safe use of ladders and stairways could have prevented many of these injuries. -osha.gov/doc/outreachtraining/htmlfiles/stairlad.html

[43] International Building Code, Stairway Provisions, Section 1009: Stairways and Handrails, retrieved 8/29/12, original source: http://www.amezz.com/ibc-stairs-code.htm [copy on file as IBC Stairs Code.pdf]
[44] Model Building Code, Chapter 10, Means of Egress, retrieved 8/29/12, original source: http://www2.iccsafe.org/states/newjersey/NJ_Building/PDFs/NJ_Bldg_Chapter10.pdf, [copy on file as NJ_Bldg_Chapter10.pdf] adopted, for example by New Jersey. International Code Council, 500 New Jersey Avenue, NW, 6th Floor, Washington, DC 20001, Tel: 800-786-4452
Books & Articles on Building & Environmental Inspection, Testing, Diagnosis, & Repair