Roof Color - what is the best color for a roof?
ROOF COLOR RECOMMENDATIONS - CONTENTS: Choices of roofing color & effect of roof color on building cooling or heating costs. Effect of roof color on energy usage. Effect of roof color on life of roofing material. Roof color choice depends on climate and amount of sunlight. Table shows roof colors and effect on cooling load & cooling costs. Effects of roof color & reflectance on cooling energy costs for buildings with low slope roofs.
POST a QUESTION or READ FAQs about choosing the color for a roof and the effect of roof color on building cooling load
InspectAPedia tolerates no conflicts of interest. We have no relationship with advertisers, products, or services discussed at this website.
Roof color choices vs. energy efficiency in heating or cooling:
This article describes the effect of roof color on shingle (or other roofing material) life and the effect of roof color on building cooling load. We provide a table of the effects of various roof colors on building cooling loads and costs.
Green links show where you are. © Copyright 2017 InspectApedia.com, All Rights Reserved.
Choices of Roof Color & Effect on Energy Use & Roof Shingle Life
The question-and-answer article about the effects of roof color on building temperature and on roof life discussed here quotes-from, updates, and comments an original article from Solar Age Magazine and written by Steven Bliss.
Roof Shingle Color Advice for Northern Climates Compared with Hot High-Sun Climates

Question: what is the best color for a roof?
What is the best color for a building roof? In Iowa a well-insulated roof has snow on it for most of the winter, so using dark shingles to absorb solar energy won't work.
In the summer a light colored roof will stay cooler.
So in our hot Iowa summers, when we have to air-condition, is it not better to use light-colored roofs, despite the trend toward dark roofs? -- Victor Gibson, Waterloo IA
[Click to enlarge any image]
Answer: Roof Color for Iowa-like Climates
Our photo (above left) shows heavy snow-cover on an asphalt shingle roof in Rhinebeck, NY.
In the absence of specific research [back in 1985] on the subject, we polled several roofing experts.
They agreed that roof color alone has a minor effect on the overall energy balance of a well-insulated house in your area (Iowa), winter or summer.
The attic insulation level and under-roof ventilation rate are the most important factors. So for a house in your climate, choose whatever color strikes your fancy.
Roof Color Suggestion for Hot Climates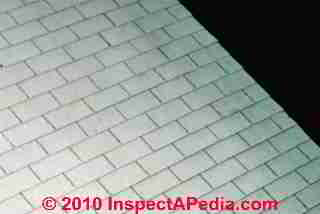 In very hot climates (Florida, Texas, Arizona), however, roof color definitely affects the cooling load of a house.
Roof color choice also may affect shingle life in those climates.
For instance, an attic under a black-colored roof can be 30 degF. hotter than a white-roof attic in Florida, according to the Florida Solar Energy's Phil Fairey.
Light colors would be in order there.
Roofing Color Effect on Cooling Costs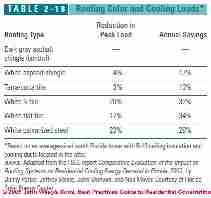 As explained in Best Practices Guide to Residential Construction, chapter on BEST ROOFING PRACTICES:
Tests at FSEC also indicate that simply switching from dark to white asphalt shingles in a cooling climate can reduce peak cooling loads by 17% and seasonal loads by 4%.
The greatest savings resulted from using white metal roofing (see Table 2-18 shown at left.)
[Click any image or table to see an enlarged version with more detail.]
-- Adapted with permission from Best Practices Guide to Residential Construction.
Effects on Energy Costs of Highly-Reflective Low-Slope Roofs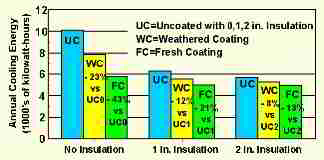 The U.S. Department of Energy and Oak Ridge National Laboratories have studied and reported on the effects of roof coatings that help deal with building heat load by improved solar reflection.
The graphic shown here, [published by Oak Ridge National Laboratories at ornl.gov/sci/roofs+walls/roof/coatings.html] illustrates that a fresh-coated roof can reduce the annual cooling energy in a low-slope-roofed building by as much as 43% (uninsulated roof)
And remarkably, notice that the uninsulated but fresh-coated roof performed almost as well as a roof with two-inches of insulation. (Of course, two inches of insulation isn't much.).
Roof color effects on building energy costs: research citations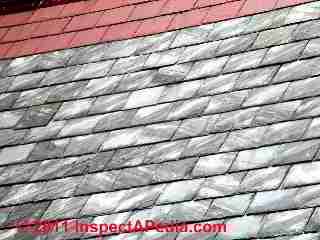 Also see key citations found at the end of this article at REFERENCES
Akbari, Hashem. "Measured energy savings from the application of reflective roofs in two small non-residential buildings." Energy 28, no. 9 (2003): 953-967.
Akbari, H., S. Konopacki, and M. Pomerantz. "Cooling energy savings potential of reflective roofs for residential and commercial buildings in the United States." Energy 24, no. 5 (1999): 391-407.
Bretz, Sarah E., and Hashem Akbari. "Long-term performance of high-albedo roof coatings." Energy and Buildings 25, no. 2 (1997): 159-167.
E. I. Griggs, T. R. Sharp, J. M. MacDonald, Guide for Estimating Differences in Building Heating and Cooling Energy Due to Changes in Solar Reflectance of a Low-Sloped Roof, U.S. Department of Energy, Oak Ridge National Laboratory Report #ORNL-6527, 1989. Web search 02/01/2011, original source http://epminst.us/otherEBER/ornl6527.pdf
T.W.Petrie, J.A. Atchley, P.W. Childs and A.O. Desjarlais. "Effect of Solar Radiation Control on Energy Costs – A Radiation Control Fact Sheet for Low-Slope Roofs," Proceedings on CD, Performance of the Exterior Envelopes of Whole buildings VIII: Integration of Building Envelopes. December 2001. Paper 146. Atlanta, GA: American Society of Heating, Refrigerating and Air- Conditioning Engineeers, Inc., Copy on file as /roof/Solar_Radiation_Energy_Cost.pdf, original source: http://www.ornl.gov/sci/roofs+walls/facts/CoolCalcEnergyBackground.PDF
"Highly-Reflective Low-Slope Roofs", Building Envelope Research, Oak Ridge National Laboratories, Andre O. Desjarlais Oak Ridge National Laboratory, P. O. Box 2008, MS 6070, Oak Ridge, TN 37831-6070, web search 02/01/2011, original source: http://www.ornl.gov/sci/roofs+walls/roof/coatings.html
Insuladd® - ceramic-based paint additive to help reflect radiant heat, TECH TRADERS INC. The Insuladd Company, 412 Waterside Drive, Merritt Island, FL 32952, Phone/Fax (321) 453-5060 E-mail: info@insuladd.com Website: www.insuladd.com/, Product & Technology Review [evaluation report], web search 02/01/2011, original source: http://www.energy.wsu.edu/documents/AHT_Insuladd%5B1%5D.
pdf%20Ceramic-based%20paint%20additive.pdf, Washington State University Extension, Energy Program

Quoting from the product review authored by Geoscience's President, Heinz F. Poppendiek, PhD, P.E.:
Insuladd is a paint additive that helps it to reflect radiant energy. Insuladd can be added to ordinary paint and stucco mixes and used on both interior and exterior walls, ceilings and roofs. On exterior surfaces, Insuladd reflects the radiant energy of the sun to help reduce the cooling load. On interior surfaces, Insuladd reflects the radiant energy from heated objects, reducing energy transfer to the walls. Insuladd additive is a blend of microscopic hollow ceramic spheres. When the paint dries, these little spheres pack together, making a tight layer with increased reflectivity.

The manufacturer claims that Insuladd paint additive, when mixed with light-colored house paint and painted on exterior walls, can reduce solar heat gain through the walls by over 20% during the summer. Energy consumption is reduced regardless of color when using Insuladd paint additive, but lighter colors are better. Winter savings from the reflection of infrared radiation from interior painted walls are less than summer savings, but the reduced loss of radiant heat from the occupants to room surfaces makes the space feel more comfortable.

Poppendiek calculated that an insulation value of R-6.0 would have to be added to the panel painted with latex paint to match the heat flux of an Insuladd-painted panel.

Product & Technology Reviews (PTR) are developed for Northwest electric utilities. EnergyIdeas Clearinghouse engineers review published literature for objective, independent test results. No primary testing was conducted by the reviewer for the preparation of this document. PTR factsheets describe the technology, discuss available data, and suggest additional testing needed to verify energy saving claims.
Konopacki, S. "Demonstration of energy savings of cool roofs." Lawrence Berkeley National Laboratory (2010).
Konopacki, Steven J., and Hashem Akbari. "Measured energy savings and demand reduction from a reflective roof membrane on a large retail store in Austin." Lawrence Berkeley National Laboratory (2001).
Konopacki, Steve, Hashem Akbari, Mel Pomerantz, Sasa Gabersek, and Lisa Gartland. Cooling energy savings potential of light-colored roofs for residential and commercial buildings in 11 US metropolitan areas. No. LBNL--39433. Lawrence Berkeley Lab., CA (United States), 1997.
Parker, Danny S., and Stephen F. Barkaszi Jr. "Roof solar reflectance and cooling energy use: field research results from Florida." Energy and Buildings 25, no. 2 (1997): 105-115.
Rosenfeld, Arthur H., Hashem Akbari, Joseph J. Romm, and Melvin Pomerantz. "Cool communities: strategies for heat island mitigation and smog reduction." Energy and Buildings 28, no. 1 (1998): 51-62.
Simpson, J. R., and E. G. McPherson. "The effects of roof albedo modification on cooling loads of scale model residences in Tucson, Arizona." Energy and Buildings 25, no. 2 (1997): 127-137.
Synnefa, A., M. Santamouris, and H. Akbari. "Estimating the effect of using cool coatings on energy loads and thermal comfort in residential buildings in various climatic conditions." Energy and Buildings 39, no. 11 (2007): 1167-1174.
Zanchetta, Natalino, and Shaik Mohseen. "Highly reflective and highly emissive modified bituminous roofing membranes and shingles." U.S. Patent 20,040,009,319, issued January 15, 2004.
The link to the original Q&A article in PDF form immediately above was expanded/updated by the preceding online version of this article.
Reader Comment: Roof color vs energy savings study in Canada & the U.S.D.A. Shingle color
(Apr 5, 2012) JD Leatham said:
The Canadian Steel Building Institute looked directly at roof color in relation to energy savings in 4 Canadian cities (Toronto, Windsor, Vancouver and Winnipeg - very different summer - winter conditions). Their findings revealed that(in comparison to black)a 55% Al/Zn coated steel roofing provided the best energy savings irrespective of climate.
The high reflectivity reduced cooling costs in the summer months and the low emissivity allowed the roof to retain heat in winter lowering heating costs.
Reply:
Thanks JD.
Similarly, a U.S.D.A. study found that for most locations tested, roof sheathing temperature below black roof shingles were 10-15 degF. higher than the same sheathing material under white shingles on a sunny day. One might think that benefits solar gain in a heating climate - at least when the roof is not snow-covered. But the same study found that the black roofs also loste heat faster than the white roofs, more or less evening the score - at least when measuring sheathing temperature changes.
Overall the U.S.D.A. study found that roof color, at least for asphalt shingle roofs, is the dominating factor in determining the peak or highest roof temperature during sunlight hours.
Most roofing experts seem to agree that
Lighter coloured roofs gain less heat in sunny weather
Darker coloured roofs gain more heat in sunny weather and may help speed snow-melt in snow-climates
If your home is in a climate where heating costs are about equal to cooling costs for your building, then a neutral or gray coloured roof may be the best Choice - Ed.
Roof Color vs Energy Cost Studies
Grimmond, C. S. B., and C. Souch. "Surface description for urban climate studies: a GIS based methodology." Geocarto International 9, no. 1 (1994): 47-59.
Miller, William Bill, H. Akbari, R. Levinson, K. T. Loye, Scott Kriner, R. G. Scichili, A. O. Desjarlais, S. Weil, and Paul Berdahl. "Special infrared reflective pigments make a dark roof reflect almost like a white roof." in Thermal Performance of the Exterior Envelopes of Buildings, IX, proceedings of ASHRAE THERM VIII, Clearwater, FL., Dec (2004).
Simpson, J. R., and E. G. McPherson. "The effects of roof albedo modification on cooling loads of scale model residences in Tucson, Arizona." Energy and Buildings 25, no. 2 (1997): 127-137.
Solecki, William D., Cynthia Rosenzweig, Lily Parshall, Greg Pope, Maria Clark, Jennifer Cox, and Mary Wiencke. "Mitigation of the heat island effect in urban New Jersey." Global Environmental Change Part B: Environmental Hazards 6, no. 1 (2005): 39-49.
Werthmann, Christian. Green Roof-A Case Study: Michael Van Valkeenburgh Associates' Design for the Headquarters of the American Society of Landscape Architects. Princeton architectural press, 2007.
Winandy, Jerrold E., Anton Ten Wolde, Robert H. Falk, and H. Michael Barnes. "Temperature histories of plywood roof sheathing and roof rafters as used in North American light-framed construction." In 7th world conference on timber engineering, WCTE—timber construction in the new millennium, vol. 3, pp. 114-21. 2002.
...
Continue reading at ASPHALT SHINGLE LIFE / WEAR FACTORS or select a topic from closely-related articles below, or see our complete INDEX to RELATED ARTICLES below.
Or see ENERGY SAVINGS in BUILDINGS - home
Or see COOLING LOAD REDUCTION by ROOF VENTS where we describe the effects of various factors together such as roof venting, radiant barriers, and roof color. This website provides un-biased articles about many common roofing materials, installations, inspection, defects, roofing repairs, and products.
Or see ROOFING INSPECTION & REPAIR - home
Or see SLATE THERMAL MASS for SOLAR HEAT STORAGE
Suggested citation for this web page
ROOF COLOR RECOMMENDATIONS at InspectApedia.com - online encyclopedia of building & environmental inspection, testing, diagnosis, repair, & problem prevention advice.
Or use the SEARCH BOX found below to Ask a Question or Search InspectApedia
...
Frequently Asked Questions (FAQs)
Try the search box below or CONTACT US by email if you cannot find the answer you need at InspectApedia.
Question: my contractor wants me to choose roof color - which should I elect?
(Aug 7, 2014) Betsy Irving said:
My home in Iowa stays nice and warm in the winter, but it is HARD (and expensive) to cool in the summer (due to having radiant floor heat for the winter, but no forced air for the summer). In that case, would it not make sense to use a LIGHT colored shingle? Please hurry, contractor wants me to tell him by tomorrow! Thanks!
Reply:
Light colored roof surfaces indeed save on building cooling costs. The actual effect on your building is not something one can speculate upon without knowing the building roof, insulation, and ventilation design details. But as the cost of light vs dark shingles is the same, and as you are not looking for heat gain from a dark roof, there's no reason you might not choose that lighter option.
Question:
(Jan 6, 2015) Anonymous said:
ihave a beige stucco house which colour shingles would you suggest for the roof?
Reply:
You can choose a colour that you like aesthetically or you can choose a roof colour that is best for coolling or heating energy cost savings as per the article abovce; it depends on where you live.
...
Ask a Question or Search InspectApedia
Questions & answers or comments about choosing the color for a roof and the effect of roof color on building cooling load
Use the "Click to Show or Hide FAQs" link just above to see recently-posted questions, comments, replies, try the search box just below, or if you prefer, post a question or comment in the Comments box below and we will respond promptly.
Search the InspectApedia website
Technical Reviewers & References
Click to Show or Hide Citations & References
Steve Bliss's Building Advisor at buildingadvisor.com helps homeowners & contractors plan & complete successful building & remodeling projects: buying land, site work, building design, cost estimating, materials & components, & project management through complete construction. Email: info@buildingadvisor.com
Steven Bliss served as editorial director and co-publisher of The Journal of Light Construction for 16 years and previously as building technology editor for Progressive Builder and Solar Age magazines. He worked in the building trades as a carpenter and design/build contractor for more than ten years and holds a masters degree from the Harvard Graduate School of Education. Excerpts from his recent book, Best Practices Guide to Residential Construction, Wiley (November 18, 2005) ISBN-10: 0471648361, ISBN-13: 978-0471648369, appear throughout this website, with permission and courtesy of Wiley & Sons. Best Practices Guide is available from the publisher, J. Wiley & Sons, and also at Amazon.com
"Choosing Roofing," Jefferson Kolle, January 1995, No. 92, Fine Homebuilding, Taunton Press, 63 S. Main St., PO Box 5506, Newton CT 06470 - 800-888-8286 - see http://www.taunton.com/FineHomebuilding/ for the magazine's website and for subscription information.
E. I. Griggs, T. R. Sharp, J. M. MacDonald, Guide for Estimating Differences in Building Heating and Cooling Energy Due to Changes in Solar Reflectance of a Low-Sloped Roof, U.S. Department of Energy, Oak Ridge National Laboratory Report #ORNL-6527, 1989. Web search 02/01/2011, original source http://epminst.us/otherEBER/ornl6527.pdf

T.W.Petrie, J.A. Atchley, P.W. Childs and A.O. Desjarlais. "Effect of Solar Radiation Control on Energy Costs – A Radiation Control Fact Sheet for Low-Slope Roofs," Proceedings on CD, Performance of the Exterior Envelopes of Whole buildings VIII: Integration of Building Envelopes. December 2001. Paper 146. Atlanta, GA: American Society of Heating, Refrigerating and Air- Conditioning Engineeers, Inc., original source: http://www.ornl.gov/sci/roofs+walls/facts/CoolCalcEnergyBackground.PDF
Books & Articles on Building & Environmental Inspection, Testing, Diagnosis, & Repair