Do Radiant Barriers Save Cooling or Heating Energy?

Radiant Barriers as "Insulation" in Buildings
Radiant barriers - reflective insulation - CONTENTS: can save on cooling cost and may save a little on heating costs as well. Where to Install a Radiant Heat Barrier, & Which Way to Face the Foil?What are the Energy Savings from Radiant Heat Barriers? Roof Ventilation and Radiant Barriers. Radiant barriers are not a substitute for insulation in cold climates. Radiant barrier researchers think roof venting is unnecessary - are they right?Solar Age Magazine Articles on Renewable Energy, Energy Savings, Construction Practices
POST a QUESTION or READ FAQs about installing, using, & benefits of radiant barriers and reflective foil insulation in buildings
InspectAPedia tolerates no conflicts of interest. We have no relationship with advertisers, products, or services discussed at this website.
Radiant barriers and reflective foil insulation in buildings:
This article discusses the effectiveness and installation options of foil based radiant barriers as building energy savers.
We explain where a radiant barrier should be located, which way to face the foil, and we describe the circumstances in which radiant barrier "insulation" can be effective.
We also provide a MASTER INDEX to this topic, or you can try the page top or bottom SEARCH BOX as a quick way to find information you need.
Green links show where you are. © Copyright 2017 InspectApedia.com, All Rights Reserved.
Radiant Barriers as Energy Saver in Attics or Building Walls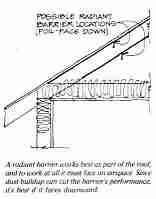 Sketch at page top and the text are reprinted/adapted/excerpted with permission from Solar Age Magazine - editor Steven Bliss.
"Radiant barriers are highly cost-effective in hot climates because they sharply reduce cooling loads. They work as if by magic, but the magic is based soundly on principles of physics."
This article explains the science of radiant barriers (summer heat travels through attics primarily as radiant energy, so when the sun heats up the roof to 190 degF (black roof) or perhaps 160 degF (on a white roof surface) heat is conducted through the roof materials to the roof sheathing where it radiates heat to the area below. Also see radiant barrier details for cathedral ceilings discussed
at CATHEDRAL CEILING VENTILATION .
Where to Install a Radiant Heat Barrier, & Which Way to Face the Foil?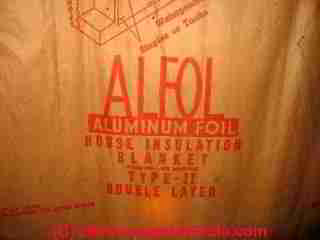 Our radiant barrier photos just above show the installation instructions printed on the kraft paper facing of ALFOL, an aluminum foil radiant barrier "insulation blanket" product sold and installed in many homes in the 1940's. The waterproof kraft paper covering of this radiant barrier "insulation" product faces down into the attic space - a design later research showed was not the best performer.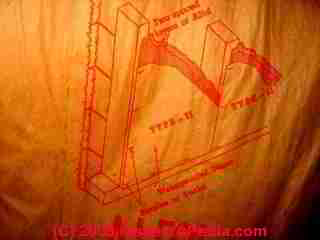 Dead air trapped between the double layers of foil above the kraft paper provided a slight increase in the R-value of this product.
A radiant barrier interrupts the radiant heat transmission using a reflective barrier (see our page top photograph of a radiant heat shield installed in a 1950's home). Research by the Florida Solar Energy Center (FSEC) found that radiant barriers work best when installed with foil-face down (towards the building interior) and applied under the roof sheathing.
This roof heat transmission mechanism explains why air conditioning equipment or duct work located in a hot attic or roof space will have to work extra hard to cool the building unless it is adequately insulated from these hot conditions.
What are the Energy Savings from Radiant Heat Barriers?
... a radiant barrier will cut cooling costs by 10 to 15 percent when added to a house with R-19 ceiling insulation. Adding an R-11 batt to the R-19 batt would save only about 5 percent.
Remember, this advice was for Florida, primarily a cooling climate, not a heating climate. Cooling cost savings are a net advantage in the U.S. about as far north as Baltimore.
In the only northern city they modeled - Chicago - the extra insulation outperformed the radiant barrier on an annual basis,due to the much better winter performance of the insulation. In general, wherever the cooling load is large enough to justify installing central air conditioning, a radiant barrier is worth considering.
Roof Ventilation and Radiant Barriers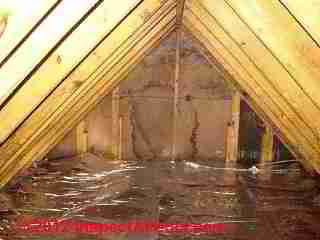 Our photo (contributed by a Georgia reader) illustrates placement of the radiant barrier on the attic floor beneath a roof with no venting except louvered gable ends (that leaked).
As explained in Best Practices Guide to Residential Construction, chapter on BEST ROOFING PRACTICES:
For greater savings on cooling, consider adding a radiant barrier to the underside of the roof sheathing or draped between the rafters.
This can reduce peak cooling loads by 14 to 15% and seasonal loads by an average of 9%. By doubling the roof ventilation from 1/300 to 1/150, the annual savings from radiant barriers rises to 12%. These numbers assume R-19 ceiling insulation and cooling ducts located in the attic, which are typical in Florida. With R-30 ceiling insulation, the cooling benefits of radiant barriers are less dramatic.
Researchers at the Florida Solar Energy Center (FSEC) have found that adequate attic ventilation can modestly lower sheathing and shingle temperatures, and reduce an average home's cooling load by about 5%.
-- Adapted with permission from Best Practices Guide to Residential Construction.
Details about combining roof color, roof ventilation, and radiant barriers to reduce cooling cost are found at: ROOF COLOR RECOMMENDATIONS
Besides the radiant heat barrier article linked-to above, we need to issue a radiant barrier warning and to raise a question or two about this energy savings approach:
Radiant barriers are not a substitute for insulation in cold climates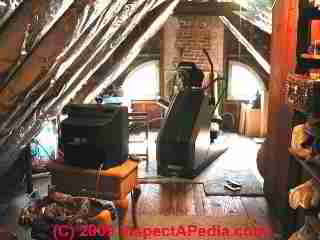 In older homes built between 1950 and about 1965 we have found radiant barriers installed alone, with no building insulation. In cold climates such as New York and New England, an un insulated home may be cooler in summer with a radiant barrier installed, but this system provides only modest heat loss savings in cold weather.
In the our radiant barrier "insulation" photograph at left and home shown in our page top photo of a radiant heat barrier, the foil was sold as "insulation" and no other insulation was installed. Each was a costly house to heat in cold weather - the new owners would want to install insulating batts in the attic floor.
In the Solar Age article above, radiant heat barriers are installed under the roof on a building at which insulation has been installed in the attic floor as well as the building walls. That's the way to do it.
Installing radiant barriers as a substitute for actual building insulation performs poorly. Radiant barriers work best blocking radiation of heat downwards towards the occupied space. In cold climates the radiant barrier actually prevents desired heat gain in the home during daylight hours.
The Solar Age article above correctly concludes that while a radiant barrier may provide a small net heating cost savings (over no insulation at all) a better approach would be to add insulation to the building. "According to ASHRAE data, a radiant barrier at a 45 deg. slope with heat flow upward is worth about R-2.5."
The article adds that installing radiant barriers on building walls is less effective than under roofs. "A radiant barrier facing a 3/4" [air] space provides about R-3. If the barrier is included as part of an insulation system (such as foil faced insulation that includes this material as a vapor barrier) that's great. But don't use radiant barriers as a substitute for wall insulation.
Radiant barrier researchers think roof venting is unnecessary - are they right?
According to the Solar age article above, researchers think that venting the roof cavity above the radiant heat barrier is unnecessary because "... the radiant barrier does such a good job of blocking attic heat gain".
What is missing from that analysis is a more comprehensive consideration of how building work in all weather and moisture conditions, especially in cooling and humid climates, and also missing is a possible impact on roof shingle life when the roof is allowed to heat to the highest possible temperatures.
We prefer to provide under-roof ventilation in buildings, not just to permit hot attic air to escape in summer (drawing in cooler air from outside at the roof eaves), but also to permit un-wanted moisture to escape year-round. Failure to adequately ventilate attics has been shown to lead to condensation in cold weather and in some homes, severe mold contamination.
Original article
The two links below provide a photocopy of the original two page Solar Age article "Radiant Barriers, they cut cooling bills and help a little on heating too", on the performance of radiant barriers in buildings. Just below the links we provide radiant barrier information updates, radiant barrier product photographs, and we summarize information on radiant heat barriers.
RADIANT BARRIERS part 1, PDF form, how radiant barriers work, how radiant barriers save energy - use your browser's back button to return to this page
RADIANT BARRIERS part 2, PDF form, second half of the radiant barriers article from Solar Age.
In our REFERENCES list below we provide links to the full set of US Department of Energy Documents giving extensive research data and installation advice for radiant barriers. Of those documents, we recommend in particular, the following:
Here we include solar energy, solar heating, solar hot water, and related building energy efficiency improvement articles reprinted/adapted/excerpted with permission from Solar Age Magazine - editor Steven Bliss.
...
Continue reading at REFLECTIVE INSULATION for Properties and details of single and double bubble designed aluminum foil insulating product or select a topic from closely-related articles below, or see our complete INDEX to RELATED ARTICLES below.
Or see more radiant barrier details at CATHEDRAL CEILING VENTILATION
Suggested citation for this web page
RADIANT BARRIERS at InspectApedia.com - online encyclopedia of building & environmental inspection, testing, diagnosis, repair, & problem prevention advice.
Or use the SEARCH BOX found below to Ask a Question or Search InspectApedia
...
Frequently Asked Questions (FAQs)
Try the search box below or CONTACT US by email if you cannot find the answer you need at InspectApedia.
Question: radiant foil between new layer of roofing and plywood decking?
(Aug 9, 2012) Bob said:
Can a radiant foil be used between a new roof shingle and the plywood decking? I have seen a product called Polaralum used where I am in Texas
Reply:
Bob,
I've not ever found radiant foil used on the outside of the roof sheathing but "I've never seen ..." is not an authoritative answer to most questions.
Polaralum is a reflective foil product specifically sold by Heat Barrier Systems as a roofing underlayment. Quoting:
Our product is made of light-weight, non-woven polyester with aluminum foil, UV resistant and is highly durable.
This product can be applied to supporting structures behind stucco walls, light weight concrete, flat roof surfaces, under hot tar as well as cold tar applications, metal, clay tile, shingles and various other roofing application products.
With Polaralum facing down under flat roofs and/or pitch roofs, it reduces the Sun's energy from entering attic and ceiling cavities exceedingly more than applications now being used. On wall applications, aluminum facing either in or out will assist in reducing heat and wind from penetrating through walls. The heat of the Sun's energy is deflected back through whichever product is installed over the Polaralum system.
The company says they have about 11 years of experience with the product; I don't know if it appears in roofing standards, I don't know if the roof shingle manufacturer for your particular brand of new shingles approves it - I would give your shingle manufacturer a call to ask - to be sure you are not risking the shingle warranty. For example there could be a subtle question about the effects of heat reflectance so immediately behind the shingle underside. It may be perfectly fine, it looks interesting, but ask the shingle manufacturer their opinion.
Keep us posted.
Question: ongoing moisture problems in attic, no soffit vents
(Oct 25, 2012) Kevin - CT said:
Hi. I live in CT and continue to have a moisture problem in attic. I have gable vents on each side, ridge vent and no soffits due to having no eaves. After a few years into moving into this house, I had a huge attic moisture issue where insulation was saturated and leaked into 2nd floor ceilings and the roofing sheathing was absorbed like a wet sponge. I had repair done to ceiling and walls (paint, texture) and old insulation removed and replaced with blown insulation. I then added a gable vent fan (humidistat/thermostat), but it continually runs near 24-7.
I have replaced the non-insulated dryer vent like bathroom fan(s) ducts with insulated duct and they do like before vent outside
The old non insulated ducts collected water when it was cold. I also used spray foam to go around any fixtures and sealed that up. My insurance company inspected the attic last year and said it was good shape but still recommended power roof vents, which i don't think is right solution. I am now considering laying perforated radiant barrier loosely (not stapled) to attic floor above the blown insulation. Do you think this will reduce the moisture?
Reply:
Kevin,
With no soffit vents you will not only NEVER get good under-roof ventilation, but the high vents form an exit path that increases air flow and heat loss (along with moisture) from the building below. Running the gable end fan increases the "sucking" of moist air out of the house into thte attic.
The best approach is to
- find and reduce un-wanted moisture sources indoors, beginning with a check for a damp or wet basement or crawl area
- add eaves venting - there are special products that can do that job at the lower roof edge (Hicks Starter Vent) even if there is no soffit overhang;
I would not add a radiant barrier - those are also waterproof and are asking for a water trap where you don't want one.
For details search InspectApedia.com for ROOF VENTILATION SPECIFICATIONS
(Jan 23, 2013) Kevin said:
Update..I added R19 insullation (batt) in the attic which is on top of the blown insullation that existed prior and I am not getting the constant moisture I had before. I have not run the fan at all this winter, nor fall. I still have high humidy, like 70-80% but not major condensation like before. I wonder if I should block the ridge vent with tape on both sides along the ridge and see if that reduces the moisture or if I am better off blocking off the gables. House more than likely never had issues with just gables, when roof was put on in 2004 ridge vent was added and appears moisture issue resulted ever since. That leads me to believe that I should try taping the ridge.
Question: flat concrete roof over single ply + radiant barrier + icynene foam
(Feb 5, 2015) Doug said:
I recently inspected a roof that had a flat concrete tile roof installed over a modified single ply and some lesser sloped areas where a granulated modified was installed. A radiant barrier was installed on the underside of the decking and then Icynene closed cell foam was applied directly to the radiant barrier, I realize this is not recommended for insulator purposes, but we are experiencing moisture and deck deterioration all over. The staining does not appear to be consistent with a roof leak. Is there a chance we are experiencing some sort of chemical reaction? Has anyone experienced a similar situation?
Reply:
Doug:
I'm not sure I have the whole picture, since I'm unclear about the whole roof structure and about what decking you refer to as the building has a concrete roof. Perhaps you refer to a concrete roof poured over corrugated metal decking?
But it certainly sounds as if the radiant barrier alone, not to mention the added effects of foam, would trap moisture against the roof deck
If a flat roof was then covered with a single ply membrane I already suspect the roof had a prior leak troubles.
But I don't get quite what the order of layers and materials is.
Use our CONTACT link (page bottom or top) to send me a sketch or photos if you like and we'll comment further.
Meanwhile, yes spray insulation systems use liquid in the application - water or other formulas depending on the particular foam insulation product. That water has to go somewhere during curing.
In our photos of various spray foam jobs at
inspectapedia.com/interiors/Foam_Insulation_Identification.htm
you'll see spray foam being applied inside a building: the specs required that the drywall not be installed over foam in walls or ceilings before the water used in the foam application had time to dry out or "cure".
...
Ask a Question or Search InspectApedia
Use the "Click to Show or Hide FAQs" link just above to see recently-posted questions, comments, replies, try the search box just below, or if you prefer, post a question or comment in the Comments box below and we will respond promptly.
Search the InspectApedia website
Technical Reviewers & References
Click to Show or Hide Citations & References
Eric Galow, Galow Homes, Lagrangeville, NY. Mr. Galow can be reached by email: ericgalow@gmail.com or by telephone: 914-474-6613. Mr. Galow specializes in residential construction including both new homes and repairs, renovations, and additions.
Mark Cramer Inspection Services Mark Cramer, Tampa Florida, Mr. Cramer is a past president of ASHI, the American Society of Home Inspectors and is a Florida home inspector and home inspection educator. Contact Mark Cramer at: 727-595-4211 mark@BestTampaInspector.com 11/06
Roger Hankey is principal of Hankey and Brown home inspectors, Eden Prairie, MN. Mr. Hankey is a past chairman of the ASHI Standards Committee. Mr. Hankey has served in other ASHI professional and leadership roles. Contact Roger Hankey at: 952 829-0044 - rhankey@hankeyandbrown.com. Mr. Hankey is a frequent contributor to InspectAPedia.com.
Arlene Puentes, an ASHI member and a licensed home inspector in Kingston, NY, and has served on ASHI national committees as well as HVASHI Chapter President. Ms. Puentes can be contacted at ap@octoberhome.com
Wikipedia provided background information about some topics discussed at this website provided this citation is also found in the same article along with a " retrieved on" date. NOTE: because Wikipedia entries are fluid and can be amended in real time, we cite the retrieval date of Wikipedia citations and we do not assert that the information found there is necessarily authoritative.
...
Books & Articles on Building & Environmental Inspection, Testing, Diagnosis, & Repair
Our recommended books about building & mechanical systems design, inspection, problem diagnosis, and repair, and about indoor environment and IAQ testing, diagnosis, and cleanup are at the InspectAPedia Bookstore. Also see our Book Reviews - InspectAPedia.
...