Crawl Space Ground Cover for Moisture Control
POST a QUESTION or READ FAQs about using plastic or other ground covers in crawl spaces to control moisture, improve ease of entry, keep the area clean & dry, reduce risk of mold & insect damage
InspectAPedia tolerates no conflicts of interest. We have no relationship with advertisers, products, or services discussed at this website.
This article discusses the use of ground covers to control crawl space moisture.
We explain how moisture moves from soil below the crawl space up into the building, how to select and install a plastic vapor barrier, where to put the plastic, and handling crawl space water, moisture, or humidity.
We also provide a MASTER INDEX to this topic, or you can try the page top or bottom SEARCH BOX as a quick way to find information you need.
Crawl Space Ground Covers to Help Control Crawl Space Moisture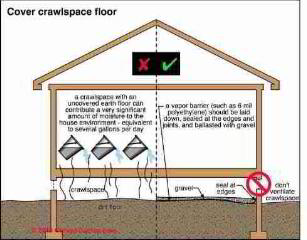 Accompanying text is reprinted/adapted/excerpted with permission from Solar Age Magazine - editor Steven Bliss. Our page top photo shows a wet, flooding crawl space in which a poly barrier and gravel had been placed on the crawl space floor.
[Click to enlarge any image]
Those wet concrete blocks in our page top photograph are diagnostic: water was still entering the crawl space through the foundation wall, ponding on to of the gravel-covered plastic "moisture barrier". Here we explain why the good idea of covering the floor of a dirt crawl space may not be enough to stop a building moisture and mold problem.
Readers dealing with damp or wet crawl spaces should start reading
at CRAWL SPACE DRYOUT PROCEDURES.
The question-and-answer article below paraphrases, quotes-from, updates, and comments an original article from Solar Age Magazine and written by Steven Bliss.
How Best to Control Crawl Space Moisture
Question:
I read your article "Controlling Moisture in Houses" (Solar Age 1/84), but it did not touch on this particular wet crawl space problem. I am having trouble controlling moisture in a crawl space. I believe that the house is over a wet-weather spring. -- Virginia Riffee, Georgetown KY
Answer:
According to researchers Charles Jennings and Thomas Moody, who worked on TVA's weatherization program, installing a crawl space ground cover can reduce moisture from capillary rise by up to 90 percent.
Below we have updated the original 1984 article to add more effective steps besides just installing a ground cover -- DF.
Sketch (above left) showing the effects of covering a dirt floor in a crawl space is courtesy of Carson Dunlop Associates. Carson Dunlop's comment that a dirt crawl can contribute several gallons of moisture per day into a home is the best case. If the crawl area is actually wet from surface runoff, roof spillage, ground water, or plumbing leaks, the amount of water pumped into the home can be much larger and more harmful.
How to Place Polyethylene Ground Cover in a Crawl Space
Heavy polyethylene plastic sheeting works well since it resists deterioration by mold. Covering the poly with one or more inches of sand or smooth rounded gravel will protect it from occasional trampling.
In new construction, where the polyethylene overlaps on the ground it should be overlapped by at least two feet, or sealed using a caulk or sealant that will adhere to the poly, and the poly should be carried up the walls several inches or more, at least to grade line - a height equal to the height of soil outside.
Some installers use a sealant caulk or furring strips to secure the poly to the building foundation wall. We do not like to staple the poly to the sill plate on top of the foundation wall as doing so can in some areas provide a ready path for termite attack. For this reason we exercise similar care when insulating a crawl space foundation wall interior.-- DF
In building retrofit installations of crawl space moisture barriers, Jennings and Moody recommend leaving about 20 percent of the ground uncovered so that the structure is not subjected to undue shrinkage and movement. In particularly wet spaces, they suggest first covering 50 percent, then finishing up to 80 percent of the ground area in 10 percent increments every 4 to 6 weeks to reduce "moisture shock".
[This was 1984 vintage advice. Our building inspection and testing experience in the ensuing decades indicates that covering 100 % of a dirt crawl space floor with 6-mil poly, sealed as we described above, is the most effective practice and can substantially reduce unwanted building moisture and mold problems. -- DF]
Should Crawl Space Ventilation Be Included in a Crawl Space Dryout Scheme?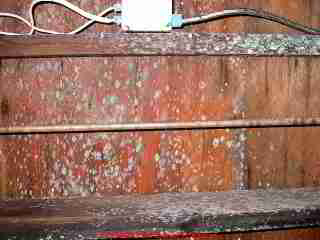 In the original 1984 Solar Age article, the same experts were recommending what was conventional crawl space ventilation wisdom - specifications that were consistent with building codes:
1984 crawl space advice: "A ground cover should be used in conjunction with ventilation. The HUD standard [1984] typical of others, recommended four crawl space vents with a total minimum free vent equal to 1/150 of the crawl space floor area if there is a ground cover, 1/1500 with the ground uncovered. For best results, place two vents each on opposing walls."
Our photo (left) shows a severe and problematic mold contamination on the underside of the first floor of a building constructed over a wet crawl space. Ventilation had not helped one bit to avoid this problem.
Current Best Practices Crawl Space Moisture Control Advice
Conventional best practice crawl space moisture control has shifted from that 1984 view.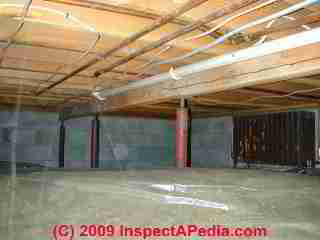 Experts observed that crawl space venting was not effective in many instances, for example depending on wind direction as well as the source and amount of crawl space water or moisture, crawl space vents were simply ineffective.
In some instances, such as blowing warm high-moisture laden air into a cool crawl space in summer months in some climates greatly increased the level of crawl space moisture and condensation, making crawl space moisture worse rather than better.
Our crawl space photo (left) shows that poly was placed on the dirt floor of the crawl area and a heat source was provided, salvaging an old radiator. We'd have preferred to see the poly extending up the crawl space walls a foot or so. But we notice that this crawl space looks dry: there are not mold nor moisture stains on the floor framing overhead, and no leak stains on the crawl space foundation wall.
Below we summarize the best way to avoid wet or damp crawl space problems under buildings. If your crawl area is already wet or damp, also
see CRAWL SPACE DRYOUT - home.
Current best practice in controlling crawl space moisture involves:
Seal the crawl space from outdoor air - close off those crawl space vents - and convert the crawl space to conditioned space, providing a small amount of heat where climate dictates, to help keep the area dry and above freezing.
See CRAWL SPACE VENTILATION CODES for details.
Identify and cure sources of crawl space moisture, such as roof drainage spilling around the foundation. In roughly 90 % of inspections performed by experts, we find that wet or moldy crawl spaces or basements that had been blamed on "high water table", "rising damp", or "built over a spring" were actually being caused by gutter and downspout defects, perhaps combined with in-slope grade that concentrated roof drainage right against the building foundation.

Our page top photo shows that water was entering the building crawl area through the foundation wall - see those wet blocks along the bottom of the wall?
Use a moisture barrier such as 6-mil poly continuously over the crawl space floor and lower crawl space walls, up to grade level, sealed as we described above. In new construction the poly may be installed under a crawl space slab or gravel. In crawl spaces that are rarely entered, placing sand or gravel over the poly is probably not necessary, and its use can hide depressions in the poly that may actually be holding ponding water on top of the poly in some cases.
Inspect the crawl space periodically, at least once a year, to be sure that the poly moisture barrier is working as intended. As we just suggested, an outside water leak, such as roof spillage entering through a foundation wall, or an inside water source such as from a leaky plumbing supply or drain pipe, can place water on top of your crawl space poly moisture barrier, leading to a costly building moisture and mold problem.
At CRAWL SPACE DRYOUT - home we show photos of just this problem. -- DF
Remember these are minimum values for average conditions. Your building may need special measures. If, after identifying and fixing outside sources of a wet or damp crawl space, you still find high water levels right under the crawl space floor, you may want to install a sump pump as well.
The question-and-answer article about use of a plastic barrier on crawl space floors to control crawl space moisture and mold, quotes-from, updates, and comments an original article from Solar Age Magazine and written by Steven Bliss.
The link to the original Q&A article in PDF form immediately below is preceded by an expanded/updated online version of this article.
Moist Crawl Space - Q&A on use of ground covers to control crawl space moisture - PDF version, use your browser's back button to return to this page
This article series describes the steps needed to get into, inspect, clean, and then dry out a building crawl space. We give a step by step crawl space entry, inspection, cleanout, dryout and keep dry guide explains how to get into or inspect a crawl space even if there is no ready access, how to assess crawl space conditions, how to stop water that is entering the crawl area, how to dry out the space, how to clean up and if necessary disinfect or sanitize the crawl space, and how to keep out crawl space water and moisture in the future.
Reader Question: Spraying foam insulation in a dirt floor crawl space - spray foam directly onto the dirt?
(July 4, 2012) Spray foam said:
I recently purchased a house with a crawl space, The crawl space had foam board on the wall poly on the floor tapped about 5-6" up the walls and bat insulation stuffed in the rim joust. I called around and found a spray foam company that says they have had a really good experiance spraying the rim joust and down the walls and across the dirt floor (yes I said dirt floor) he said it locks out any moisture pests and mold, he recommended filling in the vents with the foam that was cut out originally (basically putting back in the cut out pieces that were just laying down there, So I put all the foam cut outs back in and removed all the bat insulation and removed all the poly that was on the floor. His company came in and sprayed the rim joust all the way around and down the walls and across the floor.
(it looks like a big bath tube now, The first year Prior foam the house was so cold the furnace ran like 10 min shut off for 5 min and turned right back on, around 130.00 a month in the winter months, After foam the furnace runs like 5-8 min and is off for alot longer bills dropped to around 60.00 a month.
Do you have any comments on the foam being sprayed directly on the dirt, I have had no problems except for the flash floods we had 2 weeks ago (NORTHERN MINNESOTA) so much water collected under the foam it cracked in the low spot next to the sump pump and flooded a little but I am positive it was due to the sump pump crapping out. But I went to the local hardware store and bought spray foam in a can and fixed the crack and its all sealed up again.. I have looked every where for comments on spraying the dirt floor again just looking for comments on this.
Reply:
Well that's one I've not heard before: direct foam application to a dirt floor. I suppose a closed cell foam might act like a poly vapor barrier but I wonder about the durabilty of a foamed dirt floor as well as access to run wires, fix a sump, or remove water below. The experts I've read never proposed such a measure; See Shipston's patent (2010).
Christian (2011), writing for the Oak Ridge National Lab certainly does not contemplate foaming dirt floors and instead agrees with my view on use of a vapor retarder (plastic):
Exposed earth in crawlspace is covered with Class I vapor retarder overlapped and taped at seams. - Christian (2011) p. 10.
The first priority is to solve the bulk water drainage flowing through the crawl space - Christian (2011) p. 34.
These citations discussing spraying foam as insulation or barrier material may be helpful:
Christian, Jeffrey E., and Kathy Gant. "Spray Foam in Accessible Spaces: Best Practices and Case Studies for Retrofit in Mixed-Humid Climates." UT_Battelle for the U.S. Department of Energy, Oak Ridge National Laboratory, ORNL/TM-2011/437 (2011). Excerpt:
This report will look at areas to consider for spray foam application and discuss the types of spray foams available and their uses. A number of case studies are presented to show the effectiveness of this retrofit in existing houses based on performance data.
Gibson, Scott. "Air and Vapor Barriers." Fine Homebuilding 4, no. 94 (1994): 48-53.
Lubeck, Aaron, and Francis Conlin. "Efficiency and comfort through deep energy retrofits: Balancing energy and moisture management." Journal of Green Building 5, no. 3 (2010): 3-15.
Shipston, Lorri B., and Mark Pavlansky. "Crawl space encapsulation system." U.S. Patent 7,735,271, issued June 15, 2010. Abstract: A system for forming an insulating vapor barrier in a building is especially suited for forming an insulating vapor barrier in a crawl space beneath a building. The system includes a series of separate vapor barrier panels that can be attached around a wall. A ground level vapor barrier can be sealed to the insulating vapor barrier panels, which can be sealed to each other and along a top edge to the wall. The individual vapor barrier panels include an insulating foam member with a vapor resistant liner laminated thereto and extending beyond the edges of the insulating foam member to provide space for securing and sealing multiple vapor barrier panels to form a continuous insulating vapor barrier. Mechanical or hook and loop fasteners can be provided to secure the top edges of the vapor barrier liners to the wall and bottom edges to a ground liner.
...
Continue reading at CRAWL SPACE MOISTURE BARRIERS or select a topic from closely-related articles below, or see our complete INDEX to RELATED ARTICLES below.
Or see CRAWL SPACE VAPOR BARRIER LOCATION
Or see CRAWL SPACE VENTILATION CODES
Suggested citation for this web page
CRAWL SPACE GROUND COVERS at InspectApedia.com - online encyclopedia of building & environmental inspection, testing, diagnosis, repair, & problem prevention advice.
Or use the SEARCH BOX found below to Ask a Question or Search InspectApedia
...
Frequently Asked Questions (FAQs)
Try the search box below or CONTACT US by email if you cannot find the answer you need at InspectApedia.
Question: how to dry out a dirt crawl arear in a summer-use home
(June 27, 2012) Andy R said:
I have a dirt crawlspace in a summer home in Northern New York. We can not run heat in the crawlspace year round since we only use the house in Summer. We mostly covered the ground with plastic for the winter, and sealed it up, but when we opened the camp this summer the basement was very wet and there was mold. In this case should we increase ventilation? Also should we remove the plastic too? Any help would be great.
Reply:
Andy I'm mixed up - is it a crawlspace or a basement? Are we discussing two areas or one?
If you leave electricity on year round you can run a dehumidifier in the enclosed crawl or basement, provided you can make sure the condensate it produces will safely drain away without that drain freezing up. That would put a little heat into the basement or crawl area too.
I'd also look with care at where that moisture is coming from. If you covered the ground with plastic such that the soil is not pumping moisture into the basement/crawl area, then the water is coming from elsewhere - perhaps outside roof spillage or surface runoff - those need to be addressed.
(June 28, 2012) Andy R said:
... , the area is a crawlspace with a dirt floor. The plastic we have down is only covering about 90 percent of the ground. We have a french drain around the house to deal with water run-off. Also we can't run the dehumidifier year round because it gets really cold there and it would freeze. Heating the crawlspace is not really an option in the winter. Any thoughts?
Reply:
Andy,
- a french drain around the house does not deal with water runoff effectively; it relieves pressure of water around the foundation AFTER water has run down the foundation wall, leaking through it at every opportunity. When clients give me an answer like this I worry that they've predefined their understanding of a problem in a way that gets in their own way of solving it.
- Passive ventilation, can help some dry a roof cavity, but it won't help and will sometimes hurt the moisture level in a crawl space.
- If it is not possible to get rid of unwanted moisture in a building because no equipment of any kind can be operated, then your best option is to stop water and moisture from entering the structure. That may mean a combination of a more informed examination of where water is coming from and how to direct it away from the building (start with roof and surface runoff), combined if necessary with far more costly excavation and installation of waterproofing under and around the foundation - converting it into a boat, and capped by great attention to detail to make sure that once your boat has been built, there are no leaks into it from above (roof, plumbing, windows, doors, siding, etc.)
(June 28, 2012) Anonymous said:
Thanks .... We have a tin roof that just runs off onto the ground around the house. Would it be worthwhile to add gutters to make sure that water is taken away from the house? Also our house is on a slope would it be helpful to build a trench around the house for any runoff down the hill?
Thanks again for you help with this.
Reply:
Andy, yes and no. Adding gutters plus downspouts that get water 10-12 ft away and to a location where it keeps going would be very important - but if the home is unattended the gutters will clog and spill over at the foundation all over again.
Gutter screens can reduce but not eliminate the frequency of gutter cleanout needed. It depends on how many leaves or whatever are blowing onto the roof.
An intercept drain on the upslope side of the building can intercept groundwater and direct it away;
A swale on the upside of the home can intercept and reroute surface runoff, though in heavy frozen snowfall it may stop working;
If water stains are high on the foundation wall I'd start with roof runoff control and a swale.
If water stains are just low on the foundation the problem may be subsurface ground water.
For unattended buildings and barns whose metal roofs and ice/snow conditions knock off gutters every year, we had perfect success with a combination of buried geotexiles and careful subsurfaace (below the waterproof layer) contouring to a drainage area and surface contouring (plus gravel under the eaves) as an expensive alternative to roof gutters
Question:
(Mar 28, 2013) Charles said:
We have experienced a very wet winter, with greater then 24" of rain fall in our area. I have been battling a very wet crawlspace for several months. My down spouts remove the rainfall to an area about 15ft down hill from my house (The drain pipes do work. I checked). The backyard is sloped in such a way that carries surface runoff around my house. The sump pump that I put in removes more then 100 gallons per day. I have a dehumidifier and poly down to control the moisture. I believe that i have a spring that introduces the water to the crawlspace. What more can i do to control the moisture levels and control the water intrusion. How do i find someone in my area that could help me waterproof the crawlspace (Atlanta area). If i have a spring can an engineer control the water. I am worried that mold and termites are in my near future. Thanks in advance for any additional information.
Reply:
Charles,
See CRAWL SPACE DRY-OUT PROCEDURE for detailed help in drying out the crawl area.
For the case you describe you may need to install a sump system that is deep enough to drop the water level below the crawlspace floor. But don't forget to check outdoors for other water sources. Too often people blame a spring or rising ground water but fail to see roof spillage by the foundation.
Question: roots in the crawl space, fungus growing under the poly vapor retarder
(Mar 31, 2013) Patti said:
When I moved in the partially covered dirt crawl space was dry with no water issues. I sealed the vents, put own 10 mil poly right up the sides and spray foamed the walls. There is passive heat down from the house through floor vents. Its a happy place to find the cable wires and water pipes.
My concern now 3 yrs later is that I can see roots, moisture and now fungus growing below the poly. Crawl space is still dry...... but looking scary beneath it. What should I do?
Reply:
Patti,
Roots mean there is still moisture entering the soil under the poly - though it sounds as if you did mostly the right thing.
Keep the poly intact, tape or cover and then tape any splits or tears;
Seal openings between the crawl space and the living space above to minimize potential movement of air, moisture, mold spores upwards into the occupied space.
See CRAWL SPACE DRY-OUT PROCEDURE
Question: how to insulate an inaccessible crawl area
(July 30, 2014) Darlene said:
I have a home that was built around 1901. The back half of the house is goes from a foot to 5" or so off the ground. To make matters worse the house sets on rocks and is open under the house. What can I do to insulate this space. The hardwood floors set on the beams so air just flows up in the house. The hardwood floors are to beautiful to cover.
Reply:
Darlene
In your question we are literally stuck between a rock and a hard place - rocky ground under the home, only 5" of clearance at the low end - and a wood floor above.
If I were certain (which I am not at all) that the space below the floor were completely dry and would reliably remain so (which I am not)
I might try pumping closed cell insulation into the space. I can't recommend this approach but it's on the menu. I would first want to know more accurately where the foam was going.
A properly designed solution might take any of several expensive approaches:
1. Raising the whole structure to provide room below
2. more likely: carefully removing the flooring from above to give working space, preserving the floor boards, installing plastic over the ground, inspecting for insect and rot damage and repairing as needed, then solid foam insulation between the floor joists, then floor replacement. That's an approach I've followed successfully in the past.
Question: ground cover below a mobile home
(Aug 21, 2014) Anonymous said:
We bought a mobile home 66' x 14'. The crawl space underneath is not heated and there is nothing covering the ground. We live in Canada where it is hot and humid in the summer months and very cold in the winter months. Could this be a problem. Thank you

Reply:
Seal openings in the mobile home floor that could permit moisture or mold passing up into the occupied space;
Inspect and complete any missing insulation under the floor.
Inspect and repair the "belly wrap" or barrier protecting the floor insulation on the crawl space side.
Question:
(Mar 18, 2015) Travis Simons said:
I didn't know that putting a ground cover would reduce moisture from capillary rise by up to 90 percent. That is quite the increase. It seems like that would be the one of the best things you could do to control the moisture in your crawl space.
Reply:
Travis
Any break in the moisture path is helpful in controlling moisture in a building, but it is even more critical to understand that unless soil is covered in a typical (damp or wet) crawl space, the combination of temperature differences, humidity differences, and air movement upwards out of the crawl area, make the crawl space a water pump pushing moisture up into the building.
Question: put the plastic vapor retarder over saturated dirt in a crawl space?
(Apr 14, 2015) lexi63 said:
should a water barrier ( large black plastic ) , be put over saturated ground ? or should it be completely dry before covering it with the plastic and sealing the crawl space with the skirting ? common sense tells me the ground shoild be as dry as possible to do this procedure , not do half the job, install water barrier, then allow flooding to take place then close the crawl space up with saturated ground . please advise .
Reply:
You want to remove standing water, fix the sources of crawl space water entry, install a sump if necessary, seal openings between crawl area and the occupied building above, and defer insulating the floor over the crawl space until that area has been dried out and if necessary cleaned of mold growth. Then you can insulate.
Best current practices stop outside air movement in and out of the crawl space - as that's another source of moisture during humid weather.
Question: use heat pump to condition the crawl space area?
(July 24, 2015) JohnHomeowner said:
Can I use my heat pump to supply conditioned air beneath the house? I am purchasing a home built in 1980, the current heat pump is junk so I thought I would remove all the old ducting and encapsulate the crawl space before I replace the heat pump. My plan is to remove all floor insulation, install polystyrene foam boards along the foundation wall and then encapsulate. My question is will I need a dehumidifier, of can I open the supply and return ducting and supply sufficient exchange air? My HVAC guy thinks the dank crawl space air will be pumped throughout the house; my contention is the air will cease to be dank when you remove the moisture and dry out the space. What are your thoughts?
Reply:
You will be unnecesssarilyi increasing heating or cooling costs; why not just seal the area, put down a poly vapor barrier, and run a dehumidifer?
Question: humid crawl space in the Southeastern U.S.
1 September 2015 Ben said:
We live in the Southeast and our crawlspace has consistent high humidity. We have no standing water but the block walls do show signs of moisture in spots. We also have a few small places of surface mold growth. We would like to reduce crawl space humidity but the cost of "encapsulation" is very high and we are searching of other less costly reasonable options if they exist.
We are having our gutters inspected as well as our foundation irrigation system to start. And then in terms of the crawlspace itself, we are considering putting down a new thicker vapor barrier on the dirt floor, closing all crawlspace vents and installing a dehumidifier. Would this be a reasonable approach? This would cost less than half of the "full encapsulation" procedures. Thanks.
Reply:
Ben
You are starting at the right place by stoping outside sources of water entry or moisture entry into the crawl area, particularly roof drainage and surface drainage defects.
"Encapsulation" without cleaning and without fixing the source of mold growth in a building would be an improper approach. And with proper cleaning encapsulation is often not necessary. It's appeal is it's fast, profitable, and easy compared with the real work of cleaning and of stopping water entry.
Sure you can put down plastic and install a dehumidifier that is drained outside or to a drain or sump.
See CRAWL SPACE DRYOUT at inspectapedia.com/structure/Crawl_Space_Dryout.php
...
Ask a Question or Search InspectApedia
Try the search box just below, or if you prefer, post a question or comment in the Comments box below and we will respond promptly.
Search the InspectApedia website
Technical Reviewers & References
Click to Show or Hide Citations & References
Books & Articles on Building & Environmental Inspection, Testing, Diagnosis, & Repair
Our recommended books about building & mechanical systems design, inspection, problem diagnosis, and repair, and about indoor environment and IAQ testing, diagnosis, and cleanup are at the InspectAPedia Bookstore. Also see our Book Reviews - InspectAPedia.
...
Publisher InspectApedia.com - Daniel Friedman