Blown-In Building Insulation
InspectAPedia tolerates no conflicts of interest. We have no relationship with advertisers, products, or services discussed at this website.
Blown-in cellulose, foam, or other retrofit building insulation products:
This blown in insulation retrofit article illustrates and describes the properties of blown-in or pumped-in building insulation materials.
We also provide a MASTER INDEX to this topic, or you can try the page top or bottom SEARCH BOX as a quick way to find information you need.
Blown-in Building Insulation: settlement, vapor barriers, condensation, R-values, voids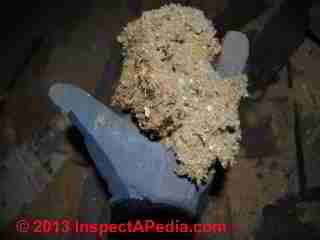 This document assists building buyers, owners or inspectors who need to diagnose, identify, or improve building insulation for new construction or retrofit and energy savings projects.
The question-and-answer article below paraphrases, quotes-from, updates, and comments an original article from Solar Age Magazine and written by Steven Bliss.
Various materials have been used as poured-in or blown-in building insulation but the two most common are cellulose insulation illustrated in our photo and chopped fiberglass insulation illustrated in our next photo (below).
Blown In Building Insulation Characteristics, Advice, Moisture or Condensation Concerns
Question:
Does blown-in insulation settle and need to be added as time goes by?
Our house doesn't seem as warm as it did at first, though it could be because we are getting old. There is no vapor barrier - the builder said that I didn't need a vapor barrier in this climate. - Carl Whitis, Belen NM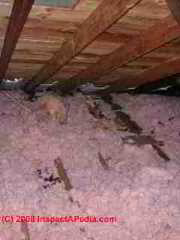 Above: chopped pink fiberglass insulation poured or blown into an attic in a somewhat sloppy uneven installation. This chopped fiberglass insulating material is discussed at FIBERGLASS INSULATION IDENTIFICATION.
Answer:
Settlement in Blown in Building Wall Insulation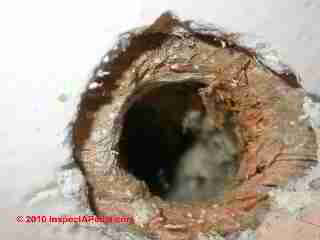 If the building insulation was blown in at the proper density, it shouldn't settle. This is true for both blown-in fiberglass and blown-in cellulose insulation. (Typically we're talking about insulation blown into building wall cavities)
If blown-in insulation has settled however, the gap at the top of the wall may sharply reduce the R-value of the wall.

Assume R-11 blown-in insulation in a wall cavity settles enough to create a void equal to 10 percent of the wall area.
This would drop the effective R-value of the wall from R-13 to R-9.75 - a 25-percent reduction in insulating value and a 25 percent increase in heat loss through the wall.
You can determine whether or not blown-in wall insulation has settled by a thermograph scan of the building.
Our photo (above left) shows an inspection test cut to expose blown-in cellulose in a building wall. - DF
See details about insulation settlement causes, effects, extent and other insulation voids at Retrofit Insulation Settlement, Voids.
Other Voids in Blown-in Building Wall or Ceiling Insulation
Watch out: in some blown-in building insulation retrofit projects we have occasionally found significant insulation voids where the installer was careless, or where the installer did not anticipate blockages in the wall cavity formed by diagonal bracing [Image file] or fire blocking.
An infra-red or thermal scan of a heated building during cold weather will make such insulation voids obvious - DF.
[We did indeed observe significant shrinkage, not settlement, in UFFI blown-in insulation in some homes insulated with that product in the 1970's, particularly if the product was not properly mixed in the first place.
See UREA FORMALDEHYDE FOAM INSULATION, UFFI. - DF]
Voids in UFFI Foam Insulation Pumped Into Building Cavities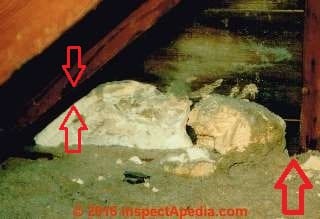 Popular in the U.S. during the Arab Oil Embargo Urea Formaldehyde Foam Insulation was used as a pumped-in insulation retrofit in previously-un-insulated building walls and ceilings, particularly in the northeastern U.S. states and in some areas of Canada. Depending on how the product was mixed and installed, significant shrinkage occurred as the insulation dried and cured, leaving air bypass leaks around the sides and tops of these blocks of foam in building walls and around all sides of UFFI in building ceilings.
Details about UFFI insulation and air leaks at UFFI shrinkage taps are at UFFI SHRINKAGE, THERMAL BYPASS LEAKS
Happily newer open or closed-cell foam insulating products such as POLYISOCYANURATE FOAM and IAQ and ICYNENE FOAM SPRAY INSULATION do not seem to have this shrinkage gap problems.
Why Does our Blown-in Insulated House Now Feel Colder?
Your house may feel cold because the lack of a vapor barrier has let moist air from the house interior (or leaks in the house interior walls) has let moisture enter the walls.
As moisture enters building walls, it cools, causing condensation in the wall cavity. The effect is similar to an actual leak into the building wall but perhaps less severe, and possibly not a problem.
Effects of Moisture in Building Wall Cavities - Do We Need a Vapor Barrier?
If we have a limited amount of moisture in the wall cavity:
moisture will be absorbed into the wall framing and insulation
moisture will then diffuse or convect to the outside air or
moisture will return to the house itself as the indoor relative humidity level drops
Even limited moisture leaking into some building walls can accumulate, leading to mold or other building problems depending on the wall structure and materials. For example leaks into EIFS synthetic stucco walls have led to serious rot and mold problems on some buildings.
See SIDING EIFS & STUCCO. - DF.
Effects of Water Leaks into Wall Cavities
If insulation actually gets wet (from accumulated condensation or from a leak into the wall cavity or ceiling cavity) the insulation becomes less effective, and you may feel the result as a "colder house" or in some unfortunate cases, as a "moldy house" with indoor air quality problems depending on the amount of moldy air moving in and out of building cavities.
If moisture returns to the building interior or exterior (cases 2 and 3 above) then no harm may have been done.
Watch out: building insulation that has been wet from leaks or accumulated moisture may invite mold growth, insect attack, and rot, all of which can eventually lead to the need for costly repairs.
See INSULATION MOLD CONTAMINATION TEST for details.
Effects of Missing Wall Vapor Barrier
Studies of several hundred houses without vapor barriers in Spokane WA and Portland OR, performed in the 1980's by George Tsongas of Portland State University found no structural damage to the buildings and only occasional higher than average moisture levels in the building framing or insulation.
Albuquerque NM (your location) is dryer than Spokane and has fewer degree days, so you should not have in-wall humidity problems unless they originated in building leaks.
Here we include solar energy, solar heating, solar hot water, and related building energy efficiency improvement articles reprinted/adapted/excerpted with permission from Solar Age Magazine - editor Steven Bliss.
Moisture or Water in Sprayed Cellulose Insulation
According to Deborah Fallow, owner of MetroNY Insulation,
"Spray-applied cellulose insulation, which is most often used in new construction, is damp-sprayed, not wet - an important distinction. In the old days, [cellulose insulation] was a wet-applied product, and you could squeeze liquid moisture out of it.
For quite some time now, only a very small amount of moisture is added to damp-sprayed cellulose, definitely not enough to be able to squeeze water out of it. Under normal conditions, the cellulose insulation is ready to be covered by drywall in 24 hours, far less than the time that is routinely scheduled between the insulation and drywall jobs [in new construction]."
Fallow adds,
"In addition, cellulose manages moisture." According to Fallow [we are not sure we agree], "Cellulose insulation requires no vapor barrier in the overwhelming majority of installations. It does an excellent job of limiting air movement, and because it is hygroscopic [definition: hygroscopic means a substance tends to absorb moisture from air], it manages moisture as well.
Some insulations require vapor barriers because they do such a poor job of preventing air movement, air that can carry moisture with it.
The problem is that ... moisture and air don't always move in the same direction thorough a building, depending on the time of year. So what about those products that need a vapor barrier? Effectively half the year it's on the wrong side of the wall. Cellulose [that is blown in without a vapor barrier] doesn't have that problem."
Watch out: In our opinion the views above need some clarification:
It is accurate that building wall cavity insulation can safely "absorb" moisture driven into the wall cavity, store it, and later release it back to the living area as seasons and air and moisture movement direction change. We discuss the safe movement of moisture in and out of building cavities at MOISTURE in BUILDING WALLS, EFFECTS.
It can also the case that if moisture driven into a wall (usually most severely at wall penetrations such as openings at receptacles or light fixtures) is excessive in amount (such as in a poorly vented bathroom or in a home with water entry troubles) the amount can be enough to saturate the insulation (mold and loss of R-value). The ability of different building insulation materials to absorb moisture vapor and later return it safely to the building interior varies by insulation product.
Also, depending on the wall or ceiling's total R-value, moisture can pass through the insulation to the exterior sheathing where it condenses back to liquid form. That's a problem that invites mold growth, structural rot, and insect attack.
Fallow's explanation above may confuse some readers who mix up the need for a vapor barrier (keeping moisture out of a wall) and the need for an air barrier (keeping wind effects out of a wall from outside and/or minimizing air movement in and out of a wall from inside the building). Exterior house wrap is specifically intended to be an air barrier, not a moisture barrier, so that if moisture does pass through a wall's insulation it can continue to pass to the outdoors.
Or more generally, we place a vapor barrier on the "warm side" of a wall (or ceiling or floor) in order to prevent moisture from moving into and accumulating in the building cavity. In northern climates invariably that means the vapor barrier goes inside the building. In some southern climates where air conditioning is used, the "warm" side of the wall is actually the building exterior and a vapor barrier may be placed there rather than indoors.
An in-depth discussion of how moisture moves in and out of buildings is provided at MOISTURE PROBLEMS: CAUSE & CURE.
See our building moisture home page at MOISTURE CONTROL in BUILDINGS.
A Few Other Warnings about Blown-In Building Insulation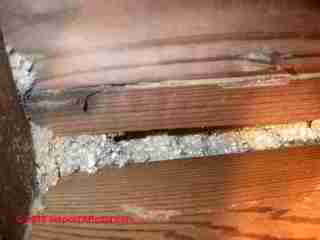 Watch out: don't blow ceiling insulation into or around electrical fixtures or wiring that can create an overheating or fire hazard. Examples of problems to avoid when blowing insulation into a building include [-DF]
Blocking or covering up attic or under-roof ventilation can lead to a building moisture problem where there was none before.

Our photo (left) shows a building ridge-vent that was jammed full of blown-in cellulose insulation during an insulation retrofit job in upstate New York.

The result was a blocked under-roof or attic ventilation exit pathway, moisture accumulation, and a mold problem bad enough that the insulation and ceiling had to be removed and the attic area cleaned.
Blocking or covering-up knob-and-tube electrical wiring. This type of electrical wiring was intended to be hung in open air.

If it is covered by insulation, depending on circuit usage it may overheat, damaging its insulation, becoming unsafe, perhaps a fire hazard.
Blocking or covering up pot lights (recessed ceiling lights) that are not rated to be covered by insulation can lead to overheating and a fire.
The link to the original Q&A article in PDF form immediately below is preceded by an expanded/updated online version of this article.
Q&A on Blown-in Insulation - PDF version, use your browser's back button to return to this page
...
Continue reading at CELLULOSE LOOSE FILL INSULATION or select a topic from closely-related articles below, or see our complete INDEX to RELATED ARTICLES below.
Or see FOAM SPRAY INSULATION TYPES
Suggested citation for this web page
BLOWN-IN INSULATION at InspectApedia.com - online encyclopedia of building & environmental inspection, testing, diagnosis, repair, & problem prevention advice.
Or use the SEARCH BOX found below to Ask a Question or Search InspectApedia
...
Ask a Question or Search InspectApedia
Questions & answers or comments about -.
Try the search box just below, or if you prefer, post a question or comment in the Comments box below and we will respond promptly.
Search the InspectApedia website
Technical Reviewers & References
Click to Show or Hide Citations & References
Steve Bliss's Building Advisor at buildingadvisor.com helps homeowners & contractors plan & complete successful building & remodeling projects: buying land, site work, building design, cost estimating, materials & components, & project management through complete construction. Email: info@buildingadvisor.com
Steven Bliss served as editorial director and co-publisher of The Journal of Light Construction for 16 years and previously as building technology editor for Progressive Builder and Solar Age magazines. He worked in the building trades as a carpenter and design/build contractor for more than ten years and holds a masters degree from the Harvard Graduate School of Education. Excerpts from his recent book, Best Practices Guide to Residential Construction, Wiley (November 18, 2005) ISBN-10: 0471648361, ISBN-13: 978-0471648369, appear throughout this website, with permission and courtesy of Wiley & Sons. Best Practices Guide is available from the publisher, J. Wiley & Sons, and also at Amazon.com
Deborah K. Falkow is owner of MetroNY Insulation, LLC., an New York insulation contractor. MetroNY Insulation, 60 Commerce St., Suite M, Spring Valley NY 10977, Tel: 845-445-8255, Email: info@metronyinsulation.co
Books & Articles on Building & Environmental Inspection, Testing, Diagnosis, & Repair
Asbestos: How to find and recognize asbestos in Buildings - visual inspection methods, list of common asbestos-containing materials
Asbestos HVAC Ducts and Flues field identification photos and guide
Asbestos products and their history and use in various building materials such as asphalt and vinyl flooring includes discussion which draws on ASBESTOS, ITS INDUSTRIAL APPLICATIONS, ROSATO 1959, D.V. Rosato, engineering consultant, Newton, MA, Reinhold Publishing, 1959 Library of Congress Catalog Card No.: 59-12535 (out of print).
Asbestos Identification and Testing References

Asbestos Identification, Walter C.McCrone, McCrone Research Institute, Chicago, IL.1987 ISBN 0-904962-11-3. Dr. McCrone literally "wrote the book" on asbestos identification procedures which formed the basis for current work by asbestos identification laboratories.
Stanton, .F., et al., National Bureau of Standards Special Publication 506: 143-151
Pott, F., Staub-Reinhalf Luft 38, 486-490 (1978) cited by McCrone

ASHRAE resources on building insulation, dew point and wall condensation - see the ASHRAE Fundamentals Handbook, available in many libraries. The following three ASHRAE Handbooks are also available at the InspectAPedia bookstore in the third page of our Insulate-Ventilate section:
Best Practices Guide to Residential Construction, by Steven Bliss. John Wiley & Sons, 2006. ISBN-10: 0471648361, ISBN-13: 978-0471648369, Hardcover: 320 pages, available from Amazon.com and also Wiley.com. See our book review of this publication.
Construction Waterproofing Handbook, Michael T. Kubal. Quoting:
... an all-inclusive, project-simplifying guide for waterproofing and construction professionals. This comprehensive answer-packed resource is loaded with the up-to-date, clearly-defined information you need on every project, including work on the building envelope, below-grade, above-grade, and remedial waterproofing.
Brick nogging used as soundproofing is mentioned in this article on Popular Forest
Brick Nogging, Historical Investigation and Contemporary Repair, Construction Specifier, April 2006. Historical use of brick in timber-framed buildings, drawing on the investigations of the Kent Tavern in Calais, VT. "Brick nogging is a European method of construction which was brought to the new world in the early-nineteenth century. It was a common construction method that employed masonry as infill between the vertical uprights of wood framing." -- quoting the web article review.
Photo of very rough in-wall brick nogging at an architects website
Dust from the World Trade Center collapse following the 9/11/01 attack: the lower floors of this building contained spray-on fire-proofing asbestos materials.
"Energy Savers: Whole-House Supply Ventilation Systems [copy on file as /interiors/Energy_Savers_Whole-House_Supply_Vent.pdf ] - ", U.S. Department of Energy energysavers.gov/your_home/insulation_airsealing/index.cfm/mytopic=11880?print
"Energy Savers: Whole-House Exhaust Ventilation Systems [copy on file as /interiors/Energy_Savers_Whole-House_Exhaust.pdf ] - ", U.S. Department of Energy energysavers.gov/your_home/insulation_airsealing/index.cfm/mytopic=11870
"Energy Savers: Ventilation [copy on file as /interiors/Energy_Savers_Ventilation.pdf ] - ", U.S. Department of Energy
"Energy Savers: Natural Ventilation [copy on file as /interiors/Energy_Savers_Natural_Ventilation.pdf ] - ", U.S. Department of Energy
"Energy Savers: Energy Recovery Ventilation Systems [copy on file as /interiors/Energy_Savers_Energy_Recovery_Venting.pdf ] - ", U.S. Department of Energy energysavers.gov/your_home/insulation_airsealing/index.cfm/mytopic=11900
"Energy Savers: Detecting Air Leaks [copy on file as /interiors/Energy_Savers_Detect_Air_Leaks.pdf ] - ", U.S. Department of Energy
"Energy Savers: Air Sealing [copy on file as /interiors/Energy_Savers_Air_Sealing_1.pdf ] - ", U.S. Department of Energy
Fiberglass: Indoor Air Quality Investigations: Health Concerns About Airborne Fiberglass: Fiberglass in Indoor Air from HVAC ducts, and Building Insulation
From the walls in, Charles Wing
Humidity: What indoor humidity should we maintain in order to avoid a mold problem?InspectAPedia Bookstore (Amazon.com)
Insulate & Weatherize (Taunton's Build Like a Pro), Bruce Harley. Review quoted:
An engineer who trains builders in energy-efficient construction, Harley offers a wealth of information that will allow readers to improve their home's efficiency, saving both money and natural resources. After an introductory section that explains the underlying principles of heat transfer, insulation, and air quality, Harley demonstrates basics such as weather-stripping and moves forward through advanced projects including insulation and major upgrades. Short "Pro Tips" as well as sections labeled "Trade Secrets," "What Can Go Wrong," and "In Detail" provide a great deal of helpful information. Increasing energy efficiency is one of the easiest ways for homeowners to save money
"Insulation: Adding Insulation to an Existing Home," U.S. Department of Energy - tips on how to do your own check for the presence of absence of insulation in a home
Insulation: Selecting Insulation for New Home Construction, U.S. Department of Energy - "Your state and local building codes probably include minimum insulation requirements, but to build an energy-efficient home, you may need or want to exceed them. For maximum energy efficiency, you should also consider the interaction between the insulation and other building components. This is called the whole-house systems design approach."
Insulation Types, table of common building insulation properties from U.S. DOE. Readers should see INSULATION R-VALUES & PROPERTIES our own table of insulation properties that includes links to articles describing each insulation material in more detail.
The National Institute of Standards and Technology, NIST (nee National Bureau of Standards NBS) is a US government agency - see www.nist.gov

"A Parametric Study of Wall Moisture Contents Using a Revised Variable Indoor Relative Humidity Version of the "Moist" Transient Heat and Moisture Transfer Model [copy on file as/interiors/MOIST_Model_NIST_b95074.pdf ] - ", George Tsongas, Doug Burch, Carolyn Roos, Malcom Cunningham; this paper describes software and the prediction of wall moisture contents. - PDF Document from NIS

Nogging: See this photo of exposed bricks on a building exterior On a building exterior in Canada. [Thanks to Carson Dunlop, Toronto - see References below].
Piquet Wall Construction: See this photo of piquet wall construction - involving timber-framed wall construction with long top girts, diagonal timber bracing, and small diameter logs placed vertically along with concrete chinking to fill in the wall plane.
Plank House Construction: weblog from plankhouse.wordpress.com/2009/01/25/plank-house-construction/ and where plank houses were built by native Americans, see
Large 1:6 Scale Plank House Construction / P8094228, Photographer: Mike Meuser
06/12/2007 documented at yurokplankhouse.com where scale model Museum quality Yurok Plank Houses are being sold to raise money for the Blue Creek - Ah Pah Traditional Yurok Village project.
Principles of Heating, Ventilating, And Air Conditioning: A textbook with Design Data Based on 2005 ASHRAE Handbook - Fundamentals, Harry J., Jr. Sauer, Ronald H. Howell, William J. Coad. Quoting
... textbook for college level HVAC courses or independent study and review, especially when combined with the 1997 ASHRAE Fundamentals Handbook. Contains the most current ASHRAE procedures and definitive, yet easy to understand, treatment of building HVAC systems -- from basic principles through design and operation. Dual units of measurement.
Re-Bath, tub lining products is a bath tub relining manufacturer and distributor located in Tempe, Arizona - see rebath.com
Rubblestone Wall Filler: See this Lartigue House using exterior-exposed rubblestone filler between vertical timbers of a post and beam-framed Canadian building.
The super-insulated retrofit book: A homeowner's guide to energy-efficient renovation (Sun builders series), Brian Marshall
Understanding Ventilation: How to Design, Select, and Install Residential Ventilation Systems, John Bower, Quoting:
Understanding Ventilation is the only book that covers all aspects of exchanging the air in houses: infiltration, equipment selection, design, heat-recovery ventilators, sizing, costs, controls, whole-house filters, distribution, and possible problems that a ventilation system can cause--all in easy-to-understand language.
"Weather-Resistive Barriers [copy on file as /interiors/Weather_Resistant_Barriers_DOE.pdf ] - ", how to select and install housewrap and other types of weather resistive barriers, U.S. DOE
Weaver: Beaver Board and Upson Board: Beaver Board and Upson Board: History and Conservation of Early Wallboard, Shelby Weaver, APT Bulletin, Vol. 28, No. 2/3 (1997), pp. 71-78, Association for Preservation Technology International (APT), available online at JSTOR.
...
Publisher InspectApedia.com - Daniel Friedman