A Photo Guide to Modular Home Construction Identification & Inspection
InspectAPedia tolerates no conflicts of interest. We have no relationship with advertisers, products, or services discussed at this website.
Guide to modular home construction, inspection, troubleshooting, diagnosis, repair: how are modular homes recognized?
How is a modular home built, brought to a homesite, and assembled? What portions of a modular home were not made in a factory? What is the quality of modular homes? What are their features, common defects, problems, solutions.
This series of articles describes the history and characteristics of these different types of factory-built structures. Our page top photo shows a four-section modular home after the set-crew has finished placing the four individual sections of the building and the roof has been lifted and enclosed.
We also provide a MASTER INDEX to this topic, or you can try the page top or bottom SEARCH BOX as a quick way to find information you need.
Characteristics of Modular Homes or Modular Housing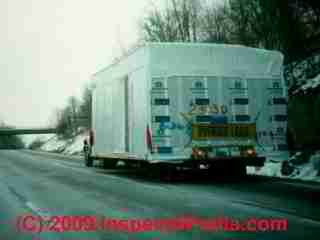 A modular home is constructed in a factory of one or more sections which are carried to the building site on a trailer (photo above) and lifted by a crane to be set upon a foundation which has been prepared ahead of time (photo below). Modular homes can be quite large, involving four or quite a few more individual sections which are lifted and "set" into place at the site.
Modular homes, earlier in their conception, enjoyed a less than stellar reputation several decades ago, having the reputation of flimsy construction. That is certainly no longer the case.
Definitions: If you are not sure if your home is a mobile home, trailer, double-wide, caravan, or a modular or panelized-built or factory built home, please
see DEFINITIONS of Mobile Home, Doublewide, Modular, Panelized Construction
Article Contents
Contemporary modular construction of homes have these attributes: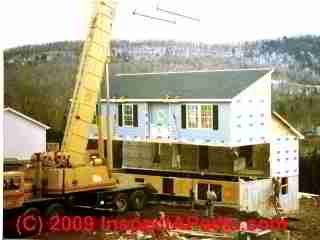 Some manufacturers provide custom architectural services and can deliver unique, but factory-built homes in sections. Contemporary modular construction of homes have these attributes:
The home is built indoors in a factory under controlled conditions, usually resulting in straight and square construction of walls, ceilings, roofs, and floors.
Exterior wall sheathing and roof sheathing are glued as well as nailed to the surfaces of their respective studs or rafters. Interior sub flooring and drywall on walls and ceilings are also glued as well as nailed or screwed to their joists or studs. Some models by some manufacturers also install a double layer of interior drywall. These methods result in a very stiff and strong construction.
The home or other modular building is usually built to meet the building code requirements of all U.S. states, or at least all of the states within a manufacturer's shipping area. You'll find an identifying label for the home with this information, often on a kitchen sink cabinet wall, sometimes in or at the electrical panel.
The home is built strong enough to be lifted at the factory by crane for setting atop a steel trailer for transport, then driven at 65 MPH down a highway, pushed or dragged on its trailer over an often hilly and rough construction site, and lifted again by crane for final "set" atop its foundation.

Without falling apart. (Try this with a stick-built house.) At the Contempri factory in Pennsylvania on a modular home construction tour about a decade ago, suddenly all of the workers and managers dropped their tools, ran to their cars, and drove madly out of the factory parking lot. We followed to see what was happening.

One of their modular sections was being towed on U.S. interstate I84 when the trailer disconnected from the towing tractor. The tractor drove ahead. The trailer ran off the highway at 65 MPH. The trailer ran head on into the end of a steel guard rail. The trailer stopped. The modular home section kept going, and impaled itself centered atop the guard rail. When we got to the accident, there was no debris anywhere except where the guardrail had punched out of the rear wall of the modular home section. You could look in windows into the kitchen where the cabinets and appliances were perfectly in place.
When the modular home is transported to its site, it is moved by being lifted and set onto an independent steel frame which has its own independent wheels. At the destination the modular home or home section is lifted by crane and set onto an independent foundation, and the steel frame/wheel set returns to the factory for re-use.
A modular home is normally set on a foundation which has already been placed at the building site.
If the modular home is placed over a basement or if there is to be an attached or detached garage, often that construction is performed by a local building contractor rather than by the modular home manufacturer (sometimes resulting in different quality of workmanship).
How to Identify a Modular or factory built home after construction has been completed
A modular home can be difficult to recognize once its construction has been completed. However these clues will work every time:
In the basement, if the ceiling is not fully enclosed, look at the main girder (photos above). Since most modular homes use at least two long sections that have to be built and transported to the site, there will be at least two completely independent floor framing systems, and at their mating point over the basement center, you'll see an unusually wide built-up girder with (if properly installed) through bolts connecting the two building sections.

The modular home basement girder members should be touching. IF you see a gap at the center of this structure the building sections may not have been properly set on the foundation. Conversely, if there is to be any gap it should be at the top of the modular sections (visible in the attic, for example) - which assures that the bottom mating members are tight.
In the living area, if the building is a two-story unit, as you walk up the stairs from first to second level, notice that there are a few more steps than usual between floors?

Since each of the four stacked sections in a four-section two-story modular home has been framed with a complete floor, wall, and ceiling structure, the "ceiling" between the first and second floors will be double the normal depth since it is comprised of both the first floor section ceiling framing and the second floor section floor framing. So if 2x10 joists were used, there will be about 20" of ceiling thickness between floor (a great place to run wires and ducts).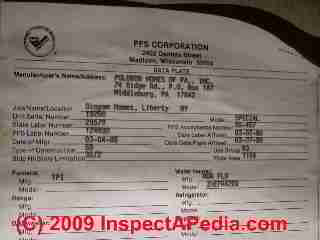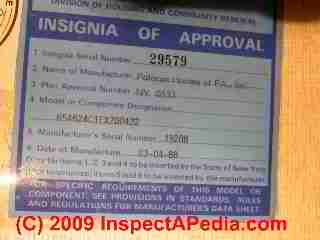 In the kitchen look under the kitchen sink base cabinet for the modular home manufacturers' labels (these labels may also be placed in a basement or by an electrical panel or at other locations) (Photos above).
In the attic is the fail-safe way to always identify a modular-built home unless there is simply no attic access or all surfaces are covered. You'll find one, possibly two or even three features unique to modular home construction: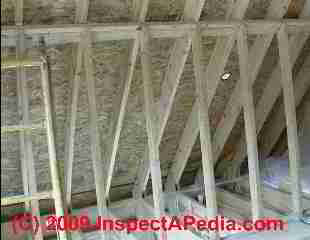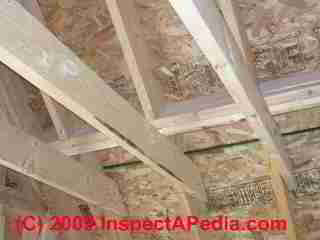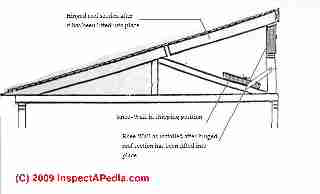 There may be hinged roof rafters (Photo at above left and sketch, below). Many modular homes have roof slopes which would be much too high for the upper roof-bearing sections to travel up the highway.

Modular home uppermost sections that will include a roof travel with the roof laid flat atop the upper floor module. The roof rafters are hinged, roughly 18-24" from the eaves of the home, and are lifted up at the site, then supported by an attic knee wall. So you'll see two knee walls, one supporting the front and one the back roof section. You may see the hinges on the rafters down near the eaves as well.

As the dimensions of a sloped roof will cover more area than the flat top section of the building, the roof of a modular or factory built home will often include an additional section that must be set in place, usually near the ridge (photo at above right) - you will see this separately framed structure in the attic of these homes.
There will be a mating joint of the front and rear sections of the home visible as two girders in the attic floor, running along the long dimension of the building, usually with a small gap between them, hopefully with insulation or other fire blocking stuffed into the gap.

The reason for the gap is that properly placed, the sections are set with their bottom girders touching tightly, which may leave the top sections slightly separated at their highest point.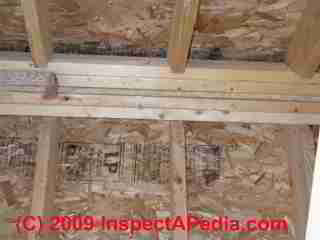 There will also be a mating joint at the ridge where instead of a single ridge board you may see up to four horizontal "ridge boards" - the roof sections need to be framed as stable sections that can be lifted into place. (Photo at left).
Just how Strong are Factory Built Homes? Stronger than Stick Built Wood Framed Houses?
One modular home I inspected had fallen off of its trailer while being lifted by the crane. It rolled over on its face. Like the unit which had impaled itself on the guard rail, there was little damage other than broken windows.
But there was a slight crease in all of the roof shingles about 24" up from the eaves.
The rafter hinges had all been slightly bent when the section toppled. Outside, even on a modular section which has not fallen, you may see this telltale line of slight shingle anomaly, parallel to the eaves.
Factory built homes are constructed so that each section can withstand being lifted onto a trailer, driven up the highway at 65 mph, pushed or pulled over an uneven, often sloped site, lifted into the air by the site crane, and set into place on the foundation.
Often factory built homes combine glue as well as conventional framing fasteners, extensive use of truss joists, girders, and additional framing of individual building sections so that each can be manipulated into place.
Modular Office Building Labeling & Code Compliance Certification
[Click to enlarge any image]
Reader question: how do I establish that my modular office meets my local state building code?
I bought a 12'x56' modular office building from a government auction in sc and got it hauled to my business in NC. But to my surprise I was told by the city code inspector, since the modular was built in the state of SC and has codes and approval of that state I won't be allowed to get the permits until it is certified to the NC building codes. Please suggest what are my options and how can I take care of this issue.
This modular office building was built in 1998 by AAA modular based in SC or GA at the time, unfortunately seems like they are not in business anymore, it has sc stamps etc, let me take some photographs and send them over. - Anonymous by private email 2016/07/23
Reply: how to find and check the labels affixed to the structure, check with the labeling agency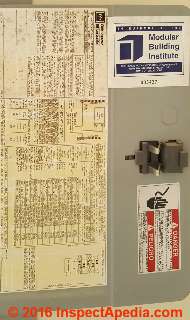 Virtually every modular building construction company in North America builds their products to meet all of the state codes where they can imagine their building will end-up. Take a look at the data tags on your building. Send me some sharp photos of the data tag and a couple of the whole building and I can comment further. [Done, shown here - Ed. ]
Check for one or more industry / agency / manufacturing certifying labels that for any modular home or office will identify at least:
The manufacturer of the modular office or home
The modular home or office model, manufacturing date, and serial number
A building code compliance certification agency
Depending on the age and type of modular structure, the identifying labels are usually found in or at the main electrical panel, under the main or kitchen sink affixed to a cabinet door, and/or on a weatherproof data tag riveted to one end of the structure near ground level and near a corner.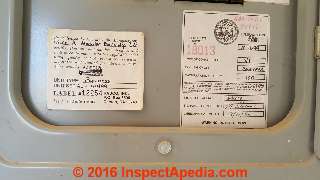 Then give a call to the manufacturer of your building if they are still in business. Give them the same data tag information: model number, serial number, etc. and ask them what codes their product meets.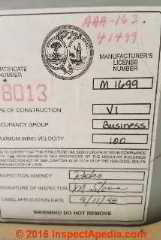 When the manufacturer of your modular structure has disappeared, don't give up: you may still be able to obtain documentation of the building codes with which your building complies by contacting the original certifying agency.
Radco who certified your modular building is still in business even though the original manufacturer, Triple A Modular Buildings, Inc., has disappeared: see this ASTM citation for Radco
http://www.astm.org/LABS/filtrexx40.cgi?+-P+ACCTNO+87150+template.frm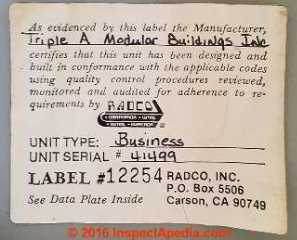 and now check with the Radco company. They're based in California, but Radco has an office in your state:
Radco, North Carolina Office, 340 Meadow Springs Road, Seagrove, North Carolina 27341 Tel: 336-879-4788, FAX: 336-879-2760 Website: http://www.radcoinc.com/
More about mobile home, modular home, manufactured home and modular office labels is at MOBILE / MANUFACTURED HOME LABELS
Modifying Modular-Built Building Construction
Reader Question: is it OK to modify or remove modular home attic ceiling framing?
Can the protruding mating joints on the attic floor of modular home be safely trimmed down? Would like to level flooring for finishing of attic. - Anonymous, 22 July 2015
Reply:
I cannot say for sure if what you want to trim is safe or not - it depends on the amount. Trimming off 1/4" or even 1/2" of the upper surface of mating 2x lumber of the mating beam in the center of an attic is likely of no import.
For a greater difference or maybe even in all cases as it's easier and faster, I'd consider instead using some shims to level the surface before installing flooring. Use tapered wood shims (available at any building supplier) or left-over tapered wood siding if that's available.
Reader follow-up: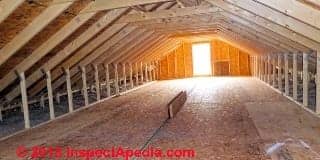 Thank you for response. I'm not sure I described the issue properly. I have a setup similar to the image here:
[Photo shown at left]
[Click to enlarge any image]
The existing flooring is significantly lower than the bulky joint in the middle.
Reply:
Anon
Your photo is a very different case from what I was describing. It appears to me that there is a raised header installed where that 2x lumber projects up into the attic.
If so it's probably spanning an open doorway or opening in a wall partition below.
If that is the case you definitely cannot remove or chop down that beam. Your options are to box it in and leave it alone or to hire a structural engineer to re-design a dropped beam in that location. I recommend the former.
...
Continue reading at PANELIZED CONSTRUCTION or select a topic from closely-related articles below, or see our complete INDEX to RELATED ARTICLES below.
Or see KIT HOMES, Aladdin, Sears, Wards, Others
Or see MOBILE HOMES, DOUBLEWIDES, TRAILERS - home
Or see MODULAR CONSTRUCTION METHODS found at FRAMING METHODS, Age, Types
Suggested citation for this web page
MODULAR HOME CONSTRUCTION at InspectApedia.com - online encyclopedia of building & environmental inspection, testing, diagnosis, repair, & problem prevention advice.
Or use the SEARCH BOX found below to Ask a Question or Search InspectApedia
Or see
Or use the SEARCH BOX found below to Ask a Question or Search InspectApedia
...
Frequently Asked Questions (FAQs)
Try the search box below or CONTACT US by email if you cannot find the answer you need at InspectApedia.
Question: Double-wide mobile home with no insulation?
Do these come pre trimmed in the inside? Or do I have to pull them off and insulate underneath them? Im renting and its costing me 600 a month to heat. I don't think the renters insulated it at all. I pull a piece of trim from around the slider door and no insulation there. The pipes, no caulk or anything. I can throw a penny down to the ground from the bath pipes. It is a double wide. The house has a gap in the floor where it looks like the house is coming apart. I can stick a long needle rite threw it to the ground. - Kevin 8/13/12
Do Double wide Mobile come pre trimmed to the sellers in the inside? Or do the businesses that sell them have to have to pull them off and insulate underneath them? I'm renting a 2004 and its costing me $500-$600 a month to heat. I don't think the renters insulated it at all.  I pulled a piece of trim from around the slider door and no insulation there. I put my hand underneath the cement foundation and the floor. No insulation there as well.
The heat comes out semi cold. It only has a 56000 BTU heater and is new. But.. This seems low for a 40X60 or 40X70 Im not sure which one this is. But it runs for house trying to get the house warm. The dishwasher water freezes in the inside of it during the winter. I tried pulling it out to see why. But its hooked in. Cold air rushes from the light sockets to where it blows a lighter out. I came from a 3 story victory. So I know little about pre-manufactured homes. The pipes, no caulk or anything. I can throw a penny down to the ground from the bath pipes. I have caulked around it now.
The house has now  formed a gap in the floor where it looks like the house is coming apart. I can stick a long needle rite threw the carpet it to the ground. Is the house just settling? Also the electric is $300-to $400 a month. The light bulbs flash like a strobe light all the time. They had a 12,000 volt cow fence hooked and water  for their 50 head of cows in when we got here. After paying for that (unknowingly) for 6-8 months I realized that it was hooked in.
When I turn off the electric to the house. The fence and water  would turned off. So they put in a separate pole. But the lights still flicker and the fuse box blows fuses all the time (for no reason) like if I have the washer on. I have two small girls. The renters say this is all normal. - Computer Geekz - 8/13/12

Reply:
In order to sort out the question of what are common construction practices and what is usually included or not with a manufactured home, we first need to get a couple of confusing terms straightened out.
You have posted a question about double-wide mobile home construction here in an article on modular construction
(MODULAR HOME CONSTRUCTION) .
In a separate article that defines modulars, factory built homes, mobile homes, doublewides,
DEFINITIONS of Mobile Home, Doublewide, Modular, Panelized Construction, we give details about the differences in these types of construction.
Double-wides, caravans, trailers and mobile homes are not built using the same structural materials, codes, standards as the modular homes discussed in the article above.
Details about double-wide homes and mobile homes are discussed separately
at MOBILE HOMES, DOUBLEWIDES, TRAILERS.
There in the Mobile Homes FAQs section we include your original question along with detailed answers.
Question: What building codes regulate the construction of modular homes
Does a modular home or factory built home made in another state or province have to meet local state, provincial or other building codes?
Reply:
A modular home is built using conventional 2x4 or 2x6 wood framing much like a stick built house, but it is constructed in several sections that are then trailered to a building site, set upon a conventional building foundation or slab, and fastened together there. The floor of each section is built strong enough to be placed on a temporary trailer for transport to the building site where the trailer chassis is removed prior to assembly of each section.
Building codes and standards for modulars are essentially the same as for a stick-built residential home. Even when the modular home is built in a different state from which it is to be assembled, the home must comply with state building codes.
In fact because modular home manufacturers want to be able to ship their models to multiple states or provinces, often the units are constructed to meet the most stringent code requirements of the various states/provinces served - a condition that means a modular home might exceed local building code requirements.
Question: modular home roof ventilation plus plumbing not vented outside SNAFU leads to mold contamination
9/12/2014 Dan said:
We bought a used 1995 modular home in 2005 that consists of one middle pod (10 ft ceilings) and two side pods (8 foot ceilings). The roofline is 4/12 pitch. When you enter the attic space up to the middle pod (which is overlaid with metal sheeting) you can see all the way to the other end. However, in order to get from the middle pod to the side pods, you have to crawl through a small opening that was cut out by one of the workers. Everywhere else there is a wall of plywood that separates the lower section (side pods) from the upper (middle pod). I did not think much of it until we found out that the lower sections now have mold growing on the underside of the plywood for the roof. A mold inspector told us that this plywood was preventing air from circulating. In short, he said that the eave vents have no way of circulating air with the middle pod's roof vents. My question: What is the purpose of the plywood? Should it have been removed?
During this discovery, we found out that a sewer vent, and two other air vents were never vented out through the roof. In other words, the vents were exhausting warm air into the attic. The mold inspector commented that the combination of these two failures brought on the mold which is now making my family sick. 2nd question: What can I do about this huge problem we now face?
Reply:
What a mess. Under a 4/12 roof the accessible area under the lower slopes is very limited - too limited to think about adequate cleaning & insulation replacement from inside the attic space.
That leaves two approaches: tear off all of the roof, remove all insulation, clean and seal all surfaces, re-insulate, re-roof,
or
Tear down ceilings indoors and do the same job from inside.
The second approach is more disruptive to the occupied interior and increases the risk of cross contamination and thus the need for still more indoor HEPA vacuum cleaning and wiping.
Normally I oppose heroic, expensive roof tearoffs to address attic mold as not being justified. But I would not want to leave a large problematic mold reservoir in a building: indeed air movement can move "backwards" down into a structure in some conditions.
I would first do some careful sampling of the molds present: on plywood, in insulation (by vacuum testing) and on the attic side of ceiling drywall. If none of the molds found are highly mobile - highly harmful (e.g. if it's just some simple Cladosporium) I might do nothing except fix the venting. Otherwise, I'd consider the remediation I outlined above.
The plywood was doubtless in place to enclose and protect the structure during transport.
Leaving it in place indeed blocks the proper roof ventilation.
Failure to vent plumbing vents to outdoors is a site set-crew SNAFU which is another example of why modular companies often want their own crews to set the house. Modulars encourage construction by builders who don't know enough about building.
Tell me the state where you are located and the brand and model of your home and I can research this further.
Kudos to your home inspector.
Question: roof connections on modular homes
(Feb 10, 2015) L Stokes said:
Our modular was built in 1971. The crawl space looks to have a lot of metal vs wood. Was the roof solely attached by tabs wrapped around the metal and then stapled to the plywood? It seems to have weathered very well all these years!
Thanks!
Reply:
L Stokes
Please use our email found at the CONTACT link at page bottom to send me some photos as I'm not clear what we're discussing. I don't know how in a crawl space (under a building) we are seeing roof construction details.
Some modulars have hinged roof trusses or rafters that are erected after each top floor section is set. And wood roof trusses may be assembled using steel plates. And trusses or rafters may be secured to the building wall top plate using steel hurricane ties. But I can only guess from just your note.

...
Ask a Question or Search InspectApedia
Try the search box just below, or if you prefer, post a question or comment in the Comments box below and we will respond promptly.
Search the InspectApedia website
Technical Reviewers & References
Click to Show or Hide Citations & References
[1] Section 184 Indian Home Loan Guarantee Program, U.S. Department of Housing & Urban Development, web search 1/5/2012, original source: portal.hud.gov/hudportal/HUD?src=/program_offices/public_indian_housing/ih/homeownership/184 - Quoting:
The Section 184 Indian Home Loan Guarantee Program is a home mortgage specifically designed for American Indian and Alaska Native families, Alaska Villages, Tribes, or Tribally Designated Housing Entities. Section 184 loans can be used, both on and off native lands, for new construction, rehabilitation, purchase of an existing home, or refinance.
Also see Freddie Mac & Fannie Mae
[2] Native American Housing Loan Guarantee Program HUD Section 184 Loans At A Glance, FannieMae, web search 1/5/12, original source: efanniemae.com/sf/mortgageproducts/pdf/section184aag.pdf
[3] Mobile Home Inspections - Daniel Friedman & Steven T. Vermilye
[4] Trailer vs Mobile Home vs Modular vs Panelized Construction an explanation of terms and how to identify these structures.
[5] "Modular Home Construction, special defects and inspection methods" Dan Friedman, NY Metro ASHI Seminar, Holiday Inn, Crowne Plaza, White Plains NY, October 4, 1996
[7] Trailer vs Mobile Home vs Modular vs Panelized Construction an explanation of terms and how to identify these structures.
[8] "Modular Home Construction, special defects and inspection methods" Dan Friedman, NY Metro ASHI Seminar, Holiday Inn, Crowne Plaza, White Plains NY, October 4, 1996
[9] New York State: "Manufactured Homes: an installation guide for the code enforcement official," undated. [Div. of Code Enforcement & Admin. - 518-474-4073, George E. Clark, Jr., Director] - this is a guide tool, not an enforcement code or standard.
[10] HUD State Administrative Agency (for 36 states) (NY: 518-474-4073) - for complaints
[11] manufactured Housing Institute, 2101 Wilson Blvd. Ste. 610, Arlington VA 22201 703-558-0400 www.mfghome.org
[12] NYMHA, 35 Commerce Ave., Albany NY 12206-2015 518-435-9859 800-721-HOME (they want the Star Program to provide for separate assessment of manufactured homes)
[13] Consumer Reports: www.consumerreports.org - special report 2/98
[14] Mobile Home Inspection Checklist, Florida, Town of Lady Lake Building Department
[15] Thanks to home inspector Peter Bennett for eagle-eye editing assistance regarding spelling at this web article series. Little Silver, NJ 07739 Office 732-758-9887 Fax 732-758-8993 Cell 732-245-9817 afullhouseinspectionco@gmail.com
[16] Wikipedia provided background information about some topics discussed at this website provided this citation is also found in the same article along with a " retrieved on" date. NOTE: because Wikipedia entries are fluid and can be amended in real time, we cite the retrieval date of Wikipedia citations and we do not assert that the information found there is necessarily authoritative. - Entry on Mobile Homes, original source: http://en.wikipedia.org/wiki/Mobile_home#Regulation, retrieved 8/14/2012
Books & Articles on Building & Environmental Inspection, Testing, Diagnosis, & Repair
Our recommended books about building & mechanical systems design, inspection, problem diagnosis, and repair, and about indoor environment and IAQ testing, diagnosis, and cleanup are at the InspectAPedia Bookstore. Also see our Book Reviews - InspectAPedia.
Best Practices Guide to Residential Construction, by Steven Bliss. John Wiley & Sons, 2006. ISBN-10: 0471648361, ISBN-13: 978-0471648369, Hardcover: 320 pages, available from Amazon.com and also Wiley.com. See our book review of this publication.
Building Failures, Diagnosis & Avoidance, 2d Ed., W.H. Ransom, E.& F. Spon, New York, 1987 ISBN 0-419-14270-3
Building Pathology, Deterioration, Diagnostics, and Intervention, Samuel Y. Harris, P.E., AIA, Esq., ISBN 0-471-33172-4, John Wiley & Sons, 2001 [General building science-DF] ISBN-10: 0471331724 ISBN-13: 978-0471331728
Building Pathology: Principles and Practice, David Watt, Wiley-Blackwell; 2 edition (March 7, 2008) ISBN-10: 1405161035 ISBN-13: 978-1405161039
Design of Wood Structures - ASD, Donald E. Breyer, Kenneth Fridley, Kelly Cobeen, David Pollock, McGraw Hill, 2003, ISBN-10: 0071379320, ISBN-13: 978-0071379328
This book is an update of a long-established text dating from at least 1988 (DJF); Quoting:
This book is gives a good grasp of seismic design for wood structures. Many of the examples especially near the end are good practice for the California PE Special Seismic Exam design questions. It gives a good grasp of how seismic forces move through a building and how to calculate those forces at various locations. THE CLASSIC TEXT ON WOOD DESIGN UPDATED TO INCLUDE THE LATEST CODES AND DATA. Reflects the most recent provisions of the 2003 International Building Code and 2001 National Design Specification for Wood Construction. Continuing the sterling standard set by earlier editions, this indispensable reference clearly explains the best wood design techniques for the safe handling of gravity and lateral loads. Carefully revised and updated to include the new 2003 International Building Code, ASCE 7-02 Minimum Design Loads for Buildings and Other Structures, the 2001 National Design Specification for Wood Construction, and the most recent Allowable Stress Design.
Diagnosing & Repairing House Structure Problems, Edgar O. Seaquist, McGraw Hill, 1980 ISBN 0-07-056013-7 (obsolete, incomplete, missing most diagnosis steps, but very good reading; out of print but used copies are available at Amazon.com, and reprints are available from some inspection tool suppliers). Ed Seaquist was among the first speakers invited to a series of educational conferences organized by D Friedman for ASHI, the American Society of Home Inspectors, where the topic of inspecting the in-service condition of building structures was first addressed.
Domestic Building Surveys, Andrew R. Williams, Kindle book, Amazon.com
Defects and Deterioration in Buildings: A Practical Guide to the Science and Technology of Material Failure, Barry Richardson, Spon Press; 2d Ed (2001), ISBN-10: 041925210X, ISBN-13: 978-0419252108. Quoting:
A professional reference designed to assist surveyors, engineers, architects and contractors in diagnosing existing problems and avoiding them in new buildings. Fully revised and updated, this edition, in new clearer format, covers developments in building defects, and problems such as sick building syndrome. Well liked for its mixture of theory and practice the new edition will complement Hinks and Cook's student textbook on defects at the practitioner level.
Guide to Domestic Building Surveys, Jack Bower, Butterworth Architecture, London, 1988, ISBN 0-408-50000 X
"Avoiding Foundation Failures," Robert Marshall, Journal of Light Construction, July, 1996 (Highly recommend this article-DF)
"A Foundation for Unstable Soils," Harris Hyman, P.E., Journal of Light Construction, May 1995
"Backfilling Basics," Buck Bartley, Journal of Light Construction, October 1994
"Inspecting Block Foundations," Donald V. Cohen, P.E., ASHI Reporter, December 1998. This article in turn cites the Fine Homebuilding article noted below.
"When Block Foundations go Bad," Fine Homebuilding, June/July 1998
...