Fire Damaged Buildings
Fire damage assessment, repair & prevention for homes & other buildings
InspectAPedia tolerates no conflicts of interest. We have no relationship with advertisers, products, or services discussed at this website.
Building fire damage:
Fire damage assessment, fire damage repair priorities, fire damage minimization. This fire damage home page provides links to in-depth articles on a variety of building defects, systems, or components that are associated with extra risk of fire; we also discuss fire damage assessment.
This article series also discusses how fire damage and mold damage might be related in a building. In a separate article we also discuss problems of wildfire damage risks to homes and how to minimize the risk of wildfire damage.
We also provide a MASTER INDEX to this topic, or you can try the page top or bottom SEARCH BOX as a quick way to find information you need.
Fire Damaged Buildings: assessment, safe building entry
Our photo at page top shows a Rhinebeck NY home that was destroyed by fire caused by an electrical cord that had been run beneath the carpeting.
Scope of Building Fire Damage, & Comparing Fire Damage to Buildings with Mold Damage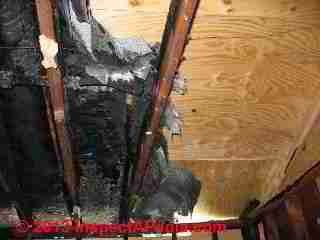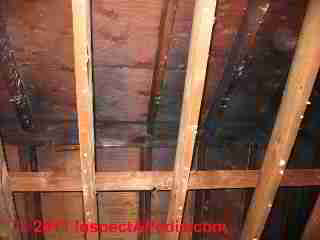 Our fire damage photographs above show two different extents of fire damage in the roof and attic of a New York home. Below we discuss damage and mold contamination questions following a fire in two different structures.
Article Series Contents
How Should Previous Fire-Damage Be Reported to a Home Owner or Home Buyer?

Question: this home suffered a fire - what should be reported?
I inspected a home earlier today and the exposed joists in the boiler room (should be covered with fire rated materials) was charred. The areas which i pocked at seemed that damage was just on the surface.
There were also signs of fire damage in the home's attic.
Per listing agent the fire occured prior to current owner occupancy.
Beyond making a request to the present home sellers that they get more details from the owner of the home at the time of the fire and a suggestion to to consult with local building department regarding history of damage and documented measure of repairs taken, what other questions should a home owner or buyer of this home pursue?
Reply:
The request for information about who did what regarding repairs to prior fire damage that you suggest is important and useful.
In my experience, however, the depth of information that may be on file at a local building department concerning post-fire repairs may vary considerably from one building code enforcement jurisdiction to another.
An inspection report, such as a home inspection for an owner or buyer, concerning a building where there is evidence of a prior fire should make several points very clear in order to protect the building occupants and owners from a costly or dangerous surprise.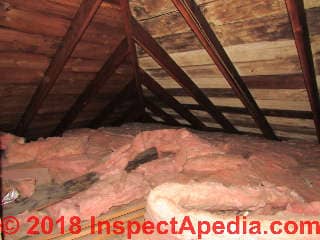 The responsibility of the inspector, even if that person cannot complete the fire damage/repair assessment includes at least the following:
There is evidence of a previous building fire and, presumably repairs to that damage
The full extent of damage and repair cannot be given by a normal condition-of-property inspection, such as a pre-purchase home inspection report, and some additional information gathering and possibly also some additional property assessment are in order.

We do not asset that the following warning topics mean that the buiding requires additional repair work, but these are topics for which an owner or buyer should be informed and alert. Ideally the records and receipts for post-fire repairs will address all of these and other site conditions affected by a fire.
Structure: When there has been a building fire the substantial question is whether or not adequate repairs and renovations were made afterwards.



Watch out

: beyond the obvious concern with the extent of fire damage to wood structural members (and sheathing), post-fire assessment must consider as well the condition of structural connectors.

Following a fire some structural connectors, such as metal truss plates and epoxied bolts or other framing connectors, may be damaged by the heat of fire or by post-fire corrosion following heat, loss of galvanized coatings, and water or other chemicals used to extinguish the fire.

In addition, modern glulam or LVL timbers may have been weakened by the effects of heat on their binder or glue even when the members don't look charred to the naked eye. (Avent 1984) (Buchanan 1994)

All connections will require detailed inspection to assess their loadbearing capacity. in his discussion of large fire-damaged timbers, Williamson (1982a) notes that the effect of fire on the strength of any connection is very difficult to determine without a thorough investigation of the affected connection, since the amount of damage is dependent on the quantity of metal and the surface contact of metal with fire along with other factors.

There may also be possible chemical damage from the corrosive effects of fire residues. Metal roof supports, ceilings, and other structural members are vulnerable to long-term acid attack from fire residues (King 2002).

Exposed metal connections provide a means for heat conduction into the wood (Fuller et al. 1992), ... - US FPL cited in detail below.
Roofing: if a fire originating inside the building interior did not burn through roof but if the roof covering, such as asphalt shingles, was heated to a high temperature, the roof covering may have been damaged and may have a reduced remaining life.
Electrical system: Records may show that some or all electrical wiring was replaced within in area of the fire and areas exposed to high heat - or perhaps not.

There is a more hidden risk that could be serious if not addressed. Heat exposure, for example, can damage electrical wire insulation, making it less safe in the future.

Similarly, heat-damaged devices, receptacles, switches, AFCIs, GFCIs, circuit breakers, or other electrical controls may leave them looking normal but nevertheless unreliable and thus unsafe.
Mechanical system: The same questions pertain for heating and air conditioning equipment, pumps, motors, and appliances, as raised above.
Plumbing system: heat-damaged plastic supply or drain piping, if not replaced, may be at greater risk of a future break, leak, and water-related damage.
Mold contamination: as we discuss at FIRE RELATED MOLD CONTAMINATION, the spread of water used in the extinguishment of a fire or of rain or melting snow and ice post-fire if a building's roof and exterior were damaged, can lead to mold contamination in building ceiling, wall, or floor cavities that were wet even if they were nowhere near the actual fire.
Smoke Damage & Odor Issues: may remain in the building even after its structure and other components have been repaired and replaced. Fire-damage restoration companies can offer help in finding, cleaning, removing, or sealing materials giving a remaining smoke or fire odor problem.
An inspection report that fails to make an effort to make the client understand the concerns and what to do about them would not be living up to the standard of public trust that pertains to home inspectors, engineers, architects, and other building professionals.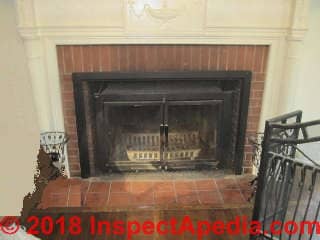 As one can read in the articles I cite below, even an experienced and trained licensed professional engineer ultimately is going to have to use her experience and judgement to form an opinion about fire damage to building components.
While there procedural guidelines, as the articles I cite suggest, even a engineer experienced in wood frame construction can't use standard tables or measures to evaluate fire-damaged wood - those members in that condition don't appear in framing span tables.
And in-situ strength testing of fire damaged structural beams, studs, joists, etc. to determine their point of failure is simply not feasible.
So an intelligent eye and mind applied to the situation by an experienced inspector can be credible in forming useful observations about conditions in a fire-damaged wood-frame structure.
I attach below two US FPL articles that confirm the view that the structural integrity of lightly-charred solid wood members is usually not compromised.
If probing finds only very superficial charring on wood structural members and if there is no evidence of sagging, breaking, etc. they're probably OK; often we can note that some members were already replaced and others left in place, suggesting that a contractor made a decision, at the time of the work, on which needed replacement.
A separate question, discussed at PYROLYSIS EXPLAINED, is whether or not heat-exposed wood materials have henceforth a lowered point of combustion and thus lower future fire-resistance.
Wood Structure Fire Damage Assessment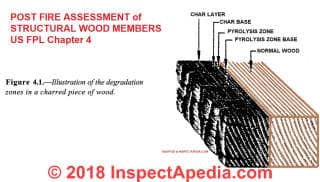 This illustration shows the various zones in fire-damaged structural wood members, adapted from the US FPL article cited in detail just below.
[Click to enlarge any image]
ASTM International , ASTM E 119 (2000) Standard Test Methods for Fire Tests of Building Construction and Materials, includes a standard test method for determining the fire-resistance rating of a structural member or assemblies for building code purposes. Source: https://www.astm.org/Standards/E119
Summary Excerpts:

4.1 These test methods are intended to evaluate the duration for which the types of building elements noted in 1.1 contain a fire, retain their structural integrity, or exhibit both properties during a predetermined test exposure.

4.2 The test exposes a test specimen to a standard fire controlled to achieve specified temperatures throughout a specified time period. When required, the fire exposure is followed by the application of a specified standard fire hose stream applied in accordance with Practice E2226.

The test provides a relative measure of the fire-test-response of comparable building elements under these fire exposure conditions. The exposure is not representative of all fire conditions because conditions vary with changes in the amount, nature and distribution of fire loading, ventilation, compartment size and configuration, and heat sink characteristics of the compartment.

Variation from the test conditions or test specimen construction, such as size, materials, method of assembly, also affects the fire-test-response. For these reasons, evaluation of the variation is required for application to construction in the field.
Avent, R. Richard and Camille A. Issa. 1984. Effect of fire on epoxy-repaired timber. Journal of Structural Engineering. 110(12):2858-2875.
Buchanan, A. and D. Barber. 1994. Fire resistance of epoxied steel rods in glulam timber. In: Proceedings, Volume 1, Pacific Timber Engineering Conference; 1994 July 11-15; Gold Coast, Australia, Fortitude Valley MAC, Queensland, Australia: Timber Research and Development Advisory Council. pp. 590-598.
Gerhards, C.C. 1982. Effect of moisture content and temperature on the mechanical properties of wood: An analysis of immediate effects. Wood and Fiber. 14(1):4-36.
Churpek, Mark, P.E., Evaluation of Fire‐Exposed Structural Members [Power Point-PDF] (2013) Janney, Elstner Associates, Inc. Email: mchurpek@wje.com retrieved 2018/10/11, original source: http://seaoo.org/downloads/Presentations_CONF/seaoo_2013_conference___fire_exposed_structural_members__churpek_rev.pdf
Janssens, M.L. and R.B. White. 1994. Temperatures profiles in wood members exposed to fire. Fire and Materials. 18, 263-265.
Knudsen, R.M. and A.P. Schniewind. 1975. Performance of structural wood members exposed to fire. Forest Products Journal. 25(2):23-32.
National Fire Protection Association (NFPA). 1998. Guide for fire and explosion investigations. NFPA 921. Quincy, MA: NFPA. 167 p.
Salih Amin, Rizgar, STRUCTURAL APPRAISAL FOR FIRE DAMAGED BUILDINGS [PDF] retrieved 2018/10/11 original source: http://keu92.org/uploads/Search%20engineering/STRUCTURAL%20APPRAISAL%20FOR%20FIRE.pdf
Excerpt from conclusions:

... all structures that have been subjected to fire should be evaluated in systematic manner, to determine the extent of the damage and a necessary repair strategy if required.

The intensity and duration of the fire needs to be determined by observing the damage to the building and testing the materials and structural elements.

These evaluations, combined with good engineering judgement, allow for effective and economical repairs to be established.
Schaffer, E.L. 1973. Effect of pyrolytic temperatures on the longitudinal strength of dry Douglas-fir. ASTM Journal of Testing and Evaluation. 1(4):319-329.
US FPL, POST-FIRE ASSESSMENT OF STRUCTURAL WOOD MEMBERS [PDF] Chapter 4 in Wood and Timber Condition Assessment Manual, U.S. U.S. Forest Products Laboratory, retrieved 2018/10/11, original source: https://www.fpl.fs.fed.us/documnts/pdf2005/fpl_2005_ross005.pdf

Excerpts: Since the interior of a charred wood member normally retains its structural integrity, large structural wood members often do not need to be replaced after a fire.

Engineering judgement is required to determine which members can remain and which members need to be replaced or repaired.

Due to the lack of established methods to directly determine the residual capacity of damaged wood members, a systematic approach starting with the assessment of the likely fire exposure is recommended.

Assessment includes visual inspection of damaged members, visual inspection of connections, and visual inspection of any protective membranes (i.e., gypsum board).

Potential methods for nondestructive evaluation of structural properties of a fire-damaged wood member are discussed after a brief review of the degradation of wood when exposed to fire.

...

For wood members that have charred, the char layer can be easily scrapped off. Obviously, any charred portion of a fire-exposed wood member has no residual load capacity.

The wood beneath the char layer has residual load capacity; but, this residual capacity will be less than the load capacity prior to the fire.

Members that have only visual smoke damage or slight browning of the surface also have significant residual load capacity.
US FPL, B. Kukay, R. White, and F. Woeste FIRE DAMAGE OF WOOD STRUCTURES [PDF] Chapter 6 includes "Direct determination of fire-damaged timbers" and other step by step procedures.
Excerpts:

Depending on the severity, fire damage can compromise the structural integrity of wood structures such as buildings or residences.

Fire damage of wood structures can incorporate several models that address

(1) the type, cause, and spread of the fire,

(2) the thermal gradients and fire-resistance ratings, and

(3) the residual load capacity (Figure 6.1).

If there is a danger of local collapse, immediate concerns about the stability of free-standing residual parts of a fire-damaged building will need to be addressed very quickly [1].

Assuming that the structural fire is contained, then under certain circumstances time becomes less of an issue.

The investigator should employ engineering judgment to identify those in-service members that are to be replaced, repaired, or can remain in-service as they are.

Such judgment will likely be based on the visual inspection of damaged members, connections, and any protective membranes. In light-frame construction, wood assemblies are typically shielded from flames and heat by gypsum board and insulation; these greatly increase the amount of time required for the onset of charring.

Potential methods for nondestructive evaluation of structural properties of a fire-damaged wood member are described below.
White, Robert H. and M.A. Dietenberger. 2001. Wood products: Thermal degradation and fire. In: Encyclopedia of materials: Science and technology. New York: Elsevier Science Ltd.
White, Robert H., Steven M. Cramer, and Deepak K. Shrestha. 1993. Fire endurance model for a metal-plate-connect wood truss. Res. Pap. FPL-RP522. Madison, WI, U.S. Department of Agriculture, Forest Service, Forest Products Laboratory. 12 p.
Williamson, T.G. 1982a. 4.5.4 Rehabilitation of fire-damaged members of Chapter 4 Evaluation. In: Evaluation, maintenance and upgrading of wood structures-A guide and commentary. New York: Arnerican Society of Civil Engineers. pp. 172-178.
Williamson, Thomas G. 1982b. 8.8 Rehabilitation of fire-damaged timber-The Filene Center of Chapter 8 Recycling old structures (Case histories). In: Evaluation, maintenance and upgrading of wood structures-A guide and commentary. New York American Society of Civil Engineers. pp. 417-422.
Post-Building Fire Mold Contamination
This discussion about when, where, how and why a building may become mold contaminated following a building fire has moved to FIRE RELATED MOLD CONTAMINATION
Wildfire Damage Prevention Advice for Homeowners
This topic has moved to its own page at WILDFIRE DAMAGE PREVENTION for HOMES - Recommendations about Trees, Shrubs, other Vegetation around the building to reduce wildfire damage risks
...
Continue reading at FIRE DAMAGE vs MOLD DAMAGE or select a topic from closely-related articles below, or see our complete INDEX to RELATED ARTICLES below.
Or see FIRE DAMAGED BUILDING ASSESSMENT & REPAIR FAQs - questions & answers posted originally on this page.
Or see these
Building Fire Damage Assessment & Prevention Articles
Suggested citation for this web page
FIRE DAMAGED BUILDINGS, ASSESSMENT, REPAIR at InspectApedia.com - online encyclopedia of building & environmental inspection, testing, diagnosis, repair, & problem prevention advice.
Or use the SEARCH BOX found below to Ask a Question or Search InspectApedia
Or see
Or use the SEARCH BOX found below to Ask a Question or Search InspectApedia
Or see
Or use the SEARCH BOX found below to Ask a Question or Search InspectApedia
...
Ask a Question or Search InspectApedia
Try the search box just below, or if you prefer, post a question or comment in the Comments box below and we will respond promptly.
Search the InspectApedia website
Technical Reviewers & References
Click to Show or Hide Citations & References
InspectAPedia.com® - Daniel Friedman - Publisher & Editor.
Daniel Friedman - ASHI (1986-2006) - author of this website and article, building failures researcher.
Mark Cramer Inspection Services Mark Cramer, Tampa Florida, Mr. Cramer is a past president of ASHI, the American Society of Home Inspectors and is a Florida home inspector and home inspection educator. Mr. Cramer serves on the ASHI Home Inspection Standards. Contact Mark Cramer at: 727-595-4211 mark@BestTampaInspector.com
John Cranor is an ASHI member and a home inspector (The House Whisperer) is located in Glen Allen, VA 23060. He is also a contributor to InspectApedia.com in several technical areas such as plumbing and appliances (dryer vents). Contact Mr. Cranor at 804-747-7747 or by Email: johncranor@verizon.net
Sal Alfano - Editor, Journal of Light Construction*
Thanks to Alan Carson, Carson Dunlop, Associates, Toronto, for technical critique and some of the foundation inspection photographs cited in these articles
Terry Carson - ASHI
Mark Cramer - ASHI
JD Grewell, ASHI
Duncan Hannay - ASHI, P.E. *
Bob Klewitz, M.S.C.E., P.E. - ASHI
Ken Kruger, P.E., AIA - ASHI
Aaron Kuertz aaronk@appliedtechnologies.com, with Applied Technologies regarding polyurethane foam sealant as other foundation crack repair product - 05/30/2007
Bob Peterson, Magnum Piering - 800-771-7437 - FL*
Arlene Puentes, ASHI, October Home Inspections - (845) 216-7833 - Kingston NY
Greg Robi, Magnum Piering - 800-822-7437 - National*
Dave Rathbun, P.E. - Geotech Engineering - 904-622-2424 FL*
Ed Seaquist, P.E., SIE Assoc. - 301-269-1450 - National
Dave Wickersheimer, P.E. R.A. - IL, professor, school of structures division, UIUC - University of Illinois at Urbana-Champaign School of Architecture. Professor Wickersheimer specializes in structural failure investigation and repair for wood and masonry construction. * Mr. Wickersheimer's engineering consulting service can be contacted at HDC Wickersheimer Engineering Services. (3/2010)
*These reviewers have not returned comment 6/95
Building Failures, Diagnosis & Avoidance, 2d Ed., W.H. Ransom, E.& F. Spon, New York, 1987 ISBN 0-419-14270-3
Building Pathology, Deterioration, Diagnostics, and Intervention, Samuel Y. Harris, P.E., AIA, Esq., ISBN 0-471-33172-4, John Wiley & Sons, 2001 [General building science-DF] ISBN-10: 0471331724 ISBN-13: 978-0471331728
Building Pathology: Principles and Practice, David Watt, Wiley-Blackwell; 2 edition (March 7, 2008) ISBN-10: 1405161035 ISBN-13: 978-1405161039
Diagnosing & Repairing House Structure Problems, Edgar O. Seaquist, McGraw Hill, 1980 ISBN 0-07-056013-7 (obsolete, incomplete, missing most diagnosis steps, but very good reading; out of print but used copies are available at Amazon.com, and reprints are available from some inspection tool suppliers). Ed Seaquist was among the first speakers invited to a series of educational conferences organized by D Friedman for ASHI, the American Society of Home Inspectors, where the topic of inspecting the in-service condition of building structures was first addressed.
Domestic Building Surveys, Andrew R. Williams, Kindle book, Amazon.com
Defects and Deterioration in Buildings: A Practical Guide to the Science and Technology of Material Failure, Barry Richardson, Spon Press; 2d Ed (2001), ISBN-10: 041925210X, ISBN-13: 978-0419252108. Quoting:
A professional reference designed to assist surveyors, engineers, architects and contractors in diagnosing existing problems and avoiding them in new buildings. Fully revised and updated, this edition, in new clearer format, covers developments in building defects, and problems such as sick building syndrome. Well liked for its mixture of theory and practice the new edition will complement Hinks and Cook's student textbook on defects at the practitioner level.
Guide to Domestic Building Surveys, Jack Bower, Butterworth Architecture, London, 1988, ISBN 0-408-50000 X
Books & Articles on Building & Environmental Inspection, Testing, Diagnosis, & Repair
Our recommended books about building & mechanical systems design, inspection, problem diagnosis, and repair, and about indoor environment and IAQ testing, diagnosis, and cleanup are at the InspectAPedia Bookstore. Also see our Book Reviews - InspectAPedia.
...