Fire Damaged Buildings
Fire damage assessment, repair & prevention for homes & other buildings
InspectAPedia tolerates no conflicts of interest. We have no relationship with advertisers, products, or services discussed at this website.
Building fire damage:
Fire damage assessment, fire damage repair priorities, fire damage minimization. This fire damage home page provides links to in-depth articles on a variety of building defects, systems, or components that are associated with extra risk of fire; we also discuss fire damage assessment.
This article also discusses how fire damage and mold damage might be recognized in a building and how we might distinguish between black stains and white sealant paints used in both fire damage repair and mold remediation projects.
In a separate section we discuss problems of wildfire damage risks to homes and how to minimize the risk of wildfire damage.
We also provide a MASTER INDEX to this topic, or you can try the page top or bottom SEARCH BOX as a quick way to find information you need.
Fire Damaged Buildings: assessment, safe building entry
Our photo at page top shows a Rhinebeck NY home that was destroyed by fire caused by an electrical cord that had been run beneath the carpeting.
Scope of Building Fire Damage, & Comparing Fire Damage to Buildings with Mold Damage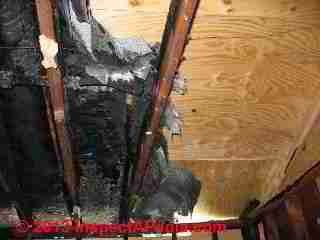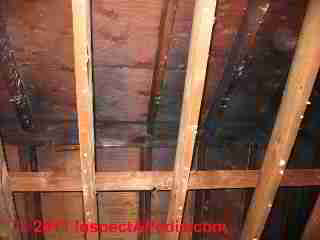 Our fire damage photographs above show two different extents of fire damage in the roof and attic of a New York home. below we discuss damage and mold contamination questions following a fire in different structure.
Structural Repairs Following a Fire Get Confused With Venting Trouble and Mold Contamination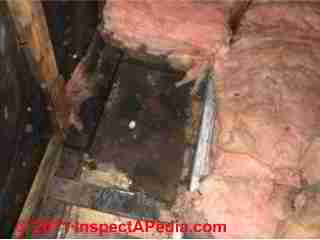 Reader question: I found your website and found it extremely helpful. However I have a very particular situation and would like to have your suggestions and comments. Here are the series of facts leading to this e-mail to you.
Type of house: 1983 Canadian style with drooping front roof purchased January 2011
Information from seller: 2006 inside renovations (kitchen, living room and bathroom) 2008 new roof – completely redone. When asked if there had ever been water damage, problems or fires in the past the seller answered no to all questions.
Recent leak history: March 2011 – lots of snow and then + 5 degrees Celsius- our roof started leaking and water was leaking in our front door frame.
We went up in the attack and discovered that the air system did not have the protection to prevent fine snow to enter the roof area. There was a line of snow in the middle which probably melted.
After discovering this, I decided to have an engineer who work in construction problems, etc.
3rd April 2011 – Engineer visits and says there is an air problem in the roof top and all the wood seems to have been painted over and there seems to be dark black marks under the paint.
He also says the front part of the drooping roof does not have sufficient space to let air circulate and that this probably caused the water to run down the door frame inside. We are still waiting for the official report.
9th April 2011 – The seller informed us that there was a fire at the construction stage of the house 28 years ago and that is what the black is all about in the roof...They painted over it to seal in the smell.
So we have two different diagnoses of these black and painted areas: mold or fire. What do I do now?
How can I check if I actually have a mold problem ?
How do I fix the black fire appearance or mold traces in my attic ?
How can I fix the insulation problem in my roof (cathedral part of the roof ? - C. & R.
Reply:
A competent onsite inspection by an expert - a real one who knows both mold and fire damage - usually finds additional clues that help accurately diagnose a problem.
Also your photos are less than one one thousandth of what I'd look at if I were inspecting the building, so any opinion I give is of necessity incomplete..
That said, here are some things to consider:
By your account the seller was not forthcoming about the prior fire. However if proper inspection, assessment and repairs were made, the house may not be facing a costly fire-damage repair at all. Nevertheless, there might be some residual impact on the property value at re-sale time.
It is common practice to paint over fire damaged wood provided the wood is not structurally compromised - to seal in odors. Painting over fire blackened wood is not harmful.
It is possible to distinguish between mold and fire damage: A careful inspection of the painted areas and the surrounding material can often sort out the difference between fire-damaged surfaces that were painted and mold-contaminated surfaces that were coated, as I elaborate below.
Fires do create a secondary mold risk at a property: extinguishing a fire, presuming it was extinguished with water, dumps a lot of water into and through the structure. That process, when the fire is in the upper part of the structure in particular, sends a lot of water through lower ceilings and walls. Unless all of those areas are opened, gutted, dried, a future mold problem in those areas is a high risk.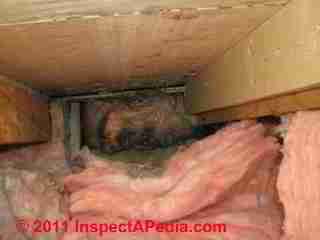 Your photo of blocked soffits and where no white paint appears (photo at left) and no black marks on sheathing also shows a sister rafter at the right side of the photo - possibly part of a post-fire roof repair/replacement, or sometimes this is done to straighten a sagging roof.
This photo shows the soffit virtually blocked, black stained fiberglass insulation in the eaves in a pattern that could be due to air movement/air leaks, and thermal tracking. The engineer is correct that roof venting is improper and blocked, risking a moisture and mold problem.
Your next two photos (below) how white-painted surfaces low at the house eaves on sheathing and some rafters, more sistered rafters, Some of the roof sheathing appears to be plank or T&G boards, other, plywood.

In the photo showing a white-painted sistered rafter under roof sheathing and diagonal bracing (below-right, looks much like a repaired truss), the paint pattern on the upper truss chord and absence of paint and absence of mold on the roof planks that rest atop the sistered/repaired roof truss form a compelling argument that the paint was applied relating to a fire not mold - mold wouldn't grow on just the truss side and not on the adjoining wood roof decking.

An exception would be if the roof decking was replaced and the old, repaired truss left in place. Usually plank roof decking is older than plywood roof decking.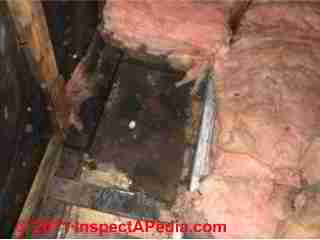 Your last photo shows insulation pulled back and what looks like blackened ceiling, studs, and sheathing. I cannot tell from the photo where in the structure this is, if it is in a moisture path, if there is corroborating indication of surrounding moisture staining on insulation, rusted nails, etc. or if it is left-over charring from the fire.
Given that the (apparently) vertical wall in this last photo is black with something, an astute home inspector who had access to this area during a pre-purchase home inspection would be expected to observe and comment on that anomaly and to warn you of its possible consequences.

Some Specific Suggestions for Handling Mold & Fire Traces in a Home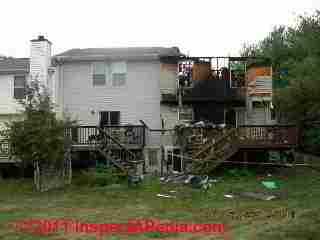 Our photo (left) illustrates extensive fire damage to a home at which the fire originated in a (probably creosote laden) metal chimney venting an overheated woodstove, spread to the building's roof and burned back down the building's wall.
A combination of weather conditions and speed with which demolition and repairs began seemed to avoid a concern for mold contamination associated with water used to extinguish this fire.
How can I check if I actually have a mold problem in this house ?

An inspection by a expert who is familiar with mold contamination should include a look at the history of the extent of demolition and repair after the fire as well as looking carefully at the water path through the building.

In addition to visual inspection for mold or mold-suspect materials, it makes sense to sample some surface areas especially ones where your engineer thinks that there is a mold problem . Surface sampling is in order; if you like you can also screen the building for mold using air and dust sampling but the visual inspection and surface samples are most important.

Start by reading MOLD / ENVIRONMENTAL EXPERT, HIRE ?, and for further details on inspecting a building for mold

see MOLD DETECTION & INSPECTION GUIDE
How do I fix the black fire appearance or mold traces in my attic ?

Use sealant paints that are approved for fire restoration to cover or paint over unsightly fire blackened members, presuming that an expert has assured you that no further structural repairs are needed.

Don't paint over mold: moldy surfaces and materials should be physically cleaned. If you want to use a fungicidal sealant afterwards, that's fine.
See ACTION GUIDE - WHAT TO DO ABOUT INDOOR MOLD

and see MOLD SPRAYS, SEALANTS, PAINTS


How can I fix the insulation problem in my roof (cathedral part of the roof ?

Attic ventilation, to work effectively, needs continuous air intake at the eaves and outlet at the ridge. Insulation & ventilation contractors use baffles to provide an air path in through vented soffits and add a ridge vent. See our article series on attic ventilation beginning
at ROOF VENTILATION SPECIFICATIONS
Also see Fire Retardant Treated FRT Roofing Plywood Failures inspection, detection, testing of defective FRT plywood roof sheathing and
see MOLD: A COMPLETE GUIDE to TEST CLEAN PREVENT
Wildfire Damage Prevention Advice for Homeowners
Recommendations about Trees, Shrubs, other Vegetation around the building to reduce wildfire damage risks
Watch out: the first priority in event of a wildfire in your area is getting out of your home and to a safe location in time to avoid injury or death.
Wildfire safety margin around homes: Experts offer basic advice about the role of plants around the home by type and by distances, such as suggestion to plant fire-resistant shrubs, keeping brush cleared away from near the home, and keep shrubs and brush a recommended distance from the building. Typically we keep shrubs five feet or more away from building walls to avoid inviting insect pests into the structure. In areas where wildfires are common you may need to keep plantings still further away or keep them quite small if close to the home.

Watch out: in event of a wildfire, windborne and heat-borne burning brands from trees and even other buildings distant from your home are still a source of fire hazard. That's why attention to the fire-rating properties of your home's roof are also very important.
Insurance protection from wildfire damage:

Consult your homeowners' insurance company for their wildfire damage prevention advice and also to review your insurance coverage
Inventory: make a photo-inventory of all of your possessions as well as the features of your home, inside and out, and store the data in a backup-copy off-site or at an online internet data service

Also see FIRE DAMAGE vs MOLD DAMAGE in buildings
Fire-resistant roofing recommendations to reduce risk of wildfire damage to a home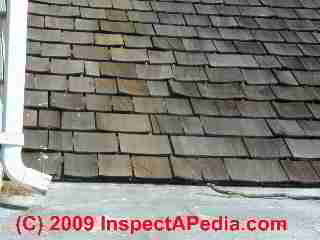 Class A Material Roof fire rating: Particularly if the roof covering is not highly fire resistant (clay or cement tiles for example) you should Investigate use of fire-retardant coatings for roofing where they can be applied, such as treatments for wood shakes or shingles.

Fire-retardant additives can be purchased to mix into building paints to provide a Class A Fire Retardant Coating Rating (12 oz. of additive per gallon of paint) -

Watch out: be sure that the fire retardant and paint combination you are preparing is intended for exterior use, and follow the manufacturer's recommendations. [Fire retardant paint does not make a building fire proof. It retards flame spread and smoke.]1 For details see

Boxed-in roof eaves and rafter ends can also improve the fire resistance of the roof structure by protecting rafter ends from flying embers and heat.
Check that gable end vents are covered with metal (not plastic) screening to help keep flying embers out of the home's attic or roof space.
FIRE RATINGS for ROOF SURFACES - what is the fire rating of each type of roofing material?
FIRE RETARDANT PLYWOOD - using FRT plywood can reduce flame spread and improve the fire resistance of buildings but watch out for defective FRT & structural failures on some older homes
WOOD ROOF COATINGS & FIRE RATINGS - special products are recommended, even required for wood roofs in some zones of high risk of wildfires
Class-A fire resistant asphalt shingles
Other fire resistant roofing: metal roofing, metal roof shingles, stone, slate, tile roofing

Fire-resistant windows & doors for homes in wildfire-prone areas
If you have occasion to replace windows or doors on your home, when choosing new windows look for dual-glazed tempered glass glazing - a material that is more heat and ember resistant than single pane windows.
References for Prevention of Damage to Homes by Wildfires
Some references and resources that we like for wildfire damage prevention include
National Fire Protection Association, and United States Fire Administration. Wildfire Strikes Home: The Report of the National Wildland/Urban Fire Protection Conference. FEMA, 1987.
James K. Agee & Carl N. Skinner, "Basic principles of forest fuel reduction treatments", Forest Ecology and Management Volume 211, Issues 1–2, 6 June 2005, Pages 83–96.
Cohen, Jack D., "Preventing Disaster: Home Ignitability in the Wildland-Urban Interface", Journal of Forestry, Volume 98, Number 3, 1 March 2000 , pp. 15-21(7), Society of American Foresters.
Abstract: Wildland-urban interface (W-UI) fires are a significant concern for federal, state, and local land management and fire agencies. Research using modeling, experiments, and W-UI case studies indicates that home ignitability during wildland fires depends on the characteristics of the home and its immediate surroundings. These findings have implications for hazard assessment and risk mapping, effective mitigations, and identification of appropriate responsibility for reducing the potential for home loss caused by W-UI fires.
Long, Alan J., Dale D. Wade, and Frank C. Beall. "13 Managing for Fire in the Interface: Challenges and Opportunities." Forests at the wildland-urban interface: Conservation and management (2004): 201.
Paulo M. Fernandes and Hermínio S. Botelho, "A review of prescribed burning effectiveness in fire hazard reduction", International Journal of Wildland Fire 12(2) 117 - 128
Abstract: Wildfire hazard abatement is one of the major reasons to use prescribed burning. Computer simulation, case studies, and analysis of the fire regime in the presence of active prescribed burning programs in forest and shrubland generally indicate that this fuel management tool facilitates fire suppression efforts by reducing the intensity, size and damage of wildfires. However, the conclusions that can be drawn from the above approaches are limited, highlighting the need for more properly designed experiments addressing this question. Fuel accumulation rate frequently limits prescribed fire effectiveness to a short post-treatment period (2–4 years). Optimisation of the spatial pattern of fire application is critical but has been poorly addressed by research, and practical management guidelines are lacking to initiate this. Furthermore, adequate treatment efforts in terms of fire protection are constrained by operational, social and ecological issues. The best results of prescribed fire application are likely to be attained in heterogeneous landscapes and in climates where the likelihood of extreme weather conditions is low. Conclusive statements concerning the hazard-reduction potential of prescribed fire are not easily generalised, and will ultimately depend on the overall efficiency of the entire fire management process.
Mall, Amy, Franz Matzner, and Niel Lawrence. "Safe at Home." (2007). http://www.nrdc.org/land/forests/safe/safe.pdf, retrieved 3/4/2013
Kristen, C. Nelson, C. Monroe Martha, and Jayne Fingerman Johnson. "The look of the land: homeowner landscape management and wildfire preparedness in Minnesota and Florida." Society and Natural Resources 18.4 (2005): 321-336.
Quarles, Stephen L., et al. "Home survival in wildfire-prone areas: Building materials and design considerations." ANR Publication 8393 (2010). http://www.wildfirezone.org/assets/images/resource_docs/homesurvivalwildfireareas.pdf, retieved 3/4/2013.
Smith, Rebecca K. "War on Wildfire: The US Forest Service's Wildland Fire Suppression Policy and Its Legal, Scientific, and Political Context." U. Balt. J. Envtl. L. 15 (2007): 25.
Fire-related Articles
...
Continue reading at FIRE DAMAGE vs MOLD DAMAGE or select a topic from closely-related articles below, or see our complete INDEX to RELATED ARTICLES below.
Suggested citation for this web page
FIRE DAMAGED BUILDINGS, ASSESSMENT, REPAIR at InspectApedia.com - online encyclopedia of building & environmental inspection, testing, diagnosis, repair, & problem prevention advice.
Or use the SEARCH BOX found below to Ask a Question or Search InspectApedia
...
Frequently Asked Questions (FAQs)
Try the search box below or CONTACT US by email if you cannot find the answer you need at InspectApedia.
Question: how do I get numerous post-fire-rebuild problems diagnosed & fixed on my home
I am so glad to have found your site. After reading through your site I've learned alot. I had a house fire (total loss) due to arson and I had to rebuild from the ground up. I have a new house with ongoing problems, mostly of leaks and water stains on the interior wood beams of my post and beam house. I desperately need your suggestions.
I moved in on April 1, 2011 and the problems have been ongoing - water stains and drips from the downstairs wood ceiling and running down the wall (outside wall), and two other water stains I noticed on beams on two other outside walls. Also, in my bathroom I have another problem with my 8" beam getting soaking wet for approximately 1 foot in length last spring when the warm weather came which the builder said he fixed. The first cold day this winter I had a 6" long wet stain on the beam once I got out of the shower. I used the exhaust fan like I always do. The cold weather had something to do with it.
Also, my downstairs shower base had several cracks when it was less than 2 years old. Since day one it was leaking at the seams which the builder re-siliconed but now that the base has cracked he told me that he warrantees for only one year. The base flexed from day one and I have read that the base has to be installed on a firm surface. I am thinking the crack was due to the base flexing.
Finally, my daughters window sill is black including in the corners. I am not sure if it is due to normal condensation or not.
The builder did come out and caulk around one window to prevent the water from leaking into the house and down the wall. I am awaiting his reply on my request to caulk all the windows.
I am thinking I should get a qualified inspector to assess any damages, and to give me suggestions. This new house should not have these problems. I am so tired of dealing with house issues, it's almost 4 years since my fire and I am tire! I think I want to live in a tent!
Thank you for any suggestions you can give me. - R.F., New Hampshire, 12/18/2013
Reply: professional inspector to set repair priorities, fire history case evaluation, warning about adversarial approaches
1. An inspection by a thorough, experienced professional should help identify the significant problem areas and also describe the type of remedy required, setting priorities of attention.

at EXPERTS DIRECTORY is a list that may help you - be sure to discuss your needs, the inspector's familiarity with water damage following a fire (tracing where water went in the building, what got wet, where and how to decide that test cut openings to inspect building cavities are justified) and the inspector's willingness to give repair approach advice (which is beyond the scope and skill of many), and to be available for follow-up questions.
2. You need to discuss with your insurance company the case history, course of repairs, and the possibility that original inspections and repairs were inadequate in scope or extent.

Keep in mind and make clear to the insurer that you understand that there could be post-fire maintenance problems at fault - don't assume everything is due to the fire, but indeed you do want to know if the original work was adequate or not - if for no other reason than to understand where more work is needed and what homeowner-responsibility and repairs are needed.
3. Watch out: you said you rebuilt from the ground up following a fire. If this is precisely the case, that is, if none of the original structure except perhaps the foundation was retained, then the common post-fire-damage issue of building cavities that were wet during fire extinguishment but not opened and properly dried and renovated post fire does not pertain.

What remains in a total rebuild case would be a question of the quality of new construction just as with any new home.
In that case and particularly as you have probably long ago signed-off a settlement with your insurance company, I'm doubtful that there is any basis whatsoever for going back to the insurance company for further help. Only if you could show that somehow you were pressured or did not have adequate representation, or that the insurance company insisted on specific re-build compromises that later led to building problems might there be any case whatsoever - in my OPINION (I am not an attorney, nor engineer, nor architect).
Only if that were the case might you need to consult again with an attorney or with an independent insurance adjuster to see if further steps are appropriate. I do not advise this as an early step, but if you have good reason to feel that an insurance company is taking shortcuts that will result in future trouble in a home you might need help from an independent insurance adjuster.

My reluctance is that as soon as you get an attorney or independent adjuster in the loop, though you might have a paid advocate, you also are giving up any chance of help from a friendly, cooperative insurance company representative and are converting the relationship into an adversarial one - which is often protracted, costly, and exhausting.
Reader follow-up: building leaks after re-build after a fire
My house was torn down after the fire and a new house was built from scratch by a builder who basically did everything himself with very few subcontractors. My present concern is why I am getting water stains on my interior beams. I wonder if the builder wrapped the windows correctly and whether the ventilation for the bathroom exhaust fan was done correctly.
Two people told me to sue the builder. I don't want to but I want this resolved. I am totally exhausted in dealing with house issues and I have little stamina left. Would a home inspector be able to tell how water is getting inside when it rains and/or from melting snow, and why I am getting water on the beam in my bathroom ceiling when using the shower and exhaust vent only in the cold weather?
I took some photos of both the interior and exterior of my house. I will send them in the following email. The first several photos are of the bathroom, and the exterior bathroom window and vent. The shower is to the left of the water stain... on the other side of the wall to the left of the toilet. The exhaust vent on the exterior is a white box which the builder made so the vent door extended out from the house so that the heat from exhaust fan isn't drawn up in to the soffits which caused a problem 1-2 years ago. The water stain in the photo occurred for the first time this year during the first very cold day of the year and occurs with every shower since the cold weather even while the fan is on.
The second problem I am having is a water stain on the inside beam above my entrance door. (In the photos it is the door on the side with a lot of windows.) This is a recent problem. Last year I had the same problem in a room on the opposite side of the house which got so bad that water was running down the drywall during a rain storm. The builder caulked around the window above it and it seemed to have stopped the leaking. I asked him to caulk around all windows hoping that it will stop the water stain from increasing above my entrance door. He has not replied. Of note, on the second floor above the entrance door is a large window (seen in photo) which now has much water staining on the window sill. It is odd because all my windows are closed now that it is winter.
Reply:
I agree that the water stains need to be investigated - to understand the cause and to understand if there is more than a cosmetic problem. But from just your note I can't guess at wha'ts going on: a venting problem, an air leak problem, a roof leak, or what. I think you need an onsite expert inspection to diagnose the topic. Try going to the builder with that information to see what he proposes to do about it. And let me know. I may be able to suggest questions to ask or to comment on the reasonableness of what you're being told. If I had photos of the entire house from outside and inside photos of the stains as well as more distant shots giving some context I might be able to make further useful comment.
Certainly you don't want to sue to force the builder to do anything - that'd be a disaster. And a suit to collect damages makes no sense unless the damage cost is so large as to make the cost and hassle of a suit reasonable - and still you need to have some assurance that you would actually collect.
So first let's focus on an accurate problem diagnosis.
...
Ask a Question or Search InspectApedia
Use the "Click to Show or Hide FAQs" link just above to see recently-posted questions, comments, replies, try the search box just below, or if you prefer, post a question or comment in the Comments box below and we will respond promptly.
Search the InspectApedia website
Technical Reviewers & References
Click to Show or Hide Citations & References
InspectAPedia.com® - Daniel Friedman - Publisher & Editor.
Daniel Friedman - ASHI (1986-2006) - author of this website and article, building failures researcher.
Mark Cramer Inspection Services Mark Cramer, Tampa Florida, Mr. Cramer is a past president of ASHI, the American Society of Home Inspectors and is a Florida home inspector and home inspection educator. Mr. Cramer serves on the ASHI Home Inspection Standards. Contact Mark Cramer at: 727-595-4211 mark@BestTampaInspector.com
John Cranor is an ASHI member and a home inspector (The House Whisperer) is located in Glen Allen, VA 23060. He is also a contributor to InspectApedia.com in several technical areas such as plumbing and appliances (dryer vents). Contact Mr. Cranor at 804-747-7747 or by Email: johncranor@verizon.net
Sal Alfano - Editor, Journal of Light Construction*
Thanks to Alan Carson, Carson Dunlop, Associates, Toronto, for technical critique and some of the foundation inspection photographs cited in these articles
Terry Carson - ASHI
Mark Cramer - ASHI
JD Grewell, ASHI
Duncan Hannay - ASHI, P.E. *
Bob Klewitz, M.S.C.E., P.E. - ASHI
Ken Kruger, P.E., AIA - ASHI
Aaron Kuertz aaronk@appliedtechnologies.com, with Applied Technologies regarding polyurethane foam sealant as other foundation crack repair product - 05/30/2007
Bob Peterson, Magnum Piering - 800-771-7437 - FL*
Arlene Puentes, ASHI, October Home Inspections - (845) 216-7833 - Kingston NY
Greg Robi, Magnum Piering - 800-822-7437 - National*
Dave Rathbun, P.E. - Geotech Engineering - 904-622-2424 FL*
Ed Seaquist, P.E., SIE Assoc. - 301-269-1450 - National
Dave Wickersheimer, P.E. R.A. - IL, professor, school of structures division, UIUC - University of Illinois at Urbana-Champaign School of Architecture. Professor Wickersheimer specializes in structural failure investigation and repair for wood and masonry construction. * Mr. Wickersheimer's engineering consulting service can be contacted at HDC Wickersheimer Engineering Services. (3/2010)
*These reviewers have not returned comment 6/95
Best Practices Guide to Residential Construction, by Steven Bliss. John Wiley & Sons, 2006. ISBN-10: 0471648361, ISBN-13: 978-0471648369, Hardcover: 320 pages, available from Amazon.com and also Wiley.com. See our book review of this publication.
Allen, Edward and Joseph Iano. Fundamentals of Building Construction: Fourth Edition. Hoboken: John Wiley & Sons, 2004. pg. 91 [LVL lumber]
APA - The Engineered Wood Association, 7011 So. 19th St., PO Box 11700, Tacoma WA 98411-0700, Tel: 253-565-7265. APA provides an HDO/MDO Plywood Product Guide that offers details about these products., provides an HDO/MDO Plywood Product Guide that offers details about these products. Product support help desk: 253-620-7400. Email the APA at help@apawood.org. Web search 09/13/2010, original source: http://www.pacificwoodlaminates.com/img/PDFs/PlywoodGuide.pdf
Avongard foundation crack progress chart for structural crack monitoring
Building Failures, Diagnosis & Avoidance, 2d Ed., W.H. Ransom, E.& F. Spon, New York, 1987 ISBN 0-419-14270-3
Building Pathology, Deterioration, Diagnostics, and Intervention, Samuel Y. Harris, P.E., AIA, Esq., ISBN 0-471-33172-4, John Wiley & Sons, 2001 [General building science-DF] ISBN-10: 0471331724 ISBN-13: 978-0471331728
Building Pathology: Principles and Practice, David Watt, Wiley-Blackwell; 2 edition (March 7, 2008) ISBN-10: 1405161035 ISBN-13: 978-1405161039
Design of Wood Structures - ASD, Donald E. Breyer, Kenneth Fridley, Kelly Cobeen, David Pollock, McGraw Hill, 2003, ISBN-10: 0071379320, ISBN-13: 978-0071379328
This book is an update of a long-established text dating from at least 1988 (DJF); Quoting:
This book is gives a good grasp of seismic design for wood structures. Many of the examples especially near the end are good practice for the California PE Special Seismic Exam design questions. It gives a good grasp of how seismic forces move through a building and how to calculate those forces at various locations. THE CLASSIC TEXT ON WOOD DESIGN UPDATED TO INCLUDE THE LATEST CODES AND DATA. Reflects the most recent provisions of the 2003 International Building Code and 2001 National Design Specification for Wood Construction. Continuing the sterling standard set by earlier editions, this indispensable reference clearly explains the best wood design techniques for the safe handling of gravity and lateral loads. Carefully revised and updated to include the new 2003 International Building Code, ASCE 7-02 Minimum Design Loads for Buildings and Other Structures, the 2001 National Design Specification for Wood Construction, and the most recent Allowable Stress Design.
Diagnosing & Repairing House Structure Problems, Edgar O. Seaquist, McGraw Hill, 1980 ISBN 0-07-056013-7 (obsolete, incomplete, missing most diagnosis steps, but very good reading; out of print but used copies are available at Amazon.com, and reprints are available from some inspection tool suppliers). Ed Seaquist was among the first speakers invited to a series of educational conferences organized by D Friedman for ASHI, the American Society of Home Inspectors, where the topic of inspecting the in-service condition of building structures was first addressed.
Domestic Building Surveys, Andrew R. Williams, Kindle book, Amazon.com
Defects and Deterioration in Buildings: A Practical Guide to the Science and Technology of Material Failure, Barry Richardson, Spon Press; 2d Ed (2001), ISBN-10: 041925210X, ISBN-13: 978-0419252108. Quoting:
A professional reference designed to assist surveyors, engineers, architects and contractors in diagnosing existing problems and avoiding them in new buildings. Fully revised and updated, this edition, in new clearer format, covers developments in building defects, and problems such as sick building syndrome. Well liked for its mixture of theory and practice the new edition will complement Hinks and Cook's student textbook on defects at the practitioner level.
Guide to Domestic Building Surveys, Jack Bower, Butterworth Architecture, London, 1988, ISBN 0-408-50000 X
"Avoiding Foundation Failures," Robert Marshall, Journal of Light Construction, July, 1996 (Highly recommend this article-DF)
"A Foundation for Unstable Soils," Harris Hyman, P.E., Journal of Light Construction, May 1995
"Backfilling Basics," Buck Bartley, Journal of Light Construction, October 1994
"Inspecting Block Foundations," Donald V. Cohen, P.E., ASHI Reporter, December 1998. This article in turn cites the Fine Homebuilding article noted below.
"When Block Foundations go Bad," Fine Homebuilding, June/July 1998
Historic Preservation Technology: A Primer, Robert A. Young, Wiley (March 21, 2008) ISBN-10: 0471788368 ISBN-13: 978-0471788362
Manual for the Inspection of Residential Wood Decks and Balconies, by Cheryl Anderson, Frank Woeste (Forest Products Society), & Joseph Loferski, October 2003, ISBN-13: 978-1892529343, $39.00 at Amazon.com or at the InspectAPediaBookstore
Masonry structures: The Masonry House, Home Inspection of a Masonry Building & Systems, Stephen Showalter (director, actor), DVD, Quoting:
Movie Guide Experienced home inspectors and new home inspectors alike are sure to learn invaluable tips in this release designed to take viewers step-by-step through the home inspection process. In addition to being the former president of the National Association of Home Inspectors (NAHI), a longstanding member of the NAHI, the American Society of Home Inspectors (ASHI), and the Environmental Standard Organization (IESO), host Stephen Showalter has performed over 8000 building inspections - including environmental assessments. Now, the founder of a national home inspection school and inspection training curriculum shares his extensive experience in the inspection industry with everyday viewers looking to learn more about the process of evaluating homes. Topics covered in this release include: evaluation of masonry walls; detection of spalling from rebar failure; inspection of air conditioning systems; grounds and landscaping; electric systems and panel; plumbing supply and distribution; plumbing fixtures; electric furnaces; appliances; evaluation of electric water heaters; and safety techniques. Jason Buchanan --Jason Buchanan, All Movie Review
Masonry Design for Engineers and Architects, M. Hatzinikolas, Y. Korany, Canadian Masonry (2005), ISBN-10: 0978006100, ISBN-13: 978-0978006105
Masonry Structures: Behavior and Design, Robert G. Drysdale, Ahmid A. Hamid, Lawrie R. Baker, The Masonry Society; 2nd edition (1999), ISBN-10: 1929081014, ISBN-13: 978-1929081011
Masonry, Engineered: Using the Canadian Code, J. I. Gainville, Cantext publications (1983), ASIN: B0007C37PG
Masonry, Non-reinforced masonry design tables, Hans J. Schultz, National Concrete Producers Association and the Canadian Masonry Contractors Association (1976), ASIN: B0007C2LQM
Moisture Control in Buildings, U.S. Department of Energy
Moisture Control in Walls, U.S. Department of Energy
Quality Standards for the Professional Remodeling Industry, National Association of Home Builders Remodelers Council, NAHB Research Foundation, 1987.
Straw Bale Home Design, U.S. Department of Energy provides information on strawbale home construction - original source at http://www.energysavers.gov/your_home/designing_remodeling/index.cfm/mytopic=10350
Microllam Laminated Veneer Lumber (LVL) and/or Parallam Parallel Strand Lumber (PSL) MSDS Material Safety Data Sheet, courtesy of Weyerhaeuser Company, PO Box 9777, Federal Way, WA 98063-9777 Tel: 253-924-3865
Ohawa, Ontario Wood Reference Handbook, p. 166, Canadian Wood Council, 1991
"Vapor Barriers or Vapor Diffusion Retarders", U.S. DOE: how vapor barriers work, types of vapor diffusion barriers, installing vapor barrier
"Quebec Family Dies as Home Vanishes Into Crater, in Reminder of Hidden Menace", Ian Austen, New York Times, 13 May 2010 p. A8. See http://www.nytimes.com/
Log Homes: Log Home Design, U.S. Department of Energy
Lincoln Log Homes Marketing, Inc., 6000 Lumber Lane, Kannapolis NC 28081 704-932-6151
Merrimac Log Homes, Henniker, NH, sells log home products, milled log home kits, log siding, and log home plans and log home construction accessories. 866-637-7462 or logs@mlhnh.com - merrimacloghomes.com
PermaChink Systems, Knoxville TN 800-548-1231 provides a range of log chinking products, coatings, and sealants for log and other wood buildings.
Books & Articles on Building & Environmental Inspection, Testing, Diagnosis, & Repair
Our recommended books about building & mechanical systems design, inspection, problem diagnosis, and repair, and about indoor environment and IAQ testing, diagnosis, and cleanup are at the InspectAPedia Bookstore. Also see our Book Reviews - InspectAPedia.
...