InspectAPedia tolerates no conflicts of interest. We have no relationship with advertisers, products, or services discussed at this website.
Hurricane-resistant skylights, windows & doors: choices, protection methods, construction, standards & codes. Here we provide a guide to hurricane, storm, and wind resistant windows and skylights, including citing storm resistance standards, building codes, and products.
Green links show where you are. © Copyright 2015 InspectApedia.com, All Rights Reserved.
Guide to Hurricane, Wind, & Storm-Resistant Windows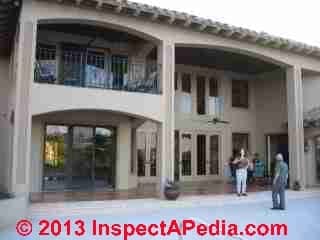 In this article series we discuss the selection and installation of windows and doors, following best construction and design practices for building lighting and ventilation, with attention to the impact on building heating and cooling costs, indoor air quality, and comfort of occupants.
Page top photo: hurricane resistant windows required in Boca Raton, FL and at left in Jupiter Florida.
We review the proper installation details for windows and doors, and we compare the durability of different window and door materials and types.
This article includes excerpts or adaptations from Best Practices Guide to Residential Construction, by Steven Bliss, courtesy of Wiley & Sons.
In response to the devastating impact of Hurricane Andrew in 1992, Florida enacted stringent codes to protect homes from severe storms.
Other coastal states have followed suit in recent years, and now similar provisions in the International Residential Code (IRC) apply to coastal areas from Texas to Maine.
Protect the Window Openings
Researchers attributed much of Andrew's destruction to wind penetration into homes through broken doors and windows, leading to extensive water damage and, in many cases, roofs blown off and houses destroyed.
Our photo (left) shows storm-exposed beach-front hotel windows at Boca Raton, FL.
The keys to preventing these problems were strengthening roofs and protecting windows and doors from wind and wind-borne debris. To protect windows, the new code allows three options:
code-approved storm shutters,
9/16-inch plywood panels screwed over windows at 8 inches on-center, or
impact-resistant windows.
The trend in new home construction is toward impact-resistant windows, sometimes marketed as "storm resistant" or "hurricane-rated."
Miami-Dade County Standards for Storm-Resistant Windows
Miami-Dade County enacted the most stringent standard and test protocols, subjecting windows (and storm shutters) to a test in which a 9-pound 2x4 is hurled into the glass at 50 feet per second, followed by 4,500 cycles of positive and negative wind loads equivalent to a 146-mph wind.
Miami-Dade also conducts AAMA/NWWDA testing for design pressure and water intrusion, but it conducts the water intrusion test after the structural test is completed rather than on a new window. Windows and doors that pass the Miami-Dade Product Control Standards are required throughout Miami-Dade County and most other coastal areas in Florida.
International Residential Code for Impact-Resistant Windows
The International Residential Code (IRC) requires impact-resistant windows in all hurricane-prone regions along the Gulf and Atlantic coasts from Texas to Maine. Depending on the wind-speed zones established in the IRC, windows need to meet design pressures ranging from 30 to 80 psf, and they must meet impact-resistance standards under ASTM E1886 or E1996.
The design pressure required depends on both an area's design wind speed, found on IRC maps, and the building's exposure rating from A to D. Most buildings are rated Exposure B for "urban and suburban areas or wooded areas" or Exposure C for flat, open terrain with scattered obstructions of less than 30 feet. Waterfront buildings exposed to winds flowing over open water for at least a mile are rated Exposure D, the most severe.
Storm-Resistant Window Construction
Under pressure from both the building codes and insurance industry, most major window manufacturers have developed impact-resistant windows for residential applications that feature laminated glass along with heavier frames and hardware. The glass is similar to auto windshields with a plastic interlayer, but it is significantly heavier. Double-glazed units get a second layer of tempered glass either on the interior or exterior.
Vinyl-framed windows are heavily reinforced with aluminum, and all windows use metal mullion bars anchored to the framing between mulled units. Window-to framing attachment methods are also beefed up to comply with the new codes, and in some cases, metal clips are used to anchor the window to the frame.
Storm-resistant windows cost from two to four times as much as standard windows; but under pressure from code agencies and insurance companies, these windows will soon become standard fare in coastal construction and other storm-prone areas.
Performance Grade and Design Pressure for Windows
How well a window performs when subjected to heavy rains and high winds is indicated by its performance grade and design pressure. The design pressure is a structural rating only, while the performance grade also indicates that a window has met the water resistance and air infiltration standards for that grade (see Table 3-2 below).

[Click to enlarge any image, photo, or table]
The minimum recommended design pressure for residential doors and windows is 15 psf. A design pressure of 15 means a window has been tested to withstand sustained wind pressures of 22.5 psf, roughly equivalent to a 95-mph wind, applied to either side of the window, simulating both positive and negative wind pressures.
The test pressure is always 150% of the rated design pressure to provide a safety factor. To earn a performance grade of 15, a window must also pass a water pressure test of 2.86 psf, which simulates rainfall of 8 inches per hour with a wind speed of 34 mph. In coastal areas or other areas prone to heavy winds or hurricanes, higher grade windows are recommended and may be required by code.
Industry Associations for Windows & Doors
American Architectural Manufacturers Association (AAMA) www.aamanet.org
Efficient Windows Collaborative www.efficientwindows.org
National Fenestration Rating Council (NFRC) www.nfrc.org Sustainable by Design www.susdesign.com
Shareware calculators for sun angles, solar heat gain, and shading
Window and Door Manufacturers Association (WDMA) www.wdma.com
-- Adapted and paraphrased, edited, and supplemented, with permission from Best Practices Guide to Residential Construction.
Window Storm & Wind Resistance - wind speed calculation approaches & basic formula
Reader question: what is the wind load [on windows or other structural components] at 200 mph
2/9.2014 lw said:
winds at 200 mph and what load ?
Reply: wind load calculation references
LW; several government PDFs as well as the Engineering Toolbox convert wind speeds to loading forces. For example a 50 mph wind would impose a load of 2.15 k N/M2. It's not linear so one needs to do the calculation.
There is a host of wind loading calculation approaches but the underlying concept is force x area or F = A x P.
"Uniform Buiding Code UBC 1997 Div. 3, Section 1620 Wind Design" offers this approach:
Force = A x P
where UBC 1997: Division 3 - Wind Design.
Section 1620: " Design wind pressures for buildings and structures and elements therein shall be
determined for any height in accordance with the following formula:
P = Ce Cq qs Iw kzt (20-1)
where:

The wind exposure type (given UBC in Section 16.16 & described just below) is used to determine the coefficient Ce according to Table 16-G.

Ce = combined height, exposure and gust factor coefficient (Table 16-G)
Cq = pressure coefficient (Table 16-H)
qs = wind stagnation pressure at 33 feet (Table 16-F)
Iw = importance factor (Table 16-K)
kzt = topographic factor
Note that this UBC 97 wind design code assumes (for the sake of low buildings perhaps) that the fastest wind speed is at 33 feet above the ground, not the actual peak sustained wind speed. That wind speed is given by a map included in the code. And the UBC Offers these Wind Exposure Levels:
EXPOSURE B has terrain with buildings, forest or surface irregularities, covering at least 20 percent of the ground level area extending 1 mile (1.61 km) or more from the site.
EXPOSURE C has terrain that is flat and generally open, extending 1/2 mile (.81km) or more from the site in any full quadrant.
EXPOSURE D represents the most severe exposure in areas with basic wind speeds of 80 miles per hour (mph) (129 km/h) or greater and has terrain that is flat and unobstructed facing large bodies of water over 1 mile (1.61km) or more in width relative to any quadrant of the building site. Exposure D extends inland from the shoreline 1/4 mile (.40km) or 10 times the building height, which ever is greater.

But it's worth understanding that wind damage resistance is more complex than just the effectsof loading force from wind itself. First the wind force will vary enormously on different building sides and even different building areas on the same side. Second, wind at high speeds picks up objects and hurls them with tremendous force -sufficient that we've seen a single sheet of paper cut into a tree trunk.

ASCE 7-02: Minimum Design Loads for Buildings and Other Structures. American Society of Civil Engineers, 2002.
Envirometrics, "MEETING THE IBC WIND LOADING STUDY REQUIREMENTS", [PDF], Envirometris, 4803 Freemont Ave., Seattle WA 98103, USA, Tel: 206-633-4456, retrieved 2/10/14 original source: www.envirometrics.com/abstracts/CFDwindloading.pdf
Kasperski, M., and H-J. Niemann. "The LRC (load-response-correlation)-method a general method of estimating unfavourable wind load distributions for linear and non-linear structural behaviour." Journal of Wind Engineering and Industrial Aerodynamics 43.1 (1992): 1753-1763.
Dyrbye, Claës, and Svend Ole Hansen. Wind loads on structures. John Wiley & Sons, 1996. [book]
Holmes, J. D., and R. J. Best. "An approach to the determination of wind load effects on low-rise buildings." Journal of Wind Engineering and Industrial Aerodynamics 7.3 (1981): 273-287.
International Building Code, 2003. International Code Council, Delmar Publishers.

Jorgensen, P., J. S. Christensen, and J. O. Tande. "Probabilistic load flow calculation using Monte Carlo techniques for distribution network with wind turbines." Harmonics and Quality of Power Proceedings, 1998. Proceedings. 8th International Conference On. Vol. 2. IEEE, 1998.
Kasperski, M. "Extreme wind load distributions for linear and nonlinear design." Engineering Structures 14.1 (1992): 27-34.
Leffler, R. E. "Calculation of wind drift in staggered-truss buildings." Engineering Journal, AISC 1 (1983): 1-28.
Pierre, LM St, et al. "The UWO contribution to the NIST aerodynamic database for wind loads on low buildings: Part 2. Comparison of data with wind load provisions." Journal of wind engineering and industrial aerodynamics 93.1 (2005): 31-59.
Rotach, Mathias. Estimation of the Wind Speed at an 'Urban Reference Height' from an observation at some other height. COST 715: European Cooperation in the Field of Scientific and Technical Research.
Smith, Stuart D. "Coefficients for sea surface wind stress, heat flux, and wind profiles as a function of wind speed and temperature." Journal of Geophysical Research: Oceans (1978–2012) 93.C12 (1988): 15467-15472.
Uniform Building Code, 1997. International Code Council.
WANG, Hai-chao, et al. "A joint iteration method for load flow calculation of power system containing unified wind farm and its application." Power System Technology 29.18 (2005): 59-62.
Array Solutions, "Wind Loads", Array Solutions, 2611 North Beltline Rd, Suite 109, Sunnyvale, TX, 75182 USA, Tel: 214 954 7140, Email: info@arraysolutions.comF. For a helpful discussion of approaches for calculating wind loading on features such as antannae, see arraysolutions.com/Products/windloads.htm
More Reading
Green link shows where you are in this article series.
...
Frequently Asked Questions (FAQs)
No FAQs have been posted for this page. Try the search box below or CONTACT US by email if you cannot find the answer you need at InspectApedia.
Ask a Question or Search InspectApedia
Questions & answers or comments about building storm & hurricane protection: how to choose, install, use hurricane-damage-resistant windows.
Use the "Click to Show or Hide FAQs" link just above to see recently-posted questions, comments, replies, try the search box just below, or if you prefer, post a question or comment in the Comments box below and we will respond promptly.
Search the InspectApedia website
Technical Reviewers & References
Publisher's Google+ Page by Daniel Friedman
Click to Show or Hide Citations & References
Basic Housing Inspection, US DHEW, S 352.75 U48, p.144, out of print, but is available in most state libraries; New York State version, ca 1955, source of our window parts and window repair sketches.
Best Practices Guide to Residential Construction, by Steven Bliss. John Wiley & Sons, 2006. ISBN-10: 0471648361, ISBN-13: 978-0471648369, Hardcover: 320 pages, available from Amazon.com and also Wiley.com. See our book review of this publication.
Carson, Dunlop & Associates Ltd., 120 Carlton Street Suite 407, Toronto ON M5A 4K2. (416) 964-9415 1-800-268-7070 info@carsondunlop.com. The firm provides professional home inspection services & home inspection education & publications. Alan Carson is a past president of ASHI, the American Society of Home Inspectors. Thanks to Alan Carson and Bob Dunlop, for permission for InspectAPedia to use text excerpts from The Home Reference Book & illustrations from The Illustrated Home. Carson Dunlop Associates' provides:

Commercial Building Inspection Courses - protocol ASTM Standard E 2018-08 for Property Condition Assessments
Home Inspection Education Courses including home study & live classes at eleven colleges & universities.
Home Inspection Education Home Study Courses - ASHI@Home Training 10-course program.
Special Offer: Carson Dunlop Associates offers InspectAPedia readers in the U.S.A. a 5% discount on these courses: Enter INSPECTAHITP in the order payment page "Promo/Redemption" space. InspectAPedia.com editor Daniel Friedman is a contributing author.
The Home Reference Book, a reference & inspection report product for building owners & inspectors.
Special Offer: For a 10% discount on any number of copies of the Home Reference Book purchased as a single order. Enter INSPECTAHRB in the order payment page "Promo/Redemption" space. InspectAPedia.com editor Daniel Friedman is a contributing author.
The Home Reference eBook, an electronic version for PCs, the iPad, iPhone, & Android smart phones.
Special Offer: For a 5% discount on any number of copies of the Home Reference eBook purchased as a single order. Enter inspectaehrb in the order payment page "Promo/Redemption" space.
The Illustrated Home illustrates construction details and building components, a reference for owners & inspectors.
Special Offer: For a 5% discount on any number of copies of the Illustrated Home purchased as a single order Enter INSPECTAILL in the order payment page "Promo/Redemption" space.
The Horizon Software System manages business operations,scheduling, & inspection report writing using Carson Dunlop's knowledge base & color images. The Horizon system runs on always-available cloud-based software for office computers, laptops, tablets, iPad, Android, & other smartphones.
Books & Articles on Building & Environmental Inspection, Testing, Diagnosis, & Repair
The Home Reference Book - the Encyclopedia of Homes, Carson Dunlop & Associates, Toronto, Ontario, 25th Ed., 2012, is a bound volume of more than 450 illustrated pages that assist home inspectors and home owners in the inspection and detection of problems on buildings. The text is intended as a reference guide to help building owners operate and maintain their home effectively. Field inspection worksheets are included at the back of the volume. Special Offer: For a 10% discount on any number of copies of the Home Reference Book purchased as a single order. Enter INSPECTAHRB in the order payment page "Promo/Redemption" space. InspectAPedia.com editor Daniel Friedman is a contributing author.

Or choose the The Home Reference eBook for PCs, Macs, Kindle, iPad, iPhone, or Android Smart Phones. Special Offer: For a 5% discount on any number of copies of the Home Reference eBook purchased as a single order. Enter INSPECTAEHRB in the order payment page "Promo/Redemption" space.
Decks and Porches, the JLC Guide to, Best Practices for Outdoor Spaces, Steve Bliss (Editor), The Journal of Light Construction, Williston VT, 2010 ISBN 10: 1-928580-42-4, ISBN 13: 978-1-928580-42-3, available from Amazon.com
The Journal of Light Construction has generously given reprint permission to InspectAPedia.com for adaptations, quotations, or reproductions used at this website. All rights and contents of the JLC material are ©Journal of Light Construction and may not be reproduced in any form.
...