Guide to White Noise, Colored Noise, & Sound Conditioners for Privacy or Sound Control in buildings

WHITE NOISE & SOUND CONDITIONERS - CONTENTS: Where to buy & How to use White Noise or Colored Noise to Mask Sounds in buildings - Principles of sound transmission in buildings
SOUND CONTROL in BUILDINGS - home
Questions & answers about how to buy, place, set & use a white noise sound conditioner for privacy or sound control
Got a Question? Just ask us! - use the search box at upper right
InspectAPedia tolerates no conflicts of interest. We have no relationship with advertisers, products, or services discussed at this website.
Noise & sound conditioners, machines, apps: this article explains using white noise or colored noise machines for privacy, sleeping aids, or to control sound transmission in buildings: how to make a quiet home, office, or place of business using masking sound or noise generating machines and equipment. We describe the difference between white noise, pink noise, brown noise, and sound programs such as rain, surf, owls, and we include a table comparing types, features, & prices of various sound generators, noise machines, and apps.
Green links show where you are. © Copyright 2013 InspectAPedia.com, All Rights Reserved.
Use of White Noise to Mask Sounds in buildings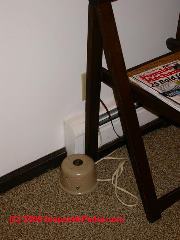 This article series discusses noise and sound control in buildings, and includes excerpts or adaptations from Best Practices Guide to Residential Construction, by Steven Bliss, courtesy of Wiley & Sons.
Our building sound control articles begin at SOUND CONTROL in buildings. Other noise and sound diagnosis and control articles are found at NOISE / SOUND DIAGNOSIS & CURE.
Sound conditioners for conversation privacy
As we show in our photo (left), white noise generators may also be used in locations where an extra measure of privacy is required. This installation is in the waiting room outside offices used by psychotherapists.
White noise is a sound containing a blend of all the audible frequencies distributed equally over the range of the frequency band.
When this sound is generated it tends to make unintelligible or even less noticeable other sounds such as nearby conversation.
Shown in our photo above is the Sleep Mate™ sound generator produced by Marpac. In addition to white noise, sound conditioners may produce sounds of nature such as that of a river or brook, lakeshore, surf, thunderstorms, or rainfall. Sound Screen® and SleepMate® are registered trademarks owned by Marpac Corporation.
The Marpac SleepMate™ is currently sold as the Dohm-DS Dual Speed Sound Conditioner by Marpac (formerly known as the Sleepmate/Sound Screen 980A) in a two-speed model and in the $50. U.S. price range.
What setting to use with a white noise generator or sound conditioner
The proper setting for a white noise generator or sound conditioner is not to make the output as loud as possible.
Rather, set the volume on the white noise machine to just mask the noise (or conversation) to be overcome. Setting the white noise volume higher than that level risks making the white noise itself an annoyance in the building.
Depending on the model, sound conditioners, unlike white noise generators that produce a standard "hissing" type sound, other sound conditioner types include speed settings, volume settings, and choices among sound tracks that in some models can be mixed or overlaid.
See SOUND CONTROL in buildings for complete information about noise transmission in buildings and how to control noise and sound problems.
Smartphone App Provides Variations on "White Noise": definitions of white noise, pink noise, brown noise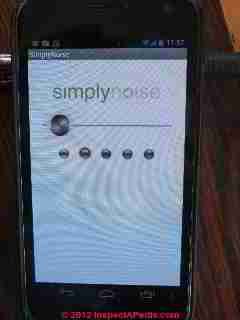 Simply Noise [5], producer of a downloadable smartphone app that allows use of a smartphone as a noise generator, offers the following alternative type & definitions of masking sound programs:
White Noise - Contains sound across all frequencies. White noise is the most effective at blocking distractions because it covers the largest spectrum range. It's great for reading, writing, studying, and anything else that requires focus.

Pink Noise - A blend of high and low frequencies that produce a mesmerizing waterfall effect. Pink noise is great for melting away stress while keeping you alert and energized. The airy drone creates a therapeutic environment that relaxes your mind and body.

Brown Noise - Utilizes the lower sound frequencies to generate a deep ambient rumble. Brown noise is excellent for aiding sleep, pacifying children and pets, even masking Tinnitus. It's also great for breaking in audio equipment and soothing migraines.[5]

We purchased this smartphone app and installed it on an android Galaxy S for testing. The application (About $1.00 U.S.) includes a volume control, timer, and sound programs that select among white noise, pink noise, brown noise, an oscillating noise program. If you plan to leave the noise conditioner app running for a long period you might want to connect your phone to its power adapter.
Sound Conditioners / White Noise Machines: brands, models, Smartphone apps, features, prices, where to buy
Sound Conditioners & White Noise Machines
Manufacturer
Model
Speeds / Features
Price Range (USD)
Contact
Adaptive Sound Technologies, Inc.
Sound + Sleep Therapy Systems
Ecotones ASM-1002
10 programs, listens to & adapts to surrounding sounds, 3 richness settings, timer
$130
https://soundofsleep.com/
866.220.7607
sales@soundofsleep.com
Ecotones Duet
$125
Conair
Conair Su1W
10 sounds, Battery operated
$20.
http://www.conair.com/
800-326-6247
Marpac

Dohm-DS

2-speeds
$55

http://www.marpac.com/
800-999-6962

Dohm-NSF
2-speeds, vibration dampening foam pad
$70.
Dhom-SS
1-speed
$55
Marsona 1288A
Programmable digital, 8 sounds, sound overlay, timer, headphone jack, volume control
$130
Marsona DS 600A
Programmable, 6 sounds, volume control, timer, battery or 120V
$100
Marsona TSCI-330
Tone control, portable unit, white noise or 3 other programs
$85.
SimplyNoise

Smartphone App for
Android smartphones
iPhones

Downloadable smartphone application produces
White noise, pink noise, brown noise
$1.00
http://simplynoise.com/
Android App store
iPhone App store
Sound Oasis
S-5000 Sound Oasis Deluxe sleep therapy system
145 sound options, AM/FM radio, Voice memo, headphone jack, control for bedside lamp
$200.
http://www.sound-oasis.com
info@sound-oasis.com
866-625-3218
S-650- / 660 Sound Oasis sound therapy system
$100
S-550 Sound Oasis sound therapy system
$60
GTS-1000 Go to sleep
S-850 / 850W
portable travel sound therapy system, travel alarm clock
$90
8-hour seamless white noise
multiple sound tracks
Sleep bear
teddy bear, infant/children's sound conditioner
$40
More Reading
Green link shows where you are in this article series.
...
Frequently Asked Questions (FAQs) about sound conditioners & white noise machines
Question:
Where can we buy a white noise machine for use in our Ottowa office - Anonymous 9/25/12
Reply:
We have added the table above listing a number of noise and sound conditioners including white noise machines - thanks for this prompt. Let me emphasize that to protect reader confidence in InspectApedia's information, we have no business nor financial connection with any manufacturer or service provider discussed at our website. InspectAPedia is an independent publisher of building, environmental, and forensic inspection, diagnosis, and repair information provided free to the public.
...
Ask a Question or Search InspectApedia
Questions & answers or comments about how to buy, place, set & use a white noise sound conditioner for privacy or sound control.
Ask a Question or Enter Search Terms in the InspectApedia search box just below.
Technical Reviewers & References
Related Topics, found near the top of this page suggest articles closely related to this one.
Click to Show or Hide Citations & References
Steve Bliss's Building Advisor at buildingadvisor.com helps homeowners & contractors plan & complete successful building & remodeling projects: buying land, site work, building design, cost estimating, materials & components, & project management through complete construction. Email: info@buildingadvisor.com
Steven Bliss served as editorial director and co-publisher of The Journal of Light Construction for 16 years and previously as building technology editor for Progressive Builder and Solar Age magazines. He worked in the building trades as a carpenter and design/build contractor for more than ten years and holds a masters degree from the Harvard Graduate School of Education. Excerpts from his recent book, Best Practices Guide to Residential Construction, Wiley (November 18, 2005) ISBN-10: 0471648361, ISBN-13: 978-0471648369, appear throughout this website, with permission and courtesy of Wiley & Sons. Best Practices Guide is available from the publisher, J. Wiley & Sons, and also at Amazon.com
[2] Marpac, produces white sound generators, a product that they identify as the Marpac sound conditioner. Marpac can be contacted at http://www.marpac.com/ or contact the Marpac Corporation, P.O. Box 560 Rocky Point, NC 28457 Phone: 800-999-6962 (USA and Canada) Fax: 910-602-1435 1-910-602-1421 (worldwide), 800-999- or email: info@marpac.com
[3] Sound Oasis sound conditioners are produced by Sound Oasis: http://www.sound-oasis.com/ email: info@sound-oasis.com or 1-866-625-3218
[4] National Sleep Foundation, 1010 N. Glebe Road Suite 310 Arlington, VA 22201 USA, (703) 243-1697, Email: nsf@sleepfoundation.org, Website: http://www.sleepfoundation.org/ - Quoting: The National Sleep Foundation is a 501(c)3 charitable, educational, and scientific not-for-profit organization dedicated to improving sleep health and safety through education, public awareness, and advocacy.
[5] Simply Noise, retrieved 9/25/12, original source: http://simplynoise.com/
Books & Articles on Building & Environmental Inspection, Testing, Diagnosis, & Repair
The Home Reference Book - the Encyclopedia of Homes, Carson Dunlop & Associates, Toronto, Ontario, 25th Ed., 2012, is a bound volume of more than 450 illustrated pages that assist home inspectors and home owners in the inspection and detection of problems on buildings. The text is intended as a reference guide to help building owners operate and maintain their home effectively. Field inspection worksheets are included at the back of the volume. Special Offer: For a 10% discount on any number of copies of the Home Reference Book purchased as a single order. Enter INSPECTAHRB in the order payment page "Promo/Redemption" space. InspectAPedia.com editor Daniel Friedman is a contributing author.

Or choose the The Home Reference eBook for PCs, Macs, Kindle, iPad, iPhone, or Android Smart Phones. Special Offer: For a 5% discount on any number of copies of the Home Reference eBook purchased as a single order. Enter INSPECTAEHRB in the order payment page "Promo/Redemption" space.