Guide to Synthetic Boards for Deck Construction

SYNTHETIC & COMPOSITE DECK BOARDS - CONTENTS: Synethetic deck board choices for deck floors & Porches. Composite wood-plastic decking: Trex®, Boardwalk®, ChoiceDec®. Hollow-profile deck board choices: WeatherBest®,TimberTech®. Vinyl & Plastic deck board options . Rot-resistant deck board choices. Photos of composite fiber deck snafu and collapse
POST a QUESTION or READ FAQs about using Trex, Boardwalk, ChoiceDeck, WeatherBest, TimberTech and other synethetic deck boards for deck & porch construction
InspectAPedia tolerates no conflicts of interest. We have no relationship with advertisers, products, or services discussed at this website.
This article explains the selection and use of alternative deck and porch floor products such as Trex®, TimberTech®, wood-plastic composites, and plastic or vinyl decking products.
Green links show where you are. © Copyright 2014 InspectApedia.com, All Rights Reserved.
Synthetic Decking for Deck & Porch Floors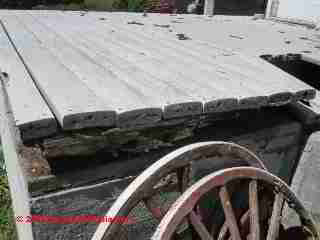 Manufacturers have introduced a wide range of synthetic decking products, most of which promise woodlike appearance and low or no maintenance.
Most fall into a few categories discussed below, but each has unique characteristics and installation requirements. In all cases, review the product specifications and, if possible, look at an installation before purchasing.
[Click any image to see an enlarged, detailed version]
This article series discuss best porch & deck construction practices, including choice of framing materials, decking or flooring choices & installation, how to select and use deck and porch structural and flooring fasteners, actual deck & porch framing construction details & connections, deck joist & beam span tables, how to build leak-proof rooftop decks, construction of covered & screened porches, deck & porch railing construction & materials, choices of finishes and stains for decks & porches, and past & current deck lumber preservative treatments with related health & environmental concerns.
Wood-Plastic Composites for Decks & Porches
Decking materials made from wood fiber with polymer resin have been in use for over a decade and have generally established a strong track record. This article series includes excerpts or adaptations from Best Practices Guide to Residential Construction, by Steven Bliss, courtesy of Wiley & Sons. Also see our review of that book.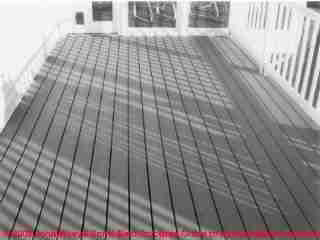 Many composite deck materials, like Trex®, use a high percentage of recycled materials.
Most wood-plastic composite deck boards have a solid profile and are sold in sizes that match and install like standard wood decking.
The oldest solid composite decking on the market is Trex®, but competitors now include Boardwalk® (Certainteed), ChoiceDec® (Weyerhauser), and products from several smaller manufacturers (see Figure 4-2 at left).
Other synthetic decking products are extruded into a hollow 2x6 profile, such as WeatherBest® (Louisiana Pacific) and TimberTech® (TimberTech Ltd.).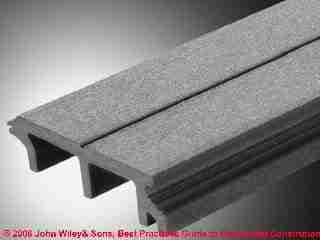 These are generally lighter and stiffer than the solid materials, allowing spans up to 24 inches.
These typically fit together in a tongue-and-groove fashion, have built-in drainage systems, and use proprietary fasteners.
End caps and other accessories are used to trim out these products, and some include a modular railing system (Figure 4-3).
In general, composite decking materials are dimensionally stable, impervious to the elements, and can be worked more or less like wood. The solid products are installed like wood decking. Special screws designed for composite decking leave a clean hole without dimpling around the screw head.
Most solid products cannot exceed 16-inch on-center framing, and they feel a little bouncy underfoot due to the material's greater flexibility (low modulus of elasticity) compared to wood. Some have an embossed wood-grain finish that may wear away over time.
With composite decking, no surface treatment is needed. Once the surface weathers, it bears a strong resemblance to weathered wood, but without the customary warping and checking. Although these surfaces are largely impervious to the elements and contain no food source for mold or mildew, manufacturers do point out that a dirty deck can support mold and mildew growth and recommend periodic cleaning with a deck cleaner to prevent this.
Also synthetic decking is vulnerable to oil and grease stains, which can be difficult to remove if not cleaned right away with a degreasing agent.
Vinyl and Other Plastics for Decks & Porches
A variety of manufactured decking systems are aimed at the commercial and do-it-yourself (DIY) markets. Materials include FRP (fiber-reinforced plastic), recycled HDPE (high-density polyethylene), and polyvinyl chloride (PVC).
Most of these products are available in a nominal 6-inch width and have an etched surface to provide traction and a wood-grain appearance. Most products are sold as a complete system with integral fasteners, end caps, and other accessories, making them well suited to the DIY market.
-- Adapted with permission from Best Practices Guide to Residential Construction.
Durability of Synthetic or Composite Decks & Floors: Composite-Fiber Deck Collapse Photos
As our photos show, below, even though synthetic decking material may itself be durable, if the deck is not properly constructed there is risk of rot, and even collapse.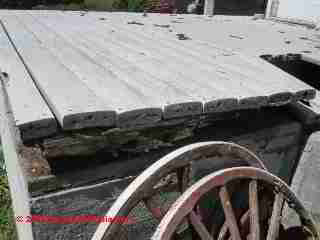 While we knew that this entry deck at an upstate New York home was in bad shape, just how horrible it was was not completely apparent until demolition was begun during a home renovation.
The composite decking shown at left was installed directly over a pre-existing and rotted deck structure - not a smart idea.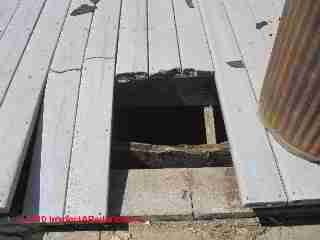 This composite deck board photo shows that the deck actually collapsed during work on the structure, revealing rotted wood structure over which the deck boards had been added as a "repair".
Luckily no one was injured.
Don't do this.
Where to BuySynthetic, Composite, or Plastic Deck & Porch Resources, Products
See Deck & Porch Products, Manufacturers for our complete/updated listings of manufacturers of porch & deck products, materials, coatings, fasteners, lumber, tools.
Composite Decking System Suppliers
Certainteed Corp. www.certainteed.com Boardwalk solid composite decking with hidden fasteners and optional railing system
Composite Building Products International www.xtendex.com Xtendex hollow composite decking system with optional railing
Correct Building Products www.correctdeck.com Solid composite decking with hidden fasteners and optional railing system
Fiber Composites www.fibercomposites.com Fiberon solid composite decking and optional railing system
Kadant Composites www.geodeck.com Geodeck hollow composite decking and railing system
Kroy Building Products www.kroybp.com Timberlast solid composite decking with optional hidden fastening system
Louisiana-Pacific Corp www.weatherbest.lpcorp.com. WeatherBest solid composite decking, railings, and accessories
Nexwood Industries Limited www.nexwood.com Hollow composite decking and railing systems
Tendura www.tendura.com TenduraPlank solid tongue-and-groove composite flooring for porches; natural finish or primed for painting
Thermal Industries www.thermalindustries.com Dream Composite solid tongue-and-groove composite decking system with optional vinyl railings
TimberTech Limited www.timbertech.com Floorizon hollow composite decking system, solid composite decking planks, and optional railing system
Trex Company www.trex.com Solid composite decking
Weyerhaeuser Building Products www.choicedek.com ChoiceDeck solid composite lumber and optional railings
Plastic Decking Systems
Kroy Building Products www.kroybp.com Classic Manor embossed vinyl decking with clip system
L.B. Plastics www.lbplastics.com Sheerline interlocking vinyl decking system and deck cladding systems
Renew Plastics www.renewplastics.com Solid recycled high-density polyethylene (HDPE) plastic decking with embossed wood-grain texture
Royal Crown Limited www.royalcrownltd.com Brock Deck and Deck Lok interlocking vinyl decking systems
Thermal Industries www.thermalindustries.com Dream Deck interlocking vinyl decking and railing system
U.S. Plastic Lumber Corp www.carefreexteriors.com Carefree Xteriors recycled plastic HDPE decking with embossed wood grain and optional railings
Metal Decking Systems
FSI Home Products Division www.lockdry.com. LockDry aluminum decking and railing system
Prefabricated Deck & Porch Railing Systems
Avcon Structural Railing Systems www.avconrail.com Thermoplastic and aluminum railings
CertainTeed www.certainteed.com EverNew PVC railing system
Global Dec-K-Ing Systems www.globaldecking.com DEC-K-ING aluminum railing system
DecKorators Inc. www.deckrail.com Decorative aluminum balusters and connectors for wooden railing systems. Also, tempered-glass balusters
Duradek www.duradek.com Durarail powder-coated aluminum railing system and walk-on vinyl decking membrane.
FSI Home Products Division www.railingworks.com Aluminum railing systems
Fypon www.fypon.com Polyurethane railing systems in classic architectural styles
HB&G www.hbgcolumns.net PermaPorch cellular-polyvinyl chloride (PVC) railings and posts reinforced with wood or aluminum; cellular-PVC or aluminum balusters Kroy Building Products www.kroybp.com Classic Manor PVC-railing system
L.B. Plastics www.lbplastics.com Sheerline PVC-railing systems and PVC- post cladding
Royal Crown Limited www.royalcrownltd.com PVC railing system with steel reinforcing
Shakespeare Composites Structures www.armor-rail.com Armor-Rail structural fiberglass (FRP) railing system with turned balusters
Thermal Industries www.thermalindustries.com Dream Rail PVC-railing system with optional tempered glass balusters
U.S. Plastic Lumber Corp. www.carefreexteriors.com Recycled HDPE railing system
Hidden Deck Fastener Suppliers
BEN Manufacturing www.premier1.net/~ben69 Dec-Klips fit between deck planks with prongs into edges; nailed into top of joists; electrogalvanized steel
Blue Heron Enterprises www.ebty.com Eb-Ty UV-resistant polypropylene biscuit fits into slots in edge of decking, screws into top of joist Grabber Construction Products www.deckmaster.com Deckmaster angle bracket screws to side of joist and up into decking; available in galvanized or stainless steel
Simpson Strong-Tie www.strongtie.com DBTC deck ties screw down to top of joist with prongs into edges of decking planks; triple-zinc-coated or stainless steel by special order; disposable plastic driving tool
Spotnails www.spotnails.com Tebo stainless-steel fasteners fit between decking boards with prongs into edges of decking; installed with mallet and proprietary tool
TY-LAN Enterprises Inc. www.shadoetrack.com Shadoe Track angle bracket nailed along top of joist and screws up into bottom of deck boards; available in galvanized, powder-coated, and stainless steel
USP Lumber Connectors www.uspconnectors.com Deck Clip screws into edge of one decking board and locks to next board; requires toenailing one edge of each board
Deck & Porch Industry Associations
American Wood Preservers Association (AWPI) www.awpa.com
California Redwood Association www.calredwood.org
Deck Industry Association www.deckindustry.org
Forest Stewardship Council www.fscus.org Information on certified tropical hardwoods
Rainforest Alliance, Smartwood Program www.rainforest-alliance.org Information on certified tropical hardwoods
Southern Forest Products Association www.sfpa.org
Southern Pine Council www.southernpine.com
Western Wood Products Association www.wwpa.org
Western Wood Preservers Institute www.wwpinstitute.org
-- Adapted with permission from Best Practices Guide to Residential Construction.
see CODES for STAIRS & RAILINGS> for details about stair building codes and specifications.
More Reading
Green link shows where you are in this article series.
A complete guide to building decks, porches, & exterior stairs can be found at Related Topics above. Key articles include:
...
Frequently Asked Questions (FAQs)
No FAQs have been posted for this page. Try the search box below or CONTACT US by email if you cannot find the answer you need at InspectApedia.
...
Ask a Question or Search InspectApedia
Try the search box just below or if you prefer, post a question or a comment in the Comments box below and we will respond promptly.
Search the InspectApedia website
Technical Reviewers & References
Related Topics, found near the top of this page suggest articles closely related to this one.
Click to Show or Hide Citations & References
Books & Articles on Building & Environmental Inspection, Testing, Diagnosis, & Repair
The Home Reference Book - the Encyclopedia of Homes, Carson Dunlop & Associates, Toronto, Ontario, 25th Ed., 2012, is a bound volume of more than 450 illustrated pages that assist home inspectors and home owners in the inspection and detection of problems on buildings. The text is intended as a reference guide to help building owners operate and maintain their home effectively. Field inspection worksheets are included at the back of the volume. Special Offer: For a 10% discount on any number of copies of the Home Reference Book purchased as a single order. Enter INSPECTAHRB in the order payment page "Promo/Redemption" space. InspectAPedia.com editor Daniel Friedman is a contributing author.

Or choose the The Home Reference eBook for PCs, Macs, Kindle, iPad, iPhone, or Android Smart Phones. Special Offer: For a 5% discount on any number of copies of the Home Reference eBook purchased as a single order. Enter INSPECTAEHRB in the order payment page "Promo/Redemption" space.
Manual for the Inspection of Residential Wood Decks and Balconies, by Cheryl Anderson, Frank Woeste (Forest Products Society), & Joseph Loferski, October 2003, ISBN-13: 978-1892529343, $39.00 at Amazon.com or at the InspectAPediaBookstore
Masonry structures: The Masonry House, Home Inspection of a Masonry Building & Systems, Stephen Showalter (director, actor), DVD, Quoting:
Movie Guide Experienced home inspectors and new home inspectors alike are sure to learn invaluable tips in this release designed to take viewers step-by-step through the home inspection process. In addition to being the former president of the National Association of Home Inspectors (NAHI), a longstanding member of the NAHI, the American Society of Home Inspectors (ASHI), and the Environmental Standard Organization (IESO), host Stephen Showalter has performed over 8000 building inspections - including environmental assessments. Now, the founder of a national home inspection school and inspection training curriculum shares his extensive experience in the inspection industry with everyday viewers looking to learn more about the process of evaluating homes. Topics covered in this release include: evaluation of masonry walls; detection of spalling from rebar failure; inspection of air conditioning systems; grounds and landscaping; electric systems and panel; plumbing supply and distribution; plumbing fixtures; electric furnaces; appliances; evaluation of electric water heaters; and safety techniques. Jason Buchanan --Jason Buchanan, All Movie Review
...