Sound Control in buildings - Cut off Flanking Sound Paths

Building noise & sound control measures - flanking sound interception

What are flanking pathways for sound leakage in buildings
How do we cut off flanking paths for sound
Design details for soundproof doors and doorways
Use of sound sealants for partition walls
Controlling transmission of bathroom noises in buildings
How to make a building quiet: sound isolation strategies

Questions & Answers about how to cut down on building noise - sound control using flanking sound path interception and sound deadening techniques
InspectAPedia tolerates no conflicts of interest. We have no relationship with advertisers, products, or services discussed at this website.
Building noise control - flanking pathways: this article explains how sound flanking paths, sound leaks around and through building components, defeats incomplete attempts to reduce building sound transmission and noise levels. We include design details for sound reducing details in buildings including soundproof office doorways and doors. This article includes excerpts or adaptations from Best Practices Guide to Residential Construction, by Steven Bliss, courtesy of Wiley & Sons.
Green links show where you are. © Copyright 2013 InspectAPedia.com, All Rights Reserved. Author Daniel Friedman.
How to Cut Off Flanking Paths for Sound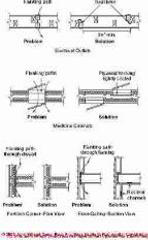 Our building sound control articles begin at SOUND CONTROL in buildings. Other noise and sound diagnosis and control articles are found at NOISE / SOUND DIAGNOSIS & CURE.
The page top photograph shows a pair of solid core doors installed at the entry to an office where sound transmission and privacy are a concern. Below we provide more details about soundproofing at doorways. Continuing from from Best Practices Guide to Residential Construction:
Sound takes the path of least resistance between rooms, through any air leaks or through rigid connections in the structure itself. These routes that bypass efforts at sound insulation are called flanking paths. These can significantly reduce the effectiveness of soundproofing efforts. Building walls with high STC ratings will do little good if sound can pass easily though electrical outlets or a thin, loosely fitting door.
For example, an ungasketed door or the equivalent of a one-inch-square hole in a wall can reduce an STC 50 wall to STC 30. Common flanking paths include:
Air leakage around partitions; around doors; and through plumbing penetrations, back-to-back medicine cabinets, unsealed electrical outlets or recessed lights (Figure at left).
Shared ductwork between two rooms.
Hollow-core doors and single-pane glass, which are good sound transmitters.
With resilient channels, a few drywall screws that penetrate into the ceiling joists, undermining the decoupling system.
With decoupled framing, a solid path through a band joist or drywall panel that provides a bypass for structure-borne sound.
Minimizing sound noise transmission flanking paths requires both good planning and workmanship. Common strategies to control flanking path for noise in buildings include:
Avoid back-to-back holes for electrical and mechanical equipment.
Partition wall sealants: Along partition bottoms, leave a 1/4-inch gap between the drywall and subfloor, and fill with acoustical sealant.
Bathroom noises: On bathroom partitions, install drywall all the way to the floor before installing the tub and seal all plumbing penetrations through walls with a flexible sealant.
Design Details for Soundproof Doors & Doorways
As described in Best Practices Guide to Residential Construction: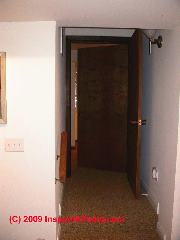 Soundproof doorways: Upgrade to solid-core doors and add weather-stripping. Our photo (left) shows an installation of doubled solid core doors that has been found effective in minimizing sound transmission between a counseling office and its waiting room.

Similar to the double sound-transmission resistant doorway shown at the top of this page, here the designer incorporated a short hallway between a waiting room and the counseling office.

Outside a waiting room closet, forming one wall of the entry hall, provides additional soundproofing and privacy for this space. As we discuss below at Sound Control for Walls, closets provide additional sound transmission buffering provided their doors are solid, not louvered.
Addressing obvious flanking paths is often the most cost- effective step in soundproofing a home.

Strategies such as sealing air leaks between rooms, upgrading doors, and adding weather-stripping may provide adequate sound isolation without the need for more exotic and expensive measures.
In general, sound-resistant doors should be within 10 Sound Transmission Class (STC) points of the surrounding wall. Solid-core doors are recommended for bedrooms and bathrooms.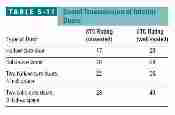 Where higher-level sound isolation is required, you will need to add high-quality gasket-type weather-stripping and a sealed threshold.
Also the gap between the door jamb and studs should be caulked or grouted to avoid sound leaks around the door.
A doubled sound transmission resistant interior door installation is shown at Cut Off Flanking Sound Paths.
For even higher sound resistance ratings, which might be needed for a music room, for example, double doors are required (see our Table of Sound Transmission Characteristics of Interior Doors shown at left). You can see from the table "Sound Transmission of Interior Doors" that the example in our photo above, two solid core doors spaced 3-inches apart gives the best STC rating in both unsealed and well sealed installations.
-- Adapted with permission from Best Practices Guide to Residential Construction.
Continue reading about methods for sound control in buildings by using the links provided just below or at Related Topics .
Frequently Asked Questions (FAQs)
...
Ask a Question or Search InspectApedia
Questions & answers or comments about how to cut down on building noise - sound control using flanking sound path interception and sound deadening techniques.
Ask a Question or Enter Search Terms in the InspectApedia search box just below.
Technical Reviewers & References
Related Topics, found near the top of this page suggest articles closely related to this one.
[1] Marpac, produces white sound generators, a product that they identify as the Marpac sound conditioner. Marpac can be contacted at http://www.marpac.com/ or contact the Marpac Corporation, P.O. Box 560 Rocky Point, NC 28457 Phone: 800-999-6962 (USA and Canada) Fax: 910-602-1435 1-910-602-1421 (worldwide), 800-999- or email: info@marpac.com
[2] Sound Oasis sound conditioners are produced by Sound Oasis: http://www.sound-oasis.com/ email: info@sound-oasis.com or 1-866-625-3218
Books & Articles on Building & Environmental Inspection, Testing, Diagnosis, & Repair
The Home Reference Book - the Encyclopedia of Homes, Carson Dunlop & Associates, Toronto, Ontario, 25th Ed., 2012, is a bound volume of more than 450 illustrated pages that assist home inspectors and home owners in the inspection and detection of problems on buildings. The text is intended as a reference guide to help building owners operate and maintain their home effectively. Field inspection worksheets are included at the back of the volume. Special Offer: For a 10% discount on any number of copies of the Home Reference Book purchased as a single order. Enter INSPECTAHRB in the order payment page "Promo/Redemption" space. InspectAPedia.com editor Daniel Friedman is a contributing author.

Or choose the The Home Reference eBook for PCs, Macs, Kindle, iPad, iPhone, or Android Smart Phones. Special Offer: For a 5% discount on any number of copies of the Home Reference eBook purchased as a single order. Enter INSPECTAEHRB in the order payment page "Promo/Redemption" space.